Midway class (1945)
USA - Fleet Aircraft Carriers (1943-92):
USS Midway, Franklin D. Roosevelt, Coral Sea
The first USN armoured aircraft carriers
The Midway class aicraft carriers were the penultimate evolution of interwar and WW2 US aircraft carrier design: They were designed at the same time as the future Essex class fleet carriers in 1940, but proceeded from a parralel design branch based on the proposal of a fully armoured carrier; USS Midway was the lead ship of a class of six laid down in 1943 (CV-41, 42) and 1944 (CV-43) while the rest were cancelled before being ordered. USS Midway was commissioned 10 September 1945, as the war was already over since 15 August, with Japan surrendering in 1st September onboard USS Missouri.
Too late for WW2 they were large enough to operate the new generation of jets of the 1950s and proved to be the bedrock of the US Navy during the Korean war. Modernized, they served also in Vietnam and numerous conflicts until the 1991 Gulf War, being the oldest active aircraft carriers of the USN at the time.
In this post, we will cover their whole cold war career, although the ships are listed in WW2 as they were studied and built in that era.
Design Development of the Midway class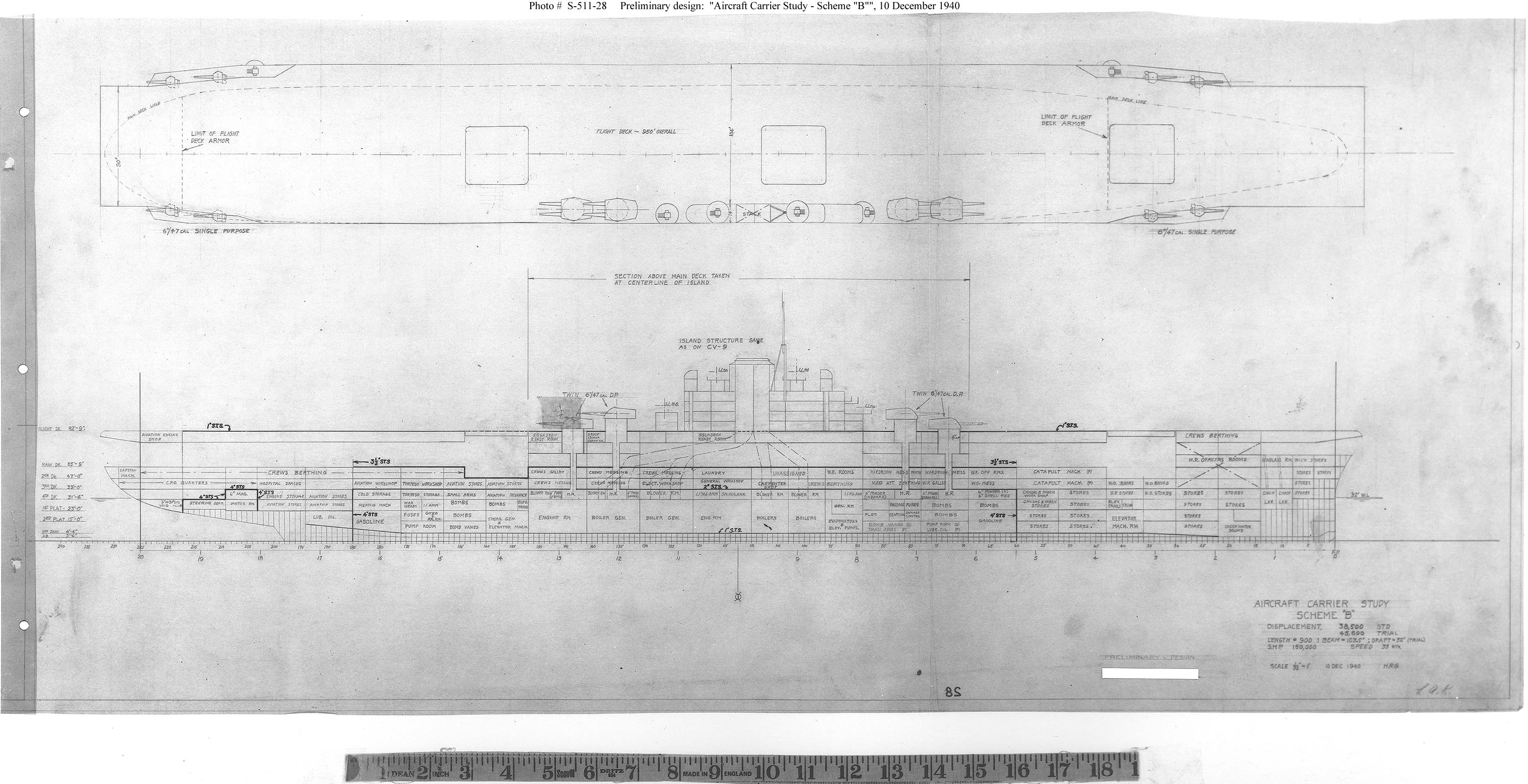 Design Study, scheme C, December 1940, alternative study of the Essex class with extensive armor, not retained for the final design. She had 3 in 1/2 of STS steel on the main armor deck/hangar floor and for her flight deck 1-1/2 in, but 4 in over avgas tanks, steering gear, ammo magazines, 2-1/2 inches roof, 4 inches bulkheads.
The Midway class proceeded from the alternative armored version of the Essex class emergency fleet carriers, not retained. The final Essex design approved in September 1941, with raduced armor starting at the hangar floor, and with a citadel below, but limited thickness. More than thirty were ordered, of which some were completed after the war.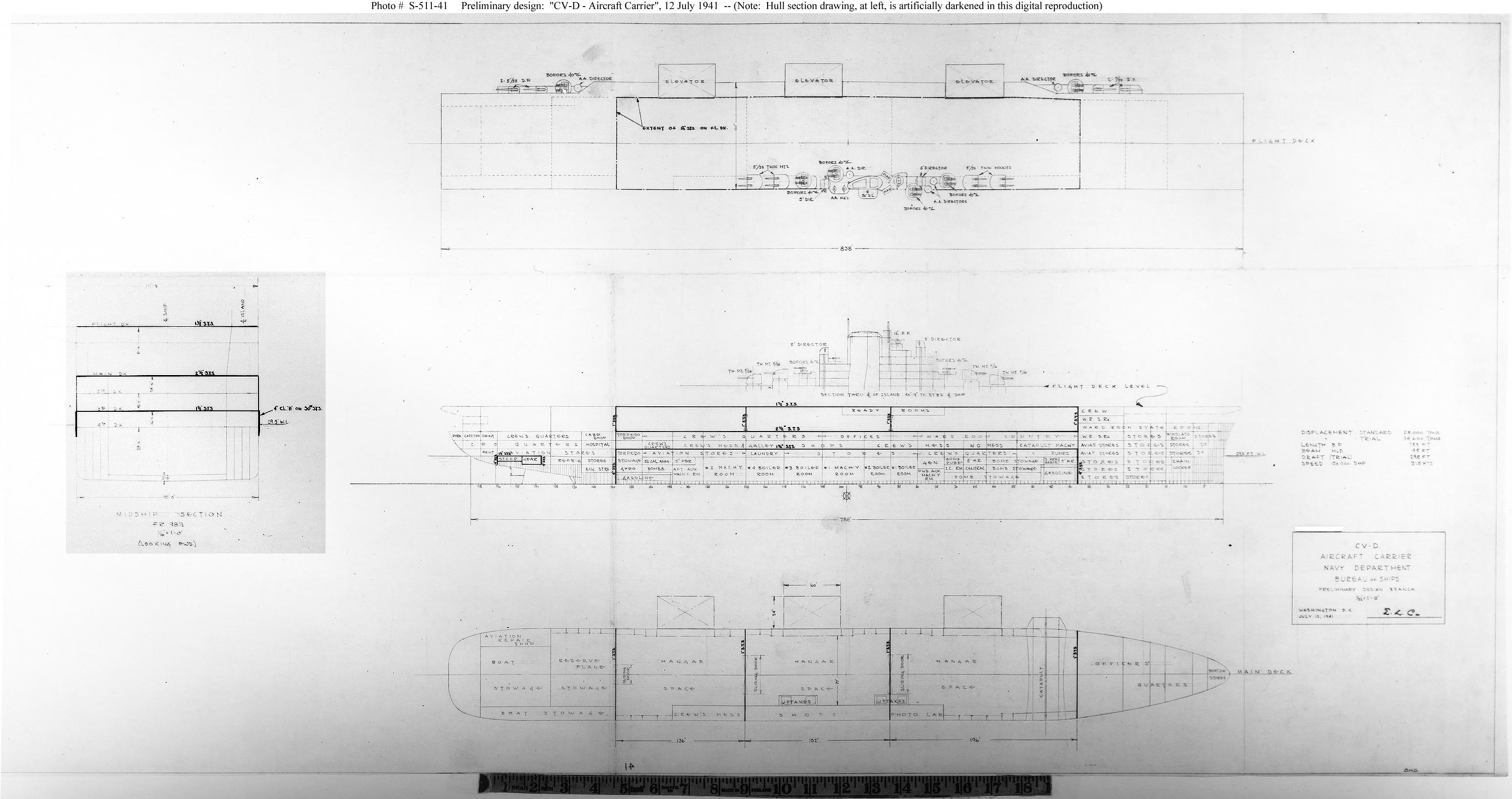 Design Study "CV-D Aircraft Carrier", 12 July 1941, an alternative design with a fully armored hangar. It was not adopted.
This 1941 proposal was clearly inspired by the British
Illustrious class
, with a central "citadel" reduced to 1/2 of the total lenght, compartimentalized into three sub-sections and with three external lifts. Light armour overall with just 1-1/2 inches STS (flight deck), 1 inches (bulkheads & subdivisions), then 2-1/2 in for the hangar floor, 1-1/2 inches for citadel roof (armoured deck below), but 4 inches bulkheads). The hangar was mostly protected, but not entirely, leaving some extra parked planes exposed.
It was not retained for the Essex class as at the time, the full strenght of an air group, the famous "sunday punch" was estimated more important. The armoured hangar limited it a great deal. However some thought rightfully that by just making their aircraft carrier larger, the hangar itself would be larger, and thus, able to house the necessary air group.
---
⚠ Note: This post is in writing. Completion expected in 2022.
---
The CVB-41-class, unnamed when studied, were an alternative design study provided with an armored flight deck on the size of an Essex class. Calculations showed the air group would have been down to 64 compared to 90 or even 100, so 1/3 of the Essex capacity. However it progressed through 1942, and became more heavily influenced by British wartime experience with their armored carriers.
As stated in the Bureau of Ships Navy Dept CV13 Damage Report:
❞

As a result of study of damage sustained by various British carriers prior to our entry into the war, two important departures from traditional U.S. Navy carrier design were incorporated in the CVB Class, then still under development. HMS Illustrious in an action off Malta on 1 January 1941 was hit by several bombs, three of which detonated in the hangar space. Large fires swept fore and aft among parked planes thereby demonstrating the desirability of attempting to confine the limits of such explosions and fires by structural sectionalization of the hangar space. On the CVB Class the hangar was therefore divided into five compartments separated by 40 and 50-pound Special Treatment Steel (STS) division bulkheads extending from the hangar deck to the flight deck, each fitted with a large door suitable for handling aircraft.

It is hoped that this sectionalization, in conjunction with sprinkler and fog foam systems, will effectively prevent fires from spreading throughout the hangar spaces, as occurred on USS Franklin on 30 October and 19 March. The damage experiences of several British carriers, which unlike our own were fitted with armored flight decks, demonstrated the effectiveness of such armor in shielding hangar spaces from GP bombs and vital spaces below the hangar deck from semi-armor-piercing (SAP) bombs. Accordingly, the CVB Class was designed with an armored flight deck consisting of 3-1/2-inch STS from frames 46 to 175 with a hangar deck consisting of two courses of 40-pound STS between frames 36 and 192. Although none of the CVB Class carriers were completed in time to take part in war operations, the effectiveness of armored flight decks against Kamikaze attacks was demonstrated by various carriers attached to the British Pacific Fleet...
The concept's logic evolution was for a larger carrier to support a larger deck armor AND the required air group. Weight-savings to armor the flight deck were engineer's nightmare though, due to metacentric hight (and thus, stability) concerns. It was achieved by removing the initially 8-inch (203 mm) battery around the island, and then having 5-inch single mounted in sponsons along, but under the flight deck. In US practice, the armored deck was not part of the ship structure and instead, engineers stuck to the "strength deck", at hangar deck level while the armored flight deck was part of the superstructure. This design was unique and never followed. The following Forrestal-class supercarriers indeed needed a deeper hulled design to carry the strength deck at flight deck level, and this made for a both stronger, yet lighter hull.
Final Design
The Midway-class as designed were very large, already compared to the Essex class, and they displaced twoce as much as a prewar Yorktown class. It could accommodate more planes despite its armoured fight deck, far more than any USN carrier, about 30% more so about 130 aircraft. Such air group reached the very limit of effective command and control, just for one ship. This enormous size however proved to be a blessing in the iupcoming years, as the number of aicraft was drastically reduced whereas they could more easily accommodate larger and faster aircraft of the jet age, something the Essex class struggled to do during the post-WW2 service.
While having an excellent protection and massive airwing they still were criticized for some shortcomings:
-They were cramped internally and crowded.
-Their Freeboard was unusually low and in heavy seas, they were easily flooded
-The latter problem was solved by fitting them with a fully enclosed hurricane bow (SCB-110/110A upgrades)
-Also in easy weather, they "corkscrewed" so much it precluded any landing operations.
Lessons were learned to rework the following-up Forrestal-class which had a deeper hull, with more freeboard and better seakeeping, and the required enclosed bow as well. -Their beam was beyond the Panama Canal's gates max size.
Naming Policy
Like many aircraft carriers of WW2 they were to be named after famous battles. "Midway" and "Coral Sea" were obvious choices for the first two, with CV-43 possibly named "Santa Cruz", but as the second was being completed, president Franklin D. Roosevelt passed out. CV-42 Coral Sea was renamed in his honour an the third inherited her former name. Thus, it introduced a precedent in naming carriers after presidents, something which became prevalent from the much later Nimitz class.
Hull
For construction, more extensive use of electric arc-welding was used throughout, help saving 10% compared to riveted assembly.
Powerplant
Armour
The Midway class had a well subdivided arrangement of the machinery spaces, a simple copy-paste of the Montana-class battleship system, more evolved than the Iowa class. Instead of eight main engineering compartments, the Midway-class had 26 in total, with no less than twelve boiler rooms off the centerline, four widely separated engine rooms. This ensure the least risk of a critical flooding, even if hit by several torpedoes.
Armament
Main artillery
Anti-aircraft Battery
Aviation facilities
The forward flight deck was designed for launching 13-ton aircraft; and the aft flight deck was designed for landing 11-ton aircraft, assuming in-flight expenditure of fuel and ordnance.
On board aviation
1945 Air Group
Korean war Air Group (1950-59)
Vietnam War Air Group (1965-75)
Reagan-era air Group (1980s)
Gulf War Air Group (1990s)
---

Author's profile, CV-41 in 1945
Specifications 1945

Dimensions
295 m long, 41.25 m wide, 10.51 m draft
Displacement
47,387 t. standard -59 900 t. Fully Loaded
Crew
4,104
Propulsion
4 shafts Westinghouse turbines, 12 Babcok & Wilcox boilers, 212,000 hp
Speed
33 knots (61 km/h; 38 mph)
Range
20,000 nmi () at 15 knots (28 km/h; 17 mph)
Armament
18 x 5 in (127mm), 84 x 40 mm (21×4), 68 x 20 mm AA, 137 aircraft
Armor
155 mm (6.2 in), see notes
Cold War modernization: SCB-110 upgrade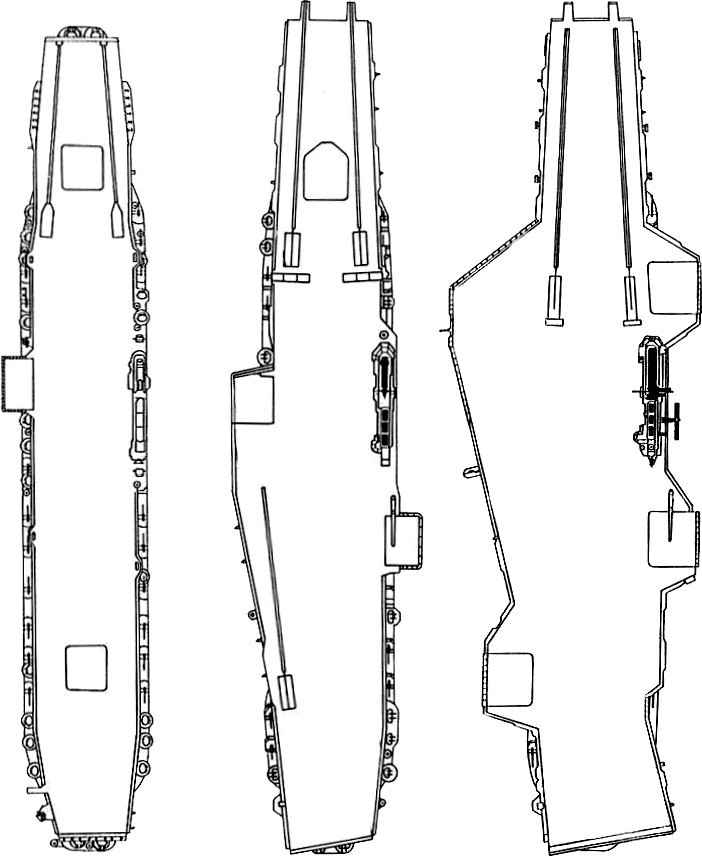 Src/Read More
Conway's All the World's Fighting Ships, 1922–1946 & 1947-95