Bayan class Cruisers (1905)
Russia (1899-1905)
Bayan, Admiral Makarof, Bayan (ii), Pallada (ii)


Bayan and Makaroff in 1914 (Baltic Fleet)
The first Bayan (1899)
The Bayan class had a total of 4 units, although the first, Bayan first of the name remained unique, built at the Seyne in Toulon NyD, but more Russian than French in design. Launched in 1900, she was completed in 1903. The Bayan participated in the Russo-Japanese War a year later and struck a mine on July 27. She survived, only to be blasted in Port Arthur by 280 mm howitzer shells brought to the foothills overlooking the harbour by Japanese troops in December 8, 1904. After peace was signed, the ship now in Japanese hands was refloated, repaired, returning into service with the Imperial Japanese Navy under the name of Aso until 1932, sank as a target practice. The Bayan (ii) was badly damaged at Moon island in October 1917 and the Pallada was torpedoed and sank by U26 on October 1914.
The Makaroff class and second Bayan (1904)
In 1905, following this loss, the admiralty ordered a ship identical to first Bayan at the Seyne NyD, called Admiral Makaroff (the inventor of a famous collision mat, to seal holes in a ship's hull, and a brillant naval innovator). She was launched in May 1906 and completed in April 1908, but modified, with lower casemates, redesigned armor and wooden replaced by steel everywhere. In August 1905, two other identical units were started at the new admiralty Shipyards at St Petersburg. These were the Bayan (ii) and Pallada, launched in August 1907 and November 1906 and completed in December and February 1911.
The Admiral Makarov was 450 feet (137.0 m) long with a 57.5 feet (17.5 m) beam and 22 feet (6.7 m) draught. She displaced 7,750 long tons (7,870 t). and had a crew of 568. She was propelled by two shafts connected to two vertical triple-expansion steam engines connected to 26 Belleville boilers, rated for a grand total of 16,500 indicated horsepower (12,304 kW), traduced into 21 knots (39 km/h; 24 mph). but on trials, 19,320 indicated horsepower (14,410 kW)were obtained, to reach 22.55 knots (41.76 km/h; 25.95 mph). She carried 1,100 long tons (1,118 t) of coal. Her main armament was composed of two 8-inch (203 mm) 45-calibre guns in single turrets fore and aft, eight 6-inch (152 mm) guns in side casemates, completed by an array of twenty 75-millimetre (3.0 in)/50 QF guns mounted on the hull's sides casemates (8) and the remainder in the superstructure and above the 6-in gun casemates in pivot mounts, protected by gun shields. Also four 47-millimetre (1.9 in) Hotchkiss guns were mounted, that could also serve as saluting guns and possibly be dismounted for landing parties. For close quarter-combat, the ship had also two submerged 18-inch (457 mm) torpedo tubes, on the broadsides. The armor was of the Krupp cemented type throughout. 190 millimetres (7.5 in) for the waterline belt and over the machinery spaces, reduced to 90 millimetres (3.5 in) at both ends. The upper belt and casemates were 60 millimetres (2.4 in) and main deck 50 millimetres (2 in) while the central battery was protected by a single plate 30mm (1.2 in) plate and twice 10mm (0.39 in) plates. Gun turrets were 132 mm (5.2 in) thick and the conning tower 136 mm (5.4 in) thick.

Brassey's schematics of the Bayan
The Admiral Makaroff in action
In 1914, Admiral Makarov joined the First Cruiser Brigade and with the Gromoboi met German light cruisers and an auxiliary minelayer off the mouth of the Gulf of Finland, about to lay a minefield. The Russian commander however thought two additional armored cruisers were nearby and the duel fell short. Admiral Makarov was modified to carry mines and laid her first minefield in early December at the northern and western entrances to the Gulf of Danzig. She also provided cover for other ships laying minefields in the western Baltic Sea in early 1915. In february she escorted the damaged armoured cruiser Rurik after running aground in the fog back home. She also duelled with other cruisers inconclusively with light cruiser SMS München in 6/7 May 1915 off Libau. She also in July participated in the Battle of Åland Islands. Under Rear Admiral Mikhail Bakhirev and Bayan, Rurik, Bogatyr and Oleg, plus the destroyer Novik sailing towards Memel, part of the force met SMS Augsburg and some hochseetopredoboote covering the minelayer SMS Albatross. The latter was badly damaged and running aground in Swedish territorial waters, while the others fled. However low on ammunition they declined fighting with two more German cruisers after firing a few shots.

Crew of the Bayan (ii), in front of the main forward gun turret
Operation Albion (on the german side), the invasion of Saaremaa (Ösel), Hiiumaa (Dagö) and Muhu (Moon) islands in October 1917, ended as a fully fledge battle (Island of the moon) in which Admiral Makarov based in Finland sailed to the Gulf of Riga and engaged German destroyers. Later on in March 1918, the Russian was imposed by the Treaty of Brest-Litovsk to evacuate naval bases in newly-independent Finland. Despite the Gulf of Finland was still frozen over, Makaroff and other ships reached Kronstadt five days later, what was called the 'Ice Voyage'. Paid off, Makaroff never saw action in the Russian Civil War and she was sold for scrap in 1922, broken up in Stettin.

IJN Aso, Japanese Cruiser (Former Bayan) at Maizuru, 1908.
The St Petersburg ships, Bayan (ii) and Pallada

The first Cruiser brigade of the baltic fleet: Bayan, Makaroff and Pallada at anchor.
More modest than the huge Rossia and Gromoboi, less armed, these cruisers were still faster, better protected, and much more economical.
All three ships were registered with the Baltic fleet in 1914. In 1915, they formed the 1st cruiser brigade.
Bayan and Makaroff were rearmed at the same time with two 75 or 48 mm AA guns, one 203 mm (one removed) and four 152 mm (four removed), while their old 75 mm were removed, and rails to carry 150 mines installed. They operated until the battle of Gotland. Bayan (ii) laid her first mines in early December 1914, at the northern and western entrances to the Gulf of Danzig and also provided cover for other cruisers. She also duelled with the light cruiser SMS München off Libau alongside Makaroff, also took part in July to the
Battle of Åland Islands
fighting SMS Augsburg, destroyers and the SMS Albatross. However later Bayan and the armoured cruiser SMS Roon arrived in between exchanged fire, Bayan firing 40 rounds, being hit with just one 210 mm for only superficial damage.

Admiral makaroff in 1916
Her most important action was at the Battle of Moon Island, in October 1917, in quality as flagship of Vice Admiral Bakhirev, commander of the forces defending the Gulf of Riga. Bayan and the predreadnought Grazhdanin attacked destroyers while Slava duelled with the more recent König and Kronprinz. Bakhirev ordered his fleet to withdraw, covered by Bayan, hit by a 305 mmm (12 in) shell from König, starting a fire among in the cable compartment that was not only masted the next day and the forward magazine has to be flooded by safety. About 1,000 long tons of water were also taken onboard, increasing her draught, but she managed to sail for Finland, only to be later evacuated and paid off in 1918, sold for scrap in 1922.

The Russian cruiser Pallada at anchor
On 26 August 1914, SMS Magdeburg ran aground near Odensholm island (Gulf of Finland) and her escort SMS V-26, tried but failed to pull her off. She was caught by Pallada and the Bogatyr. The Germans managed to scuttle their ship, blewing up the front part but had to be evacuated and failed to destroy the naval codebooks, later discovered by the Russian boadring party. A copy was given to the British, Room 40, perhaps the greates intelligence feat at this stage in the war. The allies were from then on able to reading German wireless traffic until late in the war. Pallada and Rurik also chased the night after for German light cruisers but on 11 October 1914, Pallada was torpedoed by U-26. She blew up and sank with all hands, first Russian warship sunk during the war. She was rediscovered in 2012, nearly 100 years after, by a Finnish diver group outside Hanko at about 40 to 50 metres (130 to 160 ft) deep.

Author's illustration of the Bayan in 1915
Specifications
Specs (Bayan)
Displacement: 7,775t standard;
Dimensions: 137 x 17.5 x 6.5 m
Propulsion: 2 propellers, 2 mach. VTE, 26 Belleville boilers, 16,500 hp 21 knots
Armour: Blockhaus 140, Belt 178, Turrets 152 mm
Crew: 593
Armament: 2 x 203, 8 x 152, 20 x 75, 4 x 55 mm guns, 2 TT 457 mm (SM)

Bayan (ii) at sea, postcard of 1913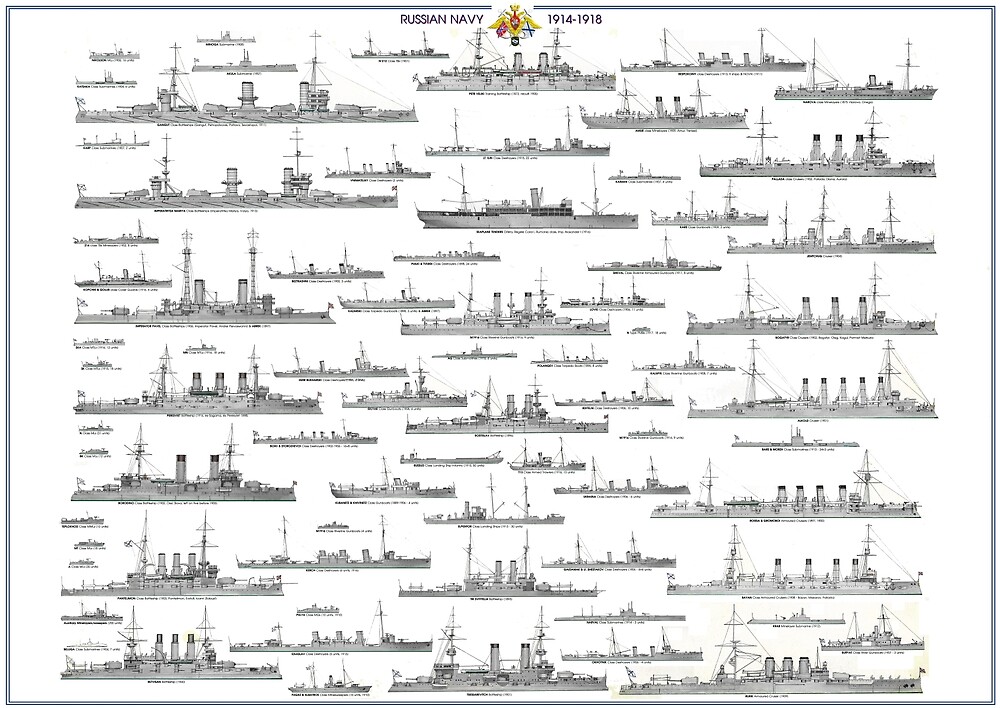 Help Naval Encyclopedia to grow and get the Russian Navy WW1 poster !
Read more/Sources
https://en.wikipedia.org/wiki/Bayan-class_cruiser
Conway's all the world's fighting ships 1860-1905
https://www.fr.naval-encyclopedia.com/1ere-guerre-mondiale/marine-russe1914.php#croiseurs