Type XIV "Milchkühe" U-Boats, Hitler's Milk Cows
Maintaining Wolf Packs at sea
One aspect of the Battle of the Atlantic was to maintain operating U-Boats at sea as long as possible. It mostly concerned the standard Type VII, which had a limited autonomy. In the massive expanses of the Atlantic, locating convoys was one thing, but reaching them was another, and the Type VII, which had a radius of action limited to the mid-atlantic, often misses convoys, being too far away or requiring too much fuel consumption to get there. The few possible "unsinkable" supply bases that existed in the mid-Atlantic were the Azores, and they were not under German control, despite Hitler desperatly begging for Franco to lease them.
In early 1941, despite successes against slower convoys, many U-Boats came home after running out of fuel in fruitless chases. Others, later in the war, had to escape multiple times and consumed also their fuel supply with little results to show for. Food could be rationed, torpedoes were rarely all fired, so the chief problem to maintain U-Boats at sea was the supply of diesel fuel, as the latter also fed the eletrical systems on board.
Like in WWI, the German Navy planned even before the hostilities commenced a network or supply vessels located in strategic points around the globe for their merchant raiders operations. One such vessel was the famous Altmark, captured in Norway, but there were many more. Although they were disguised as civilian vessels, an enquiry could have them tracked by the allies navies. In 1939-40 many chases against blockade runners and Merchant cruisers ended with the capture or destruction or supply ships. Having at least one such ship in the port of Vigo (Spain), in Galicia, northern coast on the bay of Biscaye, and in the Baleares was always a blessing, but imposed to U-Boat crews a long, and potentially dangerous trip to get there, arriving by night.
Dangerous indeed, as the Bay of Biscaye was the launching spot for U-Boats operating from the six French coastal bases, like Brest and Lorient, or Bordeaux later. Fleet air arm patrols and others surface gunboats and corvettes of the Royal Navy roamed the area day and night. So having U-Boats kept in the middle of the atlantic, ready to pounce on any incoming convoy, was the ideal solution. However, sending there supply ships alone was risky.
The Kriegsmarine's U-Boat tenders
The Kriegsmarine had several U-Boat tenders in 1941: KMS Saar (1934), and the larger and more modern KMS Wilhelm Bauer, W. Kophamel and Otto Wünsche, which were proper, well armed military ships built in Kiel: They were nearly 6,000 tonnes vessels, armed with four 105 mm guns and a powerful AA. With 20 kts it was however hard for them to escape allied destroyers. The Kriegsmarine also operated civilian auxiliaries, KMS Donau, Weichel, Isar, lech and Erwin Wassner. In addition from late 1942, the radical influx of air cover for the allies in the Atlantic, made likely these ships would be discovered en route to their supply point in the Atlantic.
By early 1940 already, Admiral Karl Dönitz recoignised that on the long run, allied air power it would be more difficult to send supply ships out on the open. So he ordered a study to built "submarine tankers", dedicated for the purpose of supplying his U-Boats at sea, the latter having the advantage contrary to ship, to escape detection easier, and in all cases, escape its threats.
Despite an obvious smaller capacity, it still would be less risky to send them rather than surface ships. Without the hindsight of the US entry into the war and British war production to keep watch on the Atlantic by late 1942, this was a bold move.
Development History
The search for an alternative solution to supply surface vessel came in a 1934 with a design proposal for a modified type IV U-boat, modified as an undersea tanker. It was submitted to te Kriegsmarine's HQ, and called for a 2500 ton submersible tanker project, as a highly modified version of the type IXD attack type on paper at that time as a long range model. To make room there was to be no attack capability and in addition to fuel, in the double hull tanks, there was to be enough storage in the freed torpedo tubes rooms for food, torpedoes and medical aid.
These boats soon earned internally the nickname "Milk Cows" could prolongayte operations of a wolfpack to two weeks. However the limits of the Anglo-German Naval Treaty had the Naval Staff sidelining submarine tanker construction in 1935 and preferred optimizing the existing fleet, with a coastal force and ocean-going boats, in particular the promising Type VII. The subject of "U-Tankers" remained dormant until Admiral Karl Donitz resurrected the concept in a 1939 letter to Naval headquarters. He proposed construction of three supply boats, displacing 2000 tons. Donitz's master argument was reaching the American coast for possible operations that far , based on the limitations of the type VIIC U-boat, carried only 114 tons diesel fuel (6500 miles), and they needed 2500 miles to arrive on station alone.
Donitz wanted floating fuel depots beyond the reach of the Allies capabilities, and his request was eventually given the go-ahead in 1940. Design specifications were drawn up and quickly, and approved as the type XIV, these U-Tankers being rated at 1,932 tons for a gross capacity of 430 tons of fuel.
Hull
The final design displaced 1,688 t (1,661 long tons) surfaced, 1,932 t (1,901 long tons) submerged for an overall lenght of 67.10 m (220 ft 2 in) overall, and 48.51 m (159 ft 2 in) for the inner pressure hull. Ther beam was larger than usual to accomodate the tanks, 9.35 m (30 ft 8 in) overall and 4.90 m (16 ft 1 in) for the pressure hull. Total height of the hull was 11.70 m (38 ft 5 in), to the tip of the CT, and a rather massive draught of 6.51 m (21 ft 4 in). The strength of their construction led their builder to give them the standard 240 m (790 ft) test depth figure, but some boats certaonly were able to dive well below this figure. Their pressure hulls still indeed were 1-in thick so they could safety dive well over 500 feet, which in effect was deeper than the type VIIC/IX.
Internal accomodations for storage included upper decks designed to be large clear storage areas in order to handle pelletised bulk stores. Designers made the IXD shorter but wider and deeper for a much greater internal volume, and double deck essentially. The flat main deck in practice proved more of a detriment than an aid to the crew. The boat made a wider target for aviation and was slow to dive compared to standard boats.
Propulsion
Since the design borrowed heavily on the Type IX, nearly all components which could be reused were utilised and this included also parts from Type VIIC such as their anchors, winches, hatches and other items. The powerplant comprised a set of two propeller shafts, mated to two MAN diesel engines which developed 2,800–3,200 PS (2,100–2,400 kW; 2,800–3,200 bhp) when surfaced, and two Siemens electric motors with an output of 750 PS (550 kW; 740 shp) underwater. This produced a top speed, surfaced, of 14.4–14.9 knots (26.7–27.6 km/h; 16.6–17.1 mph) and 6.2 knots (11.5 km/h; 7.1 mph) submerged. These were not stellar figures, but since they were not attack boats and only needed to get to a point, their major asset was still a range of 12,350 nmi (22,870 km; 14,210 mi) at 10 knots (19 km/h; 12 mph) surfaced, and still 55 nmi (102 km; 63 mi) at 4 knots (7.4 km/h; 4.6 mph) submerged to escape their pursuers.
Armament
These non-combatants carried 12 torpedoes but had no tubes to launch them. The type XIV in basic form had two light 37mm FLAK 38 located on deck, either side of the conning tower, and a single 20mm AA gun in the tower's aft platform. Configuration differed and some boats had a raised platform aft of the conning tower to raise the aft 37 mm. In all cases, this combination proved deadly in mission, helping these U-Tankers surviving and even in some case repelling attacks of allied bombers and patrol planes.
Other specifics
They had in addition of fuel tanks, enough space to carry 12 spare torpedoes, up to 15-20 tons of parts, ammunition, food & medical supplies. There was evcen enough space onboard to create a small, yet full-blown bakery, able to produce fresh bread every day. There was also a small medical facility for a medical doctor, able to treat injured sailors. Discipline-wise, no prison aboard but a tiny two-man "brig" to carry punished U-boat crewmen for serious crimes back to Germany.
To transfer fuel lines and provisions, a single 20-ft inflatable work boat was stored under the deck to be deployed. it was also used to transfer boxed goods and mail, plus they possessed folded-down light-weight portable cranes, rigged to high-line priority cargo, also usable to carry people between boats in a high-line fashion.
Construction
The choice to gain time of the Type IXB as the base helped to have all blueprints ready by October 1940. The initial program specified a first batch of 25, with possibly more to come. However they were not prioritized, and construction dragged on until 1944, when the whole program was cancelled by Speer. By the time the axe fell, Three (U-491, U-492, U-493) were about 75% complete while the other eleven boats had not even been laid down when cancelled on 27 May 1944, Karl Dönitz also stopping construction on the Type XX U-boats hich were even larger transport boats as they would not have been completed before mid-1945. Heavy losses in 1943 (almost all were sunk, including four in July alone) and Speer's condition to greenlight the new and promising Type XXI was in effect to cancel the program.
U-459 was the first laid down (lead boat) at Deutsche Werke, Kiel, Yard number 290, on 22 November 1940. Ten more would followed, although the program comprised 25 of them total, now receving the designation of Type XIV. She was followed by U-459, commissioned on 15 November 1941, U-460, commissioned on 24 December 1941, U-461, commissioned on 30 January 1942, U-462, commissioned on 5 March 1942, U-463, commissioned on 2 April 1942, U-464, commissioned on 30 April 1942, U-487, commissioned on 21 December 1942, U-488, commissioned on 1 February 1943, U-489, commissioned on 8 March 1943, and U-490, commissioned on 27 March 1943, sunk on 12 June 1944. Construction was stopped for a time and only resumed for the next three in early 1944.


Author's depiction of the Type XIV U-Boat
⚙ Type XIV class specifications

Dimensions
67.10 x 9.40 x 6.50 m (220 ft x 30ft x 21ft 4in)
Displacement
1661/1900 tons standard/underwater
Propulsion
2 shafts Germania diesels, 2 electric motors, 1400/375 bhp.
Speed surface/underwater
14.4/6.3 knots (xx km/h)
Armament
2x 37/83 FLAK C30, 1x 20mm FLAK C30
Crew
53
Capacity
432 tonnes of fuel oil
General Assessment
These XIV boats were generally successful early on, while operating out of US coast at about 1000 km out of New York. Well before the "happy time" at the start of the war, there was the "mid-atlantic gap" cause by the absence of air cover 300-400 miles off the North American Mainland. This allowed the the smaller VIIC to operate in US waters, which they could not in normal conditions. This also allowed them to operate in the Caribbean in 1942 but due to better allied radar and air coverage the year 1943 (and enexplained losses – see below) completely hampered their operations and conducted to cancel the 14 remaining orders. The "Milch Cows" as soon as they were known for allied intel became a priority target for all Allied forces, and both USN and Fleet Air Arm/Coastal Command hunted them down with bombers and long-range patrollers.
Outside the precise Wolfpacks which they supported, indicated in the their career logs below, the Type XIV the precise number of U-Boats they suppied was registered, allowing us to spot the arguably most successful U-Boats of that class. According to this, the most successful of the class was arguably U-460, which supplied 86 U-Boats. In all, the ten boats supplied 437 U-Boats, or an average of 43 per U-Boat. Was it cost-effective ? For this, we should know how much tonnage was sunk by the U-Boats that could continue their mission.
U-459: 6 patrols, 72 U-boats
U-460: 6 patrols, 86 U-boats
U-461: 6 patrols, 75 U-boats
U-462: 5 patrols, 64 U-boats
U-463: 5 patrols, 74 U-boats
U-464: Sunk on her maiden patrol
U-487: 2 patrols, 25 U-boats
U-488: 3 patrols, 41 U-boats
U-489: 1 patrol (sunk), none
U-490: Sunk on her 1st sortie
289 men were killed while serving on the Type XIV for a grand total of 530-576 men for a total of 35 patrols, an average of 3,5 per boats, and three sunk on a maiden patrol plus two after just two weeks at sea. However there was a topic on which these boats proved their designed armament was worth it: With a powerful FLAK they shot down about four planes and damaged and repelled others. Their tally included a Whitley, a Sunderland, a Wellington and a Wildcat.
In the Allied Naval Headquarters in London order was issued of "Get the Milk Cows at any cost!" from prime minister Winston Churchill himself, informed of their existence in early 1942. Their very existence had them targeted as the highest priority in the Atlantic War since any of these U-Boat Tankers could keep twelve U-boats at sea for weeks. In fact this went directly to a redefintion of Allied hunter-killer groups's priorities in turn.
U-459 commissioned on November 15 1941 and patrolling in March 1942 perhaps had one of the most successful career, supplying boats close to US waters all along 1942. The last U-490 sunk on June 11. 1944 was sent out to support the "Monsun boats", the Type IX operating in the far east and Indian Ocean. She never get there, being sunk at her first sortie. The concept was dead fo all intent and purposes in 1944, although in 1942-43 there were parallel program of tankers and cargo subs (see below).
Serious issues
Sea trials quickly revealed the limits of the U-Tanker design: They appeared Ponderous, "pregnant", lacking agility, and especially when loaded to the brim with fuel and provisions. This extra bulk prevented them to submerge as quickly as a regulat Type VII/IX, which proved fatal at least in three cases of air attacks. Captains feared the moment to "pull the plug", diving deep in a hurry. To off set this massive shortcoming specific tactics were devised: If caught while refueling, the type XIV was to cut all lines and dive first, leaving the more agile attack U-boats to deal with the attackers by combine FLAK power alone, and dive in turn.
Another noted issue was their deck layout. Due to their low freeboard, transfer of bulk supplies was very hazardous in the North Atlantic (a reason why later boats were sent to the South Atlantic and African coast). The decks continually awash precluded the use of regular cargo hatches and davits so supplies had to be hand-lifted through conning tower hatches only. This made the whole proces painfully slow, but the whole crew took part in it. Given the sea state, this operation could be more or less dangerous and long to complete, often leading to crewmen washed overboard, drowning. With time, both the small rubber dinghy and high line ("tyrolian") were used at the same time, the crew making a human chain from inside the boat, though the CT and on deck.
The refuelling operation was also difficult. First, the U-tanker had to take in tow its boat to resupply, the fueling line was floated in between as well as a telephone cable. Once piping connections were operatons, with the two boats maintaning a close distance at a constant 3-4 kts, fuel was transferred. And it could go up to five hours for a full refill. All at the surface, exposed to allied spotter planes.
Lastly, resupplying torpedoes, due to their size and weight was also understandably a gruelling process: Manhandling these in heavy seas required brute strength and skills, leading sometimes to crushed limbs, broken bones among handlers, for which the onboard doctor was a godsend. In calm seas in included the fitting to any torpedo, extracted on a ramp to the deck, flotation collars around the torpedo body. It was just floated to the receiving U-boat, hauled aboard via the standard folded deck torpedo loading apparatus of any U-Boat of that time.
The end (1943 black month)
The coup de grâce, what really basically eliminated all chances for the U-Tankers to be a viable solution was first and foremost the cracking of the Enigma code. If it was a blessing and game-changing event in order to win the battle of the Atlantic, it was decided to take all measures to prevent the Germans knowing the allies had cracked it. Which included painful decisions to allow some known U-Boat attacks to occur, and prevent careflly picked others attacks.
Given their priority status, all known resupply spots in the Atlantic, and planned rendez-vous in mid-ocean of a Type XIV boat with the rest of the fleet was a prime target on the list and always greenlight for attack, despite the risks in the grand scheme of things. Indeed, the Type XIV relied on high-frequency long-range radio communications to arrange these RDV points, which of course were intercepted and decoded.
Having their position known however presupposed having also the required a dedicated ASW task force, a -"rapid reaction force" in modern parlance- of escort ships in close coordination with coastal command and allied dedicated long range bombers. The result, combined with the slow-diving Type XIV was a slaughter in May-October 1943, with seven boats, 2/3 of the total, being sunk in succession. Mid-Atlantic waters were no longer a sanctuary. It must be however stated how courage was needed by these allied airmen to engage these U-Boats groups while refuelling, as the combined AA barrage was fierce.
In any case, the appealing losses conducted Dönitz to renounce the Atlantic in the end, sending U-490 to the Indian Ocean for "operation Monsoon" ro refuel the few IXC U-boats with an innovative experimental underwater refuelling apparatus. U-490 was sent to Penang, Sumatra, the Kriegsmarine's easternmost operating base. Caught northwest of the Azores on 10 June 1944 by an ASW hunter-killer group based around USS Croatan (CVE-25), the boat was hedgehoged when spotted, and then mercilessly depth-charged while diving and deep underwater, about 1000 ft. Badly shaken for hours with too much flooding to survive much longer, captain Gerlach decided to save his crew and surface to surrender.
Type XIV alternatives and planned successors
The never built Type XV and XVI


Author's modification of a Type X to attempt a rendition of the Type XV (1/750)
Both types were closely related as they shared the same designed hull with different internal arrangement, same powerplant and general features. The 5,000-ton Type XV was left in Initial designs only and listed on official documentation as "Long Range Transport Boat" but never developed and past the stage of first sketches.
U-Boats were to have been ocean going submarines designed for resupply of Frontboots in the open ocean. They would carry additional bunker fuel, torpedoes, stores, medical personnel and a workshop aboard for limited repairs of combat damage to the Frontboots. They were designed with a triple pressure hull design set three abreast, the displacement would have been in the area of 2,500 tons. Conventional diesel and electric propulsion was planned with 2,800 hp on the diesels and 750 hp on the e-motors. It was determined that this Type of submarine would make an easy target for ASW forces if caught on the surface, tending to another submarine and the project was abandoned. There were no Type XV U-Boats contracted for or built.
The Type XVI was intended as a very large repair boat variant (3,000-ton) intended to carry torpedoes, food, and oil as cargo. The engine layout was inspired by the Type VIIC. They could have been a larger version of the Type XV, to about 5,000 tons. Again, due to the fact that a submarine of this type, if caught on the surface tending to other submarines, would have made an easy target, the project was dropped, as for the Type XIV continuation. No Type XVI U-Boats were contracted for or built. It was never developed further and like the XV, no detailed specs exist.
The partly built Type XX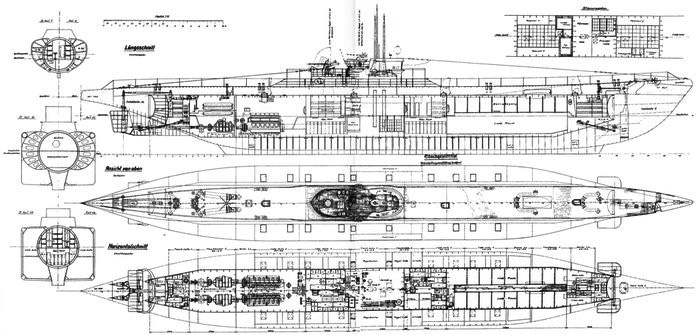 Rendition of the Type XX
These massive transport subs were designed in 1943 by AG Weser and the OKM (German Navy High Command). They were to be long-range transport U-boats, notably to carry material from the Far East and conversely, German plans and prototypes to Japan as it happened in late 1944 and 1945, a mission fulfilled by Italian submarines. For the borad design, the type XB minelayer was chosen to be adapted. In its final form, the design could accomodate some 800 tons of material, had no torpedo tubes, no deck gun but AA armament as the Type XIV. They were caracterized by a shorter hull than the Type XB, but greater beam and draft to accomodate for the storage areas.
They were to planned to be manned by 6 officers and 52 men. 30 contracts granted in all, including 15 to Deutsche Werft, Hamburg (U-1601 to U-1615) plus fifteen to Bremen-Vegesack yard (U-1701 to U-1715). Only 3 (U-1701 to U-1703) were eventually advanced when the war ended.
The Type XX as a project for a transport U-boat based on the Type XB could have be or better help to carry additional precious resources to Japan to continue the war, but of the thirty Type XX U-boats laid down in 1943, construction stopped in 1944 and the project was cancelled. On 15 August 1944, construction on three most advanced Type XX U-boats, U-1701, U-1702, and 1703 was restarted nevertheless, but stopped again in early 1945 and never resumed.
Planned specs:
Displacement 2,708 tons surfaced/ 2,962 tons submerged; Dimensions 255′ x 30′ 3″ x 21′ 9″; Engines Diesel and electric 2,800hp/940hp, surface speed 12½ knots, submerged 5.75 knots. 471 tons of diesel fuel for a 13,000 miles @ 12 knots radius and 40 miles @ 4½ knots underwater. Payload 800 tons of cargo, armament 1x 37mm, 2×2 20mm FLAK AA, crew 58.
Type XIV U-Boat records
U-459 (1941-43)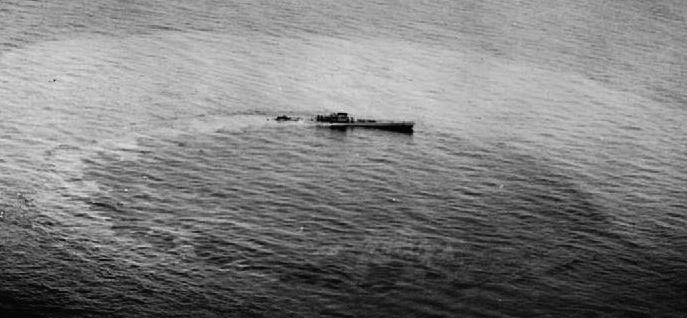 U-459 crippled, turning in circles, hit by a Vickers Wellington.
U-459 conducted six patrols, starting training with the 4th U-boat Flotilla and the 10th in April 1942, then 12th flotillas in November for operations. Her First and second patrols started from Kiel to Helgoland, the St. Nazaire on 15 May 1942, unter command of von Wilamowitz-Moellendorf, aged 48, a skipper veteran of WW1.
Her second patrol from 6 June 1942, her captain being promoted to Korvettenkapitän. It was an uneventful sorties from St Nazaire to mid-Atlantic where she operated with Wolfpack Eisbär (25 August – 1 September 1942). The third patrol was a foray into the south Atlantic and African coast down to Namibia from St. Nazaire on 18 August 1942, back on 4 November. Her fourth patrol started from the same port on 20 December 1942, to 7 March 1943, 78 days, but she headed for Bordeaux. She she went south to Cameroon (18 January 1943).
Her fifth patrol started from Bordeaux on 20 April 1943 and back on 30 May. In between, she was surfaced when spotted and attacked, but shot down by FLAK a lone CAC Armstrong Whitworth Whitley. The same day however she was attacked by a RAF Liberator dropping ten depth charges on her, also while surfaced. FLAK damaged the Liberator. Her last patrol started from Bordeaux on 22 July 1943, and while en route off near Cape Ortegal, Spain, on 24 July 1943, she was spotted and atacked by two British Wellington of No. 172 Squadron RAF. One was shot down, but 18 crewmen were killed on her deck, while near-misses had her badly damaged. Unable to dive and slowed down to a crewl her captain knew there was little chance now her position was known. He ordered her scuttled. 41 of her crew survived however and became POW. A famous photo show her turning circle, already hit, to escape the Wellingtons.
U-460 (1941-43)
U-460's first patrol from Kiel on 7 June 1942 started through the Faeroe Islands, between these islands and Iceland. She went to mid-atlantic, and made a routine supply mision, being back to St. Nazaire, occupied France, on 31 July. Her second started from there on 27 August 1942, pass the Bay of Biscay, turned south and pass Cape Verde Islands, to the South Atlantic. This was uneventful and she was back to St.Nazaire, departing again from St. Nazaire heading west and staying for 39 days before going home. Her 4th sortie was the same and ended in Bordeaux.
Her fifth patrol started on 24 April 1943, lasted for 63 days bringing her in an area mid-way between South American and African coasts, to be back to Bordeaux on 25 June.
Her sixth patrol started at Bordeaux, and she was underway 30 August 1943, supplying on 4 October U-264, U-422, and U-455 in the North Atlantic, north of the Azores. There, a Avenger and Wildcat of VC-9, USS Card, spotted the group, a "juicy target" which caused panic: All but U-460 submerged in time. Heir tanker was sunk by depth charges, with only two crewmen surviving.
U-461 (1941-43)
U-461 made six wartime patrols, the first from Kiel to St. Nazaire and then to the Atlantic via the Faeroe Islands gap. She operated with the wolfpack "Wolf" (26 July – 1 August 1942). Her second patrol hd her reacing the most westerly point in the Atlantic on 30 September 1942. She operated with Wolfpack "Vorwärts" (16 – 20 September 1942).
Her third sortie from St. Nazaire on 19 November 1942 had her reaching a point south between South America and Africa, staying two days before heading west on 11 December 1942 and back to Bordeaux on 3 January 1943.
She arrived west of the Canary Islands (2 March 1943) and went back to St. Nazaire. She departed on on 13 February, and stayed with the Wolfpack "Rochen" (26 February – 1 March 1943) until back on 22 March.
For her fifth patrol she departed St.Nazaire on 20 April 1943, but attacked when back 23 April, by a Canadian Wellington (172 sqn RAF) with a Leigh Light. The bombs made near hits and damaged the boat, leaving a trail of oil behind. She went back to Bordeaux for repairs.
Her sixth and last patrol started from Bordeaux on 27 July 1943, but she was caught underway in the Bay of Biscay, north-west of Cape Ortegal in Spain on 30 July: An Australian Sunderland from No. 461 Sqn RAAF (Flight Lieutenant Dudley Marrows) spotted and attacked. The U-Boat was crippled by bombs but the Australian crew agreed to drop an inflatable dinghy to allow 15of her crew surviving, the other 53 going with the boat.
U-462 (1941-43)
U-462 conducted eight patrols, the first from Kiel on 23 July 1942, via St. Nazaire on 21 September and then making it through the Faeroe gap with Iceland. After her mission she came back past the Azores to St Nazaire. She operated with the Wolfpack 'Lohs' from 29 August to 2 September 1942.
Her second patrol had her stationed to a point west-southwest of the Cape Verde Islands from 9 November 1942 to be reached by U-Boats in supply needs. She was back in St. Nazaire on 7 December 1942.
Third sortie was from Bordeaux on 20 January 1943,but after an incident she was back on the 22nd. Her 4th sortie had her reaching her westernmost suply point, on 27 February 1943. She was back to Bordeaux on 11 March. He fifth patrol was routine, and shorter. Her sixth patrol was in the Bay of Biscay, whe she was attacked by Mosquitoes of 151 and 156 sqn RAF, on 21 June 1943. Matrosengefreiter Ferdinand Brunnbaur was killed by strafing, four wounded. Her AA fire did not hit the Mosquitoes, way too fast. She was back to Bordeaux for repairs and gathering replacement crewment on the 23rd.
Her Seventh patrol was also short. As soon as she headed northwest of the Spanish coast, British B-24 Liberator (224 sqn RAF) fell on her. Near hits cause enough damage to return to Bordeaux on 6 July. Her last patrol, the 8th, started also in the bay of Biscaye, and on 30 July 1943 while underway, U-462 was spotted and sunk by a British Halifax bomber (502 Squadron RAF) plus gunfire from Black Swan-class HMS Wren, Kite, Woodpecker, Wild Goose and Woodcock which arrived after her position was communicated. HMS Kite's gunner hit her at 13,050 yd (11,930 m). As she was surfaced fortunately, only one crewman was killed but the rest of the crew survived.
U-463 (1941-43)
U-463 conducted five patrols. For her first one from Kiel on 11 July 1942, she reached St. Nazaire on 3 September and took the northern Faeroe Islands gap, arrived in the mid-Atlantic toward the Caribbean. She went home without hassle.
Her second sortie had her reaming the mid-Atlantic on 28 September 1942-11 November. He third sortie saw her passing the Azores, north and south when back. She was based in St. Nazaire, operating for a time with the wolfpack 'Delphin' (11 – 14 January 1943). Next was a patrol on 4 March 1943, but when back to France 17 April, she was order to move into Bordeaux, better protected against allied raids.
Her fifth patrol was also her last: U-463's started from Le Verdon, north of Bordeaux and while underway in the Bay of Biscay, when she spotted, attacked and sunk on 16 May 1943 by a British Halifax from 58 Squadron RAF (Coastal Command, Wing Commander Wilfrid Oulton). Depht charges were on targer and she sank with all hands.
U-463 (1941-43)
U-464 only made a single patrol. She sailed from Kiel to Bergen, Norway, arriving on 9 August 1942. She departed on 14 August 1942. On the 20th, she was attacked SSE of Iceland, by a lone US PBY Catalina from VP-73. Two crew members were killed on the spot, but as she was surfaced, there were 52 survivors. The bombs only cause near-misses, but she was too damage to dive, and limited to eight knots. Later Captain Harms decided to scuttle his U-Boat after spotting the Icelandic trawler Skaftfellingur, allowing his crew to be rescued.
Since the 52 German submariners picked up onboard were to be made POWs by a seven-man crew, they were put in the bows, with a machine gun stand guard on the bridge and later transferred to a pair of British destroyers. That's the official allied story but Captain Harms pretended later that his crew sized the trawler by force, heading for Germany, but intercepted by the British destroyers and taken prisoner.
U-487 (1942-43)
U-487 conducted two patrols, the first from Kiel on 27 March 1943, and went back, mission accomplished, to Bordeaux, in occupied France on 12 May 1943. The second patrol started from Bordeaux on 15 June 1943. On 13 July, she was spotted surfaced and attacked by five Grumman TBF Avengers and F4F Wildcats from USS Core. The crew were caught by surprise, since there were sunbathers on deck when it happened. One Wildcat was shot down by her AA fire, but 31 men were killed neverthless between rocket hits and bombs. 33 survivors were picked up later by USS Barker.
U-488 (1942-43)
U-488 made three war patrols, the first startin when she left Kiel on 18 May 1943, clearing the British Isles in the Faroe Islands-Iceland gap, ad doing her mission in the Atlantic with a first wolfpack, "Trutz" on 6 – 12 June 1943. On the return she went NW of the Azores to Bordeaux, occupied France, arriving on 10 July 1943.
For her second patrol she was attacked on 12 October 1943 by two Avengers from USS Card. They claimed the sinking, but U-488 survived and went on, carrying out her mission.
On 15 October, Maschinenmaat Karl Bergmann died of illness on board and on 25 November, Matrosenobergefreiter Heinz Heinlein fell overboard, dying later of heart failure. She was back to Bordeaux on 12 December 1943.
Her third patrol was from Bordeaux again, on 22 April 1944. On the 26th she as caught west of Cape Verde, but four escort destroyers, USS Frost, Huse, Barber and Snowden, and depth charged until she sank with all hands.
U-489 (1942-43)
U-489's only patrol started from Kiel on 22 July 1943, going through the "Faeroes Gap" north of the British Isles, and she was spotted and attacked while surfaced by a PBY Catalina from No. 190 Squadron RAF, on 3 August 1943.
Due to the serious AA fire put up by U-489, the Catalina was hit twice and withdawn, jettisoning depth charges. When home, they found that their rudder cables were almost severed by FLAK shrapnel. However the U-Boat's position was signalled to a Lockheed Hudson of 269 Squadron whih attacked her and caused damage. But she survived and her position passed on a lone Canadian Sunderland flying boat (No. 423 Squadron RCAF) which attacked her the following day south-east of Iceland.
The Sunderland however was shot down by the fierce AA fire put by U-489, but not before having taken several depht charges that wrecked her hull. She sank but surfaced when this happened, enabling 53 of her crew to escape. They were later picked up by the destroyers HMS Castleton and HMS Orwell which observed the attack, too far away to attack her.
U-490 (1942-43)
U-490's only patrol started from Kiel on 4 May 1944, making her way into the Atlantic in the "Faeroes Gap", between Iceland and the Faeroe, but was lost on 12 June when attacked in mid-ocean by the escort carrier USS Croatan and the destroyers USS Frost, Huse and Inch. It seemed she was surfaced amready and surrendered. There were 60 survivors and no casualties.
Sources & more:
Books
Busch, Rainer; Röll, Hans-Joachim (1999). German U-boat commanders of World War II. Greenhill Books
Busch, Rainer; Röll, Hans-Joachim (1999). Deutsche U-Boot-Verluste von September 1939 bis Mai 1945 Mittler.
Gröner, Erich; Jung, Dieter; Maass, Martin (1991). U-boats and Mine Warfare Vessels. German Warships 1815–1945. Vol. 2.
Kemp, Paul (1999). U-Boats Destroyed – German Submarine Losses in the World Wars. Arms & Armour.
Links
Various types on www.sharkhunters.com (archive)
Video: U-boat Tanker – Type XIV 'Milk Cow' by War & History channel
Assessment detail on uboataces.net
Model Kits
German Type XIV Submarine U-487 1/350 Scale Diecast Metal Model (cutaway)