Commissioned in 1914, Clas Fleming was among the first Swedish warships using Parsons steam turbines. Faitly small for cruiser standards in WWI with just 1550 tons of displacement, she was still armed with four 120 mm (4.7 in) guns, had some armor in vital spaces and could carry and lay 190 naval mines. It had one upgrade in 1926 and in 1939 when fitted with an extended section to house brand new diesel engines used as gas generators for the turbines, one idea that will ultimately led to the Gas Turbines and CODOG/COGOG systems of today. Clas Fleming was ultimately decommissioned in 1959. #swedishnavy #ww1 #ww2 #svenskamarinen #clasfleming
Design Development
Before WWI, Sweden had only a few cruisers, mostly resting on armoured monitors and coast defence ships, torpedo boats and minelayers. But at the turn of the century the Navy was rapidly modernizing, with the development of destroyers started in 1902, with the Mode class, and of submarines, with Hajen launched in 1904. In terms of cruisers, this was disparate: Five ships of the örnen type, 1896 small Torpedo Cruisers, and from 1905 the armoured cruiser Fylgia we already saw. But aside Gunboats, there was no dedicated minelayer in service. Other nations, notably Germany (with the Nautilus class) were looking at this new type, and Sweden soon wanted to enquire about the validity of acquiring one.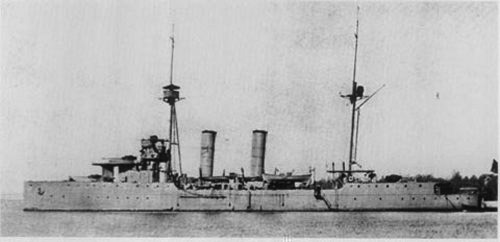 Clas Fleming post-WWI reconstruction with her raised aft deck, rebuilt mines chutes and doors
HMS Clas Fleming, known as a Minkryssare ("Minecruiser") was designed after a naval staff specifically for this role in 1908. She was to be large enough to carry a sufficient number of naval mines, and well armed to defend against other destroyers and torpedo boats. But moreover to have a good seaworthiness in all weathers and be quickly out of the area after laying mines.
In addition, the new ship should be used for reconnaissance. In 1909, funds were granted, after the final specifications were drawn up, as the new cruiser was approved by the Riksdag. She was ordered on 17 May 1910 for FY1911, attributed to Bergsund's Mekaniska Verkstad (Bergsund Finnboda, Stockholm) which already had previously built the cruiser HMS Fylgia. She was laid down presumably in early 1911 (date unknown) and launched on 14 December 1912.
Clas Fleming was ultimately commissioned on 23 February 1914. Based on precise and innovative specifications, she was Sweden's first ship intended specifically for quick mine laying. Since it was necessary to escape if caught by an enemy squadron, for the first time it was decided to equip the ship with steam turbines. Having no previous experience in the matter, Sweden turned to the world's leader at that time, Parsons of Great Britain. However the limited size of the cruiser, which seemed acceptable on paper, changed in reality many factors.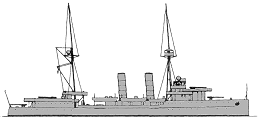 Appearance in 1914 as completed
Hull and general design
Clas Fleming was pretty small for a cruiser, more related to 1880s unprotected ones and gunboats. She was 80 meters long, for 10.4 meters wide (1/8 ratio) for a 4.3 meters draft (263 ft 1 in long, 34 ft 1 in wide, 14 ft 1 in draft). Standard displacement was 1,640 tonnes, maximum displacement, fully loaded was 1,850 tonnes.
The silhouette looked conventional, but more for a gunboat than a cruiser. She was relatively tall, between the forecastle with good seaworthiness, and superstructures taking much of the space. Her artillery was placed in superfiring positions fore and aft, and a lower deck, partially protected, an amidship section for two tall funnels and air scoops around, plus six light service boats in davits on the sides.
Clas Fleming had two tall pole military masts fore and aft. The forward one had a walled spotting top. She carried on the second a projector, and another was located aft of the upper bridge's open deck. The bridge was located above the behind the Conning Tower and was used as the main navigation bridge at all times.
The crew amounted to approximately 160 men, with 8 officers, 23 non-commissioned officers housed in their own cabins, the 129 ratings laying in bunks below. Since at the time landing parties were still a thing, it was planned for the ship to house and operate a force of 47 marines.
However the small design was criticized over several points:
-Excessively cramped boiler rooms
-Low armour deck which participated in this narrow space
-Wet in rough seas
Armour protection layout
As per the specifications, the level of protection was that of a protected cruiser: She had an armored deck 16–25 mm thick. This was quite weak for any engagement with something larger than a destroyer. The other feature was the usual conning tower, complete with backup fire control and navigation and was protected by 75 mm (3 inches) walls all around. By default, it is estimated to be Krupp armor. For ASW protection, the hull was divided into 14 watertight compartments. The main guns had no shields, which were added in the interwar.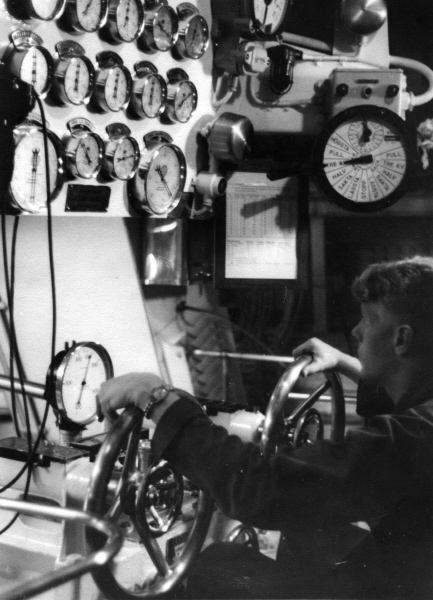 Operator of the machinery
Powerplant
The machinery consisted of steam boilers and steam turbines. Eight coal-fired steam boilers, divided into two groups and set up in two furnaces, supplied steam at 17 bar pressure to two steam turbines which together developed 6,500 horsepower, giving the ship a speed of 20.3 knots. The ship was the first in the Swedish fleet, along with the destroyers HMS Hugin (24) and HMS Munin (8) to be equipped with steam turbines. The turbines were directly connected to each propeller shaft, giving the ship two propellers.
Armament
Main
It consisted in four 12 cm m/11 guns or 120mm/48 K/50 Model 11 (4.7 in), of Swedish Bofors Manufacture. There were two in the bow, two in the stern in superfiring positions.
The closest model was the previous 12 cm cannon m/94 45 caliber was common on Swedish torpedo cruisers from 1898 and the remainder went to the Coast Artillery (battery Mojner, Gotland notably). They were used on the monitors Tirfing and Thordön and the Svea, Oden, Thor and Niord. Weight 3507 kg, 21 kg shell, elevation +15°, rate of fire 7-10 rounds/min, effective range 12 km for the L/48.
Secondary
There was no secondary armament, which was rare for a cruiser, but dictated in large part by the small dimensions of the intermediate deck and for stability concerns. To defend against destroyers, the main armament was the only answer, but still, Clas Fleming had four single 6.5 mm/80 caliber m/10 machine guns installed on pivots on the upper decks, for close range, and possibly used during landings as well.
Mines
As a mine cruiser, around 190 could be taken on board, 130 stored directly on deck and moved by railings, the standard fitting of the time. The remainder 60 were kept below decks, moved up to these railings using a ramp. It's hard to find relevant infos on this pre-WWI Swedish Mines. The first large-scale use of of sea mines was the Russo-Japanese War of 1904–1905, which draw a lot of interest of the Swedish Admiralty and a coast defence deterrent. Early types were probably ordered abroad, in Britain or Germany. Swedish complied to the eighth Hague Convention in 1907, introducing rules for mine warfare, including a ban on drift mines and notifications of seafarers where laid. Sweden remaining neutral in WWI, the minefields were all signalled.


Author's rendition of Clas Fleming
⚙ specifications

Displacement
1,550 long tons (1,575 t)
Dimensions
80.2 x 10.4 x 4.3 m (263 ft 1 in x 34 ft 1 in x 14 ft 1 in)
Propulsion
2 shaft Parsons steam turbines, 8 Yarrow boilers, 6,500 ihp (4,847 kW)
Speed
20 knots (23 mph; 37 km/h)
Range
Unknown
Armament
4 × 1 – 4.7 in (120 mm) guns, 4 MGs, 190 mines
Protection
Deck: 16–25 mm (0.63–0.98 in), Conning tower: 75 mm (3 in)
Crew
161
Career of Clas Fleming 1914-1959
WW1 and interwar service
Clas Fleming entered service in May 1914 as the sole and only Swedish fleet minesweeper, named after Admiral Clas Larsson Fleming of the Russo-Swedish war. The same summer she started training and fleet exercizes, onl interruopted in August by the start of the First World War. Exercises were still carried out, this time to test different methods of "minute minelaying". It went on until 1917 when regulations were issued for how these should be carried out. Clas Fleming was only to lay offensive minefields, older vessls freshly converted would lay defensive minefields. In addition the admiralty decreted that all Swedish destroyers would be in the future fitted with mine rails and join Clas Fleming in the laying of offensive minefields.
The different between the two was simply that in case onf a sea invasion of territorial waters, Clas Fleming would go out in the estimated path of the incoming fleet and quickly lay a minefield before escaping at full speed.
Before the war ended on 24 October 1917 already, Clas Fleming was ordered to Stockholm for partial disarmament. During the First World War, Sweden being neutral was deployed in order to guarantee safe passage of merchant traffic to and from Sweden and up to the Skagerrak, by enforing the respect of Swedish territorial waters. Clas Fleming ship provided valuable knowledge in mine warfare by placing several of these to defend some areas.
In service she had shown some issues. Her stern was found to be very wet on rough seas. It had been discovered also that the mine ports were too close to the water's surface, causing a blowback and possible detonation when waves came in from the stern. So while in Stockholm, she was placed in drydock in 1918-19 to rebuilt her poop deck, extended to the stern. The gates were raised, and the minerails after were covered by a full deck, also, the aft guns had to be relocated and the two superfiring guns were moved to a old-fashioned amidships sponsons position.
In 1926, she underwent other modifications as three 25 mm (0.98 in) anti-aircraft guns were added in place of the light machine guns, atop the conning tower two more at the stern, abaft the amidships 120 mm guns. Also a modern range finder was installed on top of the bridge.
Her interwar service was quiet, and in 1938, there was a reorganization in the Swedish Navy, Clas Fleming being part of the coastal fleet's 2nd cruiser division. According to the regulations of the time she was considered too old to be part of it at that stage. She should have been transferred to local forces as early as 1938, but this was delayed. By September 1939 a commission examined her fate. She had not received any upgrades since 1929, with a brief exception to lower her high operating costs.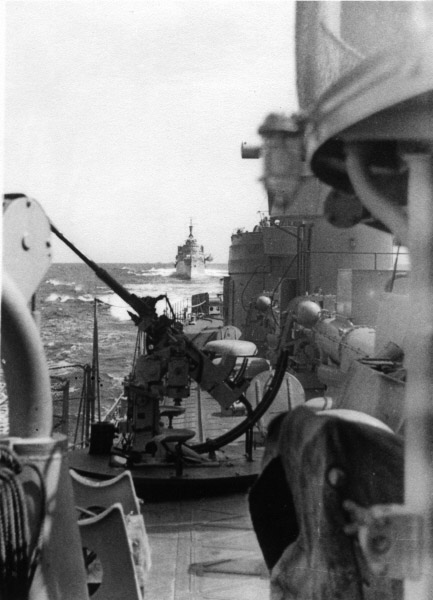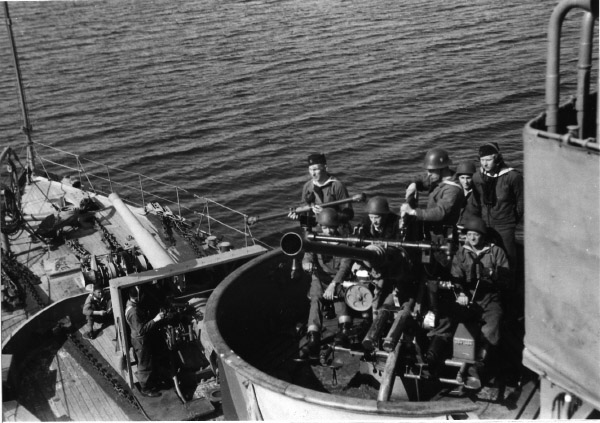 New AA Bofors guns after reconstuction
Refit and WW2 service
In order to reduce these costs, it was planned to replace her machinery for which would much more efficient. Funds were granted by the Riskdag in the first half of the 1930s already but never carried out before the Second World War broke out. Instead of a full reconstruction, the emergency dictated a simple replacement of the engines, although it was concluded that she still was in great need of a more intensive modernisation.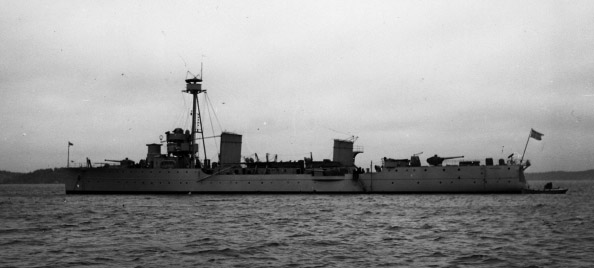 Appearance as completed and recommissioned in 1940, with her two "true" funnels, far apart.
At last she was taken in hands for a full reconstruction in 1939-1940, and by November, she was sent in drydock at Götaverken, Gothenburg: Her hull was lengthened by 6 meters (20 feets), with a whole new section added amidship, the Parsons steam turbines were removed and replaced by a brand new experimental machnery designed also in Götaverken.
It was in essence the world's first-ever gas turbine:
This consisted in choosing two modified Laval geared turbine sets, keeping of eight original coal-fired, only two modified to fire oil, to feed the turbines, and adding four six-cylinder two-stroke diesel engines used as gas generators, to also feed the turbines. Indeed instead of connecting the the diesels to the propeller shafts, the engines exhaust gases were used to drive the turbines, connected to the shafts. This was a clever, low engineering solution, but proved quite an innovation. The ship only had two new funnels, set further apart, but a second dummy one was installed between them in 1941, to mimick the silhouette of Swedish destroyers of the time as deterrence.


Clas Fleming in WW2
The artillery was also modernized, the mounted were modified so that the firing range jumped to 16,000 meters and the guns were protected by lightly armoed shields. Air defense was strengthened by thz adoption of three 40 mm m/36 Bofors autocannons, and tow depht charge racks at the stern for ASW defence. The aft mast was removed, the foremast was shortened and modified, the new funnels were raked and shaped differently so completely changing her silhouette.
⚙ specifications 1940

Displacement
1640t standard, 1850t FL
Dimensions
86 x 10.4 x 4.30m (282 x 34 x 14 feets)
Propulsion
De Laval steam+gas turbines, same boilers+4 diesel generators
Speed
20.3 kts
Range
7,200 nm
Armament
Same but 3x 40mm/56 K/60 M32, 3x 25mm/55 K/58 M32, 200 mines, 2 DCR
Crew
160
Cold War service 1945-1959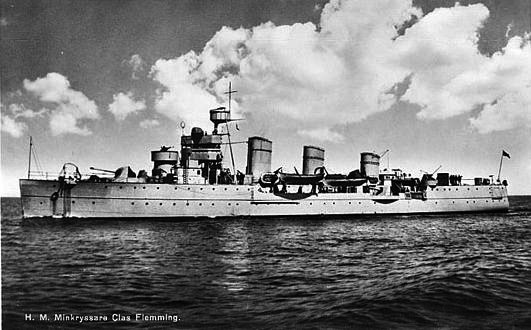 Clas Fleming postwar, with her three funnels.
On 8 August 1940, Clas Fleming was recommissioned, deployed to the Coastal Fleet, where she remained for the remainder of the war. After 1945, Clas Fleming was disarmed at Stockholm's shipyard, now way to old for effective fleet service. But she was kept in reserve, and not stricken from the list and decommissioned before 1959. All valuable material was removed so that she could be converted as a target ship for firing exercises. In the fall of 1960, at last, after being at sea for more than half a century, Clas Fleming was sold, and scrapped in Ystad.
Read More
Books
Gardiner, Robert; Gray, Randal, eds. (1985). Conway's All the World's Fighting Ships: 1906–1921.
Harris, Daniel G. (2004). Preston, Antony (ed.). Minelayer Clas Fleming: An Early Gas Turbine Ship. Warship. Vol. 2004. Conway
Borgenstam, Curt; Insulander, Per; Åhlund, Bertil (1993), Kryssare : med svenska flottans kryssare under 75 år (1:a)
Lagvall, Bertil (1991), Flottans Neutralitetsvakt 1939–1945, Karlskrona: Marinlitteraturföreningen nr 71
von Hofsten, Gustav; Waernberg, Jan (2003), Örlogsfartyg: Svenska maskindrivna fartyg under tretungad flagg (1:a), Karlskrona: Svenskt Militärhistoriskt Bibliotek
Borgenstam, Insulander & Åhlund 1993
Von Hofsten & Waernberg 2003, s. 136.
Holmquist 1972, s. 198-199.
Links
https://kulturnav.org/8b9da82c-049f-468a-93ce-428d0ae6901c
https://web.archive.org/web/20190407141713/http://www.navypedia.org/ships/sweden/sw_cr_clas_fleming.htm
https://sv.wikipedia.org/wiki/HMS_Clas_Fleming
https://en.wikipedia.org/wiki/HSwMS_Clas_Fleming
Model Kits