Imperial Japanese Navy, protected cruiser (1890-1923)
IJN Akistushima was the first Japanese-built, British-designed cruiser, with elements of USS Baltimore. Her design was prepared by superstar British engineer Whilliam White. She took part in the battle of yalu 1894, sinking her opponent Kuang Chi and also in 1905 to the Russo-Japanese war, and later to WWI. She was removed from service in 1923, but was the first significant Japanese-built warhip ever, inaugurating the brand new Yokohama naval yard.
Design of the Akistushima
Origin and development
Doubts about the "Jeune Ecole" (1889)
Akitsushima (秋津洲) had a very ancient name chosen by the Imperial Japanese Navy staff, to inaugurate the Yokosuka Naval Arsenal in Japan. The name is an archaic from for "Japan", as used in the ancient chronicle Kojiki. She was the only cruiser included for the 1889 fiscal year budget. Technically, this was before the Sino-Japanese war of 1894, so at the time, a great deal of confidence was given to French design and the work of L.E. Bertin, which also created the Yokohama Arsenal, Japan's first naval academy, elaborated the logistics and armament arsenals, and the coastal defence. So she was originally planned as a fourth vessel of the Matsushima class under the Jeune École philosophy, following IJN Hashidate, the third and first built at Yokosuka. However, as the drawings were complete and keel already laid down, internal opposition by the pro-British faction in the navy started to make its way into high circles. In addition, some in the navy already had serious doubts about the effectiveness and operational utility of the Matsushima class (as a reminder, they had a unique massive Canet main gun aft).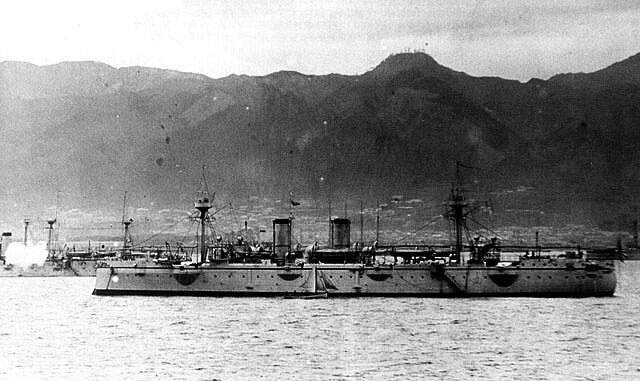 Project restart (1890)
Eventually concerns, possibly fuelled by the British naval attaché, reach a consensus not to repeat the later design. There were proposals for a new protected cruiser with multiple guns, more conventional, which on its blank page look as a British-designed USS Baltimore. Bertin was still there at the time and felt outraged by this change of attitude, threatening to return to France. The same year, notably due to past French support of the Tokugawa bakufu, his position was later made untenable as the pro-German and pro-British factions won support of the Emperor. He departed Japan in 1890, and the new design proceeded with a commission sent to Britain to finalize the design with Britain's most reputed naval architect of the time, Sir William White.
The latter completed a design that looked a modified Baltimore class cruiser (tall hull, two funnels, low masts), and White proposed a British artillery, a mix of Vickers fast-firing 6-in and 4.7-in guns. The project was accepted and as the keel was already laid down in Yokosuka by March 1890, and the hull already partly built, the singe aft barbette partially started was removed entirely and the construction went on with the new design.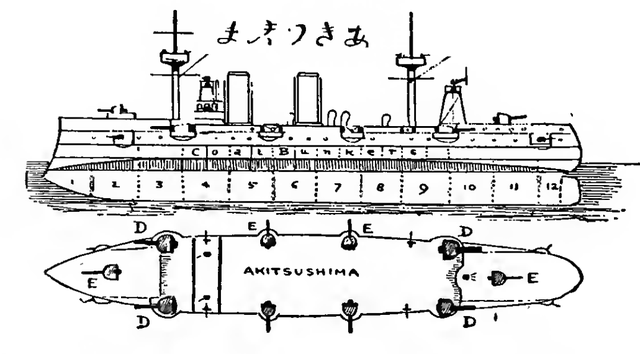 Because of this late change of design, many plans had to be redrawn causing delays. IJN Akitsushima was eventually launched on 6 July 1892, so almost 2.5 years afterwards. Although most of the hull recalled the former design, the aft part was now at the same height, making for a "flush deck" appearance. Guns were placed in sponsons and in axial positions fore and aft, completed by military masts and light artillery. Completion was made on 31 March 1894, so four years after its start.
Hull and general design


IJN Akitsushima, src naval-history.mil
The hull was based closely on that of the Matsushima class, namely Hashidate. She retained her same double-bottom hull construction, 12 water-tight compartments, same machinery. And she was the last ship in Japan built of imported steel. All the next will be made with Japanese steel (From Mitsubishi). Akitsushima was 92.11 metres (302.2 ft) long, 13.1 metres (43 ft) wide, with a draught of 5.32 metres (17.5 ft).
Armour protection layout
As a protected cruiser, she was limited to an armoured deck, 75 mm (3 in) on the slopes 38mm (2-in) for the flat section, a thickness artificially increased on the slopes to 100+ mm (4 in). The hull was subdivided into 12 watertight compartments, separated by bulkheads. Other than that, there were gun shield 115 mm (5 in) thick. But no conning tower. All was made in US Harvey steel, hence the connection to USS Baltimore, both in shape and because of her constuction.
Powerplant
Akitsushima was powered by two horizontal triple-expansion steam engines on two shafts. They were fed by six cylindrical boilers. The twin screws were three-bladed. Output was 8,400 ihp (6,300 kW). For autonomy she had 800 tons coal and was capable of 19 knots (22 mph; 35 km/h) at full speed. Her range is unknow though, but was probably close to the Matsuhima class (also unknown). She was however not a good steamer.
Armament
Armament was initially revised like Chiyoda: Four QF 6 in/40 (9,100 metres or 10,000 yd) 5-7 rounds per minute. They were to be placed in three pairs on sponsons on the upper deck, two on the bow, two at the stern. Some however thought this main battery was too light. It was argued that six rapid firing QF 4.7 inch guns in addition (range of 4,000 metres or 4,400 yd) with 12 rounds per minute woold be a nice complement. They ended in sponsons on the upper deck, in three pairs between the foremast and mainmast, forecastle and poop. To deal with torpedo boats, ten QF 3 pounder Hotchkiss guns were added and two quadruple 1-inch Nordenfelt guns. The complement was four 356 mm (14 in) torpedo tubes. With all these additions, Akitsushima became top-heavy, and thus had as a result poor stability and poor sea-keeping despite the tall hull. She rolled heavily and generated a lot of water spray, ending as a unstable artillery platform.
⚙ specifications

Displacement
3100t, 3150t
Dimensions
91.7 pp 92.0 wl x 13.1 x 5.32m
Propulsion
2 shafts VTE, 6 cyl. boilers 8,400 shp,
Speed
19kts ()
Range
Coal 800t, unknown
Armament
4x 6-in/40 Armstrong W, 6x 5-in/40 Armstrong R, 8x 3pdr Hotchkiss Mk I, 4x 18-in TT
Protection
Harvey steel – deck: 76mm (3 in), shields: 114mm (4 in)
Crew
314
IJN Akitsushima's career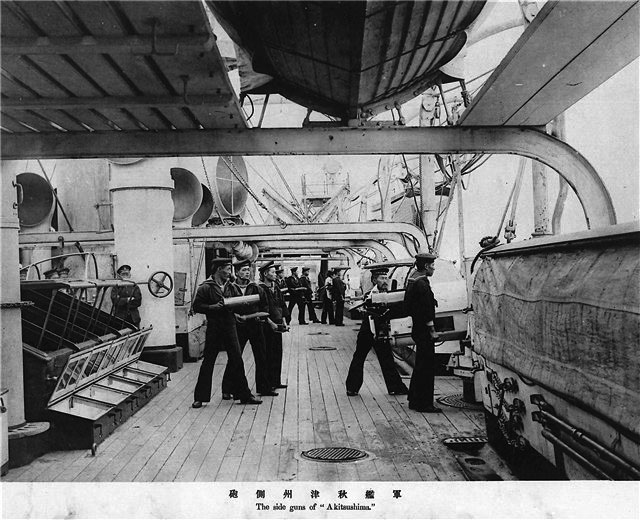 First Sino-Japanese War
On that occasion, Captain Kamimura Hikonojō commanded the ship, after initial training (she was jst completed on 31 March 1894) and so with experience, she participated in the Battle of Pungdo before the start of official hostilities, meeting the Beiyang Fleet cruiser Jiyuan. She duelled and soon had the upper hand, and Diyuan escaped, and Akitsushima managed instead to disable and capture the gunboat Guanyi. Assigned later to the flying squadron (Admiral Tsuboi Kōzō) she took part in the Battle of the Yellow Sea, 17 September 1894. She duelled mostly with the Chinese cruiser Zhiyuan, and is credited for her sinking. During the battle she was hit only once (five KiA, including one officer, ten wounded). Lastly, she took part in the decisive Battle of Weihaiwei, providing fire support to assist for IJA troops capturing fortifications. She also lzater took part in the seizure of the Pescadores Idlands and secured the invasion of Taiwan in 1895. She saw action on 13 October 1895 at last, bombarding the Cihou Fort at Kaohsiung before its capture.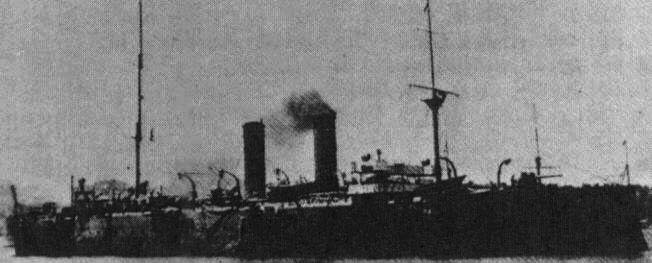 Interwar period
On 21 March 1898, Akitsushima became a 3rd class protected cruiser and during the Spanish–American War, she was based at Makung, Pescadores, sent to Manila, Philippines under Captain Saitō Makoto to safeguard Japanese citizens. Later under command of Captain Fujii Kōichi, she escorted troopships during the Boxer Rebellion in 1900.
Russo-Japanese War
Before the war with Russian erupted, the IJN staff wanted to have her stability improved. So two of her 120-mm guns were removed in 1900–1901. However she was not that impressive anymore when compared to Russian cruisers at the start of the Russo-Japanese War, with low confidence. She was assigned to the rear line, 6th division, Third Fleet, Takeshiki Guard District (Tsushima islands) to patrol the Korea Strait to Port Arthur and have a watch over any moves from Vladivostok.
Akitsushima was in Shanghai on 18 February 1904 (Capt. Yamaya Tanin) with the equally old IJN Suma, to watch over the disarmament of the interned Russian gunboat Mandzhur, until 31 March. She was recalled to take part in the blockade of Port Arthur. She rescued part of the crew of the battleship Yashima (naval mine, 15 May 1904) and same from the gunboat Ōshima on 16 May, collision with Akashi.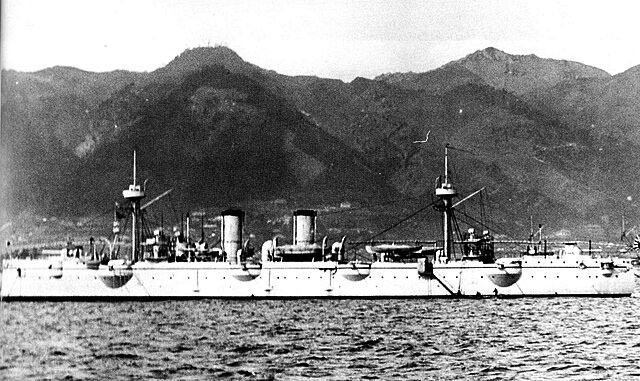 In June 1905 she escorted troopships of the IJA 2nd Army in the Bohai Gulf, and provided fire support for the 3rd Army (General Nogi Maresuke) progressing on the formidable defenses of Port Arthur.
Nex she took part in the Battle of the Yellow Sea, hopelessely trying to intercept Askold, which ran away. In the end she was present for the grand finale, the Battle of Tsushima on 27 May (Capt. Hirose Katsuhiko), engaging the Russian cruisers Oleg, Aurora and Zhemchug in succession. She made many hits, and received little damage in return. By June 1905, she covered the landings of Sakhalin. In 1908 her machinery was completely worn out and she had her boilers were replaced by 6 new oil-fired Miyabara models, regaining some speed.
Re-classified as 2nd class Coastal Defense Vessel, 28 August 1912 she saw little action. In 1913 officers and crew presided over the funeral of Russian admiral Stepan Makarov, in the military cemetery of Port Arthur, with Russian delegates. They were extracted from the wreck (naval mines) by a salvage team at the entrance to Port Arthur.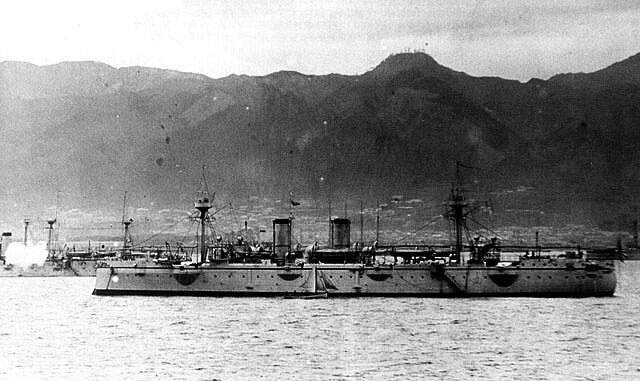 World War I
In 1909, Akitsushima returned the body of former PM Itō Hirobumi to Japan (assassinated in Harbin, Manchuria by a Korean nationalist). When World War I broke out she was reassigned to the IJN 2nd Fleet and took part in the Battle of Tsingtao, selling positions of the Imperial German Navy. Later she patrolled sea lanes, visiting Borneo, Singapore, Manila, Saigon, watching for German commerce raiders and U-boats as part of the Anglo-Japanese Alliance. In 1914, another attempt to sold her stability issues forced the retirement of her torpedo tubes plus her old 47-mm guns. After 1918, Akitsushima became a training ship, then submarine tender on 30 April 1921. She was evenrully stricken and sold for BU on 10 January 1927.
Read More/Src
Books
Conway's All the World's Fighting Ships, 1860–1905
Chinese Battleship vs Japanese Cruisers: Yalu River 1894, By Benjamin Lai.
Roksund, Arne (2007). The Jeune École: The Strategy of the Weak. Leiden: Brill.
Jentsura, Hansgeorg (1976). Warships of the Imperial Japanese Navy, 1869-1945. NIP
Paine, The Sino-Japanese War of 1894-1895: Perception, Power, and Primacy
Howarth, The Fighting Ships of the Rising Sun
Nakamura, Kaju (2010). Prince Ito-The Man and Statesman-A Brief History of His Life. Lulu Press
Balakin, Sergey (2004). Морские сражения. Русско-японская война 1904–1905. Moscow: Maritime Collection.
Evans, David C.; Peattie, Mark R. (1997). Kaigun: Strategy, Tactics, and Technology IJN 1887-1941. NIP
Howarth, Stephen (1983). The Fighting Ships of the Rising Sun: The Drama of the Imperial Japanese Navy, 1895-1945.
Jane, Fred T. (1904). The Imperial Japanese Navy. Thacker, Spink & Co.
Jentsura, Hansgeorg (1976). Warships of the Imperial Japanese Navy, 1869-1945. NIP
Roberts, John (ed). (1983). 'Warships of the world from 1860 to 1905 – Vol 2. Bernard & Graefe Verlag
Schencking, J. Charles (2005). Making Waves: Politics, Propaganda, And The Emergence Of The Imperial Japanese Navy, 1868-1922. Stanford
Taras, Alexander (2000). Ships of the Imperial Russian Navy 1892–1917. Library of Military History, Minsk: Kharvest.
Sites
https://en.wikipedia.org/wiki/Japanese_cruiser_Akitsushima
http://www.navypedia.org/ships/japan/jap_cr_akitsushima.htm
https://www.history.navy.mil/our-collections/photography/numerical-list-of-images/nhhc-series/nh-series/NH-58000/NH-58807.html
Fred T. Jane, the IJA
model kit on scalemates.com/