The Last Chinese Cruisers
The Ning Hai class cruisers were the culmination of many "firsts" and "lasts": First cruisers of the feldgling Chinese Republic, first built in Japan, and last Chinese cruisers overall (although arguably the new Type 055 missile destroyers of the actual PLAN us locally called Renhai-class cruiser). The Ning Hai were in fact the only cruisers built for the Chinese Navy since the fall of the Empire in 1911, followed by a first repulic, the warlord era, and a more or less stabilized republic again, allowing to plan a modenrization of the fleet. Indeed in 1937, at the time of the start of the second Sino-Japanese war, after a quasi-war in the north since 1932, the Chinese Navy was in dire straits, with on paper a fleet of cruisers and gunboats dating back from twenty years and more.
They had received little modifications between them and were hopelessely obsolete and outmatched by the IJN. Both ships had a very short career under Chinese flag, both were sunk in the Yangtze River on 23 September 1937, by Japanese aviation. They were refloated and later repaired by the Japanese, and pressed into service in the IJN where they spent the rest of their career. Originally planned for transfer to the puppet government of Wang Jing-Wei, they were outfitted as barracks hulks and later the escort ships IJN Ioshima and Yasoshima, in 1944. Both were lost in action to USN torpedoes the same year.
Context in 1930
By 1928, Chiang Kai Chek's army overthrew the Beiyang government, unifying the entire nation at least nominally. This was the start of the so-called Nanjing Decade. So in 1930, the current government had the will to rebuilt and modernize the navy, based on the existing Beiyang fleet. However, no western yards would accept to built ships for China, not recoignising this government and rebuffed in general by political instability. Things seemed to stabilize and reforms were made by the new overnment however, but war reupted in the Central Plains in 1930, followed by the Japanese aggression in 1931, the Red Army's Long March in 1934 and Fujian Rebellion of 1933–34.
In 1929, the new Chinese Naval Ministry made a cal for tenders to international shipbuilders, notably Great Britain, USA, Germany and Japan for a tailored small light cruiser. The Japanese "Harima Zosensho" design was eventually chosen and on 5.12.1930 a contract was signed to build the lead vessel, Ning Hai, in Japan. The same contract specified Ping Hai was to be built in China with technical assistance of Japan. In August 1934, some 50 Japanese experts headed by director of "Harima" yard, went in China and overseen the construction between 30.10.1935 and 18.6.1936 of the Ping Hai, later outfitted in Japan at the same yard.
It was a gamble for the Nationlist government to turn to Japan in retrospect, so soon before the aggression.
But at the time the Nationalist givermnent of China had sympathies for Japan, sharing some similar nationalist views. It was also close enough for the cruisers to be outfitted, maintained and repaired. Specifications were submitted for the light coastal cruiser were perfectly met by the proposal from Harima Dock Co., Ltd. which worked on very similar designes for the IJN, and theirs was approved with promises of a quick construction, and a hull laid down on 20 February 1931. The sister ship Ping Hai however suffered fro many issues mostly related to the difficult situation in China and was eventually completed much later. Her career was in fact particularly short. Both were not badly made cruisers and it can be suspected the Japanese already had plans either to create similar small cruisers for policing China in the future (they would not need such thing, just refloating them as seen later).
Construction
The Chinese Government was in such need of these ships, the Japanese intervention in Mandchuria was not considered an issue, as long as the ship was delivered. Ning Hai was built fast, eventually launched on 10 October 1931 and completed on September 1932. When commissioned in China she gave full satisfaction. However this contract was particular as the Chinese wanted to acquire experience and asked for for her sister ship to be built locally at Kiangnan Dock and Engineering Works at the same time. Worked commenced with parts and tooling arrived from Japan, with assistance of the on 26 June 1931. Ping Hai's construction was suspended amidst the troubles in mandchuria. After a dispute resolution, construction resumed, and she was eventually launched on 28 September 1935, and on 18 June 1936. The deterioration of relations with Japan in 1933 meant technicians went back to Japan, leaving the yard with an unfinished ship. The Chinese government seeked technical helpabroad to complete the ship and eventually reached agreement with German experts, but the latter imposed some design modifications. Notably they dropped the axial shaft for simplification, retaining the two external ones only. The armament was also modified, as well as the fire control (with two telemeters placed for and aft), the masts and superstructures.
Design
The Ning Hai class were probably the smallest newly built cruisers between world wars. Perhaps the Greek Elli was at its level or even smaller, but actually built before the war. They were thought actually by the Chinese admiralty as large gunboats or sloops, with a shallow draft to keep the capability of being based and operate in the Yang Tse. They however had all the trademarks of a cruiser under international treaties: Besides a very low 2,000t displacement and more than 20kts making it superior to any gunboat, it was given no less than six 130mm main guns in three turrets, like in an average light cruiser tailored to hunt down destroyers.
Chinese cruisers were developed loosely on the basis of IJN Yubari (1923) but with significant differences in appearance, armament and protection.
Armament:
-Main: Three twin 140mm/50 "type 3" guns: They were similar to those installed on all Japanese light cruisers of the first interwar decade, with identical turrets, loading systems and mounts as seen on IJN Yubari. The turrets were however placed in a classic scheme with one forward on deck, forecastle, and two aft, one on deck level and one on the quartedeck superstructure roof aft.
-Secondary: Six single 8 cm/40 3rd Year Type naval gun (AA guns). These were assimilated to 3-in guns in western literature (76 mm). They were in tandem, a pair forward on the upper deck, two the the quartedeck behind the funnel, two in a raised superstrcuture aft.
-Tertiary: Eight 7.7mm/87 Machine guns, in individual positions.
-Torpedo armament: Two twin 533 mm (21 inches) Toprpedo tubes, Japanese 1923 pattern, placed in recesses in the forecastle at the level of the funnel amidship.
-The design also provided some facilities for two Aichi AB-3 seaplanes, including one in a covered hangar. But only one AB-3 was eventually delivered but no catapult was installed.
Powerplant
The Ning Hai class Machinery comprised four water-tube "Kampon" boilers (working at 15.5atm pressure) plus three vertical 4-cylinder VTEs. They delivered 3500 hp each. The powerplant was provided by Mitsubishi. The choice of VTEs instead of conventional, modern geared steam turbines was a Chinese request actually, due to low crew qualification. It was clearly a step back in comparison with even previous Chinese cruisers of the 1910 program. This also explained a lower speed than average. The Boilers were installed in four separated rooms to enhance ASW protection, two boilers in forward rooms, burning coal, two boilers aft burning oil. The VTE engines were also placed in two rooms. There were side-shaft engines forward and the central-shaft in the aft room. The latter was used for cruising, the two external for fast manoeuvers. On trials, Ning Hai made on 24 May 1932 22.20 knots based on 10,579 horsepower.
Armour protection

ONI sheet about the Ioshima/Ning Hai class
The first line of passive defense was 25 mm (1 in) main belt. It was only covering machinery compartments, running for about 60% of the overall lenght. It was however connected with an upper armoured deck, and went on with a second upper layer 3.35 m in height. Forward and aft there was no protection. The upper belt was limited to a 76 mm strake (3 inches), over 1.52 m in height, protecting the magazines. However its upper edge was above them and the lower edge below than the lower edge of main belt. Armour deck was flat, and over machinery the deck it was higher up, placed at the level of an upper deck, 19 mm (0.7 in) in thickness. Over the magazines there was an upper stray with 25 mm in thickness (1 inch). Turrets and the conning tower were both protected by an uniform 25 mm armour too (so in inches back, top, sides and front). This figures were quite small. Indeed, an average destroyer round at the time was at least 120 mm (4.5-in). Speed was not sufficient here to play any role. At least the armour scheme was multi-layered, allowing to break cinetic energy enough to protect the vitals against rounds up to 100 mm (3 in to 4 in).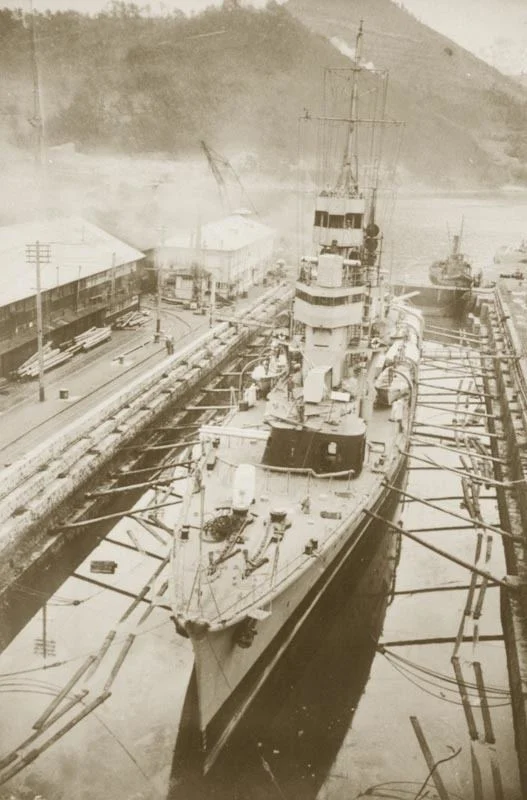 Modifications of Ping Hai
Under German expertise, Ping Hai was modified, notably after the defects shown on trials by her sister ship in 1933, further delaying completion. Trials indeed revealed acute problems of stability, peculiar to all Japanese ships of that era. It became clear after the "Tomozuru affair" on 12.3.1934. Revisions were made on all IJN vessels, duly inspected, so the Chinese requested to made some too. During outfitting of Ping Hai, several measures were taken for stability improvements (like ballasting, better counterkeels) but they slowed her down in the process. In particular the superstructures were curtailed and the aft mast removed, the forward tripod lightened as its fire control position tower, hangar and aviation eliminated, 76 mm AA guns and 7.7 mm MGs halved, TTs removed. For the machinery, the central shaft and one boiler were removed, feering space to add lead ballast. On trials, without surprise, Ping Hai only reached 21.256 knots at 7,488hp. This was acceptable for a gunboat, not for a modern cruiser.


Conway profile of Ning Hai as completed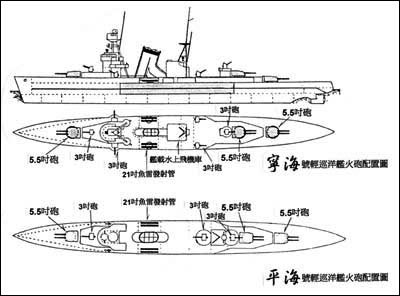 Schematic of the class
Specifications as built

Dimensions
109.7m oa x 11.9m x 3.96m
Displacement
2165 standard, 2500 tons FL
Propulsion
2-3 shafts 2/3 VTE, 4/2 Kampon boilers, 9,000 hp
Speed
Top speed 22.2 knots (25 mph; 40 km/h)
Range
5,000 nmi (9000 km) at 12 kn
Armament
3×2 140mm/50 guns, 1x 76mm/88mm AA guns and 2×2 533mm TTs
Armor
belt 2-in (25 mm), Deck 2.8 in (19 mm)
Crew
331
Yashoshima class Specifications

Armament
2 x 1 – 120/45 10-shiki, 5 x 3 – 25/60 96-shiki, 2 DCR (18)
Electronics
2-shiki 2-go radar, 93-shiki sonar
Crew
340
Src/Read More
Brown, David (1990). Warship Losses of World War Two. Annapolis
Cressman, Robert (2005). The Official Chronology of the U.S. Navy in World War II. Annapolis
Dull, Paul S. (1978). A Battle History of the Imperial Japanese Navy, 1941-1945. Annapolis
Jentsura, Hansgeorg (1976). Warships of the Imperial Japanese Navy, 1869-1945. Annapolis
Lacroix, Eric & Wells II, Linton (1997). Japanese Cruisers of the Pacific War. Annapolis
Tamura, Toshio (1984). "The Chinese Light Cruisers Ning Hai and Ping Hai (1930–1936)". Warship International
Whitley, M.J. (1995). Cruisers of World War Two: An International Encyclopedia. Annapolis
---
About the general situation in China in the 1930s
On navypedia
Ioshima class on navypedia
On alchetron.com
Model kit
wiki
Ning Hai in service
In Chinese service 1932-37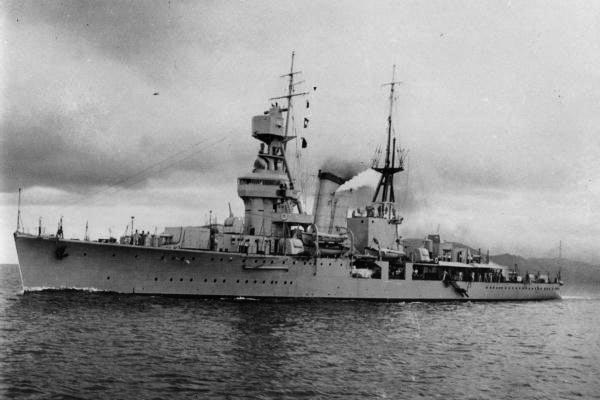 Ning Hai 1932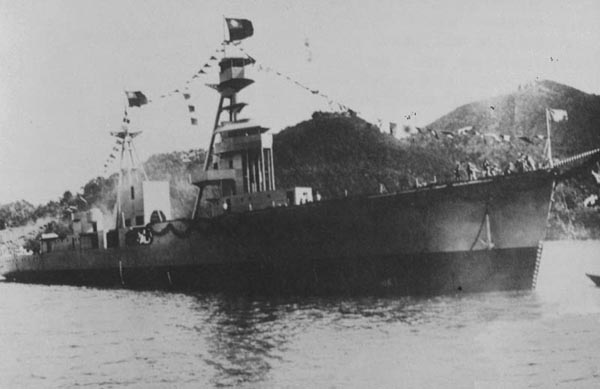 Ning Hai 1931
Ning Hai was laid down at Harima Shipyards in Aioi, Hyogo, Japan on 20 February 1931. She was launched on 10 October 1931, completed 30 July 1932, commissioned on 1 September 1932. She immediately became flagship of the Republic of China Navy (ROCN) until her sister ship Ping Hai was commissioned in turn in April 1937. She was back in Japan in May 1933 for maintenance, fixes and repairs, and again in June 1934, but this time to assist and represent China at the funeral of Japanese Fleet Admiral Tōgō Heihachirō, making afterwards another drydock maintenance before her return to China.
Following the start of the Second Sino-Japanese War she became a target of the Imperial Japanese Navy. She was not present at the Battle of Shanghai, but on 23 September, a Japanese assault on Kiangyin Fortress saw her involved. At the time ths fortress was guarding a segment of Yangtze River, near Nanking. Ning Hai came under attack by bombers, taking four bomb hits. Her nearby sister ship Ping Hai was also hit, but even more severely with eight bombs, and sunk almost immediately (see later).
Ning Hai was crippled but her macinery still was operable and she managed to escape at low speed. But on 25 September, a group of Yokosuka B3Y1 torpedo bombers spotted and attacked her. They scored two direct hits, sinking her in the shallow waters of the Yangtse. IJN Kaga's pilots shared her loss with those from detached airfields around Shanghai. The Imperial Japanese Navy however still valued a ship buuilt in their own yard, and captured her eventually on 5 December 1937, starting work on a salvage operation.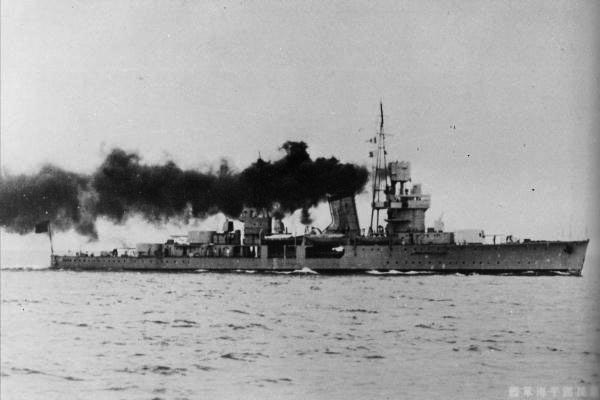 Ping Hai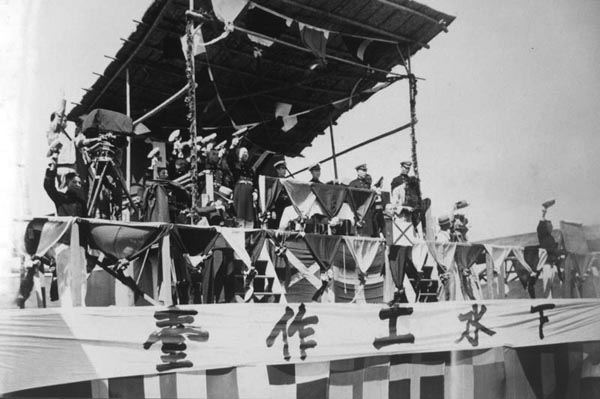 Ping Hai launch ceremony 28 Sept. 1935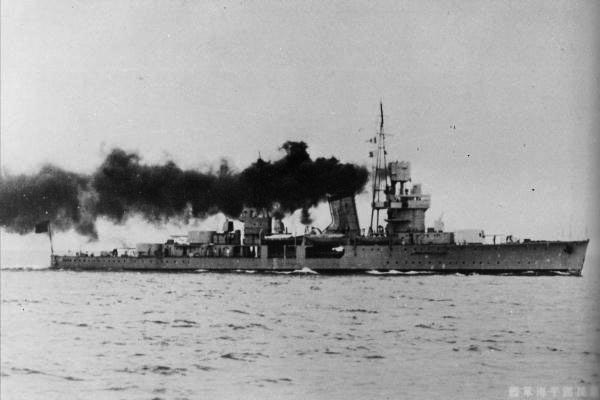 Ping Hai in 1936


Ping Hai damaged in 1938
In Japanese service: IJN Mikura/Ioshima 1939-44
The first attempt to re-float Ning Hai in April, 1938 was unsuccessful, notably causing the death of two salvage divers. Another was made on 8 May, successful this time. The refloated hulk was towed to Shanghai for basic repairs, peding her return to Japan. Originally thz admiralty planned her to be transferred to the puttet navy of the Nanjing Nationalist Government as flagship. However they changed their mind and wated her to be towed to Sasebo for other uses. On 11 July, she was re-classified as training vessel, static, and later became the coastal defense ship Mikura. She was moored permanently at Sasebo as barracks ship from July 1938, until December 1943, her longest assignation.
By December 1943, Japanese maritime trade in the newly conquered "sphere of co-prosperity" was under attack by a vigorous USN campaign, in particular submarine warfare. IJN Mikura therefore was towed to the Harima Shipyards for a complete rebuilding. She was to be recommissioned as a "Kaibōkan" or "escort ship", in dire need. However at that stage, lack of materials and workforce had completion dragging until 1 June 1944. At last she became IJN Ioshima on 10 June. After trials she was based at the Yokosuka Naval District, trained in the Seto area and departed for her first escort mission to Iwo Jima from 22–31 July. There, she was attacked, but missed bu an unknown submarine on 26 July but filled her mission and wen home. On 10 September IJN Ioshima departed for her second (al dlast) escort:Underway she was ambushed and torpedoes by USS Shad, on 19 September. She took three hits. She rapidly capisized and sank, south of Cape Omaezaki 85 nm (157 km) from Hachijojima and was later removed the the lits on 10 November 1944.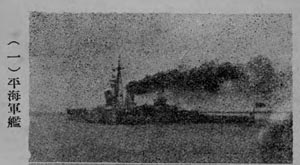 Under Japanese flag: Design modifications
In late 1937, both sunken cruisers were inspected after capture. On 5 December 1937, both were provisionally commissioned into the IJN to be administratively refloated and repaired, the first named Mikura. In 1938 both were salvaged, helped by the low tide of the river, and after temporary repairs, they were laid up in drydock. Modifications and repairs took however two years due to shortages of materials and manpower. It's only by 1943 thet these cruisers wete reonfigured and ready for service. Decision was taken in 1941 already to use them as escort flagships, coordinating other smaller vessels like destroyers and sub-hunters. Their armament was completely modified. Their boilers were all converted to oil-firing on Ning Hai while Ping Hai gtot brand new ones (the original were too damaged). Ning Hai was completed in December 1943, Ping Hai in January 1944.
On 1 June 1944, shortly before commission, the lead ship became IJN loshima (ex-Ning Hai) and her sister ship Yasoshima (ex-Ping Hai). They carried two new twin dual-purpose 120mm/45 guns and five triple 25mm AA guns. ASW armament included 2 depht charge throwers and 2 depht charge racks. On September, 25th, 1944, IJN Yasoshima gained the new classification of 2nd class cruiser. Her sister ship received in addition eight single 13.2mm/76 type 3 heavy AA machine guns.
Ping Hai in service (1937)
Ping Hai, freshly commissioned, served as the flagship of the Republic of China Navy (ROCN) for a very short time: Her career started in April 1937, as one of the most powerful surface combatants within the ROCN (Republic of China Navy). However by the end of the year, Shanghao was attacked and Ping Hai was in turn attacked by Imperial Japanese Navy air groups while serviing with her sister off the fortress of Kiangyin. On 23 September, Ping Hai was struck by no less than eight bombs from Kaga and Shanghai airfields. Damage was such that she blew up and sank rapidly in shallow waters, with few survivors. In comparison, Ning Hai managed to sail away (only for a short while).
IJN Mishima/Yasoshima 1938-44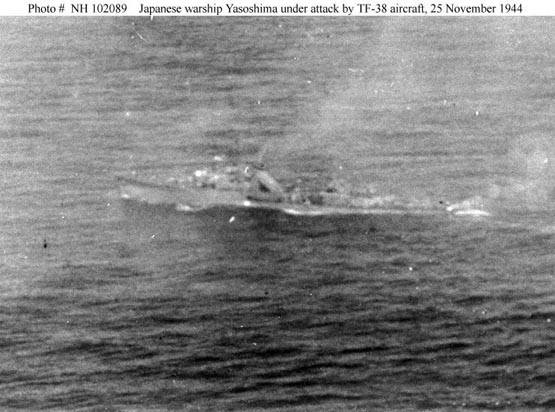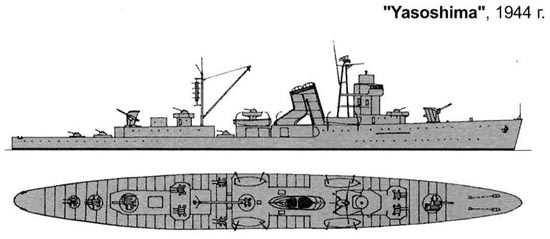 Re-floated in 1938 she was towed to Shanghai to be repaired enough to be towed to Japan. The admiralty at first wanted to have her transferred to the Collaborationist Wang Jing-Wei puppet navy but she was badly needed for other missions and towed to Sasebo. There, she was repaired more exensively but stayed largely inactive as the barracks hulk Mishima, and later a coastal defense ship. Like for her sister ship, in 1943, the admiralry concluded the navy badly needed escort vessels so she was to be converted as such. Work went on at the same time as her sister-ship and she was eventally commissioned as Yasoshima on 10 June 1944. and then as an escort vessel. She received a new received radar sets and standard Japanese dual-purpose artillery plus standard AA 25 mm guns, as well as depht charges.
IJN Yasoshima was first sent in a combat mission as an escort, to reinforce a convoy sent on 25 September 1944. She participated henceforth in the famous, epic Battle of Leyte Gulf, escorting troop convoys. She was eventually spotted by Aircraft from the USS Ticonderoga and Langley. They fell upon her, sank her and the two merchantmen she escorted west of Luzon, on 25 November 1944.