The first post-tsushima Japanese Battleships
Ordered just as tensions were high with Russia, before the war started, the Kashima class were the last foreign built Japanese capital ships. They were "semi-dreadnoughts" loosely based on the King Edward VII class battleships we saw recently. The only real difference was the replacement of their secondary 9.2 by 10 inches guns, two more 6-in guns, and somewhat downgraded armor, and also the last IJN warships with ram bows.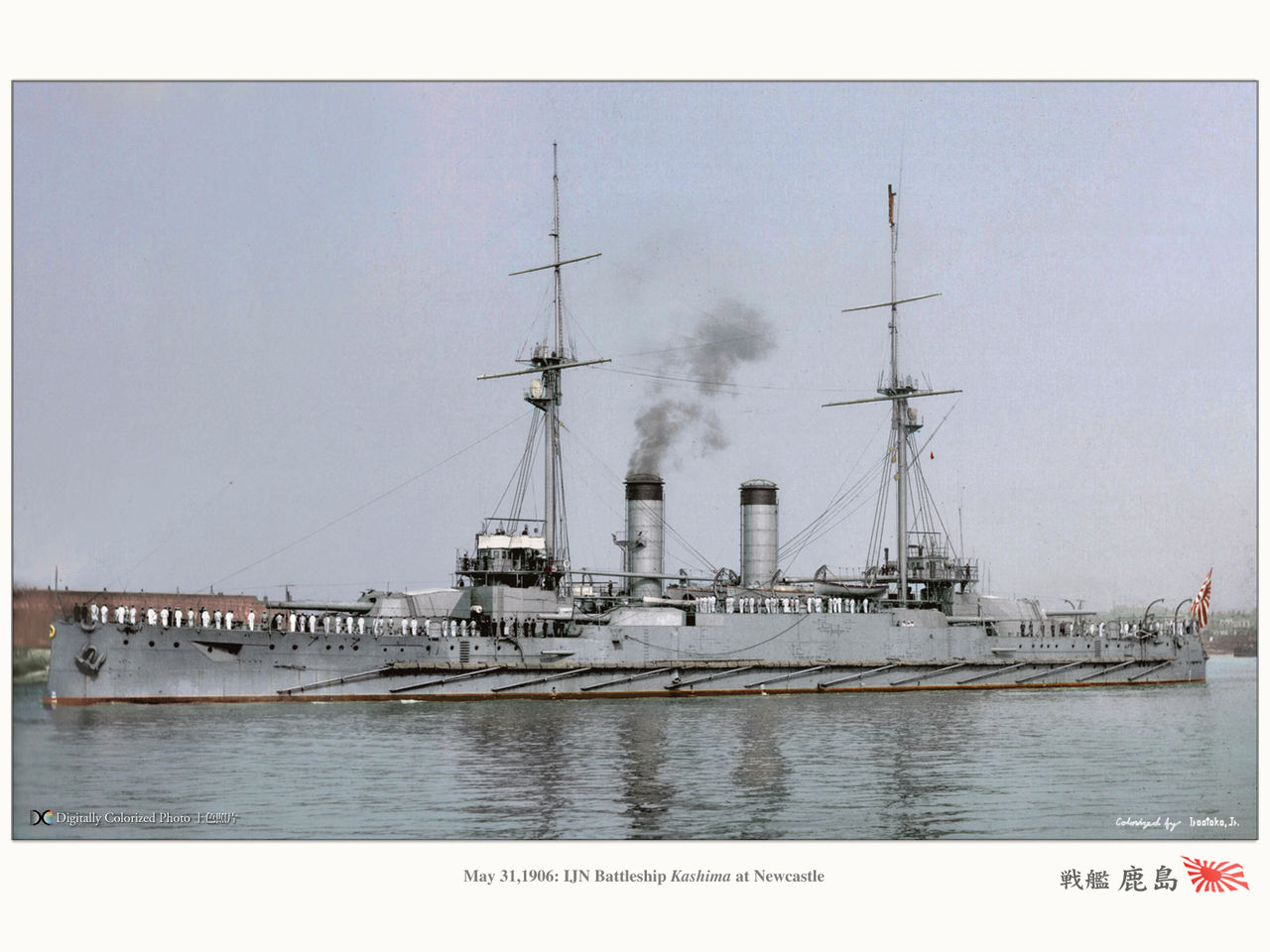 IJN Kashima at Newcastle, 1906. Colorized by Irootoko Jr.
The class is also called "Katori" depending if the launching or completion date is taken in account. Conways called them "Kashima" as she was both started and launched earlier, but Katori was completed just three days ealier than her sister ship. They were were ordered under the 1903 Third Fleet Extension Program, and a Japanese commission of officiers and naval engineers, larger than for any previous teams sent in UK was there to carefully observe the progress of the construction, taking all possible notes for a future construction in Japan, with modern Yards at Kure and Yokosuka being setup with British assistance.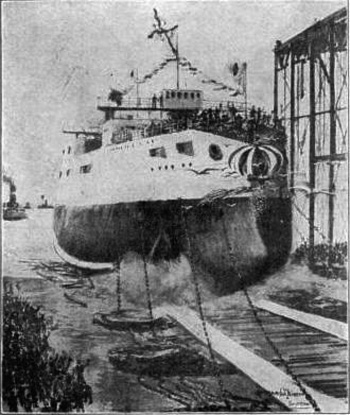 Indeed for the next class, the Japanese this time would built their own pre-dreadnoughts, IJN Aki and Satsuma, very different ships often assimilated in the same class, wrere indeed laid down there in May 1905 and March 1906. They were much larger (displacing 5,000 tons) "semi-dreadnought" launched for the first in November 1906, many months after HMS Dreadnought, but were followed by its first dreadnoughts, the Settsu class, laid down in January 1909.
Commissionned both in May 1906, the Kashima class were found obsolete by the launch of HMS Dreadnought, but still the most capable and powerful battleships in Asia. Missing the Russo-Japanese war, their active service was rather dull and short. They mostly trained and made a few sorties in WWI. Both were disarmed in 1922, and after the signing of the Washington treaty, BU in 1924.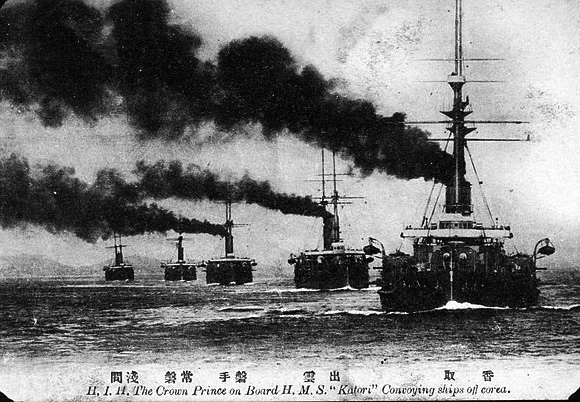 Katori, Izumo, Iwate, Tokiwa and Asama in 1921, carrying the Crown Prince for its long international trip in Europe, off Korea. Hiro Hito's personal mark was hoisted to IJN Katori's mainmast. She was the fleet's flagship.
Design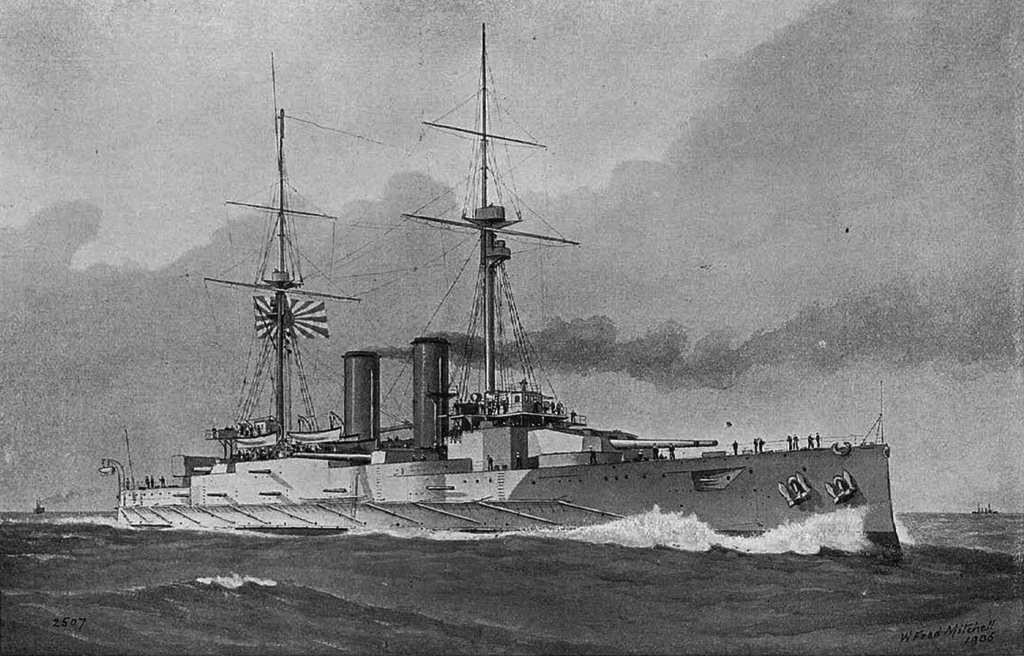 Katori_Brasseys_Naval_Annual_1906-illutstration
The Katori were rather "standard" battleships of the time, as built in British yards, markedly larger than previous prewar Japanese dreadnoughts like the Fuji class and Mikasa. They had an overall length of 456.25–470.6 feet (139.1–143.4 m), 78–78.16 feet (23.8 m) in beam and normal draught of 26.6–27 feet (8.1–8.2 m) for a displacement of 15,950–16,383 long tons (16,206–16,646 short tons) in normal load. Their crew comprised 864 officers and enlisted men. They had both a classic symetrical outlook, with main turrets fore and aft, bridges and masts, fighting tops, and two heavenly spaced funnels amidships.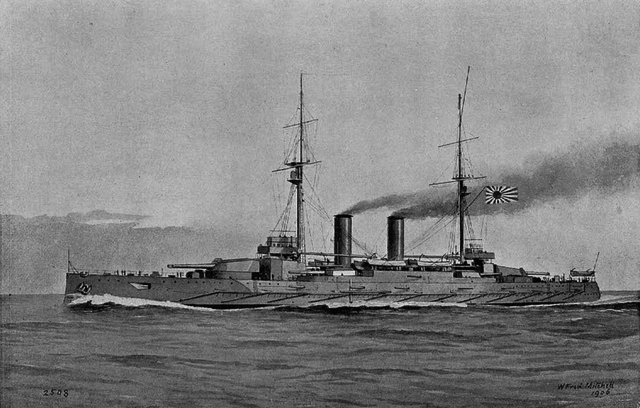 Kashima_Brasseys_Naval_Annual_1906-illu
The secondary turrets were located on the corners of the main battery, with five 6-in in casemates, two on the upper battery deck, eight 12-pdr in hull's recesses and on the bridge's decks. The only peculiarity of the design was its extra guns and larger caliber secondaries. This, on paper, made a Kashima class almost a eight main gun vessel, since the performances of the 10-inches (254 mm) firing at 10,000 yards (9,100 m) was close to the 12-in, but for spotters, made the task of distinguishing between water plumes more difficult.
The semi-dreadnought concept, although emerging before the Russo-Japanese war, was very much reinforced and compounded by reports of the battle of Tsushima in particular, showing that long-range gunnery was not practical and to reach better accuracy, shorter engagement distances were preferrable.
Propulsion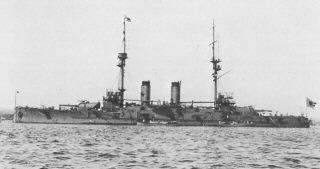 The Katori class depended on two propeller shafts, driven by their own four-cylinder vertical triple-expansion steam engines (VTE), fed by the steam generated by 20 Niclausse boilers, which were mixed-burning, coal and fuel oil. In total this output was rated at 15,600–16,600 indicated horsepower (11,600–12,400 kW). As designed, top speed was supposed to be 18.5 knots (34.3 km/h; 21.3 mph) according to the Imperial Japanese needs.
But the generous outppt combined with a well refined hull lines had them in reality one knot faster, as revealed by sea trials: IJN Kashima reached indeed 19.2 knots (35.6 km/h; 22.1 mph) based on an output of 17,280 ihp (12,890 kW), Katori 19.5 knots (36.1 km/h; 22.4 mph) based on 18,500 ihp (13,800 kW). They carried 2,150 tonnes (2,120 long tons) of coal in all, 377–750 long tons (383–762 t) of fuel oil;. This made for a raduis of action without refuelling of 12,000 nautical miles (22,000 km; 14,000 mi) at the cruise speed of 11 knots (20 km/h; 13 mph). During another trials, IJN Katori even made the feat of reaching 20.22 kts sustained for eight hours. Both differed only as Katori had her funnels closer together than those of Kashima. She also had her aft funnel round, not ovale.
Protection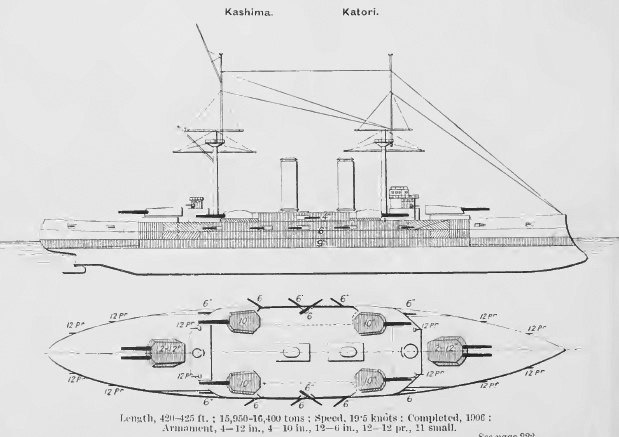 Katori class drawing, brassey's
Both ships had the same Krupp cemented armor system overall. Here are the specs:
Waterline main belt 7 feet 6 inches (2.3 m) high (2 ft 6 in above wl), 9 inches (229 mm) thick.
Belt tapered down to 2.5 in (64 mm) at the ends
Upper belt 6 in, 15 ft (4.6 m) strake between the main gun barbette
Main guns barbettes 5–12 inches (127–305 mm)
Secondary guns barbettes 6 in (152 mm)
Main gun barbette hoods 9 in
Intermediate barbettes hoods 6–8 in (152–203 mm)
Superstructure sides battery 4 in (102 mm)
Transverse Bulkheads 14–12 in (356–305 mm)
Armored deck: Flat section 2 in (51 mm), 3 in amidships slopes.
Sloped deck, outside the citadel: 2.5 inches (64 mm)
Conning Tower 9 in (229 mm)
The sloped added an extra layer of protection since any shell penetrating their vertical armour needed to also pass through the sloping before reaching machinery/magazines.
Armament
The armament between the two ships only differed because of their yards, Kashima being given Armstrong guns, Katori having Vickers guns. But the general scheme was the same.
Main: 2×2 12-in/45
The primary armament comprised four 45-caliber 12-inch (305 mm) guns in twin turrets fore and aft, four EOC 12-inch Type 41 guns on Kashima, four Vickers 12-inch Type 41 guns on Katori. These were a new generation, far more powerful than the 40 cal. of the previous Mikasa and earlier Japanese battleships. These models were also carried by the battleship HMS Agincourt. The 850-pound (386 kg) AP shell exited the barrel at 2,800 ft/s (850 m/s). They fired a round every minute at max 18,850 yards (17,240 m).
Intermediate: 4×1 9-in/45
As for the King Edward VII class which had 9.2-inch (234 mm) guns, the Japanese wanted the same configuration of four single turrets, but upgraded to 45-caliber 10-inch (254 mm) guns. They were mounted the same way at the corners of the superstructure. Like for the main guns, they differed: IJN Kashima used four EOC 10-inch Type 41 guns, Katori four Vickers 10-inch Type 41 guns. Both had similar performances with a muzzle velocity of 2,707 ft/s (825 m/s) with the 500-pound (227 kg) AP shells, at max range 29,200 yd (26,700 m), which was indeed way better than their main guns !.
Tertiary: 12×1 6-in/45
These twelve 45-caliber 6-inch (152 mm) guns (two more than for the King Edward VIIs) were either EOC 6-inch Type 41 (Kashima) (also known as 15 cm/45 41st Year Type) or Vickers 6-inch Type 41 guns (Katori). Ten were mounted in the hul, two in the superstructure amidship under masks. They fired a 100-pound (45 kg) shell at 2,300 ft/s (700 m/s), at max 5 rpm, to 9.2 miles or 14,800 m.
Light artillery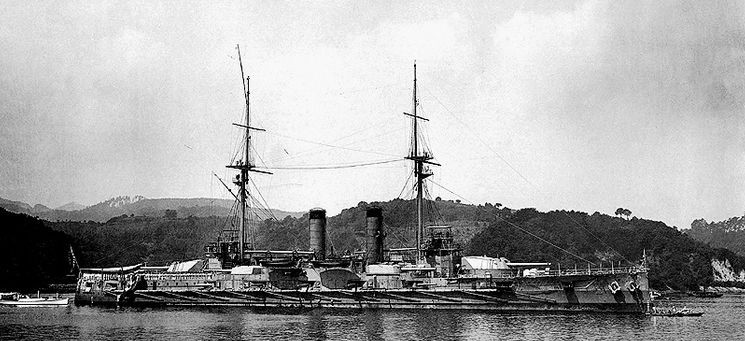 IJN Kashima, date unknown
Protection against torpedo boats was provided by two calibers:
-12 (Katori) or 16 (Kashima) QF 12-pounder 12-cwt guns (76.2 mm) firing a 12.5-pound (5.7 kg) shell at 2,359 ft/s (719 m/s)
-Three 47 mm (1.9 in) QF (3 pdr) Hotchkiss guns. The 12-pounders fired 3-inch (76 mm)
Torpedo Armament
-Five submerged 18-in TTs, two on each broadside, one in the stern. They fire the standard 457 mm Thornycroft model.

Author's illustration
⚙ Kashima class specifications

Displacement:
16,400 – 17,950 tonnes FL
Dimensions:
144 x 23.80 x 8.1 m
Propulsion:
2 shafts VTE, 20 Niclausse boilers, 15,800 hp. 18.5 Knots
Armour:
Belt 14–18 in, Deck 2.5 in, Barbettes 5–14 in, Gun turrets 6 in, CT 14 in (356 mm), BH 14 in
Armament:
2×2 12 in, 4x 10 in, 10× 6 in QF, 10-16 3-pdr, 3x 3-pdr, 5x 18 in TTs
Crew:
864 Officers and Sailors
Sources/read more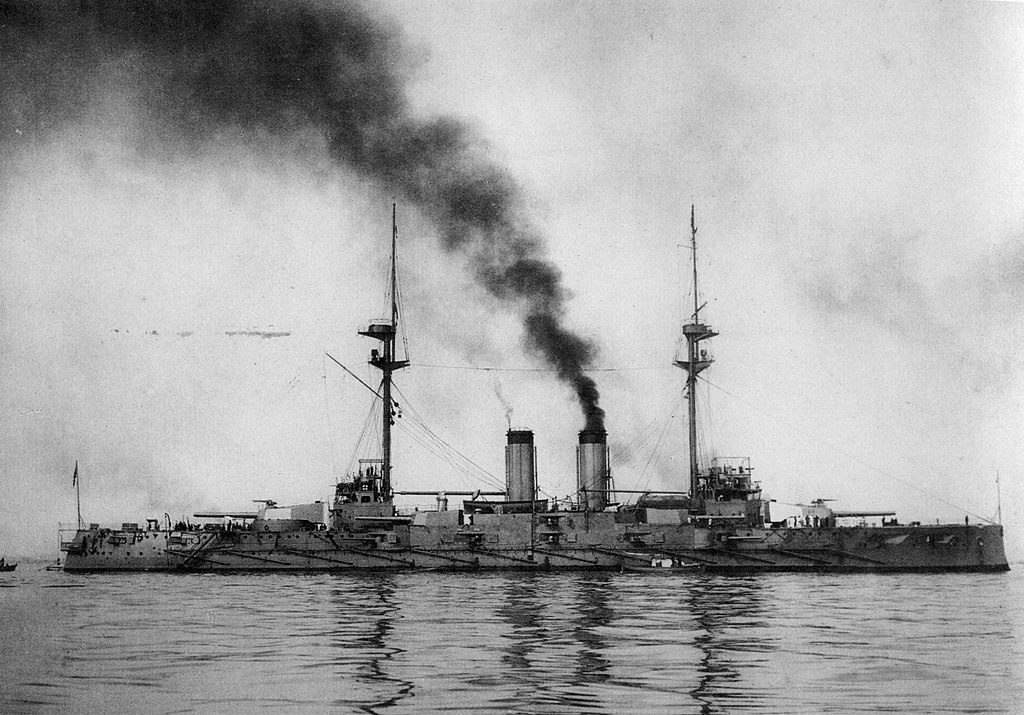 Books
Gardiner, Robert & Gray, Randal, eds. (1985), Conway's all the world's battleships 1860-1905
Brook, Peter (1985). "Armstrong Battleships for Japan". Warship International. Toledo
Gibbs, Jay (2010). "Question 28/43: Japanese Ex-Naval Coast Defense Guns". Warship International.
Gibbs, Jay & Tamura, Toshio (1982). "Question 51/80". Warship International. XIX
Jentschura, Hansgeorg; Jung, Dieter & Mickel, Peter (1977). Warships of the Imperial Japanese Navy, 1869–1945.
Lengerer, Hans (March 2009). "Japanese Battleships and Battlecruisers – Part III".
Lengerer, Hans & Ahlberg, Lars (2019). Capital Ships of the Imperial Japanese Navy 1868–1945
Peattie, Mark R. (1988). Nan'yo: The Rise and Fall of the Japanese in Micronesia 1885–1945.
Preston, Antony (1972). Battleships of World War I: An Illustrated Encyclopedia of the Battleships of All Nations 1914–1918
Seagrave, Sterling & Seagrave, Peggy (1999). The Yamato Dynasty: The Secret History of Japan's Imperial Family.
Silverstone, Paul H. (1984). Directory of the World's Capital Ships. New York: Hippocrene Books.
Links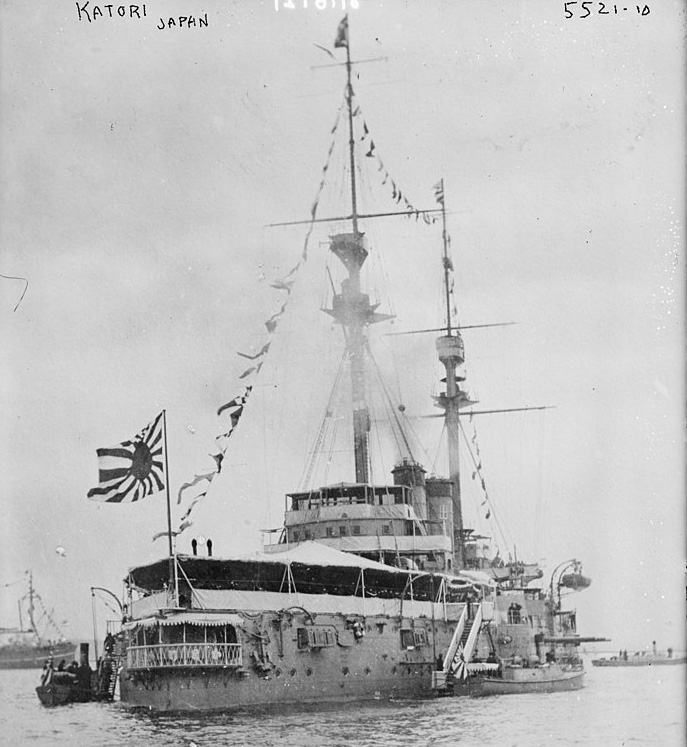 IJN Katori's aft bridge and turret as a flagship in Japanese home waters after the war.
On archive.ph nishidah
nytimes.com/1907/09/18/archives
imesmachine.nytimes.com
Colorized photos by irootoko jr dedicated page
worldnavalships.com
On navypedia.org
On globalsecurity.org
On naval-history.net
On Jstor.org
wiki
Model kits
None found so far. You can contact us if you know one. 3D printing models welcome.
Service record
Both vessels had a relatively uneventful carrer, since tey arrived after the end of the Russo-Japanese war and in addition were obsolete afte the launch of HMS Dreadnought. Soon they were placed from the 1st Division to the second, then third, but they did participated in WWI operations. Most of their career was spent on training. The shps were scrapped as per Washington treaty limitations but they guns had a much longer career in coastal batteries.
IJN Kashima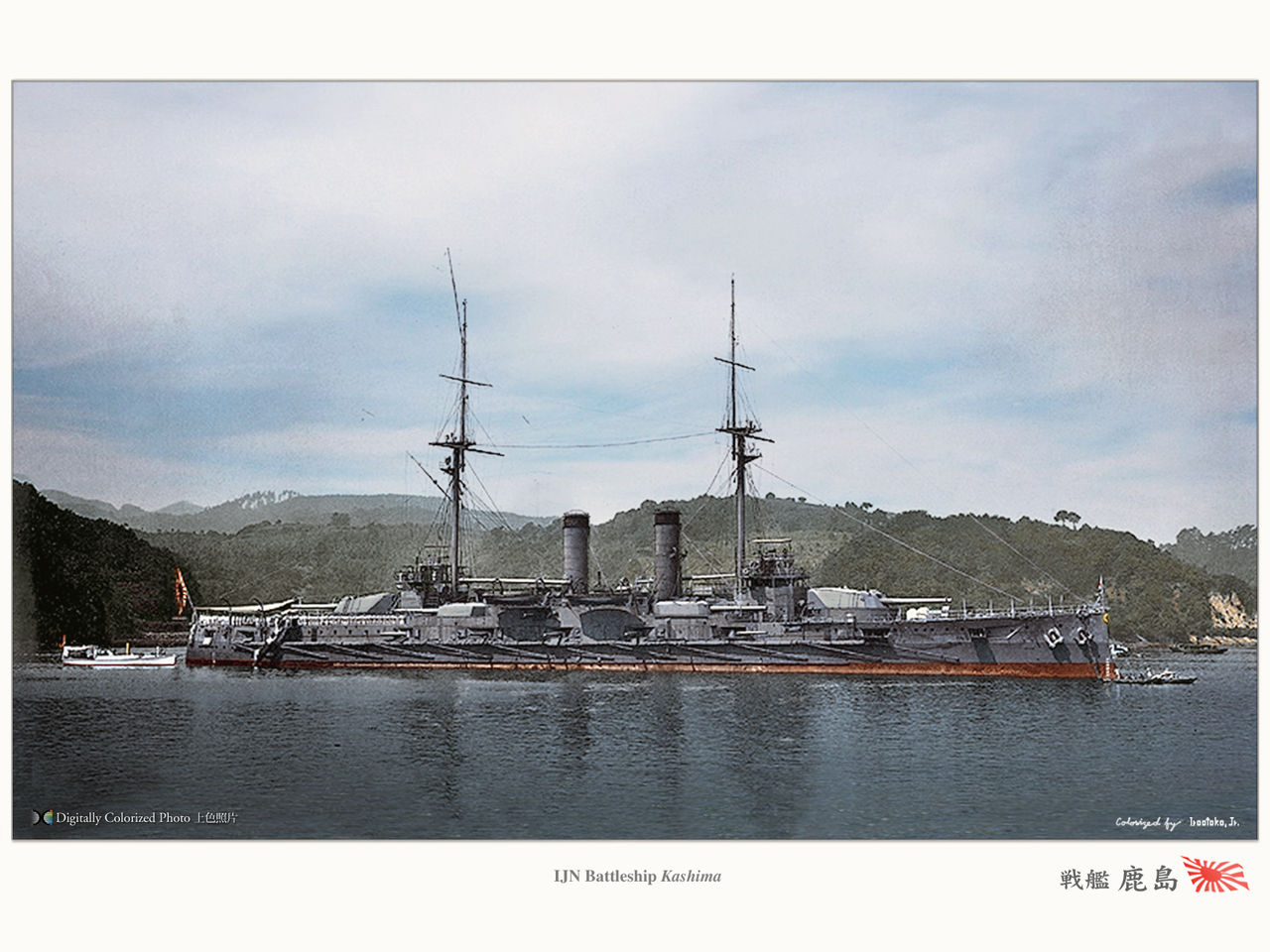 IJN Kashima was named after a Shinto shrine in Kashima, Ibaraki, ordered in January 1904, from Armstrong Whitworth in UK. She was laid down at the Elswick shipyard on 29 February 1904 (yard number 755), launched in presence of the Japanese ambassador in London and other officials on 22 March 1905, completed on 23 May 1906. IJN Kashima received a core Japanese crew and departed Britain on 31 May, her maiden voyage doubling as shakedown cruise until she reached Yokosuka on 4 August 1906.
Soon, she was fully outfitted for service in Japan and started gunnery training in Hiroshima Bay, on 16 September 1907. This led to an incident as the brown powder propellant of her starboard aft 10-inch gun mount ignited by accident. It was established the most likely cause was when it came in contact with burning residue from previous shot.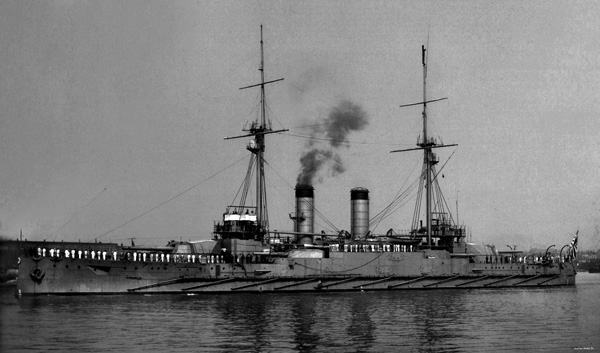 IJN Kashima in 1906
Everybody died instantly inside the turret, so onlu conjectres could be made at this point on what exactly happened. The resuling explosion not only wiped out the turret's gunners and officers, but it killed in all seven officers and 27 sailors, with two more officers and six enlisted men wounded. This was a black day for the Imperial Japanese Navy. The gun turret was repared and she ship returned to her routine of seasonal training cruises alternated with gunnery drills in home waters and along the Korean and Chinese coasts.
As WWI broke out Japan entered the war with the entente in the hope to gain something out of the German Empire's possessions in Asia, notablt after the humiliation of the post-Russo-Japanese war treaty. IJN Kashima was in refit refit at Maizuru Naval Arsenal in August 1914, being here until March 1915.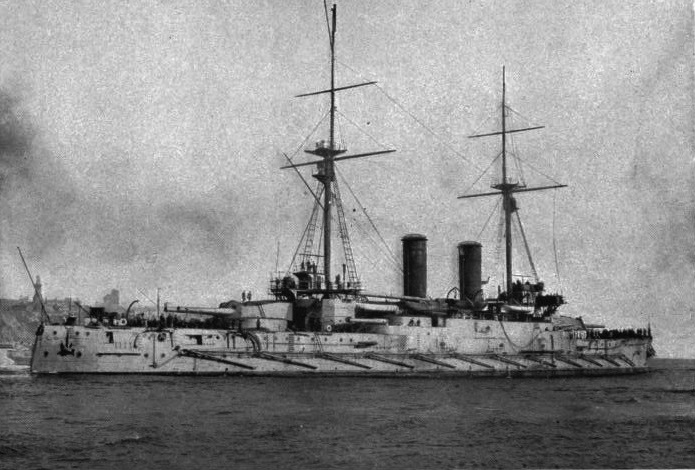 IJN Kashima in 1911
She was assigned to the 2nd Battleship Squadron when complete, becoming the squadron's flagship in 1916. She joined her sister ship Katori, reassigned to the 5th Battleship Squadron, also as flagship, in 1918. Both covered the landing of Japanese troops in Siberia in August 1918, as part of the joint international intervention in the Russian Civil War, Pacific sector.
On 3 March 1921, IJN Katori and Kashima departed Yokohama for Great Britain, for a special mission: They carried Crown Prince Hirohito, first Japanese crown prince to travel abroad. In this grandiose state visit, they were greeted appropriately by the Royal Navy, as wartime allies, and with the Anglo-Naval alliance of 1902 in mind. Reception in Portsmouth on 9 May had Hirohito disembarking and visiting the King, before proceeding on a tour of Europe, which would last several months. Meanwhile, both vessels came back home.
Japan signed the Washington Naval Treaty, and according to the terms, tonnage was restricted so the admiralty had to disarm the battleship in April 1922. She was stricken from the Navy List, on 20 September 1923. She was drydocked then for the removal of her armor, which ended on February 1924. Then she was sold for scrap, to Mitsubishi, on 26–27 April (for 238,900 yen), towing price of 35,000 yen not included to Nagasaki. The scrapping was over on 24 November but her still valuable ordnance was obtained by the Imperial Japanese Army. They were recycled in coastal artillery batteries around Tokyo Bay, and Iki Island, in the Strait of Tsushima. The rest were placed in reserve as there were also treaty limitations on fortifications. Ultimately they were scrapped in 1943, as Japan needed metal more than the military use of these old guns.
IJN Katori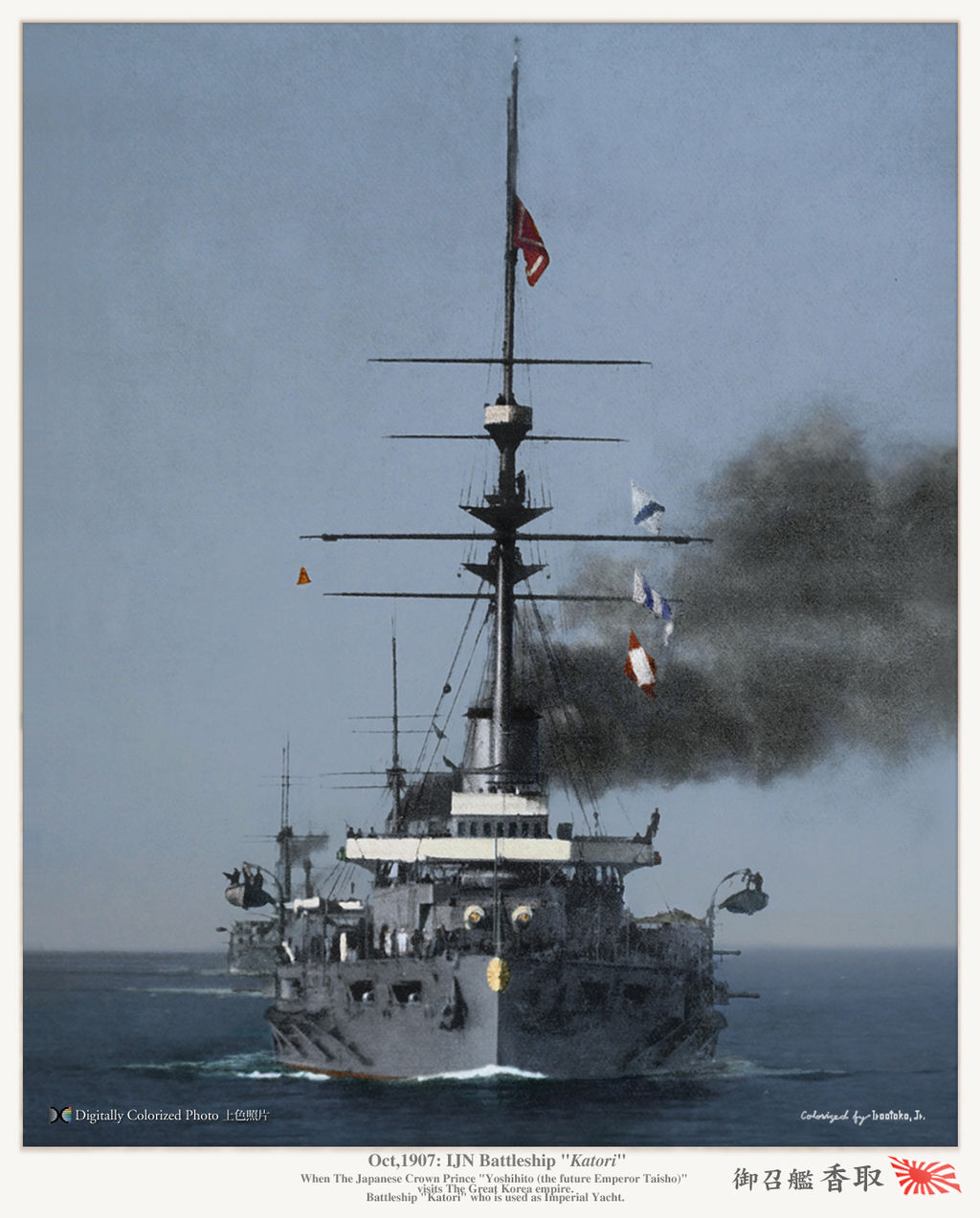 IJK Katori in 1907, prow view
IJN Katori, named after the Shinto shrine of Katori City was ordered in January 1904, from Vickers. She was laid down at the Barrow-in-Furness shipyard, on 27 April 1904. On 4 July 1905, Prince and Princess Arisugawa were in attendance as well as the Ambassador and other officials in a lush launching ceremony. She was completed on 20 May 1906 and departed Britain on 7 June with a Japanese crew and captain for her maiden voyage, doubling as a shakedown cruise. She arrived at Yokosuka on 15 August 1906.
Northing much happened during her peacetime service, as she alterned training cruise in home waters, yellow sea and south china sea, with gunnery drills and manoeuvers with the fleet, and overhauls every two years. In a naval review off Yokosuka, on 10 November 1913, she was a flagship, outfitted with all the necessary regalia for the Taishō Emperor.

IJN Katori in 1915
After WWI broke out, Japan soon attacked German assets in Asia. IJN Katori therefore was deployed in the Pacific, and occupied the German colony of Saipan on 14 October 1914. She was refitted soon after, until late 1916, and assigned to the 2nd Battleship Squadron, as new dreadnoughts were operational in between. The refit had he equipped with two 12-pounder anti-aircraft guns, replacing two older 12-pounders. She was flagship again, but of the 5th Battleship Squadron in 1917–18, and remained so for the Japanese commander-in-chief at Nikolayevsk-on-Amur, after she was depatched with a small fleet in late 1918 for the Siberian intervention of the Russian Civil War.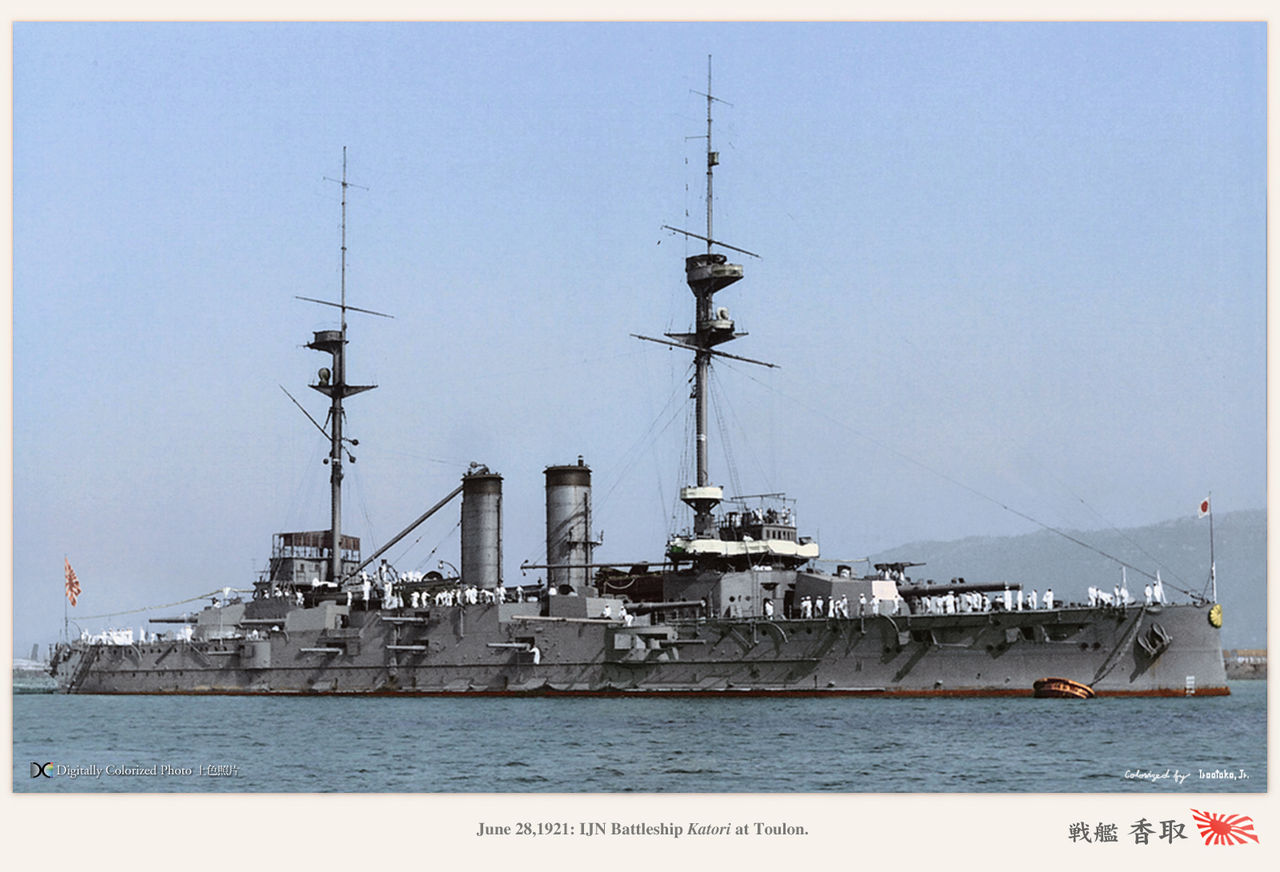 Katori in Toulon, France, Mediterranean, June, 28, 1921
On 3 March 1921, IJN Katori departed Yokohama with her sister ship to carry and escort Crown Prince Hirohito for his long European tour. She arrived at Portsmouth on 9 May and the Crown Prince boarded her again in Naples several months later, for the trip back. As Japanese plenipotentiaries signed the Washington's treaty imposing tonnage restrictions, she was disarmed in April 1922, stricken on 20 September 1923, then scrapped at Maizuru on 29 January 1925.
Her guns survived her for much longer: Adopted by the Imperial Japanese Army, she was relocated in coastal artillery batteries, near Tokyo Bay (installed in 1925–1932) and Iki Island, Strait of Tsushima (1929) like her sister-ship's main guns. The remaining ones were placed in reserve, scrapped for spare metal in 1943.