Bogue class (1941)
USA – Escort Aircraft Carriers (1941-50) Bogue, Breton, Card, Copahee, Core, Croatan, Nassau, Altamaha, Prince William, Barnes, Block Island

The C3 Cargo-based mass produced Carriers


USS Hercules, the first C3 cargo in 1940
The Bogue class represented in absolute terms under USN service only ten vessels, but in reality no less than 45, most being used by the Royal Navy while the next dedicated Casablanca class was intended for the USN and mostly went to the Pacific theater. This post will merely concentrate on the conversion design, and the career of the 11 vessels staying in US service only, the proper "bogue class" while the Archer and Attacker class will be seen with the Royal Navy.
The Bogue class was the first of the hundred and so "Jeep Carriers" built bu US Naval Yards during ww2. Their common denominator was that they emerged from civilian shipyards on the basis standard C3 cargo ships, which vast holds made them suitable for rapid development of a hangar. Unlike fleet carriers, escort ones were slow, at convoy pace, matching the cargo or assault ships they were covering.
*Note: First published on June, 6, 2020, republished on 10/10/2022
Their sober and economical machinery gave them an excellent autonomy. The Bogue class were derived from USS Charger derived herself from USS Long Island, designed in a hurry to reinforce the Atlantic escort fleet while the US were not yet at war in 1941. The base was the C3 standard cargo ship chosen as a base for quick conversion, but unlile the earlier USS Long Island, she had a complete command bridge.
AA mainly consisted of Oerlikon Guns and just two 5-in guns for possible defensive surface combat, and two twin 40 mm mounts aling the hull. Their long-range defense was based on their fighter park. The Bogue differed from Lend-Lease ships by their triple expansion engines instead of diesels. They all had a catapult and two elevators, fore and aft on a flight deck measuring 141 meters by 21.2.
A total of eleven ships (nine of the first series Bogue/Attacker and one of the second series Bogue/Ruler) were built by Western Pipe and Steel, Ingalls, and Seattle-Tacoma, commissioned between 1942 and 1943. They served mainly on the Atlantic, covering strategic convoys until the end of the war. Their standard aerial complement amounted as standard to twelve F4F4/FM1/2 Wildcat, and nine Grumann TBF/TBM Avengers. The British Royal Navy's deployed far more ships in sub-variants or this class. All these surviving vessels ended as reconverted back into cargo ships in 1946, clocking many more years under civilian flag, the one under which their keels were laid down.
The ships laid down were: USS Altamaha (HMS Battler), Barnes (Attacker), Block Island, Bogue, Breton, Card, Copahee, Core, Croatan, Hamlin, Nassau, USS St. George (Pursuer), USS Altamaha (ii), Prince William (Striker), Barnes (ii), Chatham (Slinger), Glacier (Atheling), Pybus (Emperor), Baffins (Ameer), Bolinas (Begum ), Bastian (Trumpeter), Carnegie (Empress ), Cordova (Khedive), Delgada (Speaker), Edisto (Nabob), Estero (Premier), Jamaica, Keweenaw, Prince (Rajah), Niantic (Ranee), Perdido (Trouncer), Sunset (Thane), St. Andrews (Queen), St. Joseph (Ruler), St. Simon (Arbiter), Vermillion (Smiter), Willapa (Puncher), Winjah (Reaper)
About Seattle-Tacoma Shipbuilding Corporation
Kaiser Yard in vancouver was celebrated for the Casablanca class (better known as "Jeep Carriers"), but it's Tacoma that get the silver medal for world's best carrier production. The yard indeed delivered nearly all US Bogue class, plus 31 of the Lend-lease ships, three of the Attacker and all of the Ameer class. This yard, located in the state of Washington, on the west coast (Pacific) was largely a creation of war mobilization in 1939. But it started with an already established yard in the XIXth owing to its ideal location: The Seattle Construction and Drydock Company, from The Moran Brothers Shipyard of Klondike Gold Rush fame, purchased in 1916 by the Todd Corp. of New York. Due to the need of the fleet in 1916, a repair facility was constructed which in 1917 set foot in Tacoma.
It was soon involved in military construction, with three of ten Omaha-class light cruisers, 27 7,500t cargos, some Caldwell-class destroyer, a few N-class submarines and six more 5,000t cargo ships in 1918-19. Shipbuilding ceased activity in Seattle by 1920, in Tacoma by 1924. In 1939, the Tacoma shipyard of Commencement Bay was revived by Todd and… no other than the Kaiser Shipbuilding Company in order to restart mass production. The USN provided a 15 million capital to extend and modernize the yard, in anticipation of war. Eight ways were obtained, from the three original, modernized and enlarged, and new one. First contracts were cargoes, five C-1 Type B Diesel ships. One of many C-type cargoes to be born here for the Maritime Commission.
With the two-Ocean Navy Act, a 25 destroyers contact was obtained while $9 million were obtained from the government to built a tailored destroyer construction facility on Harbor Island, operating from 15 October 1940. By 1942 Todd bought out Kaiser's holding which became Todd Pacific Shipyards. The yard was responsible of the construction of 37 out of 45 Bogue and derived lend-lease vessels, but also 19 Commencement Bay-class escort carriers (the class was named after the Tacoma Bay area), 5 C1-B cargos, 15 auxiliaries, while the Seattle Yard was mostly responsible for the construction of Destroyers on its 10 slipways, 10 Gleaves, 21 Fletcher, 5 Allen M. Sumner-class, 9 Gearing, as well as destroyers tenders. The Todd Drydock facility proceeded to the conversion of six vessels.
Design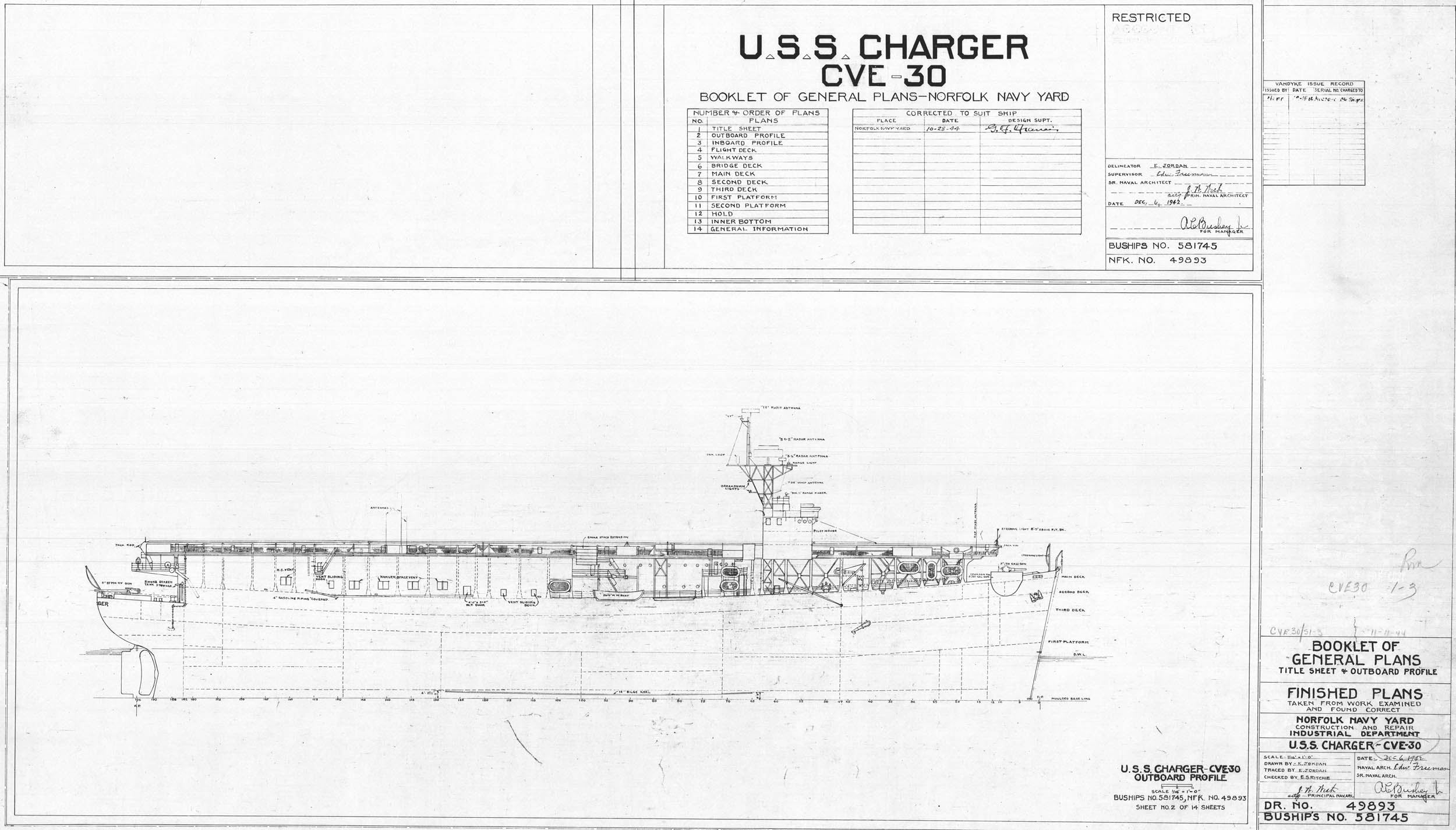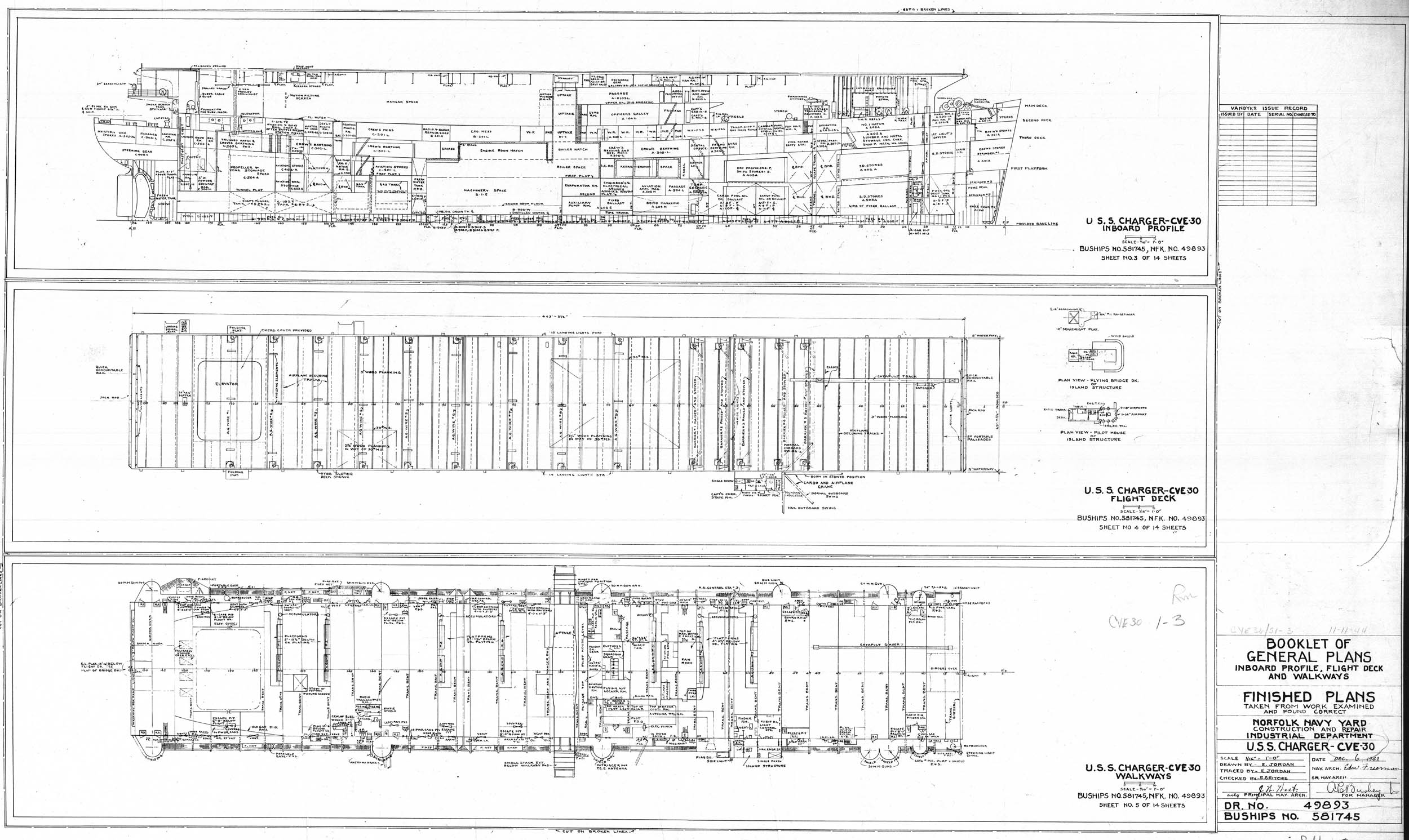 Design of the USS Charger, prototype for the Bogue class.
Hull
The basic C3-S-A1/A2 retained for the conversion simply started from USS Charger, which inaugurated the basic conversion design (hence the blueprints above). They displaced 8,390 long tons (8,520 t) for the standard load, 13,980 long tons (14,200 t) fully loaded. This was more than Charger, and they all had the same waterline length of 465 ft (142 m), 495 ft 8 in (151.08 m) overall, 69 ft 6 in (21.18 m) in beam at the waterline and max. beam of 111 ft 6 in (33.99 m), draft 24 ft 8 in (7.52 m) fully loaded, down to 21 ft (6.4 m) light, to compared with 8,000 long tons (8,128 t)
492 ft (150 m), 69 ft 6 in (21.18 m) and 26 ft 3 in (8.00 m) for USS Charger; So they were a tad longer, for the same beam, but with less draft.
Powerplant
On USS Long Island and Charger, diesels were used to procure the greatest range. However the Navy was not satisfied with these and decision was taken at the last minute to opt for trusted water-tube boilers, two built by Foster-Wheeler, but coupled both with a VTE but an Allis-Chalmers steam turbine. Like the previous vessels and due to their merchant hull, they had to keep the original single shaft configuration. Neither speed or agility were priorities. Thus powerplant was rated for 8,500 bhp (6,300 kW) – Compared to 9,000 shaft horsepower on reduction gears for the Charger, which had a lesser top speed at 17.5 kn (20.1 mph; 32.4 km/h) compared to 18 kn (33 km/h; 21 mph) for the Bogue class. Range was good, with 26,300 nmi (48,700 km; 30,300 mi) at 15 knots in high cruise speed, based on a capacity of 2,400 long tons (2,439 t) fuel oil. (No comparison with USS Charger).
Armour
Since these carriers were based on a civilian design, and the upper part was mostly modified, the ships had no armor, but heavy ASW compartimentation and a double hull. This was though enough to at least mitigate the damage, but these vessels were unlikely to survive two torpedo hits. CVE-41 Edisto (HMS Nabob) was torpedoed by U-354, survived a single hit, but the damage was such she was judged not worth repairing.
CVE-48 USS Sunset/HMS Thane was torpedoed by U-1172 and also survived, and she was too too damaged to be repaired, and declared a total constructive loss, later BU. Famously, CVE-21 Block Island was also torpedoed, by U-549, but it was not possible to tow her to safety and she wazs scuttled instead in 1944. So overall, none had armour, but they were all saved by their compartimentation. If of greater value, at least two of them could have been repaired and return into service. As for aerial bomb protection, there was almost none. Fortunately, they mostly served in the Atlantic and very rarely encountered enemy aviation. There too, there was some thoughts given to the fuel lines and avgas tanks, deep inside her belly.
Armament
ACV9 to 18 had two single 5-in/51 (127mm) Mk 15 main dual purpose guns a,d ten 20mm/70 Mk 4 alongsde of the flight deck, but it changed over time. ACV11, 13, 20, 21, 23, 25 were armed the same, but ACV31 had instead two 38 caliber 127mm (5 in) Mk 12 main guns, two twin 40mm/56 Mk 1.2, and ten twin 20mm/70 Mk 4, with enlarged sponsons along the deck. This double her firepower (The radar assisted 5-in/35 were also far better) and was considered the best combination for anu of the Bogue class. Some were also upgraded when possible that way until 1945.
5-in/51
These relatively old models were designed before WWI for the dreadnoughts Florida (B-30) and Wyoming (B-32) as anti-torpedo boat guns and later Marks were fitted on all following classes until 1920 as well as smaller warships. They fired bag ammunition until the Mark 9 which for submarine use. These were regarded as high performance guns with short barrel life.
The ones fitted on the Bogue class were of the Mark 15, located on two side aft sponsons, at deck level. They were used on USS Charger and the Sangamon class also. They fired at 9 rounds per minute ideally, up to 20,142 yards (18,420 m) at 45°. Not ideal as AA guns, ACV31 was completed with 5-10/38 models. Replacement by 5-in/38 was done on the whole Bogue class, at the first refit. These were standard for all the Casablanca and following Commencement Bay classes. More
40 mm/54
The trusted Bofors-derived Automatic Gun L/60 arrived in twin mounts, less common than the quads, located fore and aft of the flight deck, two pairs forward in superfiring positions, two aft the deck and two on the poop. At first, they were not fitted on the first Bogue class vessels, but came afterwards on ACV11, 13, 20, 21, 23, 25 and late construction vessels. CV 31 was unique as having two twin of those only, but of the 56 caliber Mk 1.2 and in addition ten twin 20mm/70 Mk 4. Specs are here.
20 mm/70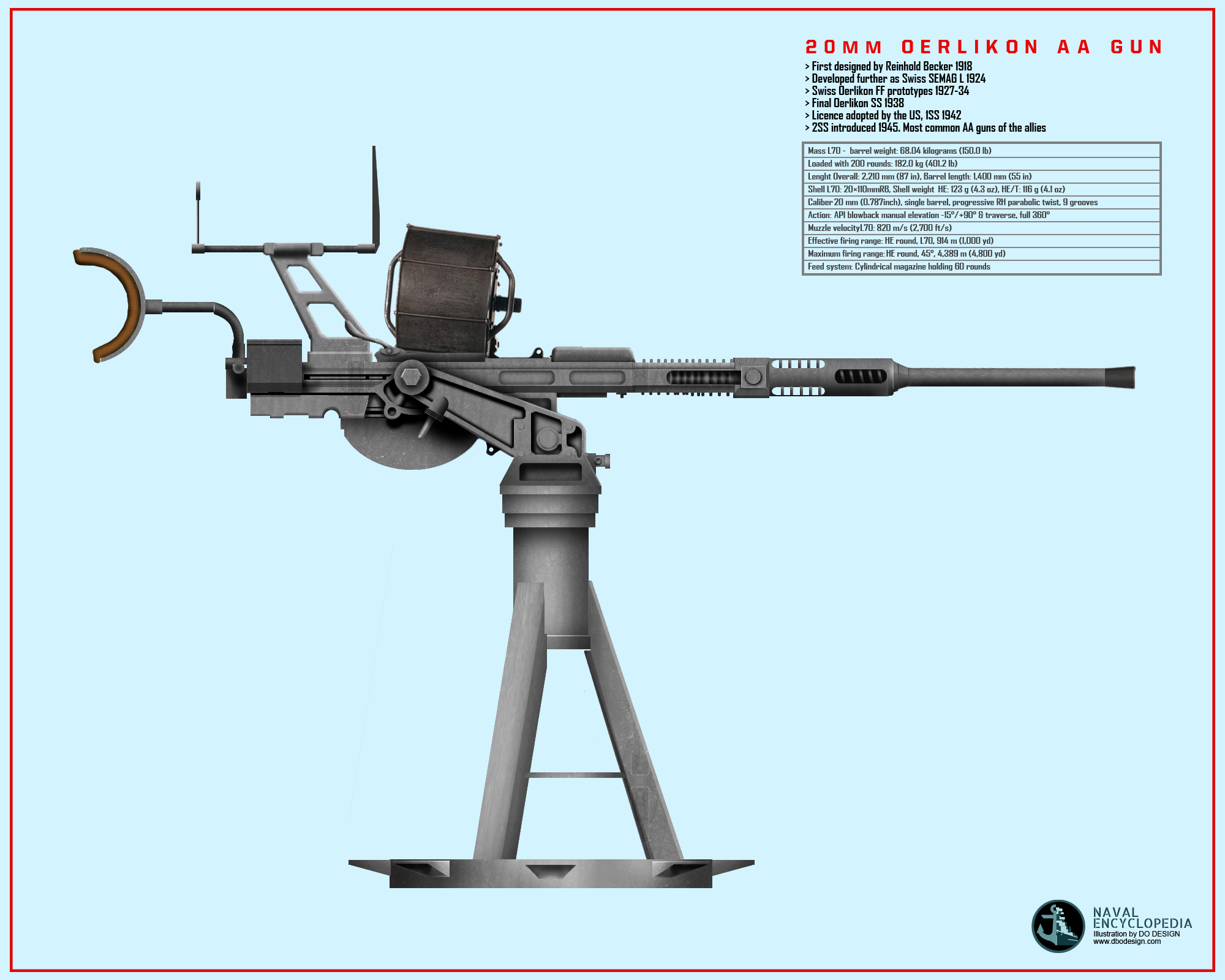 The Bogue class actually started with 20 mm Oerlikon guns, just ten single 20mm/70 Mk 4. They were located in deck sponsons port and starboard, generally two groups of two and two on the prow. However over time, this armament was considerably enhanced. From ten it was doubled. The late configuration called for three triple sponsons port and starboard (so 18 in all) and the same two at the prow. Specs are here
Aircraft facilities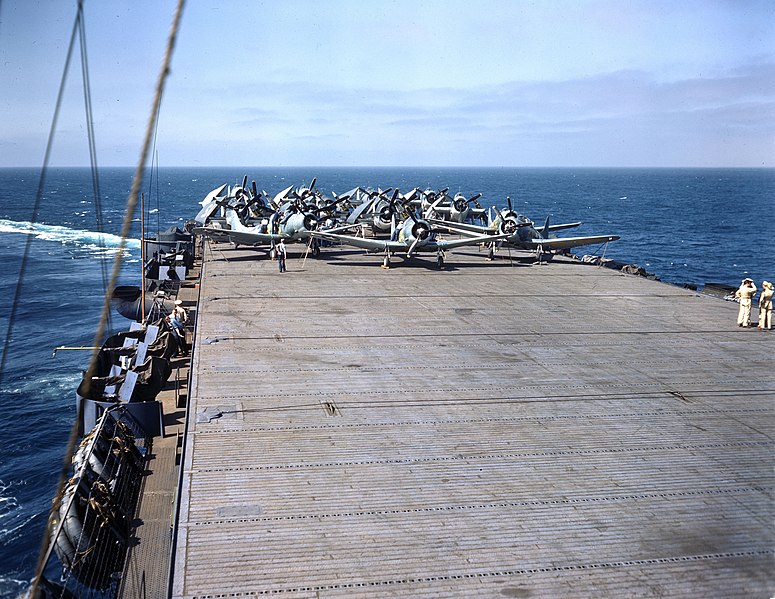 SBD, F6F and TBD are respotted to take off from a Bogue class escort carrier in 1943. Note the arrestor hooks, the port AA sponsons, and that the deck was large enough to have three SBD stacked together in a triangle formation.
The Bogue class had about the same hangar and deck design as the USS Charger. With a maximum beam of 111 ft 6 in (33.99 m), so ten meters more than the waterline beam, but with the extension of AA sponsons. The deck itself was 25 m wide. They offered a reasonably roomy, rectangular deck for her park. When taxiing planes, which was frequent, they could carry up to 60 folded wings models on deck, plus their standard load in the hangar, so reaching 90, not bade for such nimble vessels. The wooden deck was strong enough to load twin-engined models such as the B-25 Mitchell, or PBY Catalina.
Aircraft facilities comprised the following:
-A 440 ft × 82 ft (134 m × 25 m) flight deck, with nine arresting wires, three barriers at the stern
-Hydraulic catapult on the port side bow (3.5 short tons capacity, launched at 61 knots (113 km/h; 70 mph).
-Two 6.5 short tons (5.9 t) elevators at the stern and close to the bow, both the same rounded 262 ft × 62 ft × 18 ft (79.9 m × 18.9 m × 5.5 m).
-The hangar was fully enclosed and much larger compared to USS Long Island, also retaining a bow and stern camber, as being built over the original deck.
-Elevators needed pulleys to handling planes into and off the hangar deck. In normal conditions it was laready tense, near-impossible in heavy weather.
-Derricks for retrieving the SOC-3 Seagull seaplane as well as plane transport, to load/unload them on deck.
-A combined bridge–flight control island. It was of the same design as USS Charger, and placed also on the forward starboard side. There was an enclosed and an open bridge above. The lower one was mostly for ship control and the open one for spotting and carrier operations.
-A supply capacity of 100,000 US gal (380,000 l; 83,000 imp gal) of Avgas.
Air Group
ACV9 to 18 totalled 28 aircraft: They were F4F Wildcat fighters, SBD Dauntless dive bombers, TBF/TBM Avenger torpedo bombers, and SOC Seagull. One or two F4F Wildcat were kept as reconnaissance planes. ACV11, 13, 20, 21, 23, and 25 introduced the F4U Corsair alongside the Hellcat, still some SBD Dauntless, the TBF/TBM Avenger, SOC Seagull, and rather than the Wildcat, the F4U-P Corsair was used as reconnaissance plane.
AVG/ACV12 and 16 had also it seems TBD Devastators according to navypedia. ACV31, the best armed ofthe whole class, deployed the F4U Corsair, Dauntless, Avenger, Seagull, but also (probably only at the start) the Wildcat and rather the F4U-P Corsair. But with only 28 "places" in the hangar available, there were many changes in composition depending on the mission. Most of these carriers were used for most of their career, depending on their location, in the Atlantic or Pacific, deployed in very different missions.
-The first had to spot and hunt down submarines and were more likely to carry only a few fighters (the Luftwaffe was pretty rare by 1943) and mostly Avengers for ASW warfare, one or two Seagull for reconnaissance. Those taking part in D-Day operations or over Italy used their photo-reconnaissance models, Wildcat and from 1945, Corsairs.
-When used for convoy escort (trooships in the Pacific), mostly fighters were carried. When covering amphibious assaults, a better mix was researched, as they had to carry out close support missions. Dauntless dive bombers, when the enemy fighters had been dealt with, were very efficient. In 1945, Corsairs came in handy as fighter-bombers, as did the Hellcats. No SB2C Helldiver was ever seen or reported on these carriers.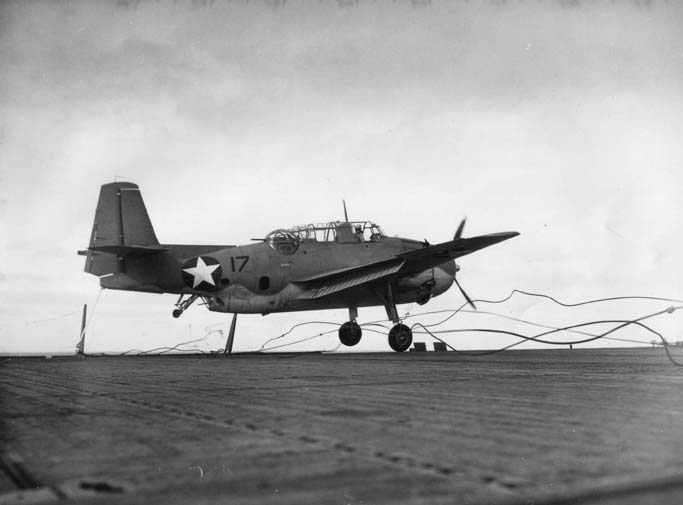 TBF-1 landing on CVE-11 during pilot's qualifications, 1942. Notice the jarred arresting cables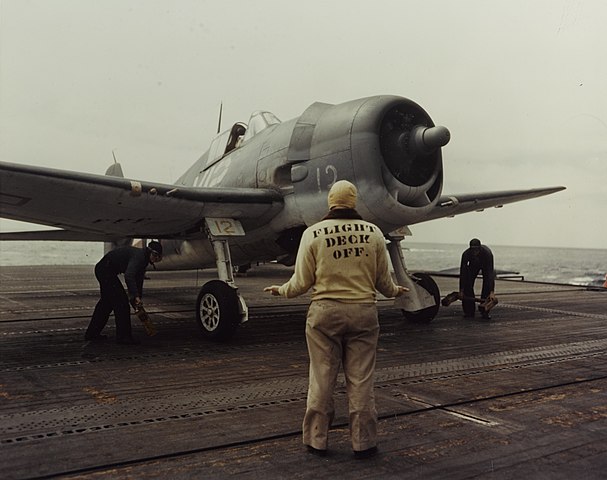 F6F Hellcat in preparation to take of from a CVE circa mid-1943, probably more a Sangamon class.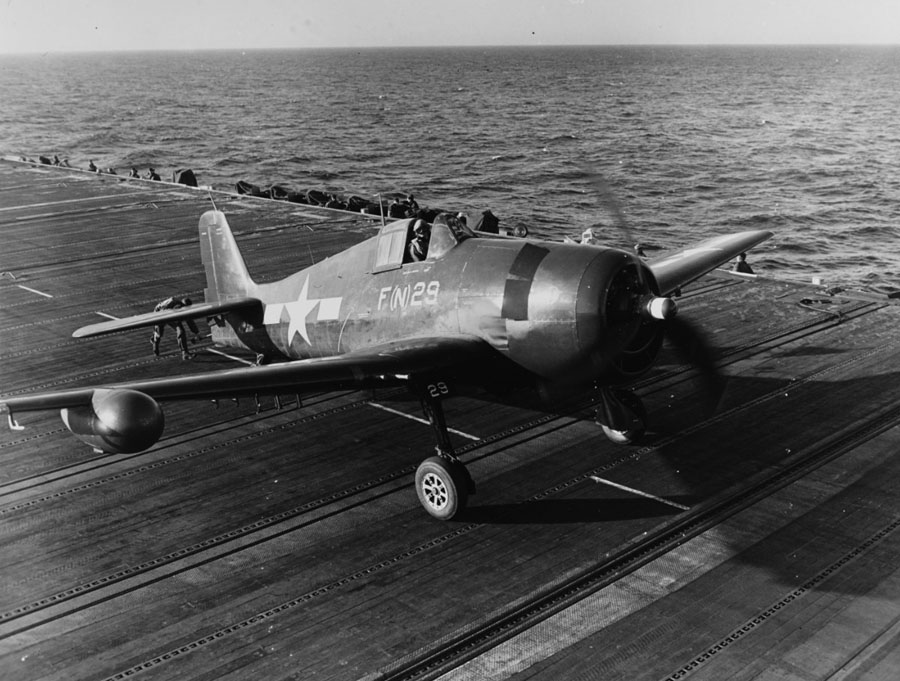 F6F-5(N) Hellcat from VMF-511 prepared to take off from USS Block Island in February 1945
The Fleet Air arm had its own set of models, notably the Seafire, but they also carried the lend-lease Martlet (Wildcat) and later Hellcats and Tarpon (Avenger), in addition a few Fairey Albacore and Barracuda, or Blackburn Firefly depending on the mission. "Demestic" models were mostly reserved for the armoured carriers and light ones (Colossus class).
A typical example of unusual composition would be by May 1943 USS Nassau, which carried more than its standard load as models were small: Twenty-six F4F-4 Wildcats and three F4F-3P, plus a single SOC-3A, for a total of 30. When used over the Atlantic or Pacific as ASW carriers, they typically use nine F4F-8/FM-2 for self defence (later Hellcats) and ten to twelve 12 TBF-1/TBM-3, so 21 in all, a reduction caused by the large size of the Avenger.
Typical Air group's models

A SBD-5 from VMS-3, USMC, Caribbean May 1944, Atlantic Theater scheme.


General Motors FM-1 from VC-12, USS Core, CVE-13, 1944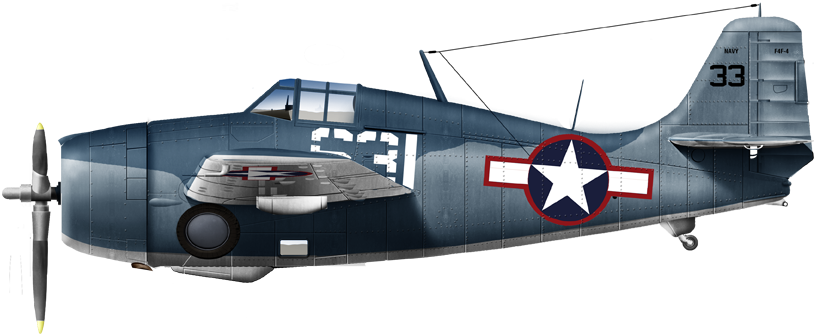 Grumman F4F-4 VC-33, USS Nassau September 1943


Grumman TBM Avenger on USS Block Island, used for ASW patrols in the Atlantic, late 1943. USS Block Island flew the full USMC group MCVG-1 with Avengers, Hellcats and Corsairs in 1944 and by 1945, (VMF(CVS)-511 off Okinawa.
Why no Helldiver ?
Outside its technical issues, the SB2C was more a strike aircraft, only useful really for antiship missions. It was therefore more common on light attack carriers such as the Independence class and fleet carriers such as the Essex class. It's heavy wing load also was not idead to land on a small deck. Contrary to the Avenger, which was heavier and larger, it still had a lower wing load, and far better handling at lower speeds, so as to be able to land on a small carrier deck without hassle, although that was still more dangerous than on a fleet carrier, especially in foul weather. As for the Corsair, once the Fleet Air Arm figure out the best way to manage landings, it made it's apparition on the Bogue class as well, mostly used for generic attack missions and reconnaissance.


F6F-3 on USS Barnes (CVE-20) in qualification tests, October 1943.



F6F-5(N) night fighter on USS Block Island (CVE-21), February 1945.
Experience with the Hellcat
The F6F was lightyears beyond and above the prewar, nimble Wildcat, but harly the best proposition of a CVE. Indeed, it was "paired" with the new Essex class when they arrived, but Grumman was not optimistic about it's use on small decks. Indeed on CVEs, the usual response was to use small ("composite") suqadrons of FM-2 Wildcat, specifically developed for CVE squadrons, lighter while more powerful engine than the FM-1 and with larger vertical fin and rudder. It do its job well, no only on the Bogue class, but also in far larger numbers on the "Bay" (Casablanca) serie.
Nevertheless, Grumman still did a design study by mid-1943. The idea was to replace the FM-1 by a modified F6F-3 for CVE operation.
This was the F6F-4, projected to be armed with four .50 cal. instead of six, no belly fuselage fuel tank, and a sub-version called "F6F EX. W.T." had a greater wing span to lower the wing load. Otherwise it was just too fast and heavy. Wing tips were two feet larger, ailerons moved outboard and span increase 7-17 inches. In the end, the better FM-2 was more promising notably by it's still much lower stall speed and declared more suitable.
Still, the Hellcat was deployed in some occasions. For example, USS Barnes (CVE-20) with VF-1 had regular F6F Hellcats deployed in November-December 1943 for trials. Pilot qualifications were a near disaster, with a first pilot kill in a first landing attempt in October and many, many accidents to follow. USS Block Island was another, as well as many Casablanca class, but this was overall rare. A few were however used in their night versio in 1944, the F6F-5(N) on USS Block Island notably. Sangamon-class also deployed F6F Hellcats bu they were longer, with a larger hangar. The Commencement Bay class were even larger, and better accomodated the F4U Corsair and even flew the larger Grumman AF Guardian. More
Gallery of Profile

Author's old illustration
(More to come, in HD)
Specifications USS Bogue, 1942

Dimensions
151 x 21 x 7,90 m
Displacement
9,636 tonnes 16,600 tonnes FL
Crew
646 (890 with air group)
Propulsion
1 shaft Allis-Chalmers turbines, TE engine, 2 Foster-Wheeler boilers, 8,500 hp
Speed
16.5 knots max.
Range
10,000 nmi (19,000 km; 12,000 mi) at 15 knots (28 km/h; 17 mph)
Armament
2 x 5-in (127 mm), 2×2 (1.1-in) x 40 mm, 10 x 20 mm Oerlikon AA, 24 airplanes
Armor
2-in STS over the magazines, steering and avgas tanks
Assessment of the class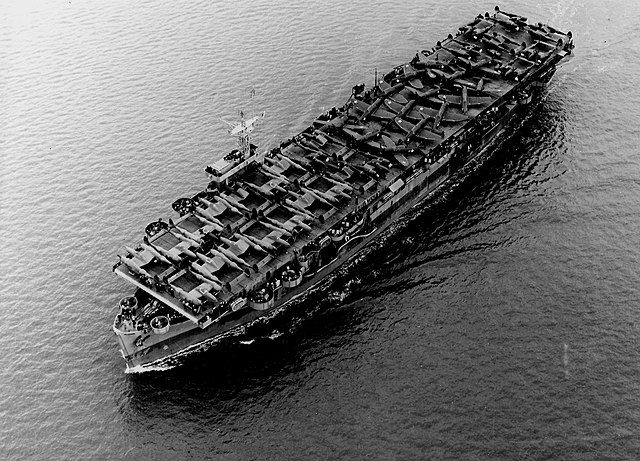 USS Barnes carrying planes underway in the Pacific Ocean, 1st July 1943, with US Army Air Forces Lockheed P-38 Lightning and Republic P-47 Thunderbolt aircraft.
Less popular than the Casablanca class, but pioneering HKGs
The Bogue class, with 45 units are a bit forgotten when compared to the famous 50 "Jeep Carriers" from Kaiser shipyards. They were almost as numerous, built earlier, took longer to complete and had some issues, but the fact they are forgotten is mostly the fact most served in land-lease with the Royal Navy: They even made the bulk of the British CVE force. Of the ten kept for USN service, they mostly spent their career in the Atlantic, taking part in countless convoys until the threat was over in late 1944, early 1945, and they were at least sent to the Pacific.
This split had reasons: Admiral King wanted better standard on each front and preferred to give the British similar carriers on the same area. The Casblanca and Commencement Bay were reserved for the Pacific, and the Sangamon were in-between.
As for their operations, they became the centerpieces of the first hunter-killed groups (HKG), a concept invented to perfect ASW warfare, in a more independent mode than usual convoy escort carriers, like HMS Audeacity, Long Island and Chargers. Most (but not all) of the Bogue class were thus used as the flagships of these HKGs, commanding to escort vessels which both assured their own protection and went on the hunt, often when U-Boats were spotted by Avengers or Wilcats. The need for better fighter was never a priority. By 1943 when they started operation, the only Luftwaffe threat left was the FW-200 Condor, but thier numbers had been on the decline, and they became rare encounters.
Instead, what the Bogue had to deal with were U-Boats.
There were four vessels torpedoed, but only one in the Bogue class, thanks to their own close protection, and the hull's efficient compartimentation. They all survived, albeit in sorry conditions. In the case of USS Block Island, she was ot "sunk" by the German submarine U-549, but survived, until it was decided scuttle her. The others were in general not repaired at that stage of the war.
Of the 45 Bogue/Archer/Attacker built, there was not a single "dry loss". It should be however stated they were far more spared compared to the Casablanca class for example, many being used a mere "suppliers" either for the advanced base or the Battle Force, Pacific Fleet, and TF38/58. Taxxing aircrafts rarely saw them on the frontline and from 1943 when the bulk of those served in the Atlantic, it was mostly won at that stage already.
The Hunter Killer Groups

USS Nassau underway off Attu, May 1943
Also known at forst as the "Convoy Support Groups", these were flotillas of anti-submarine warships actively deployed to attack submarines in WW2. It was pioneered by the Royal Navy, taking advantage of new escorts, the Flower and River class frigates, extra escort destroyers (like the Hunt class and US-delivered "Captain" class) but also high-frequency direction finding, cryptological intelligence ("Ultra") and detection tech, Huff-Duff, Radar, and sonar/ASDIC to effectively hunt down U-Boats. This system pioneered at the time became standard in the Cold War to deal with the new threat of Soviet submarines. Any hunter-killer group typically revolved around a single escort carrier, both providing better radar detection capability and long range reconnaissance, and well as air cover and attack. Around these Bogue-class were mustered a number of corvettes, destroyers, destroyer escorts, frigates, and in some case even some US Coast Guard Cutters, armed and trained for the task ahead.
The concept was proposed in 1942, for the Royal Navy, as an independent flotilla to reinforce the Escort Group mid-Atlantic, in the famous gap that not aviation can reach. The Allied Atlantic Convoy Conference early in 1943, agreed to set up ten ASW groups, each with an escort carrier completed at the time. Five Anglo-Canadian groups would cover the North Atlantic convoy routes, five US groups would cover Middle Atlantic UG convoys. As more CVEs arrived, faster units were created as "mobile support groups" which could rapidly and on-demand, reinforce any convoys under attack. These could be used only for chansig and holding down as well as destrying axis subs and completely free not to protect any convoy in particular, although they were assigned to each sector and made aware of convoy screening stations. By March 1943, Western Approaches routes were reduced in strength by one frigate/covette/destroyer to feed four more support groups with an half-flotilla of Home Fleet destroyers as a "wildcard" fifth support group.
First seeing actions were the 2nd Support Group on the Gibraltar convoy routes and 1st Support Group's Frigates plus 3rd Support's destroyers coering with success HX, SC, and ON convoys. The Bogue class HMS Archer and Biter formed the 4th and 5th support groups later. The USS Bogue, filled with Wickes and Clemson-class DDs from the first USN HKG, with in general six ships assigned to each of these, often reduced to only three due to range and maintenance issues. Most of the Bogue class were assigned their own HKG with success, colletively sinking 10 and 11 U-Boats, damaging many others. Aviation was not sufficient enough in many cases and their goal was to keep the U-Boat submerged until escorts arrives. The contribution of the USN into the battle atlantic is often overlooked and i hope future posts will shed a better light on these operations.
Src/Read More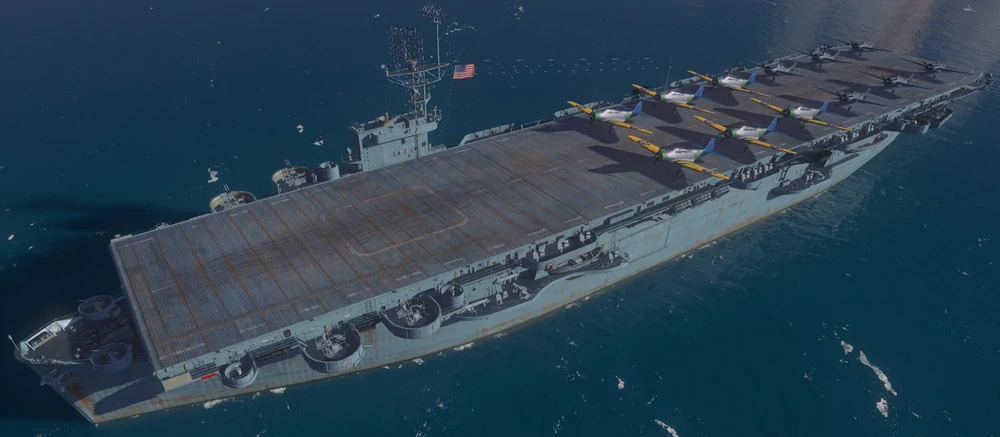 Rendition of the Bogue class in world of warships
Books
Conway's All the World's Fighting Ships, 1922–1946
Petrescu, Relly; Petrescu, Florian (February 2013). The Aviation History. Norderstedt
Chesneau, Roger (1998). Aircraft Carriers of the World: 1914 to the Present. Brockhampton Press.
Fontenoy, Paul (2006). Aircraft Carriers: An Illustrated History of Their Impact. Santa Barbara ABC-Clio
Jane, Frederick Thomas; Prendergast, Maurice; Parkes, Oscar (1961). Jane's Fighting Ships. Santa Barbara Jane's
Wragg, David (2005). The Escort Carrier in the Second World War: Combustible, Vulnerable, Expendable!. Barnsleyn Pen & Sword Books
Gardiner, Robert (1984). Conway's All the World's Fighting Ships, 1922-1946. Naval Institute Press.
Konstam, Angus (2019). British Escort Carriers 1941–1945. Oxford, United Kingdom: Osprey Publishing Ltd.
Poolman, Kenneth (1972). Escort Carrier 1941–1945. London: Ian Allan.
Morison, Samuel (2002). History of United States Naval Operations in World War II. Urbana: Illinois Univ. Press.
Links
On uboat.net with operational records of all ships
On http://www.fleetairarmarchive.net (archive)
On ww2db.com
On worldnavalships.com
On navypedia.org
On navsource.org/
Development of US CVE in the atlantic – uboat.net
history.navy.mil emergence and evolution-of-aircraft-carriers (pdf)
On the pacific war encyclopedia
On militaryfactory.com/
wikipedia.org
Model kits
On scalemates.com
1/700 scale prefab on hlj.com set-for-tamiya-fsm700025
1/1800 on shapeways.com for tabletop games
Videos
on world of warships
On navyreviewer
ussblockisland.us vets association
uss block island on navsource.org
CVE-21 on history.navy.mil
Block Island on uboatarchive.net
USS Bogue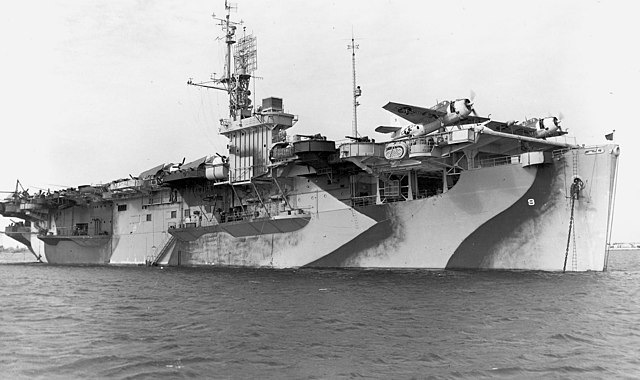 USS Bogue (ex-Steel Advocate), lead ship and named after Bogue Sound (North Carolina). She became ACV-9 on 20 August 1942 and CVE-9 on 15 July 1943 and the centerpiece of a task force responsible for the sinking of nine German and two Japanese submarines between May 1943 when she was ready for her first mission, and July 1945. Her squadron was VC-9 ("Composite Squadron" Nine). After shakedown and fixes, USS Bogue entered the intended Atlantic Fleet, by February 1943. She soon became the centerpiece of a very influencial anti-submarine hunter-killer group.
By March-April, she escorted three convoys. On 21 May, Avengers damaged U-231 enough for her to return to La Pallice, France, for long repairs.
On 22 May one Avenger depth-charged U-569, so damaged she was scuttled, the crew later captured by HMAS St. Laurent.
On 5 June, she claimed U-217 with all hands in the Mid-Atlantic Ridge.
On 12 June U-118 was finished off with bombs and gunfire by a Bogue aircraft, part of the crew picked up by USS Osmond Ingram.
On 23 July (7th escort mission) her air group sank U-527, survivors being rescued by USS Clemson and later interrogated on USS Bogue. One of her DDE, USS George E. Badger also sank U-613, a minelayer en route for Jacksonville in Florida.
On 30 November on her 8th mission, one aircraft damaged U-238 east of the Azores (with rockets), forcing her back to Brest for long repairs.
On 12 December, U-172 was sunk west of the Canary Islands, by a mixed group of an Avenger and a Wildcat, finished off by DDE George E. Badger, Clemson, Osmond Ingram and Du Pont of her hunter-killer group, but U-172 resisted for 27 hours.
The carrier was in upkeep in January-February, and carried later USAAF fighters to Glasgow. On 13 March VC-95 Avengers, drawn by a call from Fortress Mk IIs (220 Sqn FAA) helped by four ships, cornered and sank U-575. From 5 May, she "bagged" two more U-Boats, until 2 July.
On her 24 July-24 September mission, her air group sank U-1229 (20 August). Later she started a training career off Bermuda and Quonset Point and later made a USAAF ferry trip to Liverpool.
In April, 1945 she was assigned to Captain George J. Dufek's Second Barrier Force in Operation Teardrop. On 24 April her DDE was torpedoed and sunk by U-546, but she was spotted by her aviation and after a long chase by Flaherty, Neunzer, Chatelain, Varian, Hubbard, Janssen, Pillsbury and Keith, cornered and sank. This was her last Atlantic mission. In June, her Avengers also sank the transiting IJN submarine I-52. This was her only Japanese "kill".
For her next Pacific campaign, she crossed the Atlantic to Panama and arrived at her new home port of San Diego on 3 July before heading for Guam (24 July) and Adak, Alaska, arriving on 19 August. The war was over since a few days. On 6 September she was reassigned for "Operation Magic Carpet". Back in the US after two runs, she was decommissioned on 30 November 1946, in Tacoma, Washington. On June 1955 she was converted as the helicopter carrier CVHE-9 and served until struck again in March 1959, sold for BU in 1960s.
USS Card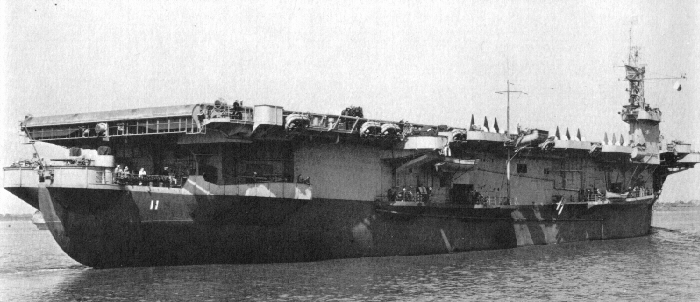 USS Card (after Card Sound, Biscayne Bay, Miami) and CVE11, became the flagship and centerpiece of hunter-killer Task Group 21.14 operating in the North Atlantic. Her air group was small and typically specialized for ASW warfare with 24 aircrafts (squadron VC-1) including six Wildcat and the rest of Avengers but this changed over mission. She left San Diego on 18 January 1943 for her shakedown cruiser off Hampton Roads and training in the Chesapeake Bay. She departed for her first escort on May 1943 with UGS-8A bound for French Morocco and Operation Torch. Next, she covered a troopship convoy for the invasion of Sicily, a small cog on the protection of 129 merchant ships and 19 escorts.
While back with the return convoy GUS-8 to Norfolk she had leeway for hunter-killer operations, a starting point for independent Hunter-Killer Group (HKG). On 15 July she changed name and became the center of a new HKG, operating without centralized control.
Enigma decoded intercepted messages procured intel on the U-Boats gathering points and replenishment U-Boats there (the infamous Milkcows). Card's success was the elimination of 11 submarines during the war with her group. By July she led TG 21.14 until 10 September, claming U-117 on 7 August, caught while refueling U-66. This time, some Avengers were armed with the new acoustic homing torpedo ("FIDO"). Wildcats forced eventually U-117 underwater with depth charges. Eventually she was hit by two "Fido" and sank but U-66 escaped to Lorient.
On 8 August 1943, USS Card was narrowly missed by U-664, and she was tracked down and sank WSW of Corvo Island. On 11 August she claimed U-525 NW of the Azores, on 27 August U-847 in the Sargasso Sea (this time again with acoustic torpedoes).
For her next deployment (25 September-9 November 1943., her air group surprised U-264, U-422, and U-455 refueling from U-460 on 4 October, N Azores. Combined AA forced her out but soon all TBM Avengers that could fly arrived, and dropped DCs and "Fido" which claimed U-460 and U-422. On 13 October, Avenger and Wildcats sank U-402 and on 31 October, three Avengers sank U-584 N Flores, again with torpedoes and missed U-91. Her final mission saw an unusual success as on 1 November USS engaged in foul weatherU-405, and it was to such close range she eventually rammed her, sinking her N Azores. Borie was so damaged she was scuttled.
Her new mission spanned from 27 July to 25 October this time as flagship of TG21.14, sinking other U-Boats and being awarded the Presidential Unit Citation. Her third hunter-killer deployment started 24 November 1943 and in N Atlantic on 23 December her aircraft spotted the wolfpack "Borkum". With USS Decatur she was missed by U-415 while her Wilcats caught the blockade runner Osorno coming from Bordeaux, just out of the estuary. U-645 was sunk on 24 December. Later U-275 and U-382 WNW of Cape Finisterre (Spain). But her HKG was chased by a pack all night, close protected only by USS only Decatur, USS Leary being sunk and the crew rescued by a third DDE. They all made safely in Norfolk on 2 January.
On 18 March-17 May 1944, she operated between Norfolk and Casablanca and was overhaul until 4 June, followed by pilot qualification exercises as she had a renewed air group as part of TG 22.10. On 25 June she departed for her next mission and on 5 July, USS Thomas and Baker sank U-233. Next she operated in the Caribbean until 23 August 1944. She was at sea again on 18 September as TG 22.2 flagship for a patrol off the Azores, a favorite point of gathering for wolfpacks, cooperating with British Escort Group 9. They managed to deamage an U-Boat on 12 October. She made a second patrol on 1 December 1944–22 January 1945 before getting back to Philadelphia for overhaul.
In late February she departed for a transport mission with USAAF planes and personnel to Liverpool. On 21 March-24 May, she carried out pilot qualifications off Quonset Point and made another ferry mission to Guantanamo Bay in June and crossing Panama, to Pearl Harbor and Guam and this time back at her new home port, San Diego, on 14 August 1945. The following day the war was over. She became the most successful Bogue class carrier.
After two "Magic Carpet" runs to Pearl Harbor and western Pacific back to California, she was eventually decommissioned at Norfolk, 13 May. She was mothballed until reclassified as a helicopter escort carrier (CVHE-11) in 1955, then a utility carrier (CVU-11) in 1958 and aviation transport (AKV-40) by May 1959. She was the the firs CVE to Da Nang, on 25 January 1962 and took part in several TOD in Vietnam. But this is for another post. In the Pacific Reserve Fleet, Washington, by March 1970, she was sold for BU in May 1971, but only stricken on 9 June.
USS Copahee (CVE-12)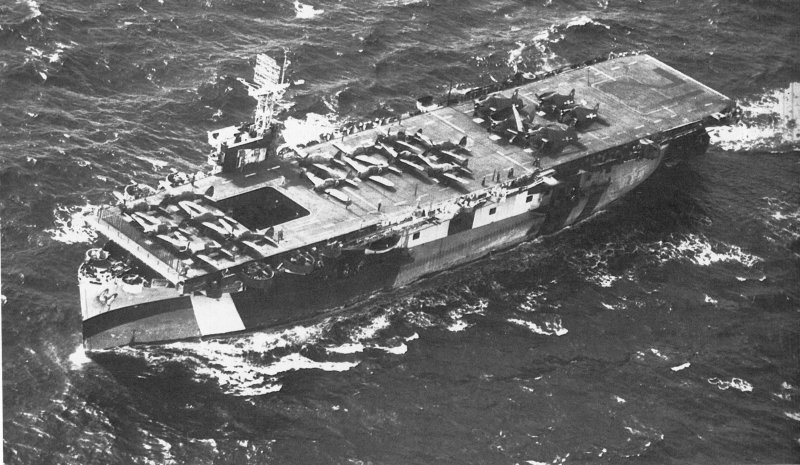 USS Copahee (CVE-12) was a Bogue-class escort carrier first classified AVG-12, then ACV-12, CVE-12 and CVHE-12 from 1955. Laid down on 18 June 1941 at Todd Pacific Shipyards, launched 21 October 1941 and commissioned 15 June 1942 (Captain J. G. Farrell). After her shakedown cruise, from Alameda (5 September 1942), she made her first deployment, arriving in Nouméa, New Caledonia in the South Pacific on the 28th, with a cargo of planes, stores and passengers. On 7 October-11 October she was south off Guadalcanal, launching 20 reinforcement USMC fighter planes and 18 SBD-3 Dauntless from VMSB-141 to Henderson Field. Her delivery made, she returned to San Diego, arriving on 29 October, followed by a short overhaul.
Ttraining at Pearl Harbor was needed to be really operational, and she sailed to Home Port San Diego (25 February 1943) to solely to carrying aircraft, being also loaded with aviation stores and personnel, all to be supplied to forward bases: These were located in the New Hebrides, Fiji Islands and New Caledonia again, but akso advanced western islands of the Hawaiian chain. She was underway on 10 March 1943 and arrived on 7 June.
From 2 September 1943, and again from 19 January 1944, she made two other taxiing voyages, this time to reinforce Australia's bases at Townsville and Brisbane, but also Pearl Harbor. She was back at San Diego on 10 April, to carry more replacement planes to Pearl Harbor and also to Majuro Island, until 3 June. There, she resupplied pilots and planes for the Marianas operation in the 5th Fleet. On 28 July 1944 she was back to San Diego, with all captured Japanese planes that can be musted, 13 Mitsubishi A6M Zeros and 1 Nakajima B5N "Kate" that would made the delight of ONI as well as 37 engines. A precious cargo helping late operations.
She was under overhaul, and back transport duty, making six voyages, this time from Alameda, and to Manus, Majuro, Guam, Saipan, and Pearl Harbor. On 6 September-21 December 1945, the war being over, she was tasked to make repetration runs as part of Operation Magic Carpet, from Saipan, Guam, Eniwetok, and the Philippines. Immobilized for maintenance at Alameda from 21 December 1945, she was decommissioned, in reserve at Tacoma on 5 July 1946. Her career went on as CVHE-12 from 1955. She was eventually stricken on 1 March 1959, sold for BU in 1961.
USS Core (CVE-13)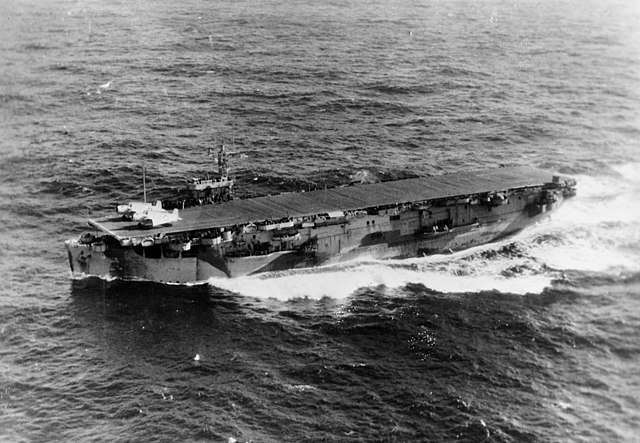 USS Core, after Core Sound (North Carolina) was laid down as AVG-13, reclassified ACV-13, and CVE-13 in the summer of 1943, CVHE-13 in 1955, CVU-13 in 1958, T-AKV-41 in 1959. Launched 15 May 1942 at Seattle-Tacoma, like the others still under Maritime Commission contract she was acquired on 1 May 1942 by the USN and commissioned on 10 December 1942. Her first captain was M. R. Greer; She left Puget Sound on 6 February 1943 for pilot qualifications in carrier operations and went to the east coast, Norfolk (11 April) for more qualifications, this time in Chesapeake Bay. On 27 June she became flagship of TG 21.12, a new hunter-killer group. For a start this summer, her air group claimed U-487 (13 July 1943), U-67 (16 July), her escort USS George E. Badger, U-613 (23 July) and back to Norfolk. This was the most successful first patrol of any HKG to date.
Her second patrol lasted from 16 August to 2 September 1943 and she claimed U-84 and U-185 (24 August). The thord patrol started on 5 October (her group became TG 21.15) and her aviation claimed U-378 on 20 October. The fouth patrol started on 6 December 1943, until 18 January 1944. There was no kill. For her 5th mission, in preparation for D-Day, she this time carried 56 P-51s to Liverpool (6 February-9 March) and her 6th mission from 3 April to 29 May saw her with a new HKG, TG 21.16, patrolling the central and North Atlantic. No kill. She was sent to New York on 24 June to ferry 85 USAF models to Glasgow and was back to Norfolk on 20 July.
On 8 August she resumed ASW patrols as CTG 22.4, and training exercises to prepare for recent new intel submarine tactics, off Bermuda. From 8 October sha started an overhaul in Norfolk and when done had to start with a new air group, qualifying carrier pilots at Quonset Point. On 24 January 1945 she departed to hunt down a pack of submarines signalled as operating in the North Atlantic. This was winter and between fog and rough weather, she found nothing. She departed from Norfolk on 3 April to join a larger ASW unit gathered in Guantanamo Bay 7 April. It was to operate with several former HKGs in the central and North Atlantic: Operation Teardrop. This unit claimed U-546 on 24 April. USS Core was back to New York 11 May for upkeep.
Leaving Norfolk on 13 June 1945 she was transferred to the Pacific via Panama, arriving in San Diego on 25 June, se was to ferry replacement planes to Pearl Harbor and Samar in the Philippines. She was back home on 30 August, learning about the Japanese surrender. On 20 October, she was in Alameda and Seattle, transporting troops from Yokosuka as part of Magic Carpet. She made two other voyages (20 October-18 January 1946). Decommissioned, reserve on 4 October 1946 in Washington, she was redesignated CVHE-13 on 12 June 1955 and converted as helicopter carrier for the Korean war, then utility carrier CVU-13 by July 1958 and the aviation transport T-AKV-41 from 7 May 1959. On 11 December 1961 she carried to Saigon 32 H-21 Shawnee helicopters and 400 U.S. advisors to the South Vietnamese Army, with the 57th Transportation Company (Light Helicopter), 8th Transportation Company, so making her first TOD in Vietnam. Her career would end in September 1970. She was sold for BU the next year.
USS Nassau (CVE-16)

USS Nassau made all her career in the Pacific. She was successively AVG-16, ACV-16, CVE-16 and CVHE-16. Laid down 27 November 1941 at the Seattle-Tacoma Shipbuilding Corp. which built most of the Bogue class, started as M.C. Hull No. 234, she was launched on 4 April 1942, acquired by the Navy and towed to Puget Sound for convertion to an escort carrier, commissioned on 20 August under command of Captain Austin K. Doyle.
On 10 October, she was at NAS Alameda in California to load aircraft inbound for Pearl Harbor, Palmyra Island (30 October). She went on making several trips between the US, Palmyra and Nouméa (New Caledonia) as well as Espiritu Santo in the New Hebrides.
Back to Pearl Harbor on 14 February 1943, she made another ferry mission on 21 February to Espiritu Santo. Back to Pearl Harbor by Larch she was back in Alameda, and April, based in San Diego for flight training operations. She was assigned to Task Group 51.1, going to Cold Bay in Alaska to receive the Composite Squadron 21 (VC-21). On 4 May she started searches with TF 51, patrolling the area during the occupation of Attu (11-20 May 1943). Back to San Diego and Alameda (8 June), she loaded 45 aircraft to be ferried to Brisbane, delivered on 2 July.
In August, she trained off San Diego and carried new planes to Samoa. Back to San Diego on 19 October, she embarked Marine Fighter Squadron 225 (VMF-225) to Pearl Harbor and then conducted air operations off Pearl Harbor. On 7 November, she embarked VF-1 and sailed to the Gilbert Islands to cover Task Force 52's operations.
She was to carry VF-1 to Tarawa's airfield as soon as the facilities were repaired. The invasion of Tarawa took more time than expected and VF-1 was assigned instead classic combat air patrol and close support runs on demand by the assault troops. VF-1 flew 106 missions, 237 hours in the air in four days, without a single loss. USS Nassau was back to Pearl Harbor on 5 December before going to the Marshall Islands with Task Group 51.2. Her air group launched strikes on 29 January 1944 on Taroa Field (Maloelap Atoll) and later Kwajalein, Wotje, and the Maloelap Atolls, between ASW and CAP patrols.
She was back to Pearl Harbor 3 March to disembark VC-66, and taking new aircraft and cargo, plus personal bound for the Marshalls. In March 1944 she repeated ferry missions to Kwajalein and Majuro, from Pearl Harbor. She was back home for refit and maintenance at Mare Island NyD and took 51 aircraft to Finschhafen in New Guinea, arriving on 5 May 1944. She also ferriedmore planes from San Diego to Pearl Harbor, Admiralty Islands and New Hebrides.
While in Seeadler Harbor on 1 September, USS Nassau was assigned to Task Group 30.8, in Admiral Halsey's 3rd Fleet, operating off the Admiralties with other escort carriers, basically resupplying of aircraft and pilots the depleted Task Force 38, the fleet carriers, main fist of the offensive in the Pacific. She also steamed with an oiler group, making three cruises in the western Pacific and returning to the Admiralties with disabled aircraft bound for repairs in Pearl Harbor.
She made a replacement trip during the strikes on Palau, another in the southern/central Philippines and northern Philippines/Formosa (Taiwan). She was in Manus on 20 October to offload old aircraft, taking on new ones and went to Ulithi Atoll, Carolines to resupply TG 38.1 and 38.3 (28 October), resupplying 70 aircraft and 43 pilots. She became part of a dedicated group called TF 12.6.1, alongside with USS Tennessee and four other ships, retuning to Pearl Harbor (arrived 16 November) and two days after she returned home to San Diego with notably 382 survivors of USS Princeton sunk at Leyte Gulf. She made another ferry mission by mid-November to Guam, another in December and in January-February 1945. Back to Alameda on 23 March, she carried more supply missions beteween Pearl Harbor, Guam, Manus, Samar and Saipan, until the war ended. She went back to California as part of the Magic Carpet operation.
Her last trip was between Alameda, departing on 13 May 1946, and Tacoma to be decommissioned (Pacific Reserve Fleet). She was modified for aircraft transportation as CVHE-16 in 1955 but transferred to the Bremerton Reserve Group and stricken eventually in March 1959, BU in Japan, June 1961.
USS Altamaha (CVE-18)

USS Altamaha (which spent her career in the Pacific) was laid down on 19 December 1941 at Tacoma (Seattle-Tacoma Shipbuilding Corp.), launched on 25 May 1942, commissioned on 15 September 1942 with Captain J. R. Tate in command. After brief sea trials, she sailed for San Diego with USS Kendrick which spotted a submarine and claimed three torpedoes fired, but this is dubious as U-Boats never ventired on the west coast, and IJN submarines quite rarely so. They arrived on 31 October and she left with aircraft and personal aboard for her first mission to the southwest Pacific.
Disembarking part of her cargo in Espiritu Santo on 22 November, she sailed from 27 November to New Caledonia, Nouméa and started flight operations and training before heading back to Espiritu Santo, proceeding next to Fiji Islands, Nadi (13 January 1943), followed by operational training. In February she disembarked cargo in the Ellice Islands and went to Pearl Harbor on 10 February. She embarked Air Group 11 and sailed for the Fiji Islands on 19 February, Nadi and back to Hawaii. On 9 March she was tasked to carry replacement aircraft for TF 58, stopping en route at Palmyra Island (15 March) then Johnston Island to unload aviation personnel and then Midway and setting course for Hawaii. On 24 March she departed again for the West Coast.
She reached San Diego on 1 April for 1.5 month of intensive flight operations and upkeep, in San Diego her home port. On 13 July, she was in Alameda, the terminal where brand new planes were stored and pilots trained at NAS Alameda. This time she sailed for Brisbane, Australia, arriving on 3 August. She stopped also at Fremantle and on the 16th sailed for Karachi, India (28th) to deliver 29 USAF airplanes.
On 2 September, she returned to Australia, Melbourne and headed back to the West Coast entierting Mare Island on 8 October in Vallejo for overhaul. After sea trials on 8 November she embarked replacement aircraft and sailed for Brisbane (30 November) to unload, leaving on 4 December for home. Carrier qualifications and upkeep followed. During this time, navy blimp K-29 of Patrol Squadron 31 (ZP-31) made the first carrier landing on 4 February 1944.
Next she headed for Pearl Harbor (22 March 1944) and arrived there on 28 March, carrying Composite Squadron 6, some 300 miles east of the Marshalls, with Task Group 11.1, and four destroyer escorts, arriving on 3 April. She reported two submarines en route and arrived at Majuro Atoll on the 8th to refuel. She made her second ASW patrol, and was torpedoed but missed four torpedoes on 15 April. TG 11.1 was relieved on 18 April and she headed for Pearl Harbor. Aftrer upkeep she was back in Majuro by May and went on with her ASW patrol in the Marshall Islands, and back to Pearl.
From there, she headed for the West Coast, Alameda, on 18 May, and serious upkeep. She departed to Pearl with aircraft and spare parts, loaded there, and back to Alameda.
She loaded more material and men in San Diego from 19 June and proceeded to the New Hebrides, Espiritu Santo (7 July), New Guinea (16 July) in Langemak and Seeadler Harbor, Manus Island, and back to Espiritu Santo. She later visited Guadalcanal and departed for Pearl on 10 August before heading for San Diego via the Emirau Island and Seeadler Harbor. After three weeks of local operations she departed on 26 October for Pearl Harbor and to Eniwetok with replacement aircraft and pilots. On 15 November she was in Ulithi for flight operations. From 14 December she joined the 3rd Fleet replenishment area and TG 30.8 in the Philippine Sea, transferring pilots when interrupted by heavy seas and then, typhoon. 50% of her air park broke loose and was thrown overboard. Her forward elevator pit was flooded. Back to resupply operations on 19 December she stayed with the 3rd Fleet between Guam, Manus and Ulithi. She was back in Pearl on 15 February 1945.
Back in Alameda on 26 February she was drydocked at Hunters Point NyD on 3-14 March, repaired, before loading planes, ammunition, and supplies to Pearl, and she spent the remaining months in ferry duties from Alameda or San Diego via Pearl Harbor to Guam, Saipan, Eniwetok, Kossol Roads and Samar. By mid-August USS Altamaha was back at Hunters Point NyD for upkeep, and back to Pearl Harbor on 22 October 1945, starting her first "Magic-Carpet" run. She was deactivated in Tacoma, decomm./reserve 27 September 1946, CVHE-18 in 1955, stricken March 1959, sold for BU April 1961.
USS Barnes (CVE-20)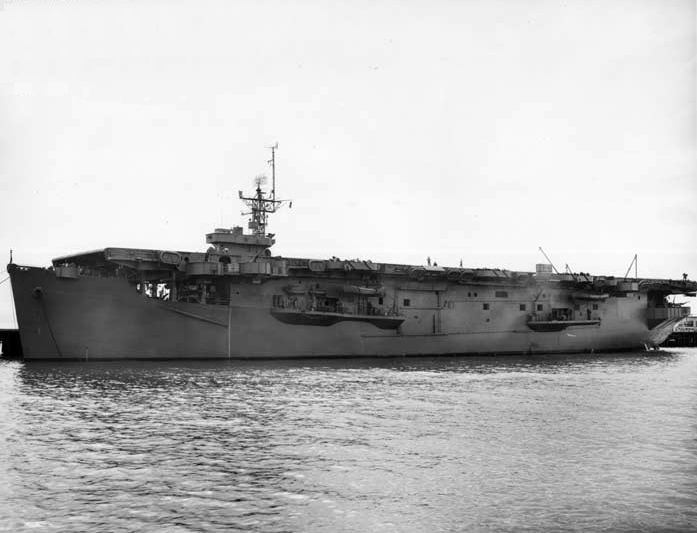 USS Barnes was laid down and transferred soon after on 1 May 1942, launched on 22 May 1942 (Tacoma) and commissioned on 20 February 1943 under command of Captain Cato Douglas Glover. Like the others she changed denomination five times.
She saw a lot of "action" but not on the frontline, being merely used to carry aircraft and personnel to the Pacific, and after upkeep periods back home, used for training and pilot qualifications. The latter were not for her own air group but for a "refill" of depleted units on the frontline. Her only true wartime actions had been to join the fleet for raids against Tarawa Atoll in the Gilbert Islands, an operation which took plane from 20 November to 5 December 1943. But she spent the rest of the war back in aircraft replenishment for all the task groups of the 3rd Fleet. Notable campaigns were the western Caroline Islands operation on 6 September–14 October 1944, and Luzon operation on 19 October 1944.
The war ended in August 1945 and USS Barnes remained as part of the occupation force cover, until 3 November. Back home in March 1946 on the West Coast she sailed eventuall to Boston, Massachusetts, to be decommissioned, reserve, on 29 August 1946. Although she was redesignated CVHE-20 on 12 June 1955, she never was out of the reserve, and stricken on 1 March 1959, then sold for BU.
HMS Block Island (CVE-21)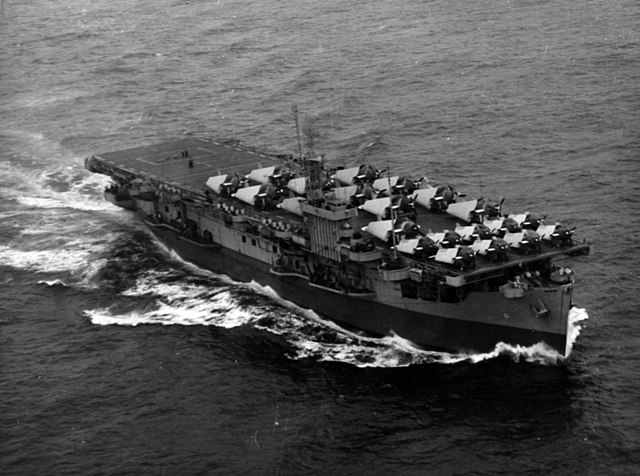 She was one of the most famous of the Bogue class, notably due to her fate. USS Block Island was transferred on 1 May 1942 to the Navy, launched on 6 June 1942 (built in Seattle-Tacoma), and commissioned on 8 March 1943. First commander was Captain Logan C Ramsey. She was prepared for the Atlantic fleet, taking part in convoy escort duties, but soon to be the centerpiece of a hunter-killer group. For this, her air park was 24 models, a few Wildcats and Avengers. Composition changed for each mission, and was called VC-25 USN (Composite Squadron 25).
Like the others she was also used to ferry aircraft and could carry 90 in one go like her sisters.
She departed San Diego in May 1943 so after her shakedown cruise, fixes, training and pilot qualifications, for Norfolk in Virginia via Panama, to join the Atlantic Fleet. She ferried twice P-47 Thunderbolt in the NYC-Belfast route. But soon, USS Block Island was selected to constitute her own HKG around vintage, but modernized "four pipers", USS Paul Jones, Parrott, Barker, and Bulmer, under the name of Task Group 21.1. She made rapidly two kills alone during four missions:
U-220 on 28 October 1943 (by Avenger and Wildcat with depth charges)
U-1059 on 19 March 1944, also by her aircraft. The latter was filled to the brim with spare torpedoes for Monsun Gruppe in the Pacific/Indian Ocean area.
U-801 on 17 March 1944, with USS Corry, and DE USS Bronstein.
U-66 on 6 May 1944, with USS Buckley (namesake and lead vessel of a DE class). In all these cases, prisoners were made. The subs were often damaged and forced to surface.
However luck ran out: USS Block Island was was spotted off the Canary Islands by U-549, on 29 May 1944. The Type VII U-Boat managed to slipp through her screen, fired three T-3 torpedoes, with two hitting. The damage was so sever she later sank. She had six killed but sank slowly enough that the remaining 951 were picked up by escorting destroyers. The attacker was eventually tracked down and sunk by USS Eugene E. Elmore using her hedgehog and depth charges, avenging the sole Bogue class sank on the American side. She also left six Wildcats in patrol in the air, which headed for the Canary Islands but to ditched, out of fuel. Only two pilots were rescued afterwards.
USS Breton (CVE-23)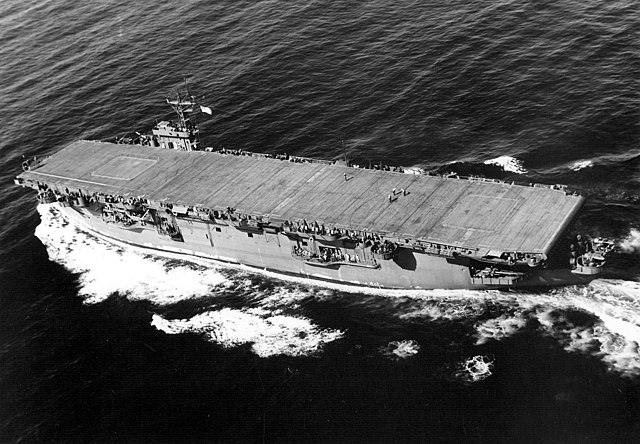 A "virgin" USS Breton awaiting her first air group while training in home waters, 1943.
USS Breton (from Cape Breton, Nova Scotia) was launched on 27 June 1942 (Seattle-Tacoma) transferred to the Navy, and commissioned on April 12, 1943. She saw little frontline action, being part rarly on of the Carrier Transport Squadron of the Pacific Fleet, mostly using Bogue class to carry replnishment airplane throughouyt the Pacific. She also qualified pilots and carry these but also newlly formed mechanics and maintenance personal, plus materiel to fleet units engaged in the island-hopping campaign. USS Breton took part however more actively in operation on Saipan on 11 June–10 August 1944 and in the Battle of the Philippine Sea on 19–20 June, second Bonin Islands raid on 24 June and the campaign of Okinawa on 6–7 April 1945. She would receive two battle stars for her service.
After the war ended she served with the Far Eastern occupation forces and made a single repatriation (Magic Carpet) run. Back home in January 1946 she was inactivated at Tacoma shipyard and decommissioned, reserve, on 30 August 1946. She became CVHE-23 by June 1955 but from July 1958 instead of being stricken like others, she became utility carrier CVU-23 operating from 7 May 1959 as aviation transport, also denominated T-AKV-42. She made at least three runs to Vietnam and was eventually out of service by 1971, stricken in August 1972, sokld and BU, one of the last Bogue class.
USS Croatan (CVE-25)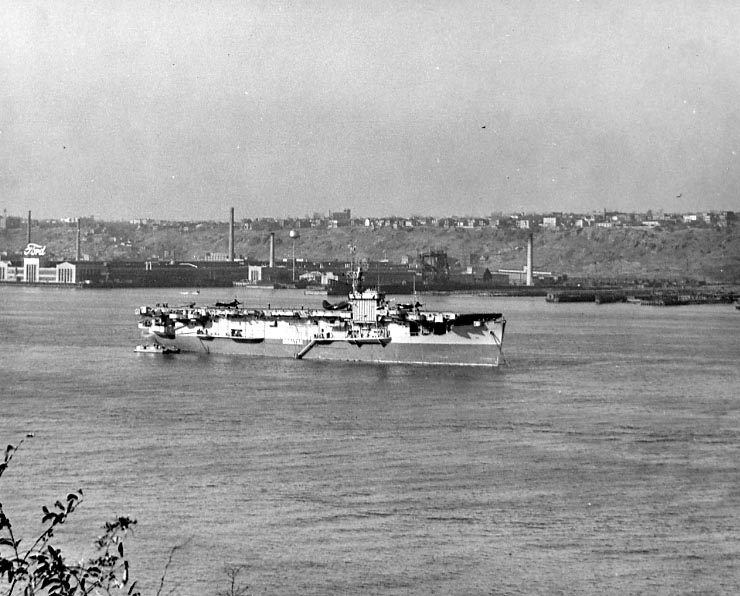 USS Croatan off NYC in October 1945, after repairs and upkeep.
USS Croatan (AVG-25/ACV-25/CVE-25) was launched on 1 August 1942 at Seattle-Tacoma, commissioned on 28 April 1943. She spent the war in the West. From San Diego she sailed from 2 July 1943 via Panama to Norfolk, Virginia to form an Atlantic hunter-killer group starting her first mission on 5 August. She reported two skirmishes with surfaced U-Boats. On 5 September she started night flying operations (with F6F-5N notably) and was back to Norfolk for upkeep on 22 September.
On 17 October-29 December 1943 she ferried reinforcement planes to Casablanca as the North African campaign was drawing to an end. She made another ASW patrol on 14 January-27 February 1944, and was a testbed for the Naval Research Laboratory at Annapolis in Maryland. She made another ASW sweep on 24 March-11 May (On 7 April, her planes spotted and attacked U-856, finished off by USS Champlin and USS Huse, and on the night of 25–26 April, U-488. Her 3rd patrol was in 2 June-22 July. On 10 June, USS Frost, Huse, and Inch attacked U-490, which surrendered (and was scuttled), the crew rescued the following day. They also claimed U-154 on 3 July.
After a brief overhaul and going on with radar tests at the Naval Research Laboratory, she made a 4th ASW sortie on 20 August 1944. On 15 September she helped rescuing the crew of USS Warrington stranded after a hurricane. In October she proceeded to further antisubmarine training at Guantanamo Bay, and Bermuda. After covering a task force in the Atlantic, she was back in New York on 4 February 1945. She qualified pilots for escort carrier operations, headed for Norfolk and from 25 March was part of Operation Teardrop. On 16 April USS Frost and Stanton claimed U-880 and U-1235. She stayed for upkeep at NAS Argentia in Newfoundland and was back in NyC from 14 May for an overhaul. The war ended and after further pilot qualifications she made her first tun on 23 November to repatriate personal in Europe back home, from Le Havre, France.
She was decommissioned/reserve at Norfolk, 20 May 1946. Reactivated postwar she was reassigned to Military Sea Transportation Service, to deliver aircraft to Europe, and became an experimental ship for NASA until May 1965. She carried helicopters to Vietnam but was stricken on 15 September 1970, sold 1971, one of the very last Bogue class.
USS Prince Williams (CVE-31)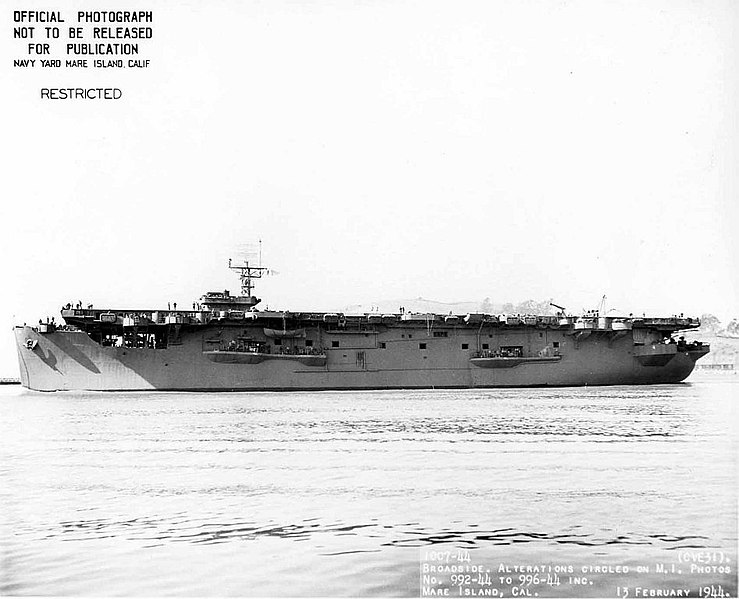 USS Prince William off Mare Island Arsenal, on 13 February 1944, after her upkeep.
USS Prince William (AVG/ACV/CVE-31) laid down at Tacoma as MC Hull 242, was laid down at Tacoma on 18 May 1942, launched 23 August, commissioned 9 April 1943 with first Captain Herbert E. Regan Her name came from Prince William sound in Alaska. She uniquely served in both theaters, west and east. After a short shakedown cruise off the west coast the joined the Pacific Fleet and was soon tasked of ferrying planes, transport personnel between the west coast and New Caledonia, Canton Island, Samoa and Espiritu Santo. She was back home in California by the spring of 1944.
After training there and qualifying replacement pilots, she made another supply run on mid-April 1944 to Townsville, Australia (7 May) and after being back to San Diego she was sent to the Atlantic to unload aircraft and cargo at Port Everglades in Florida by 21 June beforeheading to Norfolk. There she was fitted wirh a new experimental navigational equipment called "LORAN", and spent the summer qualifying more pilots in the Chesapeake Bay. On 24 August she made a supply tun to Casablanca, returning with worn out engines and parts to Norfolk. She was back to training duties by October 1944, and until the start of 1945, trained pilots in Narrangansett Bay and Key West. She was still used as training carrier in May and by 2 June 1945, crossed the Panama Canal to join the Pacific Fleet, again to ferry replacement aicaft to various Pacific locations between there, Pearl Harbor, and Alameda or San Diego.
The war ended and she took part for 7 months to the "Magic Carpet" repatriation runs. This ended her career in San Diego, 21 March 1946, but she was reassigned to the Atlantic Reserve Fleet crossed Panama for Norfolk, arriving on 23 April, and then Philadelphia to be decommissioned on 29 August. Redesignated CVHE-31 in 1955 she remained on the Philadelphia Group, Atlantic Reserve Fleet, stricken on 1 March 1959, was sold for BU in March 1961.