Design of the class
The Suffren was the last "classic" French pre-dreadnought. The next Republique class would indeed be of a modernized design, leaving no trace of the Jeune Ecole theories. Suffren was designed amost as a sister ship of Iéna, and improved Charlemagne design, whereas Suffren was at first a sister-ship, delayed to become an improved Iéna, with changes in armament and armour, notably a secondary battery in turrets and not in casemates.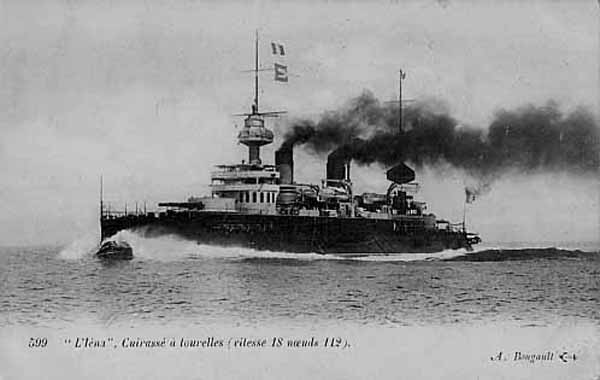 Iéna, for comparison (Bougault coll.)
Completed in 1902, Suffren served wit the Mediterranean Squadron as flagship. She twice collided with ships and her propeller shafts replaced, and from 1914, assigned to the Dardanelles fleet, shelling Ottoman fortifications.
Moderately damaged on 18 March 1915 and repaired in Toulon, she returned to support the landings of the Gallipoli Campaign and when the entente withdrew. She collided and sank a frighter and was repaired again, reassigned to the French squadron off Salonica. Back to Lorient for a major refit she was torpedoed and sank off Lisbon by U-52 on 26 November 1916.
Hull and general design
The three Charlemagne class authorized in 1893 were in construction when VADM Armand Besnard convinced the Chamber of Deputies to authorize Iéna in 1897, improved and another next year Besnard requiring an entirely new design. Basically he wanted an enlarged and improved Iéna, providing a ground for future class.
Suffren at first only showed limited improvements in armament and armour but project became the new hot topic at the Conseil des travaux de la Marine (Board of Construction) and it veered towards a brand new new design, ony retaining token parts of Iéna. The biggest influence at the time was the expected move towards secondary armament in turrets rather than in barbettes, notably to five them a better field of fire. Thus, engineers were ordered to place all the secondary armament in wing turrets, three per side. The shell stowage also grew to 60 rounds per gun (45 on Iéna). In total, on ten, six 6.5-in guns were mounted in single-mount turrets, three per side, the remaining four in caemates at the largest beam.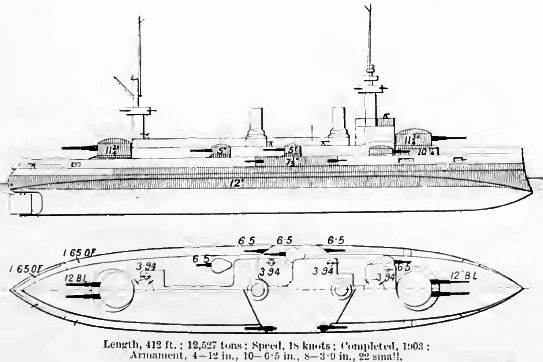 Brassey's plan
The hull was classic in design, albeit longer and larger than Iéna, 125.91 m (413 ft 1 in) long overall at the tip of the spur ram, 21.42 m (70 ft 3 in) in beam, and 8.22 m (27 ft) in draught, for 12,432 t (12,236 long tons) of normal displacement and 12,892 t (12,688 long tons) full loaded. In comparison, Iéna reached 12,105 t deeply loaded, her hull measured 122.31 m (three meters shorter) for 20.81 m (68 ft 3 in) in beam, so 61 cm narrower, but with a higher draft.
The hull shape was well rounded, albeit the clssic tumblehome was less accentuated, and metacentic height was better due to the beamier hull. She was supposed to have a slow, predictive roll. Superstructure wise, it ran allong the ship between barbettes. It comprised a conning tower one deck taller than the roofline of the A turret, and a bridge built above and behind, then a taller foward military mast, complete with a fighting top and spotting top above. The same was repeated on a shorter mast aft. They als had two funnels rasonably fat apart, forward.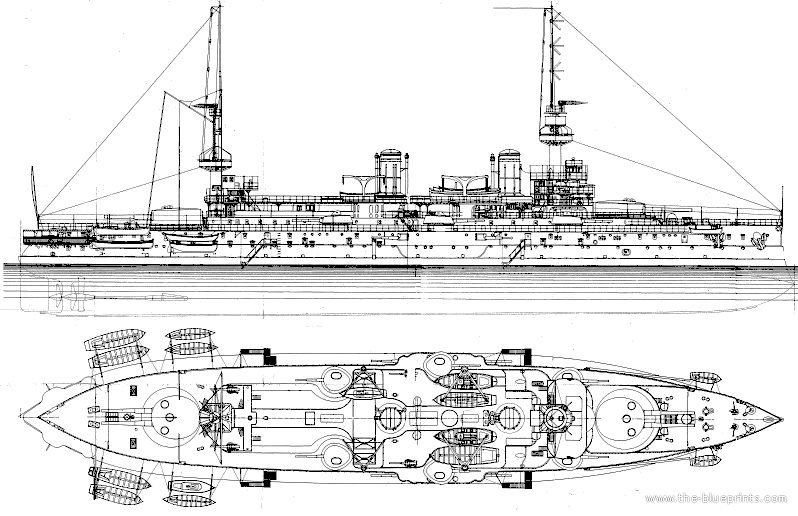 Two view blueprint (HD)
She had well filled hull shapes, good freeboard, stepped aft: There was still the trademark "half deck" forward to support the A turret. Later designs of the Republique class would have a full deck forward. The stern was classically pear-shaped. The armour design focused on the same armoured belt full lenght to the bow, but was cut short mid-way to "B" barbette.
She had a fleet of service boats: Two barges and two steam cutter on deck, aft of the main military mast, four rowing boats under double davits aft either side, and two small yawls forward also under davits at the prow.
The crew comprised 668 officer and men in normal service (31 officers and 637 ratings) and up to 742 as flagship (42 officers and 700 ratings).
Armour protection layout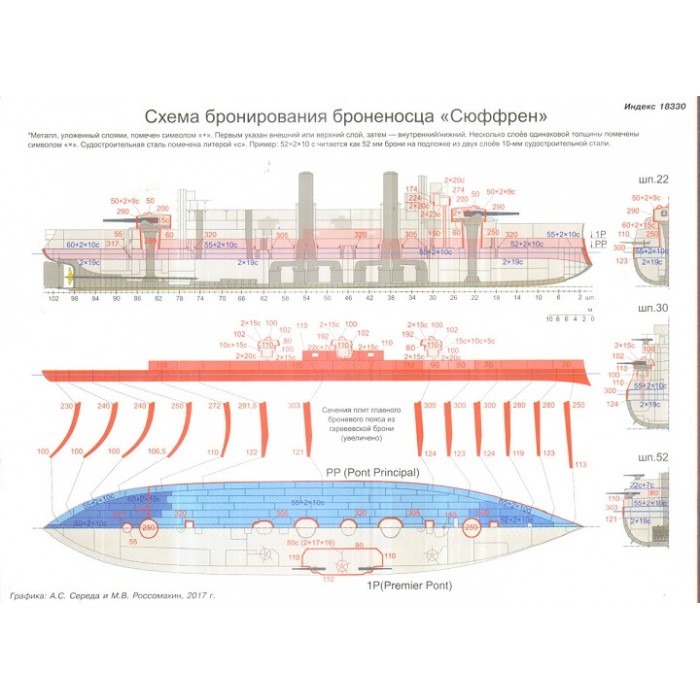 Armour scheme, extract from a Russian publication (see the model kits credits)
As said prior, most of the scheme of the previous Iéna was kept. She had a complete waterline armour belt, using Harvey armour:
-Main belt, citadel: 300 mm (11.8 in), 250 mm (9.8 in) at the bow, 230 mm (9.1 in) stern.
-Main belt lower edge: 124 millimetres (4.9 in) amidships, 113 mm (4.4 in) bow, 100 mm (3.9 in) stern.
-Main belt height 2.5 metres (8 ft 2 in), 1.4 m (4 ft 7 in) above, 1.1 m (3 ft 7 in) below waterline.
-Special-steel armour strake above, from the bow to aft transverse bulkhead, 70 mm (2.8 in) – 110 mm (4.3 in) amidships. -ASW: Subdivided cofferdam filled by water-resistant "bricks" of dried Zostera seaweed.
-Outer casemates special-steel 110 mm.
-Casemates transverse bulkheads 80 mm (3.1 in), centreline bulkhead 50 mm (2 in)
-Main turret: 290 millimetres (11.4 in) walls, 50mm roof
-Main barbettes: 250 mm (9.8 in).
-Secondary turrets 102 mm (4 in) fwd, 192 millimetres (7.6 in) back.
-Conning Tower: 224–274 mm (8.8–10.8 in) walls
-CT Communications tube: 150 mm (5.9 in) walls.
-Armoured deck 55–60-mm (2.2–2.4 in) in mild-steel plating laid+ 2x 10mm (0.39 in) plates.
-Splinter deck: 2x 19-millimetre (0.75 in) plates.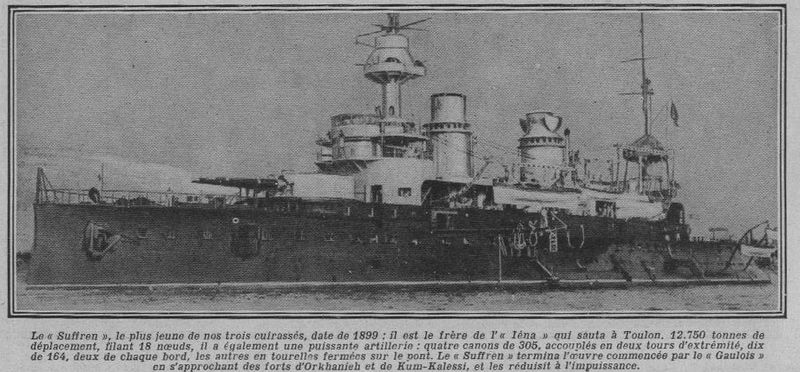 Suffren as completed in Le Pays de France N°21, page 13
Powerplant
Suffren was powered by three Indret vertical triple-expansion steam engines. They drove a propeller shaft each, the centre one driving a three-bladed screw propeller. The wing shafts drove four-bladed, 4.39 metres (14 ft 5 in) in diameter.
Steam came from 24 Niclausse boilers, working at 18 kg/cm2 (1,765 kPa; 256 psi). The whole was rated for 16,200 indicated horsepower (12,100 kW). As designed this was estimate to bring he to 17 knots (31 km/h; 20 mph).
Sea trials on 12 November 1903 revealed, based on a total of 16,809 ihp (12,534 kW), 17.9 knots (33.2 km/h; 20.6 mph). So contract speed was excedeed.
For range, Suffren carried 1,233 tonnes (1,214 long tons) of coal. This brought her, based on onsumption averages, to 3,086 nautical miles (5,715 km; 3,551 mi) on her designed cruise speed of 12 knots. However being a modern ship, she also had sprayers in their boilers, using a reserve of 52.15 tonnes fuel oil. This enabled to improve the coal burn rate. At last, to power a minimum systems when idle at anchor or machine cold, she had a 80-volt electrical power procured by two 600 amp dynamos, and three 1,200 amp ones.
Armament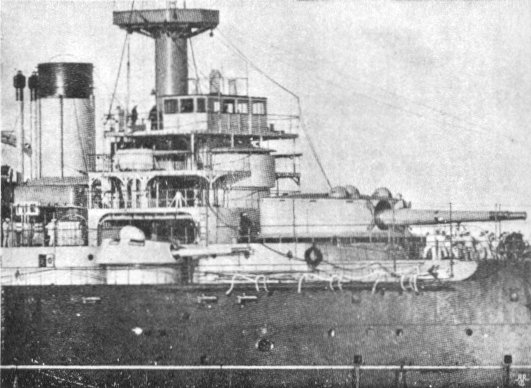 Detail of Suffren's forward turret, conning tower, secondary tower and casemate guns.
As said above, the main difference between the Suffrent and Iéna was an intereting artillery mix, with the same four twin Schneider 305 mm (12 in) guns as previous classes, but also a first level of secondary artillery with ten single Canet 164.7 mm (6.5 in) guns and eight single Canet 100 mm (3.9 in) guns as intermediate 2/3 rate artillery.
The bulk of anti-torpedo defence consisted in twenty-two single 47 mm Hotchkiss QF (1.9 in) guns and just two single 37 mm (1.5 in) Hotchkiss guns usable as saluting guns (and possible dismounted for landing parties), plus the usual four 450 mm (17.7 in) torpedo tubes. It was a well-rounded ensemble ensuring a volume of fire at all distances, but a bit nightmarish for the ammuntion supply.
Main
The four Canon de 305 mm Modèle 1893/96 were in two turrets in the typical shape as previou battleships, of round section but with flat walls and thus, same protection all around. Each turret rested on its barbette, with the roof pierced by two observation posts for backup targeting in case the main fire direction was inoperable.
These mainstream guns, largely used in WWI, notably from railways, used a Welin interrrupted-screw breech with Hydro-pneumatic recoil. They elevated only to 15°, had a rate of fire of just one rpm, firing a 349.4-kilogram (770 lb) AP shell at 780/800 m/s (2,600 ft/s) to a maximum of 12,000 m (13,000 yd).
Secondary
1st level: Ten 45-calibre Canon de 164.7 mm (6.5 in) Modèle 1893/96 guns:
-Six were mounted in single-gun turrets on either side of the superstructure. The remaining four were in upper deck casemates in sponsons. They fired a 54.9 kg (121 lb) shell at 900 mps (3,000 ft/s) to 10,800 metres (11,800 yd). Rate of fire was 2-3 rounds per minute. 200 shells for each gun were in store.
2nd level:
To compensate for the relatively slow rate of fire of the 6.5 in, Suffren had also eight 45-calibre Canon de 100 mm (3.9 in) Modèle 1893 guns. They were placed in shielded mounts on the shelter deck and superstructure. Each fired a 16-kg (35 lb) shell at 710 mps (2,300 ft/s) and could elevate to +20° for 9,000 metres (9,800 yd) in range. But their main advantage was four rounds per minute. 2,000 shells were carried for each.
Light Anti-torpedo boat Armament
The twenty-two 50-calibre Canon de 47 mm (1.9 in) Modèle 1885 Hotchkiss guns were located on the fighting tops (8) and the remainder in the superstructure. They fired a 1.5-kg (3.3 lb) shell at 650 mps (2,100 ft/s) to 5,000 metres (5,500 yd) and at a 15 rounds per minute in a short burst, down to 7 sustained due to heat issues. 16,500 rounds were carried in all.
The two 37-millimetre (1.5 in) Modèle 1885 Hotchkiss guns were placed on the upper bridge, close to officers to fire blanks for saluting, smoke or flares.
Torpedo Armament
No change compared to Iéna: Suffren carried four 450 mm (17.7 in) torpedo tubes, both on the broadside, half being submerged abaft the forward turret (offset to a 30° angle). The remainder two were above-water with limited 80° traverse. There was a supply of twelve Modèle 1892 torpedoes, four being were training models with dud warheads. I have no info on the specifics of these torpedoes.
⚙ Suffren specifications

Displacement
12,432 t normal, 12,892t full load
Dimensions
125.91 x 21.42 x 8.22 m (413 x 70 x 27ft)
Propulsion
3 shafts, triple-expansion steam engines, 24 Niclausse boilers 16,200 ihp (12,100 kW)
Speed
17 knots (31 km/h; 20 mph)
Range
3,086 nmi (5,715 km; 3,551 mi) at 12 knots (22 km/h; 14 mph)
Armament
2×2 305, 10× 164.7, 8× 100, 22× 47, 2× 37 mm, 4× 450 mm TTs
Protection
Belt: 300, Decks 60, Barbettes 250, Turrets 290, Bulkheads 110, CT 224–274 mm
Crew
688 normal, 742 as flagship
Read More
Books
Campbell, N.J.M. (1979). "France". Gardiner, Robert (ed.). Conway's All the World's Fighting Ships 1860–1905.
Caresse, Philippe (2010). "The Drama of the Battleship Suffren". Warship 2010. Conway.
Corbett, Julian (1997). Naval Operations. History of the Great War: Based on Official Documents. Vol. II
Friedman, Norman (2011). Naval Weapons of World War One: Guns, Torpedoes, Mines and ASW Weapons of All Nations; Seaforth Publishing.
Jordan, John & Caresse, Philippe (2017). French Battleships of World War One. Annapolis NIP
Silverstone, Paul H. (1984). Directory of the World's Capital Ships. Hippocrene Books
Links
http://dreadnoughtproject.org/French%20Warship%20Plans/Suffren_1899/SUFFREN%201899.pdf
https://en.wikipedia.org/wiki/French_battleship_Suffren
https://www.shipsnostalgia.com/media/fr-suffren.393597/
www.battleships-cruisers.co.uk/suffren.htm
http://www.naval-history.net/WW1NavyFrench.htm
Model Kits
None, but a book with tons of plans and photos for a scratchbuilt: MCN-201801 Naval Campaign 2018/01 French battleship Suffren.
Career of FS Suffren (1904-1916)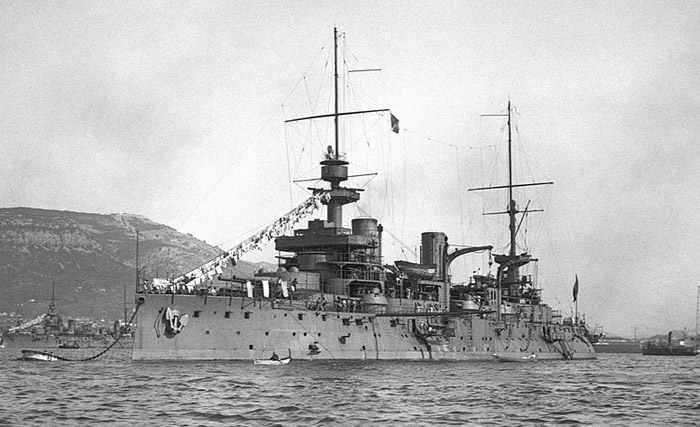 Suffren was laid down at Brest Arsenal on 5 January 1899. She was launched on 25 July 1899, so quick for French standards at the time, but completed much later. She was named after 18th Cent. admiral Pierre André de Suffren de Saint Tropez (4th of the name, later a heavy cruiser class followed, a missile guided destroyer, and the first Barracuda class SSN).
Prewar Service
Suffren had her fitting-out delayed as fittings and armour were themselves much delayed. She started her sea trials in November 1903 (nearly four years after launch !) but was not commissioned until 3 February 1904. She made her inisitial training in the Channel.
On 18 August, she took part in a gunnery trial with Masséna, off Île Longue. She was attached for this a mild-steel plate of 55 centimetres (21.7 in) thickness, 225 x 95 cm long (7 ft 5 in by 3 ft 1 in) on the her forward turret side. This was one of the first of such resistance tests, by a large-calibre shell. Six sheep left inside simulated the crew.
Masséna fired from an anchored position just 100 metres (330 ft) away, and fired several 305 m (12 inches) AP shells at the plate, the first three knocking splinters off the armour plate and the last two with full charges cracked the plate, but still did not sent through debris inside. The turret was found still operational. Its Germain electrical fire-control system was also still functional and the sheep unharmed.
Splinters however did some damage, one retirned on Masséna, hit above the armour belt leaving a hole, and another landed close to the Naval Minister Camille Pelletan as an observer.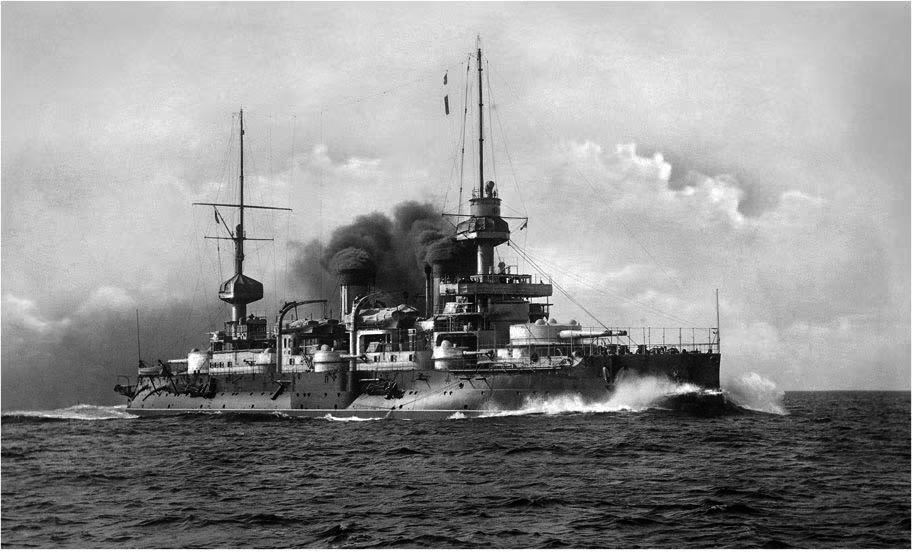 Suffren prewar at full speed. The lighting shows her tumblehome is still clearly a feature of the design. From shipsnostalgia
Suffren at last was fully commissioned in Brest and assigned to the Escadre de la Méditerranée immediately departing for Toulon. Upon arrival, as she was the most modern and largest French Battleship to that point, she became flagship, hoisting the mark of Vice-amiral Palma Gourdon on 24 February 1904. In April she carried President Émile Loubet on a state visit to Naples. However along the way several reports of defects were revealed, notably the underpowered capstan, barely capable of raising the anchor, the centre engine and propeller shaft overheating.
Gourdon was relieved by Vice-amiral Charles Touchard on 4 October 1905 and Suffren took part in fleet exercises off Hyères on 5 February 1906 when accidentally ramming the submersible Bonite, as the latter while submerged, miscalculated the fleet's movements. Bonite was just at periscope depth 30 metres (98 ft) in front of Suffren, but both captains reacted promptly. The sub made a crash dive and Suffren veered quickly enough to just inflict a glancing blow. The submersible still had her bow crushed, ballast tanks ripped open so she had to drop her weighted keel and be beached to avoid sinking. Suffren on her side had two compartments next to the starboard engine room flooded as the steel plating was displaced. She was docked for emergency repairs and there were no casualties. During this immobilization it was decided to removed her above-water torpedo tubes. Suffren took part in an international fleet review in Marseille, on 16 September.
She was drydocked very close to Iéna on 12 March 1907, berthed in Toulon, when the latter exploded. The damage was moderate, and only a small fire started after some bruning debris landed on her decks. However soon, her ammunition magazine powder load was scriutinized. She took part in the annual fleet manoeuvres of the summer. On 5 November, Patrie took her place as flagship. She was still second in line on the 1th Battle Division.
In early 1908 engineers had her completed with a 2m (6 ft 7 in) Barr and Stroud rangefinder mounted on the navigation bridge for accuracy. She was transferred to the 3rd Battle Division this summer. During a manoeuver off Golfe-Juan on 13 August, she had her port propeller shaft badly damaged, dropping her propeller under 85 ft deep (it was recovered). A new shaft was to be ordered from Indret but since Iéna was at the time in full salvage after the enquiry, it happened the shafts were compatible and engineers seeked to obtain permission to do the transfer. But this was rejected by the Naval Ministry.
In drydock it was also decided to have her center propeller shaft reworked to fix an old issue of overheating. 1909 saw her in a reorganisation, into two "Escadre de ligne" or battle squadrons each with three ships. 3rd BatDiv was reassigned to the 2nd BatRon. Suffren replaced ships in refitting, repair or maintenance. By November 1910 again, she lost her starboard propeller, lost this time in deep water and not recoverable. No shaft being available she had to wait three months, time during which her boilers were overhauled, one replaced. On 14 February 1911 this time, the port anchor chain broke while making towing exercises. One chain link killed a sailor and injured two. She took part in a naval review off Toulon on 4 September and her unit became the "1st Naval Army" on 31 October: Following an agreement with Britain in case of war, the French Fleet would concentrate in the Mediterranean. Several ships were transferred from the Northern Fleet.
After Iéna, another tragedy was to hit Toulon again, when Liberté exploded on 25 September 1911. Flying debris landed on Suffren and kill four men, but otherwise damage was light. Suffren was moved to BatDiv2, BatRon in replacement for her. On 14 March 1913 she was moved to BatDiv 1, BatRon 3, as flagship VADM Laurent Marin-Darbel on the 18th. Annual manoeuvres started on 19 May and ended wit a naval review for President Raymond Poincaré. BatRon 3 was dissolved on 11 November, Suffren becoming flagship, RADM Gabriel Darrieus in the "Division de complément" or Complementary Division. Her was replaced by CADM Émile Guépratte on 1 April 1914. She took part in the annual fleet exercise of 1914, starting on 28 May, but during manoeuvers she accidentally rammed Démocratie. The latter suffered little damage but Suffren lost her port anchor and hawsepipe, in addition to a hole, sent for emergency repairs. Thus she was absent fresh from drydock when WW1 broke out.
WWI Service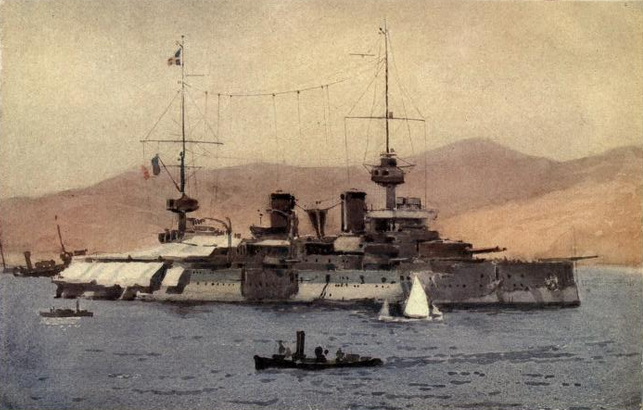 On 1 August, Division de complément sailed for Algiers to protect troopships convoy back to France. This mission started on 6 August and also went to Bizerte in Tunisia (22th) this time to operate contraband patrols in the strait of Sicily. By September she received another Barr and Stroud rangefinder, fitted close to the bridge, mounted on transverse rails fore and aft. She also had her after bulkhead removed, two 100 mm guns moved a deck lower.
CADM Guépratte complained about the fact his ships were not approriate for escorts and obtained permission to send Suffren, Saint Louis and the cruiser Cassini to Port Said in Egypt, this time to escort troop convoys coming from British India, starting on 23 September. She met the battleship Vérité off Tenedos and bot reported under British VADM Sackville Carden close to the Dardanelles. The idea was to intercept the newly commissioned battlecruiser Yavuz (Former Goeben) in case of a sortie with Midilli into the Mediterranean. Suffren was now in the renamed "Division des Dardanelles" (Dardanelles Division).
The Dardanelles Campaign
On 3 November, Suffren and Vérité joined the British squadron tasked of shelling Ottoman fortifications at the entry of the Dardanelles. This was a short pass to evaluate Turkish defences, and Suffren fired just 30 main guns shells with little results; In between the Ottomans bolstered their defences, and Suffren was reinforced by the earlier Gaulois from 16 November. Next, Suffren sailed for Toulon.
Suffren was back to the Dardanelles on 9 January 1915, still flagship of the Dardanelles Division. She shelled the fort of Kum Kale (Asiatic side) on 19 February assisted by Bouvet, which sent firing corrections via radio. Gaulois meanwhile dealt with Ottoman coastal artillery. HMS Vengeance started to take heavy fore when closing on fort Orhaniye Tepe and the battlecruiser HMS Inflexible tried to obliterate the coastal artillery but failed to do so and soon, Suffren and Gaulois were called to the rescue, combining fire for Inflexible and Vengeance to withdraw. Suffren fired 30 main, 227 secondary shells.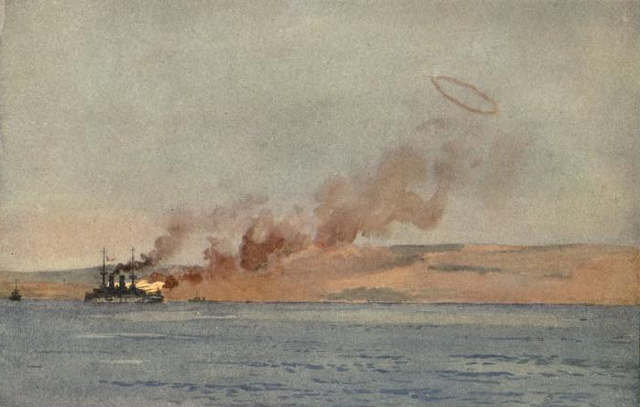 Suffren took also part in the bombardment of 25 February and was far more successful, closing to 3,000 yards (2,700 m). On 2 March, the Division moved to fire on fortifications in the Gulf of Saros. On 7 March it was back in its previous position, some forts continuously firing despite the delige of shells. British battleships joined in and later, Guépratte moved his squadron to the Gulf of Saros, arriving on 11 March for more shelling.
On 18 March was planned another major attack on the fortifications, the French following the British line into the Dardanelles. The French decided to engage forts at closer range and Suffren soon took coastal artillery fire. She was hit 14 times in 15 minutes, without significant damage since most were no larger than 240 mm (9.4 in) shells. They just bounced off her turret and hull. On such shell, while richeting, hit and stripped clean off the roof of a 164 mm turret and port casemate killing the crew. Debris entered its magazine and put it afore, but it was quickly flooded. Another hole her bow, flooding the area close to the citadel and forward turret.
Under Admiral John de Robeck orders, the French were ordered to withdraw, while Bouvet hit a mine and sank in less a minute with almost all hands. Suffren still managed to rescue 75 men and then escorted the badly-damaged Gaulois to safety. The pre-dreadnought was left beached on the Rabbit Islands, but she was later towed away after some patching up.
Suffren escorted Gaulois to Toulon via Malta, and weathered a storm underway, taking refuge in the Bay of Navarin. She arrived on 3 April, went straight into drydock on 20 May. She then headed east again joining the combined fleet at the Dardanelles, and remained in the area until 31 December, then sent to Kefalos, Kos island, during which she accidentally collided (and sank) the British steamer Saint Oswald, which was a horse transport evacuating troops from Gallipoli. Suffren was badly damaged and was sent back to Toulon on 20 January 1916.

Suffren and Agamemnon passing in front of the Dardanelles Forts
The Greek Campaign
She left Toulon in April and joined a reconstituted French squadron of six predreadnoughts.
The Initial French goal was to support operations on the Salonica front. On 9 July, Suffren became flagship of the 3e Escadre de ligne (BatRon 3) in place of Patrie, sent for a refit in Toulon. By August, political changes in Greece had King Constantine I wanted to maintain Greek neutrality and eny Greek Ports to the entente. On 7 October, the naval staff decided to pressure the Greeks into joining the entente and the French Battleships Patrie, Démocratie, and Suffren entered the harbour of Eleusina. Battle stations were clearly signalled, preparations were made to engage the Greek predreadnoughts Kilkis, Lemnos and the cruiser Elli. Negociations prevented to go any further and the French ships returned to their base.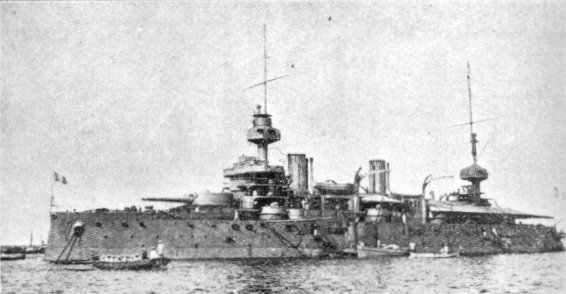 Suffren in 1915
Suffren was to be refitted newt to Bizerte, but it was full already and she was diverted to the Lorient Dockyard instead, which proved in hindsight a fatal decision. On 15 November, Suffren too coal at Bizerte on 18 November and sailed two days kater to Gibraltar, the first leg. She was delayed by heavy weather en route and arrived on 23 November, recoaled and and exited the strait into the Atlantic without escort, which also was denied (the captain fully knew about U-Boat activites, some going as far south as the coast of Portugal.
Thus, on the morning of 26 November, circa 50 nautical miles (92.6 km; 57.5 mi) off Lisbon, Suffren was spotted and attacked by SM U-52, which launched four torpedoes. The latter was at the time not supposed to operate there, but en route to the Austro-Hungarian naval base at Cattaro, Adriatic, expecting a difficult crossing at Gibraltar. One torpedo hit close to a magazine, which detonated. This was sufficient enough to break the back of the battleship which sank within seconds will apparently all hands, 648 at the time. U-52's captain arrived on the scene and emerged to see if he can puckup up suvivors but found none. After the loss of the Bouvet this was one of the most tragic loss of the French Navy up to that point.