Soryū's near sister ship
IJN Hiryū was the second purpose-built medium fleet aircraft carrier, and near-sister ship of
IJN Soryū
, the "blue dragon". She shared most caracteristics, powerplant, armament, armor scheme, general layout, but with significant changes as well, like the island's position, higher freeboard, better protection and other improvements. Both carriers operated together in the Kido Butai, made the Indochina campaign, China blockade, Pearl Habor raid, Indian Ocean raid and many operations in between, but also sharing the same fate at
Midway
in June 1942.
Design development of the "flying dragon"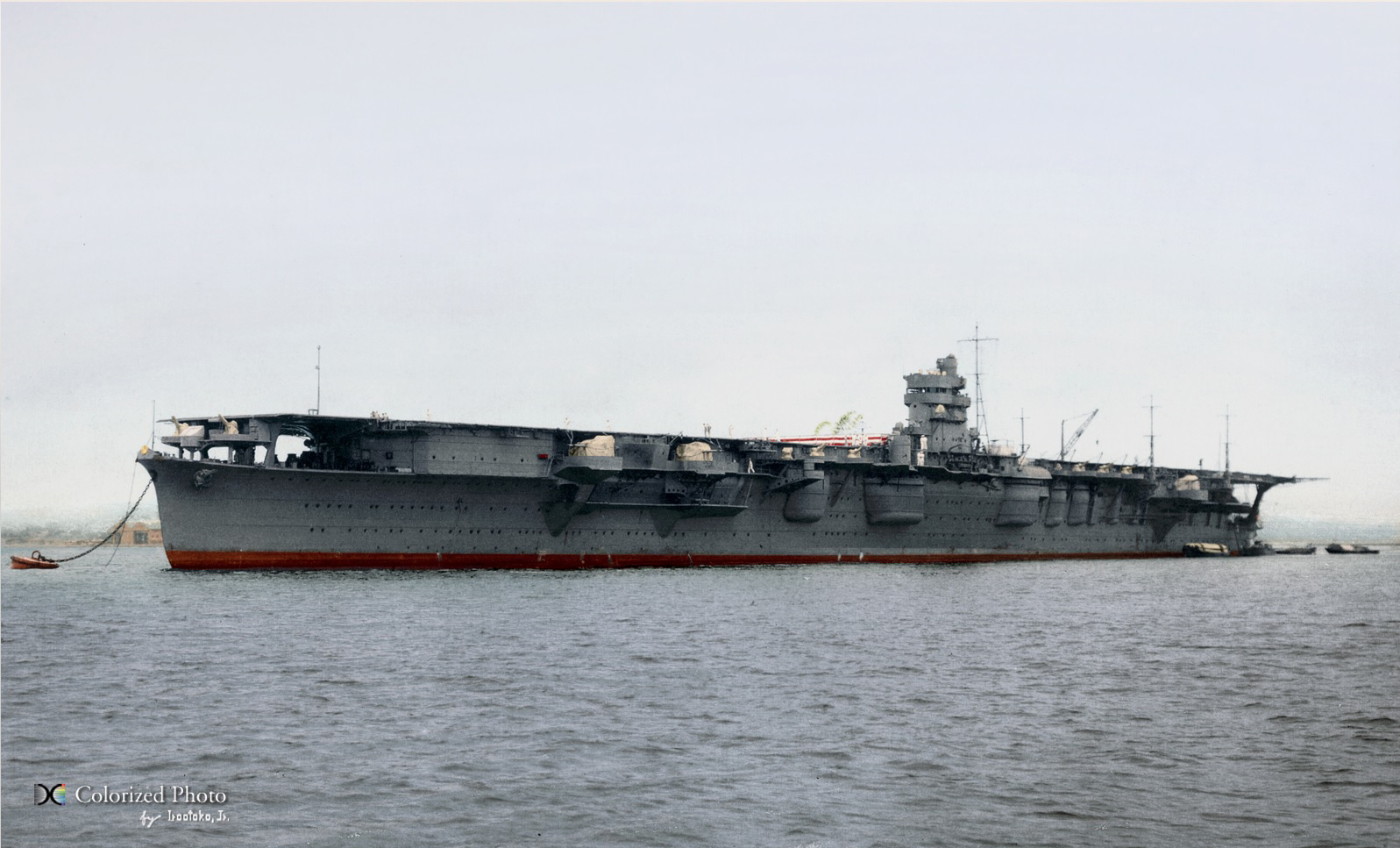 Colorzed rendition by Irootoko Jr. of IJN Hiryu in 1939.
Hiryū (飛龍, "Flying Dragon") was the second of the two large medium fleet aicraft carriers approved, under the 1931–32 Supplementary Program. Basically the same design as her earlier sister ship of IJN Sōryū was used, with some paths of improvements in details, but not changing the overall plans. However two events were suddenly changing all this: The Tomozuru incident in 1934 (when the torpedo boat broke in two in foggy circumstances) and Fourth Fleet incidents the next year during a typhoon. They all revealed that many IJN ships built at the time were top-heavy, unstable, with an inherent structural weakness. As a result, it was asked a revision of these plans to take these into account.
The second carrier had her forecastle redesigned, raised to avoid "ploughing" in heavy weather, resulting of hangar flooding like for the erlier Ryujo.
She also would have her hull radically strengthened, with supplementary steel bracing, additional plates.
The most radical change overall was to increasing her beam, from 69 feets 11 inches to 73 feets 2 inches.
The last point was to revise and improved armor protection.
But aside all this, the basic design was not changed much and was still the same as in Soryu: Same machinery & performances, same hangar and installations (but the island that was placed on the other side), same arour arrangement and general scheme, same armament and same aircraft carrying capacity.
All these efforts culminated into a new design approved for construction in January 1936, two months after her sister ship was launched already. More design details were perfected until the ship was won by Kawasaki Naval Arsenal, her keel laid down eventually on 8 July 1936. Meanwhile, her sister-ship was fitting out in Kure.
Detailed Design
Hiryu's hull was 227.4 meters (746 ft 1 in) long overall, for a beam of 22.3 meters (73 ft 2 in) and 7.8 meters (25 ft 7 in) draft, displacing 17,600 metric tons (17,300 long tons) standard, and up to 20,570 metric tons (20,250 long tons) fully loaded. So she was beamier, slightly shorter, and with a deeper draught than her sister ship, and unsurprisingly, heavier, of almost 1500 tons. She had a complement of 1,100 officers and enlisted men.
Armour protection
Protection overall was still weak as the dominant factor was still speed over protection. She was given nevertheless compared to Soryu a waterline belt with 150 millimeters (5.9 in) of ducol steel plating over the magazines, reduced to 90 mm (3.5 in) over the machinery space. Another layr of the same thickness was provided to the avgas storage tanks, was backed by an internal splinter spall lining in the bulkhead. The main armor deck was 25 mm (0.98 in) over the machinery spaces, and more than double at 55 mm (2.2 in) over the magazines and aviation gasoline storage tanks.
Powerplant
Hiryū's machinery was basically the same as Soryū's, as she was fitted with four geared steam turbine mated each on one propeller shaft (inner and outer). They were provided steam from eight Kampon water-tube boilers and the whole powerplant basically was copied from the excellent Mogami-class cruisers design. Together these turbines generatd an output of 153,000 shaft horsepower (114,000 kW). The hull design at the water line was the same, she kept the slim, cruiser-type shapes, still with an excellent with a length-to-beam ratio of 10:1.
Less than her sister ship, but still lagely sufficient to reach 34.3 knots (63.5 km/h; 39.5 mph), so the second fastest carrier in the world when commissioning in 1937.
To put things in perspective it was almost as fast as most destroyers of the time. For autonomy, she carried 4,500 metric tons (4,400 long tons) of fuel oil, allowing to cross 10,330 nautical miles (19,130 km; 11,890 mi) at 18 knots (33 km/h; 21 mph). Like her sister, boiler uptakes were trunked starboard amidships exhausted below the flight deck level into two funnels curved downward so as to avoid smoke interference on the flight deck. This was result of earlier reconstructions and trials made on Akagi and Kaga.
IJN Hiryu underway in 1940
Armament
The same scheme as the Soryu was kept:
Primary Armament:
Six twin-gun mounts, dual purpose 50 cal. (127 mm) Type 89. They were mounted on projecting sponsons, three pre side along the hull, four forward and two aft. However they had the same disposition as for Soryu: They were mounted too low to cover anything else than 180° of their side, not having covering arcs over the flight deck.
Specs: Range of 14,700 meters (16,100 yd), ceiling 9,440 meters (30,970 ft) at +90 degrees, rate of fire 8-14 rpm. To assist them, two Type 94 fire-control directors were mounted, one on a sponson port, and the other starboard director on the island's roof, which was able to direct all Type 89 guns if needed.
Light AA Armament:
Hiryu's light AA comprised fourteen twin-gun mounts Type 96, 25 mm (1 inch). These were license-built Hotchkiss models, derived from earlier 12.7 mm models, and using fifteen-round clips magazines. Each mount needed five, two loaders, two pointers and the commander. Three were located on the platform below the forward end of the flight deck, two close to the funnels and five opposite, split in two groups, two forward of the island and three behind.
The problems of these AA mounts, unfortunately the standard for the IJN, was well known during WW2: Slow to train and elevate, with inadequate sights, excessive vibration and a blinding muzzle blast. Practical range 1,500–3,000 meters (1,600–3,300 yd), ceiling of 5,500 meters (18,000 ft) at +85 degrees, 110-120 rpm. They were controlled by five Type 95 directors, two on either side, one in the bow.
Hangar and aircraft facilities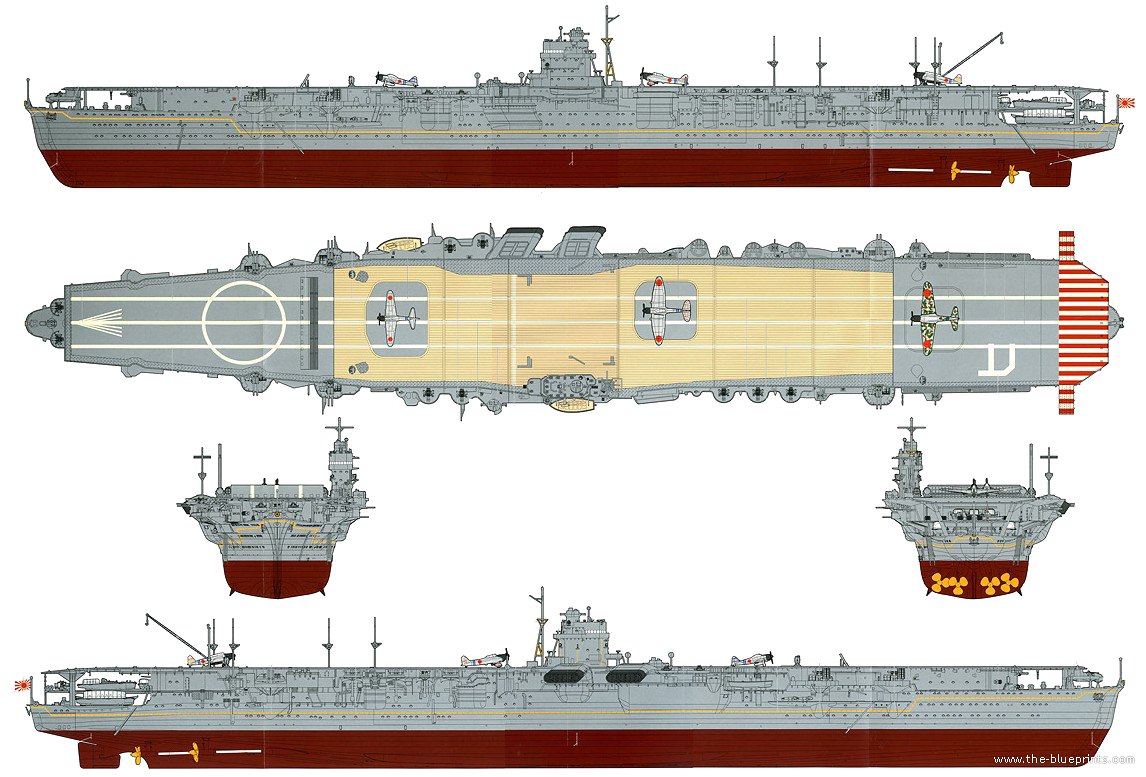 The blueprints, 5 views of the Hiryu
Naturally due to the slender lines of the hull and usage of the time, the flight deck was shorter than the hull, with just 216.9-meter (711 ft 7 in) in overall lenght and 27 meters (88 ft 6 in) in width. Naturally it overhung at both ends, with two pairs of pillars fore and aft pairs of pillars. Major difference here was the forward section of the hull being one deck higher, they were shorter and thus stronger forward.
IJN Hiryū however distinguished herself from all previous carriers in the sense her island was on the port side, but Akagi. It was also positioned to the rear which was very unusual, and encroached on the flight deck, unlike Sōryū which had it on a sponson extension. Why doing this ? -Japanese engineers indeed rode about a naval aviation study published in 1935 which stated that, according to the latest statistics about planes landings and taking off from existing aircraft carriers, the best position was not forward, but amidship as in Kaga. This was pplied on the rebuilding Akagi. Howver on Hiryu the engineers were soon prevented to place it as expected due to the position of the exhaust funnels starboard, they had to move it further aft on port. This ultimated arrangement proved problematic in operations as seen in 1937: Combined with the location further on the deck, there was an even greater degree of turbulence, for landing planes, and this was never repeated.

Extract from the 1/200 Angraf model kit
Soryu was fitted with nine transverse arrestor wires aft, which could stop a 6,000-kilogram (13,000 lb) aircraft, seemingly sufficient for the nimbler biplanes of the time, even large torpedo planes fully loaded. There was a first group of three wires further forward to land aircraft over the bow, but this never happened in practice. Like for Soryu, the flight deck was just 12.8 meters (42 ft) above the waterline. It was not immune to water spray in heavy weather, which could cause degradation of the parked aircraft and hinder operations. The designers kept both stacked hangars low due to measured for combating stability issues, mastering their metacentric height, the absolute counter example being Ryujo.
The upper hangar was 171.3 m long (562 feets), 18.3 meters (60 ft) wide and around 4.6 meters (15 ft), which was still tight for some models. The lower hangard measured 142.3 by 18.3 meters (467 ft by 60 ft) for around 4.3 meters (14 ft) hight, better fitted for fighters. Total approximtive area was 5,736 square meters (61,740 sq ft), causing still handling problems: The wings of a the last adopted Nakajima B5N "Kate" torpedo bomber were too long to be spread, nor folded, even in the upper hangar. They were parked permanently on deck. She carried 1270 tons of aviaton gazoline, a fuel stowage increased by 20% compared to her sister ship.
Both the flight deck and upper hangar were served by three elevators: A forward one, abreast the island, centerline and the two aft, offset to starboard. The forward one (largest) had a superficy of 16 x 13 meters (52.5 ft × 42.75 ft), the middle was 13 x 12 meters (42.75 ft × 39.3 ft), the aft one 11.8 x 13.0 meters (38.7 ft × 42.8 ft). Their useful capacity was 5 tons (11,000 lb). Hiryū carried 64 plus plus nine spares wich was a bit better than her sister. Like the latter she also had a folding safety net aft, abreast the rear main 5-in turrets, and before the wooden deck section. There were three of these. The forward section and the aft ones both were in metal. Wooden surfaces covered hardly more than 50% of the total flight deck area.
Onboard aviation
Mitsubishi A5M4 in 1940 (IJN Soryu)
Yokosuka B4Y1 1938 (Akagi)
Aichi D1A in 1939 (Kaga).
-December 1939:
Her initial air group in 1939 (possibly since her commission in July-August) included the transitional, late interwar bunch of sixteen Mitsubishi A5M2 "Claude" fighters monoplanes (fixed undercarriage), twenty Aichi D1A2 "Susie" biplane dive bombers, and 38 Yokosuka B4Y1 "Jean" torpedo bombers biplanes.
-
December 1941:
For Pearl Harbor she had a new air group comprising 23 A6M2 zero "Zeke" monoplane fighters, 17 Aichi D3A1 "val" monoplane dive bombers (fixed undercarriage) and 18 also modern Nakajima B5N2 "kate" torpedo bombers.
-
June 1942:
At Midway, she carried the same 21 Mitsubishi A6M2 fighters, but 21 D3A1 "val" and 21 B5N2 "kate" for a total park of 63 planes, its maximum capacity (plus spares).
Mitsubishi A5M "Claude" (1935)
first IJN monoplane, open cockpit (later enclosed) fixed undercarriage. It was replaced in 1941.
Mitsubishi A6M "Zeke" (1940)
The legendary A6M2 was her main fighter from Pearl Harbor to Midway.
Aichi D1A "Susie" (1934)
Retired in 1940.
Aichi D3A1 "Val" (1938)
Introduced from 1940. In December, the pilots had alost two years to train. They will prove deadly at Pearl Harbor
Yokosuka B4Y "Jean" (1935)
Seeing the peak of the Sino-Japanese war, retired in 1939 or 1940.
Nakajima B5N "Kate" (1937)
A splendid cantilever, all duralumin monoplane, built with state of the art tech when introduced. This was probably the best of any type worldwide in 1938, but obsolete by 1942. Replacement was on its way, but Hiryu would never experience it.
Author's illustration of IJN Hiryu in May 1942
IJN Soryu to compare
⚙ Specs 1937

Dimensions
227,4 m (740 ft) x Beam 22.32 m (73 ft) x Draught 7.84 m (30 ft)
Displacement
17,300 long tons standard, 21,900 long tons FL
Propulsion
4 shaft geared steam turbines, 8 Kampon boilers 153,000 shp
Speed
34.3 knots (64 km/h; 40 mph)
Range
7,750 nmi (14,350 km; 8,920 mi) at 18 knots (33 kph, 21 mph)
Armor
Belt 90 mm (3.8 in), 56-150 mm magazine decks, 25 mm engine decks
Armament
6×2 12.7 cm (5 in) DP, 31x 25 mm (1 in) AA, 73 planes
Crew
1100
Sources/ Read more
Links
Warships After London: The End of the Treaty Era in the Five Major Fleets By John Jordan.
tabular movements combinedfleet.com
On wrecksite.eu
Midway on nationalww2museum.org
Aircraft Carriers: A History of Carrier Aviation and Its Influence on World, By Norman Polmar
On ww2db.com
Dutch Maritime Disasters in the Dutch East Indies, 1941-1942
U.S. Marine Corps Aviation Volume Five of a Commemorative Collection
On navyreviwer channel
Hiryu improvements on yamato30 channel
Commissioning, stock footage
Books
Sturton, Ian (1980). "Japan". In Chesneau, Roger (ed.) Conway's all the world's fighting ships 1922-477
Bōeichō Bōei Kenshūjo (1967), Senshi Sōsho Hawai Sakusen. Tokyo
Brown, David (1977). WWII Fact Files: Aircraft Carriers. New York: Arco Publishing
Brown, J. D. (2009). Carrier Operations in World War II. Annapolis
Stille, Mark (2011). Tora! Tora! Tora:! Pearl Harbor 1941. Raid. 26. Osprey, Oxford
Campbell, John (1985). Naval Weapons of World War Two. Annapolis
Chesneau, Roger (1995). Aircraft Carriers of the World, 1914 to the Present: An Illustrated Encyclopedia
Condon, John P. (n.d.). U.S. Marine Corps Aviation. Washington, D.C.: Government Printing Office
Hata, Ikuhiko; Izawa, Yasuho & Shores, Christopher (2011). Japanese Naval Air Force Fighter Units and Their Aces 1932–1945.
Jentschura, Hansgeorg; Jung, Dieter & Mickel, Peter (1977). Warships of the Imperial Japanese Navy, 1869–1945. Annapolis
Lengerer, Hans (2010). "Katsuragi and the Failure of Mass Production of Medium Sized Aircraft Carriers". In Jordan, John (ed.). Warship 2010. Conway
Lundstrom, John B. (2005). The First Team: Pacific Naval Air Combat from Pearl Harbor to Midway (New ed.). Annapolis
Parshall, Jonathan & Tully, Anthony (2005). Shattered Sword: The Untold Story of the Battle of Midway. Dulles, Potomac Books
Peattie, Mark (2001). Sunburst: The Rise of Japanese Naval Air Power 1909–1941. Annapolis
Polmar, Norman & Genda, Minoru (2006). Aircraft Carriers: A History of Carrier Aviation and Its Influence on World Events. 1, 1909–1945. Potomac Books.
Shores, Christopher; Cull, Brian & Izawa, Yasuho (1992). Bloody Shambles. I: The Drift to War to the Fall of Singapore. London
Shores, Christopher; Cull, Brian & Izawa, Yasuho (1993). Bloody Shambles. II: The Defence of Sumatra to the Fall of Burma. London
Silverstone, Paul H. (1984). Directory of the World's Capital Ships. NY Hippocrene Books.
Stille, Mark (2011). Tora! Tora! Tora!: Pearl Harbor 1941. Raid. 26. Osprey
Stille, Mark (2007). USN Carriers vs IJN Carriers: The Pacific 1942. Duel. 6. Osprey
Zimm, Alan D. (2011). Attack on Pearl Harbor: Strategy, Combat, Myths, Deceptions. Havertown, Casemate Publishers.
The model's corner

1/350 kit boxart
Sea Way Model (EX) Series The Battle of Midway First Carrier Division Akagi & Kaga, Second Carrier Division Soryu & Hiryu Set, Fujimi 1:700
IJN CV Hiryu Bridge w/Flight Deck Kami de Korokoro 1:144
Aircraft Carrier Hiryu Outbreak of War Version / Battle of Midway / with 43 Aircraft Fujimi 1:350
IJN Aircraft Carrier Hiryu w/Stand Nichimo 1:500
Water Line Super Detail Series Hiryu 1942 Japanese Aircraft Carrier Aoshima 1:700
Hiryu 1939 Japanese Aircraft Carrier Aoshima 1:700
IJN Aircraft Carrier Hiryu Full Hull Fujimi 1:700
Hiryu XP Forge 1:1200
Fujimi 1/350 kit review video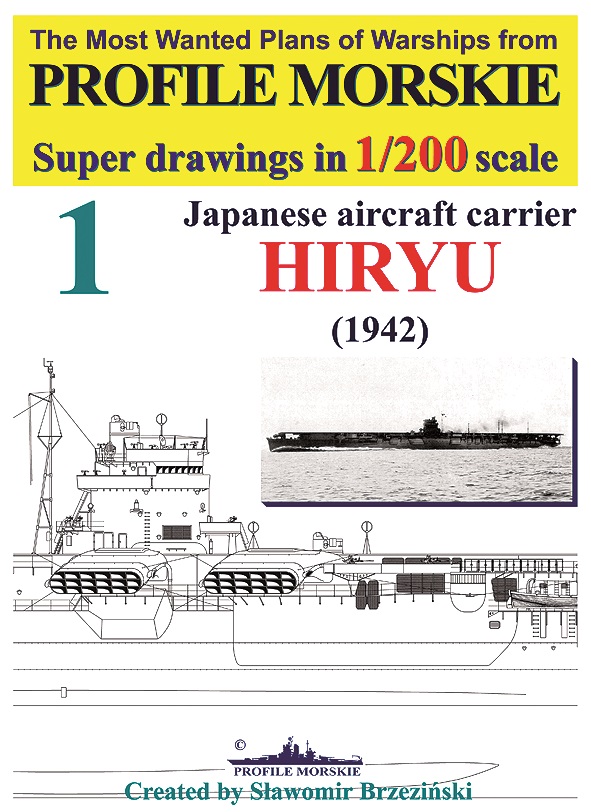 Kagero Publishing: IJN Hiryu
Gneeral query on scalemates