The Romanian Navy in WW2: Ships and Operations
42 ships 1922-1945
Introduction: XIXth Century Origins
Following the unification of the principalities of Romania and Wallachia, the Romanian Navy was created by Alexandru Ioan Cuza (ruling Domnitor) on 22 October 1860 as the Flotilla Corps. Officers were then trained at Brest, in France. The first base was at Izmail (Black sea), commanded by an Army colonel, Nicolae Steriade. The base was later moved to 1864 at Brăila and eventually in 1867 at Galați which saw various inffrastructures being added over the years, included drydocks and a Yard that produced Romanian ships and submarines during WW2.
With six modest ships manned by 275 sailors there was nothing more than training for future expansion that can be realistically done. A training school was eventually setup in 1872 at Galați.
The first large ship acquired was the steamer Prințul Nicolae Conache Vogoride (1861), converted at Meyer naval shipyard in Linz, then renamed România and commissioned at Galati. She was joined in 1867 by Ștefan cel Mare, the Royal Yacht. However the Navy received its first purpose-ordered warship, the gunboat Fulgerul in 1873, from France. In order to pass through neutral and Turkish waters, she sailed unarmed and was armed at galati by a Krupp gun. She was joined in 1875 by the spar torpedo boat Rândunica.

The gunboat Fulgerul (1873)
1877 to 1914
All these ships took part in the Action off Măcin, part of the 1877-78 War of Independence. For these operations, the tiny fleet sailed under the Russian flag, transporting Russian troops, supplies and equipments across the Danube. In cooperation, the Rândunica sank the Turkish river monitor Seyfî and coastal artillery the Podgoriçe. After the war, the Danube flotilla benefited from three rearmament plans, in 1883-1885, 1886-1888 and 1906-1908.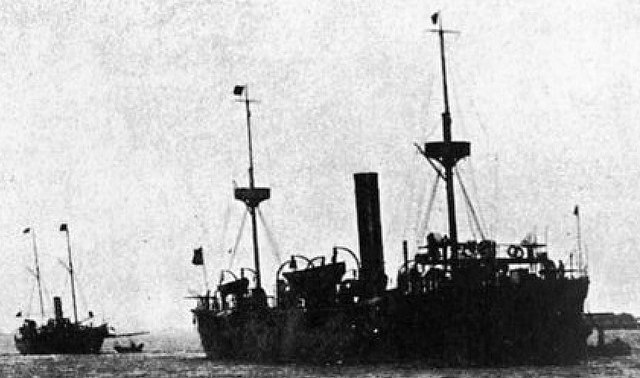 Minelayer Alexandru cel Bun (background) and the cruiser Elisabeta in WWI.
In 2 July 1905 the Romanian Navy was involuntarily involved in the Russian famous mutiny of the Potemkine and torpedo boat N267 (Ismail). At some point, the rampaging mutineers thought to puchase Romanian protected cruiser Elisabeta. The latter engaged the Russian torpedo boat Ismail when trying to sneak in Constanța. Both ships left Romanian waters soon after, then returned with a proposal of surrendering both ships in exhange for political asylum. This was acted the following day, the Potemkine flying Romanian colors was handed over Romanian authorities, and later given back to Russian authorities.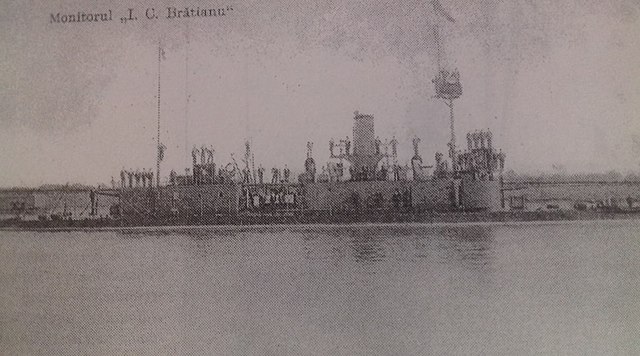 River Monitor Ion Bratianu in 1913.
There were two Black sea flotilla plans, one being acted in 1898 being quite ambitious (and proved unrealistic): Six coastal battleships, four destroyers and twelve torpedo boats. This does'nt stop another plan in 1912 to be dawn, 1912 naval program envisioned 6 light cruisers, 12 destroyers and a submarine. In fact only four destroyers and a sub were ordered in Italy when the war broke up. They were all requisitioned on stocks by the Italians.

The Romanian protected cruiser Elisabeta (1888)
The Romanian navy in the great war
In 1917 another order was passed of three 340-ton coastal submarines from France, which were also requisitioned and never delivered. In fact the Romanian Navy ws left for the duration of the war with the venerable Black Sea flagship, the Elswick-built 1888 protected cruiser Elisabeta which guarded the mouths of the Danube for the entire Second Balkan War, and was disarmed in 1914. Her guns were placed on the Danube River border bank with Austria-Hungary. The Black Sea squadron also operated four 1880s gunboats and three Năluca-class torpedo boats. The state merchant marine or SMR (Serviciul Maritim Român) procured in fact armed ships like the liners Regele Carol I, România, Împăratul Traian and Dacia, which offered valuable auxiliary cruisers duties.

Romanian minelayer Aurora
On the other hand, the Danube Flotilla consisted of the four recent and potent armoured river monitors (built 1907 at Galați, each bering three 120 mm guns in turrets) Lascăr Catargiu, Mihail Kogălniceanu, Ion C. Brătianu and Alexandru Lahovari, reinforced by eight torpedo boats built in UK (Căpitan Nicolae Lascăr Bogdan class, 1906-1907, 50 tons). In 1918 Mihail Kogălniceanu was taken in hands and converted as a sea-going monitor. In addition there were six older gunboats as well as minelayers and auxiliaries. The Romanian Navy played only a back-stage role during the Great war with a few losses. The river monitors defended Turtucaia and backed Russian trooped defending the Dobruja. An Austro-Hungarian river monitor sunk in these actions.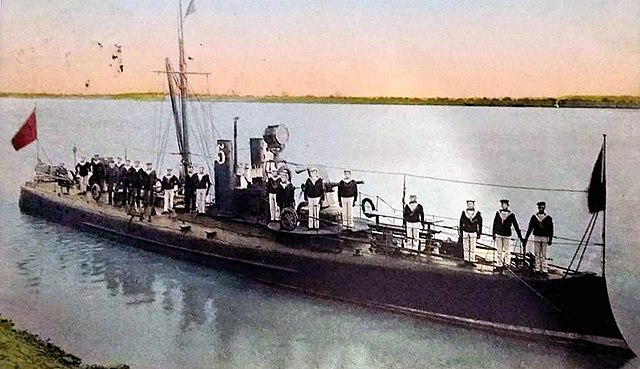 CNLB class armoured river boat. These were quite seaworthy, served in WW2 as sub-chasers and in Soviet service from 1944.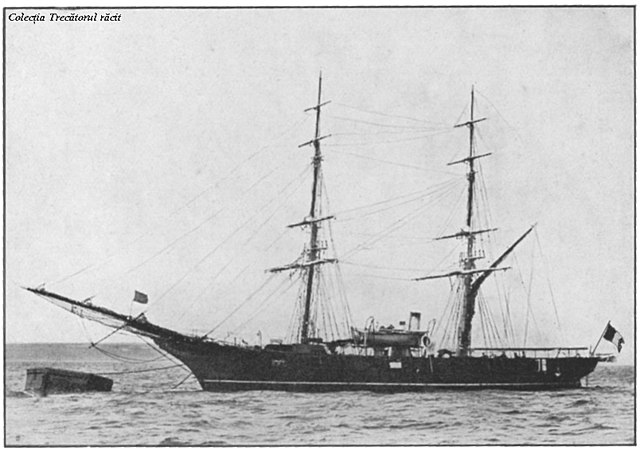 The Brick Mircea (1882) used as school ship until replaced by the modern three-masted barque in 1939. She was still extant in 1944.
Interwar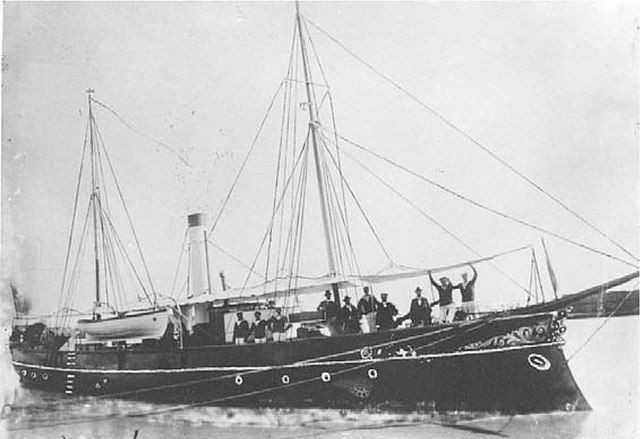 Among the oddities which were active before, during WW1, the interwar, WW2 and early cold war, were the three coastguard cruisers built by Thames Iron Works in 1888. Named Bistrița, Oltul and Siretul (96 tons, 30.48 meters or 100 feet long, 380 hp, 12 knots they saw service during the Romanian Campaign in WW2 and were still around in 1941, last mentioned in 1949. They were comparable to the Italian Folgore class and Pietro Micca.
In the period 1922-45, the Romanian Navy went through three major phases, punctuated blank times dicated by economic difficulties and budgetary restraints. With her coastline double as a result of the war, she took the initiative to bolster her naval assets. War reparations was the first reinforcement phase. With fledging industrialization, in the 1920s a second phase opened with better funds for 1923-1928 and allowed for a more ambitious 1927 program targeting the Black Sea. Then after the international market crisis in 1929, recession also struck Romania, which was only able to reinforce the Dnestr and Danube flotillas, but there was no budget until 1937 for major ships. In 1936 the Nvy Minstry was created and proper funds were allocated. The fleet was bolstered but the programme only partially realized.
Following the peace treaty and dismembering of the Austro-Hungarian Empire, the Romanian Navy made many valuable acquisitions: Three former river monitors, renamed Ardeal, Basarabia and Bucovina, and seven torpedo-boats from Austria-Hungary (TB74T, TB82F) which went to the black sea, but also four Italian four Italian patrol boats purchased in 1921, which were added to the existing fleet and made it the most impressive riverine strike force on the Danube in 1939. However that's the Black Sea fleet which gained much of these acquisitions, mostly from italy: Two Aquila-class scout cruisers (of the size of learge destroyer leaders) renamed Mărășești and Mărăști, formed the backbone of this new fleet. Ex-French gunboats (Friponne ASW class, 1917-18) Stihi, Dumitrescu, Lepri and Ghiculescu were also purchased, not to forget the valuable addition of the seven Viforul class TBs (see above).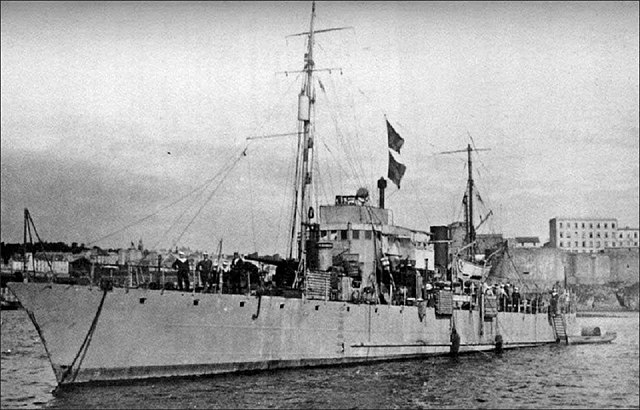 Romanian Gunboat Sublocotenent Ghiculescu, former Friponne class ASW sloop.
The only lost was Fulgerul, which sank in the Bosporus during transfer in February 1922. Three were later discarded bu the three remainder Năluca, Sborul and Smeul saw action in WW2. Importantly enough, to bolster the numbers and with the budget to match, the Navy ordered in italy two large destroyers, in 1926, the Regele Ferdinand class. These had an unusual design for italian destroyers and were much tailored for Romanian needs. Also important was the construction at galati of Romania's first submarine, the Delfinul, with its submarine tender, Constanța. Later in the war, Romania would built two more submarine based on U-boat designs. In parallel to this, Romania founded from 1920 a brand new naval college at Constanța, with cadets training on the sail ship Mircea. Also the merchant navy or SMR (Serviciul Maritim Român) received the addition of 11, then 17 ships from Italy and Germany, culminating in 1940 to a 72,000 tonnes shipping.

Italian scout cruiser Nibbio, later puchased by the Romanian Navy as Marasesti.
The Romanian Navy in WW2
A rearmament program was proposed in 1937, which envisioned a cruiser, four destroyers, three submarines, two minelayers and ten MTBs. But as previously, only one minelayer and two submarines were eventually completed by local shipyards. The three BTBs had to be imported later in 1940 from the UK (Viforul class – MTB20-23) and later on the 4 ships of the Vantul class ex-Dutch TM21 class. Four of the new warships were laid down at the Galați shipyard, in a new larger dry dock. However the Navy kept a low priority within the Romanian Armed Forces. The minelayer Amiral Murgescu (1938) was only commissioned in the first half of 1941 but mostly served during the war as an escort ship. Her sister ship, Cetatea Albă, was was launched in 1940 but never completed. Two submarines laid down in 1938 on German plans were launched in May 1941 but commissioned only in May 1943 (Marsuinul and the lighter Rechinul).

Destroyer Regina Maria
Naval Operations
In 1941, The Royal Romanian Navy aligned the destroyers Mărășești, Mărăști, Regele Ferdinand and Regina Maria, one submarine (Delfinul), one minelayer, three auxiliary minelayers, three MTBs, three gunboats, fifteen auxiliary vessels… and twenty seaplanes. Mărăști had a machinery problems limitinh her speed to 24 knots and never ventured far offshore. Delfinul was de facto the only Axis submarine in the Black Sea in 1941. But her Italian design was now obsolete, and she was found unreliable. This force faced the Soviet Black Sea Fleet: One battleship, three cruisers, three light cruisers, three large destroyers, thirteen destroyers, two large TBs and no less than 47 submarines plus the usual naval dust.Therefore the Royal Romanian Navy only conducted defensive operations and her boldtest ventures never passed Cape Sarych. The two destroyers of the Regele Ferdinand class destroyers also represented the best assets of the axis in the Black Sea but they only served as convoy escort. The Amiral Murgescu and the auxiliary minelayers defended Constanța in 1941 and secured merchant routes to the Bosphorus, Odessa and Sevastopol. Romanian Minefield claimed the most of Soviet submarine losses in this sector. In addition Romania would receive soon 5 italian-built midget submarines of the CB-class, 6 british-built MTBs (Vedenia-class), but also three naval trawlers, landing craft (German MFP type) and four German S-boote. From August 1943, she also received from Italy seven MAS boats.

Locotenent Comandor Stihi Eugen
The Romanian Navy assisted the evacuation of Axis forces from Crimea in 1944, vital operations led by Rear Admiral Horia Macellariu (which was awarded the German Knight's Iron Cross) saving 60,000 from Soviet captivity in the pocket of Sevastopol. The Romanian Navy then retreated behind a large coastal minefield and better AA defence of Constanța. On the capitulation of Romania in August 1944 after King Michael's Coup, German warships were expelled from home waters. However Soviet minesweeper T-410 Vzryv accompanied by Amiral Murgescu was sunk by a German submarine whch conducted Soviet authorities to seize the entire Romanian fleet on 5 September 1944. By then, the fleet could only count on two destroyers, two gunboats, one minelayer and three MTBs, the rest being in repairs, drydock or used for training. This fleet was forcibly moved to Caucasian ports but only partially returned from September 1945 on. The biggest Romanian loss was the accidental sinking of gunboat Lepri (Romanian minefield in January 1941). By 1945 the entire state merchant navy was sunk or damaged by Soviet air force because of unsufficient air cover.

Minelayer Amiral Murgescu (wikimedia commons)
Operations in detail
Raid on Constanța (26 June 1941)
The Axis invasion of Soviet Russia commenced was accompanied by naval operations that quickstarted the naval war in the Black Sea. The first operation was a Raid on Constanța which became the only encounter between major surface warships of the entire area. Destroyer Mărăști and Regina Maria ecorted the minelayer Amiral Murgescu had to defend the harbour against the cruiser Voroshilov flanked by large Leningrad-class destroyers Kharkov and Moskva, and light destroyers Soobrazitel'ny and Smyshlyonyi. This Romanian numerical and qualitative disadvantage was compensated by a powerful coastal artillery, including the German battery Tirpitz (three 28 cm SK L/45 guns, spares from the WW1 battleship Nassau, the battery being protected by an array of 75mm and 20mm AA FLAK guns and served by 700 German Kriegsmarine personel under Romanian supervision). On their side, the Soviet fleet was covered by nearby Tupolev SB bombers. The raid however failed, the Soviet ships only managing to set alight a few fuel tanks and there was no less on the Romanian side, while Soviet destroyer Moskva was lost on her way home by a mine when manoeuvering to dodge Romanian fire. Indeed until June, 19, the minelayers Amiral Murgescu, Regele Carol I and Aurora mined a large area from Cape Midia and Tuzla in fron of Constanța, knowing the position of the coastal artillery. We will return on this naval engagement in a deeper study and dedicated post.

Regele Ferdinand (1935)
Operation München (June-July 1941)
This was the Romanian codename for the joint German-Romanian offensive, which comprised also several naval and river clashes.
On 9 July 1941, near the Romanian Black Sea port of Mangalia, the gunboat Stihi spotted a periscope and reported its location to the torpedo boat Năluca and MTBs Viscolul and Vijelia. The emerging, and then quickly diving Soviet Shchuka-class submarine Shch-206 was attacked by 20 mm rounds of the Năluca and later by depth charges, and was eventually cornered and sunk. The land operations were supported by a river flotilla, the Tulcea Tactical Group. On 13 July, Romanian monitor Mihail Kogălniceanu duelled with a Soviet monitor near the village of Copana Balca, scored a hit, and The Soviet warship reply but with no results and retired. On the 14 of July, the same monitor attacked Soviet monitor Udarnyy at Ismail scoring a direct hit while the latter returned fire without much result and retreated. Eventually, in the action of Isaccea Romanian armed barges sank a Soviet armored motor gunboat.
Siege of Odessa (1941)

On land, the siege lasted for 2 months and 8 days, from 8 August to 16 October 1941 and Romanian troops did played an immense role in it, under Lieutenant-general Nicolae Ciupercă's Fourth Army. The Soviets prepared three defensive lines, and there was still the support of the black sea fleet that can provide relief to the defenders. Soon enough, to complete the blocus, the Romanian Navy sent MTBs NMS Viscolul and NMS Vijelia to Vylkove (now Vâlcov) which attacked from there in the night of 18 September a Soviet convoy South of Odessa. However there were three misses but a Soviet destroyer was struck, although the torpedo failed to detonate. Patrols of the submarine Delfinul followed for weeks and on 20 August, she engaged a Soviet M-class submarine M-33. The latter attacked first, missed, and the latter counterattacked with her twin 13 mm heavy machine guns, forcing the Soviet submarine to dive and retreat to Odessa, damaged. The only other Soviet loss was a small submarine chaser on 17 September, ironically blown by a mine previously laid by the Leninets-class submarine L-5 off Ochakiv… On land the campaign ended with a pyrrhic victory that highlighted Romanian Army weaknesses, and hampered its capabilities durably, until the disaster of Stalingrad.

Submarine Delfinul
Crimean Campaign
Participation of the Romanian Navy concretised on 2 November 1941, with Delfinul, the only Axis submarine in the Black Sea until late 1942 (then backed by Rechinul & Marsuinul), starting a patrol off the Crimean coast. At dawn, 6 November, she spotted the Soviet 1,975-ton cargo ship Uralets south off Yalta. She was torpedoed and sunk but soon escorting Soviet forces attacked her. She escaped along the Turkish coast and survived about 80 depth charges. She made it back in Constanța on 7 November.
Operation Achse
Less well known is the Romanian participation in the surrender of the Italian Army: The Romanian Navy captured the only Italian sub flotilla In the Black Sea, five CB-class midget submarines which were seized. Wat followed however was not seen as a friendly move and led to German protest, as the Romanian naval commander Rear Admiral Horia Macellariu, decided to integrate these into the Royal Romanian Navy rather than given them to the Kriegsmarine. These CB types were the remainder of a serie buuilt by Caproni shortly before the italian surrender, Seventy-two boats being ordered in Milan, 22 laid down and 12 completed (9 afterwards the armistice). Of these, a small batch was transferred by rail to the black sea. These 15 metres, 44.3 tons submerged boats were armed with two 450 mm torpedoes or mines, and had a 7.5 knots speed when surface and a crew of 4. They participated in the coastal defence of the Romanian coast unil the end of the war.

Romanian torpedo boat Năluca
Crimean Offensive
Prior to Romanian capitulation on 23 August 1944, the Soviet Forces completed their land offensive by massive air attacked against Romanian assets along the coast. On 15 July 1941 near Sulina they sank the minelayer Aurora, largest Romanian ship lost in action in this campaign, and on 20 August, this was the turn of Romanian torpedo boat Năluca in Constanța. But the Romanian Navy, despite all odds did not lost major ships like her destroyers and submarines, a feat compared to the drastic losses of the Axis elsewhere and the Soviet superiority. However this did not changed the fate of the Romanian state on land. The Soviets quickly captured all remaining ships, moved to Caucasian ports in September 1944. Only some were returned after the war, the other remaining in service for more years under the Soviet flag.


Amiral Murgescu

1941 U-boat type Rechinul and Marsuinul
In may 1944, the Romanian Navy launched what was perhaps its biggest operation so far, called Operation "60,000". This was in reference to the 62,000+ Romanian troops evacuees from Crimea. The operation consisted ion two phases, in 12 April and 5 May and between 6 and 13 May. The trigger was the German 17th Army "Adler" Plan of evacuation by ships from 11 April to Constanta with just twi ships, a tanker and cargo, with Romanian escort. On 12 april another convoy comprising the ships Ardeal, Helga and Tisza transport ships passed with 4,361 men onboard (700 Romanians). The 14, German tugs, lighters, MFPs and KFKs transported 2,038 men to safety. Meanwhile supplies came on the other side, with Romanian Oituz cargo, and German Laudon, Theben and Erzherzog Karl, surviving five attacks by Soviet bombers. There was an effcient AA cover from converted MFP barges, called Artilleriefährprahm (AFP). These ships by the way carried out the evacuation from the Kuban bridgehead on the Taman Peninsula of 17th Army, and transported no less than 239,669 soldiers, 16,311 wounded, 27,456 civilians and 115,477 tons of military equipment, 21,230 vehicles, 74 tanks, 1,815 guns and 74,657 horses. The Romanians were impressed by these ships and ordered three, passed to their colors in February 1944 as PTA-404, PTA-405 and PTA-406.
Although it is not the main focus here, the Kriegsmarine managed to assemble a fleet, shipped by rail and the Danube and assembled at Galati shipyards, which amounted to 6 coastal submarines, 16 S-boats, 23 R-boats, 26 submarine chasers and over 100 MFP barges mentioned above. The 16, another convoy passed, with a cargo only damaged. However tragedy struck on 18 April when a Ll-4 attack sank the Alba Iulia (with 500+ Soviet POWs). NMS Marasti and NMS Ghiculescu put up a sturdy defence, and also repelled a submarine attack. NMS Ghiculescu and NMS Marasti al scarried men onboard, 700 for the former. On 19 and 20 April three convoys passed each other, two bound for Sevastopol. On 24 april, no less that four convoys left the besieged city, ith more air attakc, but none were succesful. The German R-Boote and S-Boote' own AAA was also efficient. However the 25, the the lighter Leo was hit and sank. The same day a strong convoy departed from Constanta, reinforced by Durostor, Helga, two PTA boats and NMS Ghiculescu. PTA 406 was damaged but towed to safety. Durostor and Helga also escorted the last mission, on 27 April, and one of the two convoys was attacked by Soviet motor torpedo boats TKA-332 and TKA-334. The former was sunk by 88mm gunfire, while UJ 104 submarine hunter was damaged and was lost later in harbor.
In total of the 73,058 evacuees, there were 20,779 Romanians, 28,394 Germans, 723 Slovaks, 15,055 Russian volunteers, 2,559 POWs and 3,748 civilians. Overall only 5% died during the crossing which was considered a frank success. However the Soviets reinforced their positions and Between 28 April and 7 May, although 14 convoys passed through, relentless attacks proved more devastating: German motor lighter Junak (May, 3), Erzherzog Karl, MFP 132, Budapest badly damaged. From 9 May, the city was under constant Soviet artillery fire, which complicated the evacuation. Losses that day comprised the Prodromos tanker, the Günther (motor lighter), the Basarabia (lighter), KFK 2313 and UJ 104, Var (lighter) and UJ BW 01, while the KFK 2314 was badly damaged and had to be abandoned. On 10 May, the Romanian Navy launched four convoys the same day, named Sturzul, Profetul, Pionier and Ovidiu. Totila, Teja were lost. The following daysn losses consisted in the Friedericke tanker, Romania, Danubius, while the destroyer NMS Regele Ferdinand came through hell, being attacked 33 times by air, taking a 76mm Soviet artilley hit, then Soviet 152 mm battery hit, but her AA artilley downed many Soviet aircrafts. She reached Constanta, out of fuel, with a hole in the waterline (bomb), being towed to safety. She survived the war.
NMS Dacia and NMS Amiral Murgescu were part of the last convoy. Amiral Murgescu, commanded by lt. cmdr. Anton Foca was the last ship to leave the inferno of Kershones. 47,825 men were successfully evacuated to Constanta: 15,078 Romanians, 28,992 Germans; but 10,00 had been lost this time and with so many ships lost or damaged it would have been tricky to mount further convoys: The Romanians lost Three large transport ships, the German about 9 plus 6 more badly damaged. This was "Dunkirk in reverse" for the Axis.

Monitor Mihail Kogălniceanu
Romanian Submarines: Tactics and Operations
With ony three submarine in 1944 (Marsuinul, Rechinul), one at the start of the war (Dolfinul), Romania was far to start any "wolfpack" in the Black sea. Instead, all three submersibles multiplied patrol missions, sometimes coming quite close to the Soviet coast. The Italian built Dolfinul made no less than nine patrols during the war, but only had a damaged tanker to her credit. The two others, of German design, were completed so late that they never managed to pull out much sorties: One for Marsuinul, two for Rechinul, the latter being the longest at sea (40 days), monitoring movements of the Russian Black sea fleet to warn the axis about possible attacks during the perilous evacuation of axis troops from the pocket of Sebastopol. She was designed as a minelayer but never carried out any minelaying mission.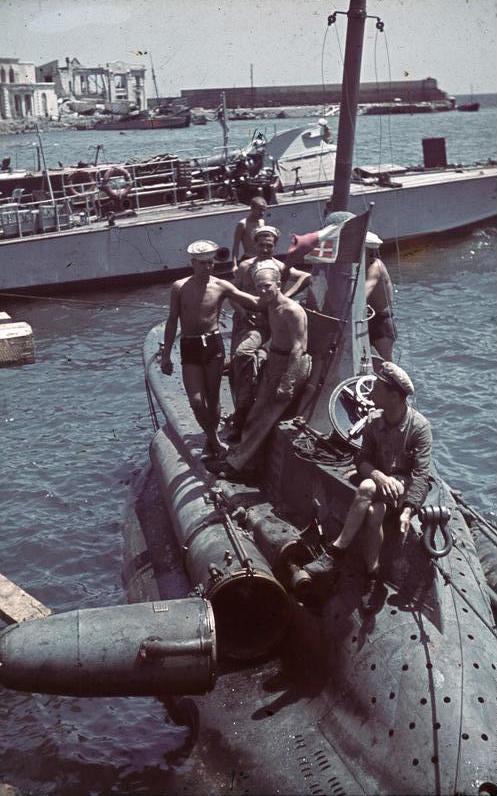 Italian CB in the summer 1942-43 (Bundesarchiv).
CB submersibles: The first six boats completed in Italy 1941, were transferred to the Black Sea by rail after a German request for Italy to bolster its naval efforts on the Eastern Front. They departed on 25 April 1942, reaching Constanța on 2 May. They formed there the 1st Squadriglia Sommergibili CB, (Francesco Mimbelli). CB-5 was sunk at Yalta in June 1942. In late 1942, the remaining five were refitted in Constanța Shipyard. On 26 August 1943, CB-4 managed to ambush and sink the Soviet submersible Shch-203, only real success of the whole campaign.
After the Allied armistice with Italy they were transferred to the Royal Romanian Navy but saw littled service and were scuttled in August 1944 (see later).
Romanian Naval Aviation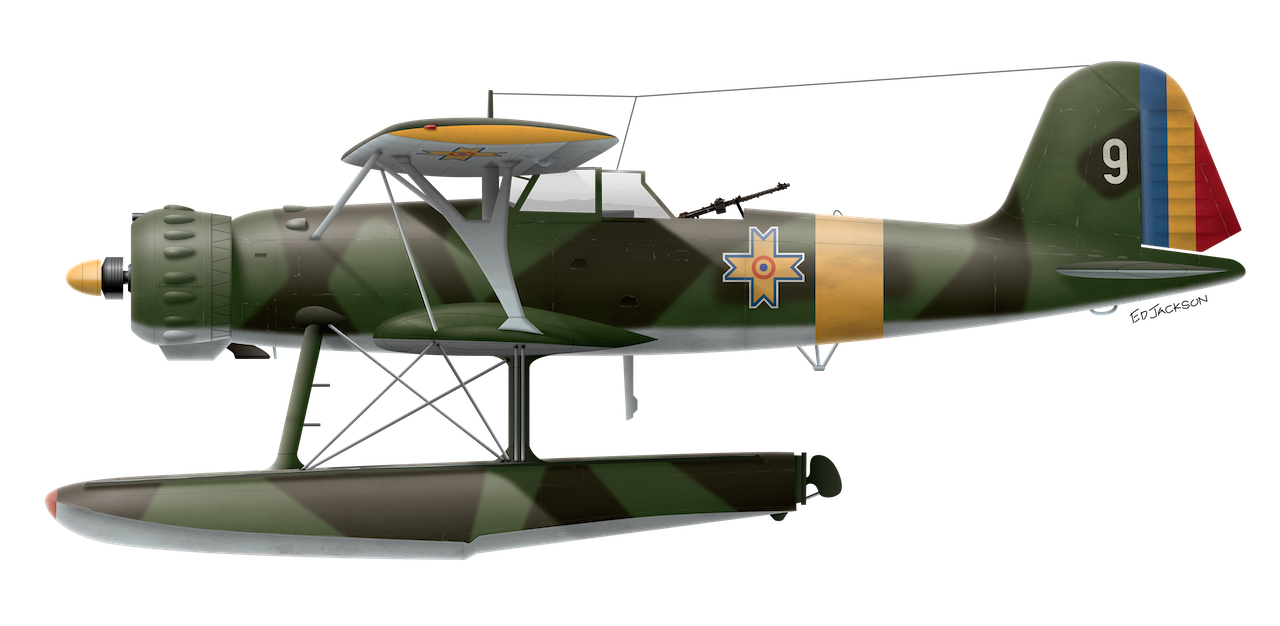 Romania received a group of 12 He 114 in 1939. During the war, the number would be increased to 29 in total. These would be extensively used to patrol the Black Sea. At the end of the war, these were captured by the Soviets, who confiscated them. Some would be returned to Romania in 1947, which would continue to use them up to 1960, when they were scrapped. See more on plane encyclopedia
During this campaign, Romanian Naval Aviation also played a significant role: Equipped with an array of four squadrons:
-Sqn 101: six Savoia 62 and 65 flying boats
-Squadron 102: Ten Heinkel He 114 seaplanes
-Squadron 53: Eight Hurricanes
-Squadron 16: Eight IAR-37
In operations they successfully spotted and reported hundreds of Soviet ships, guiding attacks, and contributed to the loss of a 2,000-ton Soviet transport ship and damaging a gunboat, a motor torpedo boat and four submarines, while loosing 8 planes in action or by accident.
Gallery (pinterest)


Marsuinul


Regele Ferdinand in splinter camouflage.
Sources/Read More
On worldwar2.ro
On wikipedia.org
Romanian Black Sea campaigns
Romanian Naval Forces
Raid_on_Constanca
The Romanian Navy ships in detail
Mărăști class destroyers (1917)
Mărăști, Mărășesti


Marasti in 1934
The two destroyers had a convoluted history: Both were laid down on 15 July 1914 as Italian destroyer flotilla leaders in Pattison, Naples, known as the Vifor class, for Romania, in 1914. At the start, they were specifically ordered by the Romanian Admiralty, ordered in 1913 by Romania under the names Vifor, Viscol, Vârtej and Vijelie (Vifor class). Designed by engineer Luigi Scaglia on Romanian specifications they had three 120 mm guns, four 75 mm guns, five torpedo tubes plus a 10-hour endurance at full speed (34 knots) to control the Black Sea.
Unfortunately for Romania, the war broke out in August, construction went on until Italy joined the entente and on 5 June 1915 construction was suspended, all three but the fourth at 60%, one 50%, one 20% completion. The fourth was not even laid down. Vijelie and Vârtej were eventually launched in March 1917 and January 1918, renamed Aquila (launched 1916), Nibbio (1918), Falco (1919), and Sparviero (1917) classed as scout cruisers (esploratori), in the Regia Marina. Sparviero and Nibbio were sold back to Romania on 1 July 1920 and renamed Mărăști and Mărășești. Falco and Nibbio ended in the Spanish Navy as Ceuta and Melilla, to bolster the Republicans in 1938 by order of Mussolini.
Mărăști and Mărășești were at the time, in 1920, among the most heavily-armed destroyers in the Black Sea, re-classified as such, although many sources designated them flotilla leaders, based on their three cruiser guns (6-in or 152 mm). Mărăști and Mărășești hiwever were refitted at the Galați shipyard, Romania, in 1925, and to be rearmed in Naples the next year. The final armament is as followed in the tables.


Marasti in 1943
In 1939, they were the most heavily-armed warships in the history of the Royal Romanian Navy, even superior to the more recent Regele Ferdinand class. In 1941, one 120 mm and two 76 mm were removed for extra AA (two 37 mm, four 20 mm) and two depth charge throwers of 900 mm and 330 mm installed aft. On 26 June Mărăști repelled a Soviet naval attack on Constanța with Regina Maria and the minelayer Amiral Murgescu. The Soviet forces lost the large destroyer Moskva into a Romanian minefield.
Both took part in the black sea campaign in support of troops in Crimea, notably escorting Axis supply convoys. Mărăști performed 28 escort missions, Mărășești 21, atacked along the way with Soviet submarines and aviation. From 1943 they startred to repatriate axis troops after the fall of Stalingrad and Soviet counter offensives. They survived the onslaught, and after captured in Agust 1944 by USSR, in service until October 1945. Since Romania became part of the Soviet sphere of influence and later Warsaw Pact, both were returned until their original name and served until 1960-65 as school ships.


Author's profile of the Marsati in 1942. The livery called for two fake waves, bow and stern and the typical Mediterranean camouflage made of straight lines.
⚙ Mărăști specifications 1920

Displacement
1,594t standard, 1,760t full load
Dimensions
94.7 x 9.5 x 3.6 m (310 x 31 x 11ft)
Propulsion
2 shafts GS Turbines, 4 Thornycroft boilers, 40,000 shp (30,000 kW)
Speed
34 knots (63 km/h; 39 mph)
Range
3,000 nmi (5,600 km; 3,500 mi)/15 knots
Armament (seee notes)
3× 152 mm, 4× 76 mm, 2×2 457 mm TTs, 44 mines
Crew
146 (1944: 180)
Regele Ferdinand class destroyers (1928)
Regele Ferdinand, Regina Maria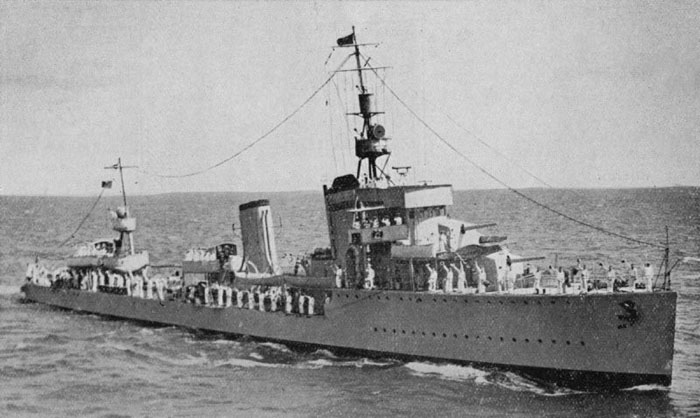 Regele Ferdinand in 1934
After the post-WWI re-purchase of two Aquila-class "cruisers" from Italy (former 1913 Vifor class destroyers, see above) but as part of the 1927 naval programme, it was decided more to be ordered at Pattison Yard in Naples. Not based on Italian designs, in contrary they were inspired by the WWI destroyer leaders of the Shakespeare-class, differing in propulsion though and with Swedish Artillery, German fire controls. A truly European mix. Of the Four planned, budgetary constraints had only two ordered and built in the end.
The Regele Ferdinand-class was rather in the "small" category at 1,400 long tons (1,422 t) standard, with two Parsons geared steam turbines, four Thornycroft boilers and they proved able to reach 38 knots on sea trials, for a 3,000 nautical miles range, quite sufficient for the Black sea.
Main armament comprised five Bofors 120mm/50 (4.7 in) arranged in a classic way, one Bofors 76 mm (3 in) between funnels and two more 40 mm (1.6 in) AA on platforms aft. This was completed with two triple mounts for standard Whitehead 21 in torpedoes, and railings to carry and deop 50 mines, plus two depht charge racks for 40 reloads. The Bofors guns were directed by a Siemens fire-control system (two rangefinders fore and aft).
Commissioned on 7 September 1930, the two ships complemented the more powerful Marasti class, forming a full squadron. Based in Constanța, they took part in peacetime routine of exercises and upkeep, and took part in Spithead Coronation Fleet in 1937. The war arrived and on 26 June 1941, Regina Maria repelled a Soviet naval attack with Mărăști. They were backed by the German coastal artillery battery Tirpitz, with Moskva sunk and Kharkov, Voroshilov damaged.
Romania knew the superiority of the Soviet Black Sea Fleet and protected their coast with extensive minefields, notably in front of Constanța. The ships sorties only for convoy escort missions and laying extra minefields between the Bosphorus and Constanța. They covered the evacuation of Odessa on 16 October and in December Regele Ferdinand claimed to have sunk Soviet sub. M-59.
The winter of 1941–1942 saw both vessels escorting convoys and in the spring to Odessa. After Sevastopol surrendered a new escort route opened year-round. Regele Ferdinand claimed Shch-207 on 16 September 1943.
The situation degraded fast for the axis in the southern front, and by early 1944 connection to Crimea was lost. Both ships covered evacuations from Sevastopol in April. They tried to salvaged the 5,700 GRT cargo SS Alba Iulia on 18 April and were able to tow her to Constanța. Regele Ferdinand was hit by aviation on 11 May and she had to be towed back to Constanța. Regina Maria made two more evacuation trips with the last convoy to reach Sevastopol the same month. Regele Ferdinand was again damaged during a raid on Constanța on 20 August.
After the capitulation of Romania this month, both were seized and pressed into the Black Sea Fleet as Likhoy and Letuchiy, recomm. on 20 October 1944. After the war in 1951 they were returned to Romania, renamed D21 and D22, in service until 1961.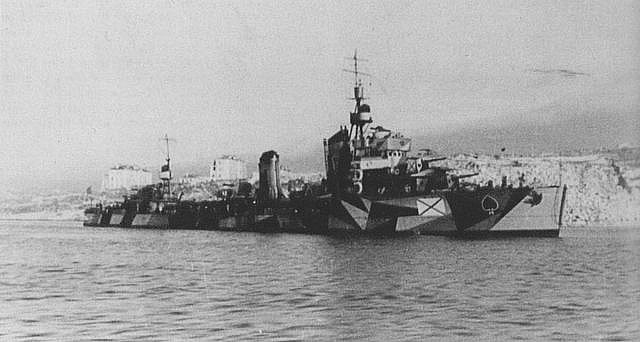 Regina Maria off Sevastopol in early 1944


Author's profile.
⚙ Regele Ferdinand specifications 1930

Displacement
1,400t standard, 1,850t FL
Dimensions
101.9 x 9.6 x 3.51 m (334 ft 4 in x 31 ft 6 in x 11 ft 6 in)
Propulsion
2 shafts GS turbines, 4 Thornycroft boilers 52,000 shp (39,000 kW)
Speed
37 knots (69 km/h; 43 mph)
Range
3,000 nmi (5,600 km; 3,500 mi) at 15 knots
Armament
5× 120, 1x 76, 2× 40, 2×3 533 mm TTs, 40 DCs, 50 mines
Crew
212
Sborul/Naluca class TBs (1914)


In WWI and the interwar (until 1932), the Romanian Black Sea fleet had six torpedo boats, of Austro-Hungarian origin based on war reparation, (TB 74T) in two classes, Sborul (257 tons) and Naluca (262 tons). These were the ex-74, 75, 80, 81T, built in 1913-15, they were obsolete in 1932, and so Vartejul, Viforul, Vijelia were discarded and scrapped, saving budget to modernized and maintain Sborul.
The Naluca class (Naluca, Smeul, Fulgerul) were also attributed by treaty, as former TB 82F class boats (recoignisable to their twin funnels). Fulgerul sunk on her way to Constanza, the other two were kept past 1932, and modernized like Sborul:
The first became an escort vessel, rearmed with two German FLAK 88 mm fore and aft, plus two 20mm AA and depht charge racks aft. She was captured in August 1944, becoming a SKR or escort ship as Musson, used until returned in September 1945, probably scrapped soon after.
Naluca and Smeul received the same armament as Sborul. They also took part in many escort missions until Naluca was sunk during an air raid on Constanza, and her sister was captured also and used like Sborul until returned and scrapped in Romania.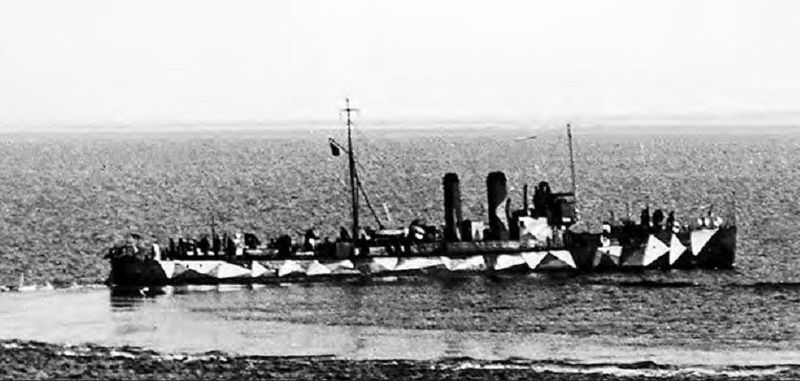 Naluca in 1944 with her "splinter pattern".



Author's profile od Sborul, a larger, HD one of Naluca is awaited.
Submersible Delfinul (1930)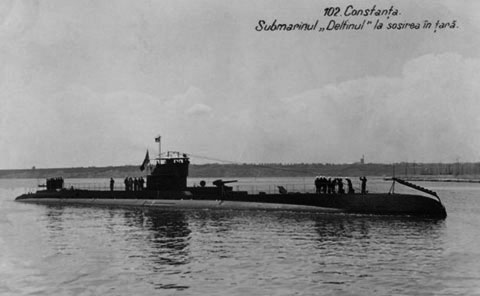 NMS Delfinul was built in Italy under Romanian supervision. She was ordered in 1927 from Fiume and completed in 1931, but only accepted in 1936, after the many corrections during and after completion, with a surfaced displacement of 650 tons, 900 tons submerged. Her powerplant was classic with two Sulzer diesel engines, two electric motors for 14 knots/9 knots but well armes with 4 bow and 4 stern tubes and on deck a 102 mm (4 in), twin Breda 13 mm for AA defence. Of the original two planned, only one was made.
In WW2, Delfinul (dolphin) completed nine patrol on the Black Sea war from Constanța Naval Base. He only attack was in November 1941 when she claimed the 1,975-ton cargo Uralets which was likely more damaging the Soviet tanker Kreml since the first was reported sunk by the Luftwaffe. This was her only success of the war. Captured in August 1944, she became TS-3 on 20 October 1944, decommissioned on 12 October 1945, returned to Romania in 1951, stricken in 1957.
⚙ Marsuinul specifications 1944

Displacement
620t/800t surface/submerged
Dimensions
68 x 5.9 x 3.6 m (223 ft x 19 ft x 12 ft)
Propulsion
2 Sulzer diesels, 2 electric motors
Speed
14 kts surfaced, 9 kts submerged
Range
2,000 nautical miles (3,704 km; 2,302 mi)
Armament
1x 105mm, 2x 13 mm AA, 8× 533 mm TTs
Crew
55
Submersible Marsuinul (1941)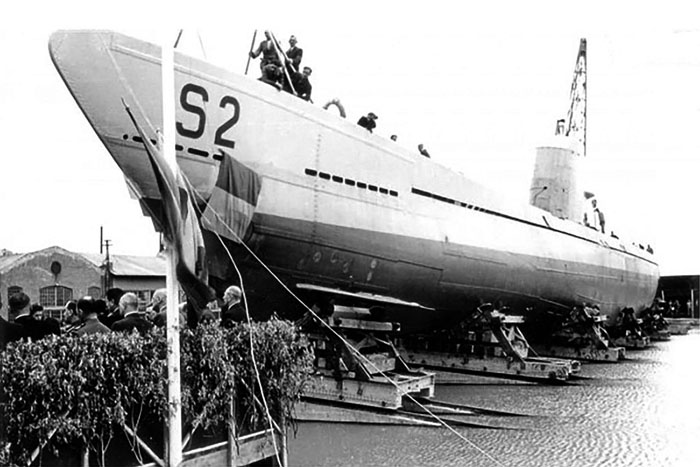 For the new submarine, Romanian turned to Germany, via the design bureau NV Ingenieurskantoor voor Scheepsbouw in the Hague, under the name "S-2". She was an improvement of the Vetehinen-class, laid down at Galați shipyard, in 1938. She was launched on 4 May 1941. A small boat of 620 tons for 58 meters she had two MAN diesel engines, two electric motors for 16/9 knots, had a 105 mm deck gun, a 37 mm AA but only six 533 mm torpedo tubes, four in the bow, two in the stern. She was however capable to dive far more than Marsuinul at 110 meters and had a better range of range 8,000 nautical miles, largely enough to cover the whole black sea.
Marsuinul (Porpoise) was commissioned, like Rechinul, in May 1943, spending a year in sea drills and tests and started servive by April 1944, only carrying out a single patrol on 11-27 May 1944, along the Turkish coast adn near the Soviet port of Batumi. She was subjected to German "friendly fire" off Varna, Bulgaria. While off Batumi, she was spotted by Soviet forces and repeatedly attacked with depth charges, but escaped without firing. On 20 May she was attacked by a Soviet submarine, which missed. After a fourth attack on 21 May, she headed for home.
She was captured after the 23 August 1944, became TS-2 on 20 Octobe, sunk at Poti on 20 February 1945 (accidental torpedo explosion), later raised, repaired, recommissioned as N-40 in 1947, then S-40 in 1949, scrapped in November 1950.
⚙ Marsuinul specifications 1944

Displacement
620t/800t surface/submerged
Dimensions
56 x 5.6 x 3.6 m (190 ft 3 in x 18 ft 4 in x 11 ft 10 in)
Propulsion
2 MAN diesel engines, 2 electric motors, 2 shafts (1840 bhp)
Speed
16 kts surfaced, 9 kts submerged
Range
8,000 nmi (15,000 km; 9,200 mi)
Armament
1x 105mm, 1x 37 mm AA, 6× 533 mm TTs
Crew
45
Submersible NMS Rechinul (1941)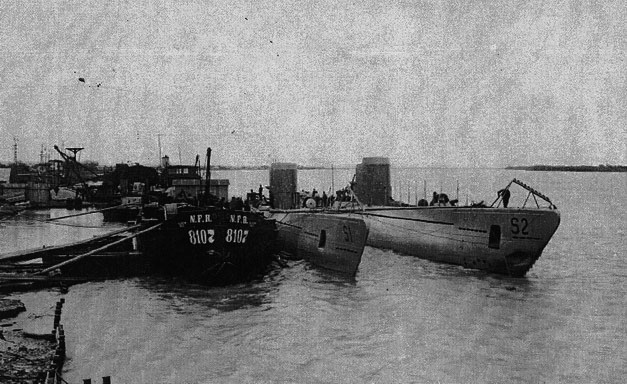 Requinul and Marsuinul in Contanca
Rechinul (shark) is certainly the best known of all three subersibles of the Romanian Navy, as one of the inspiration for the later U-Boat Type VII minelaying version. Instead of a second attack submarine, the Romanian Admiralty wanted a minelaying submarine. She was also designed by Ingenieurskantoor voor Scheepsbouw in the Netherlands, but built at the Galați shipyard, laid down in 1938 but launched on 22 May 1941. She share most caracteristics with her sister Marsuinul, but armed with only four 533 mm bow torpedo tubes, one 20 mm AA gun but wells to carry 40 mines, launched aft.
Her full commission only came in 1944, and she took part in evacuation of the Crimea, on 20 April-15 May. On 30 April she patrolled off the port of Batumi, giving the axis valuable intel on Soviet naval movements for the safety of the evacuation of Sevastopol. During her second sortie she patrolled off Novorossyisk (15 June-27 July 1944). Hunted down by Soviet forces she managed to return to Constanța, having being through several depht charge attacks. This was the last and longest Romanian submarine patrol of the war, over 40 days. Captured after August 1944 she became TS-1 on 20 October 1944, returned to Romania in 1951, decomm. in 1961 and scrapped in 1967.
⚙ Rechinul specifications 1944

Displacement
585t/789t surface/submerged
Dimensions
66 x 5.9 x 3.6 m (216 ft 6 in x 19 ft 4 in x 11 ft 10 in)
Propulsion
2 MAN diesel engines, 2 electric motors, 2 shafts (1840 bhp)
Speed
17 kts surfaced, 9 kts submerged
Range
7,000 nmi (13,000 km; 8,100 mi)
Armament
1x 20 mm Oerlikon, 4 × 533 mm TTs, 40 mines
Crew
45
CB midget Subs. (1943)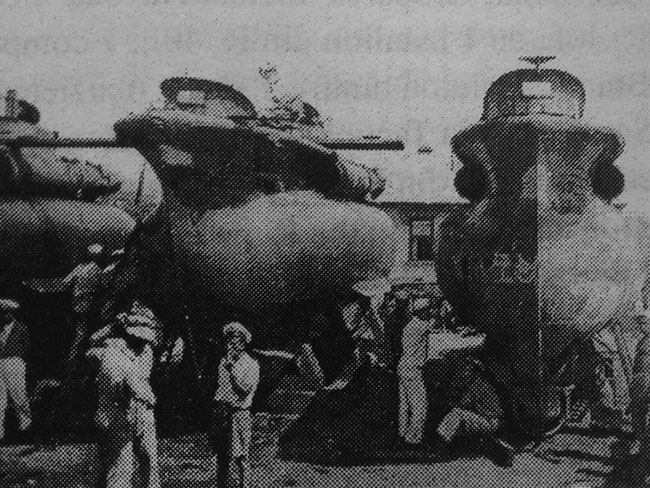 CB-1 to CB-6 Italian midget submersibles (except CB-5 sunk off Yalta 13 June 1942) were in January 1941 Transferred to the Black Sea, to be operated by German sailors. They operated from Contanca, and when transferred fully to Romania after the Italian armistice of September 1943. Most were scuttled in August 1944, raised by USSR, re-commissioned as TM-4-7 and scrapped in 1945. It seems they saw little service under Romanian supervision, their range limited them to shore patrols on the western black sea coast.
Amiral Murgescu class Minelayers (1934)
Amiral Murgescu, Cetatea Albă.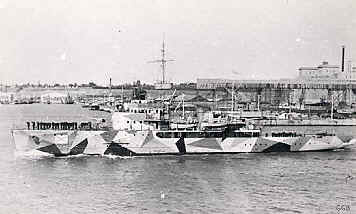 Amiral Murgescu was designed by the Romanian admiralty as a minelayer and escort. Two were ordered, and ordered in 1937 on German plans. In fact, the first was laid down in August 1938 in Galați shipyard in Romania and her sister ship, laid down in Blohm & Voss, Hamburg, but never completed as the war broke out. She was scrapped.
Murgescu was launched on 14 June 1939 as a 812/1,068 tons, 76.9 ship armed with German artillery: Two 105 mm SK C/32 DP guns, two Rheinmetall 37 mm FLAK guns, four Oerlikon 20 mm guns, two twin 13 mm M1929 twin machine guns, two depth charge throwers (65 depth charges in reserve). Her capacity was 135-200 mines depending of the type. Her gun shields were removed in July 1941 to improve AA fire. Propulsion was also German, two Krupp diesels rated for 780 kilowatts each, able to bring her to a modest 16 knots or 30 km/h over 6,300 kilometres (3,400 nmi), more than enough to cover the Black sea. She was also a mothership, operating her own minesweeping motor launch for "spec ops" in shallow waters and ports entries. This boat was part of a class of four 9-ton, 20 mm AA gun, 8mm MG, boats also carrying 6 depth charges. Information is scarce about it and it seems it was never used.
Admiral Murgescu was quite active from Operation Barbarossa until her capture in August 1944. After her commission on 2 March 1941 she departed for a first sortie on 16-19 June with the minelayers Regele Carol I and Aurora to lay a barrage of 1,000 mines between Cape Midia and Tuzla, protecting the approaches of Constanța. This cost the Soviet Black Sea Fleet on 26 June (she helped repel the attack with Mărăști and Regina Maria) the Moskva and the cruiser Voroshilov badly damaged. Murgescu shot down two aircraft also. This barrage would claim later the submarines Shch-213, M-58, M-34 and Shch-208, and a "firendly fire", with the German R-boat R-36 in 1943.
She suffered light damage during a Soviet air raid on 23 June 1941 and the following she short down two aircraft, three on the 25, three more on 5 August. On 7-16 October 1941 with Regele Carol I and Dacia and protected by the TBs Năluca, Sborul and Smeul, the Romanian gunboats Sublocotenent Ghiculescu and Căpitan Dumitrescu, plus the reincorcement of Bulgarian torpedo boats Drazki, Smeli and Hrabri (the bulk of the Bulgarian fleet), she laid four minefields plus a partial one off the Bulgarian coast, which wold claim later the submersibles S-34, L-24, Shch-210 and Shch-211.
In February 1942, she laid a minefield near Sulina (Danube), on 24 June 1942 near Odessa (claiming M-33 and M-60, MGB YA-26 and YA-27).
On 29–30 October and 5 November 1942, two barrages off Snake Island (claiming Shch-212, M-31). On 1 December Voroshilov was damaged by mines again. On 13–14 September 1943, Amiral Murgescu this time laid mines off Sevastopol and later another in the Gulf of Kherson.
In between she took on escort missions, with the numerous reinforcement convoys to Crimea, 16 in all (November 1942-September 1943). She was alone in escort on 19–20 July 1943 and on 15 April 1944 she shot down two bombers.
On 12 May 1944, she was the last to leave Crimea, evacuating circa 1,000 troops including General Walter Hartmann. On 25–26 May she laid down her last barrage off Sulina. For her service she earned the Order of the Star of Romania and of the Romanian Crown. After capture by the Soviets she was renamed Don, became a training ship in April 1945, depot ship in January 1947, command ship on 9 February 1948, barrack ship PKZ-107 on 7 May 1956, repair ship PM-76 on 4 January 1958, discarded 27 May 1988…
⚙ Amiral Murgescu specifications 1941

Displacement
812 tons st. 1,068 tons FL
Dimensions
76.9 x 9.1 x 2.5 m (252 ft 4 in x 29 ft 10 in x 8 ft 2 in)
Propulsion
2 shafts Krupp diesel 1,600 kW (2,100 hp)
Speed
16 knots (30 km/h; 18 mph)
Range
3,400 nautical miles (6,300 km; 3,900 mi)
Armament (see notes)
2×105, 2×37, 4×20, 2×13, 2DCT, 135 mines, 1ML
Crew
135
Viforul class MTBs (1939)
MTB-20 (Viforul), MTB-21 (Vijelia) and MTB-23 (Viscolul)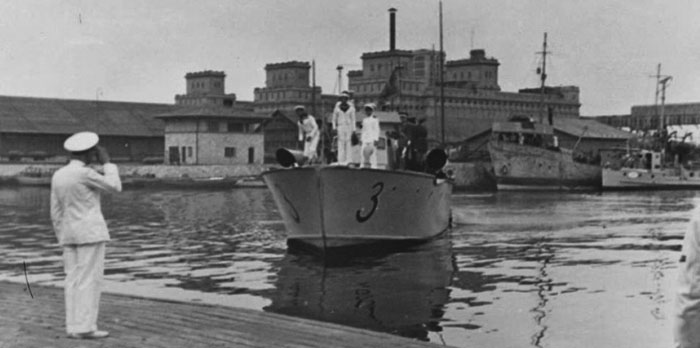 Arguably the most successful MTBs in the black sea, alongside Italian MAS and German S-Boats, were these three Vosper Thornycroft models built in 1939, just before the war started. Collectively these nine boats were known as the "V-class". The Viforul class were purchased in January, 1940, transferred on 16.2.1940, via France to Romania aboard s/s Peles, arriving in May. They were wooden-hulled, displacing 32/37 tons (21.9 x 4.98 x 1.02 m), 3 shafts Isotta-Fraschini engines 3,450 hp, 42 kts, 7t petrol, armed with 2x 7.7mm/66 MGs, 2x 533mm TT, 8 DC/4 mines, crew 14.
Two were lost early: Viforul on 9.11.1941 and Vijelia on9.11.1941, while Viscolul, which sank the Shch-206 and badly damaged a destroyer during another operation. Ultimately she was captured in August 1944 and became the Soviet TK-955.
Vedenia class MTBs (1940)
Vedenia, Vantul, Vijelia, Viforul(ii), Vartejul, Vulcanul

Built in the Netherlands, at Gusto, Schiedam, Netherlands, captured on slip by the Germans, transferred for completion in Romania, by late 1943 Vedenia, Vantul, Vijelia and in May 1944 Viforul, Vartejul and Vulcanul. They were called also the Vantul class, which was the first launched, but in other publications Vedenia based on the first pennant, S203. They displaced 30.8/38.3 t (21.4 x 6.05 x 1.14), 3 shafts Rolls-Royce Merlin 2,850 hp, 35 kts 11tons petrol, 2×1 20mm/80 Hispano Guns, 2x 533mm TT, 2 DCR, crew 14.
Due to their late arrival in service they saw no service, being difficult to maintain. Captured, they were returned to Galatz and scrapped afterwads due to the lack of spares.
Note that Romania also operated a few MAS boats in replacement of the losses in 1941: In May 1943 seven MAS boats operated by the Kriegsmarine in the Black Sea were transferred in August to the Romanian Navy (wooden-hull, 25 tons, 42 knots, 13 mm HMG/20 mm AA, 6 DCs, 2x 450 mm torps). All captured in August 1944. Later, four German S38 class Boats were transferred by the Kriegsmarine on 14.8.1944, but this was cancelled as Romania entered a revolution on 23.8.1944.
Romanian River Monitors
Ion C. Brătianu class (1907):

Romanian ordered Austro-Hungarian built Danube River monitors.
Assembled in sections, launched at Galatz. In 1918 captured by Austria-Hungaria, then by 1920 British control, returned to Romania. Extant in WW2: Modernized in 1937-1938, masts and superstructure reduced, three 120mm/50 Škoda-Bofors in Mk4 armored turret, one 37mm/80 SK C/30, twin 13.2mm/76 HMG.
On 22-23 June 1941 Mihail Kogălniceanu and Basarabia repelled two Soviet counterattacks, sinking a patrol boat, damaging another and two Soviet monitors. Mihail Kogălniceanu was the flagship of the Tulcea Tactical Group defending the Danube Delta. On 23 June and 13 July she repelled a Soviet monitor, later sent for repairs. On 14 July near Ismail she engaged the most powerful Soviet monitor Udarnyy. Udarnyy was badly damaged and retreated. On 17 July she attacked several Soviet warships at Ismail and shot down an aircraft. Mihail Kogălinceanu and Lascar Catargiu sunk by aviation on 24.8.1944 Alexandru Lachovari and Ion C. Brătianu captured 09 1944 (later Soviet Mariupol and Azov, returned 1959.)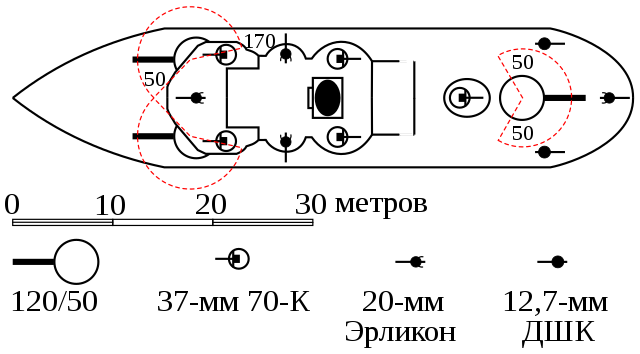 Armament scheme as the Soviet Azov in 1950
ARDEAL class river monitors (1905)
First transferred 1920, ex-Austro-Hungarian Temes. Modernized. 21.8.1941 damaged by Soviet by SB bombers Vilkovo. Captured off Izmail, Soviet Berdyansk, returned. BUCOVINA (1915) Transf. 1920, ex-Sava. Modernized, Captired 5.9.1944 off Silistria, recommissioned as Izmail, returned. BASARABIA (1915) ex-Inn Transf. 1920, captured 5.9.1944 on lower Danube, recommissioned as Kerch, returned 1951.
MR491 river floating batteries (1916)
Bolinder type. Six built at Russud, Nikolayev, armed with two 120mm/44 Canet or a single 152mm/44 Canet gun; Captured by Romanians on Danube by February-March, 1918. Extant WW2, MR491 sunk by aircraft 25.6.1941, remaining captured on 24.8.1944.
Romanian Gunboats


Sublocotenent-Ghiculescu
CAPITAN NICOLAE LASCAR BOGDAN class river gunboats (1906-1907): British built vessels: Major Ene Constantin, Căpitan Nicolae Lascăr Bogdan, Căpitan Romano Michail, Major Giurascu Dimitrie, Major Sontu Gheorge, Major Grigore Ioan, Locotenant Calinescu Dimitrie, Căpitan Valter Maracineanu. All former TBs reclassified as riverine gunboats, Căpitan Valter Maracineanu was lost already on 3.12.1916. By mid-1930s Major Giurascu Dimitrie, Major Sontu Gheorge, Locotenant Calinescu Dimitrie were discarded. The others were captured in August 1944 (V1-V4).
CĂPITAN DUMITRESCU class ASW gunboats (1920) Former French ASW gunboats 2nd class of the Friponne class (1917-18), sold to Romania in 1920: Căpitan Dumitrescu Constantin, Locotenent-Comandor Stihi Eugen, Locotenent Lepri Remus, Sublocotenent Ghiculescu Ion. Active in WW2 as escorts, rearmed with two 37mm/80 SK C/30 and later 20mm/65 C/38 and 88mm/42 SK C/30 guns. They were all captured in September 1944, becoming the Soviet Arax, Akhtuba and Angara, were returned in 1945, and served, converted in 1960 as survey/command vessels until the 2000s.
Oltul: A former Italian Tug/minesweeper RD1, purchased by Romania in 1941 and converted as a sub-hunter. She was lost on 6.10.1942.
VS class sub-chasers: German built KFK Boat, three transferred to the Romanian Navy in November 1943 with German sonar. Catpured 5.9.1944.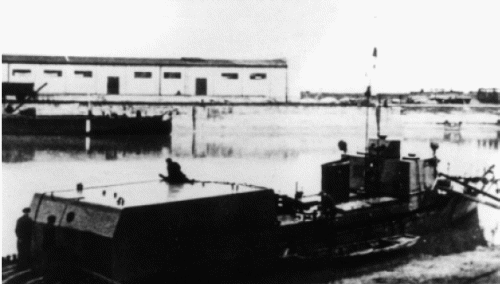 V5 class armoured motor gunboats (1938): Former Czechoslovak river armoured boats Omm35 and OMm36, captured March 1939 resold to Romania in 1940. Both captured on 5.9.1944.
V7 class armoured motor gunboats (1939): Built in 1939-42 at Santieri Galati, Galatz, comm. 1943. Armed with a single 37mm/80 SK C/30,and four 7.9mm/79 MGs, had a mechanical minesweeping gear. Catpured in September 1944 by the Soviets.
V9 class motor launches (1943): V9,10, 11, 13, V14. The last was lost In September 1944, fate unknown. In addition, the Romanians sunk on the Danube by field artillery the Soviet armoured motor gunboat No204 (B-114) on June 28, 1941. She ran aground but was salvaged and repaired in Galatz as V12. Recaptured in Sept. 1944.
Also used as transport riverine vessels were the ex-German PTA 404-406, German A Type landing barges built in Bulgaria (Drzhavna verf, Varna), transferred to Romania in 1944, captured 5.9.1944.
Minelayer Aurora (1909)

The Minelayer Aurora was the former Austro-Hungarian Basilisk (1909). In 1919 transferred to France (Aurore) and in 1922 resold to Romania. 1929 transferred to the civilian Societatea Romana Dunareana (SRD) and rebuilt at Galatz in 1937, then in 1939 recommissioned. Small ship, 314 tons, 49.1 x 7.97 x 2.20 m, 1 VTE, cylindrical boiler 550 shp, 11 kts, defended by two 13.2mm/76 HMGs she could carry 40 mines. Badly damaged by aviation on June, 28, 1941 off Sulina, repaired and sunk for good on July, 15.
Democrația-class minesweepers (1943)
The most modern minesweepers should have been German M40 minesweeper types built in Romania, at Galați shipyard, launched in 1943 with two German 88 mm naval guns but never completed before captured by USSR. They were left there and completed in 1949, in service for the whole cold war, modernized and renamed renamed Vice-Amiral Mihai Gavrilescu, Vice-Amiral Ioan Bălănescu, Vice-Amiral Emil Grescescu and Vice-Amiral Ioan Georgescu in 1993 and discarded in 2001.
Submarine Tender Aurora (1930)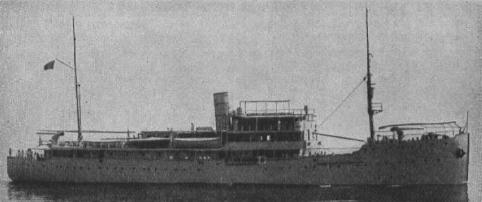 Constanța was a purpose-built submarine tender built in Fiume's Quarnaro Shipyard, ordered 1926, laid down 1927, commissioned in 1931. She had torpedo storing and loading facilities and workshops as well as capabilities of salvage and signalling. She had two diesels and Bofors guns, and diesels authorized a range of 10,000 nm. There was also an older minelayer of the same name.
During WW2, her two 102 mm guns were replaced by two 76 mm Armstrong guns, and the two 40 mm Bofors by two 20 mm AA guns, 2×2 13 mm MGs in 1941. The became flagship of the Grupul submarine și vedete torpiloare (Mixing the submarine Delfinul and and three Viforul class MBTs), for offensive operations, under command of Lieutenant-Commander Victor Voinescu. On 3 August 1941 she shot down a Soviet aircraft and by May-June 1942 covered amphibious landing drills. The summer of 1944 saw her fitted with an anti-magnetic belt. She was captured on 28 August 1944 and never returned. She served as Bug until September 1973, BU 1978.
⚙ Constanta specifications 1941

Displacement
1,329t standard, 2,300 t full load
Dimensions
77.8 x 11.2 x 4m (255 ft 3 in x 36 ft 9 in x 13 ft 1 in)
Propulsion
2 shafts Krupp diesel 1,600 kW (2,100 hp)
Speed
13 knots (24 km/h; 15 mph)
Range
10,000 nmi (19,000 km; 12,000 mi)
Armament (see notes)
2×102, 2×40 mm Bofors
Crew
135
Miscellaneous Ships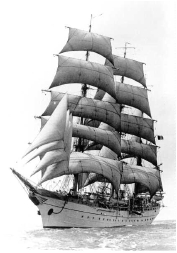 Schoolship Mircea (1938): Mircea is a three-masted barque (still sailing), built in 1938 in Hamburg (Blohm & Voss) as a training vessel, ordered by the Romanian Navy. Similar to Gorch Fock (a class of four) and named after the Voivode Mircea the Elder. Launched 22 September 1938 she was acquired on 17 May 1938 and commissioned on 1st May 1939. Unarmed, she was greeted in Constanța by officials and young students of the Naval School. On 3 July she made her first training cruise in the Mediterranean, visiting Palermo, Toulon, Palma, Gibraltar, Algiers and Alexandria but the rest was canceled with the war. From 3 September she was docked at the military berth in Constanța, and avoided long voyages in WW2. By security she was moved on 19 February 1941 to Brăila (Danube), and was captured b the Soviets in 1944, but returned on 27 May 1946. She had been since modernized 1966 & 2002 and participated today in tall ships assemblies yearly.
Patrol vessel Luceafarul (1930):
Former Yacht Nahlin, built at John brown & Co, (1391t GT, 91.44m), Owned by the jute heiress Lady Annie Henrietta Yule on a G.L. Watson design. She was acquired by King Carol II of Romania in 1937, renamed Luceafarul. Requisitioned in 1940 (armament unknown) she served until 1948, was resoled and eventually ended as a flotaing restaurant on the Danube in the 1970s Photo Src
Auxiliary Escorts (requisioned and armed in 1941):
Locotenent Stoicescu (sunk 28.12.1941), Sublocotenent Vartosu (2captured 1944), Inginer Casimir (capt. 1944), Inginer Pasla (same), Istria (same), I.G. Duca (same), Ovidiu (same); Negoiul (same), Muresul (same), Arlon (same), Tomis (same), Elena (sunk 23.11.1943), Ardeaul (same), Amarilis (same), Dor de Mare (same), General Maican (1909, 320 tons, captured 11.1944), Basarab (captured 11.1944), Gherdap (sunk 11.10.1944), Amurgul (sunk 19.10.1944), Ardelalul ( captured 1944), Mortru (captured 1944), Machis (same), Haralambos (same)
Auxiliary Minelayers: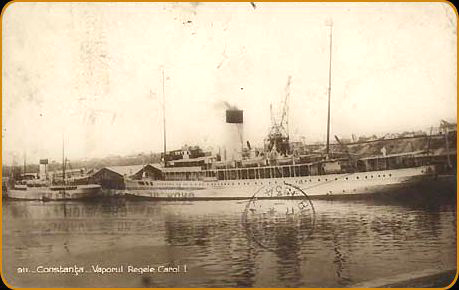 Regele Carol I
Regele Carol I (1898) built in Fairfield, Govan 3600t (2369t) GRT (60.7×12.8×5.6m, 2VTE 6500 hp, 18 kts, 2x20mm AA, 160-200 mines): Sunk October 10, 1941
-Dacia (1907) 3418t (4500t) GRT built in St-Nazaire, Franc. (108.8×12.8×8.4m 2VTE, 6500 hp, 18 kts, 4x 20mm AA, 200 mines): depot ship Aug. 1944
-Romania (1905), Sister ship of Dacia. 2VTE 7200 hp, 18 kts, 4×20 mmAA, 80 mines): Sunk May 11, 1944
Durostor (1911), built in Burmeister & Wain Denmark, 1309 tons GRT (66.1×10.4m, 1VTE, 10.5 kts ? mines): Transport Aug. 1944
Dacia was badly damaged during an air raid in Constanta on 5.9.1944, to USSR in November 1944 as TS Desna. In 1941, both Regele Carol I and Dacia received two and three single 105mm/42 guns respectively. Regele Carol I hit a mine off Varna on 10.10.1941 (Cape Galata) laid by L-5. Romania from December 1942 and until November 1943 was the depot ship of German S-Bootes in Constanta. She was crippled during an air attack off Sevastopol on May 11, 1944, finished off by Soviet MTBs 12.5.1944). Durostor was sunk off Sevastopol on 12.5.1944 during an air attack.
Others: German Tugs A, B, D, F and Basarabia sent to Romania in March 1941 and converted to minesweepers. B and D hit mines SW of Odessa on 24.10.1941 and 25.10.1941 and the remainder returned to Germany by 1943.