T2 Tankers
US Maritime Commission 1940-45: 533 Built
Foreworld: US Maritime Commission Fleet
The United States Maritime Commission (MARCOM) was an independent executive agency of the U.S. federal government created by the Merchant Marine Act of 1936, abolished on May 24, 1950. Created at first to replace WWI vintage vessels of the United States Merchant Marine and operate ships under the American flag. It formed the US Maritime Service for training officers and from 1939 until 1945, funded and administered the largest and most successful merchant shipbuilding effort in world's history with 5,777 oceangoing merchant and naval ships total.
---
♆ Liberty ships – ♆ Victory ships – ♆ Freighters Type C1 – C2 – C3 – C4 – ♆ Tankers T1 – T2 – T3
The T2 Tankers: Bedrock of oil supply in WW2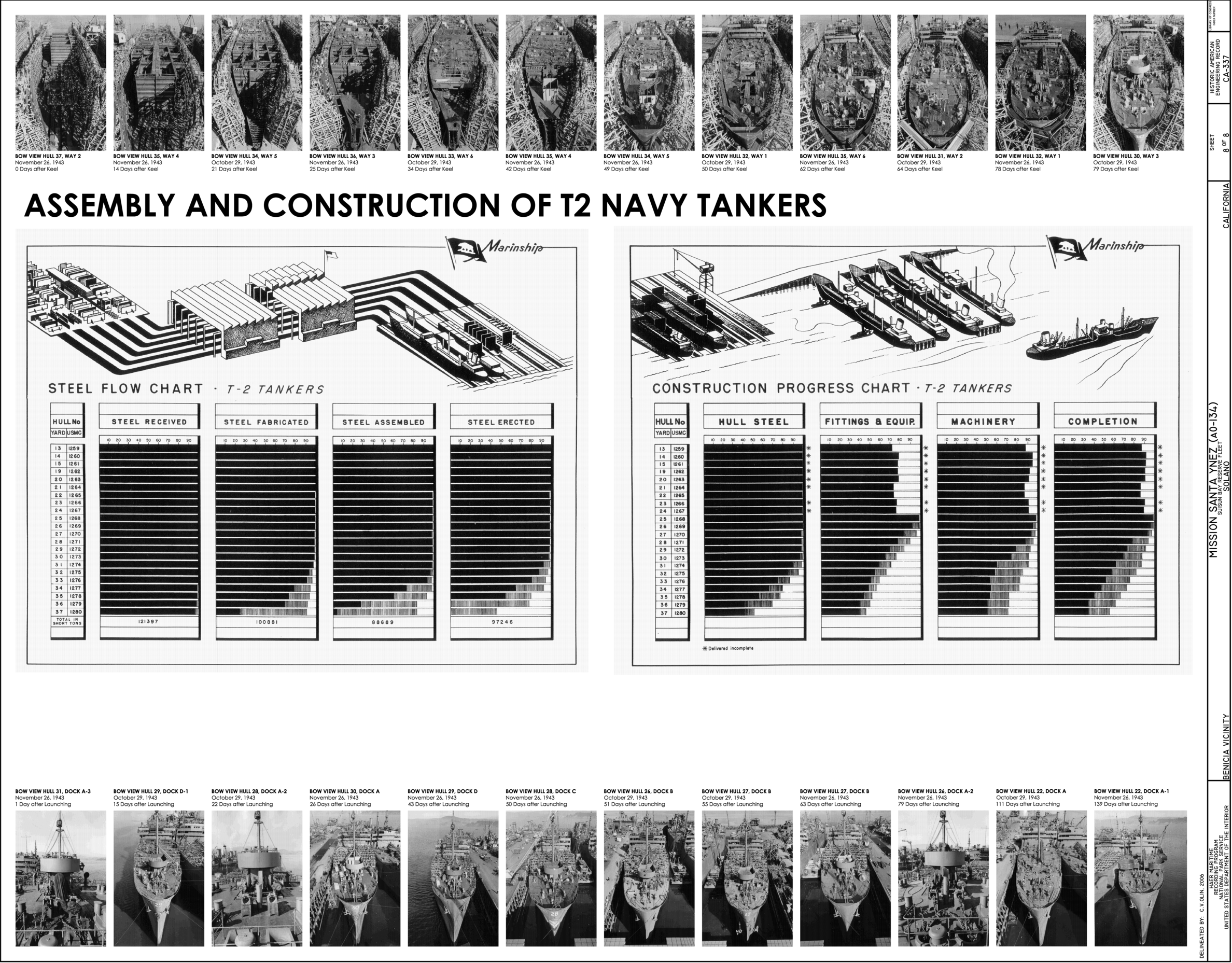 Assembly and Construction of T2 Navy Tankers: Mission Santa nez, Suisun Bay Reserve Fleet, Benicia Solano County, CA
Was the allied effort ever in jeopardy because of oil tanker losses in the Atlantic ? Absolutely. Apart old merchant vessels dating back from the WWI emergency fleet and still running on coal the allied war machine from 1939 depended on oil. From tanks to planes and ships, and virtually all power from field generators for communication or lighting, oil, and oil again.
The axis knew it, and when possible, U-Boat in the Atlantic targeted tankers. In all, 2,603 merchant ships had been sunk (13. 5 million tons) and among these, in almost each convoy, oil tankers were present.
Was the Pacific war winnable without oil tankers ? Absolutely not. The while Pacific fleet out at sea depended on oil for operations at any level, special supply and repair fleets played a huge role having task forces resupplied at sea by fleet tankers, an art perfected in 1942-45, allowed a great degree of flexibility. They fit in a galaxy of fresh water generators, floating freezers, hospital ships, floating drydocks, workshops and repair ships.
Thus we can say, without a doubt, that the 900+ oil tankers (including 500 T2) of all types built in WW2 played a vital part in this allied effort, being the largest standardized oil tanker armada ever built. While these ships had their problem, notably related to a hasty construction and associated structural issues, they still were highly dependable and just the required size to enter most ports and carry their liquid cargo, as well as dispensing it wherever manageable.
Basic design Development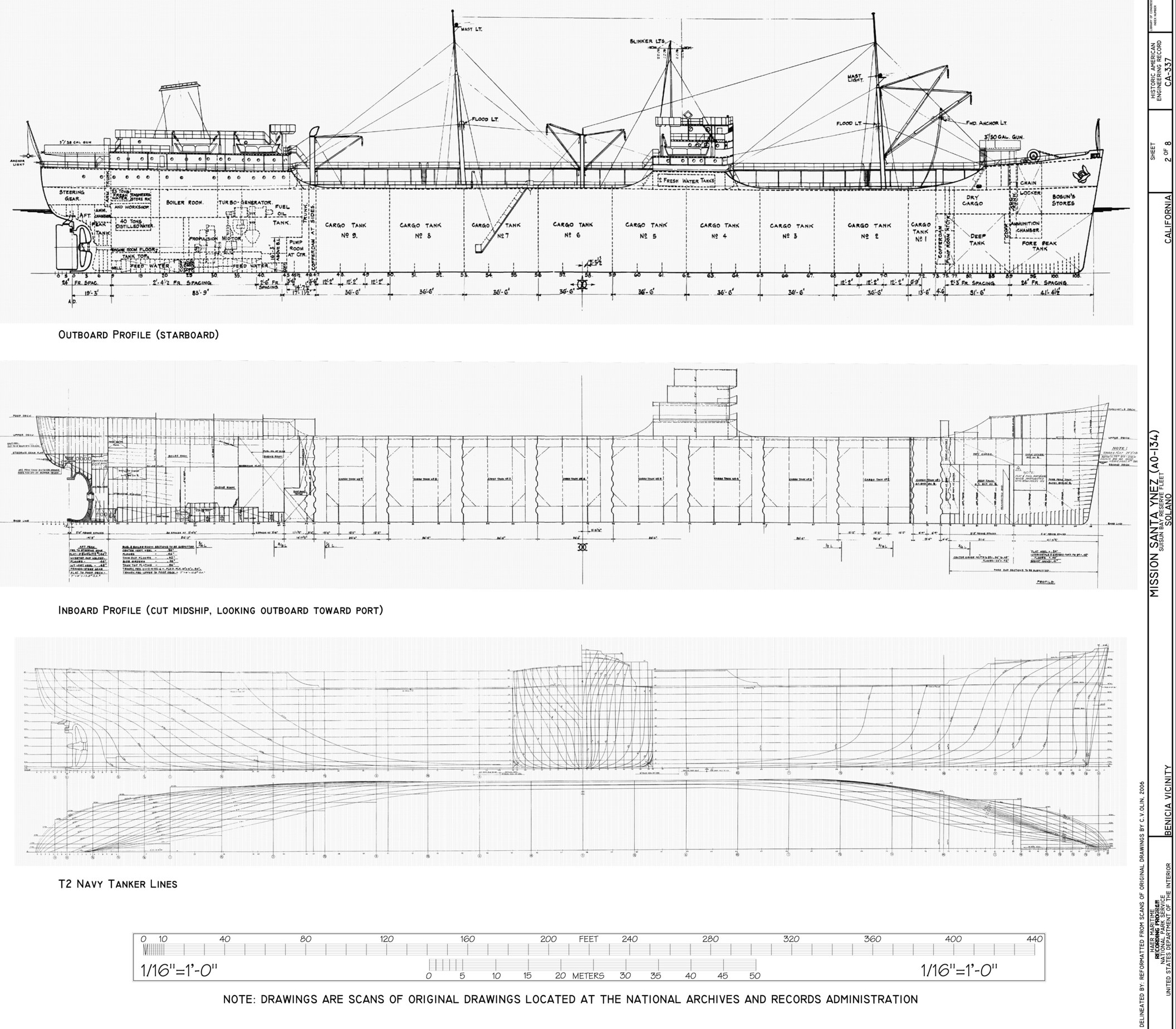 Outboard Profile, T2 Navy Tanker Lines
The T2 were a first of the three main types of oil tankers designed, built and used during WW2, the other two being the larger T3 mostly used as fleet oilers, and the coastal T1s. The T2 were subdivided into several classes (see below) but they all depended on the same basic design. Alteration mostly were in powerplants. Based on the Kannebec class oilers (MARAD T2), these T2 "national defense tankers" designed by the Maritime Commission from February 1942 started with three prototypes based on a typical "two islands" design of the late 1930s.
First Prototypes: The 1938 "Mobil"


Profile of the SS Mobil Fuel (1939-55) Src aukevisser.nl
The T2 design had its root in two vessels built by Bethlehem Steel in 1938–39: SS Mobil Fuel and Mobil Ube. MarCom took the basic design, well proven, and just included more powerful engines as per the Navy's spec of 16.5 knots. Under the State of Emergency, thirteen duplicates of these vessels were also ordered for the merchant marine, first of which were completed in late 1942. By then the Navy wanted more oilers and requisitioned the first five/ This became the Samoset class (ex-Mobiloil was the lead ship, renamed USS Chiwawa). These were however pre-modification vessels limited to 15 knots with their VTE engines, but otherwise identical to the Kennebecs. Design code chosen was rather confusing, T3-S-A1.
The Kennebec class


USS Kennebec (AO-38) off Winoosky, Vermont, showing her two-tone measure 22 livery.
They were tailored for potential militarization with freed spaces fore and aft and reinforced decks to mount ordnance in platforms. The three prototypes were built by Bethlehem Steel for Socony-Vacuum Oil Co, SS Corsicana, Caddo and Calusa. A month later six more were requisitioned, SS Colina and Conastoga and four similar ships which were in completion at the time at Sun Shipbuilding & Drydock for the company Keystone Tankships. These were the "preserie", an enlarged design later called T2-A: The SS Kalkay, Ellkay, Jorkay and Emkay. SS Corsicana was eventually commissioned as USS Kennebec, lead ship of the T2 class and thus, the whole T2 Type. SS Kalkay was renamed USS Mattaponi, making for the T2-A subclass. In June 1942 SS Aekay and Catawba were also acquired. All sixteen Kennebec class vessels survived the war, decommissioned to make way for the faster Cimarron class. Some were recommissioned and the very last was scrapped in 2018 in Turkey.
Hull & Equipments
The T2 had a gross tonnage (DWT) of 15,910 tons, but displaced 21,077 tons. They were called '500 footers' also, as having a 501 ft 8 in (152.9 m) overall lenght, 68 ft (20.7 m) beam, and 29 ft 8.5 in (9.1 m) draft for a maximum depth of 37 ft (11.3 m) fully loaded; They carried 130,000 bbl (~18,000 t) on oil total. Due to this, when fully loaded, their tonnage was 39,000 tonnes. Tis required extra care for strenghtening their double hull. Complement was 214–247.
The basic design had a forecastle, a three storey bridge, two masts on decks fore and aft with booms to lift the heavy oil pipes (notably for refuelling at sea), pumps at all holds, separated into nine cargo tank, occupying the whole forward section, down to the aft island. The latter part was reserved for the crew's quarters, above the machinery space, with the turbines and turbo generator. The ship had extra fresh water tank, used to flush and clear the fuel tanks after operation. The single funnel was raked and located aft.
Powerplant
With their installed power of 12,000 shp (8,900 kW) thanks to two geared steam turbines fed by two standard boilers, mated on a single screw propeller, they reached 16.5 knots (30.6 km/h; 19.0 mph), which was enough to left behing most U-Boats, even surfaced. Range was a comfortable 8,000 nmi (15,000 km; 9,200 mi).
Armament (AO fleet oilers)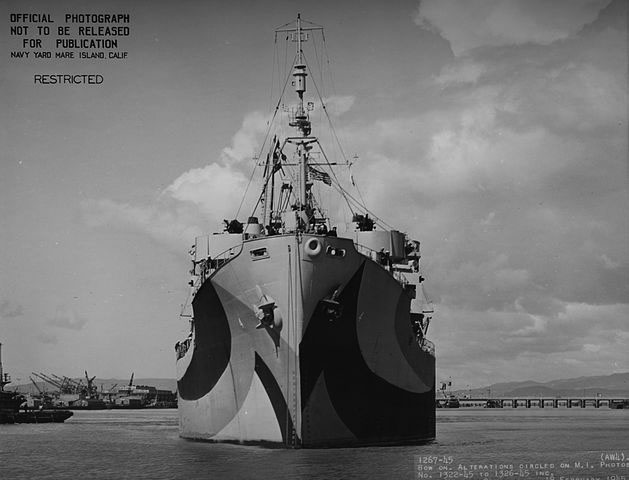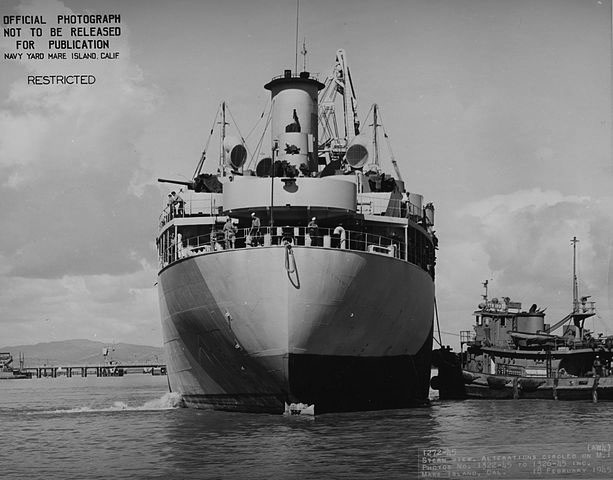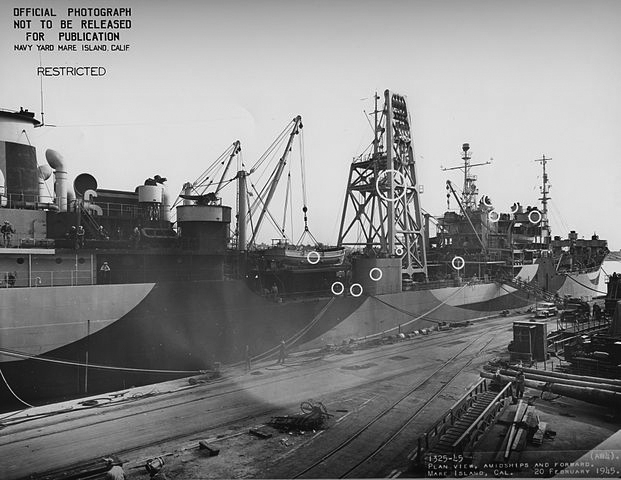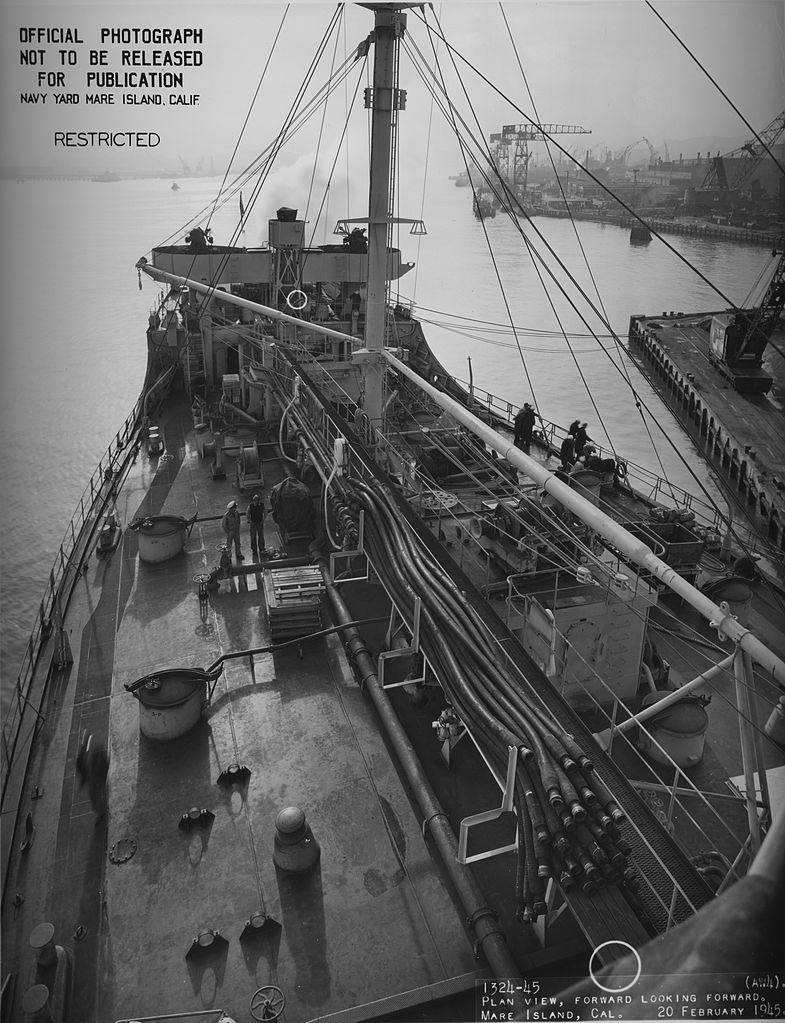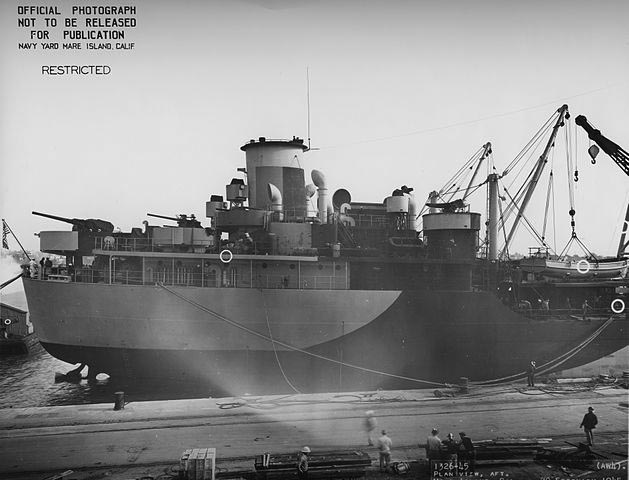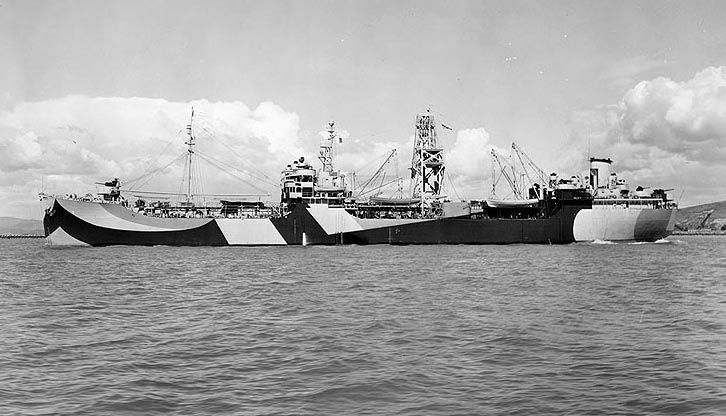 USS Abatan, LCM AW4, ONI photos and description. She was modified as a fresh water distilling plant (Pasig class).
All fleet oilers (AO) were armed, and somewhat well armed, with typically a single standard 5″/38 caliber gun mount provided on the poop platform, usable both for antiship and AA combat, four 3″/50 caliber gun mounts (76 mm) of which two were placed o the forecastle forward and two aft. This was colmpleted by eight 40 mm AA gun mounts, generally in single monts and eight 20 mm AA gun mounts, also single. They were also given two depth charge projectors for ASW warfare but no sonar.
From 1943-44, all vessels gradually received either more AA and/or radars. The addition of the Navy personal to man the guns made the original crew of about 60-80 rose to 214 and even up to 247.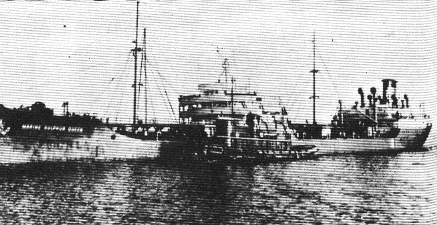 SS Sulphur Queen, sank by broking in two in the 1950s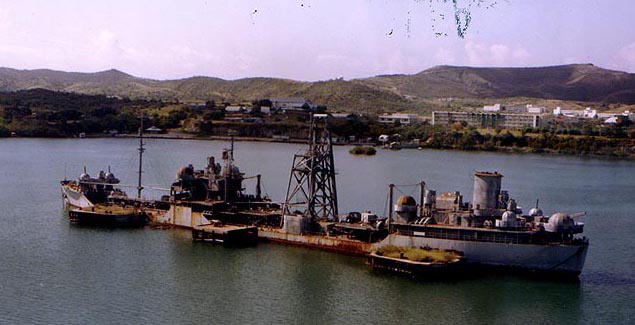 USS Abatan at Guantanamo Bay today. She was one of the longest-service Fleet Oiler in the USN, being only retired after the Vietnam war and disposed of as a target, in early 1980.
⚙ T2 class specifications

Dimensions
144 x 13.2/14* x 4.4/4.5* m (472 x 46-47* x 16.5 feets)
Displacement
4,850 tons standard, 5,925 tons Fully Loaded
Crew
450/469 wartime
Propulsion
2 shafts Parsons turbines, 6 Yarrow boilers, 40,000 hp.
Speed
29 knots (42 km/h)
Range
2300 nm @ 27 knots.
Armament
None
T2-A
Keystone Tankships company ordered five tankers in 1940 from Sun Shipbuilding & Drydock of Chester, Pennsylvania, based on the T2 but longer and with increased capacity; Marcom would designate this design T2-A. Bigger but faster, they were 526 ft (160.3 m) in total length, displaced about 22,445 tons, and were rated at 10,600 tons gross with 16,300 DWT — yet they attained a top speed approaching 16+1⁄2 knots (30.6 km/h; 19.0 mph). All five were requisitioned by the Navy during the war and converted to fleet oilers as the Mattaponi class.
⚙ T2-A class specifications

Dimensions
144 x 13.2/14* x 4.4/4.5* m (472 x 46-47* x 16.5 feets)
Displacement
4,850 tons standard, 5,925 tons Fully Loaded
Crew
450/469 wartime
Propulsion
2 shafts Parsons turbines, 6 Yarrow boilers, 40,000 hp.
Speed
29 knots (42 km/h)
Range
2300 nm @ 27 knots.
Armament
None
T2-SE-A1


A T2 SE A1 Hat Creek at sea, 16 August 1943.
By far the most common variety of the T2-type tanker was the T2-SE-A1, another commercial design already being built in 1940 by the Sun Shipbuilding Company for Standard Oil Company of New Jersey. They were 523 ft (159.4 m) long, 68 ft (20.7 m) abeam, with 10,448 gross register tons (GRT) and 16,613 DWT. Their (steam) turbo-electric transmission system delivered 6,000 shaft horsepower (4,500 kW), with maximum thrust of 7,240 horsepower (5,400 kW), which produced a top-rated speed of about 15 knots (28 km/h; 17 mph) with a cruising range of up to 12,600 miles (20,300 km).
After Pearl Harbor, the United States Maritime Commission ordered this model built en masse to supply U.S. warships already in accelerated production, and provide for the fuel needs of US forces in Europe and the Pacific, as well as to replace the tanker tonnage being lost at an alarming rate to German U-boats.
481 were built in extremely short production times by the Alabama Drydock and Shipbuilding Company of Mobile, Alabama, the Kaiser Company at their Swan Island Yard at Portland, Oregon, the Marinship Corp. of Sausalito, California, and the Sun Shipbuilding and Drydock Company of Chester, Pennsylvania. During that period, average production time from laying of the keel to "fitting out" was 70 days. The record, however, was held by Marinship, which had Huntington Hills ready for sea trials in just 33 days.
⚙ T2-SE-A1 specifications

Built by Alabama DD. & SB. Co., Mobile, Alabama. *after modernization

Dimensions
159.6 m (168.25 m*) x 20.7 m (22.92 m*) x 9.1 m
Displacement
10,172 tons GRT (12,532*), DWT 16,613 tons
Crew
30 ?
Propulsion
Main engine: 5,399 kW
Speed
15 knots
Range
as T2
Armament
as T2
T2-SE-A2 and -A3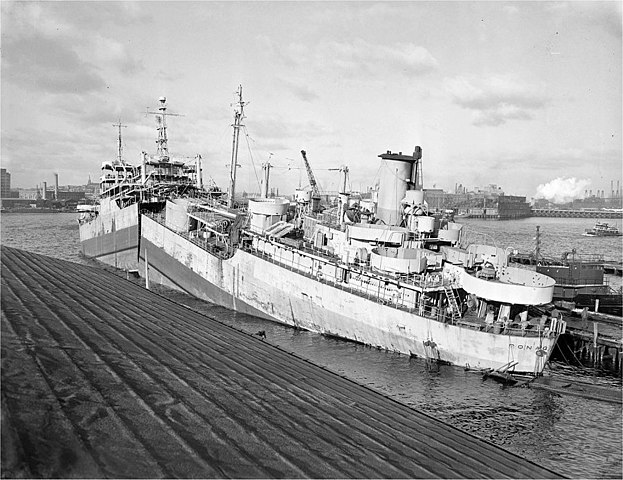 The fleet oiler USS Onaganset (AO-86) fractured in port. A T2-SE-A2 model, she had a measure 2 camo graded, Dark, Ocean and light Gray.
These were built by Marinship of Sausalito Yard. Nearly identical to the T2-SE-A1 but with an output of 10,000 hp (7,500 kW) rather than 7,240. The A3 was a naval oiler from the start, not converted later as A2s. They had the full equipment for refuelling at sea and a powerful defensive armament.
⚙ T2-SE-A2/A3 specifications

Propulsion
Main engines: 10,000 hp (7,500 kW)
Speed
16 knots?
T3-S-A1
T3-S-A1s were built by Bethlehem Sparrows Point Yard, for Standard Oil, New Jersey. They were identical to the original T2s but with downgraded powerplant, of just 7,700 hp (5,700 kW). 25 of such ships were ordered by the Maritime Commission, five later used as fleet oilers, the Chiwawa class. These WERE NOT the actual T3 design
⚙ T2-SE-A2/A3 specifications

Propulsion
Main engines: 7,700 hp (5,700 kW)
Speed
as T2
T2-A-MC-K
The T2-A-MC-K were smaller, with a M.C. deadweight tonnage of 16,300 tons, and fully loaded, 22,445 tons. They were shorter at 526 ft (160 m), narrower at 68 ft (21 m) with a draft ranging up to 30 ft 10 in (9.40 m) max. Their new turbine produced 12,000 hp (8,900 kW) for 17.5 knots (32.4 km/h; 20.1 mph), making them the fastest Oilers at the time. could hold 117,400 Bbls of oil and 595,000 gal of gasoline. Crew of 23 officers and 329 enlisted men. Armament: one single 5'/38 cal dual purpose gun mount, four single 3″/50 cal dual purpose gun mounts, four twin 40 mm AA gun mounts and twelve single 20 mm AA gun mounts. The first was commissioned in 1942 and USS Patuxent, a Kennebec-class oiler, was a good example.
⚙ T2-SE-A2/A3 specifications

Dimensions
526 ft (160 m) x 68 ft (20 m) x 30 ft (9.4m)
Displacement
16,300 tons GRT, 22,445 tons FL
Propulsion
Main engines: 12,000 hp (8,900 kW)
Speed
17.5 knots (32.4 km/h; 20.1 mph)
Armament
See notes
Range
as T2
Wartime Career of notorious T2 ships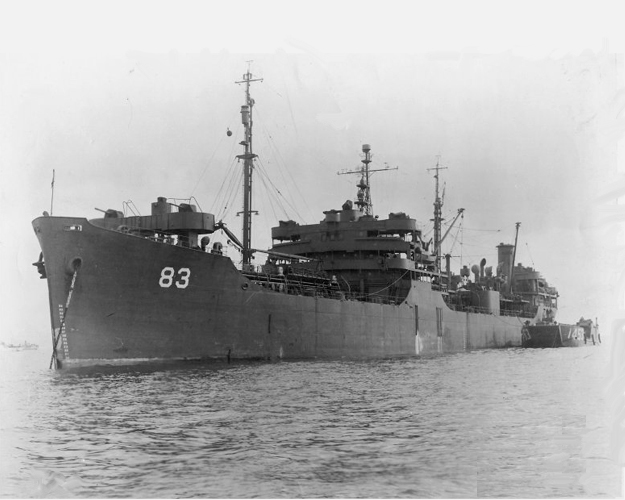 USS Macoma, AO 83, in dark blue livery.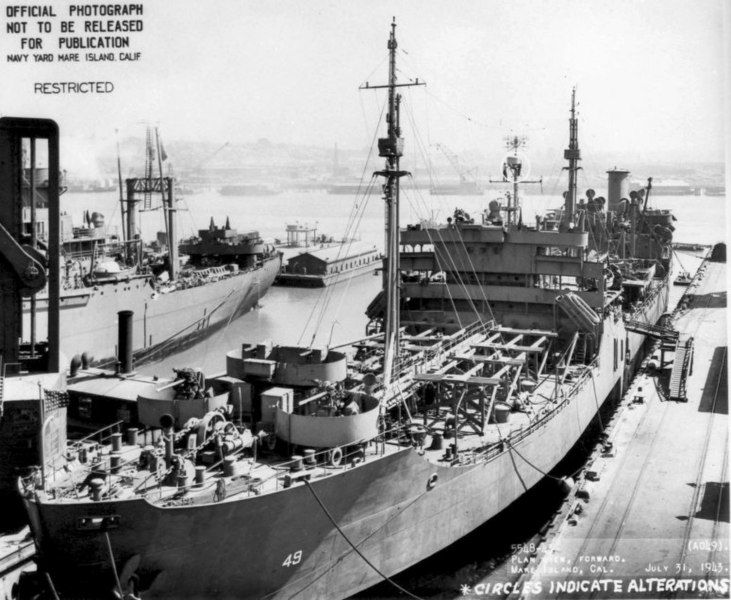 USS Suamico, AO-49, in dull marine gray. ONI photo showing her bow 5-in and Oerlikon AA guns, and surface radar alteration of 1943. Mare Island Arsenal, July, 31, 1943.
Controversial hull structure weakness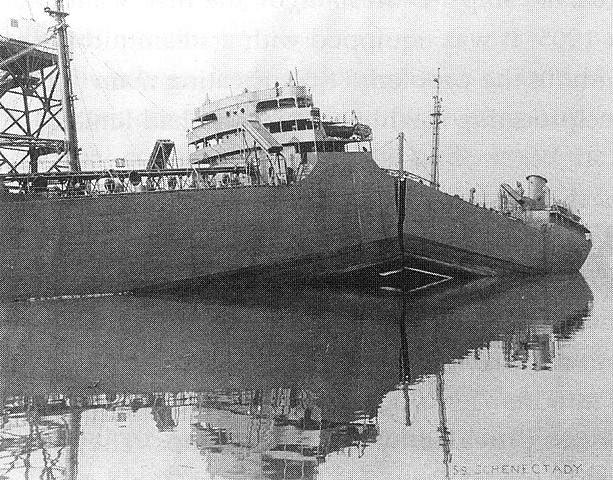 USS Schenectady in January 1943.
In WW2, USS Schenectady broke in two at 11 pm on 16 January 1943, a few days after completing her sea trials. It happened while lying at the outfitting dock in Portland, Oregon in pristine weather. The hull failure was sudden, and heard a mile away. The Kaiser Shipyard oiler was the first and most notorious catastrophic T2 hull failure. The failure started on the deck between two bulkheads, ran down to the keel, initiative by a defective weld present in stress concentration point of the design.
It was compounded by poor welding procedures, cited later by the investigating committee. It contributed but was not critica in itself. Mass-production and metallurgical welding issues were not fully understood at the time, combined to a competing, challenging need to out-do other yards by production time. This ended with a serie of equally critical ship's breaking up accidents, fuelling a relatively poor reputation, but most losses were simply from enemy action, with the critical failure added as aggravating factor. Indeed many oilers survived one of even several torpedo impacts due to their double, or even triple hulls in some cases, showing amazing resilience.
SS Caddo (1942) sank on 23 November 1942 (hit by torpedo U-518, North Atlantic)
SS Esso Gettysburg sank on 10 June 1943 (from U-66)
SS Bloody Marsh sank on 2 July 1943 (from U-66), on "Bloody Marsh", maiden voyage
US Touchet sank on 3 December 1943 (from U-193) in the Gulf of Mexico while en route to New York from Houston
SS McDowell sank on 16 December 1943 (from U-516) off Cuba.
SS Fort Lee sank on 2 November 1944 (from U-181), Indian Ocean.
SS Jacksonville sank on 30 August 1944 (from U-482) off Ireland, convoy CU 36
USS Ponaganset: Accident: Broke in two at pier in Boston
SS Nickajack: Sank 30 March 1946 in Eniwetok Harbor underway to Yokohama
SS Glenn's Ferry: Sank on 6 October 1945 at Batag Island, Philippines, bound to Manila after explosion
Postwar Civilian Career
Since some of the T2 were completed after the end of WW2, there was no way to have been scrapped afterwards. The USN curtailed its fleet oilers (AO) fleet, most being sold to civilian owners, just like other T2 exploited by MARCOM. They were sold quickly at low prices due to the double concerns of the Commission and state to still own these ships under US taxpayer expenses, and their known safety concerns, as all mass-produced ships in wartime. Indeed, the T2 were soon notorious for many accidents in the 1950-60s. They were used to transport fuel oil, diesel fuel, gasoline and sometimes black oil-crude oil. Many were also sold to foreign companies and served well into the 1980s despite their age and issues.
Fro example, SS Bemis Heights sank on 5 November 1948 off Quoin Point, South Africa, SS Pendleton, broke in two on 18 February 1952, same for SS Fort Mercer on 18 February 1952, SS Salem Maritime exploded on 17 January 1956 while unloading fuel in Lake Charles, Louisiana. SS Midway Hills sank on 2 October 1961, broke in two from after an engine room explosion off Jacksonville, Florida. Also SS Marine Sulphur Queen (disappeared, causes unknown, 4 February 1963), SS Bunker Hill (6 March 1964, explosion, broke in two), SS White Bird Canyon (sank 17 December 1964, bad weather in the Aleutians), SS Rainier (wrecked and sank 22 December 1965, SS Fort Schuyler engine room fire, sank 24 October 1966), SS Ninety-Six (sank 3 March 1971, leaking in storm, Indian Ocean), SS V. A. Fogg (lost 1 February 1972), SS Belridge Hills (Sank 24 December 1972, gale off Japan), SS Marine Floridian (1977 collision with a drawbridge), SS Marine Electric (sank 1983 storm), Delta Conveyor (sank in the Mississippi River Louisiana, raised 2003).


Ideal X was one of the most famous tanker postwar, being the very first container ship. The former Marinship Corporation's Potrero Hills, she was later purchased by Malcom McLean's Pan-Atlantic Steamship Company, and made history. She could carry 58 containers, inside her holds and on deck platforms, making intermodal transport way faster.
Fleet Oilers's cold war Career
Being that recent, many fleet oilers still in the USN were put to good use to refuel the USN armada deployed off the coast of southern Korea duing the Korean War. Better so in 1966, the US Army reactivated 11 T2 tankers and converted them into floating electrical power generation plants (alongside those used for refuelling the fleet). Their propulsion systems with electrical turbines generate current for on-shore use, based on their classic tubines and own fuel (150,000-barrel holds). These giant generators could in that case stay in place for two years, continuouslt providing electricity, without ever refueling. This is a rarely spoken of contribution to the Vietnam War. USNS French Creek was in fact the first to arrive, in June 1966, followed by USS Kennebago, both berthed at Cam Ranh Bay.
Gallery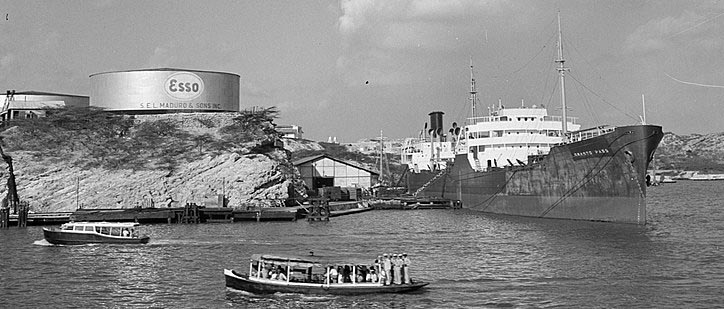 A Former T2 in Curaçao, Willemstad Port.


Details on the deck of SS Fort Lee, Feb. 1945 at Mare Island, California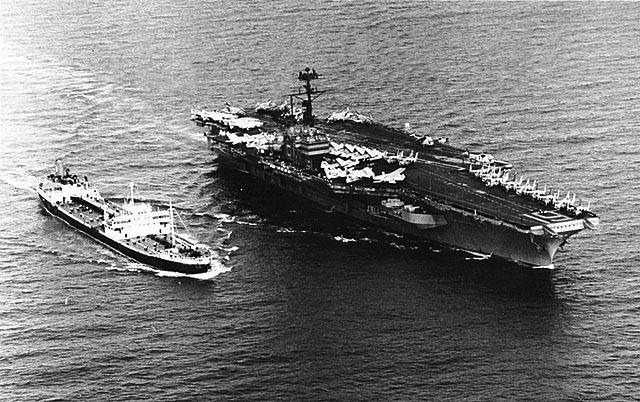 USS Ranger refuelled underway at sea by SS Council Grove, 1974.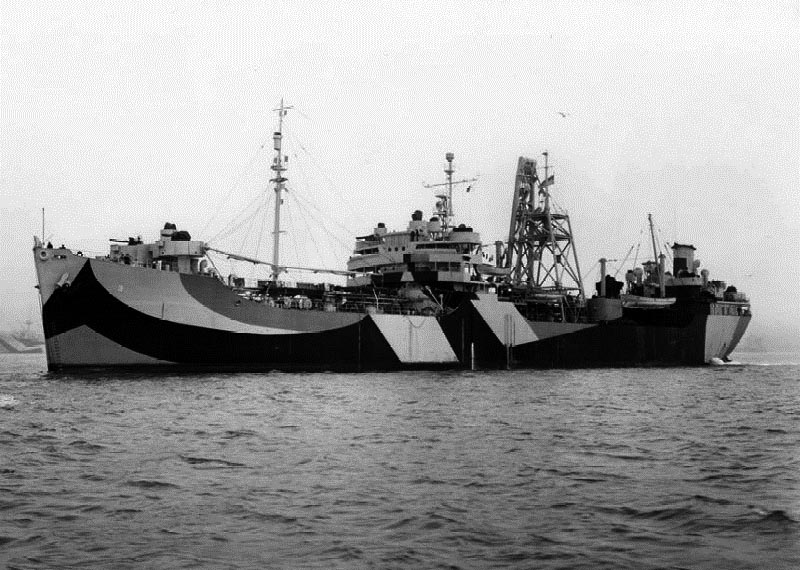 USS Pasig, water distilling ship, one of the four ever built in WW2, and lead ship.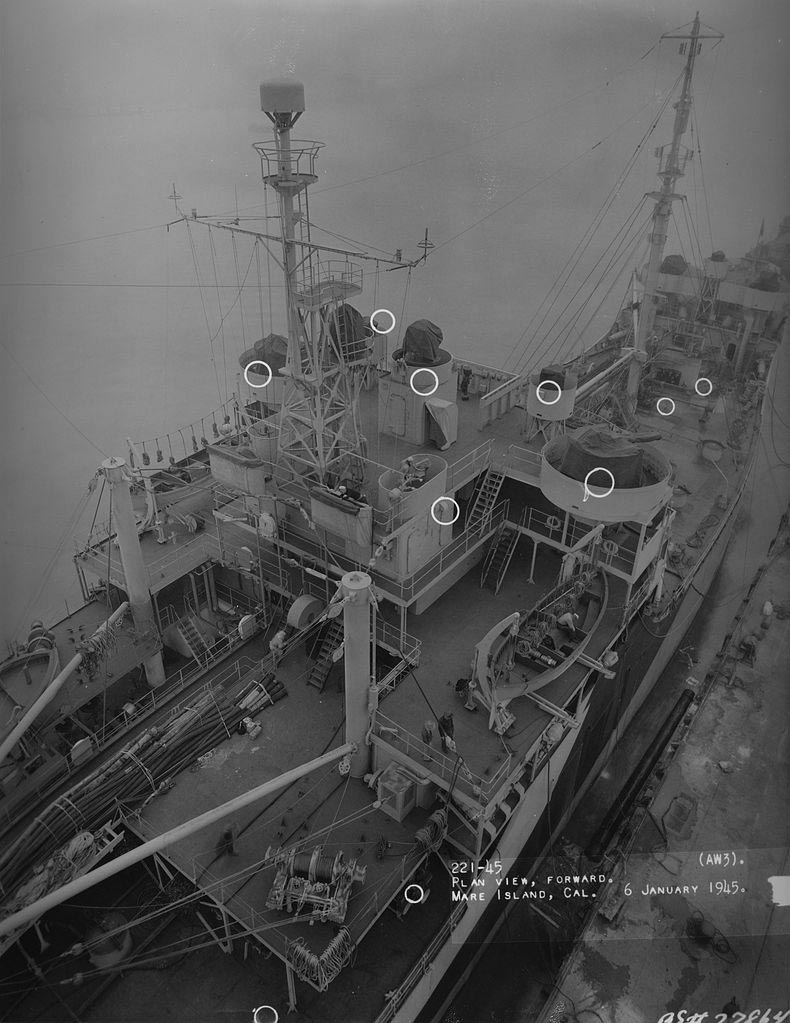 USS Pasig (AW-3, Pasig class) ONI Mare Island, 6 January 1945

Tanker Esso, Manhattan, underway with PT-boats in 1943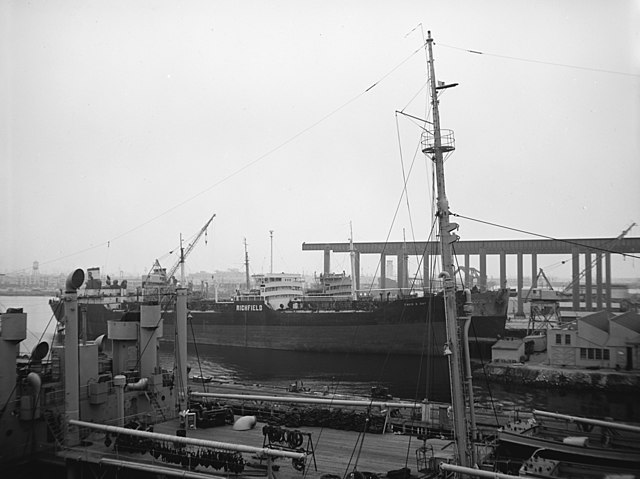 Richfield Oil Corporation type T2-SE-A1 David E Day in port, circa 1950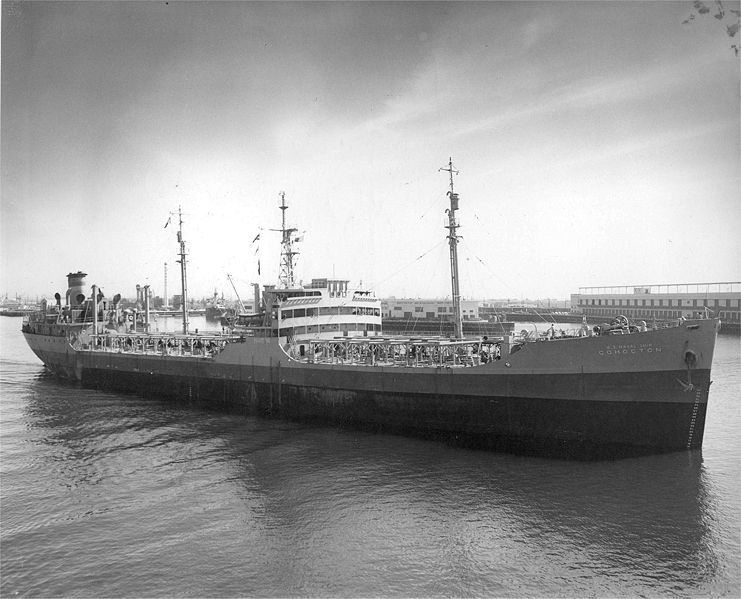 USS Cohocton, with a two-graded Type 2 measure camouflage, 1942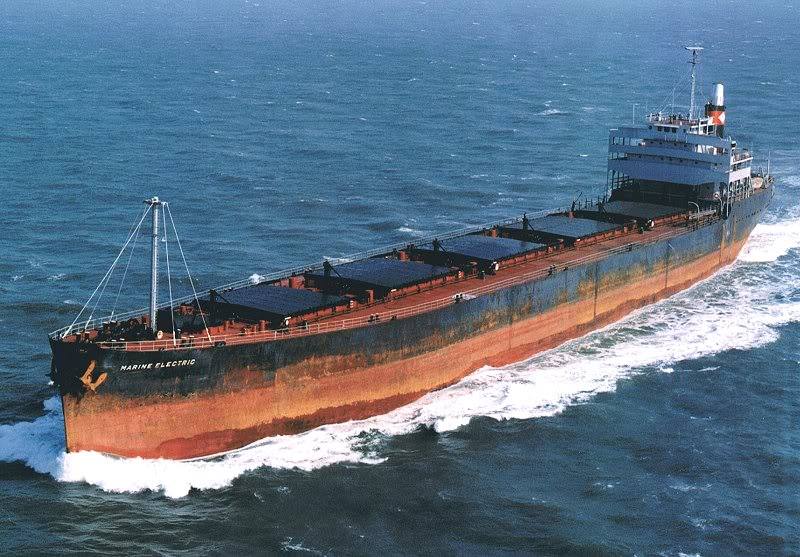 SS Marine Electric, a former T2 converted as bulk carrier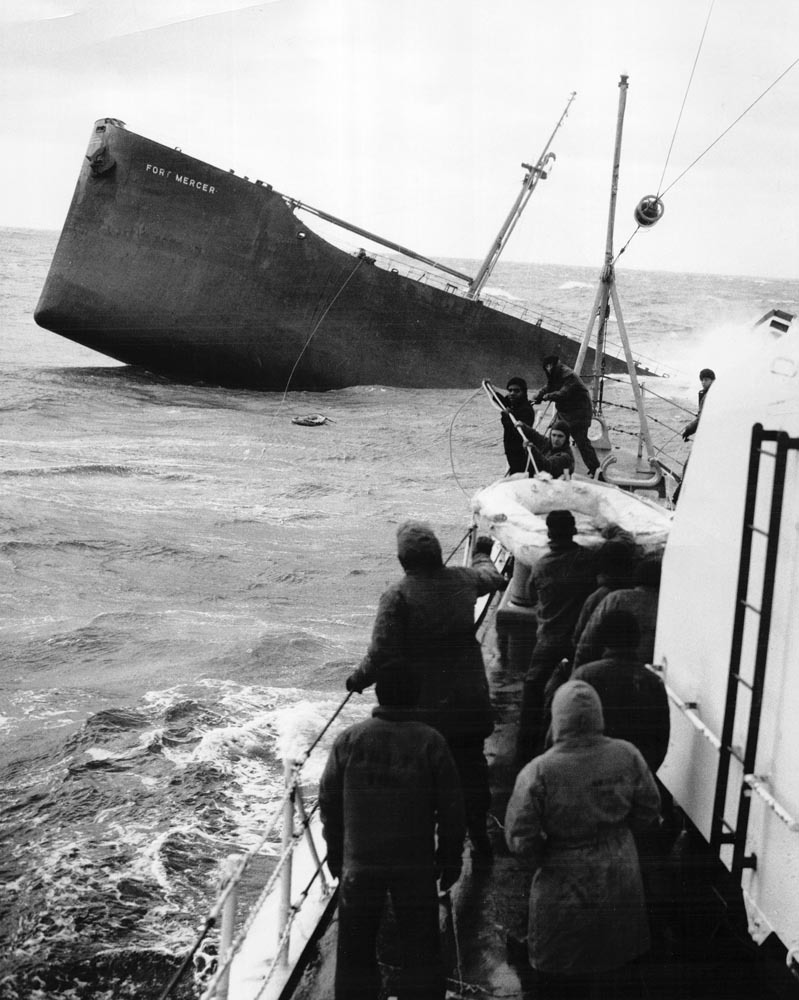 SS Fort Mercer prior to sinking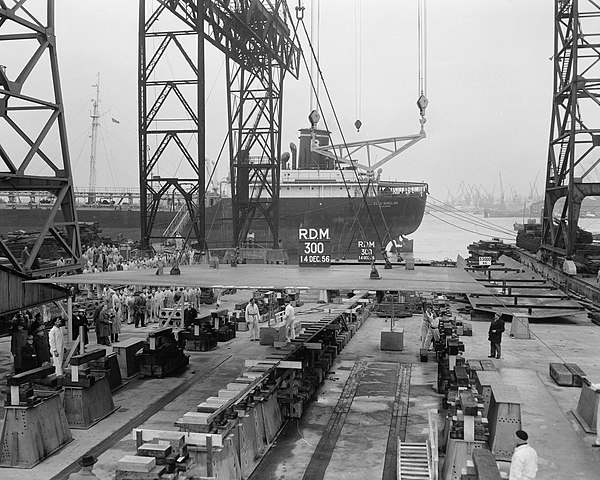 Dutch Tanker at Rotterdam, HAL Company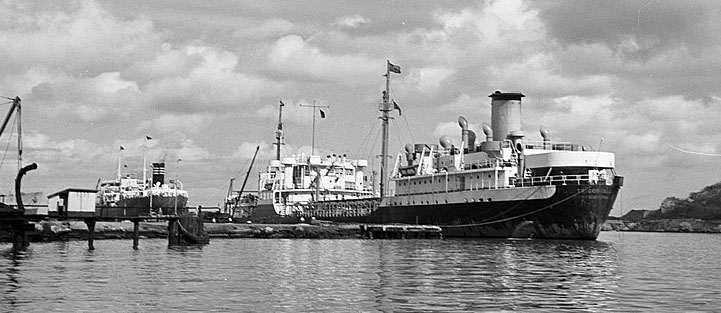 A Tanker postwar for a Dutch Company CPIM in Curaçao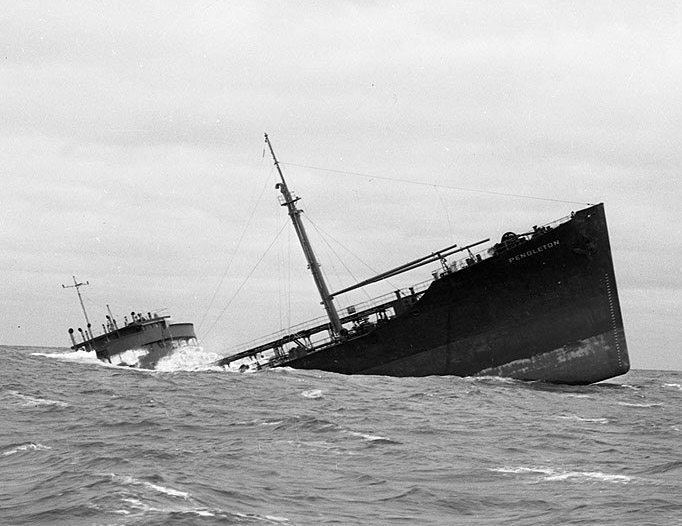 SS Pendelton sinking
Links and sources
aukevisser.nl
Suamico_class_oilers
Kennebec_class_oilers
www.t2tanker.org
www.nytimes.com/1943/03/18/archives ship-failure-laid-to-steel-welding-investigators-report-that
aukevisser.nl/t2tanker/id94
mariners-l.co.uk/T2
shipsnostalgia.com/media/trigonosemus
helderline.com/tanker/trigonosemus
shipbuildinghistory.com/shipyards/emergencylarge/kswanisland
shipbuildinghistory.com/merchantships/2t2tankers
cnooks.nl/Jubileum
pwencycl.kgbudge.com/T/2/T2-SE-A1_class
ibiblio.org/hyperwar/USN/ships/ships-mc
navsource.org/archives/09/19/19044
T2_tanker
United_States_Maritime_Commission
navsource.org/archives/09/19/19081
ncsp.tamu.edu/reports/USCG/salemmaritime
jstor.org
/pmars.marad.dot.gov/