Bundesmarine (1960), 12 boats: U-1 to U-12
The Bundesmarine's reboot subs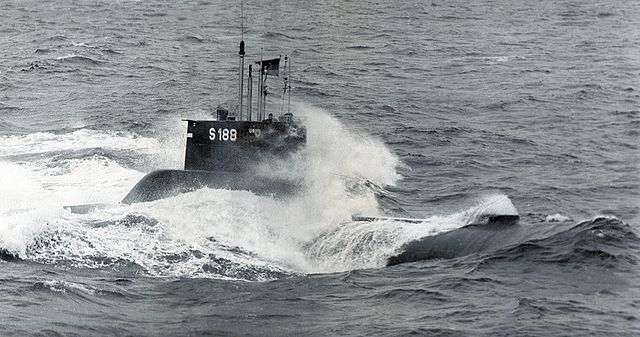 U9 of the 205mod class in the north sea, 1980s
The Bundesmarine's naval program including defendive submarines for the baltic sea as early as in the 1950s, but the West German submarine force was starting almost from scratch again. The first step was to refloat, repair, restore and modified former Type XXI and Type XXIII that sunk close to shore, and started from there, leading to the "Hai" serie, and then the Type 201, the first "new" submarine designed created in Germany. Three were operational in 1962. However the choice of building them with amagnetic steel to counter magnetic naval mines, without proper quality tests, meant theur hulls developed ramidly microscopic cracks. As scandal followed, leading to the cancellation of nine of the twelve ordered and complete rebuilding of the first two.
U 3 was indeed intentionally destroyed in trials in high pressure chamber "Dock C" at Marinearsenal Kiel 1971 and scrapped, achieving its purpose. The rebuilt boats became the Type 205 submarines, undet the same team for design and construction, Ingenieurkontor Lübeck (IKL), headed by Ulrich Gäbler. These Type 205 were a direct evolution of the Type 201 class but with a lengthened hull, new machinery and sensors and most importantly using the proven ST-52 steel for their pressure hull instead of the non-magnetic steel. The Bundesmarine would have it's non-magnetic hulled subs eventually, after many tests and R&D, with the follwp-up Type 206.
About U.Gäbler and IKL
Ulrich Gäbler (1 October 1913 – 24 February 1994) was a German shipbuilding engineer, specialist of diesel-powered submarines. In WWII he was already chief engineer in the U-boat force, sailing on U-121 and U-564, then XO in command of Reinhard Suhren. Suhren recommended Gabler for the Knight's Cross of the Iron Cross but he would later received a German Cross in Gold on 15 October 1942. Jusged too precious for war service he was remarked by Dönitz and turned to the marine design bureau dedicated to new U-Boat programs. As such, he worked on the development of the XXII, XVII A and XXVI classes.
Her was indeed released from the Navy in 1943 to work on submarine construction in Kiel, as a designer for the R&D of new promising class and with Professor walter, trying to install and teste the feasbility of his revolutionary turbine, the world's first AIP (Air Independent Propulsion). From 1944, Gabler was promoted to the design office Ingenieurbüro Glückauf in Blankenburg (located in the Harz mountains), where the development of the Walter Type XXVI submarine took place under the lead of director Karl Fischer. Gabler became a lieutenant captain (engineer) and took the head of the Blankenburg office, also responsible for the development of micro-submarines of which only three prototypes were built in 1945. None of the XXVI boats planned were manufactured, and he was ordered later to Wilhelmshaven as flotilla engineer, to undertake the displacement of the school U-Boats from Pillau and Memel in East Prussia to the front-line. The war ended when he was still there, and he escaped to the west.
Gabler returned to an engineering office in Lübeck in the winter of 1945 belonging to Krupp AG, later dissolved by the occupying powers. In 1949 together with Fritz Ebschner, he founded the Trave shipyard Ebschner & Gabler, which closed in 1958. Gabler + Ebschner later founded Ingenieurkontor Lübeck (IKL). From 1958 onwards, the IKL was active in the development of submarines for the Federal Republic of Germany and export customers, reusing ww2 knowledge just as the infamous clandestine Reischsmarine bureau at the Hague (NV Ingenieurskantoor voor Scheepsbouw) which in the interwar went on with WWI U-Boat design for vaious customers.
Given its pedigree, IKL soon became the leader in the field of submarine construction in Germany. The IKL developed indeed all post-war classes of conventional submarines for the Federal Navy (Bundesmarine) under the lead of Gabler and Christoph Aschmoneit. The Ingenieurkontor Lübeck (IKL) notably designed the type 201, 202 and 209 submarines. The Type 209 submarine class was its greatest achievement, a stunning export success for the German shipbuilding industry. In 1958, Gabler became a lecturer in "special shipbuilding" (naval shipbuilding) courses at the University of Hamburg, appointed honorary professor in 1963. He retired in 1978. The IKL was taken over by Howaldtswerke-Deutsche Werft in Kiel in 1994, becoming organic by this submarine specialist.
Operational Context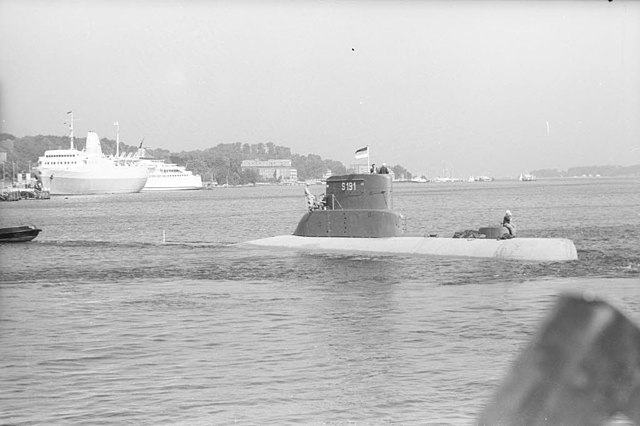 U 12 in Kiel, after completion.
Every expert of naval warfare in the Baltic is aware of the risk from magnetic bottom mines (lying on the seabed and magnetically detonated when an U-Boat passed by). It naturally became the soviet perfect weapon for these shallow waters. In World War two already, German submarine commanders asked repeteadly for a material that would coat their hulls or at least hull bottoms, and not react to magnetic detonators. Soviet Intel was able from a 1960 report to deduce that German submarine construction was experimenting with non-magnetic steel and ran into difficuty in the process. The German troubles were not a surprise for any foreign intelligence services, but hidden to the German public. The research on non-magnetic outer skin was reported also from Norway as tested in Oslo by the head of the equipment office of the Norwegian Navy Frigate Captain Pettersen as the Type 201 were also ordered by Norway from Germany, not affected by these defects since built from a "different type of steel".
The German public learned eventually via a press leak that the steel used was brittle and cannot withstand pressure. Lieutenant Colonel Viebig assured that the ships were still "submersibles" this was turned into ridicule by the Deutsche Zeitung about the real mening of "submersible." On April 27, the inspector at last made a public announcement of the failure, relaying Vice Admiral Karl-Adolf Zenker, in Nordholz, near Cuxhaven, stating that Eight boats -six already in completion, two still under construction- would have to be converted and the first four would be in the end, technically perfect, but that the overall cost was on "in the millions" DM. On May 3rd, Hamburg's "Die Zeit" specified that this non-magnetic steel was of Austrian origin and Austrian company that manufactured it also offered the steel to the Soviets which allegedly "gratefully declined". On May 7, the DoD spokesman refused to disclose the name of this Austrian company but it was leaked by a Viennese daily newspapers as the state-owned Schoeller-Bleckmann Stahlwerke AG of Ternitz.
Delegates of this company went to Kiel at Howaldtswerft led by Dr. Josef Fitzinger and engineer Souresny. After excuses and apologies still, the damage was done and a storm was developing at the bundestag with already the opposition speaking of a demission of the MoD. The DoD tried to alleviate critics by stating that under NATO obligation concerning operations in the baltic, the Bundesmarine was forced to adopt rapidly a particularly delicate, untested and technically complicated order. Indeed the latter was true, but not categoric about non-magnetic hulls. In early 1960, when construction of the Type 201 was just started at Howaldtswerft the then Federal Minister of Defense, Franz-Josef Strauss, described NATO's task for his services:
To prevent escape of Soviet naval units, especially submarines, into the Atlantic,
To prevent Soviet transport by sea of armoured vehicles (and thus outflanking land forces)
To prevent Combined attack operations by Land, air and sea
To fight around Danish islands
To make a last stand at the Skagerrak if needeed
There was an expectation that in emergency, the Soviets will not be able to gain possession of the Danish Baltic Sea through combined air, land and sea operations or through a land advance via the Schleswig-Holstein-Jutland Great Belt, and Øresund. The mass of ocean-going Soviet submarines in the Baltic ws estimated at the time around 55 (out of 110) supposedly stationed in the Baltic and suitable for Atlantic operations. It alone suggested that the Russian naval command either expected to be able to control Baltic Sea access, or planned to send ocean-going boats to the Atlantic before even the outbreak of war, if they attacked first. Strauß precised that the Bundesmarine alone certainly could not prevent the breakout of Soviet naval formations, especially submarines. But as long as the banks of Öresund and the Belt remained Danish, experts believed that Soviet naval forces would have no chance of breaking through the Skagerrak, which was fortified by any means and dotted with radars and bottom hydrophones.
On the other hand, Baltic Fleet Subs were considered to have significant potential in a long-term war in Central Europe. Soviet land forces would then be largely dependent on the Baltic for supplies along the way, with few railway lines available, way to obvious targets, as bridges. The strategic consideration given by Bundesmarine inspector Vice Admiral Ruge were:
"If it is ensured that the Baltic Sea is accessible at all times to fleets coming from outside, the pressure of the major sea powers will have an effect on the Baltic Sea into the thousand kilometers of Soviet-occupied coast, which is well suited for landing over almost its entire length. This ties up a significant number of Soviet divisions on the coast. The major maritime powers already exert this pressure during peacetime… »
His successor, Vice Admiral Zenker, also stated that although the Baltic was a marginal combat area, it still led to a possible open flank offensive that would be devastating. It was not at random that the bulk of the Soviet Marines Forces and amphibious fleet was based in the Baltic. Since both in WWI and WWII German effort focused on the Atlantic, little efforts and no special preparations were made for submarine warfare in the Baltic Sea, or practical experiences were hardly evaluated in the cold war. This fact was to prove disastrous for the German submarine force, which under pressure of NATO demands, perhaps too eagerly accepted at the time given German capacities, construction was carried too quickly and without analyzing Baltic Sea experience. The non-magnetic submarines proved that it is never possible to develop a submarine prototype, use it for a few years, research it, and identify defects in the material and just determine the construction in such short span. Such testing was evaluated at least to last two years.
Construction programme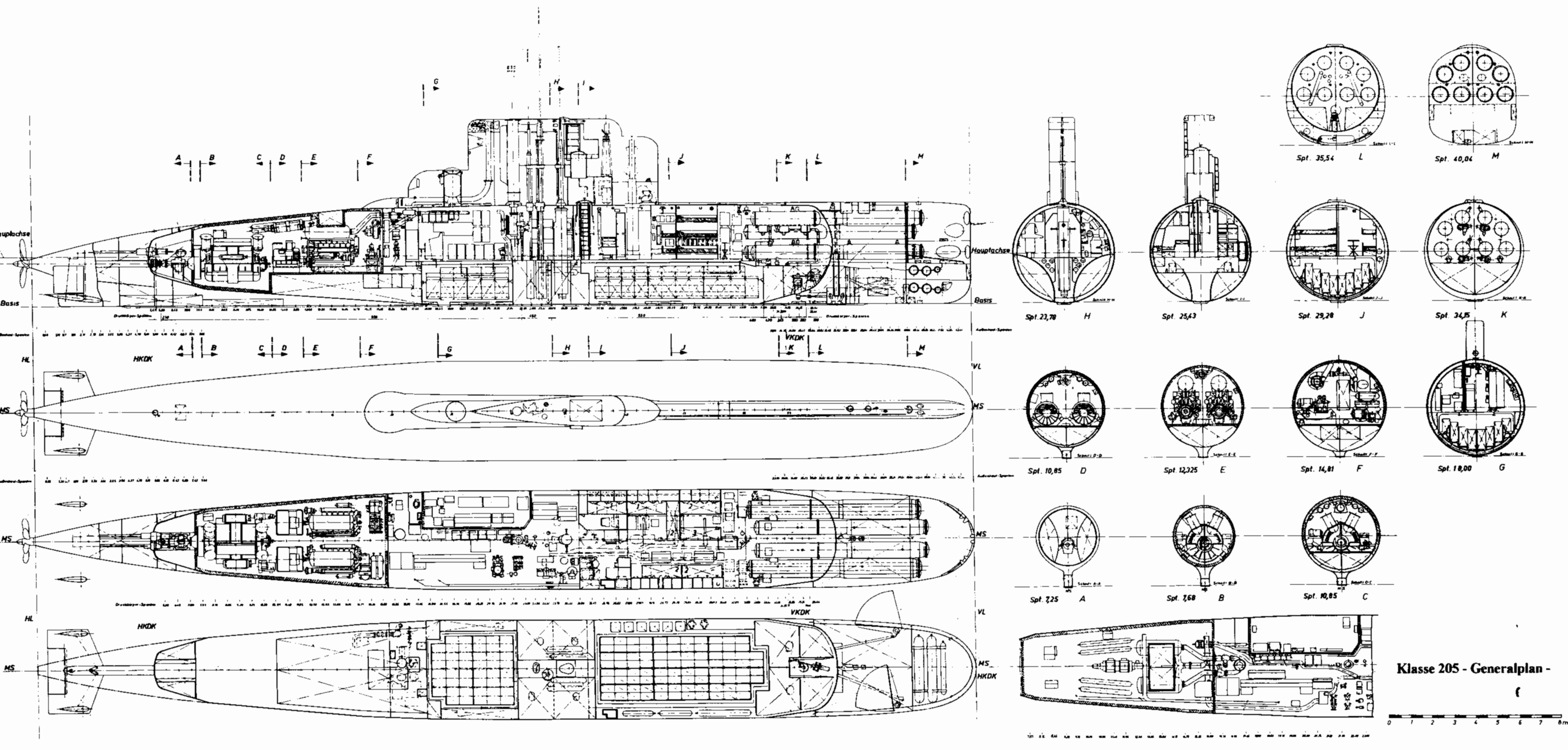 Detailed plans, now declassified (Bundesarchiv).
Whatever the case, the result was the same; The Bundesmarine, instead of rapidly fielding twelve modern submarines, one of its most ambitious program yet, was to restart, scrap the Type 201 due to manufacturing problems, to rebuilt the boats with a new hull and completely restting the way these submarines could be built into a new naval program, in which additional requirements were made for the construction of 201 class boats, originally planned to be twelve.
The complete program reboot led to the Type 205 from the 4th boat. They were supposed to have improved ranges compared to the 201 class, were slightly longer, slightly larger and heavier displacement. At a Bundesmarine request on October 19, 1962, the Western Engineering bureau charged of limiting submarine size to strickly small defending boats under NATO guidance, sanctioned restrictions on surface displacement, enabling a jump from 350 t to 450 t above-water displacement and subsequently the 350 t overall limit for new upcoming German Submarines.
The Type 205 class in effect really started with U 4, which construction was delayed. S183 (U-4) was indeed laid down on 25 August 1962, launched on 19 November 1962. After being completely rebuilt S180 U-1 was launched on 17 February 1967, comp. 26 June 1967 and S181 U-2 on 15 July 1967, completed on 11 October 1967. Both outlived the others in the class by far, still around for tests until 1993.
U4 joined a total of 9 boats until 1969. The previous class 201 U 1 and U 2 long conversion to the class 205A standard (2 of this sub-class) made the "regular", earlier Class 205, together with the 205A, a force of 11 submarines. Further conversion saw U 1 used as test boat for air-independent propulsion (AIP) from 1988, explaining her longer career. The arrival of non-magnetic hulled Class 206 submarines in 1973 pressed retirement of the five Class 205 submarine, decommissioned promptly.
Three of these survived to this day: S188 U-9 decom. 3 June 1993 and turned to a Museum ship at Technikmuseum Speyer, S189 U-10 on 16 February 1993 and museum ship at Wilhelmshaven and S190 U-11 on 30 October 2003 (latter of the class) as a Museum ship in Burgstaaken, Fehmarn. U-12 was retired in 2005 but scrapped.
Gallery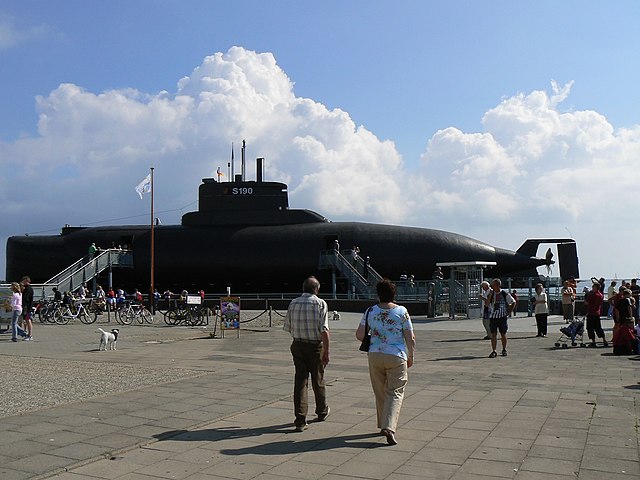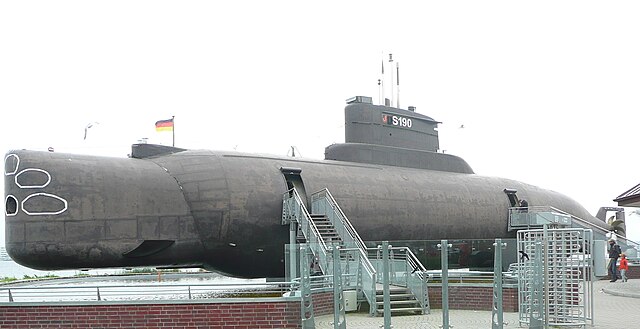 U11 Museum Boat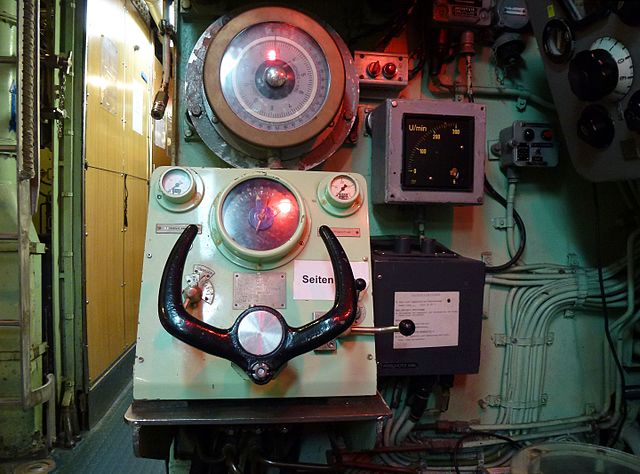 Dive wheel and control


Control Room


Torpedo Room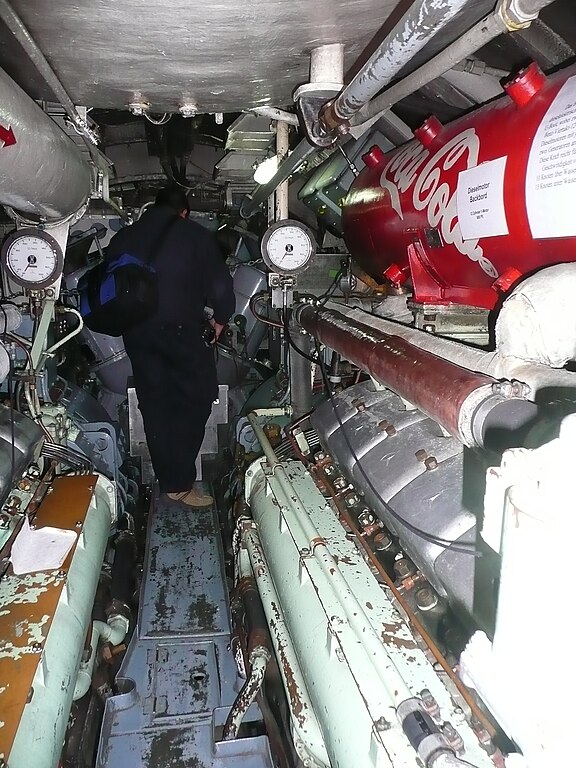 Machinery Room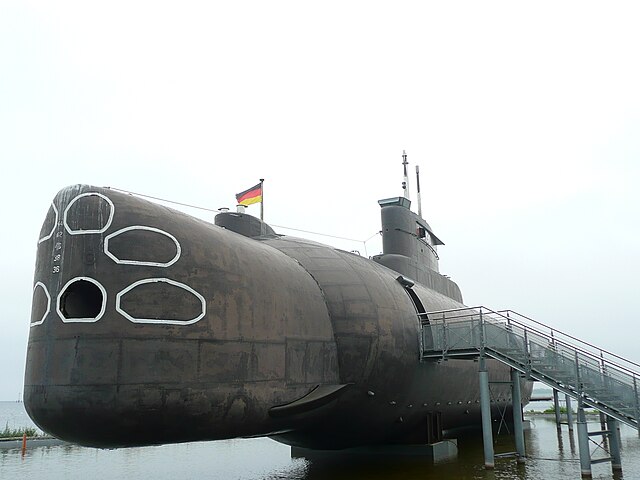 Prow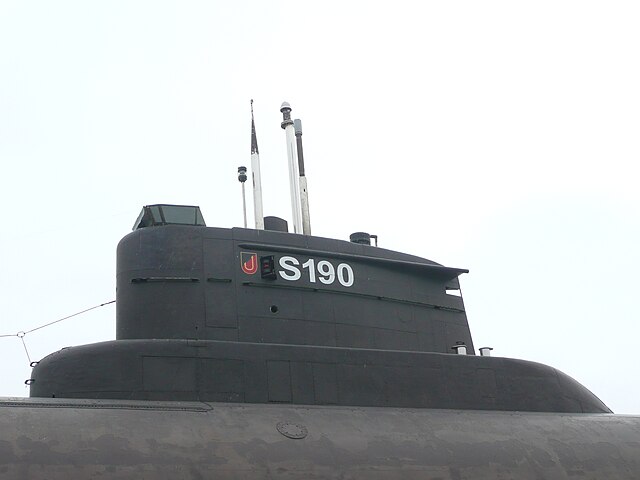 Conning Tower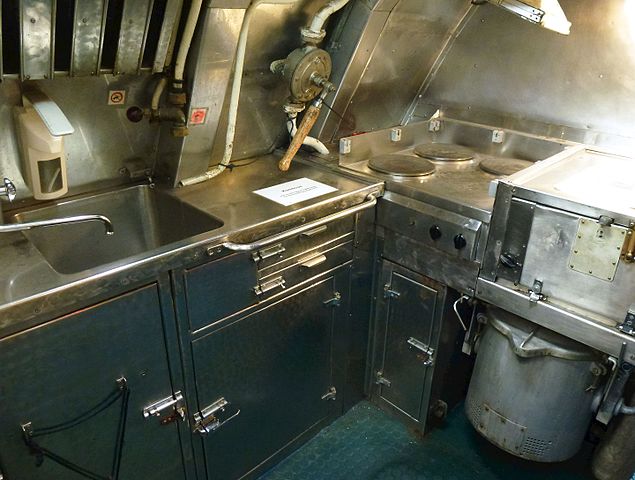 Galley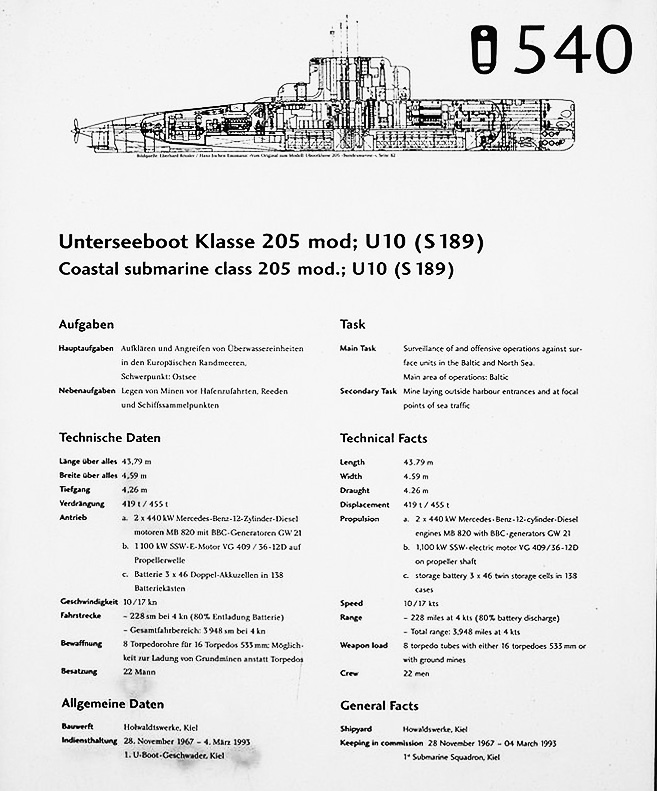 Marinemuseum Wilhelmshaven, U10 file (photo by Axel Schwenke)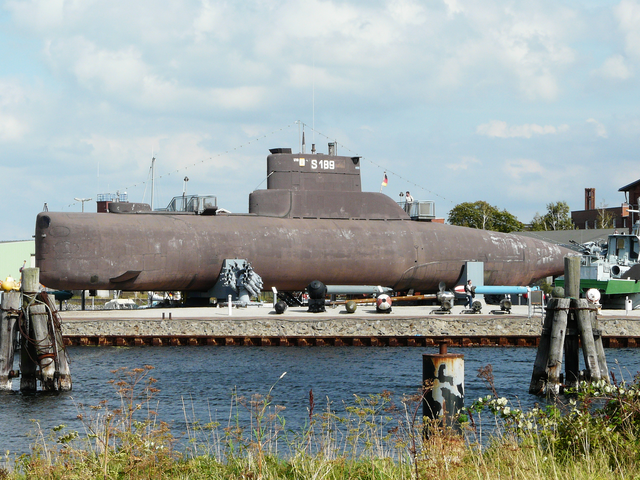 U189 Museum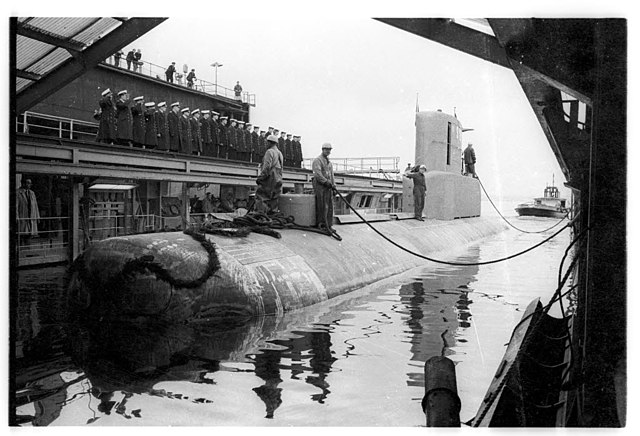 U9 in Kiel, berthing upon arrival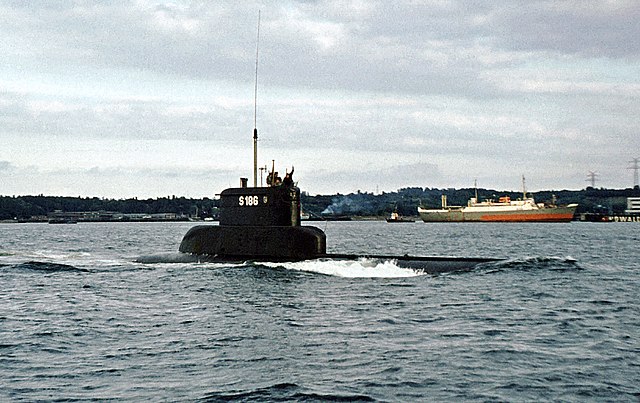 U7 off Kiel, Sept. 1972



U7 in Kiel, sea trials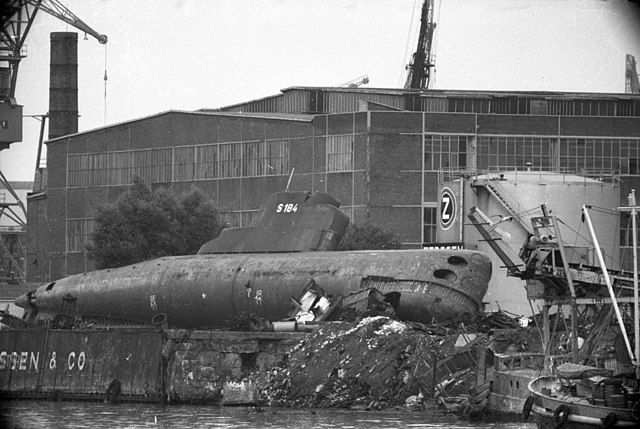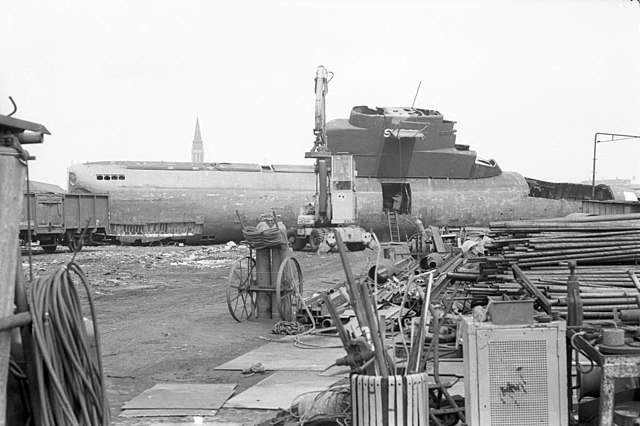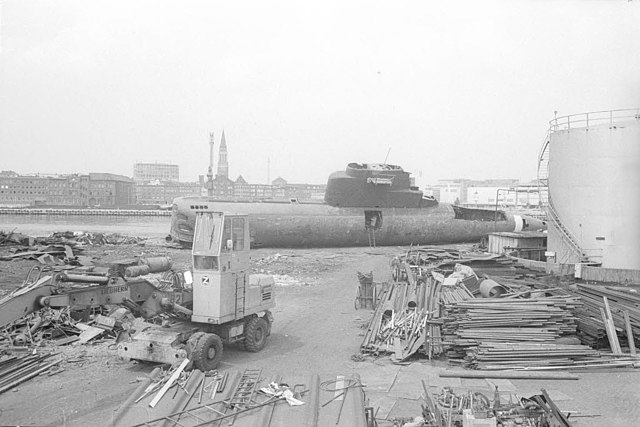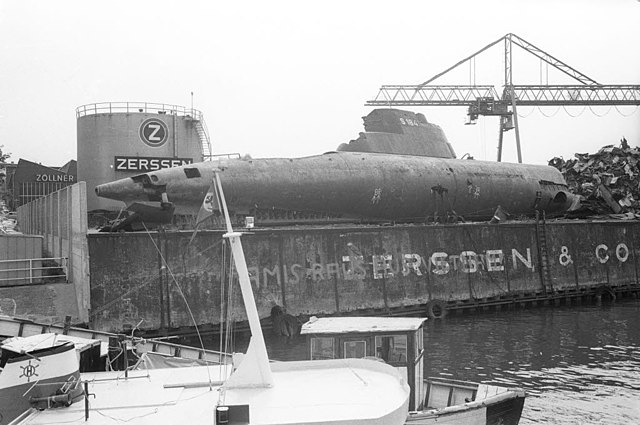 U5 in Kiel after being disposed of.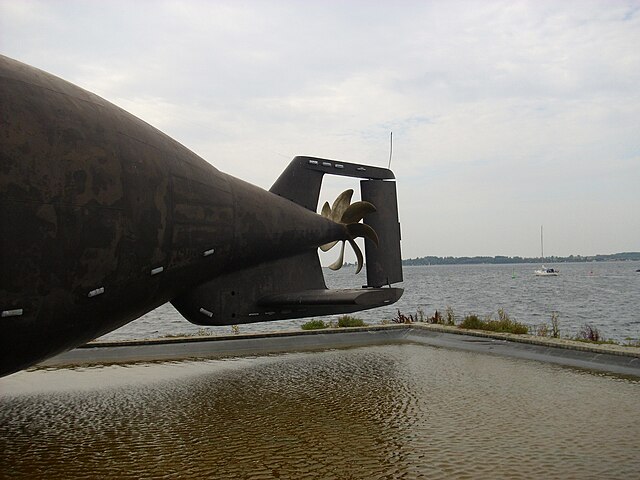 U11 modified tail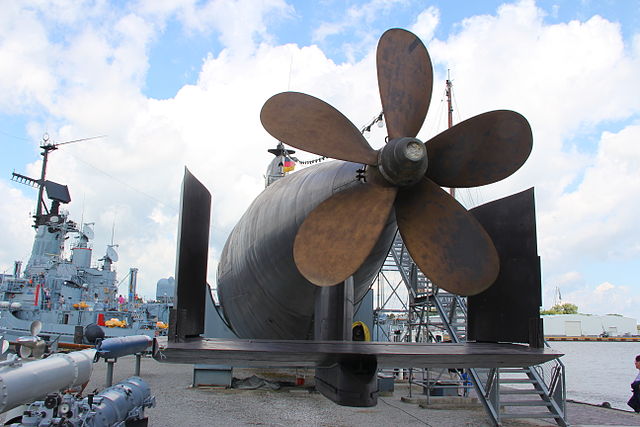 U10 propeller and tail


creative commons profile by Mike1979 Russia remodelled in 3D by naval encyclopedia, still could be resued in CC under the same licence.
Type 205 specs

Displacement:
419 tonnes surf./455 t submerged
Dimensions:
44.30 x 4.59 x 3.80m (145.3 x 15 ft 1 in x 12 ft 6 in)
Powerplant:
2× 440 kW (590 hp) Mercedes V12 diesel, BBC generator, 1,100 kW SSW El. Mot.
Top speed:
10 knots/17 knots (31 km/h; 20 mph) submerged
Range:
3,950 nmi (7,320 km; 4,550 mi) 4 knots/228 nmi (422 km; 262 mi) 4 knots submerged
Test depth:
Test depth 100 m (330 ft)
Armament:
8x TTs 21 in (533 mm) bow/16 mines
Electronics:
Hull Sonar, radar, periscopic GHC
Crew:
4+18 officers and ratings
Deployment of the Type 205 (1963-1993)
U1 (1967) -Type 205A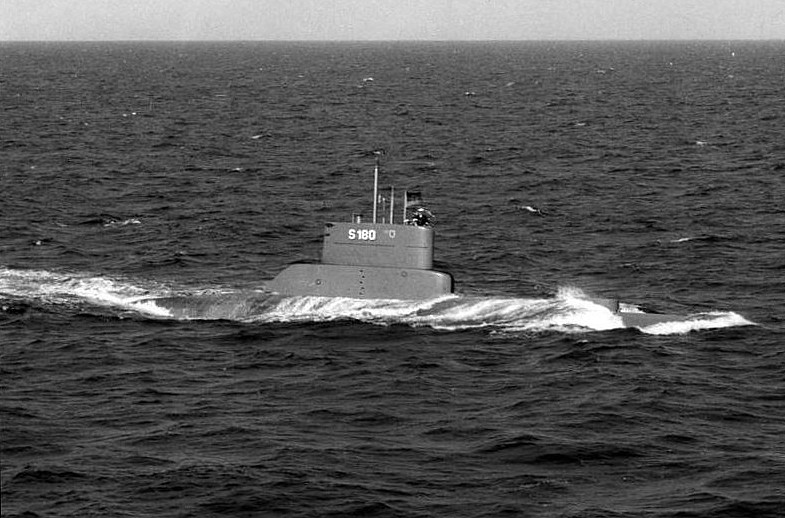 U1 and U2 were completely converted into class 205 mod (205A) boats, so much that they became effectively "new builds". Instead of a non-magnetizable steel, they used the proven ferritic shipbuilding steel St 52 for their pressure hull like the rest of the class, and the hull was remodelled after the longer, wider type of the rest of the class. On U 1 1963 and 1966, a serie of tests were made with a single stern torpedo tube to see if it was practicable. Towards the end of their active service, three Class 205 boats were converted and used for various trials as well, but U1 and U2 remained test boats for all their career.
U1 was converted in 1987 at HDW in Kiel to test fuel cell propulsion (Ar Independent or AIP). This was a very important milestone for U-Boat construction in Germany, as it was an attempt to close on nulear submarine's autonomy, seen vital for safer service in the baltic, and seen also as a major asset for export. This first generation AIP proved successful and after ots sea trials, became the basis for the installation of the fuel cell drive in the Type 212 submarines. After decommissioning in 1991, U1 was handed over to the Thyssen Nordseewerke in Emden for test boats for further air-independent submarine drives, and she was equipped with a closed-circuit drive. She was only discarded and scrapped in the 2000s.
U2 (1966) -Type 205A
U2 shared the same fate as her sister boat. Completely unsuccesful with her faulty pressure hull and "miracle steel" as detailed above, the was taken in hands to be completely rebuilt over several years, until 1967. The while equipment was landed, the former hull disassembled and scrapped, a brand new pressure hull constructed with the ST 52 steel, and she gained all the improvements made on the previous U4 to U12. Thus, modifications were made to ultimately made for a brand new boat. She could have a very short career since her sisters were discarded in the 1970s, but went on to serve until decommissioned in 1993, as a test boat like her sister. However there was nothing as dramatic.
U4 (1962) -Type 205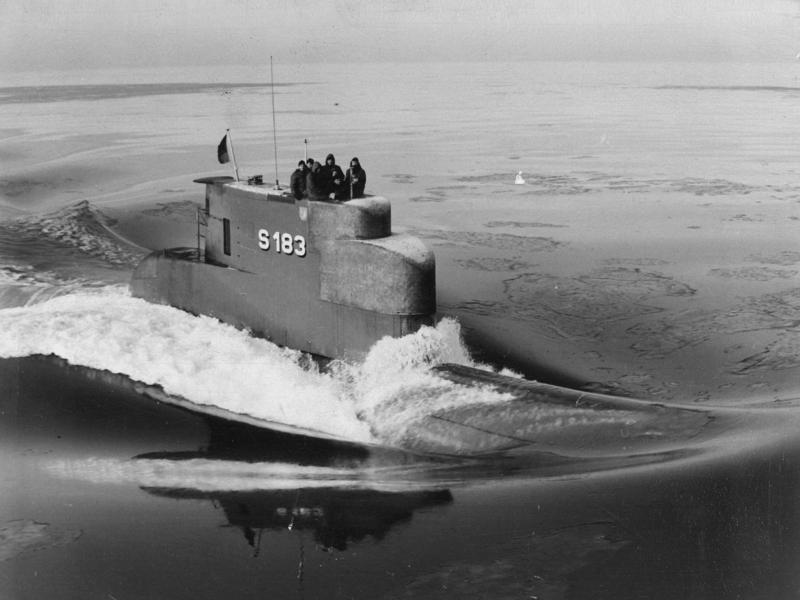 When the steel crisis occurred, U4 was completed and the Navy decided against canceling construction. Various measures were tried to reduce the corrosion and cracking problems. The boats received plastic coatings and spray galvanizing the pressure hull, but these measures were not enough to resolve the problem. A newly developed sonar was installed requiring a modification of the tower shape to accommodate a larger transducer. This eliminated the need for an open control station for the bridge crew, useful when traveling over water in bad weather. The hull was slightly changed but in order not to further delay completion, U-4 and further U-5 to U-8 boats were used exclusively as school boats for the submarine teaching group in Neustadt-Holstein. Torpedo tubes were sealed, use was subject to special safety restrictions. U4 and her sisters were decommissioned in 1974 after the arrival of the Type 206.
U5 (1963) -Type 205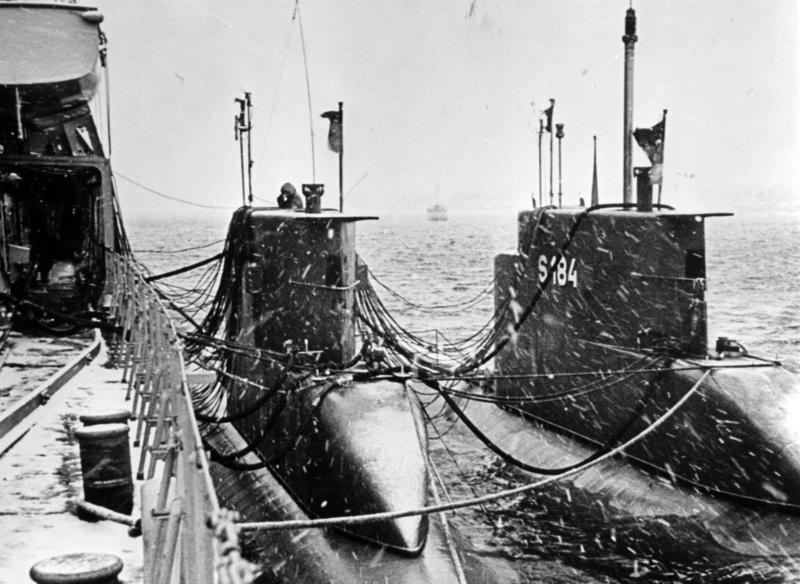 U5 (S 184) was launched on 20 November 1962, completed on 4 July 1963. She shared the same fate as U4, being slightly delayed in completion to solve the pressure hull issue, still in an unsatisfactory way, and she had a new sonar installed, other modifications and her torpedo tubes sealed. In the end she served as school boats at Neustadt-Holstein until decommissioned on 17 May 1974 and scrapped.
U6 (1963) -Type 205
U6 (S 185) was launched on 30 January 1963 and completed on 24 July 1963. Same story here. She was decommissioned on 22 August 1974 and scrapped afterwards.
U7 (1964) -Type 205

U7 (S 186) was launched on 10 April 1963 and completed on 16 March 1964. Same story, she was decommissioned on 12 July 1974 and scrapped.
U8 (1964) -Type 205
U8 (S 187) was launched on 19 June 1963 and completed on 22 July 1964. Saùe story. She was decommissioned on 9 October 1974, BU.
U9 (1967) -Type 205mod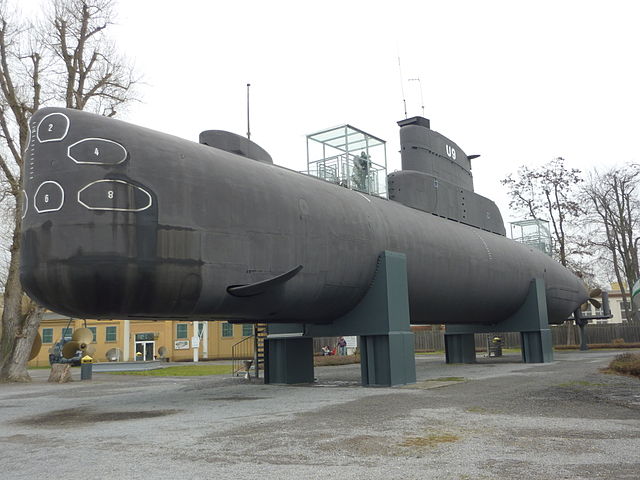 U9 (S 188) was launched on 20 October 1966 as part of the improved second batch, commissioned on 11 April 1967. She is the lead boat of the Type 205 mod (not 205A), for the last four boats. They are also called in literrature the "U 9 sub-Class". They were indeed were made from three different non-magnetizable steels. U 9 and U 10 had a grade AM 53 steel from Austrian Schoeller-Bleckmann Stahlwerke hich also supplied the grades AM 10 and AM 20 for the latter class 201. She was used for tests, including prolongated sea trials, but saw little activity as frontline boat, especially after the arrival of the Type 206. She was decommissioned on 3 June 1993 and turned into a Museum ship, now at the Technikmuseum Speyer alongside with other displays.
U10 (1967) -Type 205mod
U10 (S 189) was launched on 5 June 1967 as part of the second batch, completed on 28 November 1967. As U9 she used the Austrian AM 53 grade steel, and like U9 was mostly used for sea trials and tests with a limited operational carrer, especially after the arrival of the Type 206 in the 1970s. On 16 February 1993 she was decommissioned and turned in a Museum ship, now on display at Wilhelmshaven.
U11 (1968) -Type 205mod
U 11 (S 190) was the third boat of the Type 205mod. She was launched on 9 February 1968 and completed on 21 June 1968. She however used the PN 18 S2 (1.3964) steel from Phoenix-Rheinrohr-Stahl for her pressure hull, which proved successful during her sea trials. The PN 18 S2 proved undeed to be the best a-magnetic steel and has since been used for all later German submarines. Its conning tower was changed to reduce wave resistance when snorkeling as shown by extensive tests in the baltic. There was also an envelope on the foredeck to place the new transducer of the DUUX 2A system passive sonar. Two additional transducers were installed at the front and aft of the conning tower as well. Since she was part of a decidedly heterogeneous class, U 11 most was used for extensive trials, never part of a constituted active unit. In the end she survived nearly all the others in this, being only decommissioned on 30 October 2003 and turned to a Museum ship in Burgstaaken, Fehmarn.
U12 (1969) -Type 205B

U 12 (S 191) was launched on 10 September 1968 and completed on 14 January 1969. She was built from Amanox 182 M 9 steel grade from Stahlwerke Südwestfalen. This was better than earlier tested steels, but not as good as the PN 18 S2 on her sister U 11 and after an extensive test campaigns, her steelm grade was decided against. She went on a quiet career of tests and trials, notably with sub-systems latter fitted on the Type 206 and 209. At the beginning of the 1990s she was converted into a test boat for a towed sonar for several years. For this purpose she was lengthened and equipped with longitudinal ridges on both sides of the hull, and a new dome made with composites was fitted on her foredeck. The front depth rudder was modified and relocated as well. Thus she became the one and only Type 205B. After decommissioning, she was sold to Denmark for spare parts to be used on the newly sold Type 205 (Narhvalen class). Officially discarded on 21 June 2005, she was also "scrapped" albeit parts survived until the end of the Narvhalen service.
---
S320 Narhvalen (1970) -Type 205D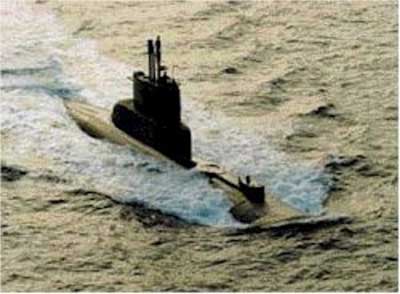 S320 Narvahlen was the lead boat of the Type 205D sub-class for Denmark. She was launched on 10 September 1968 and completed on 27 February 1970. She was based on U-4 design, magnetic steel, but with modifications proper to the Danish specifications. Still built to Type 205 base design, but at the naval dockyard in Copenhagen, laid down on 16 February 1965. In 1994, Narhvalen and Nordkaperen were modified to the same standard as the newer Tumleren class. Narhvalen was decommissioned on 16 October 2003.
S321 Nordkaperen (1970) -Type 205D

S321 Nordkaperen was also built at the naval dockyard in Copenhagen, laid down on 4 March 1966, launched on 18 December 1969, commissioned on 22 December 1970. In 1994, she was modified to the standard of the Tumleren class, and decommissioned on 2 February 2004.
Sources/Read More
Conway's all the world's fighting ships 1947-95
Siegfried Breyer, Gerhard Koop: Die Schiffe und Fahrzeuge der deutschen Bundesmarine 1956–1976. München 1978
Johannes Ewerth: Die U-Flottille der deutschen Marine. Herford 1988
Heinrich Schütz: Nur Vergangenheit oder schon Geschichte? – Die Stahlkrise im deutschen U-Boot-Bau. Marineforum
Karr, Hans (2014). Deutsche Uboote seit 1956 (in German). Stuttgart: Motorbuch
U. Rodewald: Die U-Boot-Waffe der Deutschen Marine. Hamburg 2008
Siegfried Breyer, Gerhard Koop: Die Schiffe und Fahrzeuge der deutschen Bundesmarine 1956–1976. München 1978
Heinrich Schütz: Nur Vergangenheit oder schon Geschichte? – Die Stahlkrise im deutschen U-Boot-Bau. Marineforum 2009
Rüstung: U-Boote – Rostwärts. (Titelgeschichte). Der Spiegel 1963
Alexander Bredt (Hrsg.): Weyers Flottentaschenbuch 1959. J. F. Lehmanns München 1959
Hans Knarr: Typenkompass Deutsche Uboote. Motorbuchverlag, Stuttgart 2014
Lutz Nohse, Eberhard Rössler: Moderne Küsten-Uboote J. F. Lehmans Verlag, München 1972
Alexander Bredt (Hrsg.): Weyers Flottentaschenbuch 1959. J. F. Lehmanns Verlag München 1959
Hans Knarr: Typenkompass Deutsche Uboote. Motorbuchverlag, Stuttgart 2014
Hannes Ewerth: Die U-Flottille der deutschen Marine, 2. überarbeitete Auflage Hamburg 1995
Bjørn Erik Strønen: Kobbenklasse undervannsbåt 1964 – 2002, Marinemuseet, Horten 2005
---
On the Deutsch U-Boat musem
de.wikipedia.org
On Ulrich Graber
navalhistory.dk Narhvalen_Class
The Narhvalen Class career
Der Spiegel article 1963
politische-union.de archive
Technical parts Type 201/205
On militaryfactory.com
On seaforces.org
On taucher.net
wik
Model kits
1/700 model by OKB Grigorov, 2 metal parts
Type 205 model kits