Iowa class battleships
Battleships (1942-44): USS Iowa (BB-61), New Jersey (BB-62), Missouri (BB 63), Wisconsin (BB 64), Illinois (BB 65), Kentucky (BB 66)
The last and legendary USN battleships: The Iowa class
The Iowa class were six fast battleships ordered in two batches, in 1939 and 1940. They intended at first as very fast ships, almost battlecruisers, to intercept the Japanese Kongō while still able to take their place in the battleline, in a smimilar concept developed by the Germans before WW1. The Iowa class also were designed to meet the Second London Naval Treaty's "escalator clause" reaching the limit to 45,000-long-ton (45,700 t) in standard displacement. Ultimately only the first four were completed while Illinois and Kentucky were laid down but canceled in 1945 and 1958 and scrapped. Ultimately the new Montana class were preferred, but also cancelled in July 1943, in favor of completing the Essex-class, as the last battleship class ever designed for the United States Navy.
This made the four Iowa-class, the last battleships ever commissioned in the US Navy. They had a short but eventiful carrier in the Pacific in 1944-45, and were decommissioned in 1947, but preserved and use din Korea, Vietnam, and even the gulf war in 1991, completely modernized in the 1980s under the Reagan adinistartion to face the new Soviet missile battlecruisers of the Kirov class. This made the Iowa-class quite unique battleships, fighting in four major US wars after being the default Essex-class aircraft carriers escort, with the Fast Carrier Task Force.
---
⚠ Note: This post is in writing. Completion expected in 2022.
---
Design development 1939-42
Detailed Design
Hull & construction
Armour scheme
Powerplant
Armament
Main Guns: Nine 16-in Mk12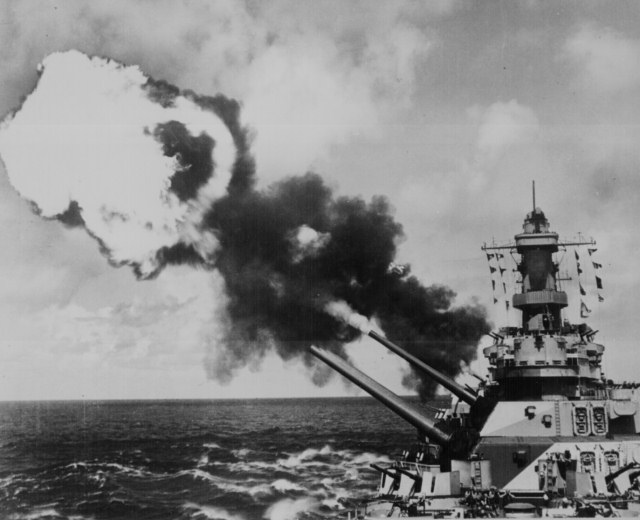 Secondary Guns: Twenty 5-in/38
AA Guns: Eighty 40mm/70
AA Guns: Fifty 20mm/70
Fire Control & Electronics
Untrue (1901) specifications

Dimensions
121 x 23.22 x 7.97m (397 ft x 76 ft 2 in x 26 ft 2 in)
Displacement
13,517 long tons (12,900 t) standard, 15,000 FL ?
Crew
835 - 995
Propulsion
2 shafts VTE engines 4 Cyl. 20 boilers, 16,300 ihp
Speed
18 knots (33 km/h; 21 mph, as designed)
Range
5,500 nmi (10,200 km; 6,300 mi) at 10 knots
Armament
4 x 305mm/40 (12-in, 2x2), 12 x 152mm/45 (6-in, 6x2), 12 x 75mm/50 (3-in), 20 x 47mm/50 (3-pdr), 4 x 356 mm TTs (15 in, 2 surf, 2 sub, 10 reloads), 40 mines
Armor
Waterline belt: 160–250 mm (6.3–9.8 in), Decks: 40–50 mm (1.6–2.0 in), Turrets, barbettes: 250 mm (9.8 in), CT: 10 in (254 mm)
The unbuilt Iowas, 1940
USS Illinois (BB-65) was laid down at Navy Yard, Philadelphia on 9 Sep 1940, suspended 6 Dec 1942 and Cancelled 11 Aug 1945, Broken up at Philadelphia, 1958
USS Kentucky (BB-66) was laid down at Norfolk Navy Yard, Portsmouth on 7 Mar 1942, suspended 20 Jan 1950 and Broken up at Baltimore, 1959.
The never built Montanas, 1942
USS Montana (BB-67) was planned to be the lead ship of this second class, divering by having a second aft turret (so eight in all) for 80,000 tons displacement, and a much better protection an AA, while keeping the same speed. She was assigned to the Philadelphia Navy Yard as BB-67 but her keel, like the others, was never laid down and she was canceled. Montana was the only US state never to have a battleship named after her. USS Ohio (BB-68) was to be the second of the class, ordered to the Philadelphia Navy Yard. USS Maine (BB-69) was the third, assigned to the New York Navy Yard. USS New Hampshire (BB-70) was the fourth Montana-class, assigned to the New York Navy Yard, and USS Louisiana (BB-71) was the fifth and final of the class, assigned to Norfolk Navy Yard, Portsmouth, Virginia and last ever BB (Battleship) ever authorized for construction.
Fate
During the Korean War, the battleships provided naval gunfire support (NGFS) for United Nations forces, and in 1968, New Jersey shelled Viet Cong and Vietnam People's Army forces in the Vietnam War. All four were reactivated and modernized at the direction of the United States Congress in 1981, and armed with missiles during the 1980s, as part of the 600-ship Navy initiative. During Operation Desert Storm in 1991, Missouri and Wisconsin fired missiles and 16-inch (406 mm) guns at Iraqi targets.
Costly to maintain, the battleships were decommissioned during the post-Cold War draw down in the early 1990s. All four were initially removed from the Naval Vessel Register, but the United States Congress compelled the Navy to reinstate two of them on the grounds that existing NGFS would be inadequate for amphibious operations. This resulted in a lengthy debate over whether battleships should have a role in the modern navy. Ultimately, all four ships were stricken from the Naval Vessel Register and released for donation to non-profit organizations. With the transfer of Iowa in 2012, all four are part of non-profit maritime museums across the US.
Src
Videos
https://youtu.be/6vxY_5U6NvA
BB New Jersey channel: What the Navy doesn't like about the Iowas
https://youtu.be/Z6_RhDDA_iE
The American Dreadnaught (1968): The USS New Jersey Is De-Mothballed And Recommissioned To Join The Fleet For Service In Vietnam. Written By Battleship Historian Richard Hough, Narrated By Martin Gabel, Musical Score By Thom George.
The Iowa class in service
USS Iowa (BB 61)
USS Iowa was commissioned 22 February 1943. After her shakedown cruise in Chesapeake Bay she was sent in Naval Station Argentia, Newfoundland, made ready to separt in case of new of an attack of KMS Tirpitz in the Atlantic. Due to the fate of the latter, trapped in fjords and bombed, she was tansferred to the Pacific in 1944, seeing her first combat in February in the Marshall Islands. She from then on escorted the fast aircraft carriers operating in the Marianas and fought at the
Battle of Leyte Gulf
. She was present until the end of the war with the fast carrier group and after 1945, repatriated troops and marines home (Magic Carpet). Placed in reserve in 1947 she was reactivated during the Korean War, bombarding ground targets at Songjin, Hŭngnam, and Kojo in North Korea. Decommissioned on 24 February 1958 she was reactivated in the early 1980s and was completely modernized. After some service in the Atlantic Fleet, she operated in European waters for more than a decade notably in NATO joint operations, until a grave turret accident on 19 April 1989 (47 sailors were killed when the No. 2 turret blew up). In 1990, she was decommissioned, mothballed, stricken on 17 March 2006. National Defense Reserve Fleet in Suisun Bay (California) until October 2011 she was towed for Richmond, renovated as a museum shipand now in San Francisco Bay since 2012, museum ship run by Pacific Battleship Center.
USS New Jersey (BB 62)
USS Missouri (BB 63)
USS Wisconsin (BB 64)