Casablanca class
US Navy
50 Escort Aircraft Carriers (1942-44): USS Casablanca, Liscombe Bay, Coral Sea, Corregidor, Mission Bay, Guadalcanal, Manila Bay, Natoma Bay, St. Lo, Tripoli, Wake Island, White Plains, Solomons, Kalinin Bay, Kassan Bay, Fanshaw Bay , Kitkun Bay, Tulagi, Gambier Bay, Nehenta Bay, Hoggatt Bay, Kadashan Bay, Marcus Island, Savo Island, Ommaney Bay, Petrof Bay, Rudyard Bay, Saginaw Bay, Sargent Bay, Shamrock Bay, Shipley Bay, Sitkoh Bay, Steamer Bay, Cape Esperance, Takanis Bay, Thetis Bay, Makassar Strait, Wyndham Bay, Makin Island, Lunga Point, Bismarck Sea, Salamaua, Hollandia, Kwajalein, Admiralty Islands, Bougainville, Matanikau, Attu, Roi, Munda.
The world's largest fleet aircraft carrier program
In late 1942, the USN urgently needed more
aircraft carriers
to face its obligations both in the Atlantic and Pacific. Conversion of existing C3 cargo hulls took time despite their seemingly easy and limited nature, and there was some desperation on how to increase the output.
In the early summer of 1942, Vancouver shipyard's owner Henry J. Kaiser, already famous for the amazing output to deliver Liberty ships suggested the American government to manage the mass construction of a batch of 100 per year. His mass-construction simplification process and technology of continuous assembly and modular approach was, as he argued, adaptable to warships.
USS Guadalcanal(CVE-60) in 1944
President Roosevelt has become interested in the project, since in mid-1942, fleet carriers in construction were still far from ready and the need was urgent anyway. He confered with the yard's team, Kaiser eventually being granted an offer to finance the construction of 50 aircraft carriers at once.
The Bogue class having been extensively tested successfully, it was proved that such vessels could provide air cover for the Pacific landing squadrons while continuing to serve in the Atlantic. Rather than scatter other series between several models of converted freighters, Henry J. Kaiser, the wealthiest holder of the largest and most prolific shipbuilding yards in Vancouver, Canada, proposed to the Admiralty to produce 100 escort carriers in record time (less than a year), based on his method of building Liberty Ships.
The Casablanca became the most prolific class of aircraft carriers in history. Although narrower and crampier than the Bogue class, their larger holds made it possible for them to carry more planes and fuel. They were also much faster thanks to their turbines, coming from fast cargo ships designed to escape U-Bootes. They were actually built in record time, the first, the USS Casablanca, laid down in November 1942 and into active service by July 1943 whereas the last one, the USS Shamrock Bay, was laid down in November 1943 and active in March 1944 (So in just in 5 months !).
They were ready in time for the great pacific operations, and 5 would be sunk in combat, USS Liscome Bay in November 1943, Gambier Bay and St Lô the same day during the battle of Leyte - victim of the Japanese guns. Kamikazes would also claim the USS Ommaney Bay in January and the USS Bismarck Sea in February 1945. After the war, some served for a time as ASW support and carriers thanks to their onboard helicopters. Most were broken up in 1960. They were a pure product of wartime and never intended to last long.
About Henry J Kaiser
(to come)
⚠ Note. This post is a placeholder, it will be greatly enhanced in the future and officially reposted on all social networks.
Design of the Casablanca class
General construction
Casablanca in many respects reminded Bogue but had smaller displacement, two shafts and was faster. As a design basis the fast dry cargo carrier of S4-S2ВВ-3 type was used, but, unlike the predecessors, new carriers were built quite new, instead of earlier carriers converted from merchant hulls.
Powerplant
Two propellers screws, on shafts driven by two Skinner Unaflow reciprocating steam engines. They were fed by four Babcock & Wilcox boilers for a total of 9,000 shp (6,700 kW), allowing a top speed of 19 knots (35 km/h; 22 mph) and a Range of 10,240 nmi (18,960 km; 11,780 mi) at 15 knots (28 km/h; 17 mph).
Armament
It relied on the same usual "troika" of USN vessels of that era, with a single forwards bow 5 in (127 mm)/38 cal dual-purpose gun, two quad 40 mm (1.57 in) Bofors anti-aircraft guns, and twelve 20 mm (0.79 in) Oerlikon anti-aircraft cannons around the flight deck's sponsons.
Aircraft facilities
They were fitted with two inboard elevators and a single steam catapult installed at the forward end of the flight dekc, to the right (port) unlike the Essex class which had it to the right, but in conformity to earlier designs. There was a single hangar with safety sprinklers and a damage control CP. Like other designs of the time, the avgas tanks were buried deep into the hull. The elevators had not the same size, the aft one was larger to accomodate planes without wings folded. Both rectalngular with rounded edges, the forwards one was in the axis, turned the aft one across. In total they carried 27 planes less spares, although the limited hangar space could not allow much to be suspended under the roof.
Air group

East Aircraft FM-2, VC-2, USS White Plains 1944

FM-2 VC-10 onboard USS Gambier Bay October 1944: She was sunk at the battle of Samar

FM-2 VC-80 USS Manila Bay, May 1944

FM-2 VC-9 USS Sargent Bay, 1945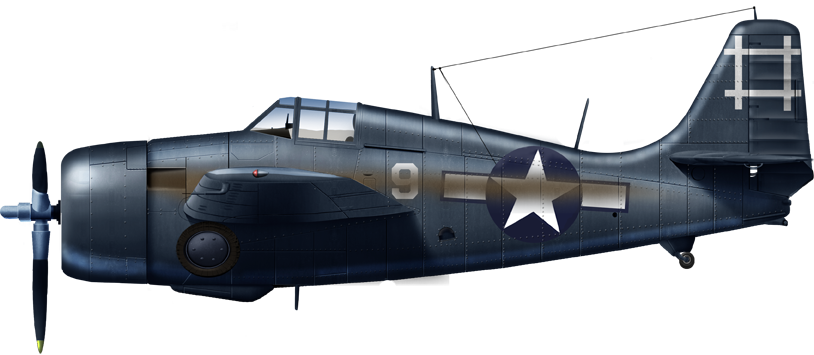 FM-2, USS Rudyerd Bay, April 1945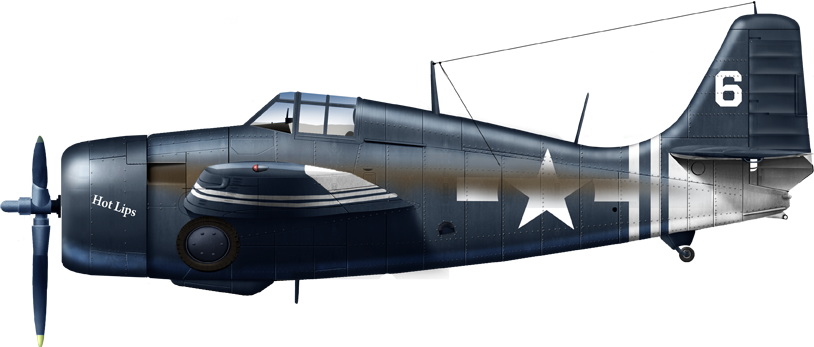 FM-2 onboard USS Hogatt Bay, 1945

FM-2 from VC-93, USS Petrof Bay, May 1945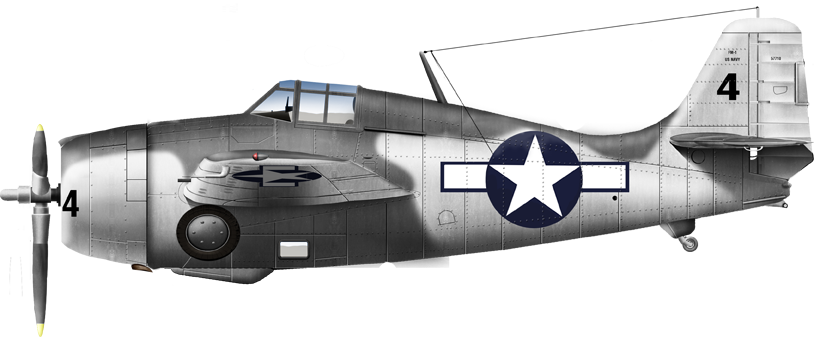 East Aircraft GM FM-1, USS Guadalcanal, 1944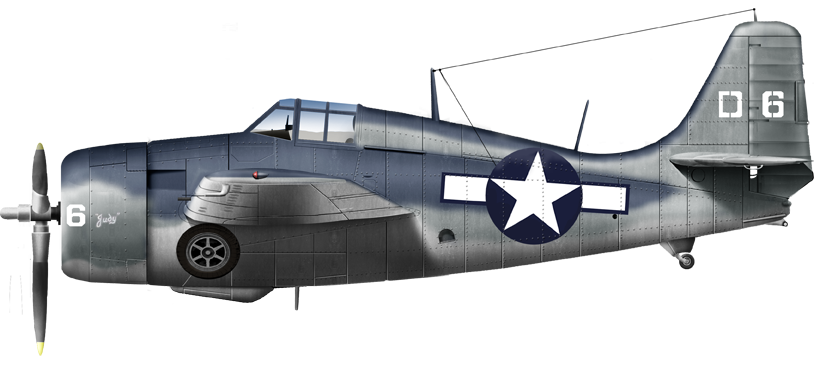 Eastern Aircraft FM-2, "judy" VC-14 USS Hogatt Bay (CV-75), Emirau Island (Bismarck Archipelago), May 1944. The latter was a Casablanca-class escort carrier commissioned in January 1944 and decommissioned in 1946, then CVHE-75 (heli-carrier) in 1955-59 and AKV-25 from 1959.

FM-2 on uss Hoggatt Bay, Okinawa 1945

General motors FM-2 CV93 USS Fanshaw Bay August 1945
Construction Challenges
Term of building of the first 10 ships was 241-287 days, last ships of the class were built in 101-112 days. Machinery included two original 'Uniflow' five-cylinder steam engines, quite often called by turbines.
Vancouver Shipyards production setup
Impact of the Casablanca class on the war
It cannot be overstated as much WW2 involved an industrial colossal effort, several times greater than WWI, the first large scale industrial global war, and unlike any conflict of the past. At least the cold war only asked an incremental, peacetime evolution were output was gradually overshadowed by quality. In WW2, this was a Darwinian prospect. By December 1941, the "free world" seemed defeated on all fronts. Tanks and planes were produced by tens of thousands to be thrown into the furnace, but also ships - not small boats, but very large ones, demultiplying air power, seemingly the great winner of WW2.
Fifty aicraft carriers was an unprecedented number for that kind of vessel, never surpassed so far. It can be argued that they were so fast-buult, so simplified and low-cost they became "consumable" carriers a bit like the Liberty ships from the same yards, built with the same techniques, and as promised, a batch of 50 joined the 143 aircraft carriers built in the United States during the war. Perhaps the closest and only comparable endeavour today are the US Burke class destroyers, by cost and complexity several fold above the capabilities of the nimbler carriers.
By bolstering air power at low coast and quickly, these "Jeep carriers" spared the already hard-pressed Essex-class and Independence class making the bulk of the offensive fast carrier force of the Vth fleet in 1943-45. They provided indeed air cover for the numerous amphibious fleets deployed in the island-hopping campaign of the pacific, but also supply fleets, vital to keep TF38/58 operational on the long run, and the long supply chain which needed escort since Pearl Harbor to the far outreach of the Pacific, down to the US shores.
These 50 escort carriers were also split and part (a small one however) also took part in the vital role of escorting convoys in the Atlantic, since ASW warfare's best answered soon appeared to be aviation, not least because U-Boats were more easily spotted from the air (and strafe them), but also to shoot down the Luftwaffe's long range spotting planes such as the Fw200 Condor. The fifty carriers played this unglamorous but vital part of operations until construction stopped in July 1944. After the war, there fortune were diverse, many were stricken outright, other as late as 1960-64, still used as specialized ships (like aviaton transport), and then joined the civilian market, converted as freighters.
Old author's illustration of USS Casablanca in 1944. More recent ones ar coming, and a poster with the fifty carriers.
USS Casablanca (1942) specifications (to edit)

Displacement
8,188 t. standard -10 902 t. Fully Loaded
Dimensions
156.16 m long, 33 m wide, 6.32 m draft
Propulsion
2 shaft Skinner Unaflow turbines, 4 Babcock & Wilcox boilers
Speed
9,000 hp, 19 knots
Armament
1 x 5 in (127mm), 8 x 40 AA (4x4), 12 x 20 mm, 27 aircraft
Armor
None
Crew
Circa 860
The Casablanca class coldwar career (1946-1964)
Resources
Links
Books
The modeller's corner