Grumman F6F Hellcat (1942)
Single seat naval fighter (1942-48)
The legendary 16:1 navy butcher bird
The Grumman Hellcat would be forever associated with the second phase of the Pacific war. It replaced the hard-pressed
F4F Wildcat
on board all USN fleet carriers (the F4F would continue operating on escort carriers until 1945), and between the experience of veterans transitioning on this new model and the lack thereof on the Japanese side, explains in large part the impressive tally reached by this model, which was unprecedented.
By looking at it first, the F6F had however none of the good-looking grace the best fighters of WW2 are generally associated with. It was a barrel-like, brutish, massive and heavy machine, miles aways from the angelic Spitfire, the slender Mustang, or even the graceful zero. A dogfight between the two was like a ballerina versus a boxer. But it was beloved by its pilot for its raw, unalterated power, firepower, reliability and amazing ruggedness, as befitting to to a Navy Fighter, accustomed to the tremendous forces of a deck landing.
Compared to the Mitsubishi A5M-4 and A5M-5, still lacking protection, it became a "butcher bird", able to take a lot of punishement before tearing apart its opponent by volleys of its six heavy machine guns. Not only the Hellcat absolutely dominated the Zero, often piloted by Rookies from mid-1944, but also everything was flying in the skies of the Pacific, either from the IJA or the IJN. Some fighters were a match in agility and speed, but none was that solidy built. New York's company funded by Leroy Grumman had created a world-best naval fighter, ideal for its time. The Hellcat in 1945 operated more and more in a fighter-bomber role, loaded with rockets, in company of the legendary F4U Corsair, and went on during the Indochina and Korean wars of the 1950s. Although replaced by the smaller, but faster F8F Bearcat on CV decks, they nevertheless soldiered on until the early 1960s.
Design Development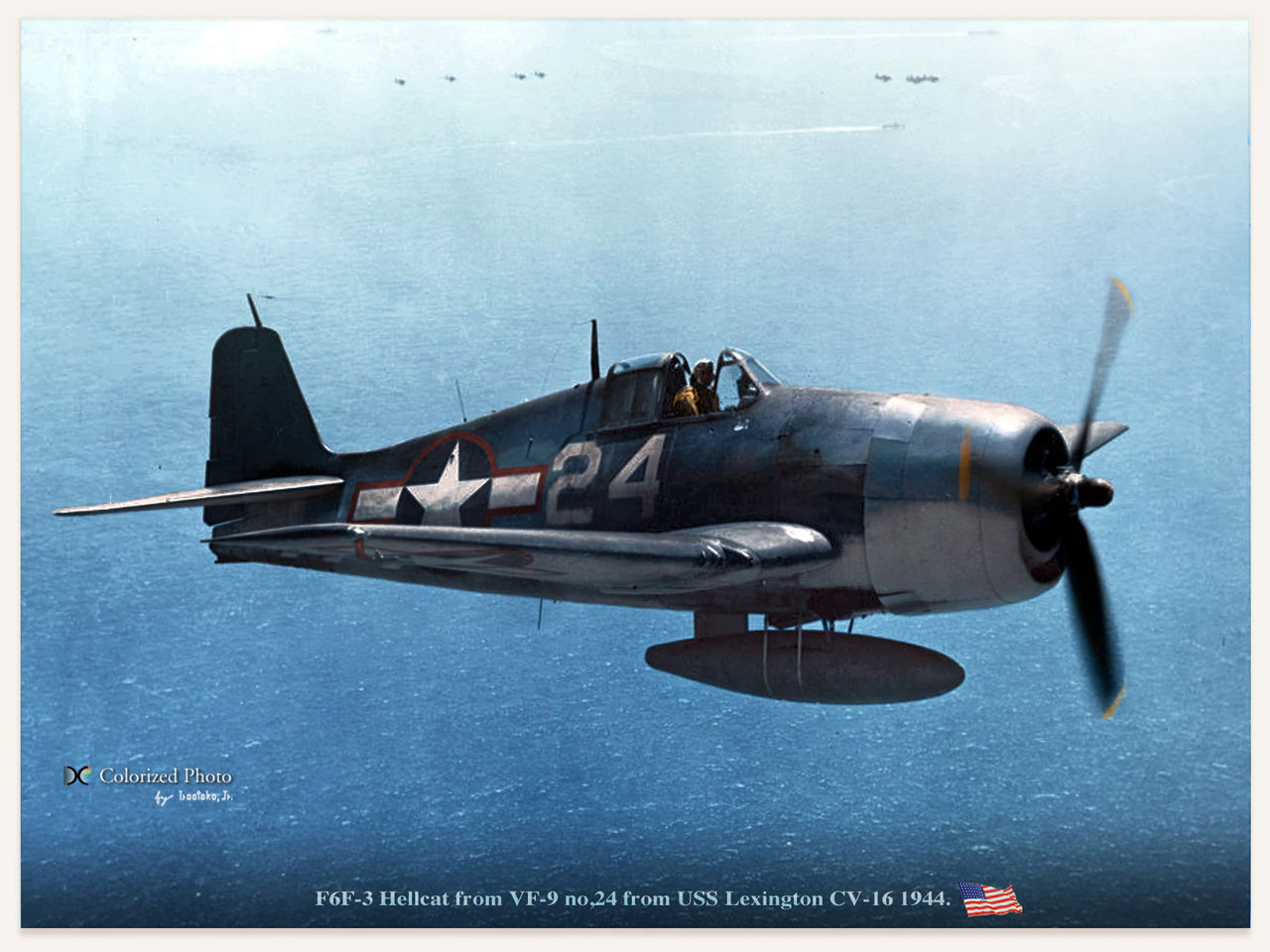 Grumman had been dealing with a replacement to the F4F Wildcat beginning around 1938, and the agreement for the model XF6F-1 was endorsed on 30 June 1941. The airplane was initially intended to utilize the Wright R-2600 Twin Cyclone two-line, 14-chamber outspread motor of 1,700 hp (1,300 kW) (a similar motor utilized with Grumman's then-new torpedo plane being worked on), driving a three-bladed Curtiss Electric propeller.
Instead of the Wildcat's limited track, hand-wrenched primary landing gear withdrawing into the fuselage that it had acquired, minimal changed in plan from the 1930s Grumman FF-1 contender biplane, the Hellcat had wide-set, using pressurized water incited landing gear swaggers that turned through 90° while withdrawing in reverse into the wings, however with full wheel entryways fitted to the swaggers that covered the whole swagger and the upper portion of the principle wheel when withdrawn, and bent with the fundamental stuff swaggers through 90° during retraction.
The wing was mounted lower on the fuselage and had the option to be powerfully or physically collapsed, with each board detachable of the underside straight collapsing in reverse from turning on an extraordinarily arranged, Grumman-protected "Sto-Wing" slanting hub turning framework similar as the prior F4F, with a collapsed stowage position corresponding to the fuselage with the main edges pointing askew down.
All through mid 1942, Leroy Grumman, alongside his central fashioners Jake Swirbul and Bill Schwendler, worked intimately with the U.S. Naval force's Bureau of Aeronautics (BuAer) and experienced F4F pilots, to foster the new warrior so that it could counter the Zero's assets and assist with acquiring air order in the Pacific Theater of Operations. On 22 April 1942, Lieutenant Commander Butch O'Hare visited the Grumman Aircraft organization and talked with Grumman engineers, investigating the presentation of the F4F Wildcat against the Mitsubishi A6M Zero in airborne combat. BuAer's Lt Cdr A. M. Jackson guided Grumman's fashioners to mount the cockpit higher in the fuselage. likewise, the forward fuselage slanted down marginally to the motor cowling, giving the Hellcat's pilot great visibility.
⚠ Note: This post is in writing. Completion expected in 2022.
In view of battle records of experiences between the F4F Wildcat and A6M Zero, on 26 April 1942, BuAer coordinated Grumman to introduce the more-remarkable, 18-chamber Pratt and Whitney R-2800 Double Wasp outspread motor - which was at that point being used with Chance Vought's Corsair starting around 1940 - in the second XF6F-1 prototype. Grumman agreed by updating and fortifying the F6F airframe to fuse the 2,000 hp (1,500 kW) R-2800-10, driving a three-bladed Hamilton Standard propeller. With this blend, Grumman assessed the XF6F-3s execution would increment by 25% over that of the XF6F-1. The Cyclone-controlled XF6F-1 (02981) first flew on 26 June 1942, trailed by the primary Double Wasp-prepared airplane, the XF6F-3' (02982), which initially flew on 30 July 1942. The primary creation F6F-3, fueled by a R-2800-10, flew on 3 October 1942, with the sort arriving at functional preparation with VF-9 on USS Essex in February 1943.
Design
Grumman XF6F-1 Hellcat 1942
(To come)
Production
The F6F series was intended to take harm and the pilot securely return to base. A shot safe windshield was utilized and a sum of 212 lb (96 kg) of cockpit protection was fitted, alongside defensive layer around the oil tank and oil cooler. A 250 US lady (950 l) self-fixing gas tank was fitted in the fuselage. Standard deadly implement on the F6F-3 comprised of six .50 in (12.7 mm) M2/A Browning air-cooled automatic rifles with 400 rounds for each firearm. A middle area hardpoint under the fuselage could convey a solitary 150 US lady (570 l) expendable drop tank, while later airplane had single bomb racks introduced under each wing, inboard of the underside inlets; with these and the middle segment hard point, late-model F6F-3s could convey an absolute bomb load more than 2,000 lb (910 kg). Six 5 in (127 mm) high-speed airplane rockets (HVARs) could be conveyed - three under each wing on "zero-length" launchers.
Two night-contender subvariants of the F6F-3 were created; the 18 F6F-3Es were changed over from standard-3s and highlighted the AN/APS-4 10 GHz recurrence radar in a case mounted on a rack underneath the conservative, with a little radar scope fitted in the primary instrument board and radar working controls introduced on the port side of the cockpit. The later F6F-3N, first flown in July 1943, was fitted with the AN/APS-6 radar in the fuselage, with the radio wire dish in a bulbous fairing mounted on the main edge of the external traditional as an improvement of the AN/APS-4; around 200 F6F-3Ns were built.
Hellcat night warriors asserted their first triumphs in November 1943. An aggregate of 4,402 F6F-3s were worked through until April 1944, when creation was changed to the F6F-5. An early-creation F6F-5 being tried with eight 5-in HVAR rockets (around 1944-45)
The F6F-5 highlighted a few enhancements, including an all the more remarkable R-2800-10W motor utilizing a water-infusion framework and housed in a somewhat more smoothed out motor cowling, spring-stacked control tabs on the ailerons, and an improved, clear-view windscreen, with a level protected glass front board supplanting the F6F-3's bended plexiglass board and interior defensive layer glass screen. also, the back fuselage and tail units were fortified, and aside from some early creation airplane, the vast majority of the F6F-5s assembled were painted in a general shine ocean blue finish. After the initial not many F6F-5s were constructed, the little windows behind the primary shelter were deleted. The F6F-5N night-warrior variation was fitted with AN/APS-6 radar in a fairing on the external starboard wing.
A couple of standard F6F-5s were likewise fitted with camera gear for surveillance obligations as the F6F-5P. While all F6F-5s were fit for conveying a deadly implement blend of one 20-mm (.79-in) M2 gun in every one of the inboard firearm straights (220 rounds for each weapon), alongside two sets of .50-in (12.7-mm) assault rifles (each with 400 rounds for every firearm), this setup was just utilized on later F6F-5N night fighters. The F6F-5 was the most well-known F6F variation, with 7,870 being built.
Different models in the F6F series incorporated the XF6F-4 (02981, a transformation of the XF6F-1 fueled by a R-2800-27 and outfitted with four 20-mm M2 gun), which previously flew on 3 October 1942 as the model for the projected F6F-4'. This form never entered creation and 02981 was changed over to a F6F-3 creation aircraft. Another test model was the XF6F-2' (66244), a F6F-3 changed over to utilize a Wright R-2600-15, fitted with a Birman-made blended stream turbocharger, which was subsequently supplanted by a Pratt and Whitney R-2800-21, additionally fitted with a Birman turbocharger.
The turbochargers ended up being questionable on the two motors, while execution enhancements were minor. Likewise with the XF6F-4, 66244 was before long changed over back to a standard F6F-3.[34] Two XF6F-6s (70188 and 70913) were changed over from F6F-5s and utilized the 18-chamber 2,100 hp (1,566 kW) Pratt and Whitney R-2800-18W two-stage supercharged outspread motor with water infusion and driving a Hamilton-Standard four-bladed propeller. The XF6F-6s were the quickest form of the Hellcat series with a maximum velocity of 417 mph (671 km/h), yet the conflict finished before this variation could be mass-produced.
The last Hellcat carried out in November 1945, the all out creation being 12,275, of which 11,000 had been implicit only two years. This high creation rate was credited to the sound unique plan, which required little adjustment once creation was in progress.
Variants
XF6F-1, initial prototype (1,600 hp (1,193 kW) Wright R-2600-10 Cyclone 14)
XF6F-2: Turbocharged Wright R-2600-16 Cyclone, then R-2800-21, Birman turbocharger
XF6F-3: 2nd prototype (2 charges supercharged 2,000 hp (1,491 kW) Pratt & Whitney R-2800-10 Double Wasp)
XF6F-4: F6F-3 with two-speed turbocharged 2,100 hp (1,566 kW) R-2800-27
XF6F-6: 2 protos with 2,100 hp (1,566 kW) R-2800-18W, 4-bladed propellers
F6F-3 (British Gannet F.Mk.I/Hellcat F.Mk.I) 2,000 hp R-2800-10 Double Wasp
F6F-3E Night fighter version (AN/APS-4 radar)
F6F-3N night fighter version (AN/APS-6 radar)
F6F-5 Hellcat (Hellcat F.Mk.II) R-2800-10W engine
F6F-5K: Converion into radio-controlled target drones
F6F-5N night fighter AN/APS-6, 2x 20mm M2 cannons
F6F-5N (British N.F.MkII) Night fighter version (AN/APS-6 radar) 2x 20 mm AN/M2 cannon, 4x 0.50 in
F6F-5P Photo-reconnaissance aircraft, cameras rear fuselage
Hellcat FR.Mk.II British Hellcats photo reconnaissance version
FV-1 Proposed designation for the Canadian Vickers cancelled
Combat use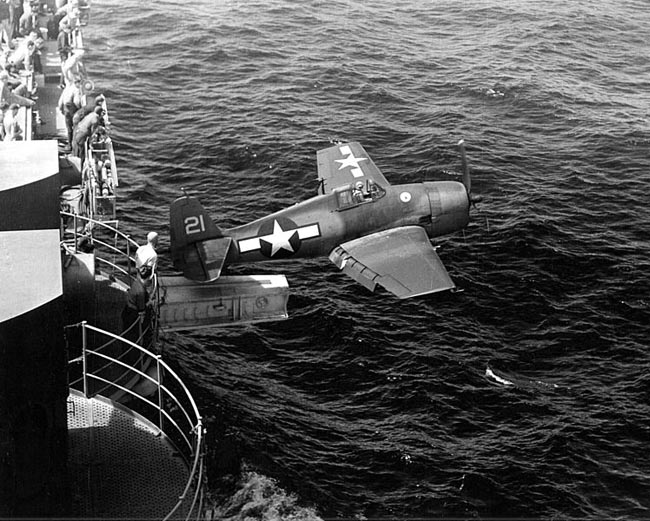 USN Hellcats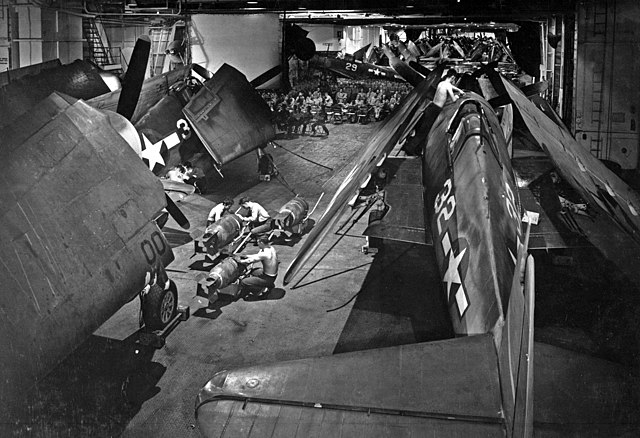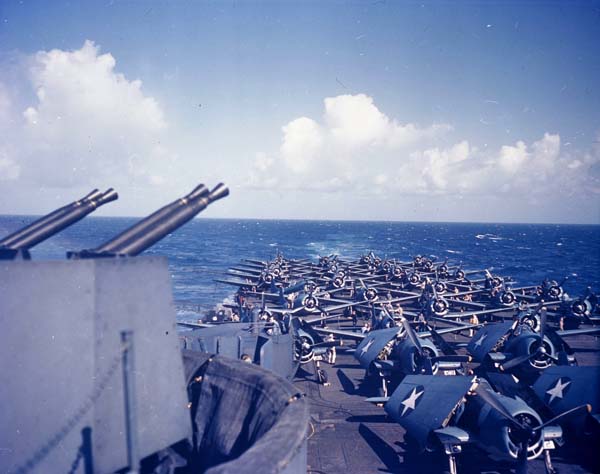 The U.S. Naval force very much wanted the more accommodating flight characteristics of the F6F contrasted and the Vought F4U Corsair, notwithstanding the predominant speed of the Corsair. This inclination was particularly noted during transporter arrivals, a basic achievement prerequisite for the Navy. The Corsair was along these lines delivered by the Navy to the Marine Corps, which without the need to stress over transporter arrivals, involved the Corsair to enormous impact in land-based fights.
The Hellcat stayed the standard USN transporter borne contender until the F4U series was at last cleared for U.S. transporter tasks in late 1944 (the transporter arrival issues had at this point been handled to a great extent because of utilization of Corsair by the Royal Navy Fleet Air Arm, what began in 1943). notwithstanding its great flight characteristics, the Hellcat was not difficult to keep up with and had an airframe adequately extreme to endure the afflictions of routine transporter operations. Like the Wildcat, the Hellcat was intended for simplicity of production and capacity to endure critical harm. VF-82 Grumman F6F-5 prepared for send off from USS Bennington off Okinawa in May 1945: Most of the F6F-5s assembled were painted by and large polished ocean blue.
The Hellcat previously saw activity against the Japanese on 1 September 1943, when warriors off USS Independence destroyed a Kawanishi H8K "Emily" flying boat. Soon later, on 23 and 24 November, Hellcats drew in Japanese airplane over Tarawa, killing an asserted 30 Mitsubishi Zeros for the deficiency of one F6F. Over Rabaul, New Britain, on 11 November 1943, Hellcats and F4U Corsairs were occupied with day-long battles with numerous Japanese airplane including A6M Zeros, guaranteeing almost 50 aircraft.
At the point when preliminaries were flown against a caught A6M5 model Zero, they showed that the Hellcat was quicker at all elevations. The F6F out-climbed the Zero hardly over 14,000 ft (4,300 m) and rolled quicker at speeds over 235 mph (378 km/h). The Japanese contender could out-turn its American adversary effortlessly at low speed and partook in a somewhat better pace of move under 14,000 ft (4,300 m). The preliminaries report closed:
Try not to dogfight with a Zero 52. Try not to attempt to follow a circle or half-roll with a get through. While assaulting, use your better power and rapid execution than connect at the most great second. To avoid a Zero 52 on your tail, roll and jump away into a fast turn.
Hellcats were the major U.S. Naval force warrior type engaged with the Battle of the Philippine Sea, where so many Japanese airplane were destroyed that Navy aircrews nicknamed the fight the "Incomparable Marianas Turkey Shoot". The F6F represented 75% of all flying triumphs recorded by the U.S. Naval force in the Pacific.[42] Radar-prepared Hellcat night-contender groups showed up in mid 1944.
An imposing adversary for the Hellcat was the Kawanishi N1K, yet it was delivered past the point of no return and in inadequate numbers to influence the result of the war.[43] Foray, kill, and misfortune figures
U.S. Naval force and Marine F6F pilots flew 66,530 battle fights and guaranteed 5,163 kills (56% of all U.S. Naval force/Marine air triumphs of the conflict) at a recorded expense of 270 Hellcats in flying battle (a general kill-to-misfortune proportion of 19:1 in light of guaranteed kills). Claimed triumphs were frequently profoundly misrepresented during the conflict. All things being equal, the airplane performed well against the best Japanese adversaries with an asserted 13:1 kill proportion against the A6M Zero, 9.5:1 against the Nakajima Ki-84, and 3.7:1 against the Mitsubishi J2M during the last year of the war.
The F6F turned into the superb expert creator airplane in the American stock, with 305 Hellcat pros. The U.S. triumphs were not simply credited to predominant airplane; from 1942 onwards, they confronted progressively unpracticed Japanese pilots and enjoyed the benefit of expanding mathematical superiority.[Note 7] In the ground-assault job, Hellcats dropped 6,503 tons (5,899 tons) of bombs.
The U.S. Naval force's unsurpassed driving expert, Captain David McCampbell, scored all his 34 triumphs in the Hellcat. He once portrayed the F6F as "... an extraordinary military aircraft. It performed well, was not difficult to fly, and was a steady weapon stage, however what I truly recall most was that it was tough and simple to maintain."
Throughout World War II, 2,462 F6F Hellcats were lost to all causes - 270 in airborne battle, 553 to antiaircraft ground and shipboard fire, and 341 because of functional causes. Of the all out figure, 1,298 were obliterated in preparing and ship tasks, regularly outside of the battle zones.
Hamilton McWhorter III, a Navy pilot and a flying expert of World War II, was credited with destroying 12 Japanese airplanes. He was the main U.S. Naval force pilot to turn into a pro while flying the Grumman F6F Hellcat and the main Navy transporter pilot to accomplish twice ace status.
Fleet Air Arm Gannets/Hellcats
The British Fleet Air Arm (FAA) got 1,263 F6Fs under the Lend-Lease Act; at first, it was known as the Grumman Gannet Mark I. The name Hellcat traded it in mid 1943 for effortlessness, the Royal Navy around then embracing the utilization of the current American maritime names for all the U.S.- made airplane provided to it, with the F6F-3 being assigned Hellcat F Mk. I, the F6F-5, the Hellcat F Mk. II and the F6F-5N, the Hellcat NF Mk. II.
They saw activity off Norway, in the Mediterranean, and in the Far East. A few were fitted with visual surveillance gear like the F6F-5P, getting the assignment Hellcat FR Mk. II. The Pacific War being principally a maritime conflict, the FAA Hellcats fundamentally confronted land-based airplane in the European and Mediterranean theaters, so experienced far less open doors for aerial battle than their USN/Marines partners; in any case, they asserted an aggregate of 52 hostile airplane kills during 18 elevated battles from May 1944 to July 1945. 1844 Naval Air Squadron, on board HMS Indomitable of the British Pacific Fleet was the most noteworthy scoring unit, with 32.5 kills.
FAA Hellcats, as with other Lend-Lease airplane, were quickly supplanted by British airplane after the finish of the conflict, with just two of the 12 groups outfitted with the Hellcat at VJ-Day actually holding Hellcats before the finish of 1945.[54] These two units were disbanded in 1946.
It was used in Training units and non-operational units in the 706 Naval Air Squadron Crew Pool & Refresher Flying Training School, 709 Naval Air Squadron Ground Attack School, 778 Naval Air Squadron Service Trials Unit (STU), 891 Naval Air Squadron not operational at war's end, and 1847 Naval Air Squadron merged into 1840, never operational.
East Indies units Operated the 800, 804, 808, 888, 896, 898 Naval Air Squadrons onboard respectively the HMS Emperor, Ameer, Shah, Ravager, Khedive, Empress, HMS Attacker/HMS Pursuer.
The the Atlantic & Mediterranean squadrons, it was used by the 881 NAS (HMS Pursuer), 892 (HMS Premier) and 1832 (HMS Indomitable).
Pacific units operated it in the 885 NAS (HMS Ruler) 1839 (HMS Indomitable), 1840 (HMS Speaker), and 1844 (HMS Indomitable).
Foreign operators
French Hellcats
The French Navy and French Air Force both deployed the Hellcats in Indochina from 1950 to 1952. The Aéronavale launched its F6F-5 Hellcats painted in Gloss Sea Blue, same livery on USN planes until 1955, with a French roundel and anchor. Four squadrons had it (Notably the famous Normandie-Niemen squadron) before transitioning to the F8F Bearcat.
Uruguayan Hellcats
The Uruguayan Navy also used them until the early 1960s.