Bainbridge class Destroyers (1900)
USA – (1898-1902): 12 destroyers:
USS Bainbridge, Barry, Chauncey, Dale, Decatur, Hopkins, Hull, Lawrence, Macdonough, Paul Jones, Perry, Preble, Stewart

The Bainbridge-class destroyers were first designated as Torpedo Boat Destroyers (TBDs), authorized by the Congress in 1898 following the Spanish–American War. Built between 1899 and 1903, they represented 13 of 16 TBDs, but the lead ships USS Bainbridge was retroactively denominated DD-1, making her the very first USN destroyer. There was a single loss in WW1, USS Chauncey, colliding with the British merchant ship SS Rose in 1917. They were discarded in 1919, but made a very first and important step in a long lineage that will be covered in detail in 2023.
A late inclusion of the Torpedo
The start of the "new navy" TB lineage: 1886
When the Spanish-American War broke out in April 31, 1898, the USN still at the time called "new navy" to make a difference with the leftovers of the 1860s Civil war fleet, looked definitely at Europe, and at that stage, the French Young School in particular, looking at ways to wage war on potentially adverse commerce. One such policies was also to count on local defence, and leading to the design and adoption of the first (and only) USN Torpedo Boats.
Going from the spare-torpedo vessels of the Civil war such as the CSS David, and the first "submarines", USS Alligator and CSS HL Hunley, or the first "torpedo boat", the USS Spuyten Duyvil, there was no need for such vessels in the 1870s, experiments being made on an armoured ram instead (perhaps inspired by the British HMS Polyphemus), USS Kathadin, and the dynamite-gun cruiser USS Vesuvius. In the 1880s, the USN started a serie of commerce raising cruisers, but none had torpedo tubes, at least until the 1892 USS Olympia, a groundbreaking designs for many reasons.

The very first, experimental "Torpedo Boat" ("WT1") was built by Herreschoff and provided at first a spar torpedo: USS Stiletto. She was provided two Howell torpedoes in 1898 though.
It's USS Cushing that was the first to adopt true 18-in torpedo tubes. Officially named "TB-1", she represented the start of this rather short lineage. Followed by TB-2 USS Eriscsson (1894), then the first classes, Foote (1896), Porter (1896) and up to TB-35 (USS Wilkes, 1901) they were rather small, from 110 to 220 tonnes, built by a variety of yards to test different solutions. Almost all boats differed from one another in some ways. The USN experimented the type until it was no longer a priority.

Foote class TBs (TB-3 to TB-5), a 142 tonnes type.
Context and Motivation
Alongside the construction of Torpedo Boats, the USN was well aware of the development in Europe of large torpedo boats intended to chase down regular TBs, called "TBD" with the adjunction of "destroyer".


One such inspiration, as tension grew with Spain over Cuba, was the Spanish "Destructor" (1885) credited as the very first of such torpedo boats hunters. But it was a largely experimental ship. The Armada soon integrated the Furor class launched 1896-97, six ships planned, but only Furor and Plutón were ready when the war broke out.

Spanish Furor, the class was soon sent to defend Cuba, entering in USN calculation. Captain Villamil, in charge of both Pluton and Furor, proposed to launch a surprise night attack with torpedoes but was overruled by the ranking Admiral Cervera.
It is still unclear if those weighted that much in the admiralty decision to press the construction of TB-11 (USS Farragut, first of the name) as she was authorized by the Congress on 10 june 1896, whereas the Furor class were ordered from J & G Thompson Clydebank shipyards in Scotland the same year, possibly earlier. For USS Farragut, built at Union Iron Works, laid down in July 1897 and launched on July 1898 was not completed in time to take part in the Spanish-American war. None of the following did. But the looming war in 1896 certainly had a role in this.
USN Ocean-Going Torpedo Boats: TB-11 to TB-21 (1897-99)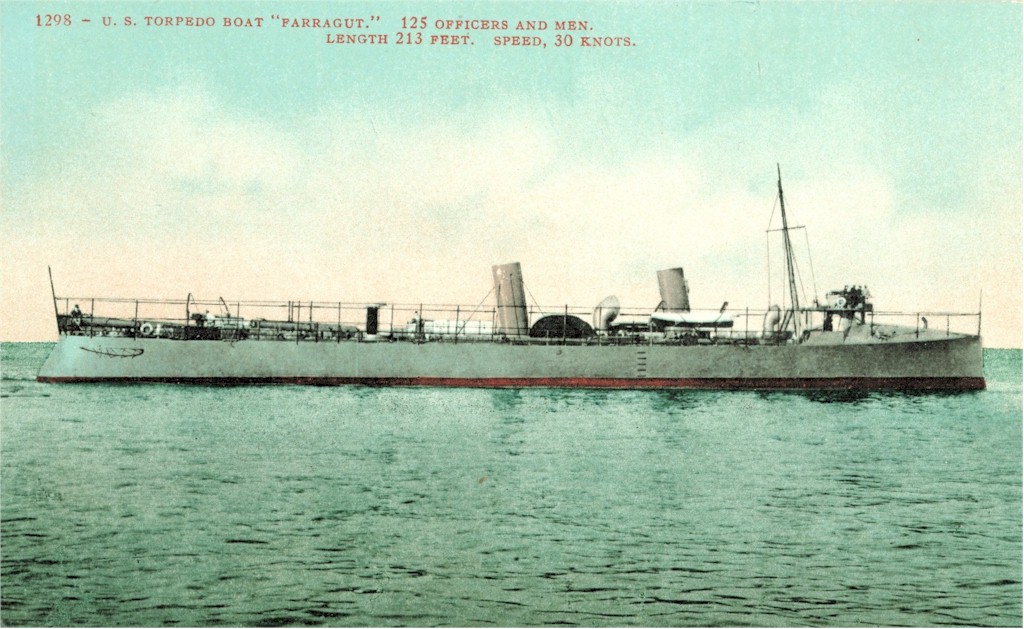 USS Farragut, TB-11, Post card with no date or location from the collection of Raymond Strout, via navsource.org (1).
The doubt lays in the fact that instead of ordering a class, the admiralty was content to place orders for comparative tests to various yards and based on the same following 3/3/1897 act.
-TB-19 (USS Stringham) to Harlan & Hollingsworth,
-TB-20 (USS Goldborough) to Wolf & Ziwker,
-TB-21 (USS Bailey) to Gas engine & Power & CL Seabury.
These last three were launched in the span of a few months in 1898. However, both experience with USS Farragut and the end of the war led to many modificationsn ensuring these largely experimental boats were commissioned at a much later dates, in 1901 (Bailey), 1905 (Stringham) and even 1908 for USS Goldsborough.
These vessels were classed as TBs due to their tonnage, 235 to 340 tons, not that far from the largest TBs of the time, reaching 220 long tonnes. Some authors had them placed in a single class by convencience but if they started with the same March 1897 specifications and requirements, submitted to several yards, they certainly were very different from one another.
They served for testing purpose for all their active existence, even duting WWI. Without surprise they were discarded in 1918 and scrapped 1919-1923.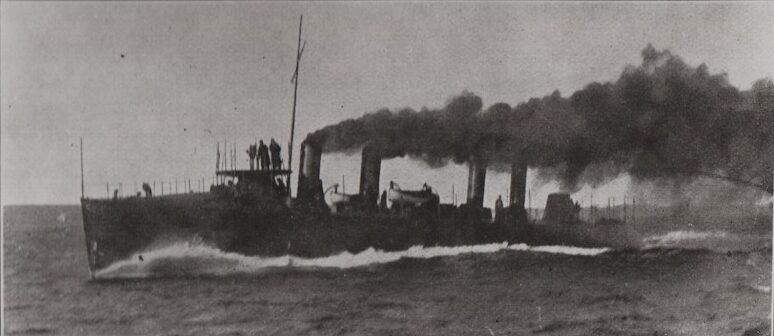 USS Bailey, Undated, location unknown. Photo NHQQ0397 from the publication "Our Country's Pride" via navsource. src
⚙ specifications

Name
TB-11
TB-19
TB-20
TB-21
Displacement
279
340
255
234
Dimensions
214 x 21 x 6
228 x 22 x 6
198 x 20 x 6
205 x 19 x 6
Propulsion
2 shafts VTE, 3 Thornycroft Boilers, 5,878 ihp
7,200 ihp
6,000 ihp
5,600 ihp
Speed
30 kts
30 kts
27 kts
30 kts
Range/oil tonnage
95 t
95 t
89 t
99 t
Armament
4x 6-pdr, 3x 18-in TTs
same
same
same
Crew
66
59
59
56
The first destroyer class (DD-1)


Profile of USS Bainbridge in sea trials, shown in publications of the time.
Some references, describe the four preceding ocean-going torpedo boats launched in 1898-1899 as the first US destroyers, based on their tonnage albeit still class as TBs. USS Stringham, largest of these, was even larger than some contemporary British destroyers, but when studied in emergency, the new Bainbridges were considerably larger and better armed, although not as fast, the "first rate" Farragut & Cie indeed were specificied 30 knots (that only Goldborough failed to achieve, no wonder Wolf & Zwicker was never recontacted).
The Bainbridge class followed a 1898 recommendation for war plans board initiated to start the Spanish–American War, chaired by Assistant Secretary of the Navy Theodore Roosevelt. All recoignised, based on reports, the poor sea-keeping qualities of the previous Farragut type "sea going torpedo boats" or TBs in general, also taking in account the Spanish Furor class built in UL, which caracteristics were well known. These were the reasons for a more ambitious, coherent class of 13 officially designated as TBDs (Torpedo Boat Destroyers), sanctioned by Congress authorizion on 4 May 1898, to be placed under the fiscal year 1899 (FY 1899) naval program, completed by three Truxtun-class.


Original blueprint of the class, outboard view and top view.
Construction difficulties (and the quick resolution of the war, since the Armada soon looked like a paper tiger), saw the Bainbridges only completed in 1901–02, far too late. But this new type was nevertheless instituted for good in the US Navy, following the Royal Navy in 1895 with the A-class. At the same time, this put a definitive end to the torpedo boats program. The very last indeed was TB-35 USS Wilkes, commissioned in 1902, about the same time. A long pause for reflection followed (see later).
So the Bainbridge was the first class specifically ordered as the Spanish American war broke out, but instead of ordering them in separate yards for testing, as the previous TB-11 to TB-21, the design was completely new and standardized, so to be ordered in numbers to Neafies & Levy and WR Trigg (and several sub-classes to other yards). At 420 tonnes, they certainly superior were to the Spanish Furor class, which were 320 tonnes, 28 knots capable vessels armed with 2 × 75 mm (3 in) and two 57 mm (2 in) Nordenfelt cannons, two Maxim machine guns and two 350 mm (14 in) torpedo tubes.
Beating this by size, speed, armament and capabilities was obviously a priority. With 420 tonnes setup as tonnage, way more than the previous Farragut and following, the same two 3-in but five 6-pdr, and moreover 18-in torpedo tubes (457 mm) instead of 14-in, a top speed of 29 knots, the Bainbridge class certainly went beyond and above.
Most authors assimilated these as a single class with several sub-classes:
Bainbridge class by Neafie & Levy USS Bainbridge, Barry, Chaucer & WR Trigg: Dale, Decatur.
Hopkins sub-class by Harlan & Hollingsworth: USS Hopkins, Hull (DD 6 and 7)
Lawrence sub-class by Fore River: USS lawrence, Macdonough (DD 8 and 9)
Paul Jones sub-class by Union Iron Works: USS Paul Jones, Perry, Preble (DD 10-12)
Steward sub-class by Gas engine & CL Seabury: USS steward (DD 13)
They all proceeded from the same basic specifications, but had some changes, setting them apart (see later).
From the Truxtun to the Smith: Nearly a decade vacancy.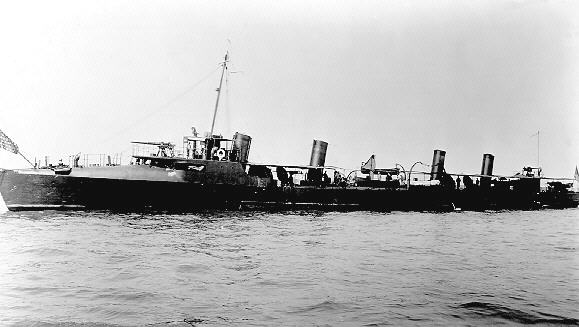 The next class, this time too different to be assimilated, were the Truxtun (DD 14-16), with USS Truxtun, Whipple and Worden completed as flush-deckers with a turtleback foredeck on a 433 tonnes, 260 foot base, but the same armament. Most authors sets them apart albeit they proceeded from the very same 4 May 1898 act, but moved FY1899. They were launched all three at Maryland Steel Yard, on 15 August 1901. They will be the object of a separated article.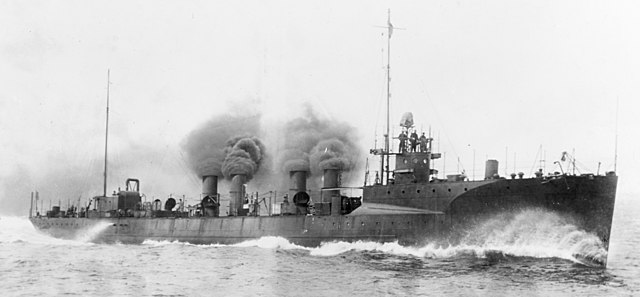 Smith class USS Flusser (DD-20) on sea trials: The first USN turbine destroyers.
There was a gap of nine years between the Truxtun and the next Smith class (USS Smith, Lamson, Preston, Flusser, Reid, DD-17-21) as they were all provided a forecastle, which became standard and were based on a 700 tonnes standard, almost twice the Bainbridge, plus an all-3 inches main armament. They represented a brand new league in destroyer design, this time meant for fleet duties alongside the brand new battlefleet that was built, including the first dreadnoughts. But in the span of four years, the USN jumped in 1913 to a 1000 tonnes standard, which went all through WWI with the Wickes/Clemsons. They were all dubbed as "fully seagoing vessels" with long interwar careers, whereas the old Bainbridge and Truxtun classes were scrapped just after the war ended.
Design of the Bainbridge class (DD-1)


Reworked blueprint, in inverted black and white and accentuated contrasts by the author.
Hull and general design


Drawing made by A. D. Baker III as of 1901, scanned from U.S. Destroyers: An Illustrated Design History by Norman Friedman (navsource.org).
The Bainbridges were under 650 long tons (660 t) fully loaded, but 408 to 480 tonnes standard (unladen). In sharp contrast, modern Arleigh Burke-class from 2013, so after 100+ years of evolution, reaches 10,800 long tons (11,000 t), so heavy cruiser-size for WW2 standards. Still at the time, they certainly were on top pf the predatory chain for small ships. To compared, let's see the British A class (1897):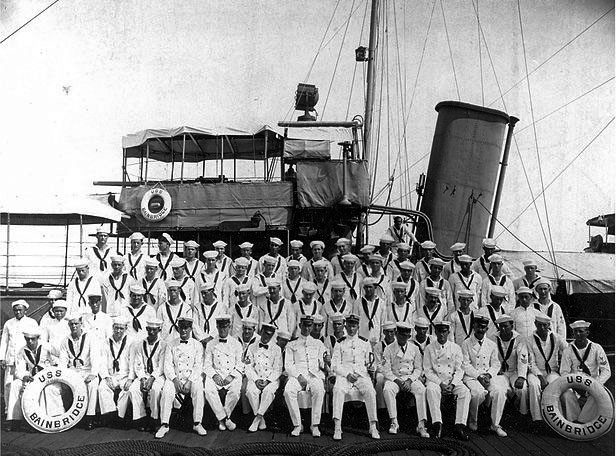 Sub-class stats:
Bainbridge: Forecastle. 420 tons, 250 x 23.7 x 6.6 feets, 8,000 ihp, 29 kts. see general stats in table below, crew 73.
Hopkins: Turtledeck. 408 tons, 248.8 x 24.6 x 6ft feets, 7,200 ihp, 29 kts, two 3-in/50 guns (3-in/25 on the others) crew 72.
Lawrence: Forecastle. 430 tons, 246.3 x 22.3 x 6.8 ft, 8,400 ihp, 30 kts, crew 72.
Paul Jones sub-class: 480 tons, forecastle. 250.7 x 23.6 x 7.3 fts, 8,000 ihp, 29 kts, crew 73.
Steward: 420 tons, Forecastle. 250.6 x 23.8 x 6.6 ft, 8,000 ihp, 29 kts, crew 71.
Powerplant


Blueprint – Engine girders (NARA). Department of the Navy. Bureau of Construction and Repair 1898.
The ships all had two propeller shafts connected vertical triple-expansion engines, the best of their day (Turbines were onugurated by the Smith class onwards), fed by four coal-fired boilers. They diverged in details from ships to sub-class:
USS Bainbridge herself and the rest of her group had four Thornycroft boilers rated at 275 psi (1,900 kPa) for a total output of 7,000 ihp (5,200 kW) as designed, but on trials she reached 28.45 knots (52.69 km/h; 32.74 mph) at forced heat, light gauge, 8,000 ihp (6,000 kW). She carried 213 long tons (216 t) of coal but only 203 tons for USS dale and Decatur.
The sub-class Hopkins had the same Thornycroft boilers and triple-expansion engines same output of 7,000 ihp but did better at 29.02 knots on trials based on less horsepower 8,456 ihp (6,306 kW), thay however only carried 150 long tons of coal. Perhaps her better performances were attibuted to her lower displacement at 408 tons as both Hopkins and Hull lacked the forecastle of the others.
The Lawrence sub-class diverged by having four Normand boilers or Fore River Boilers (for Conways) and total output was above the others at 8,400 ihp (6,300 kW); Because of this, they also diverged in profile, having four funnels close together, and not far apart like all the others and a turtleback instead of a forecastle as the Bainbridges, and yet displaced even more (see separate stats), reaching 28.41 knots on trials based on the same output than specified. Coal capacity was just 115 long tons reducing their range significantly, but in Conways it's noted at 123 tons, 110 for USS Mcdonough.
The Paul Jones (With Perry and Preble) had Thornycroft boilers rated for 8,000 ihp, 29 knots, carrying 202 tons of coal. On trials, top speed ranged between 28.03 and 28.91 knots.
USS Stewart had four Seabury boilers for 8,000 ihp also, 29 knots but only 172 tons of coal. On trials she reached 29.7 knots and thus was soon dubbed the fastest of the whole class.
Armament
In standard as specified they all carried the same combination: Two 3-in/25 (76 mm) guns, Five 6-pdr QF guns (57 mm), two 18-in torpedo tubes.
Interestingly enough, the only change was on the Paul Jones sub-class which in the 1910s replaced their two single tubes by a twin bank amidships. The single one aft was removed.
Main: 2x 3-inches
The two 3-in/25 guns were located fore and aft on raised platforms. Unfortunately i can't find much data about these 1890s guns. The closest were the 3″/23.5 (7.62 cm) Marks 4 developed in 1900 by Bethlehem Steel, using with a side-swing carrier breech block. More data.
This is another story for the 3-in/50 however (it's likely all were upgraded to this standard after completion). The 3″/50 (7.62 cm) Mark 2 was developed in 1898 and entered service in 1900 so as the destroyers were completed. Designed by Bethlehem Steel they fired fixed ammunitions.
Stats were: 15 rounds per minute, 24 lbs. (10.9 kg) shells at 2,700 fps (823 mps). The number of rounds carried is unknown. It's likely they were upgraded to Mark 3 or 5 in WWI.
Secondary: Five 6-pdr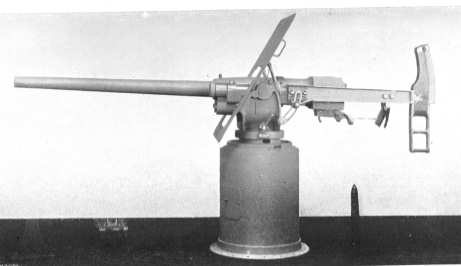 These were the classic QF 6-pounder Hotchkiss guns, manufactured in France by a US-born engineer and industrialist.
These used a vertical sliding-block breech with hydro-spring recoil, fired a 57x307R shell at 25 rpm and 1,818 feet per second (554 m/s) up to 4,000 yards (3,700 m).
On this class they were located along the hull, on deck and broadside, two abaft funnel #1 and two more in front of funnel #3. The last one was axial, located just behind funnel #4. Note that this location changed on the Lawrence sub-class as they had four funnels close together. On this class, the 6-pdr forward were relocated abaft the 3-in main gunnery platform. On all forecastle ships, the guns were located abaft #1 funnel, and specially made recesses to fire forward, protected from the elements by a bulwark. This location was judged ideal to have three guns firing in chase.
Torpedoes
The two torpedo tubes were located on deck, axis positions, one between the two groups of funnels (on the Lawrence, behind the group) and one completely aft, close to the stern. This gave them excellent traverse angles. They also carried four reload torpedoes. The reload operation was of course manual, using pulleys, and a long operation.
As customary of the time, these destroyers not only had single torpedo tubes, but also 18-in caliber torpedoes, but in reality they were 17.7 inches (45.0 cm) in diameter. This caliber was chosen on US destroyers as well starting with USS Cushing (1890) instead of the 14-in used on the Spanish Furor class destroyers and many early destroyers and torpedo boats on the time, but also the experimental USS Stiletto, using the early 14.2″ (36 cm) Howell.
US early Torpedoes of the Howell type, using a flywheel for power, were quickly replaced by the Whitehead type built under licence by Bliss-Levitt, using compressed air.
There is doubt about the exact type used on the Bainbridge class: Either the "Short" Whitehead 18″ (45 cm) Mark 1 or the "Short" Whitehead 18″ (45 cm) Mark 2, the "Long" Whitehead 18″ (45 cm) Mark 1 or Type B introduced in 1898, Mark 2 or Type C or the one introduced when they were completed:
The Whitehead 18″ (45 cm) Mark 3 or Type A:
First using a Mark 1 mod 1 gyro, they weighted 845 lbs. (383 kg) for 140 in (3.556 m) long, carrying a 118 lbs. (53.5 kg) wet gun-cotton charge at 800 yards (730 m)/27.5 knots.
The engine was using an air-flask (cold running) with compressed air on three cylinder, radial Brotherhood pattern.


Author's profile of USS Bainbridge, DD-1
⚙ Bainbridge (DD-1 to 6) specifications

Displacement
420 tons standard (circa 700 fully loaded)*
Dimensions
250 oa x 23ft 7in x 6ft 6in feets (76.19 x 7.18 x 1.98m)
Propulsion
2 shafts VTE, 4 Thornycroft Boilers, 8,000 ihp
Speed
28-28.64 kts, 29 kts nominal
Range
2700(8 kts), 203-213 tons coal
Armament
2x 3-in, 5x 6-pdr, 2x 18-in TTs
Crew
73
USS Bainbridge displaced 631 long tons (641 t) as designed full load but 710.5 long tons (721.9 t) in actual full load.
Construction time, from keel laying to commission was four years on average, quite long for destroyers.
Career and general Assessment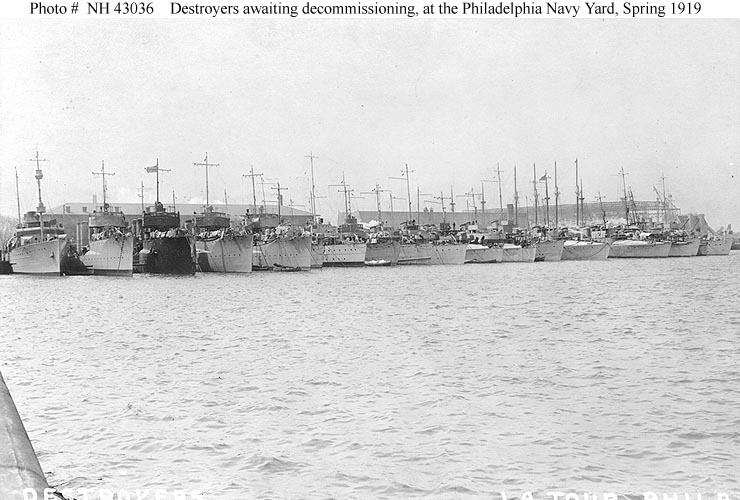 Old destroyers awaiting decommissioning in the Reserve Basin, Philadelphia Navy Yard, spring 1919. Are visible USS Preble, Decatur, USS Paul Jones, Stewart, Bainbridge, Hopkins, Hull, Barry, so most of the whole class plus Worden, Truxtun, Whipple (truxtun class) plus USS Perry, Lawrencen, Dale of the Bainbridge class, in reserve, pending decommission. Naval History & Heritage Command photo NH 43036 via navsource.org src
Read More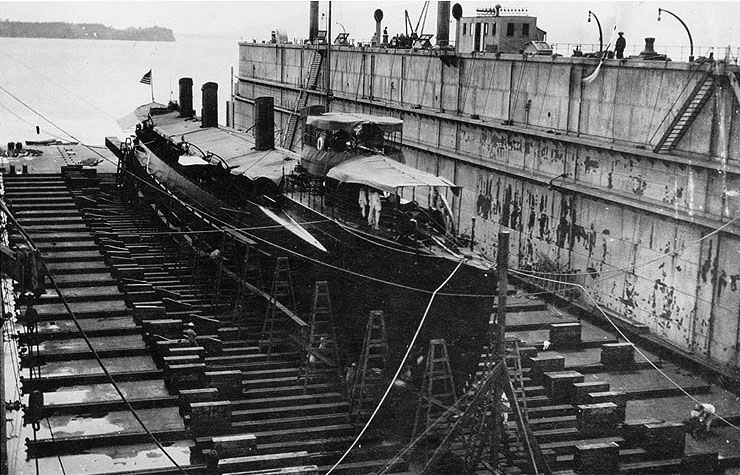 USS Chauncey in Drydock, 1910
Books
Conway's All the World's Fighting Ships 1860–1905.
Bauer, K. Jack; Roberts, Stephen S. (1991). Register of Ships of the U.S. Navy, 1775-1990: Major Combatants. Westport, Connecticut: Greenwood Press.
Friedman, Norman (2004). US Destroyers: An Illustrated Design History (Revised ed.). Annapolis: Naval Institute Press.
Gardiner, Robert; Chesneau, Roger (1979). Conway's All the World's Fighting Ships, 1860–1905. New York: Mayflower Books.
Simpson, Richard V. Building The Mosquito Fleet, The US Navy's First Torpedo Boats. Charleston, South Carolina: Arcadia Publishing, 2001
Silverstone, Paul H. (1970). U.S. Warships of World War I. London: Ian Allan.
Links
https://catalog.archives.gov/id/158704320
http://www.navsource.org/archives/05/tb/050311.htm
https://destroyerhistory.org/early/first/
https://en.wikipedia.org/wiki/Bainbridge-class_destroyer
http://www.navweaps.com/Weapons/WNUS_3-50_mk2.php
http://www.navweaps.com/Weapons/WTUS_PreWWII.php
https://web.archive.org/web/20140915054904/http://www.history.navy.mil/museums/keyport/html/part2.htm
https://web.archive.org/web/20160813194255/http://www.destroyers.org/Class/cl-main.htm
https://destroyerhistory.org/early/bainbridgeclass/
https://destroyerhistory.org/early/hopkinsclass/
https://destroyerhistory.org/early/lawrenceclass/
http://navypedia.org/ships/usa/us_dd_bainbridge.htm
http://navypedia.org/ships/usa/us_dd_paul_jones.htm
http://navypedia.org/ships/usa/us_dd_lawrence.htm
http://navypedia.org/ships/usa/us_dd_hopkins.htm
http://navypedia.org/ships/usa/us_dd_stewart.htm
Videos
Model Kits
As the first USN destroyers, the Bainbridge class benefited from the attention of at least some manufacturers: Blue Water Navy, Blue Ridge Models, Yankee Modelworks and Iron shipwright made a 1:350 model (likely sharing the same molds). More recent, Iron Shipwrights made a 1:192 model. This is an "austere" kit, lacking artillery, masts and details, as she was in 1916.
Main query on scalemates
USS Bainbridge (DD1)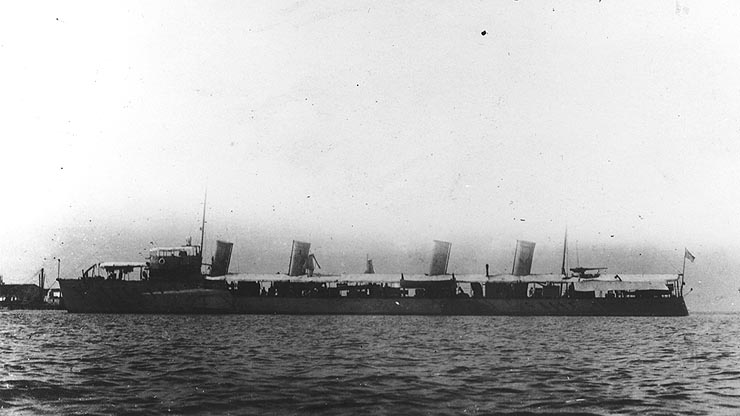 As commissioned in 24 November 1902, USS Bainbridge was Assigned to the 1st Torpedo Flotilla, with three months between trials, outfitting, pre-training and fixes. On 1 June 1903 she made a shakedown cruise to Annapolis, assigned to the North Atlantic Fleet's Coast Squadron, later moved to Newport News in Virginia. On 18 June she departed for her first squadron's drills in New England waters, following by a search problem and joint maneuvers with the Army off Maine. By September 1903 she was prepared to serve with the Asiatic Station.
The 1st Torpedo Flotilla moved with USS Baltomore in December to Key West in Florida, Buffalo replcing Baltimore for their voyage to the Far East via Puerto Rico, the Canary Islands, Gibraltar, Algiers, Valletta, Suez in February, the Red Sea to Aden, Bombay and Colombo, for their home port Singapore on 9 April, then Cavite, Philippines. From there, the squadron stayed in the Asiatic Station, between Chinese waters and the Philippines, during which USS Bainbridge was the squadron flagship (DesRon 1) at Manila Bay. They usually stopped yearly at Hong Kong and Shanghai, making torpedo drills off the Chinese coast during the summer and showing the flag in support of American diplomatic presence there, forcing the hands of the Imperial Government, enforcing treaties and protecting their nationals but also safeguarding quasi-colonial concessions witgin western power's fierce competition.
In 1904 with the attack on Port Arthur, USS Bainbridge was at Shanghai when the fleeing cruiser Askold from Admiral Vitgeft's squadron arrived to find a safe haven, with the Japanese in hot pursuit. A IJN destroyer entered the Yangtze to reconnoiter Askold when US Rear Admiral Yates Stirling dispatched Bainbridge to deter her to go further. Previously at Chefoo they had violated international law by seizing another ship, and the deterrence worked.
In 1905 she engaged in local operations and torpedo drills, gunnery practice, leaving the Philippines with the Battleship Squadron for Hong Kong. Back to Cavite they patrolled the coast of Palawan Borneo after hearing of the close arrival of the Russian Rear Admiral Zinovy Rozhestvensky's Baltic Fleet from Madagascar. Thus, the destroyers enforced possible neutrality violations both from Russians and Japanese. The situation was resolved at Tsushima in May.
In 1906 Bainbridge and Barry remained in Chinese waters to "show the flag"
On 9 January 1907 she was commissioned in Cavite Navy Yard for machinery fixes, overhaul and maintenance. She had indeed many boilers issues, also shared with her sister ships, reported already in 1905. The Asiatic Fleet commander eventually asked for a retubing on all ships when pacticable. Chauncey, Dale and Decatur as were decommissioning at Cavite. Bainbridge was eventually recommissioned on 2 April 1908 with Captain Joseph V. Ogan in command.
The next three years were spent between patrolling the Philippines and Chinese waters training in the summer. By October 1911 an anti-Manchu revolt degenrated in a revolution 1912 in prompting there the US destroyers, protecting Americans citizens and interests. By the spring of 1912 she remained on station in the Yangtze River and returned to the Philippines. However due to manpower shortage she was placed in reserve on 24 April.
She remained in semi-active state limbo until 1 April 1913, now commanded by Lieutenant Raymond A. Spruance (yes, this one).
Complications on the international scene resurfaced with the California Alien Land Law of 1913 and Bainbridge with the flotilla stationed off Luzon, until May, and throughout 1914. Next, they departed for Chinese waters again this summer. Menawhile, Japan joined the entente and soon started a chase after Geran assets in the pacific. In 1915 Bainbridge and the flotilla only made a short deployment to Shanghai and in 1916 patrolled Philippines waters. The spring of 1917 saw her stationed at Cebu, southern islands. By the mid-summer 1917 she was reassigned with the squadron to the European waters.
On 1 August 1917 she departed via Borneo, Singapore, Ceylon, Columbo, Bombay, Suez, Port Said and seeing some service in Mediterranean Sea, patrolling with the Otranto Barrage Force against German and Austro-Hungarian submarines. She in fact claimed a submarine contact underway to Gibraltar, stopping in Valletta on 6 October, then Naples. On the 8th, her lookouts spotted a surfaced U-boat and attacked, but the latter sublerged and escaped. On the 9th, they escorted merchant ships to Naples. After a week they departed for Gibraltar.
Nine months were spent from Gibraltar, escorting Allied convoys in and out of the Mediterranean Sea. On 15 July 1918 she departed with USS Nashville for home, Charleston on 3 August. From there, she resumed escort missions until 27 November, sent to Boston from northeastern patrols until the summer of 1919. On 3 July she was decommissioned at Philadelphia Nyd, stricken on 15 September 1919, sold to Henry A. Hitner on 3 January 1920, conversion to mercantile (fruit carrier). The rest of her carrer is not known.
USS Barry (DD-2)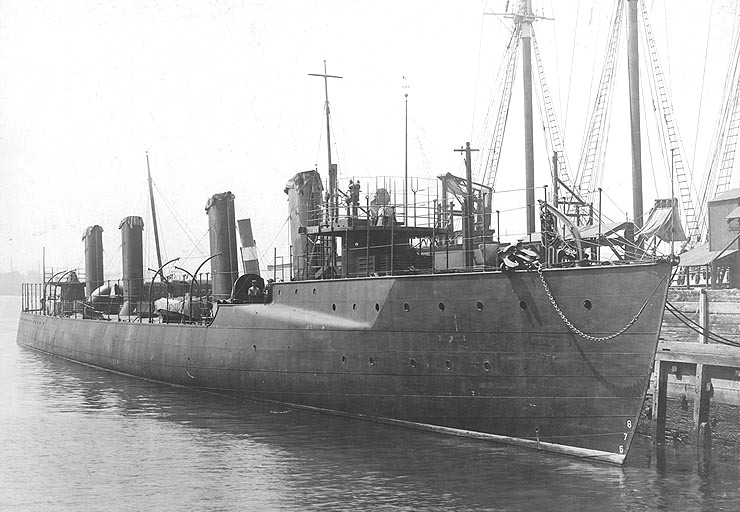 USS Barry was commissioned on 24 November 1902 and assigned to the 1st Torpedo Flotilla, Coast Squadron, North Atlantic Fleet. The summer show her participating in the 1903 fleet maneuvers off New England. Like her sister Bainbridge and others, she was quickly prepared to be sent in the Far East, based in the Philippines.
She proceeded from 23 December 1903 via the Mediterraean and Suez, on 26 February 1904, stopping underway at Singapore in April. She was based in Cavite and her career became the same as other destroyers of her class, with Bainbridge as flagship, betwee "Show the flag" mission in Chinese waters and traning in th summer and home waters trainng in winter, in the Philippines. Her presence her allowed President Theodore Roosevelt chose to brandish the "Big Stick".
The 1st Torpedo Flotilla also escorted the Battleship Squadron until August 1917 outside two short decommissions. From August 1917 she was off Cavite starting her long trip back to Europe via Suez Canal (23 September). She stopped in Malta (Valletta) and escorted ships to Naples. She departed for Gibraltar on 15 October, her new home port to escorted merchantmen in and out of the Mediterranean until August 1918. She then headed back to Charleston in South Carolina on 5 September, and remaining there for more patrol and convoy duties, then left in January 1919 for Philadelphia Nyd, decommissioned on 28 June, sold on 3 January 1920 to Henry A. Hitner Co. for conversion as a merchantman. It seems there are conflicting information here. All the Bainbridge class, and the Truxtun class, were sold to the same company. However there is no record of their merchant service and it is more likely they were ultimately all scrapped.
USS Chauncey (DD-3)


USS Chauncey was built at Neafie and Levy in Pennsylvania, but on reduced commission on 20 November 1902, placed in reserve on 2 December 1902, then reverted to full commission on 21 February 1903 after some fixes, with Lieutenant Stanford Elwood Moses in command, reporting to the Atlantic Fleet. Her early service routine was the same as her sisters.
Also, like them, she was reassigned with the rest of the Coast Squadron on 20 September 1903 to the Asiatic Fleet.
She left Key West on 18 December and took the same long trip via the Atlantic, Mediterranean, Suez Canal, until arriving at Cavite, joining "showing the flag" operations in the China Sea, protecting at large US interest in the Far East. She alternated between Philippines waters in winter and off China in summer. On 3 December 1905 to 12 January 1907 she was however placed in reserve at Cavite, but went on in service until April 1917.
On 1st August 1917 she left Cavite for the Suez canal, and escorted troopships to Naples before heading for Gibraltar, an then based in St Nazaire, France, for eastern Atlantic convoy escort duties. On 19 November circa 110 mi (180 km) west of Gibraltar was rammed by accident by the British merchantman SS Rose while in darkness. The hull practically broke in two. At 03:17, USS Chauncey sank at 9,000 ft (2,700 m) depht, with 21 men still trapped aboard, including her captain (Lieutenant Commander Walter E. Reno) a name later given to a destroyer, and LTJG Charles F. Wedderburn, ( a future Fletcher-class destroyer), but 70 were still picked up by the faulty cargo and brought to safety.
USS Dale (DD-4)


USS Dale was built by William R. Trigg Company of Richmond, Virginia and placed in reserve commission on 24 October 1902 with Lieutenant Harry E. Yarnell in command. She was eventually outfitted at Norfolk and fully commissioned on 13 February 1903 with Lieutenant Hutch Cone as first active captain.
She was at forst assigned to the North Atlantic Fleet, First Torpedo Flotilla. She took part in fleet search problems off Maine, reviewed by President Theodore Roosevelt off Oyster Bay in August 1903.
Her unit, convoyed by the auxiliary cruiser USS Buffalo left Norfolk on 12 December 1903 like her sisters to join the Asiatic Station, through the Mediterranean and Suez Canal, homeport Cavite, from 14 April 1904 with the same routine of winter Philippine waters and summer's Chinese coast operations. She was placed in reserve at Cavite on 5 December 1905, until 10 July 1907; until the US entered the war in April 1917.
At the time, USS Dale patrolled the entrance to Manila Bay from June to August 1917, departing for her long trip back to the Mediterranean via the Indian Ocean and Suez, then Gibraltar on 20 October. This was her new escort home port, as she was tasked to patrol and escort convoys in the eastern Mediterranean. On 8 December 1918, after the war has ended, she sailed for home, Charleston in South Carolina, arriving on on 12 January 1919 to be decommissioned at Philadelphia NyD like the others, on 9 July 1919. Later she was sold to Henry A. Hitner's Sons Co., on 3 January 1920 for civilian service. Fate unknown.
USS Decatur (DD-5)

Built like her sister Dale in the same yard of William R. Trigg Co in Richmond she was commissioned on 19 May 1902 with Lieutenant Lloyd Horwitz Chandler in command.
She eventually became the lead vessel of the 1st Torpedo Flotilla, going through drills and maneuvers along the Eastern Seaboard and south in the Caribbean in a routine of summer/winter which lated until late December 1903, but the unit was soon reassigned to the Asiatic Station. Sje left Norfolk for the Mediterranea, Suez, and Cavite on 14 April 1904. She alternated for years between local waters in winter and the China coast in summer, be placed in reserve at Cavite on 5 December 1905.
Apart a trip to Saigon in May 1908, the same routine went on. However on 7 July 1908 she hit a sandbar while under command of Ensign Chester W. Nimitz (yes, this one). She was pulled free, but Nimitz was court-martialed (neglect of duty, reprimanded). His replacement is unknown. The ship was decommissioned from 18 February 1909 to 22 April 1910 (reserve) and full commission from 22 December. Her routine went on until the US went at war and from 1 August 1917 departed for the Mediterranean with her unit.
She was assigned to Gibraltar's US Patrol Squadron from 20 October, mostly convoy duty in and out of the Atlantic and Mediterranean, up to 8 December 1918, under command of Lieutenant Ralph R. Stewart. She headed for Philadelphia on 6 February 1919, decommissioned on 20 June, sold to Henry A. Hitner's Sons on 3 January 1920 for civilian service.
USS Hopkins (DD-6)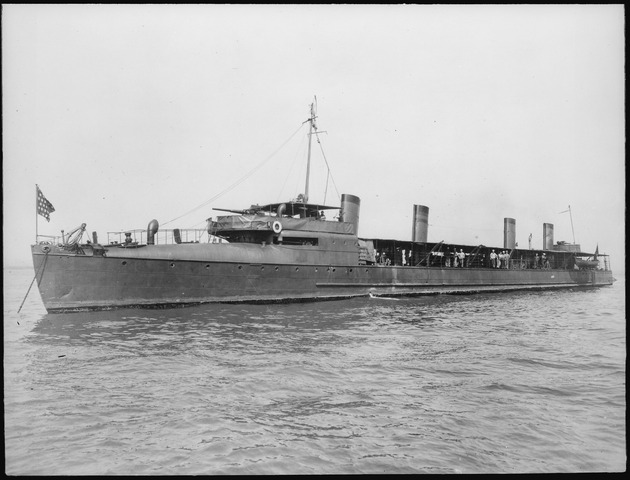 USS Hopkins was launched by Harlan & Hollingsworth Co in Wilmington (Delaware) on 24 April 1902, commissioned at Philadelphia NYd on 23 September 1903. First captain was Lt. Montgomery M. Taylor. From Philly she sailed on 12 May 1904 for the Atlantic Fleet at Norfolk, deployed with the Coast Squadron, with midshipmen on board. The next three years saw a routine cruise in the Caribbean with the Flotilla in torpedo drills and the usual yearly Fleet problems.
In September 1906, USS Hopkins was present for the Presidential Review off Oyster Bay. On 29 September with USS Lawrence she escorted the President to Cape Cod Bay where held gunnery practice. In 1907–1908, she escorted the Atlantic Fleet to the Pacific, from Hampton Roads to San Francisco on 6 May 1908, after several port calls and gunnery poractice en route. She took part in the combined Atlantic/Pacific fleet review attended by the Secretary of the Navy. On 1 June she was assigned to the Pacific Torpedo Fleet, practicing along the West Coast from Mexico and as far as Alaska.
On 14 February 1910 she suffered a boiler explosion, with two sailors being awarded the Medal of Honor for their actions to prevent further damage and human losses. Nothing much happened bu the usual routine until April 1917.
With the war, USS Hopkins left home port San Diego to patrol the Panama Canal Zone and convoy of submarines. On 3 August, she was reunited with her squadron at Hampton Roads, for escort and patrol duties in the Bermuda Aera. The war ended and she was soon decommissoned on 20 June, placed in reserved already from 29 January at the Philadelphia Navy Yard. She was sold on 7 September 1920 to Denton Shore Lumber Company for scrapping.
USS Hull (DD-7)


USS Hull was built by Harlan & Hollingsworth (Wilmington, Delaware), commissioned on 20 May 1903 with Lieutenant Samuel Robinson in command. The first two years she was in patrol and training maneuvers off Newport and Chesapeake Bay with a cruise to the Caribbean by January–April 1905. She was based in League Island, Pennsylvania, decommissioned on 30 September, recommissioned on 14 November 1906 at Philadelphia.
After Cuban waters fleet winter exercises and later off Newport, she was prepared in Norfolk in October 1907 to escort the "Great White Fleet" in her world-spanning voyage. She sailed on 2 December, calling many ports in South America/Central America and arrived in San Diego by 28 April 1907. Detached on the west coast from the Great White Fleet which went on eastwards, she remained off San Francisco until departed in turn on 24 August 1908 for the South Pacific. She took part in exercises in Hawaii and US Samo and back to San Diego for the winter. Not much happened until the war broke out in 1914, between a routine of patrols and training exercises off the California coast. She was decommissioned on 30 October 1912, Reserve Torpedo Division (Mare Island), only out for refresher training cruises.
In April 1917, she was refitted at Mare Island and was sent to the Panama Canal Zone for guard duties during three months, starting on 25 April. She patrolled the western approaches until reassigned to NAS Norfolk on 26 July. She started escort and patrols along the East Coast, to Bermuda, alternating with training with the fleet. By June 1918 she spotted and charged the German German "U-Kreuzer" U-151 (a formidable submarine cruiser armed with two 6-in guns), while attacking a merchant ship. The large sub was repelled. She also often rescued sailors from sinking ships, and went on in these missions until November 1918, escorting the last convoys from Europe until December.
She was sent to Philadelphia NyD on 29 January 1919, placed in reserved and fully decommissioned on 7 July, sold on 5 January 1921 to Henry A. Hitner.
USS Lawrence (DD-8)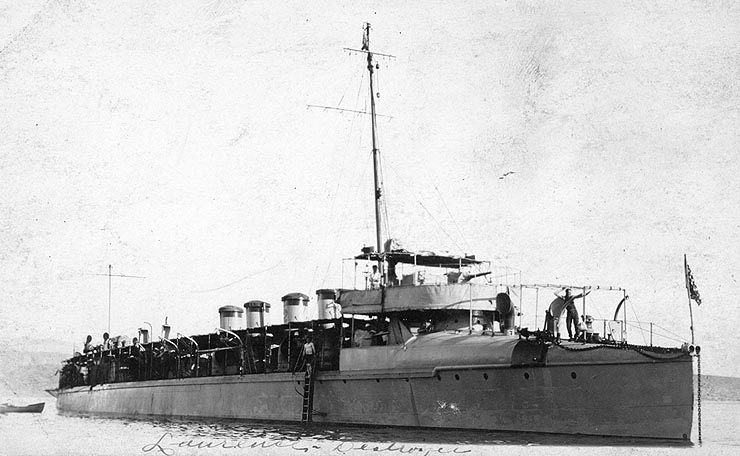 Commissioned on 7 April 1903, USS Lawrence was assigned to the 2nd Torpedo Flotilla operating along the Atlantic coast and alternating with summer fleet search problem off New England, plus Carribean cruises in winter, based in Key West. On 31 December 1903 while at anchor there Key the passing steamer Olivette damaged her hull. She was repaired locally.
In 1904 she started a serie of Midshipmen, becoming a torpedo training ship until decommissioned at Philadelphia, on 14 November 1906.
Recommissioned on 23 July 1907, based from Norfolk she resulmed training. From Hampton Roads she took part in the usual winter maneuvers extended to South America. She crossed the Cape, and arrived in San Diego on 28 April 1908, then San Francisco while the "Great White Fleet" was gathering into San Francisco Bay. She operated in the Pacific with the 3rd Torpedo Flotilla from there, sailing yearly from Canada to Panama, alternating with summer fleet problems. She was placed in reserve also from 1 June 1912 to 23 April 1914.
From San Francisco she departed on 25 April to patrol Mexican waters, protectinh American and foreign nationals during the revolution. After an overhaul at Mare Island on 12 September, she returned into reserve, recommissioned on 13 June 1917, joining the West coast coastal defense unit based in Balboa, Panama, protecting the Pacific approaches from late July, until 30 May 1918. She was moved to Key West, operating as coastal escort/patrols until the Armistice. Like the others she was sent in reserve at Philadelphia from 1 February 1919, decommissioned on 20 June, sold to Henry A. Hitner by 3 January 1920.
USS McDonough (DD-9)


Like Lawrence USS McDonough was built at Fore River, and had the same unique silhouette, differing from the other Bainbridges. Commissioned on 5 September 1903, but soon her sea trials did not gave satisfaction. She failed to reach 30 knots and like Lawrence show poor sea keeping. They were the only vessels in their class to have their two 3-inch guns replaced by six-pounder guns.
After her shakedown cruise, USS Macdonough for seven months served as training ship for midshipmen at the Annapolis Naval Academy. On 31 May 1904, she was reassigned to the Coast Squadron of North Atlantic Fleet and for three years trained and patrolled along the east coast, alternating with the Caribbean. She was placed from 16 May 1907 at the Reserve Torpedo Fleet, Norfolk until 1908.
From 21 November 1908, she became flagship of the 3rd Torpedo Flotilla. She was based in Pensacola, Florida for a fleet problem, and was back to the east coast, making summer fleet exercizes in 1909 off New England.
She sailed to the Gulf of Mexico, Mississippi River for the St. Louis Centennial Celebration. Placed in reserve at Charleston, she took part in the summer exercises of 1910, and made two cruises to New York, still in reserve. She also made the 1913 and 1914 summer cruises, carrying the Massachusetts Naval Militia.
On 29 January 1915, she left the Reserve Torpedo Flotilla for the Submarine Flotilla of the Atlantic Fleet and until 1917, operated with submarines from Pensacola to Newport. From 27 March 1917 she made a "recruiting cruise" along the Mississippi River and in June returned to Charleston with the Destroyer Force, screening local convoys up to January 1918. From the 16th, she left Philadelphia for Brest in France, escorting convoys from there, and patrolling these waters until 20 May 1919. Like the others she joined the Philadelphia reserve on 24 June, decommissioned on 3 September, stricken on 7 November and sold to Henry A. Hitner in March 1920.
USS John Paul Jones (DD-10)


Built in Union Iron Works of San Francisco, USS Paul Jones was commissioned on 19 July 1902 ans soon assigned to the Pacific Fleet, homeport San Francisco. She alternated between fleet exercizes in summer and training cruises along the west coast, up to Canada and down to Mexican waters.
On 23 April 1917 she was reassigned for Norfolk in Virginia, via San Diego and making her first Panama crossing. Sje also stopped en route to Guantanamo Bay in Cuba (3 August), patrolling York River and joing USS Duncan, Henley, Truxtun, and her sisters Stewart, Preble, Hull, Macdonough, and Hopkins assogned as escort screen to the Atlantic Battlefleet from 13 August. The fleet moved between Bermuda and New York. After a short overhual at the Brooklyn Navy Yard on 24 August she was reassigned to Newport in Rhode Island for a serie of convoy escort along the east coast. She also stopped at Lynnhaven Roads and in the Chesapeake Bay. In december she was in Philadelphia.
On 15 January 1918 she sailed with USS Stewart, Hopkins and Worden for the Azores via Bermuda, but her captain asked the permission to turn back home for repairs as a serious leak was spotted in her port after bunker. In fact it soon became so severe her crew struggled to save her from sinking outright, going through stormy seas while being largely flooded. "Bucket brigades" made an amazing job as her pumps broke. She emitted distress signals bu eventually sighted St. David's Head in Bermuda and signalled the fort for assistance.
She stayed in Bermuda until 22 February for repairs before proceeding to Philadelphia escorted by the coaler Mars. Repaired at Philadelphia Navy Yard she was sent to Fortress Monroe in Virginia on 18 April and stayed in patrol in the Chesapeake Bay until 6 August.
On 2 July however, she assisted the liner Henderson in flames north of Bermuda, evacuating the whole crew in difficult conditions, making four trips to Von Steuben, saving 1,250 Marines and officers, 50 tons of luggage and escorting the ship, on which fires were under controlled, to the Delaware Breakwater.
On 7 August during a convoy mission in appearling weather she mistook a frienly escorting Submersible (O-5) for an U-Boat, fired upon her. She took seven hiys in the conning tower before she coukld signal the error. Paul Jones had to detach and escorted her to Delaware Bay.
On the 9th she was in Hampton Roads and stayed patroling the Chesapeake Bay until deactivated on 31 January 1919, fully decommissioned on 29 July, stricken on 15 September, sold on 3 January 1920 (same as the others).
USS Perry (DD-11)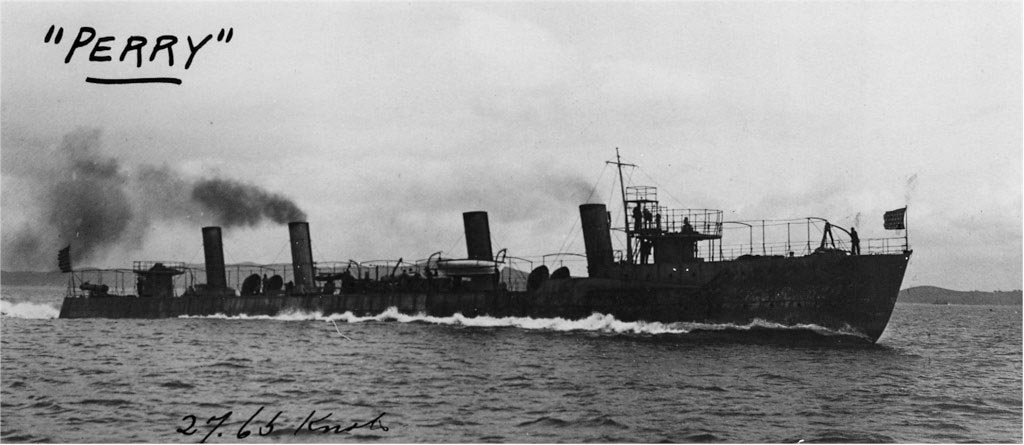 As part of the "Union Iron Works class" buil there like Paul Jones and Preble, USS Perry was commissioned on 4 September 1902. She was assigned at first to the Pacific Torpedo Flotilla unlike her sister Paul Jones, based at Mare Island until the war broke out. She carried trainign cruises along the west coast, from Alaskan waters to Mexico and in 1908 was sent for a Fleet Problem off Hawaii.
During the earthquake of San Francisco on 18 April 1906, already altered while at sea by severe rolling and pitching, her crew landed and helped fighting fires, patrolling districts from looters and providing medical aid. In 1914 she was in support of the Topolobampo naval campaign in the Gulf of California during the Mexican Revolution and took part in the fourth Battle of Topolobampo.
From April 1917, she patrolled off the California Coast and the Panama cana zone, assigned there to guard its approached in July 1917. From 30 May 1918 she was reassigned to home port Key West, patrolling Florida waters. The post-armistice saw her in Delaware Bay from 29 January 1919, placed in reserve at Philadelphia, decommissioned on 2 July, stricken on 15 September sold to Henry A. Hitner's Sons Co. for scrapping (5 January 1920).
USS Preble (DD-12)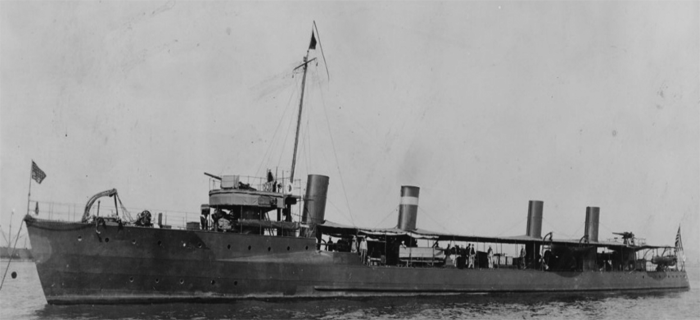 Third of the Union Iron Works batch, USS Preble was commissioned on 14 December 1903 assigned like her sister to the Pacific Fleet, 4th and 2nd Torpedo Flotillas. She patrolled from Alaska and Washington to the Panama Canal Zone until 1908. She also made a fleet exercize in Hawaiian waters and pushed to Samoa between 24 August and November 1908. West coast operations went on in 1909 followed by a decommission in Mare Island until 17 September before being reassigned to the Pacific Torpedo Flotilla until 1913, and in reserve from 19 June, Mare Island, until 23 April 1914. She observed the Topolobampo naval campaign like Perry.
Exercises and escort of minesweepers went on until the summer of 1915. She sailed for Alaskan waters for logistic informations and returned to the reserve between 25 October 1916 to 3 April 1917 fully reactivated as the US entered the war. She was sent to her new home port San Diego on 30 April 1917 but soon transited the canal to be reassigned to the east coast, NS Norfolk from 13 July, and started a ner service of convoy escort and patrols on the mid-Atlantic seaboard. She was decommissioned at New York on 11 July 1919, stricken on 15 September 1919, sold to Henry A. Hitner in 1920.
USS Stewart (DD-13)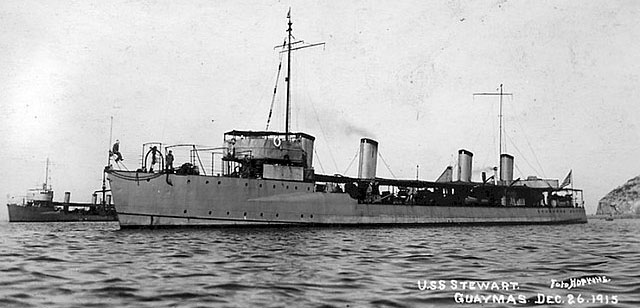 USS Stewart was the only one of the class ever buit at Stewart at Gas Engine and Power Company in Morris Heights, New York. Launched and sponsored by the granddaughter of Rear Admiral Stewart she was commissioned on 1 December 1902.
After a time at the Naval Academy she was reassigned to the Coast Squadron, North Atlantic Fleet. In 1906, she was in reserve at Norfolk and the next year 1907 trained in east coast warers unter reassigned in 1908 to the Pacific Fleet. She server there like the other vessels of the Pacific torpedo squadron, alternating between Washington waters in summer and Mexican waters in winter, but on 24 February 1916 the Navy decided she was "no longer serviceable for duty with the fleet" and she was retrograded as a "coast torpedo vessel". From 6 April 1917 lik the others she started local patrol missions, protecting the eastern approaches of the Panama Canal. She also pratrolled south up to the Colombian coast. From 11 May she was transferred to the Pacific entrance to the canal and was back in the summer in the Atlantic. After an overhaul in Philadelphia until August she was sent to join the local defense flotilla of the British Imperial fortress colony of Bermuda. On arrival (16 August) however she grounded in the harbor. Repaired at the Royal Naval Dockyard to sail after to Philadelphia. She only returned to duty on 11 October, escorting convoys in the York River until 31 December 1917. She returned to Philadelphia for distant service reassigned to France, departing on 15 January 1918 with her sisters USS Worden, Hopkins, Macdonough, and Paul Jones via the Azores to Brest (Britanny, France) and convoy escorts.
On 17 April, while in Quiberon Bay she was closed to the cargo Florence H loaded with powder and exploding while at anchor. She was unscaved, but rescued nineof her crew, being cited for gallantry. On 23 April while in mission she sighted two allied seaplanes attacking a submarine, racing there, and be signalled by the observer in one of thes the position of the U-Boat. Therefore, USS Stewart spotted her wake and periscope, then her hull underwater but could do little at first. The U-Boat was rammed by a French escort close to the action, and Steward then made a pass with her depht charges, dropping two. A large pool of oil emerged so it was assimilated to a kill but in reality U-108 escaped. She was later forced to emerge and surrender by USS Porter close to the British coast.
In dense fog Stewart collided with an unidentified merchantman. Damage was serious enough to be under repair until 28 May and from 4 August, her lookouts spotted another submarine wake, she attacked but missed the submersible, which escaped. Post-armistice service, like her sisters, was fairly short: After her last convoy she was drydocked in Brest on 26 November for repairs departed to escort the convoy with President Woodrow Wilson onboard to Europe, stopped in the Azores and Bermuda until reaching Philadelphia on 3 January 1919. She was decommissioned on 9 July, stricken on 15 September, sold to Henry A. Hitner for scrap.