Armoured Cruisers

United Kingdom (1902-1906), Armored Cruisers:
HMS Duke of Edinburgh, HMS Black Prince
The Duke of Edinburgh-class were two armoured cruisers of the Royal Navy, launched in 1904. They were the first armoured cruisers designed for battlefleet service, and no longer merchant shipping escort. They served in the Atlantic, Channel and Home Fleets and during WW1, were active in thee Mediterranean, chasing SMS Goeben and Breslau and retutned to covoy escort in the Red Sea, capturing merchant ships and ended the war in home waters, taking part in the Battle of Jutland, where Black Prince was sunk. Duke of Edinburgh operated in the North Sea and Atlantic until 1918.
Design in detail


Comparison between the Devonshire class (top) and DoE below.
Development of these cruisers derived from the Devonshire class by then in construction in 1902, themsleves derived from the Drake class, and alongside the "budget" Monmouth class. The Royal Navy at the time were thinking howe they could used best their armoured cruisers. Many inside the general staff wanted these to form the "fast wing" of the battlefleet, a screen able to fight. In many ways this requirement prefigured battlecruisers.
But that also meant heavier armour and armament since they were supposed to fight their counterparts (likely German ones, or French/Russian cruisers) and thus, this urged the need of a larger design and this came at a higher cost. As experiments, at first two armoured cruisers were planned for the 1902–1903 Naval Programme. They were studied as the first work of newly appointed Director of Naval Construction Philip Watts. He essentually took the King Edward VII and turned them into cruisers, as coined by naval historian Oscar Parkes.
His first design however perpetuated the worst William White's design features: The secondary armament comprised casemates 6-in guns, inoperable in heavy weather, or even moderate one. Watts learned later their tonnage was to bebe lighter than expected. Thus he wanted to use this freed tonnage to invest in 6-in guns on the main weather deck instead, with 7.5-inch (190 mm) as main armament. The cost rose to £398,000 for both and was rejected by the the Board of Admiralty on 30 March 1904 as too expensive; The final one however was ordered under the 1902/1903 naval construction programme.
They carried 769 officers and enlisted men. Their design was "stretched out" a bit, but they kept their tall forecastle with recesses for the secondary guns, and ram, improsing a reinforced bow. The main bridge superstructure hopused light defense gun and the bridge was located at its end, with an enclosed and open decks. She had equal height masts with reinforced poles to support relatively large spotting tops fore and aft, plus additional projector platforms.
The mainmast aft had a boom to service the largest service boats, a picket one and stream pinnace, stored on the aft quarterdeck house. Four lighter yawls were suspended under davits alongside the main deck, dotted with four equal size funnels, although the last ones were thinner. Projectors were installed also on the main bridge wings, used also for signals, and two aft on the quartedeck upper platform, at the foot of the main mast. The great difference with the Monmonth was the armament repartition, with six main guns in diamond scheme, unlike the Montmouth which only had two main turrets forward under recesses. Casemate guns also sat lower above the waterline.
Hull construction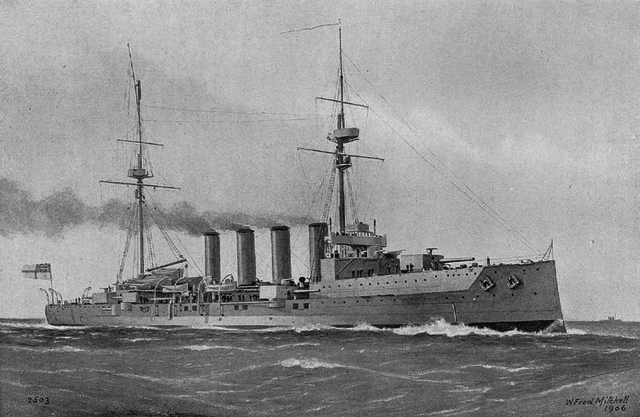 Brasseys naval annual rendition, 1906
Final displacement was setup at 13,550 long tons (13,770 t) normal as designed. But in the end, they ended at 12,590 long tons (12,790 t), normal, 13,965 long tons (14,189 t) fully loaded for 505 feet 6 inches (154.1 m) in overall lenght and a length 480 ft (146.3 m) between perpendiculars for a "narrow waist", a 73 feet 6 inches (22.4 m) beam. This was paid though by a high 26 feet 6 inches (8.1 m) draft forward, 27 feet 6 inches (8.4 m) aft. They ended as the largest cruisers of the Royal Navy, behind the gargantuan Powerful class, 30 feet (9.1 m) longer than the Devonshires and 2,500 long tons heavier.
Powerplant
For her large size, extra power was required and she was given two shaft propellers driven by Vertical triple-expansion steam engines fed by 26 boilers, 20 Babcock & Wilcox water-tube and six cylindrical models. At the time, large turbines were still a dream. The powerplant output was 23,000 indicated horsepower (17,000 kW) – less than the heavier Powerfuls or the Drake, but more than the Devonshire. This resulted in a top speed of 23 knots (43 km/h; 26 mph), one knots than the Devonshire and as much as the Monmounth and Drake. The Range was suited for fleet operations and extended to 8,130 nmi (15,060 km; 9,360 mi) at 10 knots (19 km/h; 12 mph).
Protection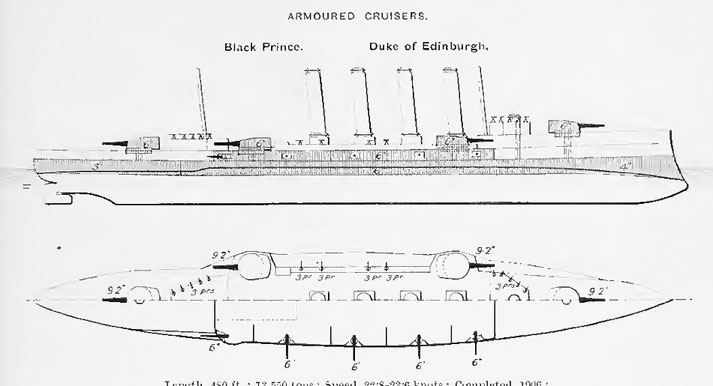 General configuration, Brasseys 1906
It was planned to be better than all previous cruisers, which was another strong point of the design: They had Krupp cemented armour for their 6-inch waterline armour belt over 260 feet (79.2 m) of citadel amidships from below the waterline up to the upper deck on 14 feet 6 inches (4.42 m). It was still 4 feet 10 inches (1.47 m) below it. Quite a large surface. Up to the bow it was tarepered down to 4 inches (102 mm) still, and to the stern, 3 inches (76 mm). Transverse bulkheads were like the main belt to fully enclosed the citadel. Compared to the Devonshire again, this was comparable in thickness although the latter's height was lower and bulkheads were thinner at 5 in. Outside it, armour figures dropped to just 2-in (51 mm).
The faces of the six gun turrets rose to 7.5 inches (191 mm), sloped, with 5.5-inch (140 mm) sides, 2-inch (51 mm) roof. This was much better than the 130 mm of the Devonshires. Main barbettes had six inches walls, continued for the ammunition hoists which dropped to 3-in below the armour belt level. To stop any explosion in the secondary battery, between casemates, there were 2-inch armour screens separating the six-inch guns. The lower armour deck was .75 inches (19 mm) thick, with an extra layer of 1.5-inch (38 mm) over the steering gear and 2 inches (51 mm) over the machinery space, like the previous vessels. The forward conning tower however was downgraded to 10 inches (254 mm) thick instead of 12-in (305 mm) for the previous cruisers, seen perhaps as an overkill.
Armament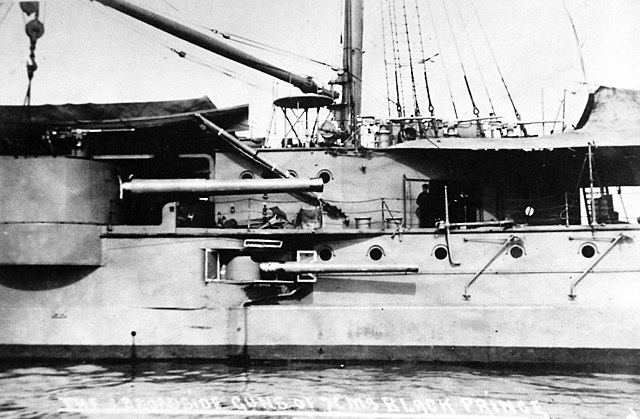 Duke of Edinburgh showing her wing main turret and secondary casemated artillery.
It consisted in four artillery calibers: Six single turreted BL 9.2-inch (234 mm) Mk X instead than four single BL 7.5-inch (191 mm) Mk I guns in a diamond pattern, a far more potent firepower than on the Devonshire, which was their greatest asset, and even ten single BL 6-inch (152 mm) Mk XI guns instead of six single BL 6-inch (152 mm) Mk VII guns. Light armament was more uniform too, with twenty QF 3-pounder (47 mm) Vickers guns rather than two single 12-pounder (3-inch, 76 mm) 8 cwt guns and 18 single QF 3-pounder (47 mm) Hotchkiss guns. They even had the luxury of a third torpedo tube. As artillery platforms, they were stiff ships, rolling quickly, with a metacentric height of 4.2 feet (1.3 m) deeply loaded. Of course as predicted by the chief designer, the six-inch guns were wet and pretty unusable in the north sea.
Main: 6x 9.2 in/47 Mk X
The 28 tons barrels working with a Welin interrupted screw had a bore of 35 ft 9 in (10.897 m) for 46.7 cal. They fired a 380 lb (170 kg) shell up to 15° on the Mark V Barbette mount and 2,643 ft/s (806 m/s) muzzle velocity for a 29,200 yd (26,700 m) max range.
Secondary: 10x 6-in/50 Mk VII
This "classic" was only produced in small numbers and pretty common on naval fortifications around the Empire in WW2. Weighting 19,237 lbs (8,726 kg) for a 300 inches (7.620 m) bore (50 cal) barrel, it fired an AP (Armour-piercing/Shrapnel) Shell weighting 100 pounds (45.36 kg) and filled with Lyddite at a muzzle velocity of 2,900 feet per second (884 m/s) and 18,000 yards (16,000 m) @ 22.5° max range.
Tertiary: 20x 3-pdr
This fairly common gun inaugurated in 1902 used a semi-automatic vertical block, elevated up to +12°, had a rate of fire of 20 rounds per minute and firing HE shells at 2,575 ft/s (785 m/s) at max 5,600 yd (5,100 m).
Torpedoes: 3x 18-in
They were armed with three 18-inch (450 mm) torpedo tubes: In the bow and two in the broadside, with reloads. Likely the Compressed air powered Whitehead Mark VI model (1904), with a setting of 28.5 knots (52.8 km/h; 32.8 mph) over 4,000 yd (3,700 m) or 41 knots (76 km/h; 47 mph) for 1,000 yd (910 m).
Construction and modifiactions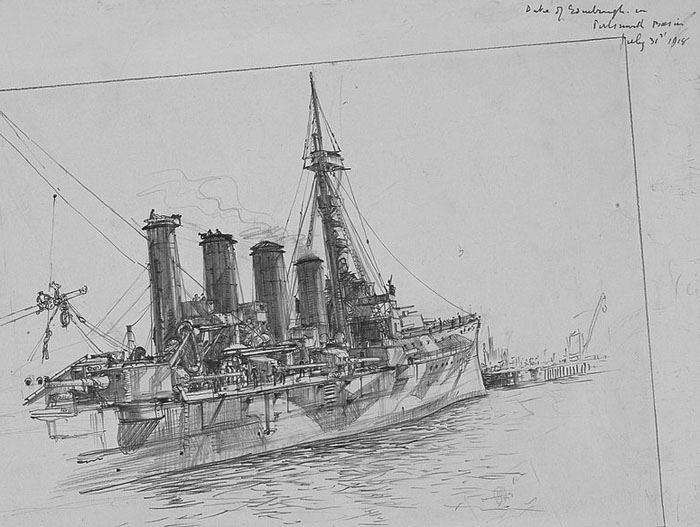 HMS DoE in portmsouth, 1918, showing her camouflage (ART, IWM)
HMS Duke of Edinburgh (named after the contemporary Alfred, Duke of Saxe-Coburg and Gotha, Duke of Edinburgh, one of Queen Victoria's sons which just died 30 July 1900) was started at Pembroke Dockyard on 11 Feb 1903. She was launched on 14 June 1904 and completed on 20 January 1906 at a cost of £1,201,687. USS Black Prince (named after the famous Edward of Woodstock, elder son of Edward III and successful war leader in France during the 100 years war, known for his legendary chevauchee) was laid down at Thames Ironworks, Leamouth on 3 June 1903, so months after her sister ship, launched on 8 Nov 1904 and completed on 17 Mar 1906 at a cost of £1,193,414, slightly less than her sister, as often the case. Her construction was faster and more streamlined. Three years was not bad for ships that were relatively new and of that tonnage and scale.
During their career, their funnels proved too short and were raised at the first occasion from about 6 feet (1.8 m), four years after completion. The goal was to have the bellwojg smoke awau from the bridge and spotting tops on following wind. By March 1916, all their useless six-inch guns were removed and embrasures plated over. In replacement, six were replaced on the upper deck under shields. In May 1917, two more were added on HMS Duke of Edinburgh, placed on her forecastle. She was given also a more modern fire-control director in 1917 and a tripod mast built to support it. Her sister has been sunk at Jutland and was never upgraded.

Rendition as completed

HMS Duke of Edinburg camouflaged and modernized in 1917
⚙ Duke of Edinburgh class specifications

Dimensions
505 x 73 x 27 ft (154 x 22,4 x 8,4 m)
Displacement
12,590 long tons – 12,790 tons standard
Crew
769
Propulsion
2 shaft VTE engines, 26 boilers, 23.000 shp (17 Ko Kw)
Speed
23 knots top speed (43 kph, 26 mph)
Range
8,130 nmi@ 10 knots (15,060 km, 9,360 m)
Armament
6x 9.2 in, 10x 6-in, 20x 3-pdr, 3x 18-in TTs.
Armor (max)
Belt, Barbettes, Bulkheads 6 in, Deck 1.5 in, Turrets 7.5 in, CT 10 in
Read More/Src
worldwar1.co.uk
wikipedia
historyofwar.org
battleships-cruisers.co.uk
dreadnoughtproject.org
On historyofwar.org
Video: Duke of Edinburgh Class: Year of Crusier (Long Patrol), Dr. Alex Clarke
---
Gardiner, Robert. Conway's All the World's Fighting Ships 1906–1921
Gardiner, Robert. Conway's All the World's Fighting Ships 1860–1905
Campbell, John (1998). Jutland: An Analysis of the Fighting. Conway Maritime Press
Corbett, Julian (March 1997). Naval Operations to the Battle of the Falklands. Vol. I Battery Press
Friedman, Norman (2012). British Cruisers of the Victorian Era. Barnsley, Seaforth
Friedman, Norman (2011). Naval Weapons of World War One. Barnsley, Seaforth.
McBride, Keith (1990). "The Dukes and the Warriors". Warship International. XXVII
Newbolt, Henry (1996). Naval Operations. History of the Great War Based on Official Documents. Vol. IV
Newbolt, Henry (1997). Naval Operations. History of the Great War: Based on Official Documents. Vol. V
Parkes, Oscar (1990). British Battleships (reprint of the 1957 ed.). Annapolis NIS
Silverstone, Paul H. (1984). Directory of the World's Capital Ships. Hippocrene Books.
Before the Battlecruiser:The Big Cruiser in the World's Navies 1865-1910 by Aidan Dodson
---
Model kits
None found (yet), even Kombrig failed to cover it.
Wartime service
HMS Duke of Edinburgh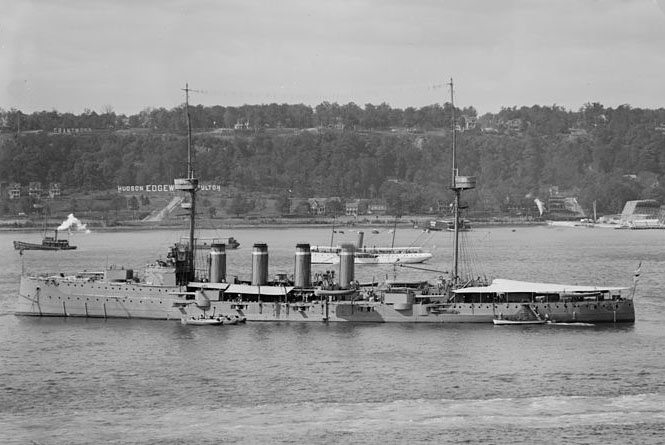 DoE In 1909
HMS Duke of Edinburgh was the lead ship of her class and after completion in January 1906 she was assigned to the 5th Cruiser Squadron until 1908. From there, she was transferred to the 1st Cruiser Squadron, Channel Fleet. After the 1909 reorganization she joined the 5th Cruiser Squadron, Atlantic Fleet.
However on 13 August 1910 she ran aground on Atherfield Ledge off the Isle of Wight. Refloated after some effort, her captain was Court-martialled and the investigate blamed the Captain and dismissed the Navigating Officer. Later she was called to rescue the survivors of SS Delhi, running aground off the coast of Morocco, by December 1911. Until 1914 nothing much happened and she was assigned to the 1st Cruiser Squadron of the Mediterranean Fleet when the war broke out.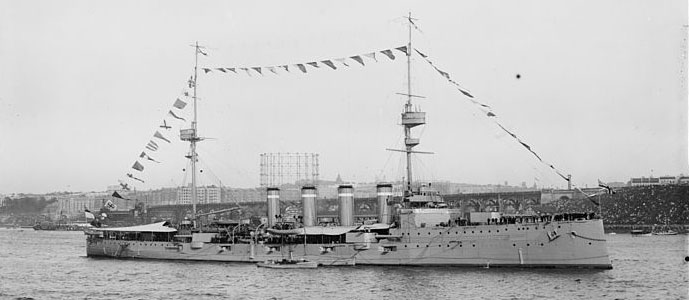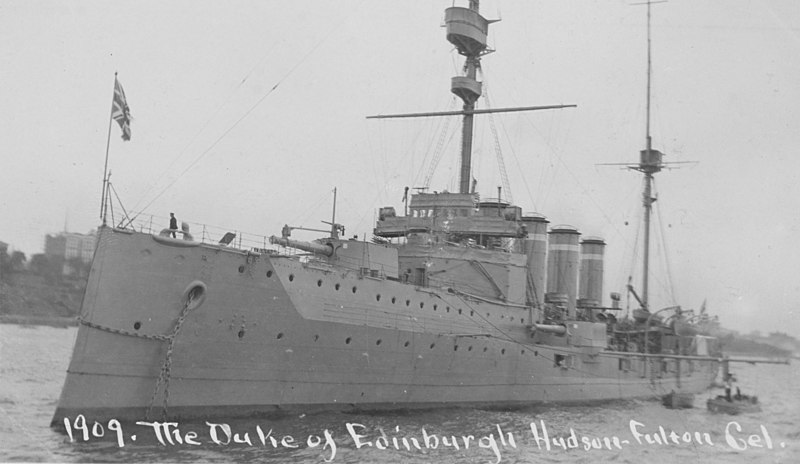 Stationed in all regalia at the Hudson-Fulton Celebration in 1909
In July she was refitted at Malta and the latter was shortened in order for her to be at sea as soon as possible to join the rest of her squadron. She sailed to the souther approaches of the Adriatic sea and soon was called to chase after the German battlecruiser Goeben and light cruiser Breslau, but at the time UK was not at war yet and she just shadowed them. On 10 August, with her sister Black Prince she was sent for a mission in the Red Sea, protecting an important troop convoy from India.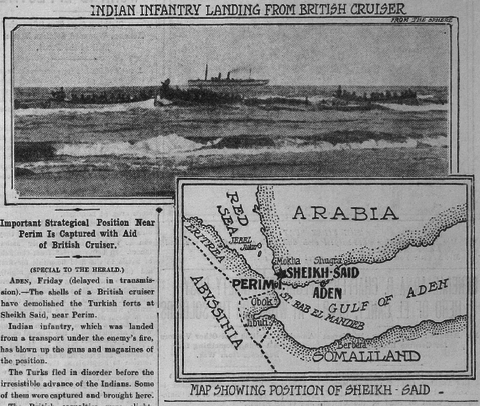 Press article telling the landing party she landed in November 1914 to storm Sheikh Said
She escorted another one during which she spotted and captured the German merchantman Altair (3,200 tons GRT) on 15 August. These convoys were intended for France. By November 1914, however operations commenced against the Ottoman Empire: She carried and landed three infantry battalions, seizing the Turkish fort of Cheikh Saïd, guarding the entrance to the Red Sea. This made headlines at home. There was a demolition party with it, that turned the fort to rubble before departing.
HMS Duke of Edinburgh was assigned to the 1st Cruiser Squadron transferred to the Grand Fleet by December. She was never engaged, despite several hot encounteres already with German battlecruisers since 1914. By March 1916, her 6-inch guns were removed and partially relocated in a refit. Soon she had the distinction of participating in the Battle of Jutland. On 31 May 1916 her unit, the 1st Cruiser Squadron was screening in front of the Grand Fleet, right flank when at 5:47 p.m HMS Defence (flagship) and HMS Warrior spotted the German II Scouting Group.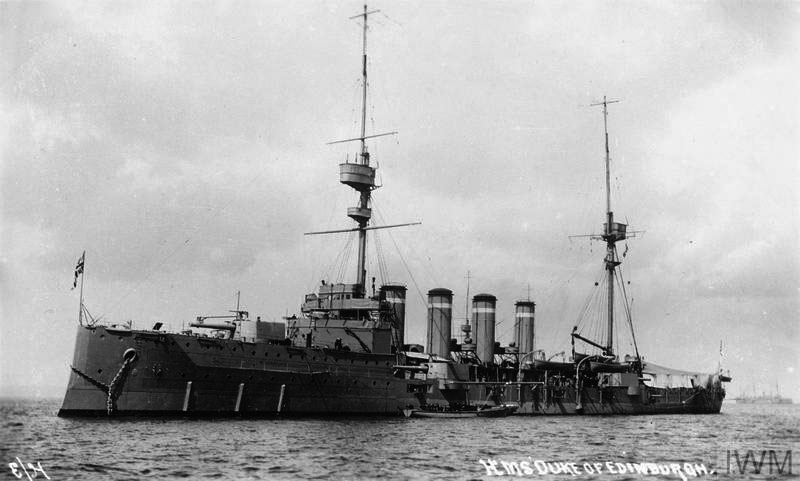 A duel commenced at long range and mediocre visibility. Shells felt short but meanwhile their manoeuver brought them close to the battlecruiser HMS Lion, nearly avoided the collision. HMS Duke of Edinburgh was too slow to be in pursuit and turned to port, latter spotting the disabled German light cruiser SMS Wiesbaden. From 6:08 she engaged her, firing twenty rounds and at 6:30 she went off the starboard bow of HMS King George V (2nd Battle Squadron), also manoeuvering to avoid collision. Worst still, the latter's funnel smoke obscured the German ships. Meanwhile, they were attacked by German destroyers. Duke of Edinburgh evadeed one torpedo at 6:47. She incorrectly reported a submarine at 7:01 and another between 7:45 and 8:15 and went home unscathed. It was not the case of her sister.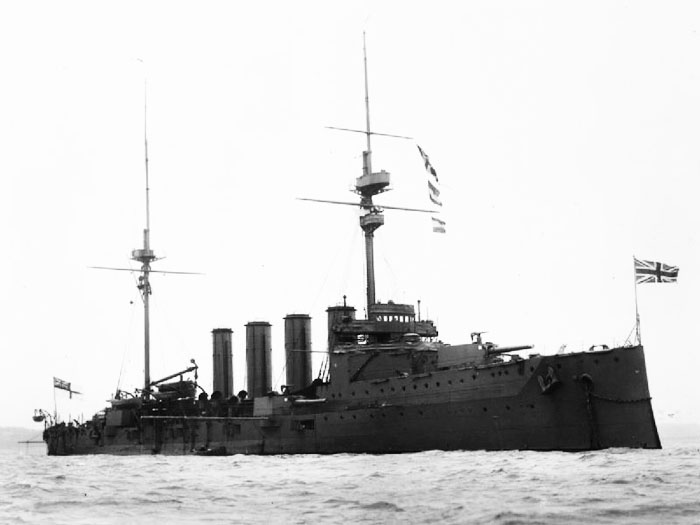 Later she was attached to the 2nd Cruiser Squadron, and until 2 June, searched for the remainder of the German fleet, and possible crippled vessels still afloat in the area. Back to Scapa Flow on on 3 June her crew could have a well deserved rest. On 18 August 1916 she sortied after Intel (room 40) learned the Hochseeflotte would leave harbour that night for the shalling of Sunderland on the following day. Airships and submarines precedded them. But en route they instead pursued a lone British battle squadron reported by an airship (the Harwich Force). They soon set course for home and the mission was over.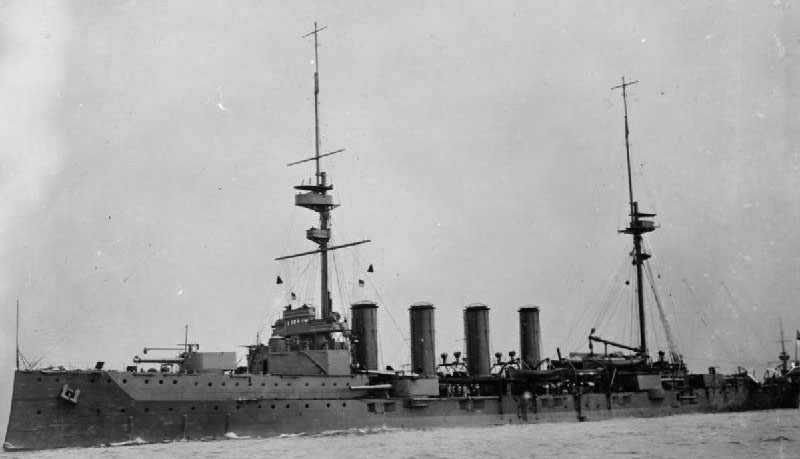 The 2nd Cruiser Squadron reinforced patrols north of the Shetlands ensuring a tight German blockade and searching for commerce raiders. She was modernized in May 1917, and transferred to the North America and West Indies Station in August. There, she would only perform convoy escort duties until November 1918. Back home, she was stationed in the Humber, in reserve. Ultimately she was stricken and sold for scrap on 12 April 1920.
HMS Black Prince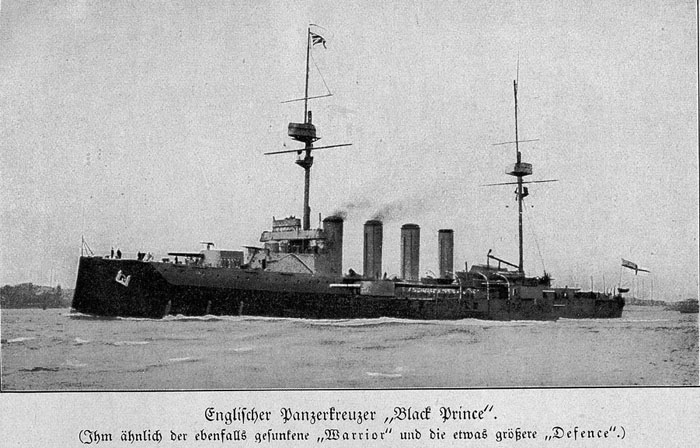 German Publication showing the cruiser
HMS Black Prince when completed, was versed to the 2nd Squadron until 1907 and until 1908, served with the 5th Cruiser Squadron, Atlantic Fleet. She was there until 1912 and assigned to the 3rd in 1912-1913. Nothing notable happened in her early career before the start of WWI. At the time she served in the 1st Cruiser Squadron, Mediterranean Fleet (Rear-Admiral Ernest Charles Thomas Troubridge). She shadowed like her sister the Goeben and Breslau until the two reached Constantinople.
Next, still with her sister she was sent in the red sea for convoy escorts. She captured the German ocean liners Südmark and Istria. On 6 November 1914 she sailed Gibraltar to escort a French-British force spotting for German vessels off the African coast. It was believed to find the German East Asia Squadron, until the 19 November when news camed from the Battle of Coronel. Next she was sent in december to the Grand Fleet, 1st Cruiser Squadron (Rear-Admiral Sir Robert Keith Arbuthnot) in Scapa Flow.


Black Prince in Line C at Spithead during the Coronation Celebrations
She was modified in March 1916 like her sister and on 31 May 1916, took part in the Battle of Jutland. Circumstances of her loss remains somewhat mysterious until her wrecj was rediscovered and the secenarios confirmed. The rest of the fleet indeed lost contact with her and there was noone to report how she was sunk. There was no survivors either. It could have been a U-Boat in the area (after all her sister reported two -albeit incorrectly-, but also a surface ship.
The 1st Cruiser Squadron in which she started was screening miles ahead of the main force but the cruiser lost contact when encountering German forces at around 17:42. Defence and Warrior were heavily engaged by German battleships and battlecruisers meanwhile, HMS Defence being sunk, Warrior almost destroyed and later sinking as a result. The last sigh of Black Prince was a wireless signal received at 20:45, which reporting a submarine sighting, fuelling that scenario.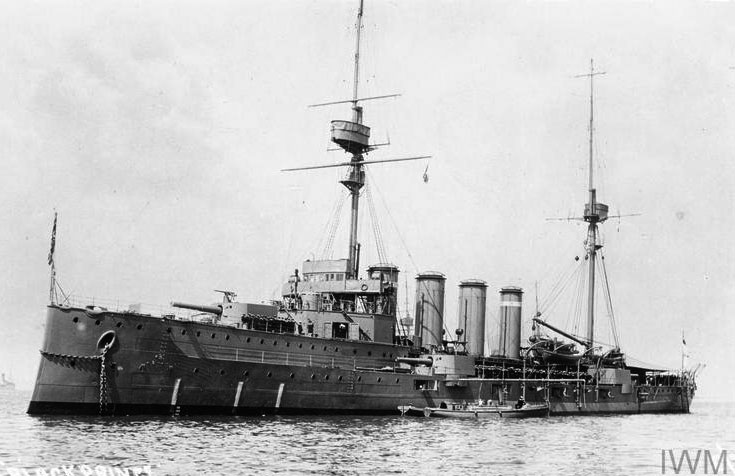 Photo from the IWM coll., prewar
During the night confusion HMS Spitfire herself badly damaged sighted a "German battlecruiser, with two widely spaced funnels", "and a mass of fire from foremast to mainmast, on deck and between decks. Flames were issuing out of her from every corner.", which exploded and sank with all hands at about midnight. She could have been the Black Prince if her funnels collapsed, which favored the naval battle scenario.
Recent historians believed based on German sources she engaged SMS Rheinland at 23:35 GMT, scoring two hits and approached German lines after midnight, turning away too late. SMS Thüringen caught her in her searchlights and was soon joined by five others, notably Nassau, Ostfriesland, and Friedrich der Grosse, firing from 750 and 1,500 yards, point-blank range for that matter. So she was at least hit by twelve heavy shells and disappeared in 15 minutes after she had been silenced. The wreck was rediscovered and has been protected as a war grave since, but no serious diving investigation had been made to confirm the latter scenario.