HMS Pretoria Castle (F61) was a freshly completed Harland & Wolff, Belfast-built Union-Castle ocean liner (the makers of the Titanic) requisitioned and converted into a Royal Navy armed merchant cruiser (MAC), and then in July 1942 as an escort carrier (Commissioned as escort carrier on 29 July 1943). Capable of carrying only 21 planes despite her size, she was not a happy conversion, and served as a trials and training carrier, being converted back into a passenger liner as Warwick Castle in 1946, until 1962.
The Liner turned Aircraft Carrier
The idea of using passenger liners as a base for conversion into aircraft carriers went a long way, going back to WWI. The first in the Royal Navy was HMS Argus, still in service in WW2. However the norm, especially for convoy escort, was to choose existing merchant vessels for conversion.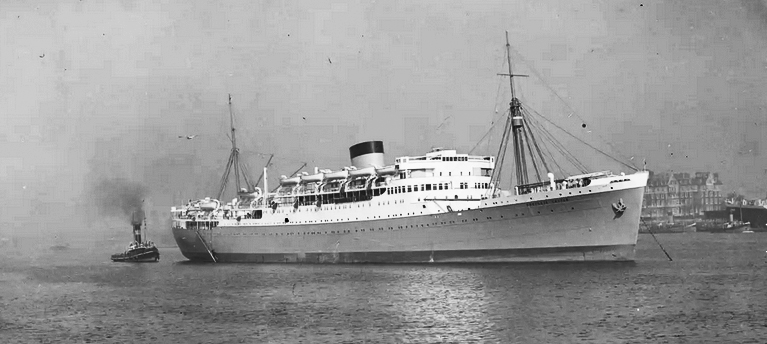 Pretoria Castle in 1939, before requisition
Harland and Wolff built initially Pretoria Castle as a regular "packet boat" (the old denomination), in Belfast, and she was launched in Harland & Wolff in 1938 and completed by April 1939 (see her career for more). The Admiralty requisitioned herto be pressed as an auxiliary cruiser in the Royal Navy by October 1939. To escort other ships, only the most recent and faster vessels are converted into armed merchant cruisers, and this was her fate. She received eight surplus WWI 6-inch guns (152 mm) and two 3-inch (76 mm) guns and entered service as an AMC in November 1939. In this role she served mainly in the South Atlantic.
By July 1942 the Admiralty now needed aricraft carriers and the AMC Pretoria Castle was purchased outright for conversion (she was leased until then) to an escort carrier. This was to be done at Swan Hunter on Tyne. For her new role she had gher superstructures removed to the weather deck, she received a hangar above and flight deck. She was commissioned by July 1943 but operated as a trials and training carrier and not with the fleet due to her incompatible speed. She saw as a result no active combat service.
Design of the class
Built from a civilian ship, the aircraft carrier was following the same conversion methodes already used on HMS Audacity and followed by others. It's only the lack of available yards that prevented the Royal Navy to proceeded to more conversion. Thus, Pretoria Castle was converted from July 1942 to August 1943, more than a year, which was above average. Workforce was used for more pressing needs and she suffered from slowdowns. However when completed, HMS Pretoria Castle became the largest escort aircraft carrier in the world. She was also the third, after Audacity and Activity. More would follow, but smaller, such as the 14,000 tonnes Vindex class and related Campania. However this was over since via lend-lease the US procured soon a flurry of new ships, HMS Archer, and the Avenger, Attacker and Ameer classes all came from US Yards.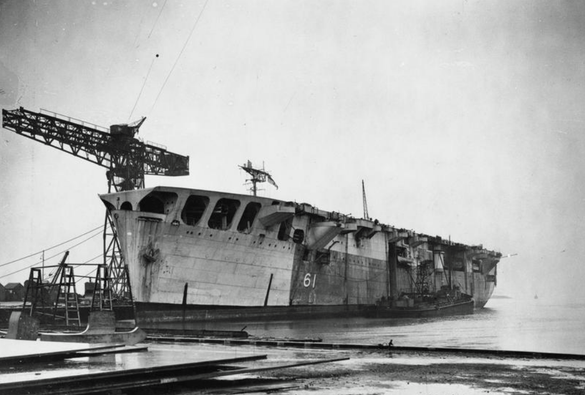 Conversion work in 1942 or rather refit in 1944-45 given her camouflage. Date unknown. Note the hand-painted pennant.
Hull and general design
As completed, HMS Pretoria Castle was not to be used operationally. From the start, she had diesel engines, something which could be handy for long escort missions, and better, a longer, wider flight deck that was available on average escort carriers. But these advantages precisely turned her as a preferrable carrier for trials, not training; Indeed for the latter, HMS Argus, when not taxiing aicraft or sent in operational theaters, was designed as the default training carrier. So since the start, Pretoria Castle was not meant to train pilots later asssigned to escort carriers, but rather to test models that will be later assigned to the fleet carriers.
Her facilities were not pushed far: Her hangar was a single space, only meant to house 21 planes total (a permanent deck park would have bring this to 36-40 if operational). Part of it was used as a workshop to tune up the planes to be trialled, prepare them or repair them after accident, which were highly likely. She had roomy facilities for mechanics and the test pilots and nice living conditions as an inheritance of ther original liner's construction.
The final design shows a flight deck that was shorter than her oveall lenght, narrowed both aft and forward, the latter bieing supported by a serie of pillars. The hangar started past this semi-open space above the bow weather deck. It went back short of the stern, rounded, which was left free to mount a large AA gun, later to be decided.
The hangar has been made tall enough to accept any present and future models in use in the RN, including American ones. But facilities only consisted in a single catapult and a large axial lift, large enough to move up and down any non-folding wing model.
Her original portholes were all welded shut and plated over, less a serie just below the hangar. The latter was also dotted with the usual cutouts for service boats and life rafts, and the hangar walls was also alternated by sponsoned AA gun positions.
Pretoria Castle's island was rather small and diminutive. It was placed on the usual starboard side, on a short overhanging platform supported by struts, clearing out the entire flight deck width. The island was limited to just a single stage enclosed map/utility room and topped by an open air bridge, with the usual ship's commands and binoculars. There was a standard rangefinder for the main 4-in guns aft of the island, which ended with a thick mast supporting a lattice platform made for the installation of radars and antennae (see sensors).
To operate amphibians and seaplanes, the ship also had a starboard side crane, aft of the island.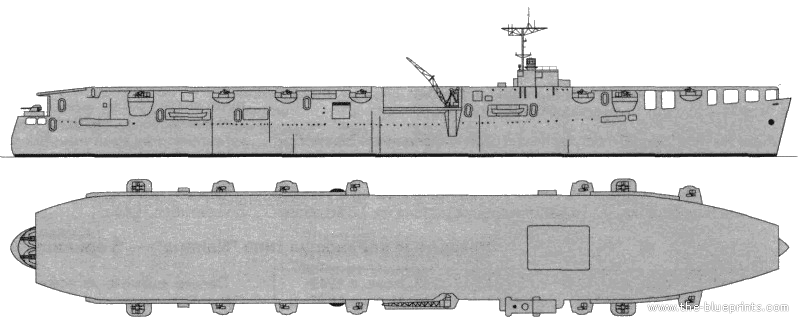 Armour protection layout
Unlike regular fleet carriers and like all escort carriers, Pretoria Castle came unprotected. This came as another reason not to press her on the frontline. During her conversion she saw the addition of a light armour protection over the magazines (box type) and steering gear. It was shrapnel-proof and probabl around 1-inch or less (35-40 mm). However her underwater compartimentation could be turned into an ASW protection by creating or enclosing empty compartments, with doors plated over or welded shut, alongside her waterline. Neither the flight deck or hangar were protected in any way. In fact to compensate for the flight deck additon and hangar, more ballast is added.
Powerplant
Pretoria Castle being a merchantman, a liner not for the prestigious blue ribbond transatlantic line, but the more shoddy but important line to South Africa, her mahinery is made for efficience, range and reliability, not speed. Thus she is given two civilian grade Burmeister & Wain Diesels rated for 16,000 bhp (12,000 kW) total, 3,284 NHP. She has also 2,430 tons of diesel in her tanks, enough for a comfortable 16,000 nm trip at 16 knots, quite sufficient for the UK-Le Cape long west african road.
In reality she was used as AMC on the same road, but from Freetown and down to south pacific waters and Indian ocean.
Armament
Main
Pretoria Castle was armed with the bare minimum, two twin compact 4-inches 45 caliber (102 mm) QF Mark XVI mounts, shielded. They were installed on the only place large enough to accomodate them, on the poop. Thus, their arc of fire was limited to the rear of the ship.
Quickspecs: Fixed QF 35 pounds (15.88 kg) HE or 38.25 pounds (17.35 kg) S.A.P. 9 Ib filling, Vertical sliding-block Breech, hydro-pneumatic recoil 831 mm (33 in) elevation -10 +80°, ROF 15–20 rpm, mz 2,660 fps, Range 19,850 yard/45° alt 39,000 ft/80°, mount 4,495 lb (2,039 kg), crew 8.
AA
Eventually the two planned octuple pompoms were never installed. Pretoria Castle emerged with no less than fourteen sponsons mounts, large enough for the twin version of the 20 mm Oerlikon gun:
These seven sponsons either side were not placed the same way, the four outer ones were on larger sponsons. It's possible the remainder five, which protruded far less, were meant originally for single mounts.
Upgrades: None. By January 1946 she had kept the same two twin 4-in/45 Mk XIX gun and her fourteen twin 20mm/70 Mk V Oerlikon as well as her original type 279 and type 281 radars
Sensors
Pretoria Castle was given a sturdy mast with a platform to fit radars, and when completed, she received a type 279 and a type 281 radar. She also saw the installation of suitable communications for control and direction of aircraft, and ship navigation.
Type 279 Radar: 1940 Early-warning radar Frq 43 MHz PRF 50s, Pwt 7–30 μs Range 50 nm PW 70 kW
Type 281 Radar: 1940 Early-warning radar Frq 86–94 MHz PRF 50s Bwt 35° Pwt 2–3/15 μs Range 115 nmi alt 30,000 ft PW 1-350 kW
Air Facilities
Total surface for the flight deck respresented 3,977m² (42,800 Sq ft), and it measured 170.7 meters (560 ft= by 23.3 meters in width (76 ft). The single hangar below was 70.4 meters long (231 ft) by 18.5 meters in width (61 ft) and 5.3 meters in height (17 ft), for an overall surface of 2,100m² (22,600 Sq ft) and a volume of 11,130m³ (393,000 cu ft). The flight deck was rectangular, with a narrowing section aft, and a longer one forward.
HMS Pretoria Castle was provided a single lift forward measuring 13.7 meters in lenght (45 ft), 11.9 m width (40 ft) for 6.8t.
She was also provided with a single C-II Catapult installed forward and able to pull out a 6.4t plane at 122km/h. Thus was newly design prototype cordite fired catapult, and she was the first ship to test it. There were six arrestor cables aft, and two crash barriers before the launch area where the axial catapult was located.
To resupply the air park she was given an Aircraft fuel stowage of 345,500 liters/Imperial Gallons.
Air Group


Capt. Eric ("Winkle") Brown's Seafire Mark 45 TM379, on trials carrier HMS Pretoria Castle, July 1945. The Seafire Mark 45 was the last wartime evolution of the famous type. It had the new Rotol contra prop, modified fin, rudder and tail hook. Artwork depicting the scene
Mini Bio: Captain Eric Melrose "Winkle" Brown: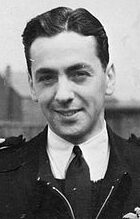 CBE, DSC, AFC, Hon FRAeS, born 21 January 1919 died 21 February 2016. British Royal Navy officer, test pilot of legend. He flew 487 types of aircraft, more than anyone else in history, holds the world record for the most aircraft carrier deck take-offs and landings (2,407+2,271) and achieved many "firsts" in naval aviation history like of a twin-engined aircraft, tricycle undercarriage, jet aircraft, and rotary-wing aircraft. He flew almost every category of Royal Navy and Royal Air Force aircraft type from gliders to fighters, bombers, amphibians, flying boats and helicopters in his long career. During WW2 he also tested German, Italian, and Japanese aircraft, including the latest and most dangerous jet and rocket aircraft. He also was a pioneer of jet technology, like the dangerous high-speed DH 108 "swallow" delta wing jet to attempt the sound barrier crossing.


Fairey Albacore Mk.VC from 817 Squadron in 1944-45. Can't find any photo of the "permanent park" Sea Hurricanes or Swordfish aboard.
HMS Pretoria Castle had a capacity of 21 planes, and the "standard" air group in 1944 was assumed to be 6 Sea Hurricane and 12 Swordfish according to navypedia.
She saw a wide variety of models on her decks given her role, doubling as training carrier: Fulmar, Sea Hurricane, Seafire, Martlet, Corsair, Albacore and Barracuda among others in WW2 saw action on her deck. As for photo evidence, she shows for sure the Seafire as well as the Fairey Firefly in action.

Fairey Fulmar taking off from Pretoria Castle, probably soon after completion.



Airacobra first landing on Pretoria Castle, 4 april 1945. Eric Brown was testing the tricycle configuration for the first time on a carrier.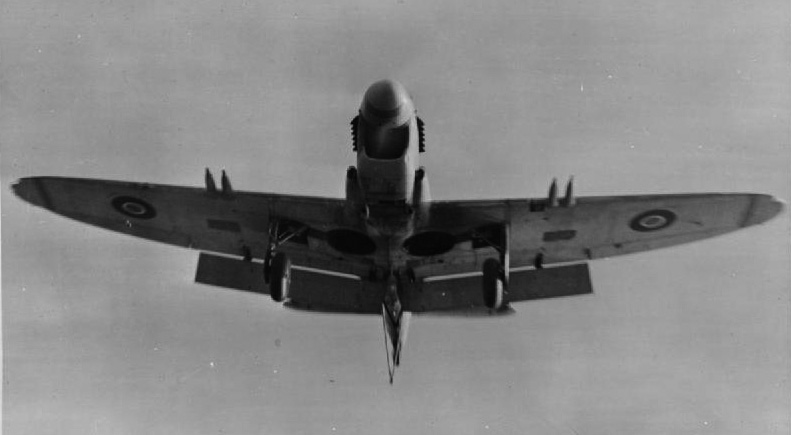 Fairey Firefly from Pretoria Castle in flight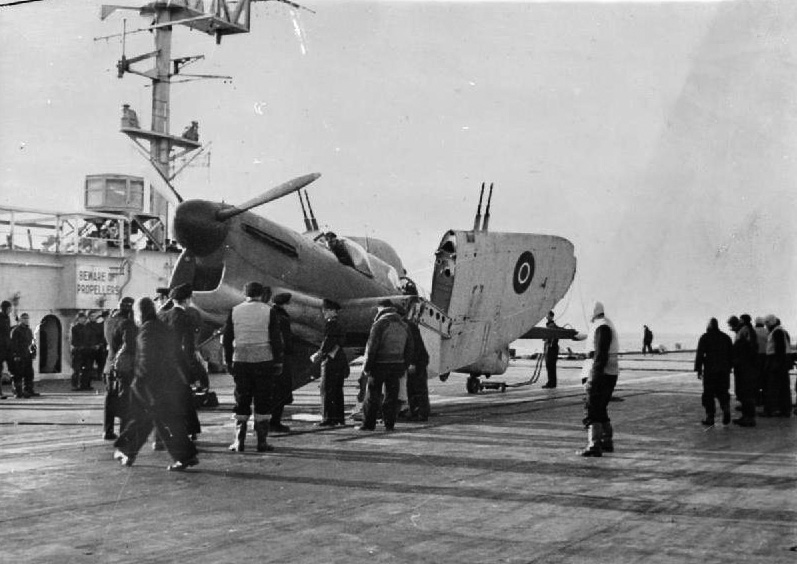 Fairey Firefly, wings folded before being struck under.
⚙ specifications

Displacement
17,392 GRT or 19,650 standard, 23,450 tons FL
Dimensions
594 x 76 x 29 ft (181.1 x 23.2 x 8.8 m)
Propulsion
2 shafts Burmeister & Wain Diesels, 16,000 bhp (12,000 kW); 3,284 NHP
Speed
18 knots (33 km/h; 21 mph)
Range
Diesel oil 2,430 tons for 16,000 nm at 16 knots
Armament
2×2 102mm/45 QF Mk XVI, 14×2 20mm/70 Oerlikon Mk II/IV
Protection
Splinter protection only over the magazines and steering gear
Sensors
Type 279, Type 281 radars
Air Group
21, see notes
Crew
660+
HMS Pretoria Castle in Service
Early Service as an AMC
By 11 October 1939, she was armed and "militarized", painted not in grey, but with a black hull and buff upper works and funnel. The requisitioned liner was Commissioned for service as HMS PRETORIA CASTLE. She was assigned to escort convoys in the South Atlantic, based at Freetown, Sierra Leone, West Africa.
In December, she Carried out sea trials after conversion completion and the 21 she sailed from Belfast, embarking ammunition and sailed to Freetown.
By January 1940 she arrived at Freetown and was prepared for Atlantic convoy defence. In February she is deployment for more escort missions, which also turned out to go to and from West Africa and Indian Ocean. Thuis routine went on until September. By that time, she is warned of German commerce raiders active in the South Atlantic.
In October, she join military convoy WS4 to supplement escort during their passage to Freetown. On the 11th she Joins WS4 divided into a fast and slow sections, and stayed with the latter up to Freetown, escorting six merchant ships. on the 15th she is detached and redeployed with the heavy cruiser CORNWALL as Ocean Escort for WS4 to CapeTown.
On the 26th she is detached to escort SS SCYTHIA and WARWICK CASTLE into Cape Town and three days later rejoins WS4.
On 2 November she escorts four merchantmen as part of WS4 SLOW to Durban and arrived the following day. By December she is back to Freetown with a routine convoy from Cape Town.
By January 1941 she joined the 'Atlantic Trade defence' and by April-May she is deployed with HMS REPULSE and the light cruiser MAURITIUS escorting the military Convoy WS8A into Freetown.
By June to December she escorts other routine convoys on the usual Freetown-Cape road.
This went on in 1942 until she is Nominated for conversion as CVE and joined UK in April and in May she is prepared for Paying-off and conversion.
The RN considered purchase from Union Castle, and in July conversion startes. She is indeed purchased on the 16th. In December she sees the removal of all upperstructure and later fitting of the flight deck and catapult.
WW2 Service as F61

In July 1942, Pretoria Castle starts her harbour trials and on the 29th, she is commissioned for service as a "Trials Carrier" stationed in the Western Approaches Command area. Next month, in August she performed her official sea Trials in the North Sea, followed by post-trials fixes and finishin working out. On August 10, she sails for her shakedown cruise and passage to Rosyth, arrving two days later, and in the Clyde, she complets her trials and start her first aircraft deck landings. She then takes her semi-permament position, anchored off Rothesay between trials.
Trials went on until the end of September, and October, until she has her first operational duty with 825 Squadron aboard, pilots making qualifications.
As a note here, 825 squadron was created in 1934 and deployed on Eagle and Glorious. After the latter is sunk in Norway, it is redeploed in UK and covered the Dunkirk evacuation. It took part of the Bismarck hunt, Atlantic operations, the channel dash (first from Furious then Ark Royal), the arctic convoys from HMS Avenger and later Vindex in 1943. By the summer of 1942, it likely operated the Fairey Swordfish II and Hawker Sea Hurricane IIc. The unit also was made famous later by the Falklands War in 1982. It still exists as a primary helicopter unit.
Only Escort mission
As the need for escort is strong, HMS Pretoria Castle is deployed with this operational squadron to escort military Convoy DS46 during passage to Reykjavik, arriving on the 29th. The following day she escorts Convoy SD46 back to the Clyde estuary.
In November she is Detached on arrival to resume trials duties. On the 29th she collides with the Escort Aircraft Carrier HMS RAVAGER, also deployed in the Clyde area for Deck Landing Trials. Damage is lights, they are repaired and she resumed trials until the end of the year.
By January 1944 she is deployed in the Clyde and nominated used for T6 HARVARD (lend-lease Texan, training monoplane) trials, to establish effective deck landing by the latter aircraft, using existing arrestor wires, something that needed confirmation. From there, this enable the option for the FAA to advanced trained thir pilots with this model.
In February 1944 Deck Landing trials are performes with new version of the SEAFIRE, Wildcat (Formerly Martlet) HELLCAT and AVENGER (Formerly Tarpon), and in March concentrates on new Seafire versions, which is the most capricious and fragile of the lot by far.
In April she startedr CORSAIR Mk.I landing trials.
On the 25th she is sent for a routine overhaul and maintenance, through May in drydock followed by post-refit Trials in the Clyde and resuming her activity. In June she tests Radar Interception trials with the SEAFIRE, in North Western Approaches, out at sea.
By July she resumed standard deck trials but on the 14th collides with the merchantman EDITH, sustaining this time quite serious structural damage, and she is Withdrawn from service and sent for for repair in a commercial shipyard.
In August she changes to Forth for repair completion at HM Dockyard Rosyth, going on by September and some trials in October. She resumled service and on the 5th, Carries out Degaussing tests at the Range. On the 16th she resumes trials with the Seafire, new version, and two days later with the lend-lease Avenger and Hellcats, prepared for deplyoment in the far east.
She also tests the last version of the SWORDFISH, ared wioth rockets and radar.
On the 23rd she carries out aerodynamic trials with the last version of the WILDCAT (FM-2) and on the 30th the amphibian SEA OTTER, successor of the Walrus, follows suite.
By November she is used as Target for torpedo attacks by RAF BEAUFIGHTERs, normally based in the Channel and operating on the North Sea.
On 6 Novembern, she trials the FIREFLY, replacement for the Fulmar. On the 13th, it's the BARRACUDA, monoplane replacement for both the Swordish and Albacore.
On the 21st this time she tests a regular land-based SPITFIRE fitted with Hooks top evaluate a possible rapid conversion kit.
In December still in the Clyde she is Withdrawn from service for a machinery overhaul in Belfast Yard.
By January 1945 she is moved to Glasgow's civilian yard for completion of overhaul, until March, followed by trials duties in the Clyde through April, also starting catapult trials and with the objective to test Tail Down launches. In May she tests night landings, and various deck lighting configurations and improvement. Many new technique are developed to be used in the Pacific by the BPF. There are discussions to send her in Australia to be closer to the operations, and by July she is sent to berthing but eventually not prepared or deployed.
Instead, she is nominated for "special trials" evaluating a carrier use of the new METEOR jet aircraft, and she is to be given a new, improved flight deck lighting for night landings.
Meter tests started on the 11th of August, with a modified model with hook (performed by legend of aviation test pilot Eroc "Winkle" Brown).
She also saw the same Brown landing for the first time a lebd-lease Bell Airacobra Mk. 1 on her flight deck, which was the second "first", after the jet, there, first aircraft with a tricycle undercarriage, and she is also to be tested with the rubber deck for emergency landings planned for future carriers. She also tests first ever landings and take-offs by a glider (John Sproule) on a Slingsby T.20, and researching "round-down" turbulence.
She made further trials at night, using improved flight deck lighting to establish and by September 1945, she was transferred to Portsmouth Command and later on the 11th, pressed for a refit by HM Dockyard. By October she is at Portsmouth and Future deployments are under consideration, but December she is to be refitted if it's the case but with a reduced crew due to the end of Conscripted service.
Thus in January 1946 she still awaits her fate at Portsmouth. Eventually the Navy decided to get rid of her, she is placed on the disposal list, negotiations started with her former owner, Union Castle to see the feasability for a return to trade.
Agreement is found and on the 26th she is sold and taken into convertion back to her former self. Fortunately, most of her formaer accomodations were kept. The superstructures had been "landed" and stored away so reconstruction is fast, which motivates the company instead of replacing her anew.
She sails from Portsmouth with a skeleting Steaming Crew to Belfast for handover to the company and on Februart 1946, the reconversion commenced with the removal of admiralty equipments. By March completion of de-storing to Belfast is done and she is paid off on the 21st for good, the returned officially the same day to Union Castle, conversion followeed as a passenger liner.
It's on the 11 August 1945 that, she moored on the Clyde, she saw the first deck landing on a Gloster Meteor. These inaugural trials led to more jet flight trials on other carriers. However by that time the RN saw her too limited top operate jets and too small to be useful. This was the main reasons she was put on the disposal list and proposed to her former owner.
She was rebuilt to her original specifications, refreshed and modernized, but renamed WARWICK CASTLE as a new mail liner under construction at the time was to be named Pretoria Castle. The new liner had Accommodations for 180 first class and 335 tourist class passengers. Commercial service resumed on 13th March 1947, and she served on the Cape mail run (to south Africa and back), until larger ships replaced her and she was swapped to the 'round Africa' service. On 26th July 1962, after being stricken by Union castle Line, she arrived at Barcelona for scrapping.
Read More
Books
McCluskie, Tom (2013). The Rise and Fall of Harland and Wolff. Stroud: The History Press.
Lloyd's Register of Shipping (PDF). London: Lloyd's Register. 1939.
"HMS Pretoria Castle Gun 10 X BR 20mm 70cal Mark V VC Power Twin". NavHist. Flixco Pty Limited
Mason, Geoffrey B. "HMS Pretoria Castle (F 61) – Escort Aircraft Carrier". Service Histories of Royal Navy Warships in World War 2.
Osborne, Richard; Spong, Harry & Grover, Tom (2007). Armed Merchant Cruisers 1878–1945. Windsor, UK: World Warship Society.
Brown, Eric. Wings of the Weird and Wonderful, Wings on My Sleeve. Weidenfeld & Nicolson.
Drury, Tony. "A history of HMS Pretoria Castle". Royal Navy Research Archive.
Helgason, Guðmundur. "HMS Pretoria Castle (F 61)".
"UK/Union Castle". The Late, Great Ocean Liners.
Links
on royalnavyresearcharchive.org.uk
http://www.lategreatliners.com unioncastle.htm
wikipedia.org/
shipsnostalgia.com/ hms-pretoria-castle.363378/
photo on iwm.org.uk/
destinationsjourney.com
on uboat.net/
on navypedia.org/
on willingale.me/
on flickr.com
on naval-history.net/
shipsnostalgia.com/
on naval-history.net
Model Kits
on worthpoint.com 1:250-ship-model-hms-pretoria-castle-269983251
on bob.plord.net/
Reference: Profile of the new liner bearing her name in 1955
3D