The last German "four stackers"
With the previous Magdeburg class, the Karlsruhe were near-sister ships with the same armament, armor protection, but faster and larger. Launched in 1912 they were commissioned as the war broke out and saw plenty of action, with short but very intense career as the 30 kts vanguard ships of the Hochseeflotte. SMS Karlsruhe started with commerce raiding career, sinking sixteen merchant ships but she desappeared after an accidental internal explosion on 4 November 1914. SMS Rostock frequently screened for I Scouting Group (Battlecruisers) and saw the Battle of Dogger Bank in January 1915, several raids and the Battle of Jutland, being torpedoed by a British destroyer and scuttled.
Design Development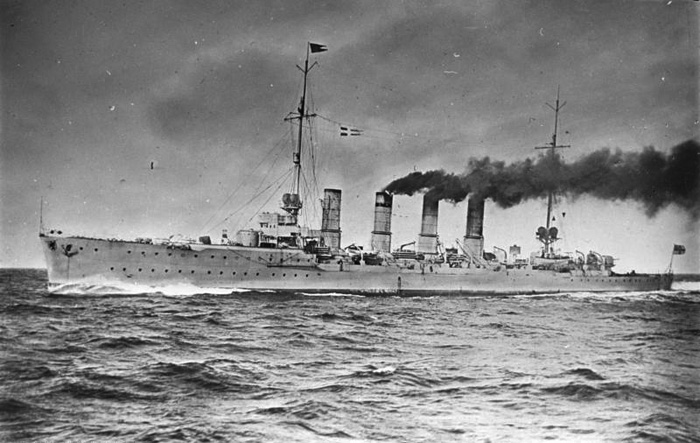 Bundesarchiv, SMS Karlsruhe on sea trials, 1914
The design for the Karlsruhe class was prepared in 1910, as an incremental improvement over the Magdeburg class. All authors saw them as different classes, but they shared many characteristics, being "near-twins". This allowed to keep the good points of the design, saving time, while trying to push the envelope in some areas. Karlsruhe and Rostock had a longer hull which enable larger steam turbines and 14 boilers, increasing their output, but also a reworked hull with notably a more raked hull, although this was paid by a greater displacement. They however kept the same armament and protection.
Construction
SMS Karlsruhe was ordered in 1911 as "Ersatz Seeadler" (as a replacement for the 1890 2nd class cruiser). She was laid down in 1911 at Germaniawerft shipyard in Kiel, hull number 181. Launched on 11 November 1912, she was commissioned on 15 January 1914. Another SMS Seeadler (1888) was made famous during the war as the only master commerce raider, the "kaiser's pirate".
SMS Rostock was ordered as "Ersatz Geier" (another Bussard class cruiser), laid down in 1911 at Howaldtswerke dockyard (Kiel), construction number 560. Launched on 12 November 1912, just a day after her sister ship, she was completed on 5 February 1914, so had little time to train before the war broke out.
Hull construction & general characteristics
The ships were 139 meters (456 ft) long (waterline), 142.20 m (466 ft 6 in) overall, an increase of nine feets. The beam took 20 cm at 13.70 m (44 ft 11 in), the draft progressed also to 5.38 m (17 ft 8 in) forward, 6.20 m (20 ft 4 in) aft (instead of 4.40 m). Displacement rose to 4,900 metric tons (4,800 long tons), as designed (normal), and up to 6,191 t (6,093 long tons) fully loaded, to compared with the 4570/5587 tons of the Magdeburg class.
Design wise, they were close, with the same clipper bow, forecastle, low aft deck, weapons repartition, two masts and four funnels heavenly spaced amidships. They were crewed by eighteen officers and 355 enlisted men, a bit more than the previous Madeburg, but they were also larger. They carried service boats, namely one steam picket boat, a coaling barge, a cutter, two yawls, and two dinghies. Teir masts supported platforms for projectors, but in 1915, Rostock was fitted with spotting tops.
Powerplant & Performances
Both vessels had two shafts propellers (three-bladed screws 3.50 m or 11 ft 6 in in diameter), driven by two Marine-type steam turbines. Steam came from twelve coal-fired water tube boilers, plus two oil-fired double-ended water tube boilers. Total ouptut was evaluated at 26,000 shaft horsepower (19,000 kW), for a designed top speed of 27.8 knots (51.5 km/h; 32.0 mph). But as usual on trials, they exceeded these figures, Karlsruhe reaching 28.5 knots (52.8 km/h; 32.8 mph) on 37,885 shp (28,251 kW), Rostock 29.3 knots based on 43,628 shp (32,533 kW).
Autonomy wise, they carried 400 t (394 long tons; 441 short tons) of coal, 70 t (69 long tons; 77 short tons) or oil, and ASW internal voids could accept an extra 1,300 t (1,279 long tons; 1,433 short tons) plus 200 t (197 long tons; 220 short tons) or oil, respectively. Range is estimated to be above 6,000 nm at 23 kts due to their larger hull, according to Magdeburg's data;
Electrical power came from two turbo generators, rated at 240 and 200 kilowatts respectively, both working at 220 volts.
After sea trials and some service, they were reported favoutably, their captains seeing them as good sea boats, with slight weather helm in a swell, severe leeway, slow steering and when pushed hard over, bleeding 60% speed. Their transverse metacentric height was average, at 0.79 m (2 ft 7 in). Their roll and general motion was predictable, making good artillery platforms. They were bad steamers however at the start.
Protection
The general scheme was a repeat of the the preceding class.
Waterline armored belt: 60 mm (2.4 in) amiships
WL Belt tapered down to 18 mm (0.71 in) forward.
Unarmored belt stern section.
Armored deck: 60 mm forward, 40 mm amidships, 20 mm aft.
Sloped armor deck: 40 mm connected to the belt.
Conning tower: 100 mm (3.9 in) walls, 20 mm (0.79 in) roof
For ASW protection they had their hull constructed with longitudinal steel frames incorporating some fifteen watertight compartments, plus a double bottom running for 45% of its length. Each turbine was installed in its own engine room to avoid loosing all power after a flooding. Also, their 14 boilers were split into five separate boiler rooms.
Armament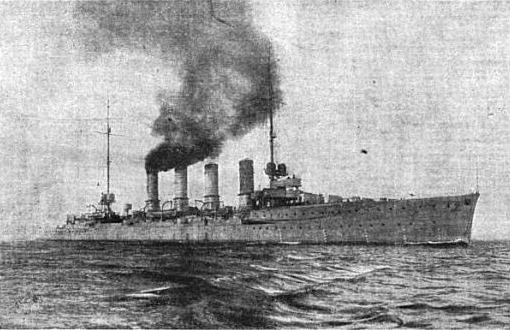 SMS Karlsruhe underway
12 × 10.5 cm (4.1 in) SK L/45 guns
Same as the Magdeburg's: These twelve guns were placed as follows: two forward in tandem, two aft, four in sponsons and recesses to fire forward ad aft, the rest amidships. They fired at 15 RPM, firing 17.4 kg (38 lb) shells with a 25.5 kg (56 lb) fixed Brass Casing at 710 m/s (2,300 ft/s), to a max range of 12,700 m (13,900 yd) at 30°.
2 × 50 cm (19.7 in) torpedo tubes
Standard G7 type (1913) also used by the Magdeburg: Submerged on the broadsides. They carried a 430 lbs. (195 kg) Hexanite warhead, reaching 4,370 yards (4,000 m) at 37 knots or 10,170 yards (9,300 m) at 27 knots depending on the setting. They were powered by a Decahydronaphthalene (Decalin) Wet-Heater.
120 × mines
Likely the R-Mine standard type using a 330 lbs. (150 kg) wet gun cotton charge. They were carried on deck rails on either side, starting after the forecastle.
Resources & Links

SMS Karlsruhe, painting (cc)
Books
Bennett, Geoffrey (2005). Naval Battles of the First World War. Pen & Sword Military Classics.
Campbell, John (1998). Jutland: An Analysis of the Fighting. Conways
Campbell, N. J. M. & Sieche, Erwin (1986). German section, Conway's All the World's Fighting Ships, 1906–1921.
Gröner, Erich (1990). German Warships: 1815–1945. Vol. I: Major Surface Vessels.
Halpern, Paul G. (1995). A Naval History of World War I. Annapolis: Naval Institute Press.
Tarrant, V. E. (1995). Jutland: The German Perspective.
Koop, Gerhard & Schmolke, Klaus-Peter (2004). Kleine Kreuzer 1903–1918: Bremen bis Cöln-Klasse [Small Cruisers 1903–1918
Nottlemann, Dirk (2021). "The Development of the Small Cruiser in the Imperial German Navy (Part II)".
*For the anecdote, while a Karlsruhe was launched again in 1927, Rostock(ii) of the Cöln class, launched in April 1918, was never completed and the name never used again on a cruiser.
Links

Postcard on the militarian.com
Detailed record on militaer-wissen.de
The models corner
None found so far ! For scratch builders, here are some references:
Russian rendition and comparisons

⚙ Karlsruhe class specifications

Dimensions
144 x 13.2/14* x 4.4/4.5* m (472 x 46-47* x 16.5 feets)
Displacement
4,850 tons standard, 5,925 tons Fully Loaded
Crew
450/469 wartime
Propulsion
2 shafts Parsons turbines, 6 Yarrow boilers, 40,000 hp.
Speed
29 knots (42 km/h)
Range
2300 nm @ 27 knots.
Armament
6× 6-in/45 (152 mm), 2x 3-pdr/45 (57mm), 2x 2-Pdr/39 AA (40 mm), 4×3 21-in TTs (533mm)
Protection
Belt 1.5-2.25 in, decks 1 in, Masks 25 1 in, CT 3 in)
---
SMS Karlsruhe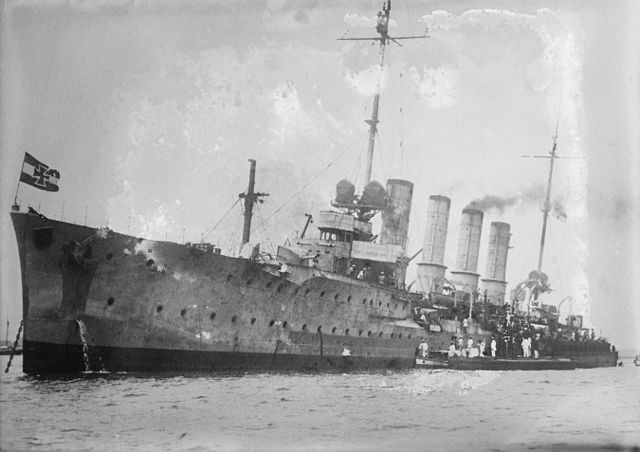 SMS Karlsruhe coaling at San Juan P.R.
SMS Karlsruhe (contract name "Ersatz Seeadler", laid down at Germaniawerft, Kiel, 21 September 1911 and launched, chistened by her namesake mayor, Karl Siegrist, on 11 November 1912. Fitting-out was followed by the yard's trials in mid-December 1913, and official sea trials revealing excessive coal consumption.
Commissioned on 15 January 1914, she spent the months before the war training under command of her first captain, Fregattenkapitän Fritz Lüdecke. Fixes needed extra trials which went on until June. However even after yards's modification, this was not much improved and she was scheduled for the East American Station, to relieve SMS Bremen, but she was replaced by Dresden and only departed Kiel on 14 June.
On 1st July, she was in Saint Thomas, dropping anchor in the Danish West Indies. As new from the Balkans saw rising tensuions, she was sent to watch over German Nationals in Port-au-Prince, Haiti during civil unrest, until 9 July. She was ordered newt to meet SMS Dresden in Veracruz (Mexico) but the situation degraded further in Haiti and she stayed, only ordered to leave by 27 July. Both cruisers exchanged commanders, with FK Erich Köhler now taking command of SMS Karlsruhe while Lüdecke was ordered to conduct Dresden back to Germany.
SMS Karlsruhe was to take part in the opening ceremonies of the Panama Canal, but Köhler decided decided to avoid the numerous British and French warships present here and instead headed for Havana, Cuba, and on 30 July, left and stayed close to shore before, heading for a Cay Sal Bank (Straits of Florida) and then evaded any pursuers by broadcasting a message in the open as she was to head for Tampico (Mexico) on 4 August, where the present armored cruiser HMS Berwick awaited here. Köhler armed the passenger ship SS Kronprinz Wilhelm as an auxiliary cruiser and next steamed east into the Atlantic, receiving news of the war underway in the 3/4 August night.
Her standing orders were to conduct commerce raiding, targeting British merchant traffic. Karlsruhe, Dresden and auxiliary cruisers mobilized from the Royal Navy no less than five cruiser squadrons, including one headed by Rear Admiral Christopher Craddock, and Rear Admiral Archibald Stoddart. Ships were dispersed, covering the vast sways of the Atlantic. Based on maps, the commanders planned possible routes two and from the coaling stations where they might intercept them.
On 6 August, SMS Karlsruhe met Kronprinz Wilhelm 120 nmi north of Watling Island (now San Salvador). She was transferring guns and equipment to SS Kronprinz Wilhelm when Craddock (HMS Suffolk) was spotted approaching from the south. Only two 8.8 cm guns and a machine gun were transferred before the two ships parted over quickly. Suffolk followed SMS Karlsruhe and the hunt was launched, communicated to other cruisers. However, being faster, she evaded Craddock.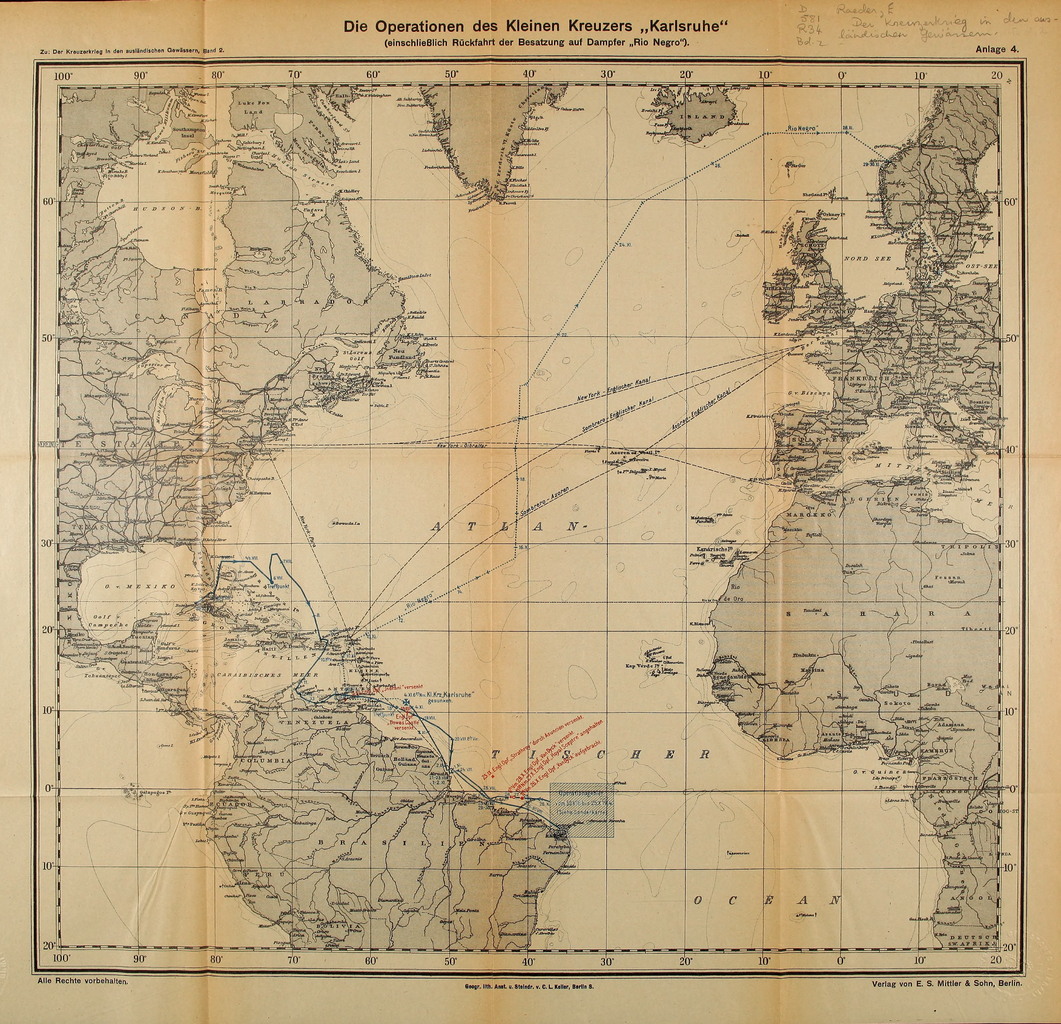 Operations of SMS Karlsruhe: The general map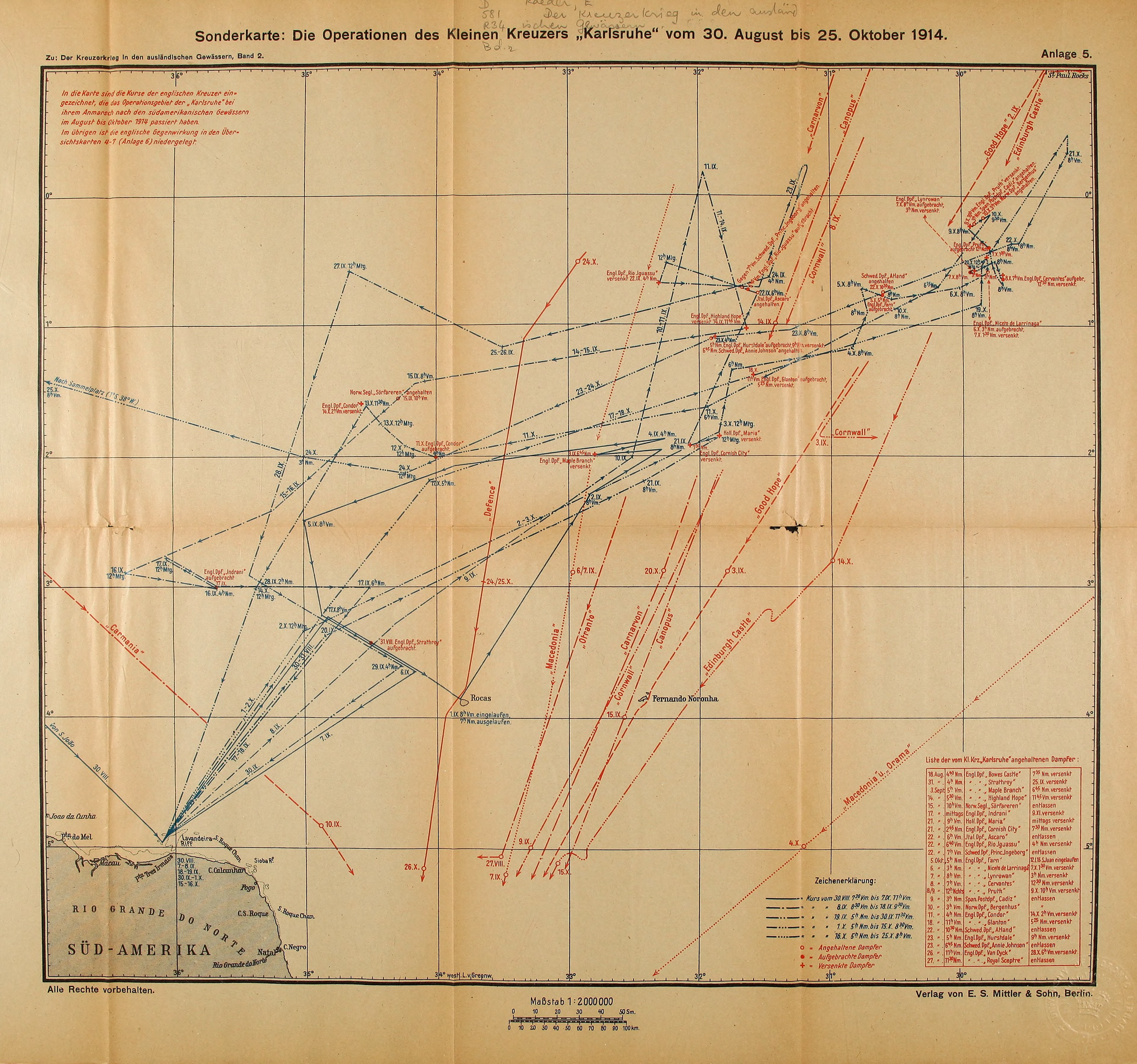 Operations of SMS Karlsruhe in October 1914
At 20:15 however, HMS Bristol spotted underway the cruiser and opened fire. Karlsruhe gunners replicated and scored two hits on Bristol, forcing her to slow down. Karlsruhe turned east and evaded her. By 9 August, SMS Karlsruhe reached Puerto Rico. It was time: She only had 12 tons of coal left, and resupplied from a HAPAG freighter before departing for Brazil, hoping to prey on large merchant traffic and not well patrolled.
She alsto stopped in Willemstad, Curaçao to take more coal and oil and reached the northern coast of Brazil, spotting and sinking a first British steamship (18 August). Until 23 August, she roamed off Maraca island, on the mouth of the Amazon river, replenishing coal again from a German steamship. One of those planned in advance as colliers to support such operations in neutral waters, at pre-planned meeting points. Captain Köhler also preferred to capture vessels and take all the coal he could onboard.
He kept prizes also for target training. Patrolled the eastern coast of South America down to La Plata (Argentina) she sank/captured sixteen merchant ships, of which 15 British, 1 Dutch for 72,805 GRT. Next SMS Karlsruhe headed to the West Indies, to prey on Barbados, Fort-de-France, and Trinidad.
Underway on 4 November she had a spontaneous internal explosion however, at 18:30. The hull broke in two, the bow section sinking rapidly with a large portion of the crew, including Köhler and his staff. The stern remained afloat saving the lived of the 146 that escape onto the attending colliers: The SS Rio Negro and SS Indrani. At 18:57 the stern sank in turn, and Commander Studt became the senior surviving officer. The crew was trasferred to the SS Rio Negro while he scuttled SS Indrani and proceeded to Iceland, going through the British blockade of the North Sea in a storm, dropping anchor at Ålesund, Norway. Germany kept the loss of the ship a secret to keep the British occupied until they learned about it on March 1915. This smart move had tied down eleven British cruisers for almost six months after her loss.
SMS Rostock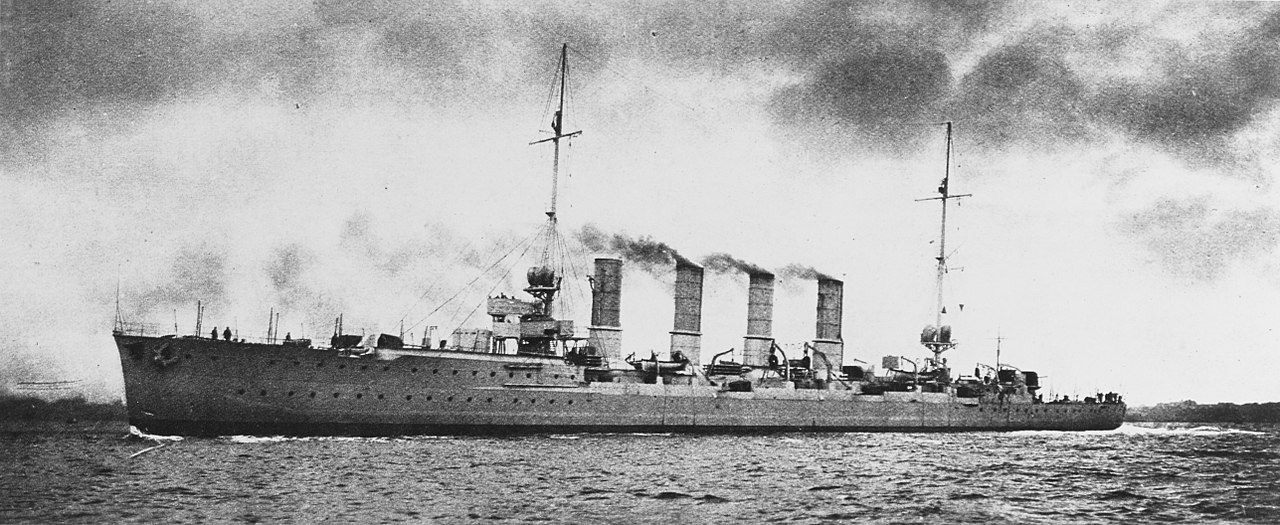 SMS Rostock was ordered as "Ersatz Geier", laid down at Howaldtswerke, Kiel in 1911, launched on 12 November 1912 (christened by the mayor of Rostock, Dr. Magnus Maßmann) and commissioned on 5 February 1914, assigned as a torpedo boat flotilla leader. She trained until the war broke out, not showing the same coal cinsumtin exceses of her sister ship. Her career was also less adventurous.
On 24 January 1915, SMS Rostock was part of the screen force dedicated to Admiral Franz von Hipper's I Scouting Group Battlecruisers. She took part in a first sortie near the Dogger Bank with three other light cruisers and 19 torpedo boats. Rostock stayed with a TB flotilla to screen the port flank of the battlecruiser squadron until five British battlecruisers were spotted, leading to the Battle of Dogger Bank. Rostock later took part in in the raid on Yarmouth and Lowestoft (24 April 1916), engaging the Harwich Force and other sorties in between all along 1915.
The Battle of Jutland was her final test: On 31 May 1916 she was still leader of two torpedo boat flotillas, flagship of Kommodore Andreas Michelsen. They were to screen for the battle squadrons and at 17:30, the British destroyers HMS Nestor and Nicator attempted an attack, while Rostock engaged them, quickly disabling both with assistance of the Battleships.
At 19:32, SMS Rostock and her torpedo boats layed a smoke screen to cover the general withdrawal. Michelsen later detached several torpedo boats to assist the badly damaged SMS Lützow. The fleet took its night cruising formation while Rostock escorted the light cruisers of IV Scouting Group, port of the formation. They sumbled upon the 2nd Light Cruiser Squadron after midnight, and later the British 4th Destroyer Flotilla. Rostock followed the cannonade and went right into the path of incoming destroyers, which immediately launched several torpedoes. Rostock and the other cruisers turned away, which sent them right uinto the bows of the battleships in I Battle Squadron. Rostock avoided collision but Elbing was rammed.
Rostock's search lights at some point uncovered the destroyer leader HMS Broke. Gunfire from the German cruiser sters, soon joined by Westfalen and Rheinland. Broke was heavily damaged but managed to reach port. Next Rostock ws attacked by HMS Ambuscade and Contest, firing a single torpedo each, at max speed settings and just 1,000 yd (910 m). This was a right decision, which cost a single hit on Rostock at 1:30, followed by firce gunfire, where she was hit by three 4 in shells, which disabled her. The destroyer S54 joined to assist, taking her in tow at 10 kn (19 km/h; 12 mph), soon joined by V71 and V73 detached from the flotilla.
But luck ran out: At around 03:55, 1 June 1916, British cruiser HMS Dublin spotted the slow-moving formation, easy prey. The three destroyers evacuated her crew before flashing the first two letters of the British signal challenge to gain time, then laid down Smoke screens, leaving some extra ten minutes for S54 to depart with Rostock's crew aboard. V71 and V73 stayed behind to scuttle the crippled cruiser with charges set completed by three torpedoes fired. The cruiser sank bow-first at around 04:25, with 14 men killed, 6 wounded during the battle. The cruiser had spent some 500 rounds for her main guns, the most of any other German cruiser present, but had little to show for it.