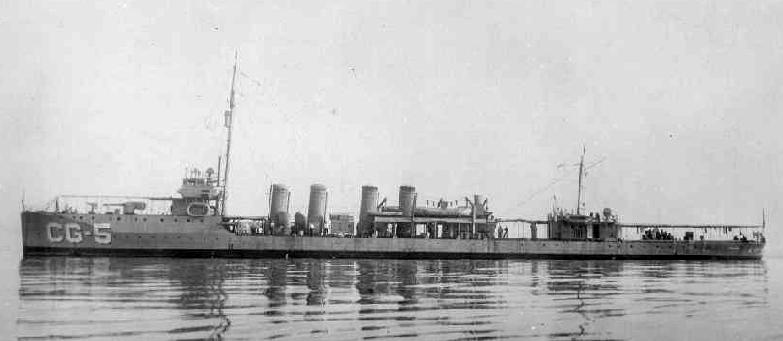 USN Fleet Destroyers (1913-1936): USS O'Brien, Nicholson, Winslow, Mc Dougal, Cushing, Ericsson (DD-51-56)
The third "1000 tonners", heavy on torpedoes
The O'Brien class comprised just six ships, third of five classes of "thousand tonners" based on their average 1,016 t displacement. The design was a continuation of previous Cassin/Aylwin, coming from discussions between the General Board of the Admiralty and Bureau of Ordnance (BuOrd) which proposed new torpedoes. Thus the O'Brien were more than a simple incremental development as being the first USN destroyers sporting the much larger 21 inches (533 mm) torpedoes. The design was repeated on the Tucker class and pushed further with the Sampsons, the last "thousand tonners".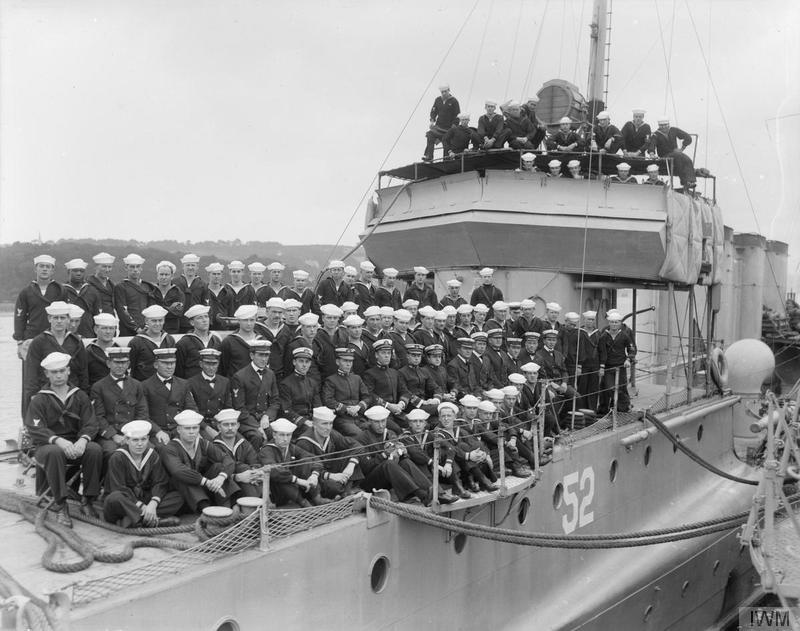 Closeup of the bridge and crew, DD-52 (USS Nicholson)
Design Development
Six destroyers were planned For the 1913 fiscal year (FY1913) and the General Board determined that six destroyers would be authorized with some limited innovations. They were simply called at first the "DD 51 class" and later the name from the lead ship was chosen, as O'Brien class.
A simple repeat of the FY1912 Cassin-Aylwin was ordered but the chief of BuOrd suggested that these new destroyers could be equipped with ten torpedo tubes and the new 21-inch (533 mm) just adopted. The General Board agreed, but in principle, waiting to recalculate weight distribution. The adoption of the new caliber indeed caused stability issues. In fact BuOrd's centerline torpedo tubes idea was refused. The same distribution as the previous destroyers and just eight tubes seemed optimal.
The additional weight of the new torpedoes indeed, 5 long tons (5.1 t), around 50 tons with the tubes, forced a reduction of the planned two aft-facing guns for example. It was reduced to a single one forward, resulting in four 4-inch (102 mm) guns in the end. This design was approved on 20 August 1912, authorized by Congress on 4 March 1913.
Construction and Service
The six ships were laid down in four shipbuilders: William Cramp (three), and Fore River, Bath Iron Works, New York Shipbuilding Corp. one each. Keels were laid down between July and November 1913, starting with USS McDougal. But DD-51 was O'Brien and thus, became the class lead ship and namesake. USS Ericsson was the last laid down, and they were launched between April 1915 and January 1915, USS Winslow being the last completed, McDougal the first commissioned in June 1914 and the last in August 1915, USS Cushing being the last commissioned. Total cost for the hull and machinery was $790,000 of the time.
These six destroyers operated in the Atlantic and Caribbean. From April 1917, they were sent overseas, based, like most 800 and 1000 tonners, to Queenstown in Ireland, for dull convoy escort duties until the end of the war. This was mostly uneventful, between false alerts, spottings and rare attacks, and crew's rescues as ships were routinely sunk by U-boats. At last the class had some visctories: USS Nicholson helped sink U-58 (November 1917) which happened to be the first U-boat sunk by the U.S. Navy. All were back home in January 1919, decommissioned by June 1922. But in 1924, two, USS Ericsson and McDougal were recommissioned with the United States Coast Guard for the "Rum Patrol". Back with the US in 1932-1933, they were all sold by June 1936 after being in long reserve, ad seeing little service.
Design of the class
The O'Brien class were about the same length as the previous classes, with median displacements around 1,020–1,050 long tons (1,040–1,070 t). The next Tucker and Sampsons would just gain 10 feet (3.0 m) in overall lenght and reach 1,090–1,100 long tons. The armament of four 4-inch (102 mm) guns was similar, but the torpedo armament grew and complement also. The new 21-inches twin torpedo tubes benefited from eight reload torpedoes, like the following two. The new Mark 8 torpedoes were largely untested at the time, but truly successful, a far cry from the trouble-ridden Mark XIV of 1941. They had not secondary artillery nor anti-aircraft guns. Only the next classes adopted a pair of 1-pdr (0.45 kg) guns or 37 mm (1.46 in).
Hull and general design
The O'Brien-class were 305 feet 5 inches (93.09 m) overall long (as the former Cassin/Aylwin), but a tad larger at 31 feet 2 inches (9.50 m vs. 9.25m) and with a standard draft of 9 feet 6 inches (2.90 m), here again, more than the Cassins (9.25 m). They had however the very same lines, with a high forecastle and recesses for the two side main guns of the main deck. They displaced between 1,020 and 1,090 long tons, with an average 1,050 long tons (1,070 t), not that heavy compared to the previous Cassins (1,036 tons/1,165 tons FL) despite their armament upgrade.
Powerplant
The O'Brien class had all two propeller shafts, two direct-drive Zoelly steam turbines, fed by four White-Forster boilers. However they divered in their auxiliary powerplants: Indeed, they diverged depending on their shipyard's partnerships and subcontractors. Their main powerplant generated on average 17,000 shaft horsepower (13,000 kW) enabling a top speed of 29 knots (54 km/h). But these turbines were known inefficient at low speeds. So they were equipped with additional classic VTE cruising engines for under 15 knots (28 km/h). All except Cushing had these triple-expansion reciprocating engines, a pair for O'Brien, Nicholson, and Winslow, McDougal and Ericsson just one one. Cushing instead was given two more low pressure geared steam turbines. Here is the differences To resume in detail:
DD51-53: Two Zoelly steam turbines and two 2 VTE for cruising plus 4 White-Forster boilers
DD54 and DD56: Two Zoelly steam turbines and a single VTE for cruising, 4 White-Forster boilers
DD55: Two Zoelly steam turbines and two steam turbines for cruising, 4 White-Forster boilers.
Armament
Main: Four 4 in (102 mm)/50 caliber guns
The serie started with the Mark 7 (1898), first used as secondary guns on the Arkansas class monitors. The Mark 8 were an improved version designed from 1905, but they gave apparently little satisfaction and were reworked from 1910, ending with threat standard Mark 9. Its general performances were such that it became also an allied standard with more than 400 transferred to the British. They were still in service in WW2 on a large quantity of ships by the way.
It was light weight and thus easy to handle, fast-firing, fast revolving and traversing.
These four 4-inch (100 mm)/50 Mark 9 guns weighing each more than 6,100 pounds (2,800 kg). They carried fired 33-pound (15 kg) armor-piercing (AP) shells exiting the barrel at 2,900 feet per second (880 m/s), reaching a target up to 15,920 yards (14,560 m) at 20° (max) elevation.
More on navweaps.com
Torpedoes
The ships had four torpedo tubes placed by pairs along the sides, along the hull amidships.
The initial model planned in 1913 was the recently introduced Bliss-Leavitt 21″ (53.3 cm) Mark 3. But when completed in 1915, they could swap on the Mark 8, really tailored for destroyer use, faster and heavier, and the first 21″ x 21′ (53.3 cm x 6.5 m) USN torpedoes. The latter had the following caracteristics:
Mods 0, 1, 2 or 2A: 2,761 lbs. (1,252 kg), 248 in (6.299 m) long, 321 lbs. (146 kg) TNT charge, settings 10,000 or 12,500 yards (9,140 or 11,430 m) at 27 knots. Powered by Wet-heater and guided by a Mark 8 Mod 1 gyro.
Depth Charges
In 1917-1918 to perform better as ASW ships, the class was equipped with two depht charge racks (DCR) and a single thrower or DCT, which was the "Y-gun", called that way before its shape. It throwed two depht-charges at once.
The latter were probably of the Mark I type (1916) weighting 100 lbs. (45 kg) with a 50 lbs. (23 kg) wet gun-cotton exploser ad two settings, 25 and 100 feet (8 – 30 m).
Mines
The General Board called for two anti-aircraft guns and provisions for laying up to 36 floating mines but it seems the recommendations were not followed. AA guns were first integrated to the next classes, and apparently not the mines. These destroyers never used this capability anyway.


USS O'Brien, Queenstown, Ireland 1918. She is the only one which camouflage has been photographed.
⚙ O'Brien class specifications

Displacement
1,050 long tons normal, 1,171 long tons FL
Dimensions
305 ft 5 in x 31 ft 2 in x 10 ft (93.09 x 9.50 x 2.90/3.23 m)
Propulsion
2 shafts DD Zoelly steam turbines, 2 VTE, 4 White-Forster boilers 17,000 shp (13,000 kW)
Speed
29 knots (54 km/h)
Range
300+ long tons oil, 4,500 nmi () at 16 kn
Armament
4× 4-in/50 guns, 4×2 21-in TTs (16), DCR, DCT, Mines, see notes
Crew
101
Read More
Books
Bauer, K. Jack; Roberts, Stephen S. (1991). Register of Ships of the USN, 1775–1990: Major Combatants. Greenwood Press.
Friedman, Norman (2004). US Destroyers: An Illustrated Design History (Revised ed.). NIP
Gardiner, Robert; Gray, Randal (1985). Conway's All the World's Fighting Ships 1906–1921
Silverstone, Paul H. (1970). U.S. Warships of World War I. London: Ian Allan.
Cashman, Sean Dennis (1988). America in the Age of the Titans: The Progressive Era and World War I. New York: New York University Press.
Naval History & Heritage Command. Dictionary of American Naval Fighting Ships. Navy Department, Naval History and Heritage Command.
Osborne, Eric W. (June 2005). Tucker, Spencer C (ed.). Destroyers: An Illustrated History of Their Impact. Weapons and Warfare Series. Santa Barbara
Sweetman, Jack (1984). American Naval History: An Illustrated Chronology of the U.S. Navy and Marine Corps, 1775–Present. Annapolis, Maryland NIP
Silverstone, Paul H., U.S. Warships of World War I
Links
www.destroyers.org/tcs-ships/early-destroyer-history
destroyerhistory.org the 1000 tonners
On historyofwar.org/
destroyerhistory.org/early/flivvers
navsource.org
On navypedia.org/
Navweaps 4″/50 (10.2 cm) Marks 7, 8, 9 and 10
navweaps.com ww1 us torpedoes
on wikipedia.org
https://destroyerhistory.org: o'brien class
destroyerhistory.org/early/ussfanning
historyofwar.org
Model Kits
None found so far. Note a popular subject…
O'Brien (DD-51)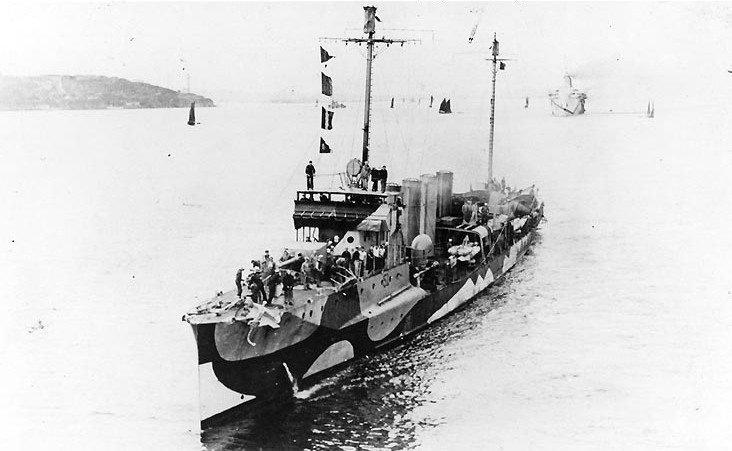 USS O'Brien (DD-51) was built at William Cramp & Sons, Philadelphia, started in September 1913, launched in July 1914, second USN vessel named in honor of Jeremiah O'Brien and his five brothers which captured on the sloop Unity, a British warship, during the American Revolutionary War.
Commissioned in May 1915 O'brien made the usual Caribbean-east coast training and shakedown cruiser. She was dispatched to rescue the survivors of U-53 off the Lightship Nantucket in October 1916. From April 1917, she was based in Queenstown, Ireland. She made several spottings and attacks, several rescue until the end of te war and was moved to Brest in December 1918. She left in January 1919, but became a picket ship for the NC-type seaplanes trying to cross Atlantic. Decommissioned in Philadelphia by June 1922, she was neverer reactivated as stricken by March 1935 and sold for BU the next months. This scrapping was linked to the Washington treaty tonnage limitations.
USS Nicholson (DD-52)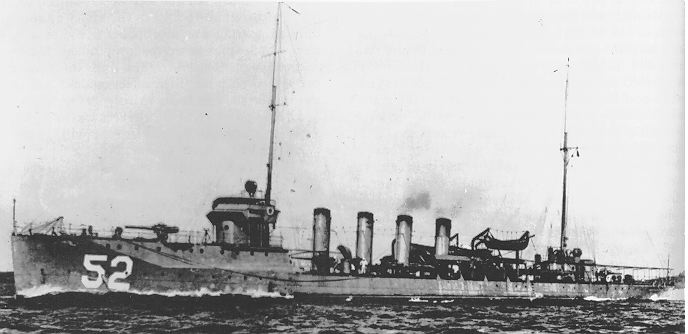 USS Nicholson was built at William Cramp & Sons, named in honor of 1812 and Civil War brothers.
Commissioned in April 1915 she left the east coast and saied to the Caribbean, trained and took part in neutrality patrols. From April 1917, she was prepared in NyC for overseas service and sent to the Irish Sea patrol from Queenstown. In October 1917, she rescued SS J. L. Luckenbach attacked by U-62, repelled. The latter tried to sink the cargo by gunfire, being apparently short of torpedoes, for three hours when the destroyer arrived. In November, Nicholson Fanning, spotted, tracked and sank U-58, first USN "kill". In September 1918, Nicholson drove off U-82 after the latter torpedoed Vernon off France.
Back home, she was in reduced commission by November 1919, decommissioned at Philadelphia in May 1922. Stickern in January 1936 she was sold for BU in June the same year.
USS Winslow (DD-53)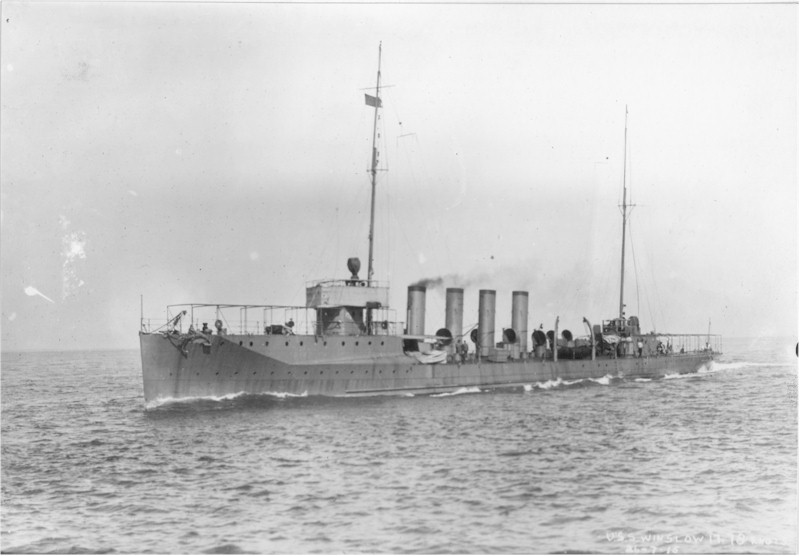 USS Winslow in sea trials 1915
USS Winslow was another Cramp destroyer (commemorating John Ancrum Winslow, which sank CSS Alabama), commissioned by August 1915; She made her shakedown in the Caribbean and trained on the east coast. She was also sent to rescue suvivors of U-53 in late 1916. From April 1917, she was sent to patrol the Irish Sea and esecorts. She took part in several unsuccessful U-boats hunts, and rescued survivors of many vessels.
Back home in 1919, she was placed in reduced commission by December 1919, decommissioned at Philadelphia in June 1922 (and seeing limited service on the east coast in between). In November she was renamed "DD-53" to free her name and stricken in January 1936, sold in June.
USS McDougal (DD-54)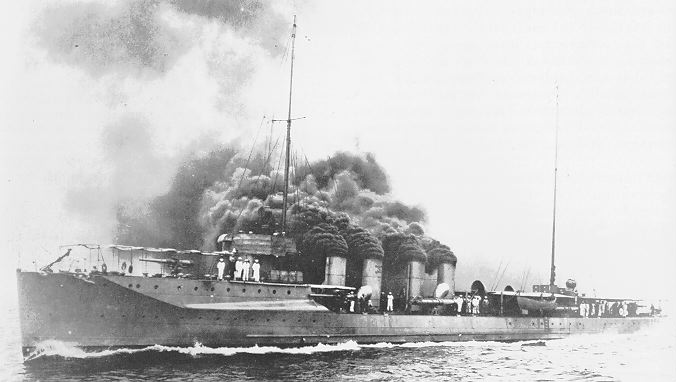 USS McDougal was from Bath Iron Works in Maine (named after David Stockton McDougal, which fought in a 1863 battle off Japan on USS Wyoming), commissioned in June 1914.
She underwent the same routine off the east coast and Caribbean as her sisters, then neutraliy patrols, and was one of the five destroyers sent to rescue survivors of U-53, having aboard 6 crewmen from a sunken Dutch cargo. From April 1917 she was prepared for overseas service and based in Queenstown. She made several unsuccessful attacks on U-boats and rescued survivors. She collided with a British cargo in February 1918, and was repaired until 20 July before being transferred to Brest in France to escort repatriation convoys from November-December.
Back home in early 1919 she resumed operations with the Atlantic Fleet, until August 1919, in reserve, reactivated for little service in mid-1921, then reserve and decommission in Philadelphia by May 1922. By June 1924, she was reactivated after modifications to serve with the Coast Guard's "Rum Patrol" as USCGC McDougal (CG-6) until May 1933. Renamed "USS DD-54" back in USN, she was stricken in July 1934, sold in August.
USS Cushing (DD-55)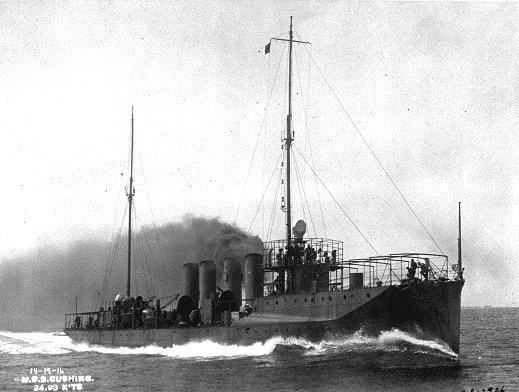 USS Cushing, 1915 sea trials
USS Cushing was built at Fore River Shipbuilding (Quincy, Massachusetts), named about the captain which sank the Confederate ironclad warship CSS Albemarle. Commissioned in August 1915 she alternated her peactime service between the east coast and Caribbean, was dispatched for the survivors of U-53 in late 1916 and was prepared from April 1917, to join the USN DD based in Queenstown. She made many escort missions, several unsuccessful attacks, rescued survivors, was transferred to Brest late 1918, and back home in January 1919, seeing part-reserve and limited commission until decommissioned at Philadelphia in August 1920, never reactivated and stricken in January 1936, sold for BU.
USS Ericsson (DD-56)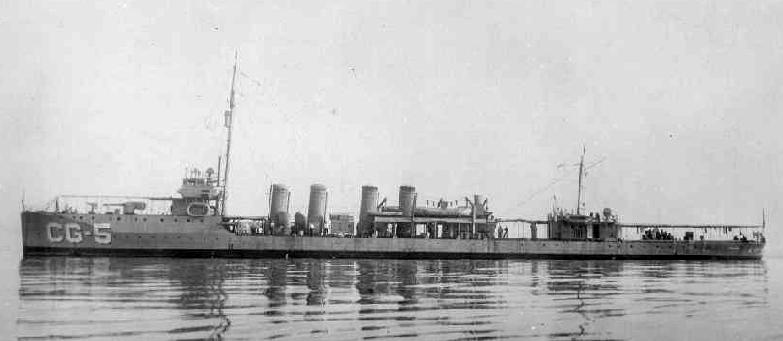 USS Ericsson as coast guard ship CG-5, Rum Patrol, 1930
USS Ericsson was built at New York Shipbuilding, Camden, NYC, (named after Swedish-born builder of USS Monitor), commissioned relatively late, in May 1916, and alternating between the east coast and Caribbean, followed by neutrality patrols, and the rescue or survivors from U-53, carrrying 81 passengers from a sunken British ocean liner to Newport. From April 1917 she was prepared for overseas service and one of the first to arrive in Queenstown. Like many DDs of her class, she spotted and made several attacks on U-boats, and rescued survivors.
Back home in 1919, she resumed Atlantic Fleet service until August, and was placed in reserve, and then limited commission, seeing some operaions in 1921, and redecommissioned in Philadelphia, June 1922. She also served with the United States Coast Guard as part of the "Rum Patrol", pennant CG-5, until May 1932. Discarded in early 1934 she was sold in August.