US Protected Cruiser, 1890 – today
Introduction: The birth of the "new navy"
When the first Cleveland Administration took office in 1885, Navy Secretary William Collins Whitney decided to maintain the previous modernization program under the Arthur Administration, at the time it was still far from power projection, limited to commerce raiding only (in part inspired by the 1790s experience and 1812 war in particular. The defensive posture saw just two cruisers built in this decade, were the Atlanta class. These 3,000 tons two-masted, low-freeboard vessels started at John Roach Yard in 1883 were more glorified coastal gunboats than cruisers, with a clipper stern, ram bow and two 8-in/30 guns. However the same program of 1883 also authorized a more sensible, larger long range masted cruiser, which became USS Chicago. At nearly double the tonnage, she was the first of a serie of far more potent "commerce raiders".
She was followed by USS Newark and Charleston (FY 1885), and later USS Baltimore (FY 1886) and Philadelphia (FY 1887), near sisters reaching 5,000 tonnes FL. The latter was the fourth protected cruiser (C4). This famous 1887 programm under Whitney was the most ambitious programm so far, authorizing in addition of Philadelphia and San Francisco, the ambitious construction for the first modern USN coastal battleship, USS Texas and Maine, the later becoming later an armoured cruiser.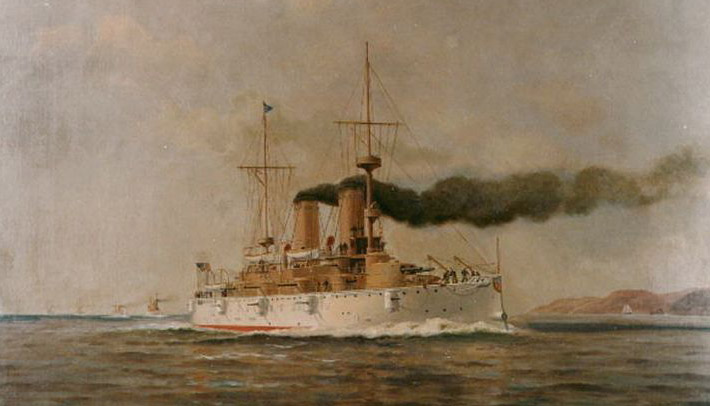 A painting of th Olympia
But for cruisers in 1888, no change in direction, the navy wanted in complement of this coastal defensive capability, on the eastern seabourne (the Panama Canal was not dug yet), a large and fast fleet of commerce-raiding cruisers, to attack a potential enemy fleet's supply line. Although President Grover Cleveland was defeated in 1888, Whitney managed before leaving to pass to Congress the authorization of two additional cruisers, a large and well protected 5,400 t cruiser and another of similar tonnage (unnamed).
The name for the new, large protected cruiser was to be USS Olympia, and the project was however questioned by the new new Secretary of the Navy, Benjamin Tracy. His administration started to rethink US naval policy and although he agreed to let the development of the USS Olympia, this disciple of Alfred Thayer Mahan. He advocated instead for a battle fleet to engage he enemy in home waters and put an end to the commerce-raiding cruisers lineage. Instead he cancelled the second projected cruiser and ordered two classes of coastal, lighter cruisers, the Cincinatti and Montgomery class (2,000-3,000 tonnes). As a result, USS Olympia was the last of her kind.
Design of USS Olympia
Numbered C6, or "cruiser number 6" USS Olympia was the sixth protected cruiser of the US Navy. As studied in 1889 by the newly formed Board on the Design of Ships design process was quickly fixed for main armament on 8.0 in (203 mm) guns, debating on number and arrangement. The armor scheme was also was heavily debated. She different from previous vessels for many points. First off, she was given the best armour scheme of any previous cruisers, to the point of bordering the "armoured cruiser" genre.
This was achieved by reworking the layout by integrating Harvey Steel (lighter yet more resistant) 4.5 in thick in the most important locations. For comparison, USS San Francisco revendicated 2 in (51 mm) for the gun shield, as for the protective deck, and 3 in (76 mm) for the sloped armored deck and CT. This was a revolution, in between traditional cruisers made for trade warfare, and armoured cruisers. She was, by all means, the first fleet protected cruiser of the USN.
Construction
On 8 April 1890, the navy solicited bids but the number of yards available were few, and already full. The Union Iron Works located in San Francisco however answered favorably and the Navy contract specified $1,796,000 for the full construction costs until completion by 1 April 1893. It was assorted with a bonus for early completion.
During contract negotiations, Union Iron Works however realized the propulsion system which would answer the Navy specifications would just not fit in the original design. The company's CEO asked the Navy for modifications, and was granted permission to lengthen the vessel by 10 ft (3.0 m), at no extra cost. The signing only intervened on 10 July 1890, but the keel was not laid before almost a full year, on 17 June 1891. This was explaine by the gathering of resources, management and workforce's training plus detailed plans modifcations. It should be noted at the time that US Yards were only recently pushed into the delivery of Navy vessels of larges size, comlexity and in larger quantities, and construction time was a tad slow.
Eventually USS Olympia would be launched on 5 November 1892, Sponsored by Miss Ann B. Dickie. The biggest delaying factor has been the delivery of components and notably the brand new Harvey steel armor, promised but difficult to master at the time. Even ordnance delivery was slow, to the point that The last 1-pounder gun was only received for installation on December 1894.
Sea trials and fixes

USS Olympia was completed on 5 February 1895, but Union Iron Works conducted her first sea trials… on 3 November 1893. It showed on a 68 nmi (126 km; 78 mi) run she reached 21.26 kn (39.37 km/h; 24.47 mph). However it was discovered her keel was already fouled by sea grass, requiring dry-docking. This was the first of a serie of delays, between actual completion and commission, ot two years. On 11 December 1893 indeed, fitting-out was completed so she was sent for a long run between San Francisco and Santa Barbara, with officials on board for the USN speed trial. Heavy fog caused a four days delay but she proceeded on the 15th into the Santa Barbara Channel. At the time, this particular track was the "chosen race-track for California-built cruisers". The press communicated dates and both banks were crowded by enthusiasts and factory workers.
She then started her four-hour run, at an average speed of 21.67 kn (40.13 km/h; 24.94 mph) with rushed up to 22.2 kn (41.1 km/h; 25.5 mph) when conditons were favourable. So this was well above contract requirement (20 knots), earning appraisal. Compared to her, USS Francisco only reached 19 knots (35 km/h; 22 mph). Back to the nsamesake city, USS, Olympia took part in eight experiments, combining steering arrangements and propellers shapes. This prolongated her full completion, as many runs followed by drydock refits went on in between (with late armament and equipment arrival and installation), but was extremely valuable for the USN. After all she was the fastest USN cruiser ever built to that point. Now, she was at last was ultimately commissioned on 5 February 1895 and stayed not only the fastest, but also largest warship on the western coast until surpassed by USS Oregon.
Detailed Design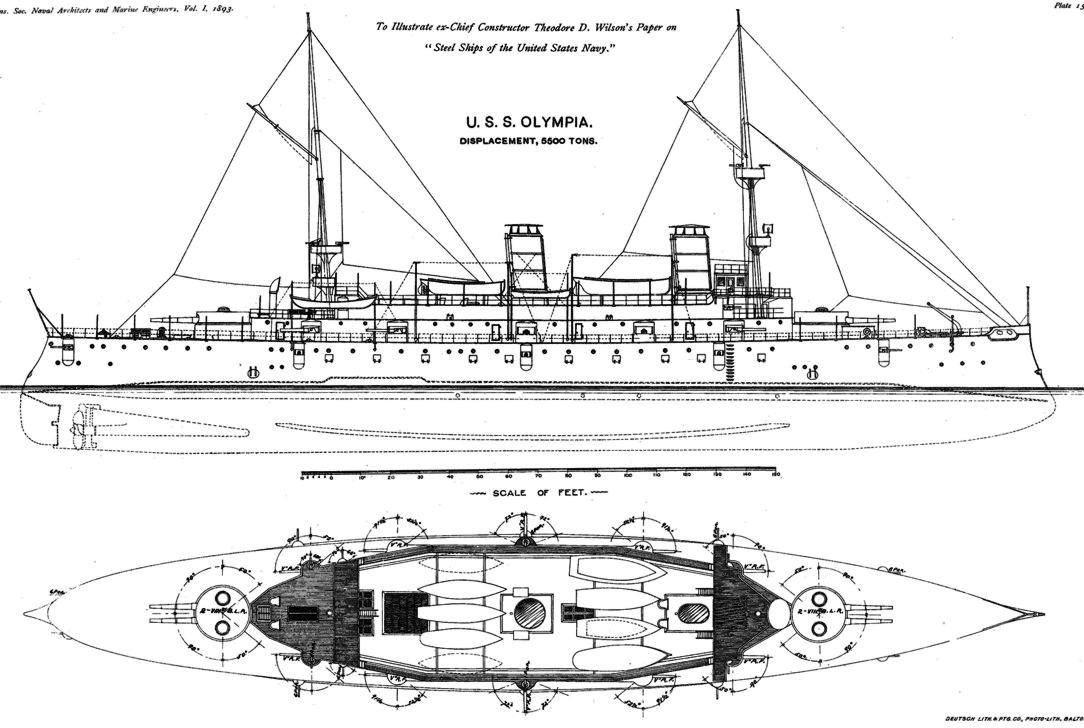 One of the striking aspect of the hull was it was not very tall, and the deck lenght largely inferior to the hull lenght: Her bow ram was important, and she ended at the stern by a sloped curve, and refined lines. Although she was rather large with a ratio of 1:6.5. This favored agility over speed. The other ratio between underwater and overwater mass (21 ft draught for a 344 ft long cruiser was rather important), and also favored stability, in addition to the counter-keels that were fitted and compact, low superstructures. As usual of the time, no tumblehome but a larger beam at the waterline rather than at deck level, which also faborized stability.
Superstructure-wise, USS Olympia keep it at the minimum, in full contrast, for example, to French ironclads and armored cruisers of the time. The general design was relatively symmetrical with a sheer forward and aft culminating to the bow (plus a bulwark) and stern about the same height, and the superstructure in the center, also roughly symmetrical but with the two funnels, raked, and further aft, plus the small wooden-panelled command bridge at the second level over the battery roof.
The enclosed battery comprised the secondary guns, entirely roofed, with a walled topover which were installed supports for the eleven service boats, five on deck, managed by the aft and forward mast booms, and the rest on davits. The masts were single pol types, all-metal with spotting tops mounting projectors and fighting tops with light cannons forward and aft at different heights. As usual for the time, anchors were carried on deck and served by gooseneck cranes, and the bow was decorated by a lush motif surrounding the US armories.
Her overall lenght was exactly 344 ft 1 in (104.88 m) for 53 ft (16 m) in beam and 21 ft 6 in (6.55 m) in dreaft and a design displacement of 5,865 long tons (5,959 t), 6,558 long tons (6,663 t) filled and combat loaded. displacement. Her crew numbered crew 411-447 officers and ratings depending of the time and role. 447 was likely her Manila Battle crew, not counting the Marines onboard.
The Scientific American compared at the time of her completion USS Olympia to the British Eclipse-class cruisers and the Chilean Blanco Encalada (also British-built) colcuding she had "great superiority" over them overall. Nevertheles the Eclipse class, based on their colonial duties, had a long range with 550 short tons (500 t) compared to 400 short tons to Olympia. However the latter had double the horsepower, heavier armament based on a smaller tonnage by 200 short tons. So she was estimated a "better package" overall.
Hull and main design characteristics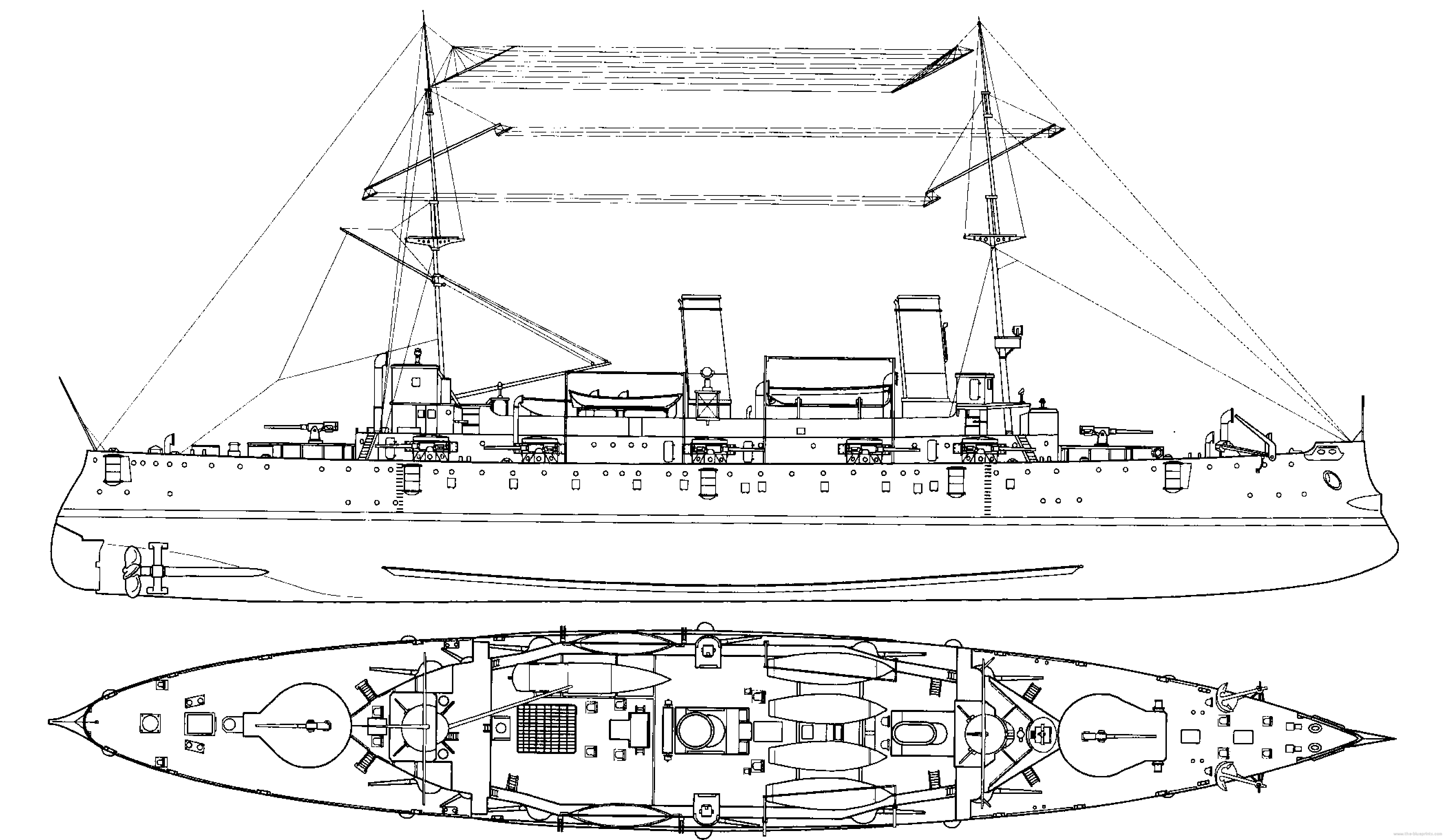 In 1916: Note the removed fighting tops and new artillery.
Powerplant
The ship is powered by a pair of vertical triple expansion engines, each supplied with steam from three coal-fired cylindrical boilers. Her engines were rated at 13,500 ihp (10,100 kW) with a top speed of 20 knots (37 km/h; 23 mph), though on trials she achieved 17,313 ihp (12,910 kW) and a top speed of 21.67 knots (40.13 km/h; 24.94 mph).
Protection
-Her conning tower was the best proteced part, with 5 in (13 cm) thick Harvey steel walls.
-Next came the 4 in (10 cm) thick glacis protects the engine rooms.
-She had a 2 in (5.1 cm) thick armored deck, side sloping to 4.75 in (12.1 cm) amidships, tapered down to (7.6 cm) out of the citadel.

-Main battery reached 3.5 in (8.9 cm), also in Harvey armor forward
-Main barbettes had 4.5 in-thick (11 cm) nickel-steel walls above the protective deck.
-The 5-inch guns were protected by 4 in-thick (10 cm) gun shields.
Armament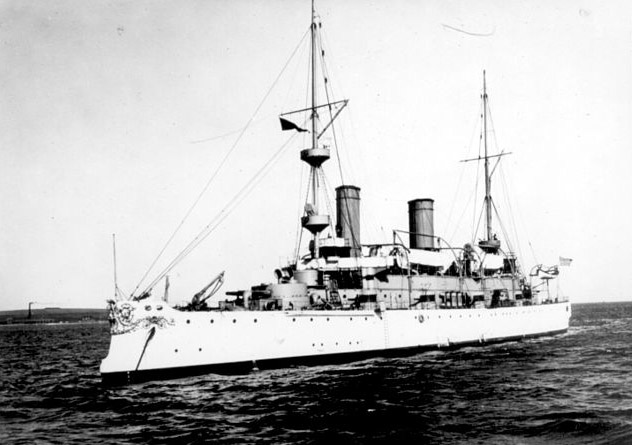 Olympia is armed with a variety of weapons. However they were obsolete when WWI started. In 1916, the turrets and guns were removed and replaced with open gun platforms with a single QF 4″/40 gun (destroyer caliber). For their new role as minelayers, they were considered OK, and the next year replaced by 5″/51-caliber guns. The same refit sw the secondary battery replaced by 5″/51s guns also.
2×2 8 in (203 mm)/35;
The primary armament comprised two twin Mark 6 gun turrets (forward and one aft of the superstructure) with mounts offering −4° depression and 13° elevation. The pairs of guns housed could fire 260 lb (120 kg) AP/HE shells at 2,100 ft (640 m)/sec. Useful range was about 8,000 m ().
10x 5 in (127 mm)/40:
The secondary battery comprised ten single, mask-protected (or in casemates) 5 in (127 mm)/40 caliber. There were five each hull flank placed to avoid flash from the main battery and firing 50 lb (23 kg) AP shells at 2,300 ft (700 m)/second. Range is unknown, probably close to 6,000 m.
Anti-Torpedo Guns
Fourteen 6-pounder (57 mm (2.24 in)) mounted in sponsons on the deck battery, and six one-pounder guns mounted on deck and fifghting tops fore and aft. These were all QF guns, replaced also in WWI, notably by 3-in guns.
For the 1898 expedition she was also given to two Gatling guns, with their dismounted wheeled chassis, and quite an arsenal of revolvers and rifles to supply a generous landing party. It is said also that the deck 1-pdr guns were dismountable also to add to the firepower, but evidence is scarce.
Torpedoes
USS Olympia carried six 18 in (46 cm) above water torpedo tubes, far apart on either side of the citadel, beneath the bulkheads. Torpedoes of the time were likely Bliss-Levit "Short" Whitehead 18″ (45 cm) Mark 1 types (1895). They weighted 845 lbs. (383 kg), 140 in (3.556 m) long and carrying at 800 yards (730 m)/26 knots a 118 lbs. (53.5 kg) wet gun-cotton explosive Charge. Power came from an air-flask (cold running) compressed air powered, three cylinder radial Brotherhood pattern engine. it was guided by preset Rudder adjustment but were known for their poor directional stability and failed with their requirement of +/- 24 yards (22 m) at 800 yards (730 m) deviation.

Author's profile
⚙ Specifications 1895

Dimensions
144 x 14 x 5 m ( x x feets)
Displacement
4,850 tons standard, 5,925 tons Fully Loaded
Crew
450/469 wartime
Propulsion
2 shafts Parsons turbines, 6 Yarrow boilers, 40,000 hp.
Speed
29 knots (42 km/h)
Range
2300 nm @ 27 knots.
Armament
6× 6-in/45 (152 mm), 2x 3-pdr/45 (57mm), 2x 2-Pdr/39 AA (40 mm), 4×3 21-in TTs (533mm)
Protection
Belt 1.5-2.25 in, decks 1 in, Masks 25 1 in, CT 3 in)
Src/Read More
Books
Alden, John D. (1989). American Steel Navy: Photographic History, 1883 to the Cruise of the Great White Fleet. NIP
Burr, Lawrence (17 June 2008). US Cruisers 1883–1904: The Birth of the Steel Navy. New York City: Osprey Publishing.
Cooling, Benjamin Franklin (2007). USS Olympia: Herald of Empire. Annapolis NIP
Friedman, Norman (1984). U.S. Cruisers: An Illustrated Design History. Annapolis NIP
Friedman, Norman (1985). U.S. Battleships: An Illustrated Design History. NIP
Gardiner R.; Chesneau R.; Kolesnik E M., 1979. Conway's All the World's Fighting Ships 1860–1905. Conway Maritime Press
Miller, Arthur P.; Miller, Marjorie L. (2000). Pennsylvania Battlefields and Military Landmarks. Stackpole Books.
Ford, Roger; Gibbons, Tony; Hewson, Rob; Jackson, Bob; Ross, David (2001). The Encyclopedia of Ships Amber Books
Jane's Fighting Ships of World War I. London: Random House Group, Ltd. 2001. p. 141.
Munsey's Magazine Volume XXVI. October 1901, to March 1902. Page 880
Links
National Historical Landmark doc
Some footage
Olympia 1922-31 photos
Help us Bring Home the USS Olympia, Mare is. Museum
On hnsa.org
wiki
Pre WWI US Torpedoes (Navweaps)



Model kits
USS Olympia's amazing career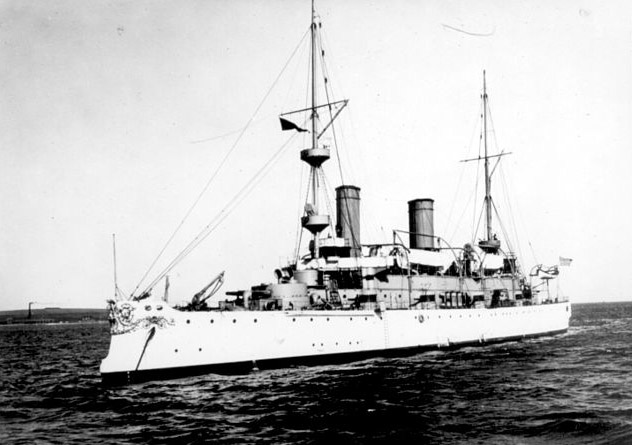 During her long career which never really ended, as her last assignation was the preserved ship IX-24 from 1931, she was successively C-6 in 1890, CA-15 in 1920 and CL-15 in 1921. She had been named also "Queen of the Pacific" in reference to her role in 1898, and "The Winged O" in reference to her speed at first.
First period: Up to the Spanish American War (1895-98)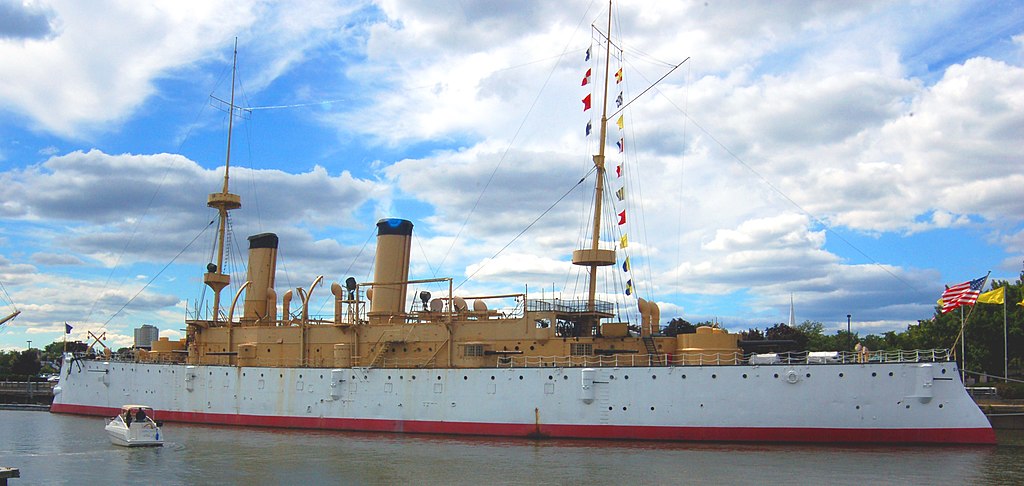 As said above, Olympia's completion was not a breeze, with many delays making her only commissioned in 1895. Her final outfitting took place at U.S. Navy's Mare Island Naval Shipyard at Vallejo, California. This was performed under command of her first captain, John J. Read and by April she took part in a festival in Santa Barbara, followed by landing drills in Sausalito and Santa Cruz. On 20 April, she did her first gunnery practice, during which Coxswain John Johnson died in an accident with a 5-inch gun. She made her final, official shakedown cruise from 27 July before being back to Mare Island to replace USS Baltimore as the flagship, Asiatic Squadron.
On 25 August 1895, she departed for Chinese waters via Hawaii (the crew stayed at sea on 23 October due to an outbreak of cholera). She headed for Yokohama, arriving on 9 November and on the 15th was joined by USS Baltimore to transfer official command of the Squadron. RADM F.V. McNair arrived on December 15, to take his post aboard Olympia, and for two years she multiplied training exercises and goodwill visits. On January 1898, Commodore George Dewey replaced McNair as new squadron commander.
1898 war, the "Queen of the Pacific"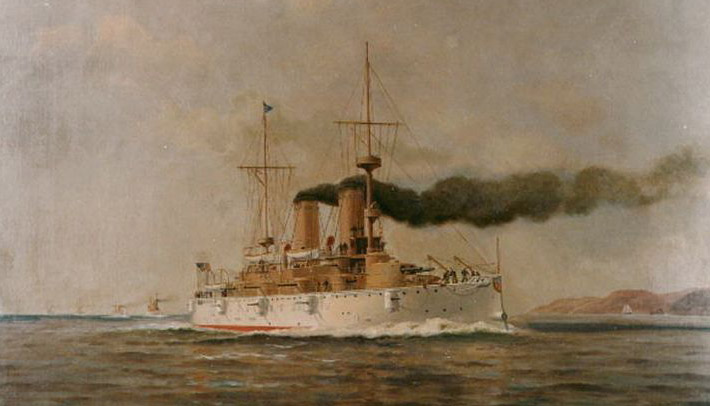 Painting
When war with Spain became probable, Dewey wanted her based in Hong Kong, prepared for action. On 25 April 1898 was became official and Dewey sailed the squadron to Mirs Bay in China. The Navy Department ordered on the 27th the squadron to sail for Manila, Philippines, to neutralize a Spanish naval force that could potentially reinforce the Cuban fleet. Dewey was ordered to sink or capture all vessels and take the city. For this he carried extra small arms and machine guns, US Marines companies and drilled intensively his sailors to accurate rifle fire, to create a combined landing party. Such that was his confidence in the aftermath.
The Battle of Manila Bay was the pinnacle of USS Olympia's carrer, her shining point and main motivation for her later preservation. On the morning of 1 May, Dewey aboard took the lead in the squadron's forces, gathering extra strenght and making its way to the Bay, dealing with some shore batteries along the way. More information about the battle of Manila. Opposing Spanish flotilla was under orders of RADM Patricio Montojo y Pasarón. Knowing the ppor state of his ships her choosed not engage the US flotilla at sea and instead had them anchored close to shore, under the protection of the fort and coastal artillery. At 5:40 a.m., Dewey instructed Olympia's captain, Gridley, to "fire when ready". The latter ordered the 8-inch gun turret (Lt. Stokely Morgan) to open the shot of the Battle. He had a precise aiming: Olympia's opposite, the Spanish flagship Reina Christina. This hot signalled the entire squadron to open fire.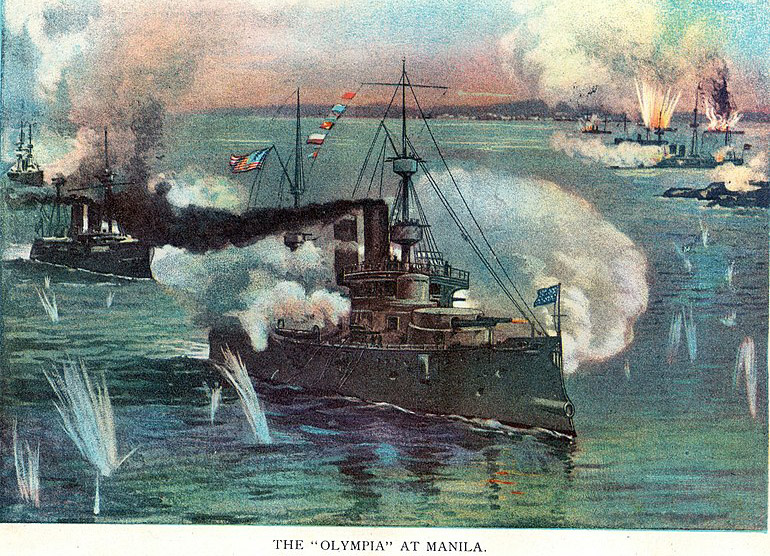 Battle of Manila Bay
Bteween the poor state and age of the Spanish artillery as well as poor training due to the lack of rounds, Spanish gunners were far less accurate. After a first pass inline, causing havoc, Dewey decided, amazingly to break off the engagement and retire our of range at 7:30 a.m for his men to take a second breakfast. Meanwhile an officier reported the stores to be low in 5-inch ammunition (an erroneous report), but the break was a welcoming one, still unexpected in what was an unfinished battle. Even one-sided. When done, the squadron set sail for a second pass along Manil'as shore at 11:15 and ships afterwards entered a free fire to finish off what remained of Montojo's forces. It was over by early afternoon, also for shore batteries. Reports came. Not only his and other ships were amazingly undamaged, but there was not a single casuality. Dewey anchored his ships off Manila and prepared a landing party, when a white flag delgation came by boat. He accepted the surrender of the city.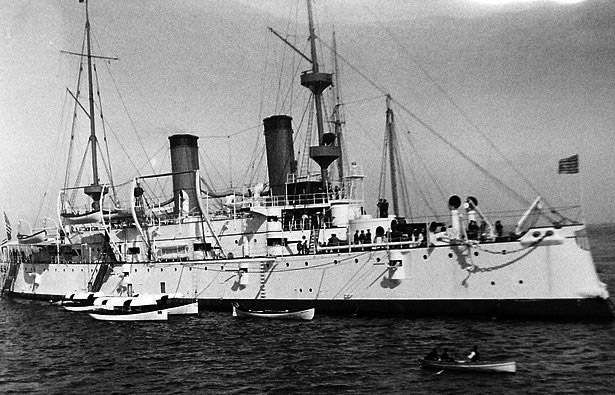 Admiral George Dewey returns from Manila on USS Olympia in New York Harbor, 1899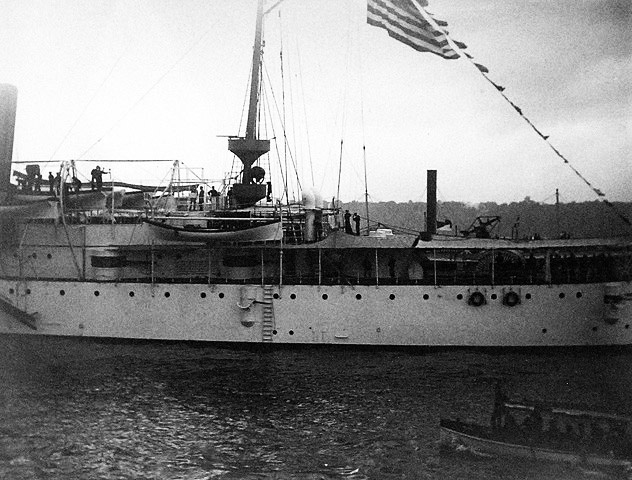 Admiral Dewey review onboard USS Olympia in 1899
News of of the victory reached the US and both her and his ship, USS Olympia became instant household names. Meawnhile, his squadron deployed expeditionary forces to mop up Spanish strongholds, well helped by local intel and Filipino rebels.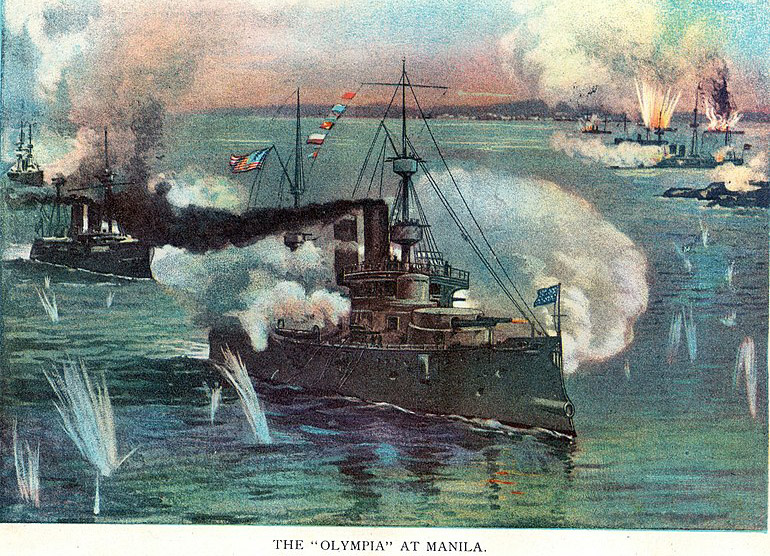 The battle of Manila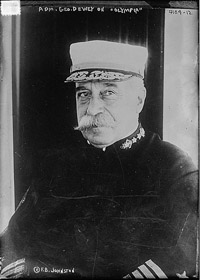 USS Olympia remained in the area, supporitng the Marines and land parties and returned to the Chinese coast on 20 May 1899. She departed in June for home via the Suez Canal and stopping in several ports in the Mediterranean. Upon arrival, Frances Benjamin Johnston, a prominent photograph of the time boarded the ship on 5 August to take images of Dewey and his men, which made their way in the press and beyond, presenting their daily life. USS Olympia had a short refit in Boston on 10 October, the ship being repainted and adorned with a gilded bow with wings (hence her surname) but by 9 November she was placed in reserve. Due to her age and new cruisers pressed into the Navy she was put to rest for four more years.
1898-1917: "The Winged O"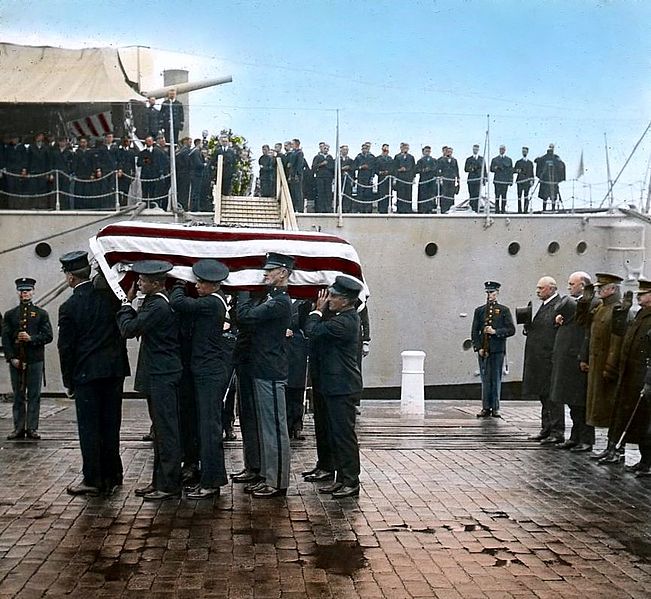 Repatriation of the Unknown Soldier at the Washington Navy Yard
USS Olympia was recommissioned in January 1902, reassigned to the North Atlantic Squadron. She served for a time as flagship, Caribbean Division, patrolled the Atlantic and pushed into the Mediterranean Sea, visiting notably Istanbul. By March-April 1903 she was the centerpiece of an intervention in Honduras. On 2 April 1906, she became a training ship for midshipmen (Academy). She sailed for three summer training cruises in May– August 1907, June–September 1908, May–August 1909 and in between was in reserve in Norfolk and Annapolis in Maryland, closer to the Academy. On 6 March 1912, she was Charleston to be consigned as a barracks ship, until 1916. By late 1916, it was decided to prepare her for an eventualy US entry into the war. She was recommissionedand repainted in medium ocean grey.
WWI: Olympia in Grey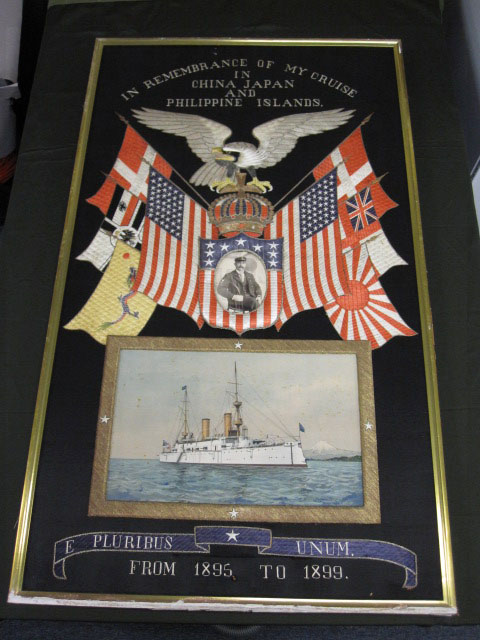 Commemorative_Banner_Olympia_Cruise
From April 1917, she became flagship of the U.S. Patrol Force on the eastern seaboard, looking for German warships fleeing US ports to get back home. The others were promptly seized. She escorted transport ships also in the North Atlantic. On 15 June however she ran aground in Long Island Sound. She could free herself but was sent for repairs at Brooklyn. During this refit, she had her armament, already modified in 1916 completely renewed and other welcome modernizations, for a total of eight months. She departed Charleston on 28 April 1918 with the expeditionary force to be landed in Murmansk, Russia, as an international peacekeeping force. She took part in the occupation of Archangel.
After the great war: Last missions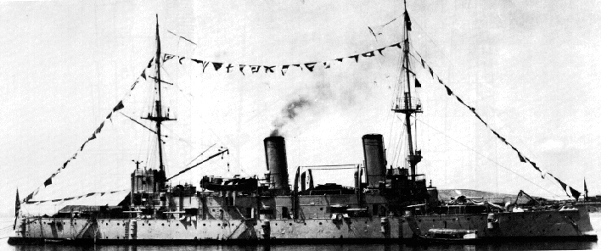 USS Olympia in 1919
The war ended and she sailed to the Mediterranean via Portsmouth to become flagship, US eastern Mediterranean squadron. Her role was showing the flag and making goodwill visits, with some policing in the Adriatic until 25 October 1919, notably off the troubled Dalmatian coast. On 1 April 1919 she dropped anchor in Spalato (Split) with the destroyers USS Israel and Lansdale. On 18 August, she was in the Black Sea, taking refugees from the Balkans and was back in the Adriatic, sending a landing party as interposition force between Italians and Yugoslavs.
She was back in Charleston on 24 November 1919 and in 1920 became CA-15. She departed NyC on 14 February 1920 for the Adriatic and ended her tour of duty on 25 May 1921, back to Charleston, and reassigned as flagship of the Atlantic Fleet's training unit. Sje took part in joint Army-Navy experiments in July 1921 seeing the sinking of war prizes Ostfriesland and Frankfurt off the Virginia Capes, and finally became CL-15 later in 1921.
On 3 October she sailed from Philadelphia to Le Havre in France, carrying back the Unknown Soldier home, to be buried ina ceremony at Arlington National Cemetery. She departed on 25 October 1921 escorted by French destroyers until mid-Atlantic, but weathered upon arrival a tropical cyclone. Coal consumption was high and, lightened, she started to roll a lot. Later she encountered the Tampa Bay hurricane mbut made it into Potomac river on 9 November, greeted and escorted along the wau by USS North Dakota and the destroyer USS Bernadou, until she entered Washington NyD. She fired her guns in salute during the casket tranfer ashore. Her last training cruise took place in the summer of 1922. But given the new disarmament treaty signed in Washington, she was to be decommissioned.
Preservation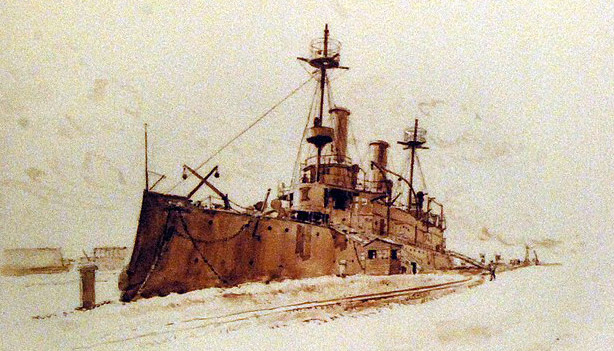 USS Olympia preserved in 1922, renamed IX-40.
On 9 December 1922, she was officially decommissioned, in Philadelphia NyD. She was not sold and broken up but placed in reserve and in fact, still was extant on 30 June 1931, pending their fate. Some in the navy, the press and general public indeed wanted her preserved for her role in the 1898 war. At last the request was granted by the Navy which was reclassified her hull IX-40, to be preserved as a relic. This was rare at the time, and quite exceptional. On 11 September 1957 she was owned by the Cruiser Olympia Association and restored to her 1898 configuration. She opened as a museum ship with her main original guns and turrets replaced with sheet metal contraptions. By January 1996 the cost of maintenance had the association merged with the Independence Seaport Museum in Philadelphia.
She remains so up to this day. Bethered at Penn's Landing she is not only the solesurvivor of the 1898 war and world's only cruiser of the 1890s. She is not "fully commissioned" but still, cared for by Naval Reserve Officer Training Corps Midshipmen from Villanova University and the University of Pennsylvania. Her stern plate and bow ornaments had been landed and are now displayed in Dahlgren Hall, US Naval Academy. Her anchor is at Norwich University, to recall the graduates in Naval Service and Dewey's own training here;
Maintenance every 20 years was not done sine 1945 and the cost estimated $10 million but plans to have her scuttles as an artificial reef were dropped, she was closed 22 November 2010, lacking funds, but reopened on 31 December albeit in reduced hours. The Navy asked the museum to "responsibly dispose" of the vessel and the city after a reunion in 2011 with the Navy, the National Park Service and Pennsylvania Historical Museum Commission, another nonprofit organization was created and the old cruiser went to the March 2011 Transfer Application, for Proposals.
Several organizations answered, four selected, and by 7 May 2011, the National Trust for Historic Preservation set up a national donation repository. The Independence Seaport Museum announced the end of the process in April 2014, not finding any organization for viable and long-term solution. Olympia is still in Philadelphia but benefited at last from a $20 million national fundraising campaign, reinforced by grants from the National Park Service, the Pennsylvania Historic and Museum Commission, and Jennifer Pritzker's Tawani Foundation plus the Herman S. Pollock Foundation, and many private donations. $10 million were spent already, like removing 30 tons of asbestos and other products, safety upgrades while inspections and reports were made on engineering to plann further emergency work.
By 2015 she secired another $169,850 for interim repairs of degraded hull plates, deck leaks. Her hull was cleaned and patched with ceramic epoxy while she received a new bottom paint in plance, creating an artificial drydockby using custom-made mobile surface-piercing cofferdam. In 2017 her old gangways were replaced and the signal bridge and Admiral and Captain's skylights restored. She received new benches, mess lockers and mess tables like the originals.
In 2017, a new campaign was launched to raise $20 million for a proper drydock. She is still open to public to this day.


Drachinfel's tour of USS Olympia