The USN Carriers, bulwark of the "free world"
For 43 years, NATO's safety and strength rested on the US Navy task forces, centered around aircraft carriers. By their numbers and their size, they dictated the composition, procurements, doctrine, strategy of the surface fleet. They operated alongside the 1960-90s SSBN deterrent underwater force, but on a semi-conventional way.
In the 1950s were developed "supercarriers" better suited for jets, after the numerous Essex-class were rebuilt and modernized, used well into the late 1970s, the record being granted to the USS Midway, in service by 1945 and retired in 1990.
The Forrestal and Kitty Hawk classes were conventional super-carriers, USS Enterprise the first nuclear aircraft carrier, followed by the Nimitz class, which carried out new task forces until after the end of the cold war, and the next generation, Gerald Ford class.
However this is not only about the ships themselves. Around these fantastic vessels, the mightiest, largest ever built, were nothing without a whole ecosystem, their own escort, operative concepts around these, and of course development of US Cold War naval aviation, simplified here, but developed in a separate page.
Battle Group Alpha Midway and Iowa underway 1987
⚠ Note: This post is in writing. Completion expected in 2022.
Nomenclature of aircraft carriers
Essex class aircraft carriers (1942)
USS Essex, De Zeven Provincien 1967
The large numbers of new Essex-class vessels completed after the war ended, coupled with the larger Midway-class provided the Navy with its naval air power base for the Korean War era and until the late 1950s. Spacious hangars were readily suited to accommodat jets, and many modifications improved the capability of fifteen of these ships to manage heavier jets.
These modifications, quite extensive and equivalent to those performed on some USN battleships during the interwar and WW2 were known by two modification patterns, known as SBC-27A and 27C respectively. In common, they included jet-blast deflectors and an optical landing system developed by the British, greater aviation fuel capacity but also of course stronger decks, elevators, and catapults. Crucially, the flight deck was angled to give more room for flight operations (SBC-27C). The bridge was also entirely rebuilt on all of these, with new masts to support larger aerials and new "Mack" funnel exhaust system.
The patterns corresponded in fact to short-hulls laid up in 1946–47 and five "long-hulls" of the late serie. Eight of the last nine ships completed stayed on duty with the three Midways well into the late 1960s after their modernization.
Under the Truman administration however, budget cuts saw combined with the acceptance of new carriers, notably USS Enterprise that made obsolete all the previous designs overnight saw some sent to reserve. On the other hand, three of the modernized Essexes mothballed in 1949 were called back into full commission at the start of the Korean War began. Overall two short-hulls Essexes (plus thirteen long-hulls) saw servived for most of the Cold War: Some were mothballed (and stayed there in 1947-48), but most ended their second or even third commission in 1963-76, the record being USS Lexington (ii) laid down as CV-16, and recommissioned a last time as AVT-16 in 1978, to be scrapped in ...November 1991, seeing the entire cold war in addition to WW2.
Note that in an extreme case of war, four of them could still be reactivated today to be updated: USS Yorktown (now at Patriot's Point, Mount Pleasant SC, USS Intrepid (New York City), USS Hornet (Alameda, California), and the current USS Lexington (Corpus Christi, Texas). All four are 70+ old warhips, veterans of WW2, the Korean and Vietnam wars, and gulf war in the case of USS Intrepid (although she stayed in home waters as training carrier). Ironically, USS Oriskany, the first rebuilt to the new SBC-27A standard was the second last to be decommissioned, in 1976.
Seeing the flight deck from above is a solid way to show the evolution of these redesigns.
SBC-27A ("Two Seven-Alpha")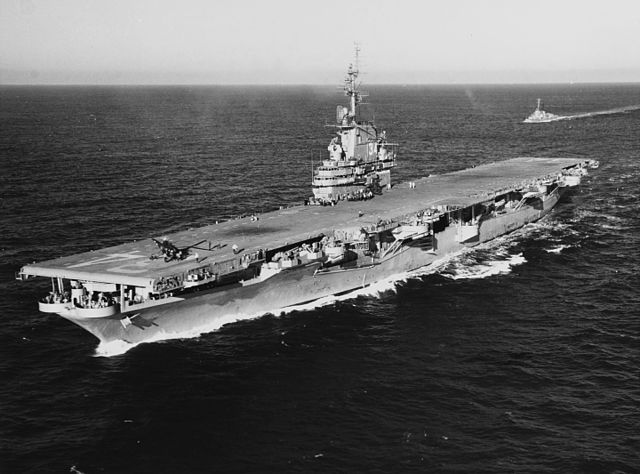 USS Oriskany, left unfinished at the end of the war, was taken over to be completed as an improved design. Plans were completed in 1947 and conversion began in August 1948, the reconstruction being complete by September 1950. She basically was the prototype for a whole serie of similar completions or reconstructions for eight ships: CV-9 Essex, CV-10 Yorktown, CV-12 Hornet, CV-15 Randolph, CV-18 Wasp, CV-20 Bennington, CV-33 Kearsage, CV-39 Lake Champlain.
Much stronger, still straight flight deck
Reconfigured island wih a remodelled mack (mast-funnel), antenna mast, and aerials.
Modernized AA and DP artillery (newer Marks, deletion of 20 mm oerlikon guns).
New, reduced air group: Ex. in 1951: .
The Eight earlier vessels of the class were thoroughly rebuilt to the Oriskany standard SCB-27A in the early 1950s, and six more of belonging to the earlier batch rebuilt to the improved 27C design. The largely unmodified Antietam sub-class received an experimental 10.5-degree angled deck in 1952 and enclosed hurricane bow, making the SCB-125 program applied to the last three 27C conversions and latter retroactively to all 27A and 27C ships, except USS Lake Champlain.
SBC-27C ("Two Seven-Charlie")
USS Shangri-La became the first with an angled deck in 1955, Oriskany, the last, and sole with the SCB-125A refit to 27C standard. The Korean War and Vietnam saw twenty-two of twenty-four Essex class vessl upgraded to the jet age, enabling them an extensive post–World War II service; Only USS Bunker Hill and Franklin, too badly damaged by Kamikaze attacks, were never recommissioned. By 1955 the seven unconverted Essex class ships became anti-submarine warfare carrier (CVS) from August 1953, used to carry out patrols alongside the regulat task forces. When the Forrestal-class entered service, eight 27A ships became CVS in turn and replace the older ones, decommissioned in the late 1950s.
CVS conversions 1960s
Two 27C conversions became CVS in 1962, CVS-11 USS Intrepid however still operated in an offensive role off Vietnam, followed by two more in 1969. In all, seven 27As, one 27C received a bow-mounted SQS-23 sonar (SCB-144 program) for their task. With more supercarriers entering service in the mid-1970s, they were made obsolete, and gradually retired but with exceptions such as USS Lexington, a TS until 1991. USS Yorktown, Intrepid, Hornet, and Lexington, also the most active during WW2, had all been preserved as museums. USS Oriskany was for a time nearly reactivated under the Reagan administration, but ended scuttled as an artificial reef, off the Florida coast.
Unmodernized vessels
USS Boxer, Princeton, and Valley Forge were mothballed until modernized and redesignated Landing Platform Helicopter (LPH-4, 5 and 8 respectively in 1959-61), pressed into service again as amphibious assault ships for the Marine Corps. They remained in commission with their original straight decks until 1970. The remainder were promptly reclassified as aircraft transports (AVT). One unmodernised Essex was also offered to the Royal Australian Navy in 1960 to replace HMAS Melbourne but declined due the modifications felt required to be compatible to RAN's British standard.
Midway class aircraft carriers (1944)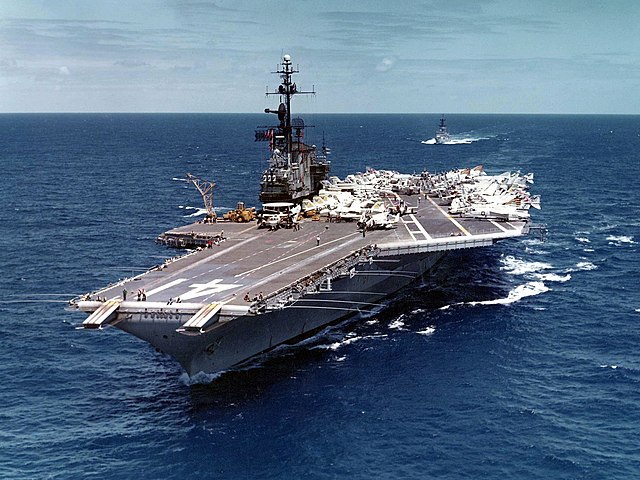 The Midway class were at first planned in 1940 as fully armored alternative to the Essex class standard fleet carriers of the USN. However the latter obtained the priority and the second project was postponed and eventually restarted in late 1943, as the much larger "large aicraft carrier" (designation CVB), with eventually six ships ordered, but two cancelled, all named after WW2 Pacific naval Battles: USS Midway (CVB-41) was followed USS Coral Sea (renamed F.D Roosevelt) and USS Coral sea, CVB-42 and 43.
With their extensive armour and 130 planes air group they represented the ultimate WW2 carrier design, but arrived too late: USS Midway was only commissioned in September 1945 a mere weeks after the end of the war. She was soon joined by F.D Rooselevelt and Coral Sea, soon making the bulk of the early cold war USN Task Forces. They were still built with a low freeboard to avoid stabilty issues, but rocked and rolled heavily while being "wet" for quite long, in fact most of their active career.
Other than that, they were popular ships, much larger than the Essex, and thus, easy to modernize and convert to more modern models. They saw practically all types of naval aicraft and helicopters in the USN inventory being tested and operated on board until 1990. They were all modernized several times with the SBC-110 standard, followed bt one or two other major overhauls during their career to stay up to date. In the end, however, FD Roosevelt had only an austere version of the late SBC-110 upgrade applie don idway due to massive costs overruns and was the first to be deactivated and BU, in 1977.
The other two, USS Midway and Coral Sea, had a fairly long career, seeing the cold war, the suez crisis, the cuban missile, the whole Vietnam war and many other historical events of the XXth Century and seeing both the last days of the cold war. USS Midway was preserved and could be visited today in san Diego, California.
Characteristics in 1990:
Displacement:
47,895t, 64,714t PC.
Dimensions:
298.8 x 78.8 x 10.8 m
Propulsion:
4 shaft Westinghouse turbines, 12 B&W boilers, 212,000 shp. and 31.6 knots max.
Crew:
4,060 (officers and sailors, air personnel)
Electronics:
SPS-10, SPS-30, SPS-43, SPS-58, SPN-6, SPN-10, SPN-12 radars, WLR-1, WLR-10, WLR-11 ECM suites, NTDS CCS
Armament: 3 x 1 - 127/54 Mk 39
Armament (after modernization):
80 aircraft.
Saipan class aircraft carriers (1945)
The Saipan-class aircraft carriers were two light carriers (USS Saipan(CVL-48), and USS Wright (CVL-49) built during WW2, started in 1944 and using the same concept applied for the nine
Independence-class
light carriers, based on cruiser hulls, but this time more of the heavy type. In fact, they were not converted but rather built from the keel up as carriers but reusing most of the hull and machinery of the 13,600-ton
Baltimore class
cruiser design. This design was elaborated while taking account of many improvements based on experience with the Independence class.
The reasoning was that this allowed better seakeeping, improved hull subdivision, enhanced protection, greater magazine volume, stronger flight deck as well as an expanded air group, a major critic of the Independence. They would also be faster, still being eight feet wider with a roomier, taller hangar and flight deck.
Completed too late for the war, they served in mid-1950s in Korea, but as light carriers only served from 1946-1957 for USS Saipan and 1947-1956 for USS Wright. They were clearly outdated by the new, larger and heavier jet aircraft, bing much too small to handle them compared to the 900-foot Essex-class. They were too cramped and small, but recent, with valuable, large hulls, and their hangard could easily be converted to any other use. Tis conversion was determined for the needs of the Navy after much debates and a fuill conversion in the late 1950s: USS Wright was converted into a command ship while USS Saipan became a communications relay ship, a role they served in until 1970.
USS Saipan was known afterwards as the communications relay ship USS Arlington, the name being freed for new amphibious assault ships. Both were scrapped in 1980.
Characteristics in 1950:
Displacement:
14,500 st. 19,000 ts FL
Dimensions:
208.3 x 23.4/35 oa x 8.8 m
Propulsion:
4 shaft GS turbines, 6 B&W boilers, 120,000 shp. and 33 knots max.
Crew:
1,700 (officers and sailors, air personnel)
Electronics:
SP, SK-2, SR, SR-2, SG radars, TDY ECM suite
Armament:
42x 40mm, 13x2 20mm AA
Air group (1946):
18 F6F Hellcat, 12 SB2C Helldiver, 12 TBM Avenger
Forrestal class aircraft carriers (1954)
These four ships (USS Forrestal, Saratoga, Ranger and Independence) These four ships (USS Forrestal, Saratoga, Ranger and Independence) were started at Newport News and the New York Arsenal in 1952-55 and accepted into service in 1955-59. They were the first major carriers since the three Midways of 1945-47, and incorporated many lessons learned from the Korean War. They partly resumed the studies carried out with the enormous USS United States (1949), a stillborn project, but integrating a command island.
They were much more modest in size, the Senate having specified a tonnage of less than 60,000 tons. However, it had to incorporate four catapults capable of launching the new generations of Navy jets, much more powerful explosive models, and had to store twice as much reserve fuel for their air fleet as the Midways. They were equipped at the start with double carriages of 76 mm AA which were partly removed because their platforms were generators of foam awkward by heavy weather.
Finally they were all eliminated with the addition of two Sea Sparrow launchers in the years 1972-77. These buildings had a busy life, particularly in Vietnam, the Forrestal remaining sadly famous for a tragedy that occurred in June 1967 when, during operations, the aircraft carrier, running out of ammunition, was delivered old bombs of the "Comp-B" model. "Unsecured and in the sweltering heat, a short circuit triggered the launch of a Zuni rocket from the baskets of the attack Phantom IIs, which struck head-on an A4 Skyhawk about to be catapulted. The latter had two "Comp-B" bombs under its wings, and its fire (its pilot managed to escape), caused the explosion of one of these bombs.
USS Forrestal in trouble in the Viet-Nam suffering a fierce fire, one of the worst catastrophies in cold war US naval history
USS Idependence -CVA-62) underway at sea, 1971
The devastating fire spread to the other aircraft loaded with bombs of this model and the series of nine devastating explosions which followed spread through the hangars on the lower deck. The poorly trained crew for this type of disaster "forgotten" since the last war had all the trouble in the world to overcome it, as the means available proved to be insufficient. Finally at the cost of thousands of liters of sea water the building escaped destruction, but the fire caused a total of 132 deaths and 62 severe burns. There remains a trauma in the US Navy, so much so that all aircraft carriers were then equipped with much more substantial fire-fighting means and that the training of sailors in this area was extremely extensive.
The four units underwent a major overhaul in 1980-83, the SLEP (Service Life Extension Program), intended to enable them to remain active until 1990. All the electronics were modernized and improved, the flight deck partially armored using Kevlar, and the AA staffing was increased by the addition of a Sea Sparrow launcher and three rapid-fire Vulcan Phalanx. Forrestal and Saratoga were delisted in 1993-94, Ranger placed in reserve in 1993 and USS Independence in 1997.
Author's rendition of the Forrestal class
Characteristics (original):
Displacement:
61,163t, 78,509t PC.
Dimensions:
316.7 x 76.2 x 10.3 m
Propulsion:
4 HP turbines, 8 Babcock boilers, 4 propellers, 280,000 hp. and 33 knots max.
Crew:
2764 + 1912 (officers and sailors, air personnel)
Electronics:
Radars SPS-8, 12. SPS58 (Sea Sparrow)
Armament:
8x1 76 mm AA, air group of 80-90 aircraft.
Armament (after modernization):
60 aircraft.
Kitty Hawk class aircraft carriers (1960)
The Kitty Hawk-class aircraft carriers were built in the 1960s as a development of the Forrestal type. The main differences from the Forrestal type are the greater length of the ship and the different location of the elevators. Three different companies built aircraft carriers: Kitty Hawk was built at the shipyards of New York Shipbuilding, Constellation at the shipyards of Brooklyn Navy Yard, America and John F. Kennedy were built by Northrop Grumman Shipbuilding. After the end of the Cold War and the reduction in armament spending, three aircraft carriers of this type were withdrawn from the fleet. The John F. Kennedy and Constellation were scrapped despite recent upgrades that cost $491 million and $800 million, respectively.
Author's rendition of the Kitty Hawk class
Characteristics (original):
Displacement:
60,933 tons, 81,780 tons FL.
Dimensions:
300 wl/326 oa x 86 x 12 m (19069 x 282 x 38 ft)
Propulsion:
4 shafts HP turbines, 8 Babcock boilers, 280,000 shp. 32 knots max.
Crew:
5,624 (officers, sailors, air personnel)
Electronics:
Radars SPS-8, 12. SPS58 (Sea Sparrow)
Armament:
24 Sea Sparrows/RIM-116, 3–4 × Phalanx CIWSs
Air group:
90 aircraft.
USS Enterprise (1960)
Nuclear aircraft carrier USS Enterprise (1960), probably the most famous ship of the contemporary US Navy, it was also in its time the largest ship in the world, overtaken only by Super-tankers with the oil crisis, and still remains the largest warship ever built. It follows the nuclear propulsion experiments of the USS nautilus submarine (1957), of the USS Long beach cruiser (1959). It was therefore the first nuclear aircraft carrier in the world.
Technically, however, it followed the logical and evolutionary continuation of the Kitty Hawk and Forrestal, but was also provided with a double ballat hull containing aviation fuel and sea water, and its dimensions allowed to accommodate the most large modern aerial park (mainly composed of jets) never seen before. It was, however, barely heavier than the last major Japanese aircraft carrier of 1945, the Shinano. It received a combination of the latest radars, including the SPS 32 giving it its imposing radome.
It was started at Newport News in February 1958, launched in 1960 and accepted into service in November 1961. At that time it was completing the making of the United States the dominant naval superpower. It was planned to equip the ship with Terrier missiles, but the latter, heavy and expensive, was never mounted, and in 1967 it received Sea Sparrows.
The building's career was well filled since he participated in the Mercury program, serving as a relay station for the capsule containing Astronaut John Glenn during his flight in 1962, he was then assigned to the Mediterranean, then participated in the case of missiles from Cuba, then returned to the Mediterranean and made with TF1 (Task-Force One, also including the Long Beach and the Bainbridge) a world tour in 1964 (see below).
The "Big E" was engaged in Viet-nâm, its aircraft carrying out attack missions by the Viet-Cong forces on Bien Hôa in 1965. In 1968 an accidental missile explosion killed 27 men but the fire was brought under control. After overhauls at Pearl Harbor he returned to Tonkin, operating with the TF71. It will carry out still other exits until 1972 on this sector. In 1973 it underwent major works to receive the new F-14 Tomcat fighter. In 1975 he set up helicopters to save civilians in Saigon before the arrival of the Khmer Rouge.
It implemented an integrated central tactical ASCAC system and satellite antennas from 1976. In addition to its Sea Sparrows it was equipped with three fast Phalanx guns. In 1991, the Enterprise went through a major overhaul. It received new radars, a third Sea Sparrow launcher, a new NTDS, a TFCC, and its reactor core was replaced. Since then, the USS Enterprise (which inspired the Star Trek series) has seen service in the Gulf, crossed the Suez Canal in 1986, participated in operations all over the world, including Enduring Freedom against Iraq in 2002. , and served as a test bed to define the Nimitz, the next generation. It is planned to put it in reserve in 2014-2015.
Author's rendition of the Enterprise class
Characteristics (original):
Displacement:
71 277t, 89 084 t PC.
Dimensions:
350 x 80 x 11,3 m
Propulsion:
4 HP turbines, 8 A2W, 4 shafts, 280,000 cv. 32 kts
Crew:
3325+1891+71 ()
Electronics:
Radars SPS-32, 33.
Armament:
see notes
Aviation
: 90-100 appareils.
Nimitz class aircraft carriers (1972)
These nuclear powered squadron carriers currently form the backbone of the US Navy. In 1990, when the USSR fell, it lined up five, the USS Nimitz, Dwight D Eisenhower, Carl Vinson, Theodore Roosevelt, and Abraham Lincoln. Three more were under construction, five more will be built in total.
Five years had passed since the entry into service of the USS Enterprise, the first nuclear aircraft carrier, when it was decided in 1968 to start construction of the first of this new series, based on the Enterprise and on a couple new, much more compact A4W reactors. Consequently, these shorter, but wider and heavier vessels were also more spacious and incorporated effective ASM protection modeled on that of the USS Kennedy.
Giving up the massive radome of the SPS-32/33 fixed antenna, they preferred the SPS-43A and 48 mobile antennas. Their aerial complement was also 90 aircraft, and their configuration of catapults, landing strip and elevators remained classic. Their close defense against planes is ensured by sea Sparrow launchers.
Their armor was reinforced with Kevlar in many places, with the navy attesting that they were able to survive damage three times greater than that received by the Essex-class aircraft carriers in 1944-45. Their fuel load was also much higher and these ships were equipped with the ASM ASCAC fight coordination system. From the Roosevelt, the armor and protection were reinforced, to the detriment of the fuel load.
These aircraft carriers, of which the last, USS xxx, succeeding John C. Stennis, Harry Truman and Ronald Reagan, was completed in 1998, are currently deployed in all sensitive sectors assigned by the United States government. They traditionally form Washington's armed wing. Since the early 2000s; several projects are under study for the replacement of the old Forrestal and Kitty Hawk by more modest buildings, and the studies take into account the observation of the last aircraft carriers built in Europe, such as the French Charles de Gaulle, but also the Franco-British CVF in project, as well as even more modest ships of the Principe de Asturias type.
Author's rendition of the Nimitz class
Characteristics (original):
Displacement:
74 000t standard, 92 000t PC
Dimensions:
331,7 x 78,5 (LF 40,8) x 11,5 m.
Propulsion:
4 shafts HP turbines nuclear 260,000 hp. 32 knots.
Crew:
5620 (officers and sailors, air personnel)
Electronics:
Radar SPS-43A, SPS-48.
Armament:
3x8 Sea Sparrow AA (24 v), 3-4 x 20 mm Vulcan-Phalanx CIWS AM, 90 planes.
Before the Gerald R. Ford class: 1990 Projects