The Royal New Zealand Navy Today and in the Cold War

Circa 80 ships 1947-today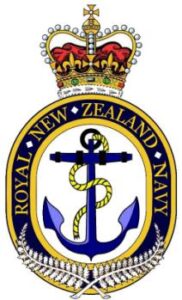 The Royal New Zealand Navy (RNZN) known in Māori as Te Taua Moana o Aotearoa (the 'Sea Warriors of New Zealand') is a branch of the New Zealand Defence Force. The "fleet" toway comprised only nine ships. Originated in the Naval Defence Act 1913 and operating HMS Philomel with a slow Interwar buildup, it had its gold years when HMNZN Achilles saw action at the Battle of the River Plate in 1939 and the fleet was considerably reinforced (with Leander and Gambia as well), although far less than the RAN.
In 1947, budget cuts brought difficult choices.
Inheritance of WW2 and difficult choices

During April 1947 a series of non-violent mutinies occurred amongst the sailors and non-commissioned officers of four RNZN ships and two shore bases. Overall, up to 20% of the sailors in the RNZN were involved in the mutinies. The resulting manpower shortage forced the RNZN to remove the light cruiser Black Prince, one of their most powerful warships, from service and set the navy's development and expansion back by a decade. Despite this impact, the size and scope of the events have been downplayed over time.[8]
Apart the two Dido-class Bellona and Black Prince on loan, other vessels in service in 1947 included the modified 'Flower' class corvettes Arabis and Arbutus, returned to the RN in 1950 and scrapped the following year. The 'Bird' class ASW and MS trawlers Kiwi and Tui were both laid up in 1946, but Tui later recommissioned for oceangraphic service, not paying off until 1967. Kiwi was sold in 1963. The 'Castle' class trawlers Hinau and Rimu were sold in 1955 and the 'Isles' class Inchkeith, Killegray, Sanda and Scarba were all for disposal in 1958.
There were also the British HDML type motor launches SDML 3551-3556 and 3562-3567. Five were given names in the mid-1950s: Mako (ex-SDML 3551), Paea (ex-SDML 3552), Viti (ex-SDML 3555), Takapu (ex-SDML 3556) and Tarapunga (ex-SDML 3566). The remainder were named c1960. In the above order the names were Tamaki, Irirangi, Olphert, Pegasus, Toroa, Wakefield, Managa and Viti was renamed Ngapona. They were given pennant numbers prefixed with 'P', but retained the old numbers. They were used for survey duties, fishery protection, and training and earned new names in the 1970s: Maroro, Kahawai, Makro, Parore, Tamure, Manga. They again changes names in the 1990s.
Korean War:
RNZN ships participated in the Korean War. On 29 June, just four days after 135,000 North Korean troops crossed the 38th parallel in Korea, the New Zealand government ordered two Loch-class frigates – Tutira and Pukaki to prepare to make for Korean waters, and for the whole of the war, at least two NZ vessels would be on station in the theater.[9]
On 3 July, these two first ships left Devonport Naval Base, Auckland and joined other Commonwealth forces at Sasebo, Japan, on 2 August. These vessels served under the command of a British flag officer (seemingly Flag Officer Second in Command Far East Fleet)[10] and formed part of the US Navy screening force during the Battle of Inchon, performing shore raids and inland bombardment. Further RNZN Loch-class frigates joined these later – Rotoiti, Hawea, Taupo and Kaniere, as well as a number of smaller craft. Only one RNZN sailor was killed during the conflict – during the Inchon bombardments.
The cold war: New priorities
Unlike Australia, New Zealand does not have the industrial base to consider building her own major warships, and until recently remained dependent upon the United Kingdom for naval equipment. Few ships have been built for the Royal New Zealand Navy since 1947 and these have been little-modified versions of standard RN designs initially the Rothesay type, and then the Leanders. Local capability has now advanced from basic to advanced refits of the Leanders and industrial participation in the Anzac programme.
When the two Rothesays were due for replacement in the early 1980s , the purchase of two Type 24 frigates from Yarrow was considered, but two second-hand Leander class were bought from the Royal Navy in October 1981 instead. To replace the four frigates it was hoped to build four Anzac class in collaboration with the Australians, but only two were ordered.
Four small patrol craft were ordered in 1982 to replace the ageing HDMLS in the training role. A political row with the United States over visits of nuclear-capable warships led to the abrogation of the ANZUS Treaty. The New Zealand Government sees itself as the protector of small island states in the SW Pacific, a role which implies rather more power-projection capability than before, but funds were scarce after the fall of USSR. Plans to build a logistic support ship to carry equipment for the Army's Rapid Reaction Force have finally been realised, with the conversion of a ro-ro ferry purchased at the end of 1994.
The Navy participated in the Malayan Emergency as one of its first postwar operation: In 1954 New Zealand frigate HMNZS Pukaki bombarded a suspected guerilla camp, as part of the Royal Navy's Far East Fleet. It inaugurated a serie of such missiones by RNZN ships over five years. Jack Welch (later Chief of Naval Staff) said in 1959:
"The RNZN was still very much part of the Royal Navy supported by New Zealand tax-payers. The officer corps and senior specialist ratings were very dependent on loan and exchange RN personnel, while our own [New Zealand] officers and senior ratings were almost exclusively trained in the UK. We simply borrowed the RN's administrative regulations and amended them to local conditions. The Empire was alive and well. Operationally we were still very strongly tied to the UK."
Indonesia-Malaysia intervention
Later, the Navy return to Malayan waters for the Indonesia-Malaysia conflict. These were the last large-scale operations WITH the Royal Navy. With the threat to Malaysia, Sarawak and Brunei almsoi two third of the Royal Navy were deployed in the region. Thos lasted from 1963 to the end of 1966. RNZN ships Royalist, Taranaki, and Otago performed a variety of missions, from boarding and controlling ships, shore patrols and simple show-the-flag missions, but their main mission was to constantly monitor the safe use of seaways, as well as supporting amphibious operations of the Royal Navy. Welch admitted this rotation involved the whole kiwi fleet at the time, rotating though Pearl Harbor, maintained by the USN.
A new Flag (1969)
Until the 1960s the traditional kiwi navy flag was the "White Ensign" shared by the RAN and South African Navy. After 1945 commowealth foreign policy sttarted to be more distinctive and the wish to separate identities between Dominions, especially if engaged in hostilities alone, was problematic as any of these vessels could have been from either of these Dominions. Thus 1968 the RNZN adopted designed its own ensign retaining still the Union Jack in a top quarter but the St George's Cross was replaced by the Southern Cross constellation already in use in WW2 and on the national flag. Even a kiwi was sometimes displayed on some ships, just as the kangaroo became a staple of RAN vessels.
A change in Policy
Since 1946, the RNZN policed New Zealand's territorial waters and EEZ (exclusive economic zone), acting actively for fisheries protection. Scientists also benefited from the Navy help, notably by providing a constant communication with Antarctica's Scott Base.
The RNZN's frigates Canterbury and Otago were famously sent by Norman Kirk's Labour Government to conduct official protests and show the flag off Mururoa Atoll in 1973. French nuclear testings there would go for decades and not angered neighbouring island, but both Oceanian dominions as well, and the Rainbow Warrior affair (bombed and sank in Auckland by French Operatives, killing a photograph) did nothing to improve matters. The frigates entered the potential blast zone of the nuclear weapons and both witnessed each an airburst, forcing France to change these to less sensitive underground testing resumed by Pdt. Chirac in the 1990s.
In May 1982, PM Rob Muldoon also sent the frigate HMNZS Canterbury for the duration of the Falklands War. She was indeed deployed as part the Armilla Patrol in the Persian Gulf, relieving a British frigate which could take part in South Atlantic Operations, Canterbury being relieved in turn by Waikato.
The Littoral Combat Support Force
The Littoral Warfare Support Force (LWSF) is a collective name for a group of units that operate primarily within the littoral or coastal waters. Comprising divers, hydrographers and a mine counter measures unit the purpose of the LWSF is to ensure access to and the use of harbours, inshore waters and associated coastal zones in New Zealand and wherever the ships and personnel of the NZDF are required to operate.
The units and specialist teams assigned to the Littoral Warfare Support Force (LWSF) include:
-The Maritime Survey Team (MST)
-The Operational Diving Team (ODT)
-The Mine Counter Measures Team (MCMT)
The component parts of the LWSF can be quickly assembled into a composite force and deployed by sea, land or air. The LWSF operates off many platforms including the Navy's Dive Tender, HMNZS MANAWANUI and from two Rapid Environmental Assessment (REA) boats TAKAPU and TARAPUNGA.
Maritime Survey Team (MST)
The Maritime Survey Team is a team of 16 consisting of two sub units. The larger sub unit is the Operational Survey Unit (OSU), whose focus is on conducting planned surveying operations, using the multibeam echo sounder (MBES) and a range of other equipment and boats. The Deployable Hydrographic Survey Unit (DHSU) is a smaller unit, which provides a short notice response capability and also maintains this capability through participation in exercises and operations.
The role of the MST is to collect information to ensure that the vessels of the NZDF can navigate safely wherever they are tasked. At times this will mean conducting planned and detailed surveys of wharves, beaches and other potential landing areas as well as the coastal waters within the NZDF area of interest. This data can also be used for the initial planning phases of an operation or exercise. The team can also deploy at short notice if there is a requirement to provide access in the event of a natural disaster. This capability is practised during exercises to ensure the team is ready to react in an emergency.
The Operational Diving Team (ODT) comprises of 24 personnel and is capable of operating two independent detachments to undertake Clearance Diving, Inshore Maritime Support, Underwater Engineering and Diving Support.
The Mine Counter Measures Team (MCMT) is a small highly specialised unit tasked with locating objects underwater. The MCMT is the front line defence for New Zealand against a mining incident blocking a strategic port.
The MCMT utilises Autonomous Underwater Vehicles (AUV) and towed side scan sonar to locate and identify objects underwater. The MCMT works closely with the Operational Dive Team who are charged with the neutralisation or removal of the detected objects.
Capability & Role: The Littoral Warfare Support Force utilises a wide range of equipment, platforms and tools to deliver its mission. The LWSF is capable of rapidly deploying by air, sea or land to an operational area and operating from many platforms, including the diving and mine counter-measures vessel MANAWANUI.
Nomenclature of the RNZN
Cold War RNZN
Dido class cruisers (1948-61)
HMNZS Bellona, Black Prince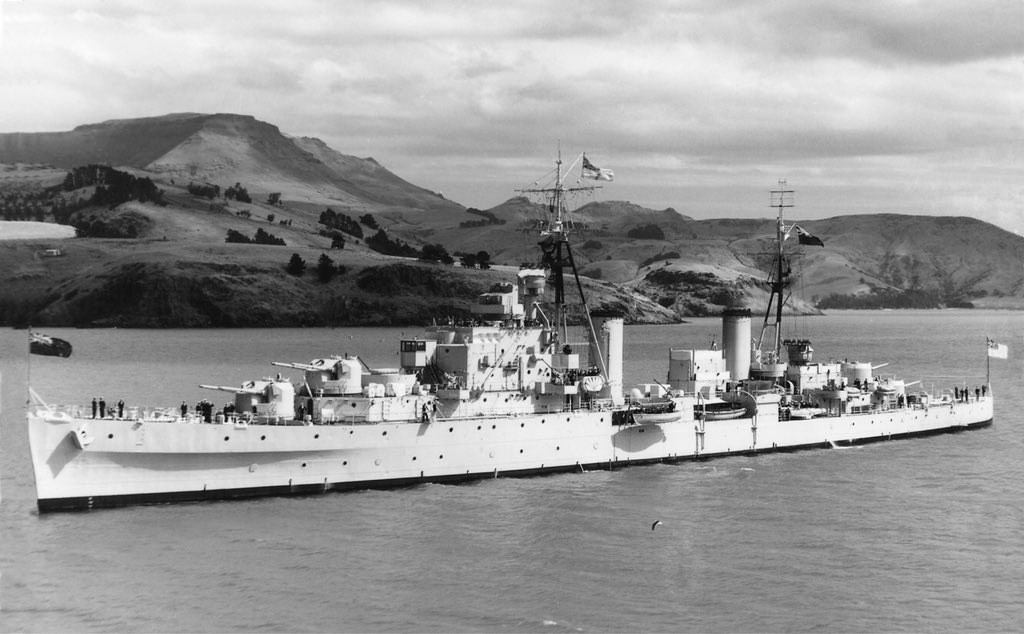 Being costly to operate, cruisers only were used for limited time: BLACK PRINCE (C 81) and BELLONA (C 63) both ex-Dido class ships launched 27.8.42 and 29.9.42 and in 1946 these two ships replaced Gambia and Achilles on loan to the RNZN. They were transferred in 1948 for an extra longer loan. HMNZS Black Prince became flagship but Bellona was used for harbour training at Auckland. She was returned to the RN in April 1956 but Black Prince only left RNZN service in November 1961. More detailed career and modifications will be seen in a dedicated post.
HMNZS Royalist (1954)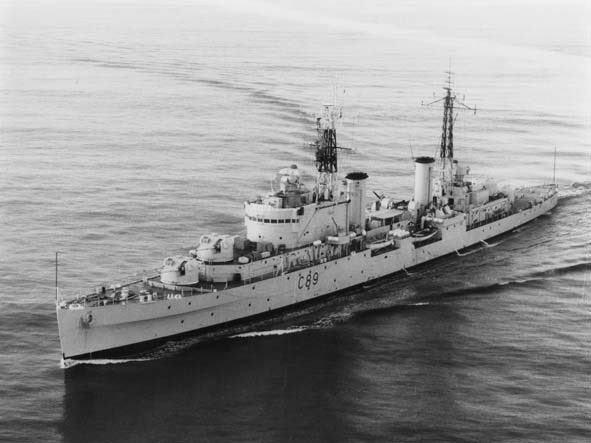 Probably the best remembered large warship of the cold war RNZN: Royalist (C89). She was a modified Dido class cruiser tailored for the needs of the RNZN but also Scotts yard envisioned to procure other customers such reconstruction and modernization, like Pakistan. Royalist was modernised at Devonport DYd in 1954-56, with her former close-range armament replaced by three twin 40mm STAAG Mk 2 automatic AA mountings (one in 'Q' position and two abreast the second funnel) and TT removed. The bridge was rebuilt, lattice masts replaced tripods and Mk6M directors were installed forward and aft. With Flyplane predictors she now had one of the most effective AA defence systems of any British-built cruiser, and she replaced Bellona when that ship returned to Britain to pay off at the end of 1955. She damaged her boiler tubes when her feedwater became contaminated with seawater and paid off prematurely in July 1965. She was administratively returned to the RN but the latter decided to have her scrapped in Japan.
Quickspecs: Disp. 5,950 tSd, 7,410 tFL, 485/512 ft oa x 50 ft 6 inx 17 ft 11 in, 4 shafts Parsons SGT, 4 adm. 3-drum boilers, 62,000 shp 32 kts 1100 t oil. Prot 3-in belt, 1 in bkhds. Armament 4×2 5.25 in/50, 3×2, 2×1 40mm STAAG Mk.2, 2×3 533mm TTs.
Kaniere (Loch) class Frigates (1948)
HMNZS Kaniere, Hawea, Pukaki, Rotoiti, Taupo, Tutira
Virtually no change compared to the British ones. Their pennants were F 422, 426, 424, 625, 421, 517, acquired in 1948-49 (July for the first, and same for the last, next year). They were discarded in 1962-67. Photo ➶
Otago (Rothesay) class Frigates (1958)
HMNZS Otago, Taranaki

HMNZS Otago, from pinterest
Otago was ordered in February 1956 for the RN , but in February 1957 the contract was taken over by the RNZN , and a second ship was ordered at the same time. Apart from internal modifications they were identical with RN ships , and received quadruple Seacat GWS22 SAM sys tems. They also carried 6-12.75in (324mm) Mk 32 ASW TT (2 x 3). In 1978-79 Taranaki was converted to a training ship, minus Seacat and Limbo mortars, with a single 40mm Mk 7 on the after superstructure. The Type 277 radar was removed from Otago. In 1980 it was announced that Taranaki would be converted as a hydrographic survey vessel, doubling as training ship in betrween missions and offshore protection vessel. She retained a 4-in gun, but received RR Tyne gas turbines. The project fell through in 1981 as Leander class frigates became available. It should be noted that the Whiby class Balkpool was also on loan in 1966-71 until HMNZS Canterbury was completed.
Waikato (Leander) class (1965)
HMNZS Waikato, Canterbury, Wellington, Southland

HMNZS Waikato in Sydney, from pinterest
In June 1963 one of the new Leander class was ordered from the RN, but when a second frigate was approved five years later the modified or 'broad-beam' version was ordered (August 1968). They are similar to the RN ships apart from a modified funnel cap and USN-pattern Mk 32 TT abaft the boats port and star board. Waikato's hangar was enlarged to accommodate a Lynx, but the others still operate Wasps. Wellington and Canterbury had their MRS 3 fire control and ADAWS-5 combat system replaced by RCA's R-76 and MUSL's Nautis-F between 1984 and 1992, and Canterbury received a Signaal LW-08 surveillance radar in place of type 956. By October 1981 it was announced that the Ikara-armed Leanders HMS Dido and BB Bacchante would be purchased from the RN in 1981-82. HMNZS Wellington was the ex-Bacchante, sailing to NZ in October 1982 but Soutland in December 1983, after her refit was complete. Both were discarded in 1995.
Echuca class, Bathurst type minesweepers (1952)
Echuca, Kiamia, Stawell
They were acquired from the RAN in 1952 and replaced the Loch class frigates for training and minesweeping but in 1965-66 they had their minesweeping gear removed. The 4-in guns replaced by a Bofors gun. Discarded 1978-79.
Quickspecs: 605/365t, 186 x 31 x 9ft, 2 shaft VTE 1550-2200 ihp 15 kts oil 124t, 4-in/45, 40mm AA, crew 90.
Pukaki class patrol Crafts (1974)
Pukaki, Rotoiti, Taupo, Hawea
Built by Brooke Marine in lowestoft, UK and all put for sale in 1991 to the civilian market.
Quickspecs: 105/135t, 107 x 20 x 11ft, 2 shaft Paxman Diesel 3000 bhp 25 kts 2500 nm/12 armed with 2x 12.7mm, 81mm mortar or same. crew 21 radar Decca 916.
Moa class patrol crafts (1983)
Moa, Kiwi, Wakakura, Hinau
Construction approved in 1982, built at Whangarei Eng. & Construction dock and all were commissioned in Nov. 1983 to Oct. 1985. They received sidescan sonars in 1993-94 for MCM capabilities, still in service today.
Quickspecs: 91.5t st. 105t FL, 88 x 20 x 7 ft 3 in, 2 shafts Cummins KT-1105M diesels 710 bhp, 12 kts Range 1000 nm/11 kts. Armed with a single cal. 0.5 M2HB, radar decca 916, sonar Klein 595 Tracpoint Towed Sidescan. Crew 19.
The RNZN Today

The end of the Cold War saw the RNZN reduced to four frigates: HMNZS Waikato (F55), HMNZS Wellington (F69), HMNZS Canterbury (F421), and HMNZS Southland. Post-Cold War budget cuts led to a drastic restructuring of the force, to just two frigates maintained operational, the other two kept in reserve and for spares. Political debate notably by the mid-1990s led to the stury of a new procurement to replace the missing frigates, with new Anzac-class frigates.
Middle East and Pacific Operations
The RNZN operated in the Middle East well before the end of the cold war, and they still played a policing role in the red sea during the Iran–Iraq War, always at the side of the Royal Navy. They ensure safe passage of neutral shipping in the Indian Ocean. The four Frigates also took part in the first Gulf War, and Operation Enduring Freedom. In the Pacific, the RNZN intervened wherever was a crisis at Bougainville, the Solomon Islands and especially during the war in East Timor. The kiwi navy also took part in several United Nations peacekeeping operations.
The end of a hydrographic tradition
On the civilian side, the scientific contibution of the RNZN was to operate the hydrographic survey ship HMNZS Resolution until 2012, replacing the old HMNZS Monowai (and before that HMNZS Lachlan). Resolution charted the sea around New Zealand and several Pacific Islands. SMB Adventure was operated from Resolution for more precise mesaurements in shallow waters, and the ship in general had enough equipments to perform top of the art hydrographic missions with the most advanced survey technology available at the time. She is now decommissioned. Due to budget cuts, this time is over. In all, the RNZN operated seven hydrographic survey ships from 1949.
Te Kaha (ANZAC) class Frigates (1995)


HMNZS Te Kaha (F77) was commissioned in 1997, 3,660 tonnes MEKO design built at Devonport, followed by HMNZS Te Mana in 1999 (F111).
Protector class (2009)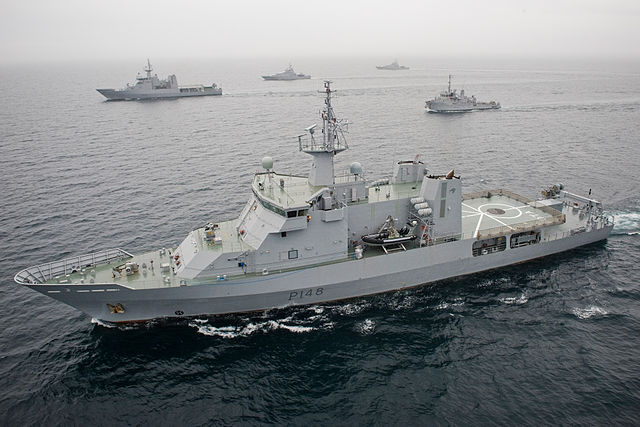 HMNZS Otago (P148) is a OPV 2010, 1,900 tonnes vessel from Devonport, based in Dunedin, laid Up today. As British Protector class.
HMNZS Wellington (P55) based in Wellington also Laid Up today.
Lake class (2008)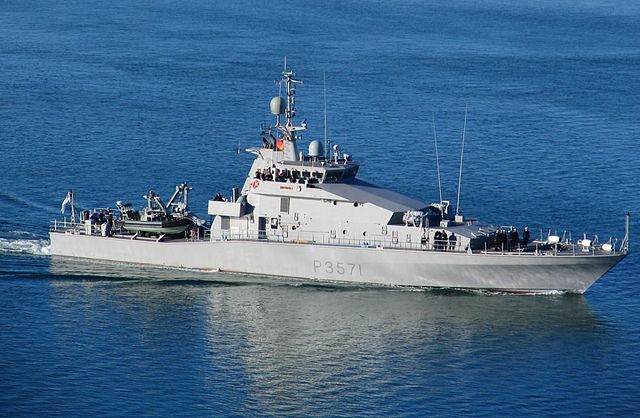 HMNZS Hawea (P3571) is a 2009 Lake-class IPV of 340 tonnes built like her sister as Greymouth/Westport, now Laid Up. HMNZS Taupo (P3570) is based at Whangarei, Active.
HMNZS Canterbury (2006)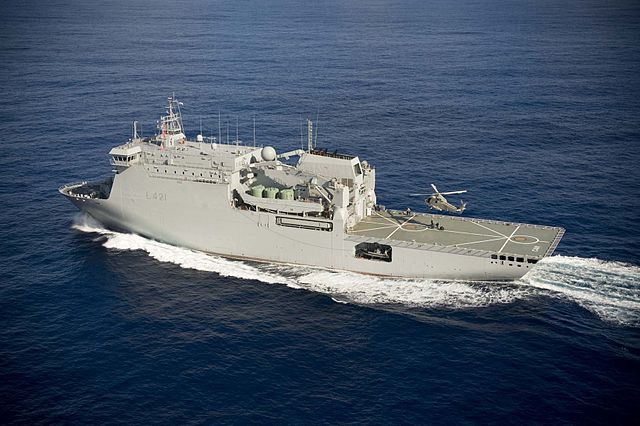 The main Multi-role vessel of the RNZN, used as assault ship. L421 was comm. in 2007, a 9,000 tonnes tailored vessel built at Devonport, based in Lyttleton, currently Active. Length: 131 m (430 ft), Beam 23.4 m (77 ft), Draught 5.4 m (18 ft), propulsion CODADE 2 × 4.5 MW Wärtsilä engines, 3 × auxiliary diesels, 2 × bow thrusters 19.6 kn (36.3 km/h; 22.6 mph) baseline, 16 kn (30 km/h; 18 mph) economical, range 8,000 nmi (15,000 km; 9,200 mi) at 16 kn (30 km/h; 18 mph). She carried two medium landing craft (23 m, 55/100 tonnes), two RHIB (7.4 m, 300 hp range 130 nmi, 35 kn) and two special forces RHIB (11 m) optional, 250 troops. Equipped with a Vistar Electro-Optical FCS, CEA Warrlock HFDF S & X band radar, RWS MSI DS25 25 mm M242 Bushmaster and 2× .50 cal. MG, air group two SH-2G Seasprite, four NH90 helicopters.
HMNZS Manawanui (2018)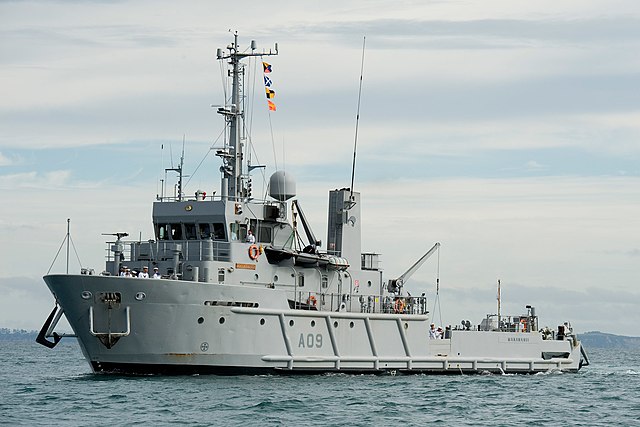 Hydrographic and diving support vessel (A09) 5,741 tonnes vessel built in Devonport, comm. 2019, based in Gisborne, Active. photo
HMNZS Aotearoa (2019)


Latest acquisition of the RNZN, built in Devonport 2018-2020. Pennant A11, 26,000 tonnes, based on New Plymouth, Active.
Read More
Books
Defence of New Zealand Study Group, Ramparts on the Sea.
Howard, Grant. The Navy in New Zealand: An Illustrated History, AH & AW Reed, 1981.
McGibbon, Ian C. (1981). Blue-water Rationale: The naval defence of New Zealand, 1914–1942. Wellington
Robinson, Dr. Colin D. (25 February 2022). "The Creation and Evolution of HQ Joint Forces New Zealand".
Commodore J O'C Ross, The White Ensign in New Zealand
Rear-Admiral Jack Welch, "New Zealand's navy seeks 'credible minimum'", International Defence Review 9/1995
Links
http://navy.mil.nz/
https://www.nzdf.mil.nz/navy/
On nzhistory.govt.nz/
Royalist on rnzncomms.org/
https://gerrywright.co.nz/hmnzs-royalist
https://nzshipmarine.com/
Survey_ships_of_the_Royal_New_Zealand_Navy
Royal_New_Zealand_Navy
navymuseum.mil.nz/
nzdfpop.cwp.govt.nz/ ranks of the RNZN