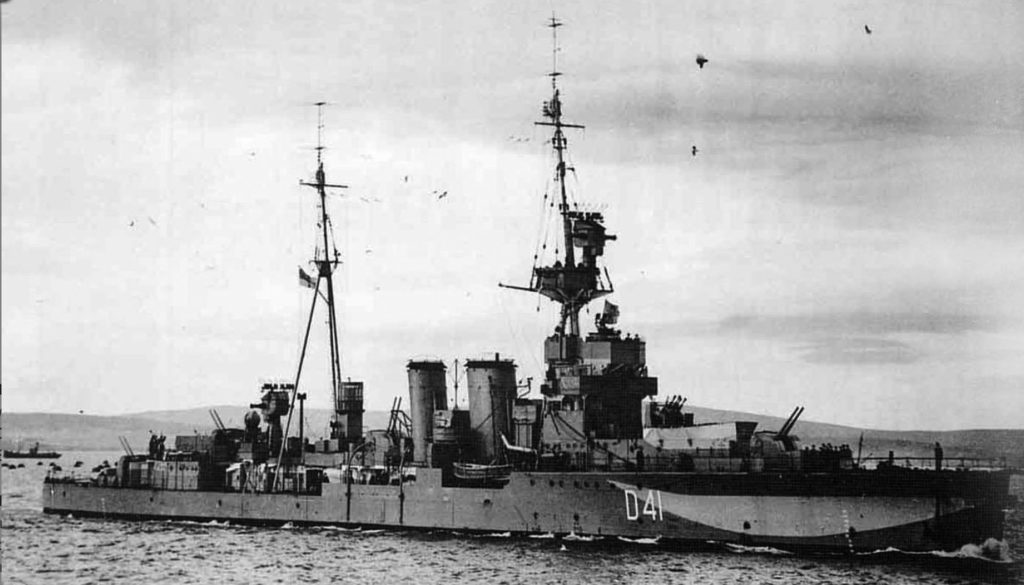 The veteran light cruisers
The 'C' class were called artificially that way by most authors for simplification; This comprised the Caroline class on one hand, and the Calliope, Cambrian, Centaur, Caledon, Ceres, and Carlisle, relatively similar in design, concept, and specifications. They were a wartime "mass-production" class to operate as flotilla leaders and for reconnaissance and escort. However there was quite an evolution and it's why in the future all these classes will be treated separately. The second important point is that most of these cruisers served both world wars, and not only under the British flag, so an active career of 45 years in some cases.

HMS Caradoc after her US Refit in 1942 Scr: uboat.net
Development history
The 'C' class artificial nature is only sustained by the role and design of these light cruisers but also name, swapping to systematic mythological names beginning by the 'C' letter. The first only slightly differed from the Arethusa, but following cruisers of the Calliope class really defined the design for wartime, with two distinctive angled funnels whereas the previous ships, Caroline and Arethusa were "three-stackers". So we will rather focus on the Calliope, which was the actual game changer and really setup the 'C-class'.
These ships has been tailored for the rough conditions of the North Sea. They were sturdy, rugged and versatile, but critized also as bing wet and cramped vessels. The 'C' superclass comprised the Caroline class (6 ships), Calliope (2), Cambrian (4), Centaur (2), Caledon (4), Ceres (5) and Carlisle (5).
Design
In size, these cruisers differed little, jumping from 136 to 137.6 m (446 – 451 feets), 12.6 m (41 ft 6 in) wide, 4.5-4.7 m draught (14-15 feets), and from 4230-4695 tonnes FL to 4290-5250 tons, and same speed of 29 knots for about 37,000 to 40,000 hp. The armament was uniformely of five 6-in masked guns in axial positions, and small variations of light auxiliary AA and torpedoes. The last class, Capetown however innovated with a superfiring Y turret, instead of placed behind the bridge, giving an edge in chase.
Caroline class (1913 program)
The first C class were relatively similar to the Arethusa class (6-in gun forward and another aft) with the difference of two aft 6-in guns with one on a superfiring position to stay clear of water disruption and better control of them. But these cruisers were near-clones of the Arethusa, a gradual improvement.
Actually this class was just an extra six ships of the admiralty 'Light armoured cruiser' 1913 program, with slight differences for two ships. They were 10 feets longer with extra beam for improved stability and an extra pair of 6-in guns mounted aft. The rest of the light guns, eight 4-in guns were light enough to be mounted on broadsides and two on the forward deck, each side, and two others on the forecastle rear, behind and each side of the bridge.
Four shafts combined to independent reduction Parsons turbines, fed by eight Yarrow boilers gave them 30,000 hp to achieve the required speed, with an additional 10,000 for extra load. Top speed was not 29 knots but 28-1/2 knots as measured on trials for the first four of them. Secondary armament comprised a single 13 Pdr AA and four versatile/saluting 47 mm guns. Only the conning tower armor matched the main gun caliber.

Highly detailed Blueprint of HMS-Caroline-class, National Museum Greenwhich Coll.
The class comprised the Caroline, Carysford, Cleopatra, Comus, Conquest and Cordelia, started at Cammell Laird, Hawtorn Leslie, Swan Hunter, Scott and Pembroke DyD from July 1913 (Cordiela) and december 1913 (Comus) to January-March 1914. They were launched in 1914, except for Cleopatra and Conquest and completed from December 1915 to June 1915.
All but Caroline were discarded in the 1930s. The latter joined the Royal Irish Navy branch at RNVR Belfast, used as an administrative base, then was refitted for preservation in the 1951 and is now a museum ship.
In wartime, the Caroline's two light guns were soon seen as useless and discarded, replaced by a single axial 6-in gun Mark XII. Also their foremast was changed for a shorter tripod with a spotting top and fire director, like the Arethusa's wartime refit in 1917. Also a fourth 6-in gun was added on the frecastle abeft the funnels while the remainder of the 4-in were removed.
Also an extra pair of 21-in TTs was installed. The old 13 Pdr Royal Hore Artillery used as an AA gun was totally obsolete by 1917 and replaced by two 3-in/20 cwt AA Mark I on the Caroline, Carysford and Comus, or two 4-in and two 2-pdr (Cleopatra), or one 4-in and two 2-pdr (Conquest) or one 4-in alone (Cordelia).
They were placed abaft the foremast but in some cases abaft the central control platform. Flying platform were installed on the Carysford and Cleopatra to serve with the Harwhich Force against Zeppelins, but removed early 1916. Caroline and Comus tested another one removed by late 1918. They also tested ASW explosives paravanes, high speed sweeps. They were considered qute wet and grossly overweight, so they undergone a drydock 'cure' to lighten them up.
HMS Caroline (Dec. 1914)
HMS Caroline joined the 4th destroyer flotilla of the Grand fleet as leader, and until November 1915, the 4th LCS and 4th LCS in 1916, fighting at Jutland in May. She served with this unit until the armistice. Afterwards, she joined the East Indies Sqn in June 1919. Paid off in 1922 she sailed to Belfast and in Feb. 1924 was a training ship for the Ulster division RNVR. She was the only ship still in service during WW2, as an administrative center for the Londonderry escort coordination and C&C.
Back to the RNVR it was decided to preserve her, and she was overhauled and completely restored to her original state by Harland & Wolff in 1951. She is now on display at Alexandra Dock, Queens Rd, Belfast BT3 9DT, UK, and can be visited everyday.
HMS Carysford (June 1915)
HMS Carysford served with 4th LCS, Grand fleet, and then 5th LCS; Harwhich Force in April 1916. She missed Jutland but was flagship of the 7th LCS in 1917. In December she accidentally collided with SS Glentaise off Orfordness. Repaired, she served with 2nd LCS, Harwhich Force passed the armistice. She served in the Baltic in 1920, with the same unit, then Atlantic Fleet in 1921.
She patrolled the Irish waters in 1922 during the civil war and as an observer in the Greek-Turkish war of 1922-23. She was paid off but served as troopship for some time. In 1927 she went in and out of reserve and resume trooping, for the Asia sqn. She was SNO reserve ship in 1930, paid off and sold in 1931.
HMS Cleopatra (June 1915)
She joined the 5th LCS after completion, Harwhich Force, replacing HMS Arethusa. She covered the Tondern raids in March 1916, ramming and sinking the German Destroyer G194. She however also accidentally collided with HMS Undaunted and was sent for repairs. On 18 July she was back in action against German destroyers in July 1916, and hit a mine off Thornton ridge in August. Repaired and modernized in 1917 she joined the the 7th LCS as flasghip until March 1919. She saw action in the Baltic with the 2nd LCS, then 1st LCS, Atlantic Fleet in 1921 then Nore reserve. She joined the Devonport reserve in 1923-24, then 2nd LCS Atlantic fleet, paid off in 1926, Nore reserve then SNO's ship in 1928-31, paid off and sold at Chatham.
HMS Comus (Jan. 1915)
HMS Comus joined the 4th LCS on completion, she took part in the sinking of SMS Greif in Feb. 1916, and fought at Jutland in May. She then joined the 1st LCS in March-April 1919, refitted at Rosyth, 4th LCS in the East Indies until June 1923, refitted at Portsmouth and sent to the Mediterranean 3rd LCS until late 1924. Nore reserve, then 2nd LCS Alantic fleet in 1925, and relieved at Norfolk in 1930, reserve at Devonport, stricken, paid off in Dec. 1933.
HMS Conquest (June 1915)
Conquest joined the 5th LCS, Harwhich Force at completion. She took part in the sinking of SMS Meteor in August 1915, then was flagship of the 5th LCS in March-April 1916, and was present during the Lowestift raid. Badly damaged by a German 12-in shell in April, she was repaired and uring a patrol she sank the German destroyer S 20 off the Belgian coast in June 1917.
She hit a mine in July 1918 and was in repairs when the war ended. Nore reserve, SNOs ship in Feb.1919, 1st submarine flotilla Atlantic fleet, until Jan. 1927. She served in the Med. in 1928 and returned in Portsmouth for decomm. in 1930. She was to be sold for BU when she broke off her moorings and was adrift off Flamborough Head. She was missing for two days and the towing resumed in Rosyth.
HMS Cordelia (Jan. 1915)
She joined the 1st LCS, Grand Fleet in Jan. 1915 and fought at Jutland in May. She the joined the 4th LCS from April 1917 to 1919, and was sent to the Devonport gunnery school. She later joined the Nore reserve in Jan. 1920, and 2nd LCS Atlantic fleet until 1922, patrolling the Irish coast. She was paid off in December and joined again the Nore reserve until sold for BU in July 1923, the first of the class broken up, barely nine years old.
| | |
| --- | --- |
| Dimensions | 135.90 x 12.6 x 4.9 m (446 x 41 x 16 feets) |
| Displacement | 4219 tons standard, 4733 tons Fully Loaded |
| Crew | 301 |
| Propulsion | 4 shafts Parsons turbines, 8 Yarrow boilers, 40,000 hp. |
| Speed | 29 knots (42 km/h) |
| Range | 6000 nm @ 10 knots. |
| Armament | 2 × 152 mm/45 (6 in), 8 x 102 mm/45 4 in(), 1x 13 Pdr AA, 12x 533mm (21 in), 4x 3-pdr, 2×2 TTs aw |
| Protection | Belt 25-75 mm, decks 25 mm, Masks 25 mm (1 in), CT 152 mm (6 in) |
Calliope class (1913 program)
These were the last two cruisers of the 1913 program. Opportunity was taken to introduce gearing to improve the efficiency of the turbines. A 4-shaft arrangement was tested on the HMS Calliope but the twin helical gearing type and 2-shaft arrangement on HMS Champion proved more successful. She reached 28.2 knots on trials at full steam, rated for 31,418shp and up to 29.5kts at forced steam, 41,188shp. Fast direct-drive ships were only capable of 29kts, but at much higher revolutions, therefore vibrations and therefore engine fatigue.
Rearranging the boilers also made it possible to reduce the funnels to just two, a fate and a thinner, a classic 'C' class cruiser feature and an extra pair of 4in guns on the forecastle which was revised during the war into three 6-in guns. Another difference with the Caroline was the adoption two 21-in TTs above te waterline on the beam. A year later a fourth 6in gun was mounted on a platform abft the funnels, and the remaining 4in guns were removed, lacking punch.
A light tripod mast was fitted behind the bridge, and also two twin 4-21in TT banks were added on either side amidships. HMS Calliope
also received 2-3in/20cwt AA abreast of the tripod mast and HMS Champion received a 4in AA gun, placed on the centreline, abaft the after control position. In 1918 HMS Calliope was given a flying-off platform mounted forward abive the A gun position, with High
Speed Sweeps fitted. This platform was removed in 1919 whereas to improve stability, the TT banks and projectors were removed.
HMS Champion received on her side a kite ballon, towed by a stern winch, used for observation.

HMS Champion
Still in the early 1920s, both ships received two 2-pdr guns, an in 1926-27, HMS Champion's unique remaining 4-in gun was removed and replaced by a two 3-in AA whereas the fixed beam TTs were removed.
HMS Calliope
Laid down at Chatham DyD in 1.1.1914 Calliope was launched ion 17.12.1914 and completed on june 1915, joining the 4th LCS as flagship in the Grand fleet. She had a severe boiler room fire in March 1916 but was back from repairs on time to participate in the battle of Jutland. She was hit four times but sank four trawlers minesweepers off Jutland later on 1st September 1917. In 1919 she served with the 8th LCS with the north Amrican and east Indies station, but was hit by another boiler room fire, in the Azores in 1919.
She was repaired at Devonport and returned to her station but in 1920-21 she was in reserve, recomm. at Chatham in 1924, and served as troop transport until 1926. She was paid off at the Nore reserve, then SNO ship, but she resumed trooping until 1928, recomm. at Chatham, and was sent to the Mediterranean, 3rd CS, but was paid off into reserve at Portsmouth in 1930, and scrapped the next year.
HMS Champion

Stern view of HMS Champion at the battle of Jutland, leading the 'D' squadron of destroyers.
Champion was laid down at Hawthorn Leslie on 9.3.1914, lauched 29.5.1915 and completed in December the same year. She was the leader of the 13th Destroyer flotilla, from December 1915 to early 1919. She went participated in the battle of Jutland, 31 May-1 June 1916, as flagship of Commodore (D), the senior commander of the fleet's destroyers.
After the war in 1919 she made a passage in the 2nd LCS and was later attached to the Vernon torpedo school until 1924, refitted in 1923 at Portsmouth. She served as gunnery firing ship in May 1925 and from 1928 with the signal school. She was in reserve in 1933, paid off into dockyard control and was sold for BU in July 1934. After a career spanning barely nineteen years !
Cambrian class (1914-15 program)
This sub-class was slightly larger and improved compared to the preceding Calliope group of the C class cruisers. These light cruisers ordered under the 1914-15 Programme were repeats of the Calliope, with the same layout but only the Cambrian (last to be completed) incorporated the improved layout of the earlier class with one 6in gun in place of the two tandem 4in on the forecastle.
HMS Cambrian was built at Pembroke Dyd, laid down on 8.12.1914, launched 3.3.1916 and completed in May. HMS Canterbury was from John Brown, laid down on 14.10.1914, launchd 21.12.1915 and also completed in May 1916. Bioth Castor and Constance were from Cammell Laird, laid down on 28.10.1914 and 25.1.1915, launched in July and Setpember 1915 and completed in November 1915 and January 1916 respectively.
The other three were eventually brought up to the same standard in 1916-17. Other improvements consisted in a tripod with light director which replaced the pole foremast. In 1917-18 all four lost their 6-4in guns, for four 6in, the fourth placed abaft the funnels. The 13pdr AA was replaced by 2-3in AA on the forecastle.
Cambrian received a single 4in AA aft on the centreline plus two 2pdr guns. HMS Canterbury received two pairs of 21-in twin TTs above the surface as underwater TTs did not worked at high speed. After WW1, HMS Castor received two 2pdr and the 4in was relaced by two 3in AA guns. Her deck TTs were removed. In 1920-24 all four cruisers lost the after control tower and searchlight platform.
HMS Cambrian
HMS Cambrian joined 4th Light Cruiser Squadron from May 1916-1919, then North America and West Indies Station 1919-22. 2nd LCS, Fleet August 1922-June 1924 including operations during Turkish Crisis 1922-23. Paid off into dockyard control in June 1924 for refit to
1926, then commissioned for 2nd Atlantic LCS in August 1926-1929. She was a trooping ship to China in 1929 before paying off into
Nore Reserve November 1929. She was commissioned as SNO's ship by March 1931 and paid off into dockyard control at Sheerness in July 1933, and put on sales list, sold for BU in 1934.
HMS Canterbury
She served with the 3rd BCS in 1916, and participated in the Battle of Jutland. Afterwards she served with the 5th LCS at Harwich Force 1916-18, sinking the German torpedo-boat S 20 by gunfire off Belgian coast, 5 June 1917. She later served in the Aegean and Black Sea 1918-19, then commissioned at Portsmouth in November 1919 for 1st LCS, Atlantic Fleet. She was later attached to Gunnery School, Ports-
mouth 1920-22, then she joined the reserve in 1922-24. She was recommissioned at Portsmouth for the 2nd CS, Atlantic Fleet May 1924, paying off into dockyard control for refit from June 1925.
She was recommissioned from Nore Reserve in November 1926 and joined the 2nd CS, trooping to China in 1930-31, and followed by Nore
reserved again in 1931-December 1933. She was trooping again from August 1932. HMS Canterbury was paid off in December 1933 and sold for BU in July 1934 to the same company as Cambrian.
HMS Castor
HMS Castor was commissioned in November 1915 as Flagship for Commodore (D), 11th Destroyer Flotilla, Grand Fleet. She participated and fought at Jutland, where she was damaged by gunfire (10 casualties). She later served in the Black Sea 1919-20 (Supporting Russian Whites), and then back home, she was recommissioned in April 1920 at Chatham for the 2nd LCS, Atlantic Fleet, and served on Irish Patrol 1922.
She was a schoolship at Portsmouth in 1923-24, and was placed in the Nore Reserve in 1924-25. From November 1925 to September 1926 she served in trooping duties to China from October 1927. She was recommissioned at station in June 1928, Devonport Reserve from July 1930, paid off in May 1935 and sold for BU in July 1936.
HMS Constance
HMS Constance first served with 4th LCS, Grand Fleet, in January 1916-1919, and fought at Jutland. She later joined the 8th LCS, North America and West Indies Station 1919-26 and was recommissioned at Devonport in January 1923. She was refitted in Chatham September 1926-December 1927, then Flagship at the Portsmouth Reserve. She joined the 5th CS, China Station from 1928 until November 1930, paid off into reserve at Portsmouth, in reserve from 1931 until July 1935 and sold for BU in January 1936.
Characteristics
| | |
| --- | --- |
| Dimensions | 135.90 m long, 12.6 m wide, 4.5 m draught. (446 x 41 x 14 ft) |
| Displacement | 4320 tons standard -4799 tons Fully Loaded |
| Crew | 368 |
| Propulsion | 4 shaft Parsons (Canterbury Brown Curtis) turbines, 6 Yarrow boilers, 40,000 hp. |
| Speed | 28.5 knots. |
| Range | 6000 nm @ 10 knots. 841 tons oil |
| Armament | 2 x 6in/45 XIII (152 mm), 8 x 4in/45 (102 mm) QF Mark IV, 8 x 3pdr DP (47 mm), 1 x 13 pdr, 2 x 21-in TTs. |
| Protection | Belt 40-75 mm, decks 25 mm, Masks 25 mm (1 in), CT 152 mm (6 in) |
Centaur class (1914-15 program)

British POWs boarding Concord, 1919 in Stettin
Although often described as ancient Turkish ships, the two Centaur class were additional units of the 1914-15 Program to follow the Cambrian class. However to save time the builders were authorized to reuse the powerplant, sets of machinery already ordered for a pair of Turkish scout cruisers, from which came the Centaur class and perhaps the confusin for some authors. The opportunity was taken to incorporate all wartime lessons learned to date, notably the need for more 6in guns and a better director control.
They were given five 6in guns, all in the axis, one forward, one aft of the bridge, one after the second funnel, and two superimposed aft, as in the Caroline class. They were also given a heavier tripod, and a larger two-storey control top. They were laid down at Vickers in January and February 1915 and launched January and March 1916.
Being the first light cruisers with an 'all-big guns armament' they were dubbed at the time 'Tyrwhitt's dreadnoughts' when joining the Harwich Force. Distinguished from earlier two-funnelled cruisers by the gap between the foremast one abaft the funnels. These modern ships received few alterations after completion, which occured in August 1916 (Centaur) and Concord (December 1916).
In 1917-18 however they were given range clocks forward and aft. Searchlights removed from foremast and forward platform for stability, and repositioned on after control platform. The 13pdr guns which were ex-Royal artillery pieces were replaced by two pairs of 2-pdr guns Pom-Pom. After the war they were partially disarmed. The second 6-in was replaced by a deckhouse on Centaur while the Concord lost the second and fourth 6-in gun and 3-in gun AA in 1932.
HMS Centaur
Centaur served with the 5th LCS Harwhich Force from August 1916 to March 1919, and sank the German TB S30 at Schouwen Bank in January 1917 and hit a mine in June 1918 but survived and was repaired at Hull. She was was in the Baltic in 1919.
She served with the Mediterranean 3th LCS from March 1919 to October 1923, and was recommissioning at Malta in June 1920 and at Gibraltar in March 1922. Paid off into Reserve at Devonport October 1923; refitted 1924-25 and recommissioned at Portsmouth 8 April
1925 as Commodore (D) Atlantic Fleet. Recommissioned February 1928 and September 1930; paid off into reserve at Portsmouth March
1932. On sales list 1933, sold for BU in February 1934.
HMS Concord

Concord and Cardiff in Copenhagen
Concord served with the Harwich force 5th LCS until March 1919. She was recommissioned and sent to the Mediterraean, joining the 3rd LCS, Mediterranean Fleet. She was back home and sent there again in August 1921, until paid off in July 1923. Refitted at Devonport and commissioned by May 1924 for 3rd CS, Mediterranean.
She was attached to Australian Station 1925 and China Station 1925-26, returning to 3rd CS 1926-27. She was placed in Reserve, Portsmouth from October 1927, but made some trooping to China February 1928, then was refitted in October-November 1928 before joining Signals School at Portsmouth. She was paid off into dockyard control January 1933 and put on sales list in November 1934, sold and broken up in august 1935.
| | |
| --- | --- |
| Dimensions | 135.90 m long, 12.8 m wide, 4.1 m draught. (446 ft oa x 42 ft x 13 ft 6in) |
| Displacement | 4165 tons standard -4870 tons Fully Loaded |
| Crew | 437 |
| Propulsion | 4 shaft Parsons impulse-reaction turbines, 6 Yarrow boilers, 40,000 hp. |
| Speed | 29 knots. 824 tons oil. |
| Range | 6000 nm @ 10 knots. |
| Armament | 5 x 6 in/45 (152 mm), 1x 13 pdr (76 mm), 2×3 (76 mm) MkI AA, 2x 21 in TTs (553 mm) sub, beam |
| Protection | Belt 30-75 mm (3 in), decks 25 mm (1 in), Masks 25 mm (1 in), CT 152 mm (6 in) |
Caledon class (1915 program)
The Caledon class was ordered in December 1915 and the 6 class ships were put into service in 1917. They retained the two-funnels typical silhouette of the previous two class "C" series. However their propulsion was slightly different, their superstructures were also slightly modified.
They had a main armament at the origin of five 6-inch (152 mm) guns and two-3-inch (76 mm AA) as secondary armament, reinforced with four anti-aircraft 3-pounder (45 mm) guns. They arrived late into WW1 and therefore their service was limited.
| | |
| --- | --- |
| Dimensions | 137.20 m long, 13 m wide, 5 m draught. () |
| Displacement | 4200 tons standard -5320 tons Fully Loaded |
| Crew | 470 |
| Propulsion | 4 propellers, 4 Parsons turbines, 6 Yarrow boilers, 40,000 hp. |
| Speed | 29 knots. |
| Range | 6000 nm @ 10 knots. |
| Armament | 6 x 102 mm DP (3×2), 8 x 40 mm Bofors AA (2×2, 4×1), 15 x 20 mm AA. |
| Protection | Belt 25-75 mm, decks 25 mm, Masks 25 mm (1 in), CT 152 mm (6 in) |

HMS Curacoa after conversion, 1942, author's illustration
Second world war service
Three of the four Caledon class ships participated in the Second World War, with a number of modifications. Five Oerlikon 20 mm AA guns were added to all ships, as well as new fire control equipment and antennas.
HMS Cassandra

HMS Cassandra joined the 6th Light Cruiser Squadron of the Grand Fleet but suffered the same fate as her sister ship Caradoc when running aground on Fair Isle on 15 August 1917. Both ships were successfully salvaged. At the end of the great war, the 6th Light Cruiser Squadron formed part of a Baltic force (Rear-Admiral Edwyn Alexander-Sinclair) supporting their independence against the Bolsheviks push.
On 5 December 1918 his force was going through Tallinn threatened by the Bolsheviks when Cassandra hit a mine which was part of an uncharted German minefield near Saaremaa in the Gulf of Finland. Cassandra sank but her crew was rescued by the destroyers Westminster and Vendetta and she only deplored eleven lost. (Ten killed by the initial explosion and the other drawn during the rescue attempt. She was left on site, and her wreck has been rediscovered in 2010.
HMS Caledon

HMS Caledon in 1942 – Credits: Unknown, from Pinterest.
Caledon was completely taken over in 1942-43 for conversion into an AA cruiser, armed with six 102 mm turret pieces, two 40 mm Bofors guns (single mounts) and eight 20 mm Oerlikon AA guns, a new rangefinder, radar, and ASW ballasts of 200 tons.
She served actively in the North Atlantic, Mediterranean in Alexandria, then in the Red Sea, and finally the Indian Ocean until 1942.
She then returned to Chatham for his conversion, and served at Scapa Flow, then in the Mediterranean, participating in the Anvil-Dragoon operation (landing in Provence) in August 1944. She ended her career in Greece, then returned to France at the end of the war. Placed in reserve, she was broken up in 1948.
HMS Calypso
Completed in June 1917, Calypso fought in the Second Battle of Heligoland Bight on 17 November 1917, with her sister ship Caledon. They tried to intercepted German minesweepers near the German coast bur Calypso's bridge was hit by a 5.9 in shell killing all officers and causing the accidental firing of a ready torpedo, fortunately without consequences. Repairs took a while and her late car career was rather short.
Calypso gathered the Greek royal family in 1922 after the abdication King Constantine of Greece when a military dictatorship seized power. The family was taken to Brindisi, and later were put on a train to Paris. In November 1924 the destroyer HMS Venomous (D75) hit and sank accidentally one of Calypso's boats in Grand Harbour, Valletta, Malta but the four crew onboard were saved.
During the early Second World War, Calypso served with the 7th Cruiser Squadron, Northern Patrol. She was one of the first cruisers to search for German blockade runners (she captured two), then raiders like the Scharnhorst and Gneisenau.
She patrolled in search for blockade ship in the North Sea between Scotland and Iceland. On 24 September 1939 she intercepted the Minden south of Iceland. but her crew scuttled her before capture. On 22 November she captured the Konsul Hendrik Fisser off Iceland. Calypso was also involved in the search for the German warships Scharnhorst and Gneisenau which just sank the Rawalpindi.
Finally, she was sent to the eastern Mediterranean, to be sunk by the Italian submersible Bagnolini in November 1940, the first Royal Navy loss in this theater at the stage.
HMS Caradoc
HMS Caradoc exited reserve in 1939 to transport gold in New Scotland, track down the German blockade force (she also captured two of these), then escorted to the Atlantic. In late 1942 he joined New York for a short redesign, and then went to serve in the Indian Ocean and South Africa, based in Durban. On site, he served as a training ship for gunners. She then joined Colombo where he served as a floating headquarters until the end of 1944. In 1945 he returned to France and was disarmed.
| | |
| --- | --- |
| Dimensions | 137.20 m long, 13 m wide, 5 m draught. () |
| Displacement | 4200 tons standard -5320 tons Fully Loaded |
| Crew | 470 |
| Propulsion | 4 propellers, 4 Parsons turbines, 6 Yarrow boilers, 40,000 hp. |
| Speed | 29 knots. |
| Range | 6000 nm @ 10 knots. |
| Armament | 6 x 102 mm DP (3×2), 8 x 40 mm Bofors AA (2×2, 4×1), 15 x 20 mm AA. |
| Protection | Belt 25-75 mm, decks 25 mm, Masks 25 mm (1 in), CT 152 mm (6 in) |
Ceres class (1916 program)

HMS Curacoa in 1941 as AA cruiser.
The Ceres class succeeded to the Caledon, actually the last of the "C" superclass standard light cruisers of the Royal Navy during the Great War. The Ceres group consisted of 5 ships ordered in 1915, launched in 1916-17 and in service by 1917-18. Their bow was judged "wet" (as they tended to plow in heavy weather). Their superstructure was taller and their armament was still composed of '6-6', of six-six inch guns (152 mm) in simple masked mounts originally. However their wider hull allowed to install the front one on a superfiring position.
Their career was long since they participated in both the first and the Second World Wars. So in 1945 they truly were veterans of two wars. In May 1935, the Curlew and the Coventry were taken in hands for reconversion into AA cruisers, with ten 102 mm in single mounts, and 8 bofors. The Curacoa followed the same reconversion in 1940, but with four twin turrets of the same model as the Dido class. A quadruple bofors was placed on the forward superfiring position.
The other two served unchanged, although receiving a huff-duff antenna and some modern amenities, as well as 20 mm AA guns. HMS Curlew was sunk in Norway, the Coventry in front of Tobruk and HMS Curacoa in October 1942, after a fatal collision with the Queen Mary.
Characteristics
As Caledon but 4200 t. standard and 5020 t. fully loaded, 137.20 m long, 13.3 m wide, 4.5 m draft. Armament (ww1, same but two 2-pdr Pom Pom AA) 8 x 102 mm DP (4×2), 6 x 40 mm (1×4, 2×1) AA, 5 x 20 mm AA during WW2.

HMS Coventry in 1940 and 1941 – Credits: Unknown, from Pinterest.
HMS Ceres
In July 1917 HMS Ceres joined the 6th Light Cruiser Squadron, Grand Fleet. She went to the 3rd Light Cruiser Squadron in 1919 in the Mediterranean and in 1920 was present in the Black Sea against the "Reds". On 30 March 1923 she collided with USS Fox and in 1927 was back to the Home Fleet. Until 1931 she was refitted and placed in reserve. Back in the Mediterranean Fleet in 1932, but in reserve again to be recommissioned in 1939, and used on the Northern Patrol from the Denmark Strait to Greenland. In January 1940 she was refitted in Belfast, and sent to the Mediterranean.
She made patrols in the Ionian Sea or off the Greek coast, intercepting axis ships. By April-May 1940 shre was sent through the Suez Canal, to the Indian Ocean. Based at Singapore she tried to help the Dutch fleet against Japanese incursions. She was later based at Colombo and later Bombay to escort tankers bound to Aden. Later she evacuated troops from Somaliland on the east coast of Africa, was on escort duties between Durban and Cape Town, and patrolled from the Seychelles. In August 1940 after the Battle of Tug Argan she bombarded the pursuing Italian troops, evacuating more British forces. She was present for the return match in Somaliland, and blockaded Kisimayu with other ships.
In 1942 she escorted a large convoy WS-14 to South Africa from the U.K., operated in the red sea, Persian Gulf, and was back in drydock at Simonstown for three month, modernized, converted as an anti-aircraft cruiser. She returned to Aden and participated in the fall of Djibouti. She was back in drydock at Devonport in October 1943. She was then used as a "station ship" based at the Royal Naval College in Dartmouth and in 1944 modernized again. She served as a liaison ship with the US Navy, US Task Force 127 during the landings of Normandy, and made rotations to and from Omaha Beach. She became later a Shuttle Control Command for landings areas. She returned homes in August 1944 but saw little service afterwards dueto her age, sold for scrap in July 1946 with 29 years of service.
HMS Cardiff
Cardiff was mostly active during WW1, her WW2 career was mostly blend. She served with the Grand Fleet and participated in the Second Battle of Heligoland Bight. She was also deployed to the Baltic, late 1918 in support of anti-Bolshevik "whites" during the civil war and campaign in the Baltic. She was sent to the Mediterranean Fleet in early 1919, and served in the Adriatic Sea. Back to the Black Sea in 1920, again in support to the "Whites", she returned home but spent most of the interwar overseas or in reserve.
When World War II broke out she was initially deployed to the Northern Patrol, 12th Cruiser Squadron, searching for German blockade runners. This included the Norwegian sea and between the Shetland and Faeroe Islands. She also searched for the Gneisenau and Scharnhorst, whih slipped through after sinking the Rawalpindi.
She became a training ship afterwards, already in late 1940 and was mostly inactive until the end of the conflict. However she has been modernized, fitted with six 20 mm Oerlikon AA guns and a Type 290 surface-search in April 1942 and the next year a Type 273 long-range search radar. She was paid off in 1945 and broken a yea after.
HMS Coventry
Launched 6 July 1917, completed in February 1918, HMS Coventry served with the 5th Light Cruiser squadron until May 1919, and in the Baltic during the Russian civil war. In May 1919 she was back into the Atlantic fleet and became HQ ship for naval Inter allied Disarmament Commission. Refitted in 1920, 2nd Light cruiser squadron as flagship of Rear-Admiral [D], Mediterranean Fleet (Andrew Cunningham) she duiffered a torpedo explosion in Gibraltar, March 1923 with two killed. In 1939 HMS Coventry served with the Home Fleet between 1939, damaged on 1 January 1940 in a German air attack (Shetland Islands). Assigned to the Mediterranean fleet she was torpedoed and damaged by the Italian submarine Neghelli, eastern Mediterranean. She was repaired and later participated in the Battle of Cape Spartivento.
However she would met her fate later, on 18 May 1941. Indeed the first Victoria Cross of the Mediterranean campaign was awarded posthumously to Petty Officer Alfred Edward Sephton for "great courage and endurance". HMS Coventry was attacked by Stukas a day before off Crete, when in assistance of hospital ship Aba, herself attacked. Sephton was mortally wounded by machine-guns but stuck to his instruments and carried out until the end, passing out the next day. The ship survived near-misses, but was eventually attacked again off Alexandria, this time attacked by 16 German Junkers Ju 88s of I./Lehrgeschwader 1 (Joachim Helbig) during Operation Agreement. Several hits blasted her. She was evacuated and scuttled by HMS Zulu, 14 September 1942.
HMS Curacoa
She served first with Harwich Force but saw little action before the war ended. She swapped to the Atlantic Fleet in early 1919, but was soon in the Baltic to support anti-Bolshevik forces. She struck a mine during this campaign and had to return home for repairs. She left the reserve in 1920 to join the Atlantic Fleet until 1928, making a short sweep in the Mediterranean Fleet in 1922–1923 during the Chanak Crisis. She would return there in 1929. A training ship in 1933, she was reactivated fully in July 1939, and taken in hands to be converted into an anti-aircraft cruiser, back in service in January 1940.
She served in the Norwegian Campaign (April 1940), damaged by the luftwaffe, repaired, and sent in convoy duties around the British Isles for two years. By late 1942 she was rammed and cut in half by the ocean liner RMS Queen Mary, a tragic accident that saw the ship sinking rapidly, bring with her to the bottom 337 men. This was blamed later on the wild zig-zag pattern of the Queen Mary to escape possble U-Boat attacks.
HMS Curlew
Curlew was laid built by Vickers Limited, commissioned on 14 December 1917. She spent her early war career withot notable action, first with the 5th LCS, Harwich Force, wans sent to the Baltic to assist the "Whites" in 1919, back home to serve with the 1st LCS Atlantic fleet, and placed in reserve at Devonport in August.
Reactivated at Rosyth in April 1920 she was sent to the China station and recommissioned in 1922 to serve with the North America and Western Indies station, she also escorted the HMS Repulse on her 1923 royal tour.
Like most of her sisters, HMS Curlew was rearmed and transformed as an anti-aircraft cruiser very early, in 1935–36. She first served with the Home Fleet, participated in the Norwegian Campaign, but on 26 May 1940, she was attacked from German Ju 88s of Kampfgeschwader 30 in Lavangsfjord, Ofotfjord (Narvik). Several hits pierced her bottom and she filled up rapidly, fotunately all her crew but 9 sailors evacuated her and were able to swim to shore to safety when she sank.
Carlisle/Capetown class (1917 program)
Basically these ships were repeats of the Ceres class, five more ships being ordered in June-July 1917. The major apparent change was their raised 'trawler' bow. This was done to prevent spray blanketing the A and B guns. Laid down in Cammell Laird (Cairo, Capetown), Vickers (Calcutta) and Fairfield (Carlisle, Colombo) in October 1917 up to February 1918, launched from July 1918 to June 1919 they were nevertheless competed as too advanced for cancellation, in November 1918 for Carlisle up to April 1922 for Carlisle and therefore saw none of the great war.
They were slightly longer (about 40 cm), and had a greater displacement (100 tons more standard) and therefore a greater draught at 4.7 m (20 cm more). Identical armament-wise, they were completely revised and modernized during the second world war. They also had either Parsons turbines or Brown-Curtis ones (for Fairfield ships), rated for the same 40,000 hp and 29 knots as designed and carried 935 tons of oil. Crew was reduced to 432 instead of 460.
Instead they went on interwar years of service and served with distinction in WW2, loosing two in service, Cairo (torpedoed in August 1942) and Calcutta (Sunk in june 1941).
Characteristics
As Ceres but 4290 t. standard and 5250 t. fully loaded, 137.60 m long, 13.3 m wide, 4.7 m draught. Armament (ww1, same).
In WW2: 8 x 102 mm DP (4×2), 6 x 40 mm (1×4, 2×1) AA, 5 x 20 mm AA.
HMS Cairo
Cairo was in service too late to take part in WWI. She served as flagship for the China station from early 1920 until late 1921, and was sent later to the East Indies Station from 1921 to 1925. She returned to the China Station until 1927, then joined the 8th Cruiser Squadron, North America and West Indies Station. Until 1930 she joined the Mediterranean squadron as flagship -Rear-Admiral (D). Refitted in 1931–1932, she was back home with Home Fleet as Commodore (D). In 1939 she was taken in hands for a modernization and completion as AA cruiser.
During the war she took part in the Norwegian Campaign, damaged by the Luftwaffe off Narvik on 28 May 1940, loosing 10 crew in the action and out of action for two months.

HMS Cairo in Narvik
She was then sent to the Mediterranean, leading the escort of six cargo-ship from Gibraltar to Malta (Operation Harpoon), and fought numerous air attacks on the way. The convoy will also be attacked by an Italian light cruiser division coming from the Sicilia channel. Four cargos and two destroyers eventually were lost, HMS Cairo herself being hit by two 6-in rounds from Eugenio di Savoia, killing two.
In August 1942, she took part in Operation Pedestal. During the operation she was torpedoed and sunk by the Italian submarine Axum north of Bizerta, Tunisia, on 12 August 1942. Twenty-four seamen went down with the ship.
HMS Calcutta
HMS Calcutta was completed in August 1919 and joined the 8th Light Cruiser Squadron, North America and West Indies Station, as Flagship. In March 1920, she assisted and rescued the American cargo ship SS Balabac catching fire in Spain harbour. She remained on the North America and West Indies Station until 1926, sustaining structural damage after being dashed against a jetty in Bermuda by a hurricane in October. The hurricane also claimed the sloop Valerian. She was repaired afterwards and placed in reserve, recommissioned on 18 September 1929 as flagship, 6th Cruiser Squadron, the Africa Station (Simon's Town, South Africa until paied off into reserve in 1931.
In 1938 She was rebuilt as an AA cruiser as Chatham Dockyard. This conversion included the removal of all of her guns and torpedo tubes while four twin QF 4 inch Mk XVI turrets were fitted instead, with in addition the combination of a quadruple 2-pounder pom-pom and two quadruple Vickers .50 machine guns. Conversion was completed in July 1939 and she joined the Home Fleet in August 1939, and September allocated to the Humber Force. From there, she multiplied escort missions.
By April 1940, she was deployed in Norway in 22–23 April and along with the cruiser Birmingham and destroyer Maori, sloop Auckland and French destroyers Bison and Foudroyant, she escorted the French troopship Ville d'Alger landing troops at Namsos, despite thepoor weather. On 30 April she covered evacuatations of allied troops from Åndalsnes. Calcutta and Auckland later evacuated the rearguard in the night of 1/2 May 1940, Calcutta herself embarking 756 men.
In May 1940, HMS Calcutta took part in Operation Dynamo, evacuating 656 troops on the night of 27/28 May 1940 off La Panne and 1,200 troops the next night, and off Dunkirk 31 May/1 June, damaged by near-misses. She took part in Operation Ariel, second half of June 1940 for the remainder of British forces, notably as far as Saint-Jean-de-Luz, near the border with Spain in 23-25 June. On the 25 June HMS Calcutta collided with Fraser off the Gironde estuary, cutting the destroyer in two but the British cruiser was undamaged, saying a lot about her reinforced bow. Fortunately, they were no victims, all were rescued by th second Canadian destroyer.
On 30 August 1940, Calcutta was at Gibraltar for Operation Hats, to be sent strengthening the British Mediterranean Fleet in Egypt, and escorting a supply convoy to Malta. She became part of Force F, saling with HMS Coventry and HMS Valiant, reaching Malta on 2 September, and Alexandria on 6 September. On 8 October 1940, she formed the escort of Convoy MF.3 to Malta and return convoy MF4. She assisted the Warspite, Valiant and Barham bombarding Bardia on 3 January 1941, took part in Convoy MW5 while Operation Excess was ongoing and later Operation Lustre later.
In april she took part in Operation Demon, the evacuation of British and Commonwealth forces from Greece. From 6 and 12 May, she departed from Alexandria for the escort to Malta-bound, convoy MW7 and later took part in Operation Tiger (Gribraltar-Egypt). In may 1940, Forces B, C and D were deployed to the north of Crete to intercept German invasion convoys. She joined Force C on 21 May quickly attacked by axis aviation. They were repelled again when trying to intercept a convoy of Caïques carrying German troops to Heraklion. By 27 May she was back to help evacuate troops from Skafia together with Coventry, Phoebe and Perth; When back on 1st June from Alexandria, Calcutta was attacked by two dive-bombing Junkers 88s from Lehrgeschwader 1, 100 nautical miles (190 km) off, hit by two bombs. She sank, but 255 were rescued by the cruiser Coventry, 107 missing;
HMS Capetown
After completion at Pembroke, she served with the 8th LCS in the west indies, and so far she is the only Royal Navy cruiser to ever bear this name. She serve din the Mediterranean and red sea, and in October 1926 rescued the 20 survivors of the Arabis-class sloop HMS Valerian, foundered in the Atlantic, off Bermuda. She spent her carrer also in the eastern fleet between July 1934 until August 1938, but returned home for a refit.
Afterwards, when WW2 broke out she joined the Mediterranean fleet in August 1940 and was torpedoed and severely damaged by the Italian MAS 213 off Massawa, 6 April 1941, loosing seven. She spent one year of repairs in Bombay and returned to serve the eastern fleet until 1943. She returned home for a short refit, participated in the Normandy landings, but soon was used as a Shuttle Control/Depot ship at Mulberry A, keeping the Army informed arrivals and directing these to unloading sectors. She was sold for BU in April 1946.
HMS Carlisle
She joined Harwhich force just when the armistice was out, 5th Light Cruiser Squadron. In March 1919 she joined the China station, up to 1923. She was back later in home waters; On 3 March 1921, she assisted the Singaporean liner SS Hong Moh ran which aground off Lamock Island, Swatow (China) with about 900 to 1,000 losses. She was only discovered the next day and 45 survivors were rescued with the HMS Foxglove arriving on 5 March failing to reach her, Carlisle joining her on 6 March and onto 7 March, and departed with 221 survivors aboard. Commander Ion Tower and Gunner John G. Dewar were awarded the Board of Trade Silver Medal for Gallantry.
Carlisle returned home for a refit in 1921 (another took place in 1929) and served on the Africa Station, 6th CS. In 1930 she joined the 2nd cruiser squadron Atlantic (Home Fleet). In March 1937 she was placed in reserve, but taklen in hands for conversion in June 1939 as AA cruiser (8x 4-in QF MK16, 1×4 Pom-Pom), completed in January 1940 together with the fitting of a Type 280 radar, the first naval vessel with an anti-aircraft fire control radar system in the world.
She served during the campaign Norway on escort duties, troop convoy (Operation Sickle). In August 1940 HMS Carlisle served in the Red Sea and Gulf of Aden, evacuating troops from from Berbera (British Somaliland), then she joined the Eastern Fleet in August 1940; and later assigned to the Mediterranean Sea, and arrived by March 1941. She served with the 15th Cruiser Squadron (convoys from Alexandria to Greece, Operation Lustre), participated in the Battle of Cape Matapan, first and second battles of Sirte.
She also took part in the Battle of Crete in 1941, badly hit by the Luftwaffe on 22 May. The commanding officer, Capt. Thomas Cloud Hampton, was killed. The destroyer HMS Kingston gave assistance. The cruiser pater rescued the survivors of the SS Thistlegorm, sunk in 5 October 1941. In December 1941 she served between Alexandria and Malta, and in July 1943, covered the Allied invasion of Sicily.
In September–October 1943 she served in the Aegean Sea, with HMS Panther and HMS Rockwood, intercepting German convoys in the Scarpanto Strait. On 9 October she was attacked by German Ju 87 dive bombers from Megara and seriously damaged. She was towed to Alexandria but was judged a total constructive loss was was summarily repaired to be used as a base ship in Alexandria in March 1944, hulked in 1948, broken up in 1949.
HMS Colombo
HMS Colombo was in service with the 5th LCS at the China station until 1922 and joined the 4th LCS in the West Indies. She has been names after the capital city of Ceylon (Sri Lanka) at Fairfield Shipbuilding and Engineering Company. After her service in the Eastern Fleet until 1926, she joined the North American and West Indies Station until 1932 and was back to the Eastern Fleet in 1932-1935, returned to the UK, placed into reserve.
She served for the duration of the war, first with the Home Fleet, capturing the German merchant ship Henning Oldendorff SE of Iceland. She also served in Eastern Fleet until June 1942, underwent a refit June 1942 and conversion into an anti-aircraft cruiser until March 1943. She served without notable event and and was sold for BU 22 January 1948.

HMS Calcutta in 1941 – Credits: Unknown, from Pinterest.
Sources/read more
http://www.historyofwar.org/articles/weapons_caroline_class_cruisers.html
Conway's all the world's fighting ships 1906-1921 and 1922-1947
http://www.dreadnoughtproject.org/tfs/index.php/Caroline_Class_Cruiser_(1914)
Jane's Fighting Ships of World War One (1919), Jane's Publishing Company
http://www.navypedia.org/ships/uk/brit_cr_caroline.htm
http://www.steelnavy.com/LaterCClass.htm
http://gb-navy-ww2.narod.ru/HTM-CL-C.html
https://en.wikipedia.org/wiki/C-class_cruiser
https://collections.rmg.co.uk/collections/objects/65990.html
British Cruisers: Two World Wars and After By Norman Friedman
British Light Cruisers 1939–45 By Angus Konstam