Design
In 1852, the Austro-Hungarian Navy's high command proposed the construction of a modern steam frigate, to be declined into a class of three vessels, the first built in Britain and the two others in Austria, bringing with it valuable technological and engineering lessons. SMS Radetzky and her sister ships Donau and Adria were modern frigates of the Austro-Hungarian Navy, a bit wider and shorter than the previous SMS Novara (1850). They were not built in Austria, which lacked large facilities and expertise to make them, but were ordered to Money, Wigram & Sons of London for the lead vessel.
The lead ship was named after nobleman and field marshal Joseph Radetzky von Radetz and launched in 1854. She participated in the Battle of Heligoland during the Second Schleswig War in 1864 and the Battle of Lissa, but sank due to the explosion of her powder magazine off Vis, Croatia.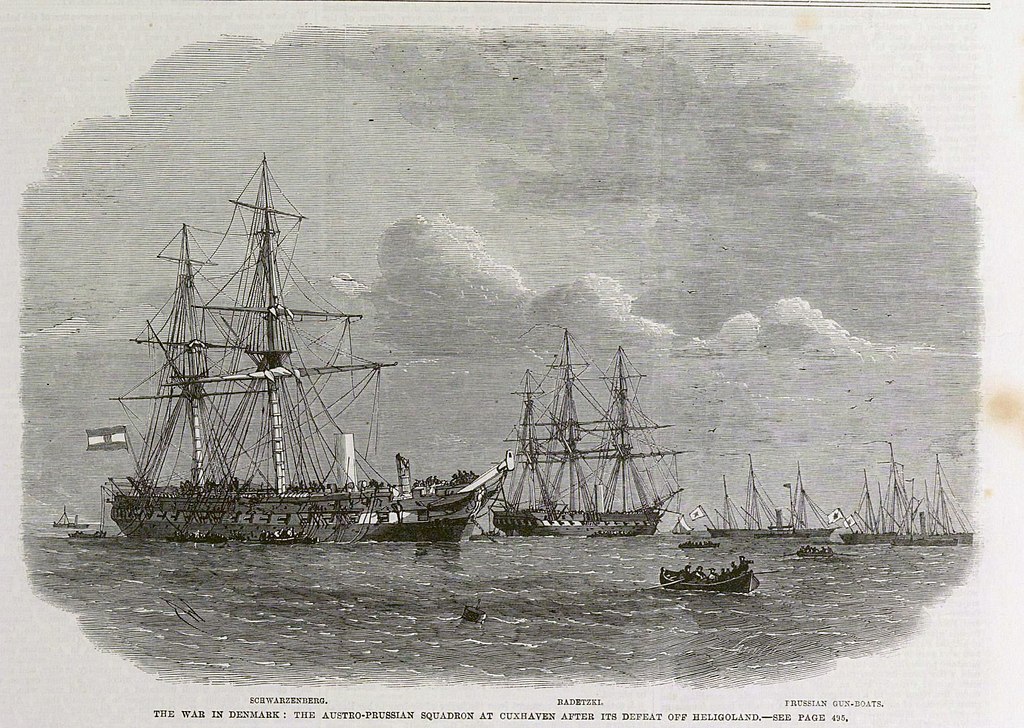 Austro-Prussian Squadron after its defeat, in Cuxhaven: SMS Schwarzenberg and Radtesky on the foreground.
The construction of the SMS Adria ordered at the San Marco Shipyard (Tonello brothers, Muggia) started when laid down in 1855. She was launched on 24 November 1856 in presence of Emperor Franz Joseph I and his wife Empress Elisabeth, from the corvette Kaiserin Elisabeth. She was completed in 1857 and entered active service in the k.u.k. Kriegsmarine on 1 July. Like her sisters she had a three square-rigging, bowsprit and mainsail for 2,711 m² total of sail area. She was propelled by the same horizontal cylinder drive unit on three shafts, working at 300 PSi for a top speed of 9.5 knots (17.59 km/h). She was a bit larger than the lead ship at 2,198 tons standard and 2,430 GRT, 64.02 m long for 13.09 m in beam and 5.2 m of draft. Her crew comprised 368 officers and ratings.
Her armament when completed was four 60-pdr howitzers, twenty-four 30-pdr mortars, three breech-loading 24-pdr pieces, and two swivel-mounted 2-pdr for close quarters, plus ample provision of rifles and grenades.
As for SMS Donau, she was also ordered at the San Marco Shipyard, of Tonello bros. in 1853, but laid down in 1855 at the "Squero Cadetti". She was launched on 20 November 1856 in the presence of Archduke Maximilian of Habsburg. Completed in 1857 she was soon under service. Her specifications were the same as SMS Adria, but with a 2,334 tons displacement, 3 shafts and the same steam engine capable of 9 knots (16.67 km/h) and a Crew of 368. Her armament was the same until upgraded in 1864 (see below).
1857 Specifications

Dimensions
56(wl), 69(oa) x 12 m x 5 m
Displacement
1,570 t
Crew
294
Propulsion
1 shaft HT 2cyl, 2 Boilers 8 kts
Armament
16x 30lb, 4× 60-pdr Paixhans, 2× 24-pdr, 2× 4-pdr
Src/Read More

Adria on it.wikipedia.org
Donau on it.wikipedia.org/
"Southampton". Evening Mail. No. 13153. London. 14 April 1854. p. 5. Retrieved 5 December 2022 – via British Newspaper Archive.
"Nsval and Military Intelligence". The Sun. No. 20013. London. 11 August 1856. p. 4. Retrieved 5 December 2022 – via British Newspaper Archive.
"Military and Naval Intelligence". The Times. No. 22488. London. 2 October 1856. p. 10. Retrieved 5 December 2022 – via Gale.
"The Austrian frigate Radetzky". No. Volume: 54, Issue: 1529. The Illustrated London News. 13 March 1869. p. 269. Retrieved 18 April 2021. "The terrible disaster which happened on the, 20th ult. to the Austrian frigate Radetzky, by the blowing up of the powder-magazine and total destruction of the ship, while cruising off Lissa, in the Adriatic, has been mentioned in this Journal. Only twenty three men were saved, and most of these had suffered more or less injury. The Radetzky, which was built in England, was a wooden frigate of 1826 tons, 300-horse power, and 30 guns, and had 368 men on board, mostly recruits. This ship took an active part in the fight against the Danes before Heligoland in 1864. She was not engaged in the naval battle of Lissa in 1866, but most of the officers on board were; and Captain Danfalik, who commanded, was there on board the ship Donau"
Chesneau, Roger; Kolesni, Eugene. Conway's All the World's Fighting Ships: 1860–1905.
Scotti, Giacomo. Lissa, 1866. La grande battaglia per l'Adriatico. Trieste, Lint.
"SMS Graf Radetzky (+1869)". Wrecksite. 2017-06-04.
D. Zeljko Selak (2014-04-26). "Commemoration and scientific conference 'Viški memento' held". hrsvijet.
"Last Clash of Wooden Warships: Heligoland 1864". Iron Mike Magazine.
SMS Radetzky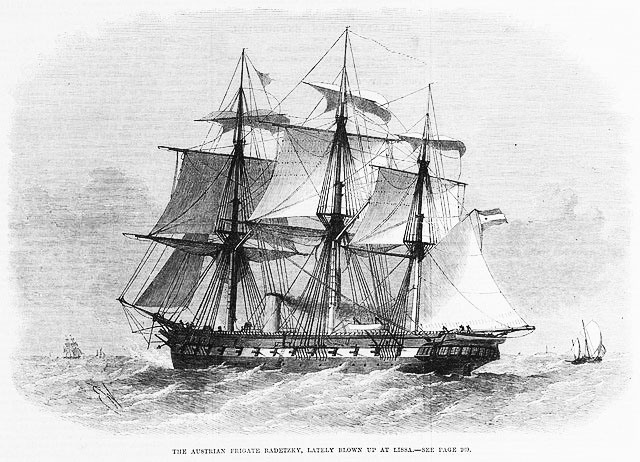 The construction of SMS Graf Radetsky from the British shipyard Money, Wigram & Sons in London in 1852, was followed by a launch on 13 April 1854, and she entered service in the k.u.k. Kriegsmarine in September 1854, arriving in Trieste on 11 November. She was in maintenance in 1859 and by the autumn of 1860, under command of Lieutenant Commander Wilhelm von Tegetthoff she sailed in Syrian waters.
By 1864, she took part in the Second Schleswig War, in von Tegetthoff's naval squadron sent in the North Sea to coalize with the Prussians to break Denmark's naval blockade against Schleswig-Holstein and from March 8, all Prussian ports. With SMS Schwarzenberg which acted as flagship she took part in the battle of Heligoland on May 9 against the Danish naval squadron (Commodore Eduard Suenson).
Later she took part in the third Italian War of Independence, under command of Captain Josef von Aurnhammer, assigned to the 2nd Division (Anton von Petz) of von Tegetthoff's naval squadron and took part in the battle of Lissa in 1866 (all three of the class took part). She was engaged against Italian units from RADM Admiral Giovanni Vacca's division. She survived the battle with very few casulaties and returned to her peactime duties.
She was the first of the class to be lost, due to an internal explosion at 10:00 on 20 February 1869, off Lissa Island, killing 344 of her crew of 368. Her wreck was rediscovered by Croatian navy minesweepers HRM Korčula in 2014, under 90 m near the island of Vis.
SMS Adria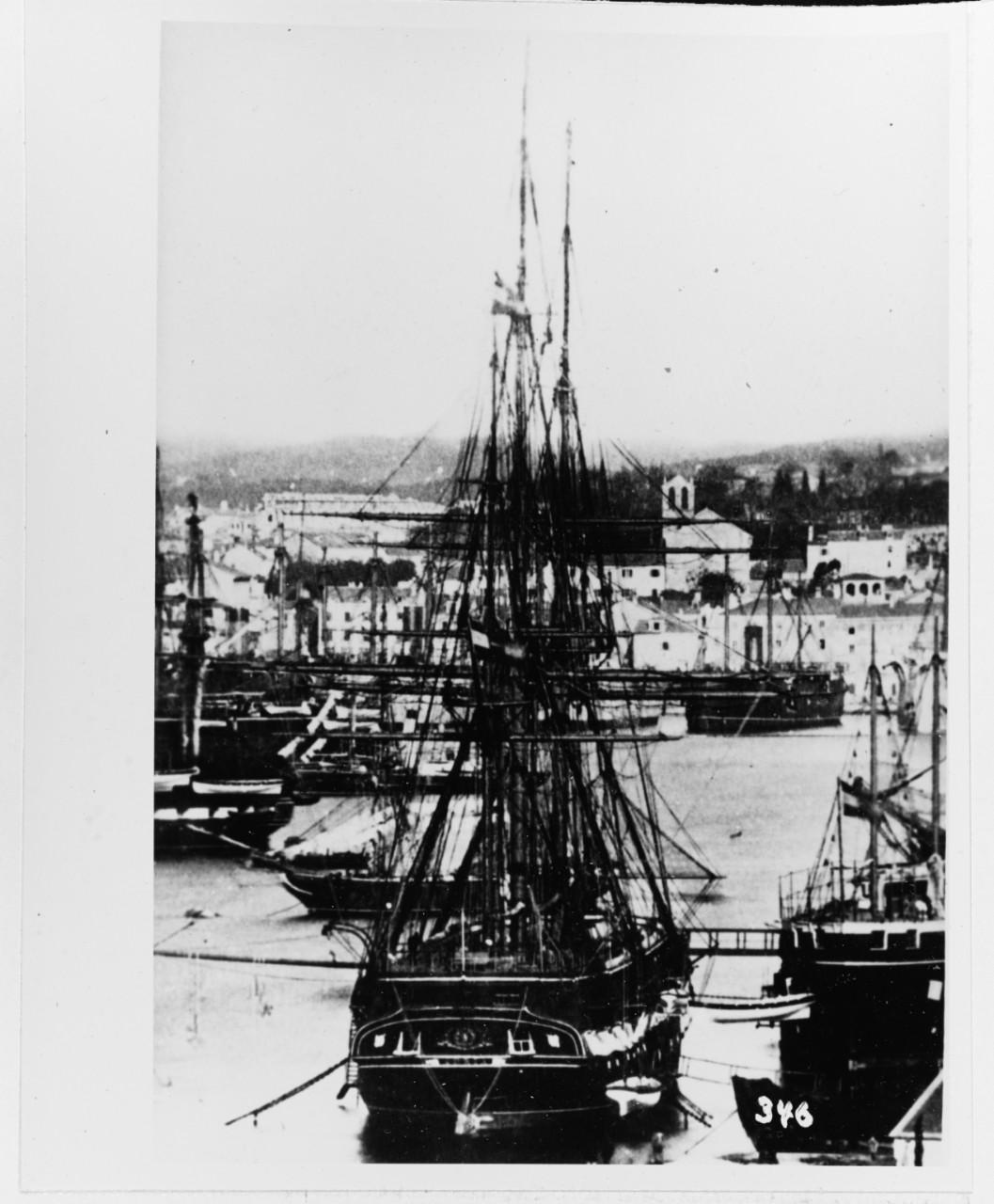 On July 20, 1857, Adria left the harbor of Trieste for the squadron's summer maneuvers, stopping at Brindisi, Naples, Livorno, Alexandria, Corfu, and back to Fiume on 29 september. By April 1859, she took part in the second Italian war of independence, present in the Spignon Canal and Malamocco when blockading Venice. In 1861, she took part in the blockade of Durazzo, and in 1863 became a training ship for naval cadets.
In 1866, she was involved in the Third Italian War of Independence assigned to the Second Division, under command of Commodore Anton von Petz and Rear Admiral Wilhelm von Tegetthoff's Naval Squadron. On July 20, under command of Fregattenkapitän Adolf Daufalik she took part in the battle of Lissa, firing 221 shots and receivinh 27 hits in return for the loss of only two crewmen, three more seriously injured, two 2 lightly wounded.
On 1 October 1868, she returned to her cadet instructional duties and made a cruise with the Marineakademie in Rijeka. Departing from Fiume, she stopped in Pola, Messina, Naples, Zara, Lissa, and back to her gome port. Later she had her artillery modified with newer guns to serve at the Pola Artillery School as a gunnery training ship. On 1 August 1870 she was disarmed and stricken. Hulked, by December 1872 her boilers machineru and funnel were all removed, the bridge was covered by a fixed wooden roof and she served for 18 years as a floating barrack. By 1st October 1 1888 at last she was sold for BU.
SMS Donau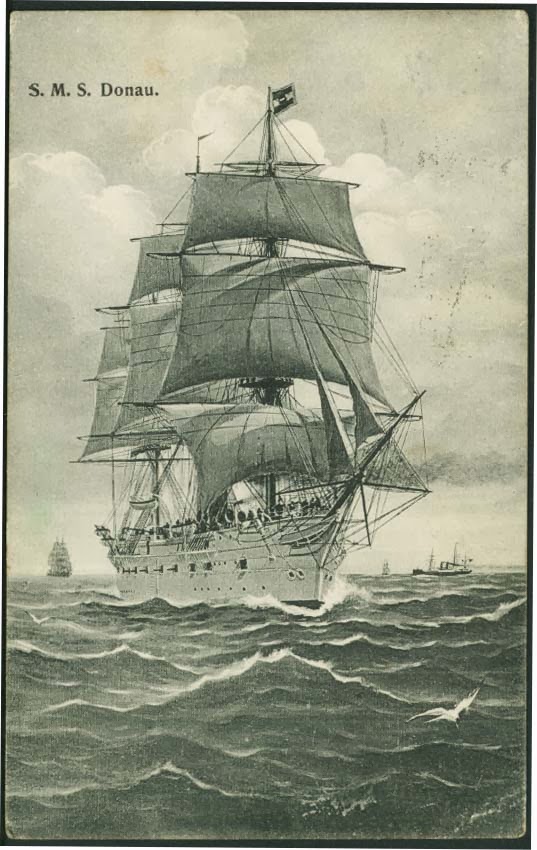 Her early years of service since 1857 were without notable incident, she took part in cruisers and yearly manoeuvers with the fleet squadron. She underwent a modernization between 1863 and 1864 with an all-new armament of six Paixhans 60-pdr guns, forty 24-pdr smoothbore guns and four 24-pounder breech-loading rifled guns. In 1866 after the outbreak of the Third Italian War of Independence, she was part of the Second Division commanded by Commodore Anton von Petz as part of RADM W. von Tegetthoff's Naval Squadron.
She was commanded by Maximilian von Pittner during the battle of Lissa, only loosing a single crew member, Marsgast August Arnold.
Between 1868 and 1871, she carried out an educational and diplomatic trip to Japan, with the corvette S.M. Erzherzog Friedrich. She made several Mediterranean cruise, the last being made between 30 June and 15 September 1872 with students of the Naval Academy aboard. When back, she was directly laid up and scrapped.