Gneisenau (Type 138) class Frigates (1958)
Bundesmarine (1958-68)
FG 212, 217, 218 Gneisenau, Raule, Brommy
Bundesmarine's modernized British Hunt Frigates
As part as the rearmament of the newly created Bundesmarine in 1955, as West Germany was now part of NATO, ex stock WW2 allied ships were transferred (purchased with the help of MDAP funds), and among these, a number of British Frigates: Namely three Hunt-class vessels, and four Black swan class vessels (Graf Spee, Scharnhorst, Hipper, Scheer). Despite their short career they were extensively modernized in Germany, and used a bit as floating laboratories for the latest electronic equipments, and superstructures, to the point they probably were the most complete and exhaustive conversions of British frigates during the cold war, ever. But despite of this they only served for ten years.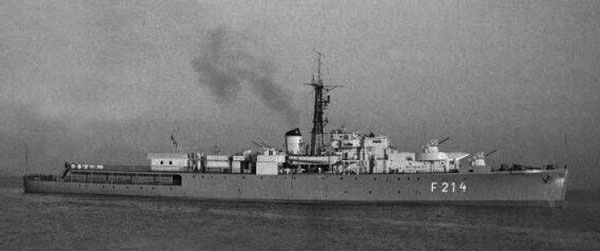 F214 Hipper in 1960, note the two-tone north sea livery.
In this post, we are going to see how these ships are going to be overhauled and gradually modified and their short active service in the Bundesmarine. Gneisenau was quite different than Raule and Brommy, but by convenience since they were based on the same ships, we are seeing them in one go.
About the names: Count August Neidhart von Gneisenau (1760-1831) was a famous Prussian general during the Napoleonic wars and his name was already given to another Frigate, in 1879 and a 1906 armoured cruiser sunk in the Falklands. Of course the name was famously taken by the Kriegsmarine's fast battleship of 1937, sister-ship of KMS scharnhorst. Perhaps too much linked to the third reich, for political reasons in the new West Germany, this name was not given to a first rank vessel, like a missile destroyer, but rather to a more modest frigate.
-"Raule", however honored Benjmain Raule (1634-1707), a shipowner and naval director, a more surprsing choice.
-"Brommy" honored Rear Admiral Karl Rudolf Brommy (1804-1860). From November 1937 to 1944 there was a ship in the Kriegsmarine also called Brommy: The minesweeper M 50 commissioned for the Imperial Navy in 1916. She which was still used to clear minefield until 1921 and in 1933-1936 was back in service for the Reichsmarine, in 1938 a flotilla minelayer escort, lost in June 15, 1944 in an air raid off Boulogne-sur-Mer.
The Type 138 school Frigates: context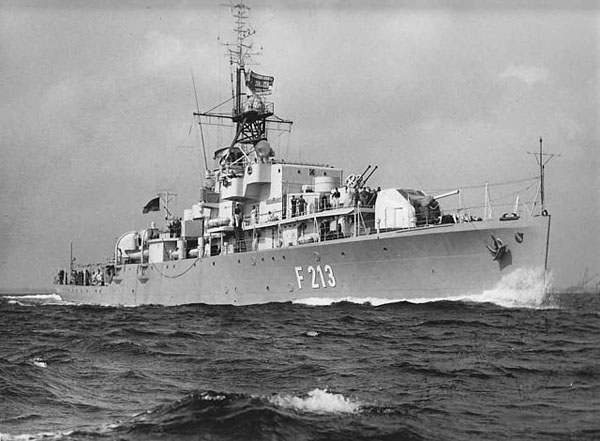 F213 Scharnhost
On May 16, 1956, the Department VII, forerunner of the later naval command staff in the Federal Ministry of Defense located in Bad Godesberg, asked Department X (Defense Management and Technology) to procure seven British "Corvette type schoolships" for the German Navy, that needed to be conversed into school frigates. The British Admiralty offered the sale of frigates after the West Germany joined NATO in May 1955, so seven frigates in service with the Royal Navy between 1939 and 1946, veterans (but one Black swan vessel) all participated in World War II, were purchased, in November 1957.
In August 1959, the MoD determined the exact total procurement costs, including modifications for all seven frigates (at DM 70,050,000). From 1964 to 1968 however all these school ships were decommissioned and scrapped until 1990, some seeing other roles in between or being mothballed.
The seven Type 138 were quite different, almost on a per-unit base. Most authors separate them into four sub-classes. As a result, their technical data is also divergent. There were three Hunt-class escort destroyers already belonging to different types: HMS Oakley was a Hunt II while HMS Albrighton and HMS Eggesford were of the type III. Also the four Black Swan class sloops, HMS Flamingo being of the first version and HMS Hart, HMS Mermaid and HMS Actaeon were of the improved late war type. Technical differences further increased as a result of various modifications during their service, ending in an interesting but complex subject.
From October 1958 to May 1959, after conversion in British shipyards, the frigates entered service in the German Navy under a misleading, but easier, generic term of "class 138 school frigate" ("Schulfregatte Klasse 138"). They were named after former members of armies and navies of Prussia and Germany. In service these seven vessels were subordinate to the Naval Artillery School in Kiel. They worked also with the Naval Underwater Weapons School in Flensburg-Mürwik, and the Naval Locating School (MOS) in Bremerhaven. For the Bundesmarine as a whole, these seven ships nevertheless brought the required training to numerous Bundesmarine sailors and officers, until the Deutschland appeared on the scene, with its much larger dimensions and much larger armament, taking the task way better. At the end of the day, it's on the technical standpoint that these vessels were quite intertesting, as radical upgrades of thse WW2 vessels.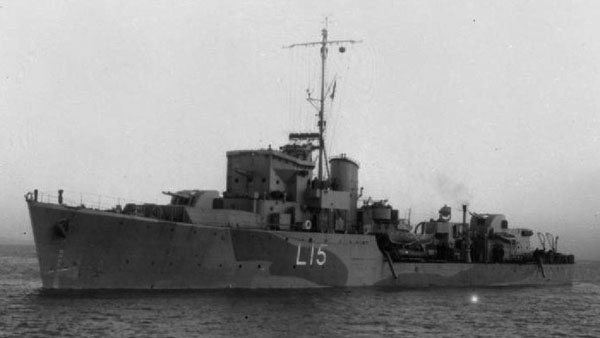 HMS Eggerton in 1944, after transfer she became the FGS 218 Brommy
FGS Gneisenau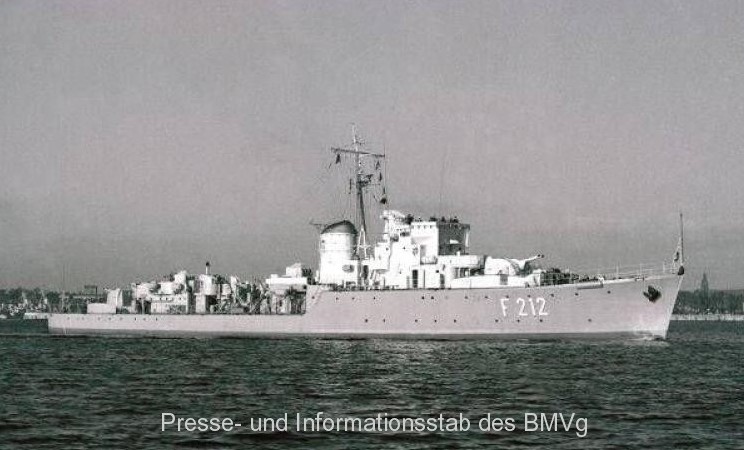 In May 1956, HMS Oakley was one of seven frigates selected for transfer to the new West German Navy, to be used specifically as training ships. They were the HMS Oakley, two more Type II Hunts and four Black Swan class, all to be redesignated Type 138 frigates by the Bundesmarine. HMS Oakley was purchased on 11 November 1957. She however was refitted at Harland and Wolff, Liverpool yard, before transfer on 2 October 1958. Re-commissioned as Gneisenau she was given the pennant F212, the designation being "FGS". The ceremony took place at Bremerhaven on 18 October 1958.
Gneisenau therefore served as part of the Naval Gunnery School with Scharnhorst (ex- HMS Mermaid). Early changes were made at that point: The fitting of stabilisers, a more modern radar, a new cowling cap for her funnel, plus two more modern 40 mm Bofors guns (see later);
Purchase of Gneisenau
What makes this class interesting, and not a mere mention in the Bundesmarine page, was the extensive range of modification they received, in particular the first, Gneisenau. As she arrived in 1958, Gneisenau was a British Hunt Tyupe II class escort destroyer. Forme HMS Oakley was laid down in august 1940 in Yarrow, Scotstoun, launched 1942 and active during WW2 and post-war as well, until put on the disposal list, purchased in 1957, renamed and designated Type 138 on 18.10.1958 for the Bundesmarine, after many adaptation and training, when commissioned.
In 1958 she was in "stock" conditions. Apart the radar and HFDF antennae which were modernized, in 1959 she kept the same general appearance and armament: Three twin 102mm/45 Mark 19 (4 inches), two forward and one aft, a single quadruple 40mm/39 Bofors behind the funnel, two 20mm/70 Oerlikon guns in single mounts, and two 40mm/60 Mk 7 Bofors, plus 2 Depht Charge Throwers, and three Depht Charge Racks with 60 depht charges in store and in the racks total.
1961 Modernisation of Gneisenau
On October 28, 1962, Gneisenau was decommissioned for conversion with the latest weapons systems of the German Navy. Modernization took place at Howaldtswerke Yard, Hamburg. In 1961 she had the aft superfiring 102 mm main gun (4 in/45 Mk19) removed and replaced by a single Breda-Bofors 40 mm/70 Type 107 while a second one was placed aft of the funnel, in place of the former short range quadruple 40 mm Bofors of WW2 pattern. Her mast was modified and she carried a new radar (unknown type) and communication suite. Her funnel was completely rebuilt and equipped with a new funnel cap, equipped at its aft end with two antenna cable structures. The ASW equipment was eliminated entirely at this point, freeing space. She became a training ship at this point, but in 1962 it was found she needed more modern accomodation, and moreover, more modern equipments and armaments to become a proper training vessel. Modernization plans for a partial rconstruction was drawn up and ready in early 1963. New armaments were purchased, as well as new sensors, to reflect more modern ships entering service in the Bundesmarine and properly train gunners on recent weapons systems and guidance. She had received a brand new forward superstructure bridge, quartedeck superstructures entirely modified, a new lattice mast to supper heavier radars of the DA02 model (main air warning radar) and the M40 radar aerial on the aft lattice extension, plus modernized navigation equipments. Her former armament was completely removed, to the exception of the two Breda-Bofors;
Details of Gneisenau in 1964
100mm/55 Mle 1953: The 100 mm/55 (3.9″) Modele 1953 was French, it was also adopted for the training frigate Deutschland, the Hamburg and Köln classes. More on navweaps
Breda-Bofors 106/107: As modernized, Gneisenau was given a twin Breda-Bofors 106 aft of the quaterdeck, replacing the former dual purpose 4-inches (102 mm/45 Mk 19), and the former two single 40mm/70 Breda-Bofors 107 under mask which kept their former positions.
Late career
As rebuilt, she was recommissioned on March 5, 1964 and from 1965 she was relegated as stationary training ship, until decommissioned on June 30, 1966. Assigned to the reserve flotilla in 1968, she was mothballed. On September 30, 1972, Gneisenau was stricken from the Bundesmarine list. From November 20, 1972, she was stationed at the naval arsenal Wilhelmshaven as a spare parts reserve for the others. In October 1976, she was sold for scrap. In January 1977 she was broken up in the Netherlands. Parts survived, like her main ammo supply computer, which is now in the computer science collection of the University of Erlangen-Nuremberg.
⚙ Specifications: Gneisenau 1965

Displacement
1,070 long tons, 1,450 long tons FL
Dimensions
85,3 oa x 9.6 x 2.51m (280 x 33 x 11 feets)
Propulsion
2 shafts Parsons geared turbines, 2 admiralty 3-drum boilers, 19,000 shp (14,000 kW)
Speed
27 knots (50 km/h; 32 mph)
Range
3,600 nmi (6,700 km) Type II, 2350 nmi (4350 km) – Type III
Armament
100mm/55 Mle 1953, twin 40mm/70 Breda-Bofors 106, two 40mm/70 Breda-Bofors 107
Electronics
DA02, M40 radars
Crew
168
FGS Raule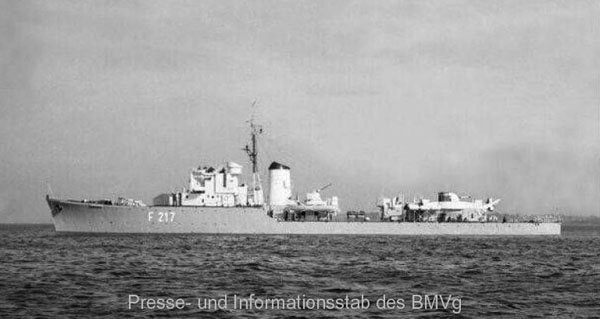 F217 Raule in 1960
The German Navy obtained HMS Albrighton, a Hunt Type III, which became as recommissioned the school frigate FGS Raule (F217). She entered service on May 14, 1959, assigned to the Naval Underwater Weapons School. From the autumn of 1961, Raule became a cadet training ship. From January 8 to March 17, 1962, she made a training cruise to the Mediterranean with her sister ship F218 Brommy. The latter was damaged in Dover, taking refuge here after being battered by a heavy storm. She stayed behind for repairs in Gravesend. Raule meanwhile carried on via Brest, then Gibraltar, Messina and Piraeus. Both vessels would be reunited off Saloniki. They sailed together via Malta, Gibraltar and Brest, back home (Flensburg), until March 17, 1963.
Raule was decommissioned in May 30, 1962. She was rebuilt until November 2, 1964, at the Howaldtswerke Yard in Hamburg. She received a forward four-tube 375 mm Bofors ASW rocket launcher, and a more modern Breda-Boford 40 mm/70 for self-defence. Her torpedu tubes were also shared by the class 101/101A destroyers, and class F120 frigates and Type 209 submarines. Recommisioned, she became a specialized ASW training ship operating from the western Baltic Sea, alternating between the Kattegat and Skagerrak. She made a cruise to Ireland, Norway and also the Netherlands in between. On December 20, 1967, Raule was decommissioned for good, mothballed then used as a target ship for a short time in 1970-1971. She was scrapped in Hamburg after being almost completely destroyed.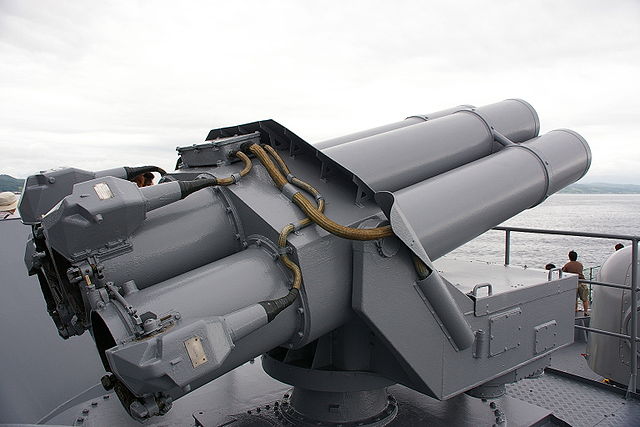 Bofors anti-submarine rocket launchers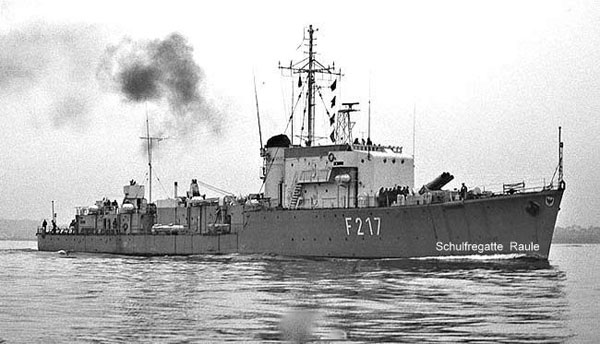 F217 Raule underway
Armament (1960)
Twin 102-mm-L/45-Mk-XVI-Geschütz
2x Torpedo Tube 533 mm (21 inches)
1×4 Hedgehog 375 mm Bofors ASWRL
FGS Brommy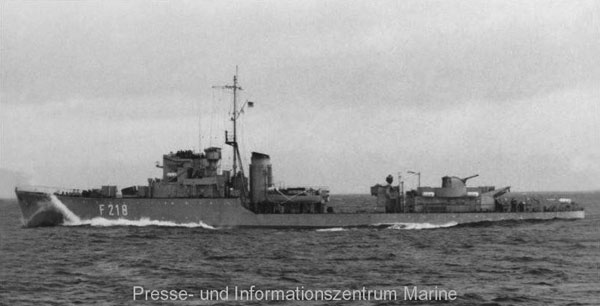 F218 Brommy in 1959
HMS Eggesford was one of the seven destroyer escorts of the Royal Navy purchased by the Government for the Bundesmarine to serve as training ships. She was, like Raule, of Type III and became after recommission in 1959 the school frigate Brommy, assignd to the ASW weapons school in Eckernförde.
Brommy made cruises abroad from Norway to the north to Crete in the Mediterranean. For her first cruise she sailed with the school frigate Scharnhorst from January 16 to March 24, 1961. They went through Portsmouth and Cadiz to Messina via Gibraltar, also stopping in Porto and Le Havre when back home. In August 1961, she made a second trip in replacement for the school ship Bremse. She operated with the schoolship Biene, ex-M 205, and the Brummer, ex-M 85, meeting in Seville. The squadron was back to Kiel on September 22, 1961, stopping on the way to Bayonne, Liverpool, Edinburgh and Calais.
From January 8 to March 17, 1962, Brommy made a spring cruise to the Mediterranean Sea, arriving in Saloniki, Greece, with her sister ship Raule. In this particular trip she was delayed by repairs after a storm doing some damage onboard. She made two others, shorter cruises in 1963-1964, notably to Norway and the Netherlands. On April 30, 1965, Brommy was eventually decommissioned. However unlike the two other Hunt-based Type 138 Frigates, it was decided not to modernize her. She was used instead directly as a target ship for the new Bundesmarine's Fast Attack Crafts, in the Bay of Biscay from 1972 to 1977. In 1979 she was eventually scrapped in Wilhelmshaven.
Read More/Src
Günter Kroschel, Klaus-Jürgen Steindorff: Die Deutsche Marine 1955–1985, Schiffe und Flugzeuge (1985)
J. Gardiner, Conway's all the worlds fighting ships
Hans H. Hildebrand, Albert Röhr, Hans-Otto Steinmetz: Die deutschen Kriegsschiffe: Biographien – ein Spiegel der Marinegeschichte von 1815 bis zur Gegenwart.
(Pdf) Comparison between the Bundesmarine and GDR navy
https://www.seaforces.org/marint/German-Navy/Frigate/Gneisenau-class.htm
https://www.globalsecurity.org/military/world/europe/
http://www.navweaps.com/Weapons/WNGER_Main.php
https://www.navypedia.org/ships/germany/ger_es_gneisenau.htm
https://www.navypedia.org/ships/germany/ger_es_raule.htm
https://de.wikipedia.org/wiki/Schulfregatte_Klasse_138
https://www.bordhunde.com/html/bordhunde6_raule.html
On Bundesarchive (archived page)
https://en.wikipedia.org/wiki/Hunt-class_destroyer

Video: https://www.ardmediathek.de/video/schulfregatten-brommy-und-raule-stechen-in-see/ndr/Y3JpZDovL25kci5kZS9lY2NhODkwZS0xN2JmLTQxY2QtYWNiZS05NDE0MjE0YTc4YTM/
Model Kits:
None found ! If you purchase a Hunt class and did some "from scratch" additions and modifications, thanks to contact me !