Monmouth class armored cruisers (1906)

United Kingdom (1899-1906), 10 armoured cruisers:
Monmouth, Bedford, Essex, Kent, Berwick, Cornwall, Cumberland, Donegal, Lancaster, Suffolk.
The other County Class
These armoured cruisers bearing County names answered to the concern of well-armed and well-protected but cheaper ships, especially compared to previous Drake. The concern was to produce a series of armoured cruisers for half the price of a Drake-class.
Therefore a design was prepared and later sanctioned by the admiralty, voted, and a total of ten were ordered and aid down in various shipyards in 1899-1901, the largest armoured cruiser series worldwide at that time and a true symbol of the British Navy, and British industry might.
Unfortunately in this race for budget cuts, and to remain below the 9800 tons treshold, many sacrifices were made in terms of armor and armament, opening to many criticisms afterwards.
So much so that they came to be regarded as second-class armoured cruisers, evident from the too easy destruction of the Monmouth in a duel with the German Scharnhorst, supposed to be in the same category.

HMS Suffolk
Monmouth-class design
The Monmouth were much smaller than the drake, and recoignisable to their three funnels, sufficient for their reduced machinery. Ambitions were capped on these.
Contrary to usual armoured cruisers that were intended to fight in naval battles and bring supplementary artillery support or replace battleships in distant stations, these were given the role of protected cruisers, expected only to fight light cruisers and armed merchant ships. Therefore their main artillery was constituted only of 6 in guns, not the two usual pairs of 9.2-inch guns.
Instead of the usual heavy caliber turrets, both were given twin BL 6-inch (152 mm) Mk VII guns in turrets, the rest was spread between barbettes, two stages fore and aft and single ones in the center.
For torpedo boats, ten single QF 12-pounder (3 inch, 76 mm) 12 cwt guns and three QF 3-pounder (47 mm) Hotchkiss guns were arranged in the superstructures and decks.
For close-quarters, two single 18-inch (450 mm) torpedo tubes were fitted, one on each side, submerged. They were propelled by two shafts connected to two four-cylinder triple-expansion steam engines fed by 31 water-tube boilers rated for 22,000 hp, and a top nominal speed of 22 knots.
Protection comprised a belt 2–4 in (51–102 mm) thick, 0.75–2 in (19–51 mm) decks, 5 in (127 mm) barbettes, 5 in (130 mm) turrets, while the Conning tower was 10 in (254 mm) and the Bulkheads: 5 in (127 mm) thick.
Criticism
One of the numerous criticisms about these cruisers-on-a-budget, also the cause of the HMS Monmouth loss, was the inefficiency of the lower barbette guns, totally unusable in heavy weather.
Electrical guidance was one of their innovations, but finally proved a mistake. The twin turrets were too heavy and cramped. The configuration of the armour was inspired by that of the Cressy but reduced in places, especially on the decks, which made them sensible to long-range plunging fire.
The weight of the turrets compared to their hull height and lower draft gave them also a higher roll than expected. But in the end they were also recoignised as good steamers, very marine ships, and only three units did not not reached their trials nominal speed.
Suffolk managed to reach 24.7 knots. In a general way these ships for the most had relatively cushy careers, spent in convoy escort and hunting German merchantmen turned trade raiders.
Only Monmouth, sunk in action, and Cornwall, that avenged her by sinking the SMS Leipzig in the return engagement at the Falklands, did fought in battles.

Monmouth class diagram – Janes
HMS Monmouth
HMS Monmouth served in China, then was based in Pernambuco in August 1914. she was quickly assigned to Sir Charles Cradock's squadron in the Falklands and participated in the Battle of Coronel on 1 Nov. 1914. Her secondary artillery was totally ineffective in the heavy weather and she was sunk by Von Spee's squadron without any survivors.
HMS Bedford
HMS Bedford served in China from 1907 to 1910, and was lost at that time by hitting the reef of Quelpart Island in the China Sea. 18 men were lost during the rescue, and his hull was demolished some time later.
HMS Berwick crashed into HMS Tiger in 1908 during night exercises near the Isle of Wight. (He spurred and squeezed it) After a refit at Portsmouth, he rejoined the East Indies base at 4 Wing Cruisers.
He then rocked as a training ship from the base of North America from 1912 to 1914. At the time of the declaration of war, he began patrols in the South Atlantic and as of September captured the German freighter Spreewald. He then patrolled and escorted until the end of the war and was reformed in 1919.
HMS Cumberland
HMS Cumberland was sent to the declaration of war in West Africa. Based in Douala, he captured 10 German freighters. He spent the rest of his career starting in January 1915 in France, conducting patrols and escorts with the 6th Squadron of Cruisers in the North Atlantic.
HMS Donegal served in China and ran aground on a shallow reef off Suez. Repaired to Chatham in metropolitan France, he was then based in Devonport until 1909 before leaving for Gibraltar with the 4th Squadron of Cruisers. He collided with a freighter and destroyed one, the Volturno, with his artillery for training.
He was based at the time of the war in Sierra Leone with 3 Wing. In January 1915 he joined the 6th Squadron with the Grand Fleet. Then he sailed in November with the 7th Squadron escort convoys to Arkhangelsk. During the Battle of Jutland, he was posted to 2 Wing and then 9th, and in 1917 was escorting in the North Atlantic.
HMS Essex

HMS Essex served in the West Indies in 1914.
She was then sent to the North Atlantic until Nov. 1916, capturing two German cargo ships, and then returned to the West Indies Station. From January 1916 he was based at the Canarias Islands, capturing another cargo ship, and remained there until the end of the war.
HMS Kent
HMS Kent served in China and was based in the Malvinas within Admiral Cradock's squadron in August 1914. He was seconded from it but took part in the second battle of Coronel on 8 December, flowing KMS Nürnberg. Patrolling in search of the Dresden, he flushed it out and sank it off Mas a Fuera in Chile.
Later based in China, he returned to China in May 1915 and escorted him to the end of the war, returning to China. He then supported in 1919 the Japanese-American operations against the Blochevicks in Vladivostok. He returned to Hong Kong until his retirement in 1920.
HMS Suffolk
HMS Suffolk served for a long time in the Mediterranean. On the eve of the war, he was based in the Falklands at 4 Wing Sub, under the orders of Rear-Admiral Cradock, whose mark he bore.
In August he passed to Pernambuco, and participated in the hunt for the cruiser KMS Karlsruhe. From 1915 to 1916 he was based in the Pacific and then in China until 1918. In 1919, he was sent to support the Japanese-American forces in Vladivostock against the Russian Bolsheviks. Back in France, he served until 1920 as a training ship.
HMS Lancaster

Aft 6 in port casemates. In heavy weather the lower ones proved unusuable, as shown by HMS Monmouth duel with the Scharnhorst.
The HMS Lancaster served in the Mediterranean and the West Indies before 1914. In January 1915 she joined the 7th squadron of the Grand Fleet in metropolitan France. From 1916 to 1918 she was then based in the Pacific, then grounded in 1919 at Birkenhead.
HMS Berwick
HMS Berwick was named after a Scottish county, was laid down by Beardmore, Dalmuir shipyard on 19 April 1901, launched on 20 September 1902 and completed on 9 December 1903.
She was assigned to the 2nd Cruiser Squadron, Channel Fleet, and later transferred to the Home Fleet in March 1906. On 2 April 1908 she tragically rammed by accident the destroyer Tiger (which sank with 36 lives) during a night exercise in the Channel, off the Isle of Wight.
After a refit at Portsmouth until April 1909, she joined the 4th Cruiser Squadron, North America and West Indies Station. In September 1914 she captured the SS Spreewald, and patrolled for German raiders and escorted convoys until the end of the war. Her last station was with the 8th Light Cruiser Squadron in 1919.
HMS Donegal

HMS Donegal, was built at Fairfield Shipbuilding & Engineering, Govan shipyard, completed on 5 November 1903. She joined the 1st Cruiser Squadron, Channel Fleet. Then she headed for the China Station, but ran aground at Suez en route, and had to return to Chatham for repairs.
She was afterwards assigned to the Home Fleet in 1907, transferred to the 4th Cruiser Squadron (North America and West Indies Station), but collided with the merchant ship SS Malaga at Gibraltar in December. In 1912 she served with the Training Squadron of Home Fleet and was assigned to the reserve Third Fleet in August 1914.
After a new refit she was assigned to the 5th Cruiser Squadron, Sierra Leone, for convoy protection, then transferred to the 6th Cruiser Squadron, Grand Fleet in January 1915. At the fall of the year she was assigned to the 7th Cruiser Squadron, to escort convoys to Archangelsk.
In March 1916 she joined the 2nd Cruiser Squadron, and then the 9th Cruiser Squadron for Atlantic convoy escort. She was then affected to the 4th Cruiser Squadron again in 1917 to patrol the western Atlantic, and went on escorting convoys up to the end of the war, sold for scrap in July 1920.
HMS Cornwall
Cornwall was launched at Pembroke Royal Dockyard, Wales, and completed on 1 December 1904, assigned to the 2nd Cruiser Squadron (Channel Fleet). In the fall of 1906 she underwent a refit and became a cadet training ship in January 1908, with 4th Cruiser Squadron (North America and West Indies).
In 1911 she ran aground on Pinnacle Rock, Sable Island (Nova Scotia) while assisting HMCS Niobe, which also just had run aground too. Cornwall was repaired at Halifax and in 1913 was refitted in Devonport, completed in January 1914. She visited ports from the Mediterranean to Scandinavia, and participated in the July 1914 Fleet review followed by a short refit, and assigned to the 5th Cruiser Squadron for trade protection on the Easten Atlantic route as the war started.
The German collier SS Syra was her first prize on 5 August. Transferred to the Brazilian coast in September she joined the infamous Vice-Admiral Christopher Craddock's 4th Cruiser Squadron.
However she was soon reassigned to patrol the River Plate and missed Cradock's search for the German East Asia Squadron off the Chilean coast and subsequent destruction in the Battle of Coronel on 1 November.
Therefore HMS Cornwall proceeded to the Falkland Islands, joining the new squadron led by Vice-Admiral Doveton Sturdee, and participated in the Battle of the Falklands.
The appearance of two German ships at 07:30 caught Sturdee's ships by surprise but the predreadnought battleship Canopus kept the at bay on 09:20. Cornwall therefore had time to warm her boilers, raise steam and prepare for battle stations, before even started to recoal.
The squadron left the harbour anyway by 10:30 for the "general chase" lef by Sturdee's two battlecruisers. Being catched up and before the empeding doom Von Spee chosen to scatter his ships, turning his two armoured cruisers for duelling, allowing his three light cruisers to disperse. Cornwall and her sister ship Kent, plus the the light cruiser Glasgow went into a hot pursuit of these three cruisers.
Glasgow engaged the SMS Leipzig. Then Cornwall came down to 7,000 yards (6,400 m) at 18:00 and set the Leipzig ablaze. Five minutes later, she ceased fighting and the Cornwall approached to 5,000 yards (4,600 m) to observe the scene when a last gun open fire just as the Leipzig refused to strike her colours.
Then both cruisers fired more salvos. Even when the German captain mustering what left of his crew to strike the colours the ship's flag area was engulfed in flames and could not be reached therefore the shelling went on until two green flares were fired at 20:12, signifying surrender.
The British armoured cruiser then closed within 500 yards to rescue the Germans, sending her own boats. Only a total of 18 men were rescued, sadly, in the darkness. Cornwall had been hit by the German cruiser 18 times, but apparently without a single loss, apart those injured. Cornwall searched afterwards for the remainder of German ships and later departing for home on 3 January 1915.
After a short refit at Devonport and in Avonmouth she sailed for South Africa on 23 March 1915. She arrived to Kibondo Island off the German East African coast in April to blockade the SMS Königsberg in the Rufiji River.
She later headed north to the Dardanelles on 10 May. Afterwards she made her way to to the China Station at the end of the year and was based in February 1916 at Singapore, undergoing a longer refit until May. She patrolled the the Dutch East Indies, then joined the French Indochina on July.
In October she joined Hong Kong and patrolled the Chinese coast , being back to Singapore on December and then sailed to South Africa for escort duties. Some of her 12-pounder guns were removed and transferred on troopships.
She was later refitted at Liverpool and paid off on 7 March, recommissioned on 4 August 1917, escorted one troopship to Halifax and later returned to the North Atlantic and West Indies Station.
After her convoy service until the end of 1918 she went back as a cadet training ship from January 1919 and was paid off for good on 21 August, sold for scrap on 7 June 1920.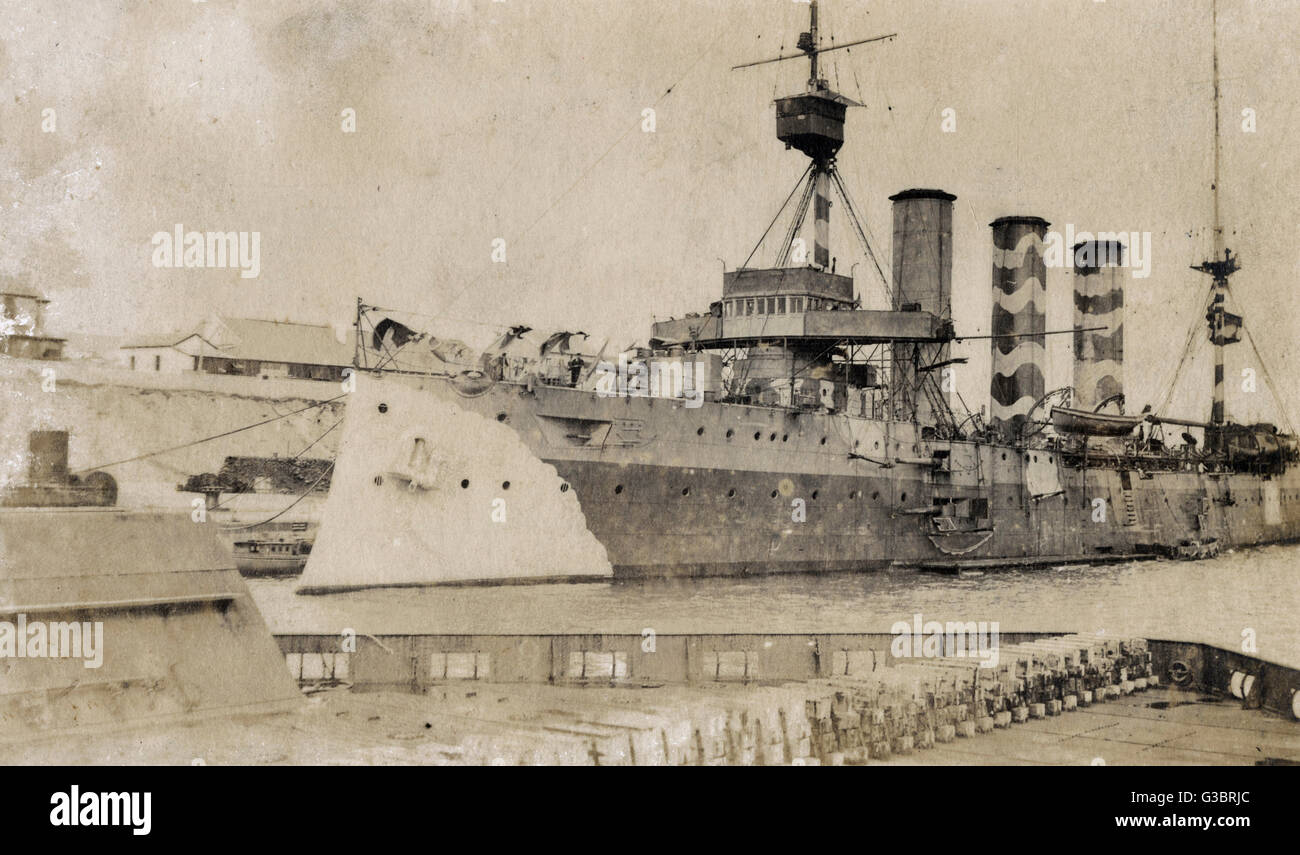 A British Monmouth class cruiser with an interesting camouflage (alamy photos)
Specifications
Dimensions: 141,2 x 20,12 x 7,6 m (463 x 66 x 25 ft)
Displacement: 9100 t, 9800 Ton Fully Loaded
Crew: 678
Propulsion: 2 propellers, 2 TE 4 cyl., 31 Belleville boilers, 22 000 hp
Speed: 23 knots (43 km/h; 26 mph)
Armament: 14 x 152 mm, 10 x 76 mm, 3 x 47 mm, 2 x 457mm TTs (sub)
Armor: Belt 102, Barbettes 120, Turrets 120, Blockhaus 280, Deck 51 mm.

HMS Monmouth, Author's illustrator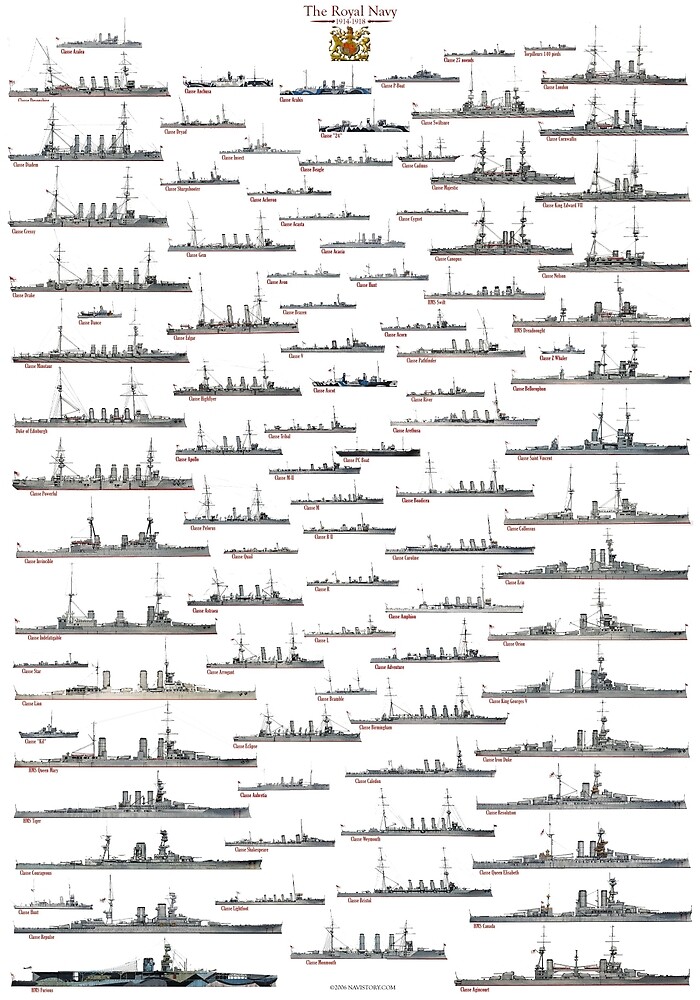 Get the centennial poster, the Royal Navy in WW1 and help support Naval Encyclopedia ! – Or, the whole Royal Navy WW1 – The Real Thing – monument poster
Links, sources, read more
Brassey, T.A. (ed)The Naval Annual 1905 and 1906
Corbett, Julian. Naval Operations to the Battle of the Falklands.
Friedman, Norman (2012). British Cruisers of the Victorian Era.
Massie, Robert K. (2004). Castles of Steel: Britain, Germany, and the Winning of the Great War at Sea
wikipedia – Monmouth class cruiser
Conway's all the world's fighting ships 1860-1905