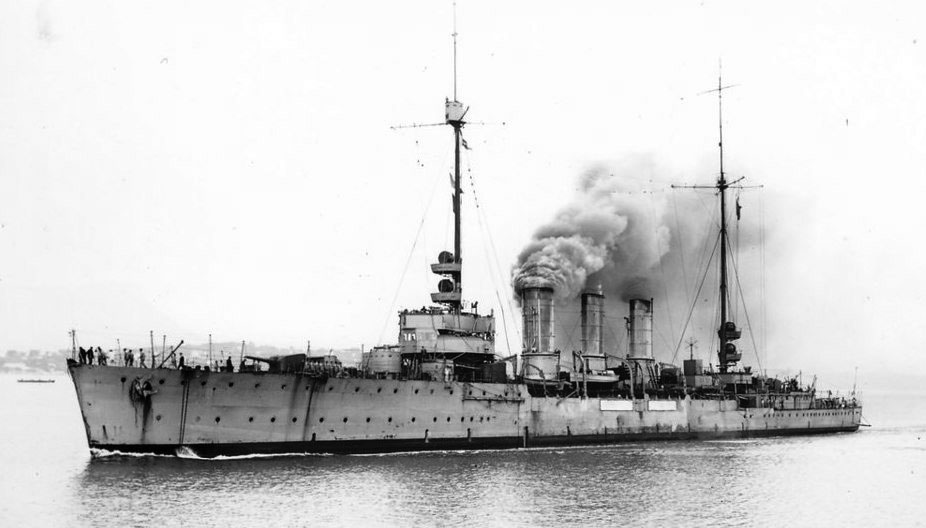 The Graudenz class were another iteration over the now classic kight cruiser formular prioneered by the Brmen class in 1902. Tne years after a constant, complete improvement cycle (namely the Könisgberg (1905), Dresden (1907), Kolberg (1908), Magdeburg (1911) and Karlsruhe (1912), the admiralty came with a new design reaching almost 6,400 tonnes fully loaded, almost twice as much as the Bremens. And unlike the previous Karlsruhe, they reverted to three funnels and introduced 15 cm guns, better in tone with the new size of these vessels and to compete with the Royal Navy's own light cruisers.
SMS Graudenz and Regensburg, started in 1912, entered service in 1915, and both had a fairly long career unlike contemporary German cruisers; Graudenz saw extensive service in the reconnaissance screen for the I Scouting Group's battlecruisers: Scarborough, Hartlepool, Whitby, Battle of Dogger Bank, Gulf of Riga until October 1918. They missed Jutland, the first being allocated as a war orize to Italy and partluy modernized, and SMS Regensburg saw the Battle of Jutland and served with the I Scouting Group battlecruisers. She was ceded to France in 1920, Strasbourg and used as a colonial cruiser, discarded 1936, used as barracks ship and sunk in Lorient in 1944.
Design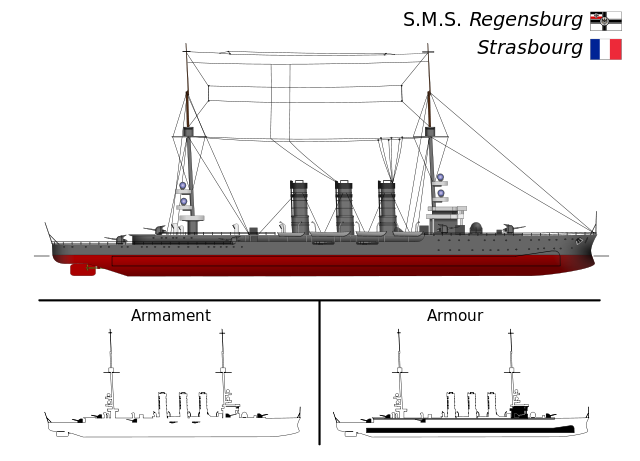 The Graudenz class cruisers were slightly larger than the previous Karlsruhe class but with shorter hull at 139 meters (456 ft) waterline, 142.70 m (468 ft 2 in) overall. They had a larger beam of 13.80 m (45 ft 3 in), 60 cm more than the Karlsruhe, much hiher draft at 5.75 m (18 ft 10 in) forward, 6.08 m (19 ft 11 in) aft (versus 4.5 m on the Karsruhe).
Displacement with such figures was higher, at 4,912 metric tons (4,834 long tons), as designed, and reaching 6,382 t (6,281 long tons) fully load, versus 5,925 tonnes FL fr the previous cruisers. Construction called for the same conventional longitudinal steel frames, defining seventeen watertight compartments. There was also a double bottom on 47% of the keel.
Their crew was lightly less than the previous cruisers, with twenty-one officers and 364 enlisted men, far less than the 450 of the previous vessels. The better, more automated design perhaps, despite the same armament which perhaps contributed to this difference. As a whole, the ships were considered roomier. However, they were also fitted to be used as second command flagship (flotilla leader) with three officers and fourteen additional ratings. The onboard small boats fleet including a single steam-powered picket boat, a supply barge, a cutter, two yawls, and two dinghies.
Powerplant
Their propulsion system comprised two sets of Marine-type steam turbines, connected to shafts ended by two bronze-cast three-bladed 3.50 m (11 ft 6 in) diameter propellers. They were fed by twelve Marine water-tube boilers. For ASW protection, each turbine was separated inside its own engine room. As designed, they developed 26,000 shaft horsepower (19,000 kW). In a similar way, the twelve boilers, which were divided into ten coal-fired and two oil-fired and double-ended ones, were located also in four boiler rooms.
All in all, with the same output as their predecessors, they reached a top speed of 27.5 knots (50.9 km/h; 31.6 mph), less than the 29.5 as designed of their predecessors. For range, with 1,280 t of coal, and 375 t of fuel oil they reached circa 5,500 nautical miles (10,200 km; 6,300 mi) at the cruise speed of 12 knots (22 km/h; 14 mph). They could maintain 25 knots but in that case, it fell to 1,000 nmi (1,900 km; 1,200 mi), roughly comparable to the previous vessels.
As a complement, they also had two turbo generators plus a single diesel generator to power all onboard system when the powerplant was cold. They together reached the output of 260 kilowatts (350 hp), at 220 Volts.
At sea, reports said they were regarded as good sea boats, with slight weather helm, gentle, predictable motion in a swell. They were maneuverable, but due to their hull ratio, bleed speed in a turn, up to 60° with the rudder hard over. Steering depended on a single large rudder. Transverse metacentric height was .79 m (2 ft 7 in) and they were considered stable gun platfrom despite their heavier main guns after upgrade in 1916.
Armament


bp regensburg 1917 as rearmed
–Twelve 10.5 cm (4.1 in) SK L/45 guns, single mounts. Two side by side on the forecastle, eight amidships, on both sides and including two in a superfiring pair aft.
Maximum elevation 30 degrees
Max range 12,700 m (13,900 yd)
-In 1916, they were all replaced by seven 15 cm (5.9 in) SK L/45 guns.
Maximum elevation 30 degrees
Max range 12,700 m (13,900 yd)
-There was nothing when completed beside these main guns, but two submerged 50 cm (19.7 in) torpedo tubes, with five torpedoes in reserve.
---
After their 1916-17 refits, they were given two 8.8 cm (3.5 in) SK L/45 anti-aircraft gun, while two extra deck-mounted torpedo tubes were added on Graudenz, while Regensburg had her submerged tubes removed, four deck mounted installed instead. Although on paper they had rails and the capacity to carry and lay 120 mines, this was not used.
Armour Protection
Nothing revolutionay in their protection scheme which was virtually a repeat of the previous cruisers. They were designed to stop same caliber shells (10,5 cm) and nothing more. In effect they were rearmed in 1916-17 with a caliber superior to their protection.
Waterline armored belt 60 mm (2.4 in) amidships, 18 mm (0.71 in) bow.
Armored deck 60 mm forward, 40 mm amidships, 20 mm (0.79 in) aft.
Sloped armor 40 mm to connect deck and belt.
Conning tower 100 mm (3.9 in) walls, 20 mm roof.
Rangefinder 30 mm (1.2 in).
Main battery gun shields 50 mm (2 in)
Construction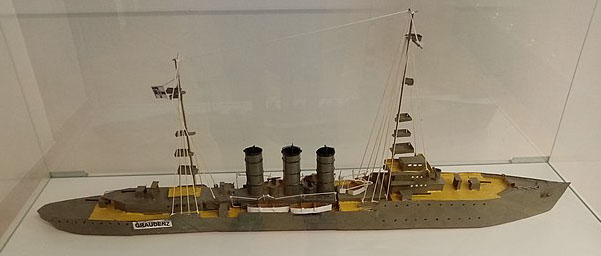 SMS Graudenz was ordered under the contract name "Ersatz Prinzess Wilhelm". She laid down at the Kaiserliche Werft shipyard (Kiel) in 1912, launched on 25 October 1913, assisted and christened by the mayor of her namesake city, Dr. Kühnast. She was commissioned on 10 August 1914. The war was fresh of only 15 days.
SMS Regensburg was ordered as "Ersatz Irene", laid down at the AG Weser shipyard (Bremen) at the same time, but launched much later on 25 April 1914. In assistance and chistening the vessel was the mayor of her namesake city, Hofrat Josef Bleyer. She was commissioned on 3 January 1915 to the High Seas Fleet and a lot already happened for the fleet in the meantime.
⚙ Graudenz class specifications

Dimensions
142.7 x 13.8 x 5.75 m (468 x 45 x 18 feets)
Displacement
4,912 tons standard, 6,382 tons Fully Loaded
Crew
21 officers, 364 ratings
Propulsion
2 shafts Marine turbines, 12 WT Marine boilers, 23,000 hp.
Speed
27.5 knots (50.9 km/h, 31.6 mph)
Range
5500 nmi (10,200/6300 nmi) @12 knots.
Armament
12× 4.1-in/45 (10.5 cm), 2x 20-in TTs (50 cm)
Armament (1916)
7× 6-in/45 (152 mm), 2x 7.8 cm AA, 4x 5cm TTs, 120 mines
Protection
Belt 60 mm, decks 60 mm, Masks 50 mm, CT 100 mm
Links & Resources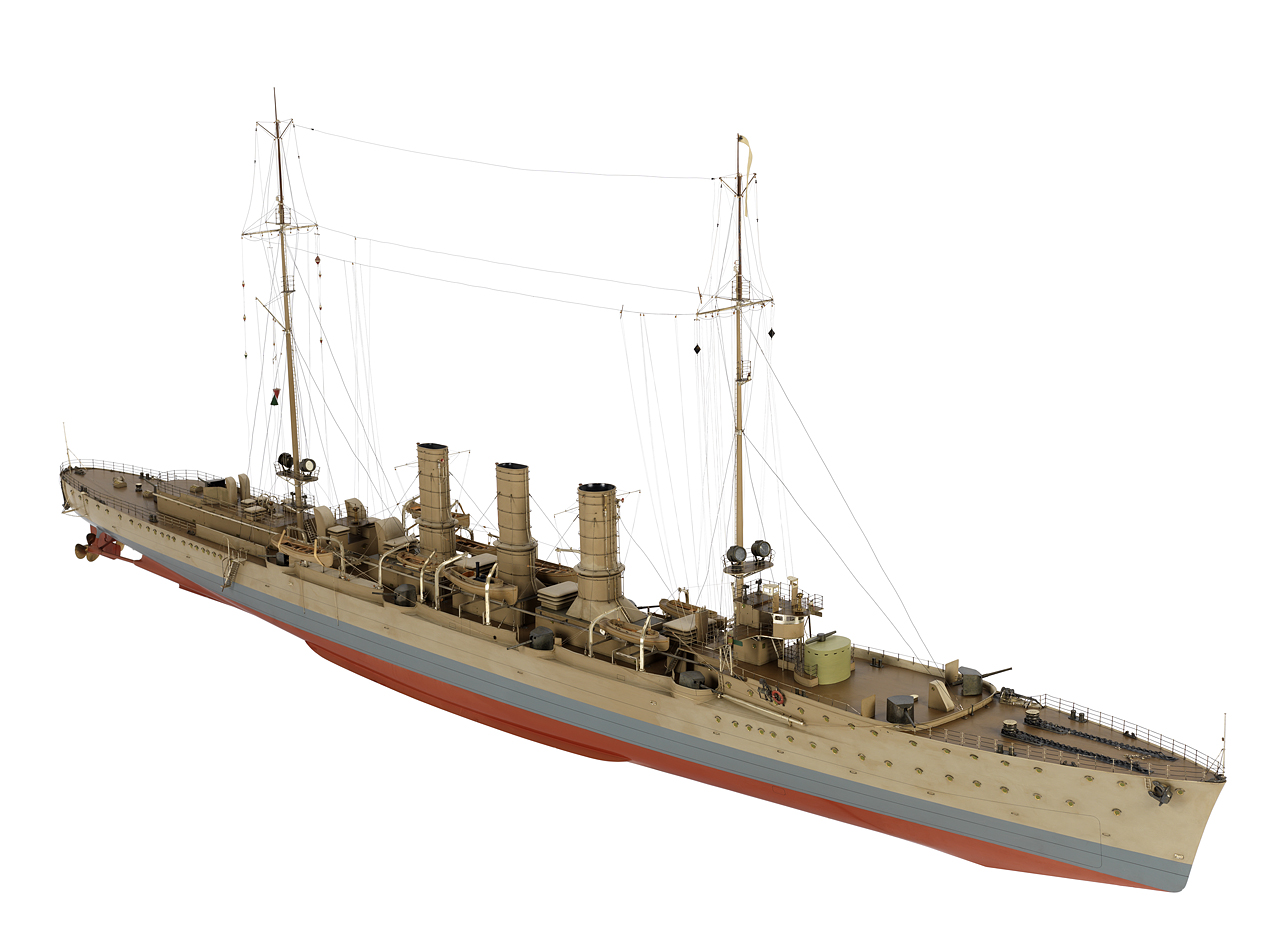 Large model as part of the Greenwhich Maritime Coll. src
Books
Campbell, John (1998). Jutland: An Analysis of the Fighting. London: Conway Maritime Press.
Conway's All the World's Fighting Ships, 1906–1921.
Fraccaroli, Aldo (1986). "Italy". in Conway's All the World's Fighting Ships, 1906–1921
Gröner, Erich (1990). German Warships: 1815–1945. Vol. I: Major Surface Vessels.
Halpern, Paul G. (1995). A Naval History of World War I. Annapolis
Smigielski, Adam (1985). "France". In Conway's All the World's Fighting Ships: 1906–1921
Tarrant, V. E. (1995). Jutland: The German Perspective. London: Cassell Military Paperbacks.
Woodward, David (1973). The Collapse of Power: Mutiny in the High Seas Fleet. London: Arthur Barker Ltd.
The Daily News Almanac and Political Register. Chicago: Chicago Daily News Co. 45. 1929. OCLC 7509776.
Dodson, Aidan; Cant, Serena (2020). Spoils of War: The Fate of Enemy Fleets after the Two World Wars. Seaforth Publishing.
Koop, Gerhard & Schmolke, Klaus-Peter (2004). Kleine Kreuzer 1903–1918: Bremen bis Cöln-Klasse, Bernard & Graefe Verlag.
Nottlemann, Dirk (2021). "The Development of the Small Cruiser in the Imperial German Navy (Part II)". Osprey Publishing. pp. 44–60.
Links
Example of livery, Regensburg 1916
---
Model Kits
Navis WWI German light cruiser SMS Regensburg in 1/1250 scale
---
SMS Graudenz
SMS Graudenz's was mobilized for the raid on Yarmouth, 3 November 1914 as part of the reconnaissance screen assigned to the battlecruisers of the 1st scouting group under orders of Rear Admiral Franz von Hipper. There in her unit were the cruisers SMS Kolberg and Strassburg.
The shelling done, the raiding fleet return, an uncharted German mine just utside Wilhelmshaven blasted open the hull of the armored cruiser SMS Yorck. This was fatal and she sank. Next, Graudenz took part in the same circumstances to the raid on Scarborough, Hartlepool and Whitby (15–16 December). However when withdrawing, British forces waited for them. Despite of this, with two squadrons closing, SMS Graudenz, Stralsund, Strassburg, leading their two flotillas of torpedo boats managed to pass through both squadrons.
However soon they crossed a heavy mist, and could not see beyond 4,000 yd (3,700 m) when it happened. SMS Stralsund was just spotted briefly and in fact this covered their withdrawal. Later, Graudenz screened the I Scouting Group for a Dogger Bank foray on 24 January 1915 and she was too distant to participate in the Battle of the same name.
In August 1915, SMS Graudenz was reassigned to the Baltic. The major operation there was to clear out the Gulf of Riga of Russian forces, and in this, no less than eight dreadnoughts and three battlecruisers were taken from the Hochseeflotte. Graudenz took part only in the second attack, on 16 August, with Nassau and Posen. Albeit the operation was a success, Graudenz struck a mine on the night of 21/22 April 1916.
Placed in drydock in May 1916 she missed the Battle of Jutland and at her return in active service, modernized and with a new armament, she was assigned her own torpedo boat flotilla, as leader. Nothing much happened in the remainder of 1916 or 1917 of note. The same was true in 1918, apart a few sorties, either of patrol or training.
By October 1918 however, Graudenz was assigned to the II Scouting Group, for the planned giant attack by whole the High Seas Fleet, "for honor". More details specific she would have been part in a foray on Allied shipping right into the Thames estuary, and along Flanders in the hope to lure out the Grand Fleet.
For this, Graudenz, Karlsruhe and Nürnberg were mobilized to proceed to Flanders first, and prepared, but on the morning of 29 October 1918, order tp sail was given, but during the night disgruntled sailors on several battleships mutinied, forcing Hipper and Scheer to cancel it; Nevertheless, Commodore Andreas Michelsen convinced the general staff that smaller ships were in general more loyal, and to organize a "light force" headed by light cruisers. Even U-boats were to take ambush position on a probable withdrawal route. Graudenz became his flagship.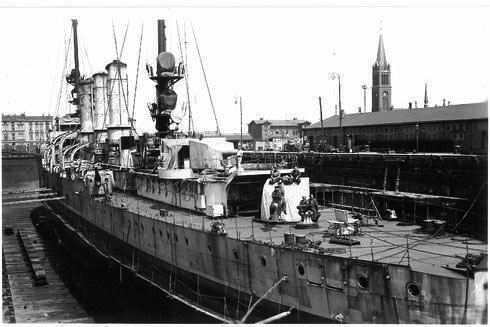 SMS Graudenz in drydock, stern view
As it happened, this too, never materialized. The war ended, but she was not in the Hochseeflotte, so not part of the fleet which headed for internment in Scapa. Instead she served briefly in the Reichsmarinewas and was eventually attributed as a war prize after the Versailles treaty provisions in 1919, attributed to Italy.
For more on Ancona, her new Italian name, see the WW2 Italian cruiser's page.
SMS Regensburg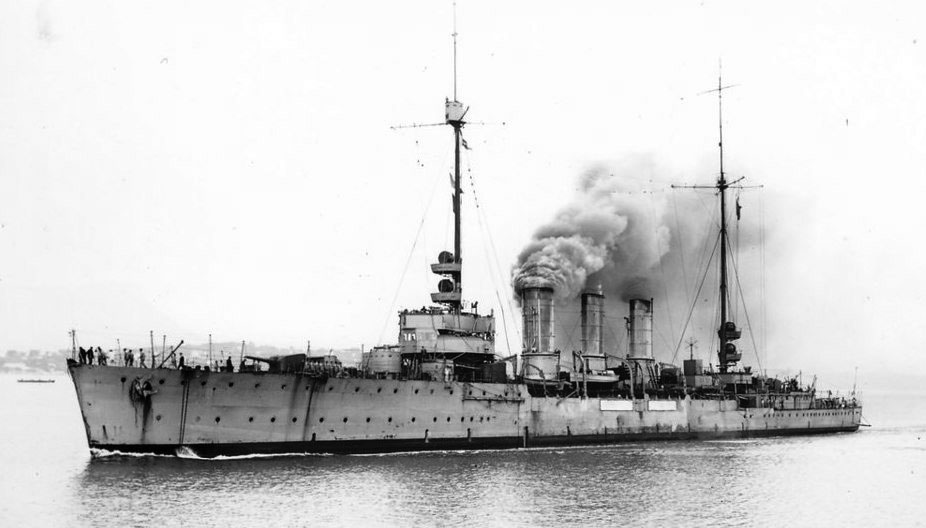 SMS Regensburg completed her sea trials on 10 March 1915, after which she was assigned to the II Scouting Group in the baltic. There, she shelled Russian positions at Polangen and Papensee until 24 March, after which Captain Hans Zenker proposed to reaem her 15 cm guns (as the liner Cap Polonio) to start a commerce raiding campaign in the Atlantic to replaced the vessels lost in 1914. Admiral Friedrich von Ingenohl denied this request arguaing the Royal navy mastery of the north sea would have seen her sunk as well and don't wanted to loss a modern light cruiser.
On 17–18 May, SMS Regensburg instead covered a mine-laying operation off the Dogger Bank. On 25 August she was back to the baltic for shore bombardment on Dagö island and St. Andreasberg lighthouse and the signal station on Cap Ristna. On 11–12 May, she covered another minelaying off Texel. In September 1915 she made sweeps in the Skagerrak and Kattegat. In early 1916, she covered more minelaying missions, as well as reconnaissance sweeps into the North Sea. On 23–24 April 1916, she took part in the Yarmouth-Lowestoft raid with the I Scouting Group like her sister ship.
In May 1916 that was her greatest test: The battle of Jutland. She was assigned as a leader of a torpedo boat flotilla screening the I Scouting Group's battlecruisers, leaving the Jade roadstead at 02:00, on 31 May for the Skagerrak. Circa 15:30, she spotted and engaged the British 1st Battlecruiser Squadron but SMS Regensburg was too far in the German formation to actually fire or get fire at. She steamed to reach the fight, when engaged by battlecruisers at some 2,200 yd (2,000 m away, but she was not hit and kept her distances. At 17:10 she reached the head of the line when engaged more accurately by HMS Tiger (she was mistook by a battlescruiser in poor weather conditions).
Regensburg then led by order a general attack with her TBs, while the British counter this by their own destroyer screen, leading to a hard-fought battle at close range while capital ships startug firing with their secondary guns. At 19:00, Regensburg managed to lead her TBs for a torpeod run at HMS Canterbury and four destroyers, which disabled HMS Shark before engaging HMS Canterbury, turning covered by the mist. At 20:15, Scheer ordered a withdrawal in which the I Scouting Group would charge the British line in cover, with a massed torpedo boat attack led by Regensburg and other flotillas. It was realized later the British had turned away, out of range.
Regensburg was ordered next to organized three torpedo boat flotillas and renew night night. At 21:10, the II Flotilla and XII Half-Flotilla at the rear were pressed into attack while the rest passed behind the British fleet, reaching Horns Reef at 04:00. At 09:45, Regensburg and the three TBs on her formation met torpedo boats carrying the crew of the scuttled SMS Lützow, having spent 372 main rounds while emerged unscathed.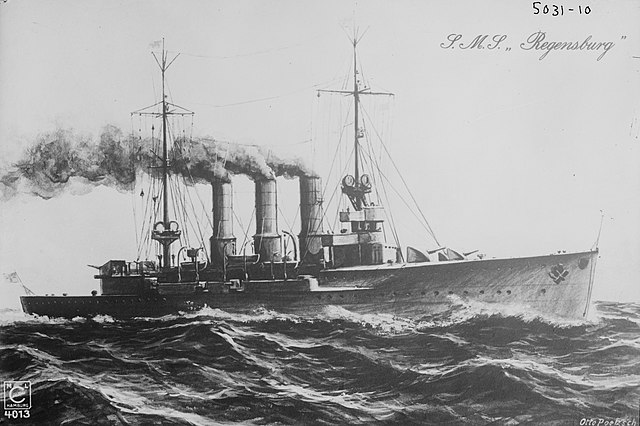 postcard
By 1917, she was assigned to the IV Scouting Group with SMS Stralsund and Pillau. By late October 1917, the IV Scouting Group went to the city of Pillau, arriving on the 30th to replacing heavier vessels there after Operation Albion (Gulf of Riga campaign) and battleships of the I Battle Squadron. Minefields loose after a recent storm cancelled the mission and they return to the North Sea a day after. Nothing much hapened for the remainder of the year or in 1918. A few sweeps and patrols, with nothing notable.
By October 1918 however, SMS Regensburg was flagship, Commodore Johannes von Karpf, IV Scouting Group. She was mobilized and prepared for the final large scale raid of the High Seas Fleet and on the morning of 27 October, Karpf ordered Regensburg's crew to take on a full load of coal and oil, but many refused to obey as the the engine room personnel, still in their shore-going uniforms. They all went on stirke until First Lieutenant arrested the ringleader, jailed, after which work resumed. On the 29 October 1918, order was given to sail from Wilhelmshaven but during the night, several battleships's crews mutinied, deserted en route and the unrest had Hipper cancelling the operation.
Regensburg was in Swinemünde on 7 November but false reports of communist-turned crewed torpedo boats had Karpf ordereding his ships to be laid up with confidential materials destroyed and ammunition magazines flooded. This proved incorrect, and the fleet command saked Karpf, replaced by Commodore Rohardt, restoring the ships in condition. The IV Scouting Group moved to Stettin, learning after the abdication of the Kaiser on 9 November. Rohardt struck down the Imperial ensign and placed Regensburg and Brummer out of commission. Lacking crew, despite a new officer, the ship was in reserved until December 1918, when she escorted the British battleship HMS Hercules carrying the Allied Armistice Commission to Kiel.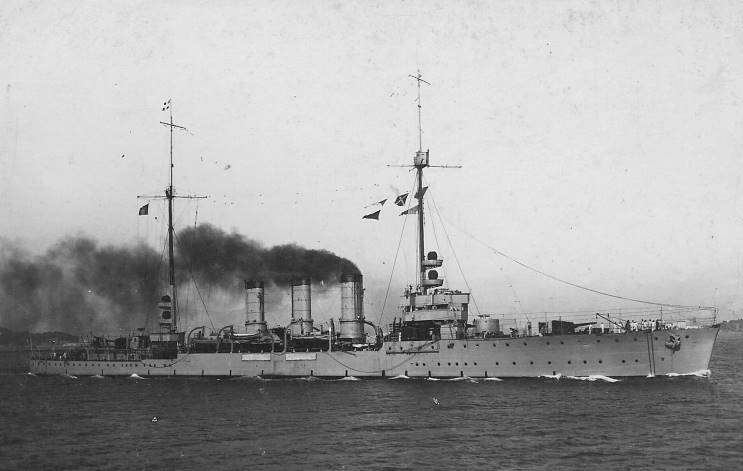 Strasbourg – credits Alex Montreal
She served a short time in the Reichsmarine, in 1919, stricken on 10 March 1920, decomm, and by 4 June 1920 sent to Cherbourg in France, in the armistic allied commission attributing vessels as war prize. She was attributed to the French as ship "J", later renamed Strasbourg, recommissioned after many changes, including armament with the French fleet in 1922. In 1944, she was scuttled, her wreck remaining, visible at low tide.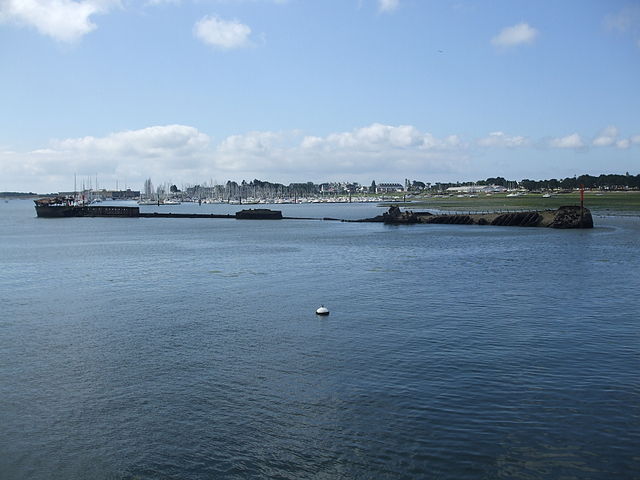 For more on Strasbourg, see the WW2 French cruiser's page.