HSwMS Oscar II (1906)
HSwMS Oscar II was a coastal battleship (Panzerkepp) of the Swedish Navy built before WWI. She was larger, more powerful, and better protected than any other that came before, setting a new standard for Scandinavia. She had an important role during WWI by covering the Swedish invasion of Åland from February to April 1918, while maintaining a potent neutrality deterrence, from her commissioning to the end of WW2 as well. Moernized in the interwar, she indeed provided the required strenght to the coastal fleet with updated system, and even saw service years into the cold war as TS then harbour ship. When she was discarded at last in 1974 Oscar II was 60 years old, quite a feat for any warship, and the very last of her kind in the world.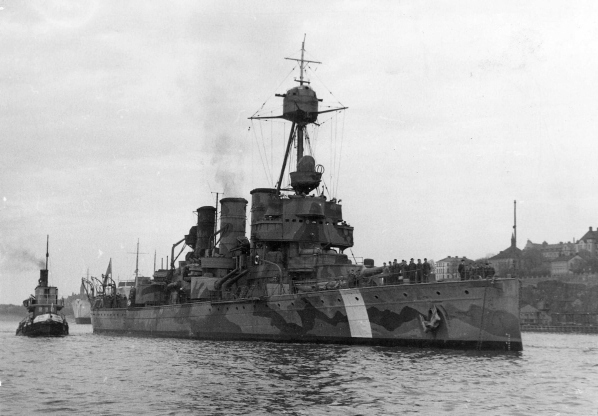 Oscar II in WW2, with green-tones "forested island camouflage" and neutrality bands.
Design development of Oscar II

Museum painting, the Swedish fleet prior to WWI.
Oscar II was essentally seen as a natural development of the preceding Äran-class coastal defence ship, four ships launched in 1901-1903 and replacing the previous HSwMS Dristigheten (1900) and the three Panzerkepp of the Oden-class of 1894-99. This was an incremental development really started back in 1901 when Sweden appointed a commission to analyse the state of naval defence and setup requirements for future ships to meet its needs. The commission looked at other countries, seeinf the Anglo-German naval arms race and quickly ruled out the hazardous path of building a comparable battleship. Indeed the latter were perceived as fit for a long range projection of power in open seas, but a defensive battleship obeyed quite different rules.
While previous coastal battleships has been short range coastal defence vessels seen as merely an extension of the shore fortifications and minefields, a larger, better armed and protected vessel still could sacrifice speed, not required, and instead capitalized on a lower draft and freeboard, better adapted to the nature of the island mazes close to the shore, exploiting the tactical advantages of the Swedish archipelago. This was the confrmation of the path chosen ten years ago, but updated with the latest gunnery and protection innovation to be able to deal with potentially modern enemy ships.
As it turned out, when this Panzerkepp was defined in the great lines, the commission proposed three alternatives to the government:
1- 4,800 tonnes and four 21 cm (8.3 in) guns, 18 knots
2- 3,950 tonnes and two 21 cm guns, 17 knots
3- 4,218 tonnes and two 21 cm guns, 18 knots
Strangely the Admiralty preferred the second, which was the cheapest of all three, but the parliament (Riskdag) voted for the third on the recommendation of Louis Palander, Naval Secretary, which was the fastest. The larger, more potent twin turret solution was ruled out. The caliber was the largest Bofors was caable of producing at the time. These were smaller than the 10 inches guns produced for the 1890s Oden class, but they had a much longer barrel for a greater range, and fired much faster, which compensated for the smaller caliber. They were superior for example to the 8-in guns produced at the time, found on armoured cruisers, and equivalent to the German
Schwere Kreuzer
of the time.
The design was further worked out on the base of the Äran design with minor alterations, but the parliament wanted to increas the auxiliary artillery, armour and speed. And from the preparing new designs and coordination to refine the design, this proceeded for almost two years. It's only in May 1903 the king approved drawings for his namesake capital ship. The design blueprints were further refined and finally ready in 1904. The contract was obtained by Lindholmen's shipyard, in Gothenburg. The keel was laid down probably in mid-1904 (date unknown), and she was launched on June 6, 1905. Fitting out work was done, followed by sea trials, and post-trial fixes until the ship could be offically commissioned on April 3, 1907, so quite late after her launching, and almost seven years after her design was finalized, so she was already obsolescent. Her cost was SEK 3,390,000, well above all previous ships, and less than the initially planned 6,225,800 kr but in adjusted value.
Design of Oscar II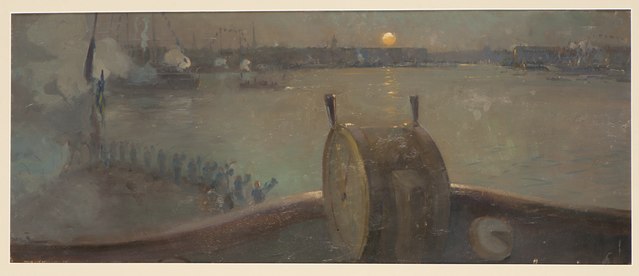 Painting, scene made from her open admiral bridge, showing the Engine order telegraph
As a modernised and slightly larger version of the Äran-class, Oscar II displaced 4,584 tonnes (4,512 long tons) fully loaded, but normal displacement was 4,273 tonnes (4,206 long tons), with a waterline length of 95.6 m (313.6 ft), 15.4 m (50 ft 6 in) beam and 5.49 m (18 ft) draught. These values are conformed by Conways. Her normal complement was 326 officers and ratings but she ws fitted to act as a command staff, with a specific admiral bridge and extra accomodation for nine officers. Design wise for her general outline, she was a reasonably sound design for the Baltic sea, with a relatively low-freeboard flsush deck hull raised at the bow, fitted with a ram. Her lines were relatively rounded, with a progressive beam on a symetrical design fore and aft, two axial main turrets completed by four turrets, not installed on the battery corners, but further inside cutouts amidships. The latter battery deck hosting tertiary guns. She also had two masts when completed, both pole ones, the forward supporting a small covered spotting top. Service boats were installed alongside the funnels, with davis. The aft mast also had a service boom. Se would be modified many times in her career but not completely reconstructed as some ships on the Swedish Navy.
Powerplant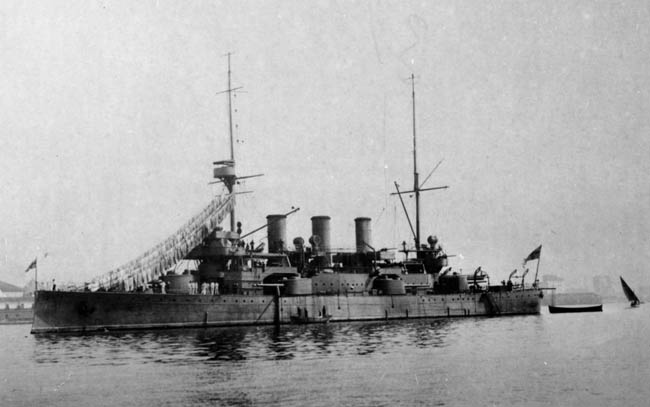 Oscar II as completed, notice the forward pole mainmast, soon replaced.
Oscar II was given two four-cylinder triple expansion steam engines (VTE) provided by Motala Verkstad. Each drove a three-bladed propeller. Steam came at a working pressure or 16.5 kg/cm2 (235 lb/sq in) from ten Yarrow water-tube boilers. They were distributed into three separate rooms as a flooding protection measure, with watertight doors. The engines global output reached 9,400 shaft horsepower (7,000 kW) in normal conditions, probably around 9,800 with overheating. She carried Coal, a total of 490 long tons (500 t), making enough at her consumption rate for a range of 3,550 nautical miles (6,570 km; 4,090 mi) at 11 knots which was sufficient for her coastal role, but she can also speed up and maintain a range of 1,100 nmi at 17.8 knots. On sea speed trials, she reached 18.14 knots (33.60 km/h; 20.88 mph), burning 0.95 kg/h (2.1 lb/h) per horsepower, which was not too bad. She famously was the sole Swedish coastal battleship with three funnels, so she earned nicknames such as "tre rör" (three pipes).
Armour scheme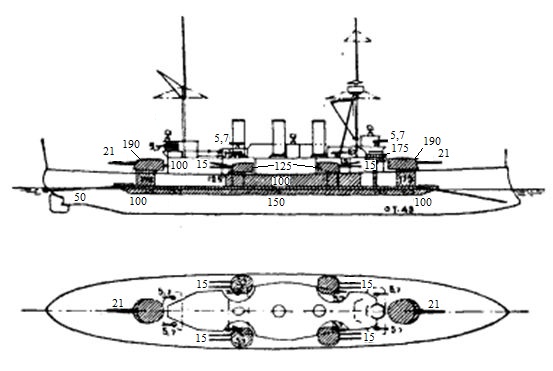 General armour scheme on Brasseys. Note this was the already updated version with the tripod mast (so after xxx)
The major change compared to the previous Äran class was the side armour was taken to the upper deck for a short distance amidship. Her armour therefore was an improvement, especially when the lower decks were not forgotten either. In short:
Main belt on 67 m (219 ft 10 in), Schneider-Creusot steel 150 mm (5.9 in) amidships
Fore and aft tapered down belt: 125 mm (4.9 in), then 100 mm (3.9 in) both forward and aft
Citadel 23 m (75 ft 6 in) long, 100 mm thick
Main Barbettes 175 mm (6.9 in) rings
Main deck 22 mm (0.9 in) mounted on 22 mm steel plate
Forward Conning tower 157 mm (6.2 in) walls thick
Aft conning tower 100 mm
Bridge 10 mm (0.4 in)
Upper deck 57 mm (2.2 in) thick
Turrets 125 mm face, 60 mm sides and top (2.4-4.9 in)
Armament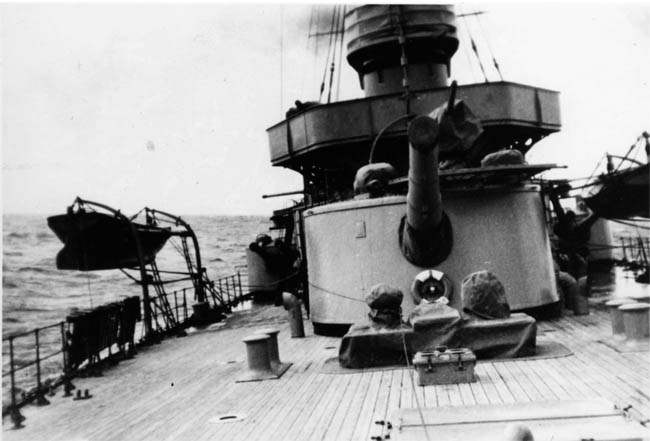 The aft gun turret and secondary ones. Lighter 57 mm are also visible.
Main: Two turreted Bofors 21 cm K/44 M98
These 210 mm (8.3 in) models were mounted in single turrets fore and aft, centreline (axis). These models were first designed in 1898 and very similar to those used by the earlier Äran class. They fired a 125 kg (276 lb) shell at a 750 metres per second (2,500 ft/s). Rate of fire was two rounds a minute. The turrets were protected by Krupp cemented armor.
Secondary armament: 8x 15,2 cm K/50 M03
The 152 mm (6 in) K/50 M03 guns were mounted in twin (solidary apparently) cradles in turrets. The barrels and mounts were provided by Bofors and also used on the armoured cruiser HSwMS Fylgia. They fired a 45 kg (100 lb) shell at 850 m/s (2,789 ft/s). Rate of fire was 2.7 shells a minute. These four turrets amidships, two per side of the superstructure were partly encased in cutouts in the main battery.
Tertiary armament: 10x 5,7 cm, 3x 3,7 cm
These ten 57 mm (2.2 in) M/98B guns were provided by Finspång. Five were placed in single mounts on either side of the bridge. In addition, three 37 mm (1.5 in) Bofors M/98 were also placed in single mounts, but tthe latter allowed them to be placed on the ship's steam cutters to be used for fire support when landing a party ashore. In that guise, Oscar II could carry about 20 Marines complemented by armed sailors and oficers for a total of around 60 when the occasion arose, transported in one go in all the service boats. Also like all ships of her generation, Oscar II was fitted with two torpedo tubes, of the standard 450 mm (18 in) caliber, both submerged, so below the waterline fore and aft.
Oscar's II amazing three wars career
Prewar, WWI and interwar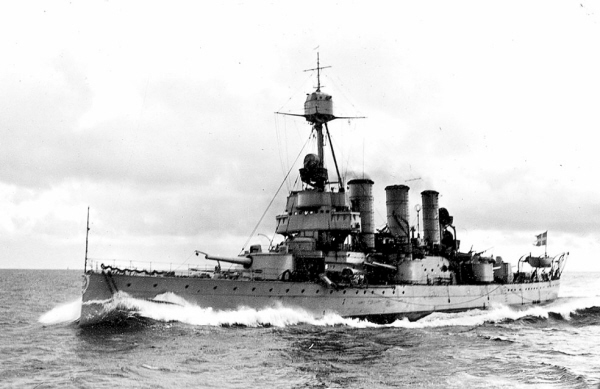 HMS Oscar II
Oscar II departed for her shakedown cruiser the same summer 1907 in the Spithead for the coronation parade with the British Navy Home Fleet. In 1909–1910 she departed for her first long cruise, to the Mediterranean sea. In 1910–1911 she had her first major overhaul: Her front mast was replaced by a tripod mast to support a new spotting top and telemeter, considerably increasing accuracy at long range. In 1911–1912, she made another long cruise, visiting northern European countries. When WWI broke out she had two of the 57 mm cannons replaced by two AA guns of the same caliber. The control tower was moved slightly aft also to provide better visibility forward. Oscar II participated with the new HMS Sverige in the Åland Expedition in 1918, which was her only active military action outside neutrality patrols. In 1929, she saw her aft mast shortened and other minor modification that gradually changed her overall appearance, notably to the bridge. She would make five long cruises during the the interwar period.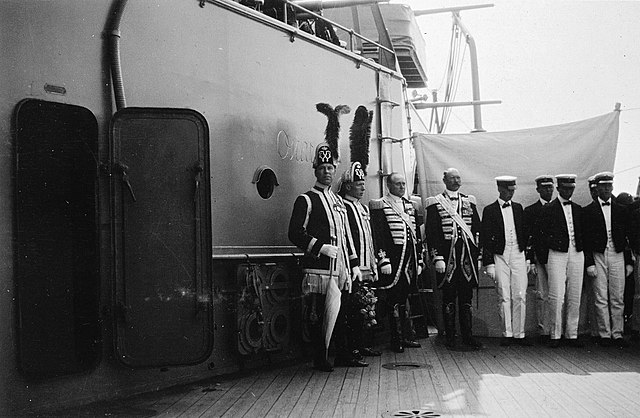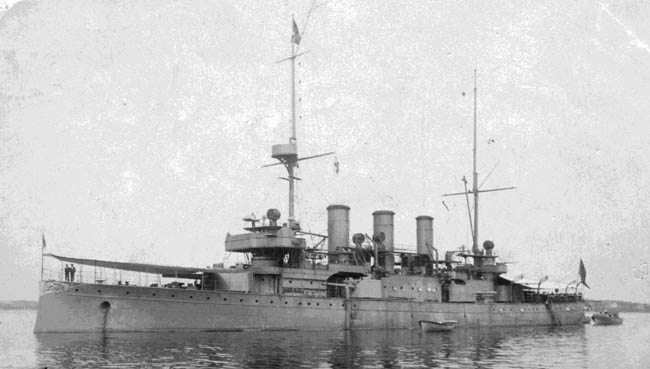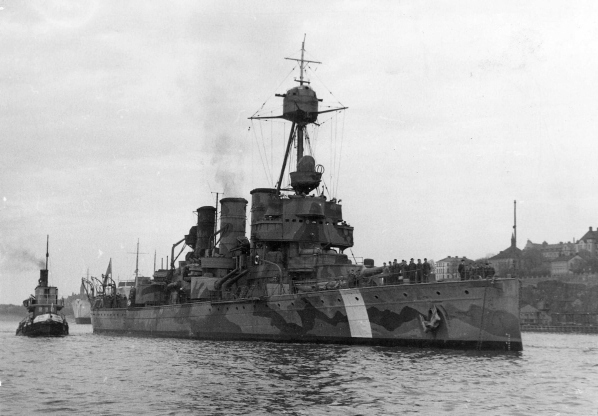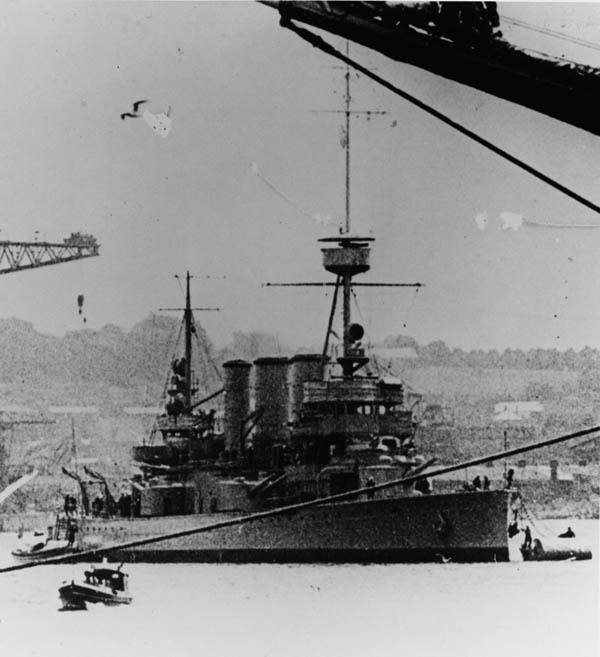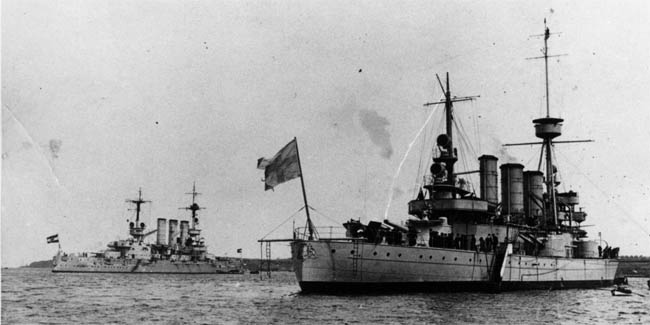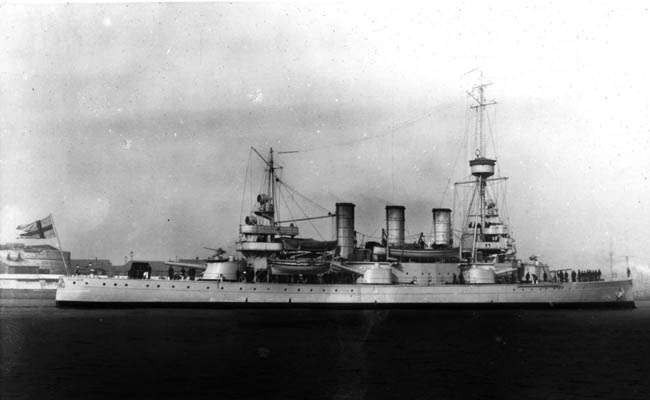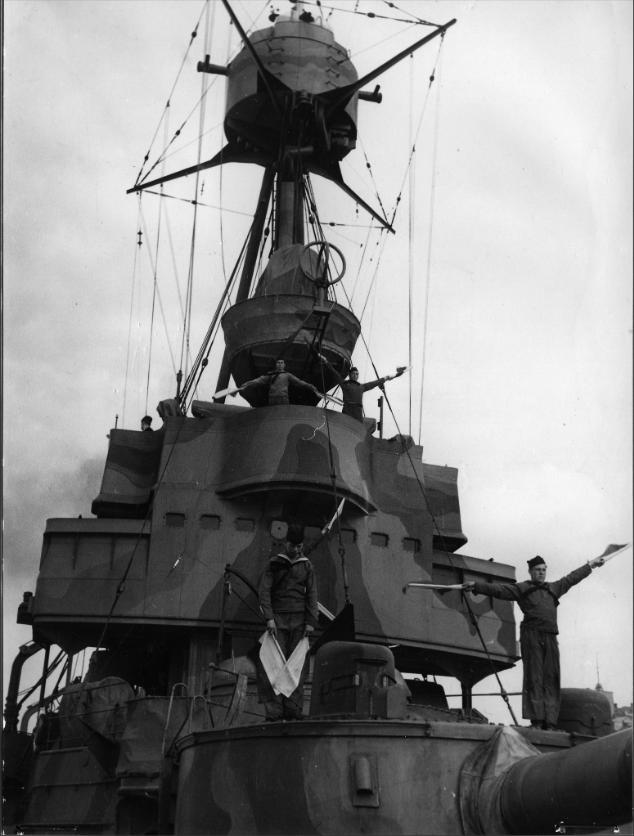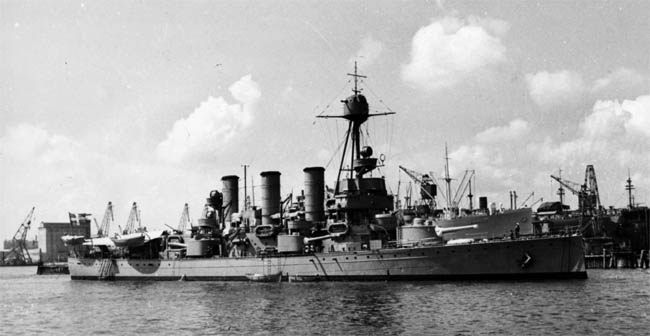 Major modifications
(To come)
Oscar II in WW2
(To come)
Oscar II's cold war (1947-1974)
(To come)
Sources/Read More
narkhammar.se
flottansman.se
Old article on runeberg.org
On navypedia.org
old-navypedia.org
tugboatlars.se
worldnavalships.com
warshipsresearch.blogspot.com
On digitalmuseum.se
wik
wik se
---
Borgenstam, Curt; Insulander, Per; Åhlund, Bertil (1993), Kryssare : med svenska flottans kryssare under 75 år (1:a), Karlskrona
von Hofsten, Gustav; Waernberg, Jan (2003), Örlogsfartyg: Svenska maskindrivna fartyg under tretungad flagg (1:a), Karlskrona
Holmquist, Åke (1972), Flottans beredskap 1938-1940, Uddevalla: Bohusläningens AB
Insulander, Per; Ohlsson, Curt S (2001) (1:a), Falkenberg: C B Marinlitteratur AB
Lagvall, Bertil (1991), Flottans Neutralitetsvakt 1939-1945, Karlskrona