The forgotten years of the US Navy
The "Old Navy" was the name given to the post-civil war era fleet and its inheritance, through the 1870s and 1880s, before a rebirth from 1890. An interesting twenty years of forgotten classes and experimentations. This is a somewhat forgotten period of history, albeit from really knowlegeable naval historians, with many interesting ships, in a context of strong political isolationnism, with a naval budget reduced to the minimum, in contrast to the country's massive industrial output.
The forgotten decades in USN History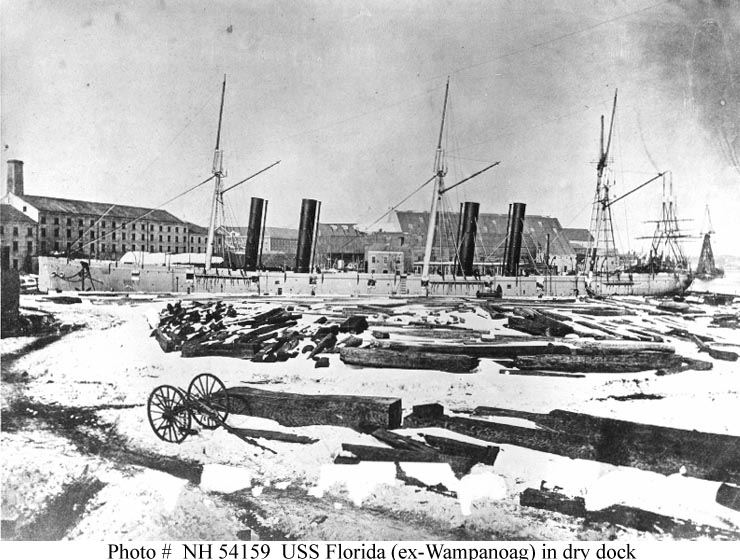 USS Florida, for the former USS Wampanoag class "cruiser", renamed in 1869. She was in drydock at the New York Navy Yard. The original photo bears the date 1874 on its mat. In March 1874, this ship departed New York to become the receiving and store ship at the New London Naval Station, Connecticut. This view may show her after refitting for that purpose. It is also possible, given the "new" appearance of the ship, that it was actually taken in the Winter of 1868, at the time of her trials. Courtesy of the Smithsonian Institution, from the Skerritt Collection, Bethlehem Steel Company Archives. Naval Historical Center.
The "Old Navy" was the name given to the post-civil war era fleet and its inheritance, through the 1870s and 1880s, before a rebirth from 1890. An interesting twenty years of forgotten classes and experimentations.
There were several reasons to this. The massive wartime era Union fleet was built for two purposes, mainly: Blockading the Confederate states, prevent all in and out traffic, keeping them unable to export their goods and obtain armaments and resources in return.
And second, gaining the mastery of the Mississippi and its affluents, bringing many strategic advantages: Cutting vital arteries for the south, bombarding cities to submission, landing troops to the rear of the Confederate army, supporting the advancing Union army, among others. It largely succeeded in this effort, setting up a pattern that would be reporoduced in the future.
From this very large industrial effort, the Union fleet became the basis of the US Navy for almost two decades. The last of these ships were discarded in the late 1880s. Very few new ships were built in between, as many were already in construction and completed postwar. There will be therefore two assessments, the USN in 1875 (with the 1873-74 naval program) and in 1885, generally associated with the birth of the "New Navy", and the all out lowest point of the USN that late in the Century. It is in full contrast with the next decades, making the USN a global power.
The Legacy Fleet


This very large fleet, unprecedented in the young US history (The USN was just 90 years old, dating back 1775), had no longer purpose in 1865, April, 9, the reddition at Appomatox. Hundreds of wooden gunboats, sloops, requisitioned steamers, but also costly ironclads and the prewar wooden warships of the line, frigates and corvettes still serviceable were in the hands of the reunited USA. Added to this, many classes were caught in full contruction or completion. The course of action was multiple in that case: Some vessels were too advanced to be destroyed, and were completed, either for their intended role, or reconverted for civilian service. The remainder were cancelled.
What followed, in the post-war years, amidst reconstruction, lack of funds and Congress reluctance to grant more fir the Navy, was to decommission most of this fleet, having no longer any purpose. All armed merchant cruisers and steamers used as auxiliaries, both by the Union and Confederate states, were decommissioned and returned to their original owners, or new ones. But not all: The USS Vanderbilt for example (1955), was quite formidable, and retained until 1873. USS Rhodes Island served until 1867. But these were the exceptions, in part in the case of the Vanderbilt, of their military potential and cost of their conversion.
The mass-built Unadilla class ('90 days schooners') were sold in 1865-69, as were most Gunboats of the Side-wheels gunboats of the Octorara, Sassacus and Mohongo classes (although in the latter case, three soldiered on with the USN until 1870, 1883 and even 1903). The larger and costier prewar frigates were retained until the late 1870s and even early 1880s. The large 90-120 guns vessels of the line not burnt in 1861 were discarded in 1867, or the 1880s, used in secondary roles. The the Kansas class Gunboats were retired in 1869-83.
More interesting was the fate of the wartime frigates, most still not completed when the war ended (which is why they are treated in this section): The Wampanoag class, the Chattanooga, Idaho, Java clas, all laid down in 1863 were completed post-war, in 1867-69, and served until the 1870s and 1880s. Also in that case were the Swatar class wooden screw sloops, laid down in 1864. In fact just one "experimental" Frigate was laid down in this postwar decade, in 1873, USS Trenton. The same year, and 1874 saw a wave or replacement for the old civil war era vessels laid down: The Sloop classes Enterprise and Alert, eight ships completed 1875-79.
The case of the Monitors now. The "elephant in the room" for the Navy. These costly built or converted armored vessels were tailor-made to breakthrough Confederate riverine defences and defeat their own ironclads, starting with USS Monitor. The war saw many near sister classes being built: The Passaic class, USS Roanoke, Onondaga, Dictator, Milwaukee, Miantonomoh and Casco classes. Most of the latter were either completed postwar, or cancelled outright. This was the case for the four Kalamazoo, laid down in 1863 and never launched, BU on stocks.
Of the nine Canonicus class, four were never completed for their intended service in 1865 and resold. Two went to Peru for example, becoming their first ironclads. Same picture for the Casco class, but at a much larger scale, as these twenty shallow-draught Monitors were really taiilor-designed for riverine Operations and only saw about ten years of active service before being sold.
A very large (4,900 tonnes) sea-going monitor, USS Puritan, was an improved repeat of USS Dictator, laid down in 1862 but never completed, and BU in 1874. This was not the case for USS Dunderberg or New Ironsides, the only broadside ironclads of the US Navy. The first was a 4,000 tonnes flat-bottom, shallow draught vessel throught to be use in reiverine warfare as well. Commissioned in 1862 she saw her rigging cut down during the war and was burnt by accident in 1866.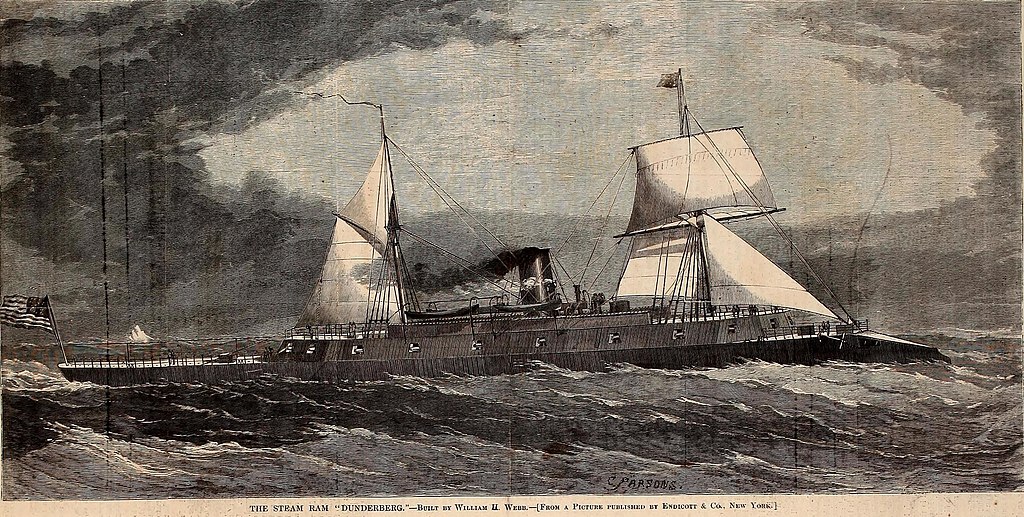 The USS Dunderberg was a second, much larger ironclad (7,800 tonnes) which was so ambitious construction, started in 1862, dragged on until her launch in July 1865, by the time she was no longer needed. The paradox was she was completed, but never commissioned by the USN. Instead, the Congress authorized her sell to France, in full naval arms race with Britain at the time. Modified and rearmed as Rochambeau, she saw limited service in the 1870s. It should be noted that France also purchased USS Onondaga the same year (1867), kept her name and had her in service on the Seine River, rearmed and ultimately discarded in 1904, the last US civil war era Monitor still in existence in Europe. Some Passaic class vessels were still enlisted at that date in the USN.
USN Experiments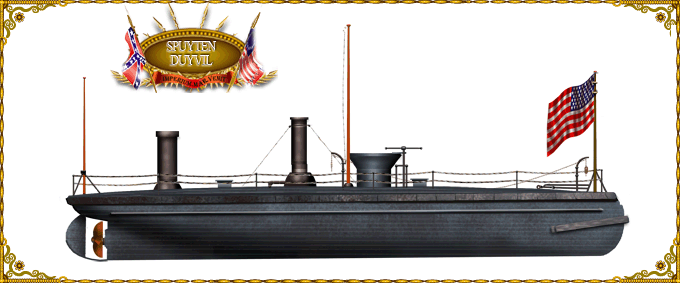 The USS Spuyten Duyvil, world's first torpedo boat
The civil war did saw a flurry of experimental vessels, designed for specific purposes: The two armoured ships Galena and Keokuk for example (1862) were gunboat-size, had dloped sides, ram and heavy artillery. The second ws sunk in action in 1863 but the first survived until 1872, having some military value due to her construction voted at the same time as USS Monitor. She was specifically designed to deal with the Drewry's bluff batteries.
Also off the charts was the first USN "torpedo boat", USS Spuyten Duyvil, a 200 tons vesselsn partly armored, partly submerged, and given a very innovative spar torpedo system. Completed in November 1864 she had little time to prove her worth, but went on performing many tests, until being stricken in 1880s. The concept had such echo, two more vessels inspired by the concept, the torpedo-ram USS Alarm and USS Intrepid, were also ordered the same year 1873, narrowly missing the 1898 Hispano-American war.
Probably more radical even, were similarly spar torpedo-armed semi-submerged vessels from the Confederacy, CSS David and its replacement, or the fully submerged HL Hunley, answered by the Union with the USS Alligator. These were very innovative for their time, but lacked the technology to make them practicable, and were little more than "death traps". Born from desperation for the Confederates, or from experimentation for the Union, they had little to do in the peacetime USN of the 1870s. It's only by the late 1880s that the submarine question went back with pioneers such as John Holland and Simon Lake.
Also for torpedoes, the real ones, self-propelled, they would make a return only from 1885, at small scale and for experimentation with USS Stiletto (1885), followed by 29 more in small scale series and indivisual vessels. Their "official purpose" was close defence, but they merely tested the water of this new weapon, just to keep some practice on this technology. The armoured, semi-submerged ram would make a comeback in 1891 with the laying down of USS Kathadin, but this is for the 1898 topic. Also in 1887 was created the world's first and only "pneumatic cruiser", also called "dynamite gun cruiser", using a set of three pneumatic cannons to test an alternative concept to traditional artillery. This too, would be seen in the 1898 USN section.
1872-74: A new Naval Plan
In 1872, under the presidence of Ulysses S. Grant, the ex-generalissimo of the Union elected in 1868, many reforms were made. The post-war national economy was stabilized. He supported Congressional Reconstruction, and notably ratified the 15th Amendment. He crushed the Ku Klux Klan and had the Union completely restored. He also created the first Civil Service Commission. Grant was allo the first president to circumnavigate the globe, meeting all foreign dignitary and statesmen/women (like Queen Victoria).
In 1872, he had his hands on the Navy, through secretary of the Navy Robeson (later allegedly bribed by a naval contractor, creating a scandal in 1875), and both retired many civil-war era wooden vessels, but started construction in replacement of many others:
The Galena, Enterprise and Alert class sloops (respectively ordered FY1872, 1873 and 1874) in replacement of old gunboats, and two experimental ships in the line of the Spuyten Duyvil, the Alarm and Intrepid torpedo rams. Lastly, his contribution to the funding in 1873 (ordered in December) of a new, modern 3,900 tons steam Frigate to at least "show the flag". She was completed in 1877, after he failed to run for a third term, amidst scandals and a kargely discredited presidency. Since 1870, with Emperor Napoleon III gone, the equilibrium in Europe started to shift eastwards, and Bismarck seems to be the new arbiter of the continent. Under his guidance, the Tiny Prussian fleet started to grow as the German fleet.
The US fleet's strenght, 1873
⚠ Note: This post is in writing. Completion expected in late 2023
Ships studied
Dunderberg Bd Ironclad (1865)
Wampanoag class frigates (1864)
Frigate Chattanooga & Idaho (1864)
Frigate Idaho (1864)
Java class frigates (1865)
Contookook class frigates (1865)
Frigate Trenton (1876)
Swatara class sloops (1865)
Alaska class sloops (1868)
Galena class sloops (1873)
Enterprise class sloops (1874)
Alert class sloops (1873)
Alarm torpedo ram (1873)
Swatara(ii) class sloops (1874)
Intrepid torpedo ram (1874)
---
1883: The birth of the "New Navy"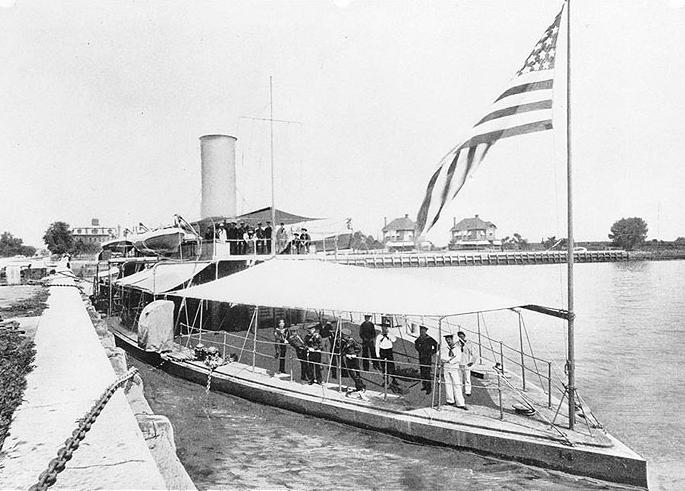 USS Manhattan on the James River in the 1880s
From 1873 to 1883 so ten years, no new ship was laid down in the USN. This was the "great eclipse". The Navy kept a part of its civil war legacy fleet, and that included the following in 1883:
-8 Passaic class monitors (discarded 1899-1904)
-Monitor USS Roanoke (sold that very year in 1883)
-Monitor USS Dictator (same, sold 1883)
-6 Canonicus class Monitors (sold 1891 to 1908)
-2 Wampanoag class cruisers (Madawasca -stricken 1886, and Wampanoag, in 1885).
-4 Java class Frigates (Antienam, Java, Kewaydin, Ontario)
-USS Trenton (frigate), she would be wrecked in 1889
-2 Ossipee class (Oniata, Ossipee, sold 1891)
-3 Scaramento class sloops (discarded 1884, 87 and 1908 for Monongahela)
-2 Ticonderoga, 4 Alaska, 6 Galena/Vandalia class, 3 Kearsage class, 5 Enterprise class screw sloops
-Torpedo Ram Alarm and Intrepid.

USS Ajax during the 1898 Hispano-American war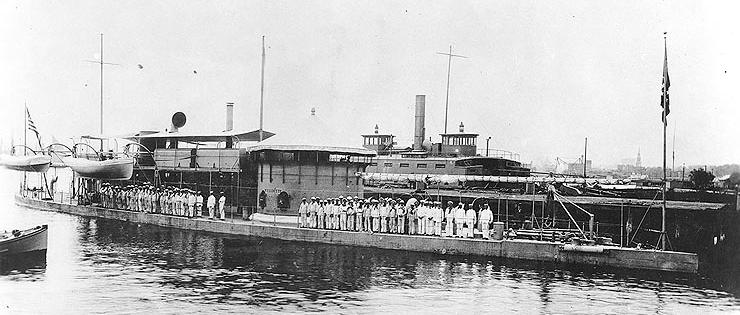 USS Tippecanoe at the same period
Many of the ships above would be scrapped in 1883-89.
The true civil war ships were all gone by that point, some being discarded in the late 1860s already.
So, with the largest and most impressive coast guards that were the USS Roanoke (4400 tons) and USS Dictator (4440 tons), the latter be sea-going, it became difficult to defend the US coast, both on the Atlantic side (which comprised the bulk of the fleet) and those on the Pacific fleet. It should be noted that the decision to send a warship on the other coast was a grave and dangerous one, without the Panama Canal. They had to spend weeks at sea and venture into the "storms's cape".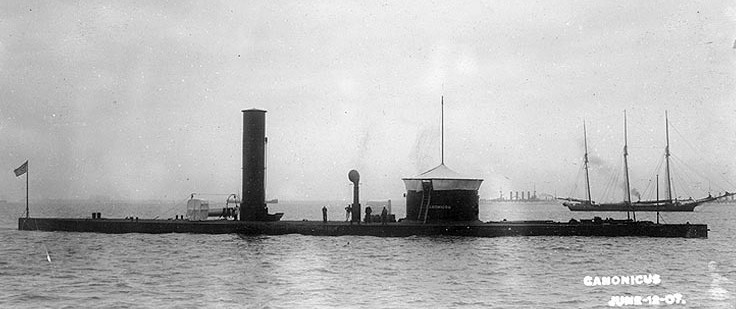 USS Canonicus in 1907, she was sold the next year, one of the oldest surviving civil war ship of the USN and symbol of the "Old Navy".
In 1883, however, things started to change dramatically.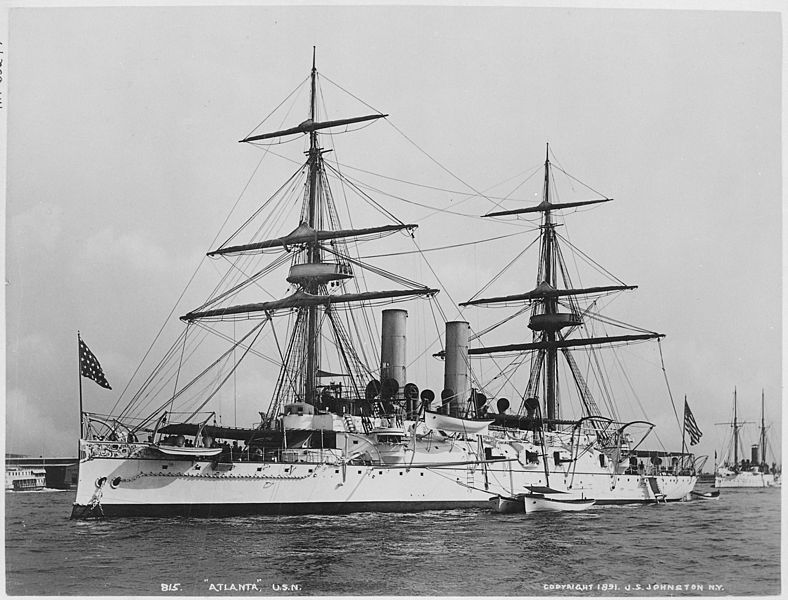 USS Atlanta in 1891. The first modern protected cruiser and first warship of the "New Navy".
This year in November, two modern cruisers were laid down: USS Atlanta and Boston, both at John Roach, and launched in Ocober and December the next year, then completed in New York in 1886-87. Compared for example to the European navaies capabilities, or even some south American navies at the time, she was a mere spec of dust. At 3,189 tonnes, they were masted and fully rigged, carried two 8-in guns and six 6-in guns, all modern rifle, breech loading guns. These were just a symbol of what was to come:
In this period the United States became the major industrial power in the world. The population which was over 50 million in 1880 rose to nearly 63 million in 1890, to 76 million in 1900 and to about 84 million in 1905, and this was accompanied by a huge increase in the production of raw materials and manufactured goods of all kinds. In the 1880s there was a new burst of railway construction in the centre and west of the country, and the development of a very large frozen meat industry.
In the 1890s traffic on the Great Lakes showed a remarkable increase in which the Lake Superior iron ore deposits, particularly the Mesabi range opened in 1892, were an important factor. For this period the production of iron and steel is perhaps the best indication of a nation's industrial power, and pig iron production was 3.87 millions of long tons in 1880 for the USA (vs. 7.75 for Great Britain; 2.69 for Germany plus Luxemburg). In 1890 it went to, respectively, 9.20, 7.90 and 4.58 millions tons. Steel production figures tell much the same story.
This progress was not achieved without setbacks to the country's economy. In 1886 drought and plagues of grasshoppers seriously affected the agriculture of the mid-west, so that prosperity did not return to the region for a decade, and the financial panic of 1893 in which iron production fell by a quarter and 22,000 miles of railway line were under the receiver, inaugurated a four year depression. It must be remembered too that the Federal Government ordinary revenue, obtained mainly from customs and excise, was very small in proportion to the country's output and for the decade 1900-1909 averaged 587 million dollars a year, or 7.11 dollars a head.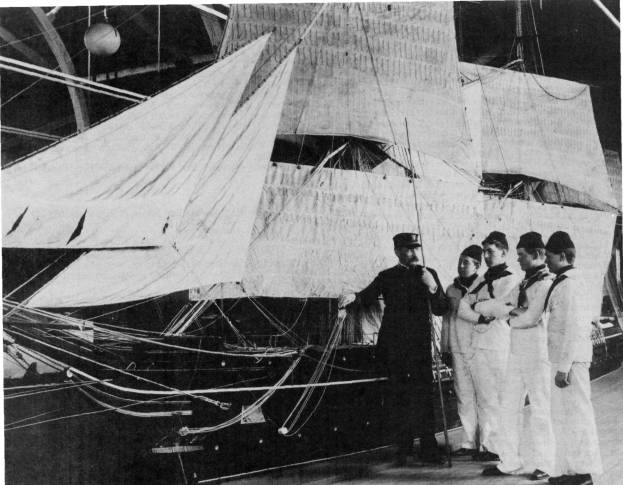 A model of USS Antienam shown to cadets at Annapolis. She was one of the most powerful sloops of war of the decade.
Although internal expansion of the United States was still the main issue, greater attention was paid to overseas interests particularly in the Pacific and in relations with Latin America. The Samoan islands had been placed under the joint control of the United States, England and Germany in 1889, and after the disturbances of ten years later, the United States were in possession of Tutuila with the harbour of Pago Pago. The Hawaiian islands were annexed in July 1898 and meanwhile war broke out with Spain on 21 April 1898. The immediate cause was the Maine blowing up in Havana harbour for which Spain was held responsible, but the USA had long been sensitive to events in Cuba, and the Spanish failure to subdue the Cuban rebels would probably have brought United States intervention eventually.
The "new" US navy was still not at that date a very large fleet, comprising four battleships, seven small battleships and monitors, 19 cruisers and 13 torpedo boats as its principal units. It proved perfectly capable of dealing with the Spanish squadrons, annihilating them at trifling cost in the Battles of Santiago and Manila. As a result of this war, which was ended by the Treaty of Paris signed on 10 December 1898, the United States obtained Puerto Rico, the Philippine Islands and Guam while Cuba was to become independent but under strong US influence and protection. The "new navy" building programmes really took off under the Roosevelt (Teddy) administration, like if the war with Spain was a test of confidence.
Next: The USN in 1890-98 and hispano-American War.
USN Forgotten fleet in detail
USS Dunderberg (1865)
Broadside Ironclad (1862-67), sold as Rochambeau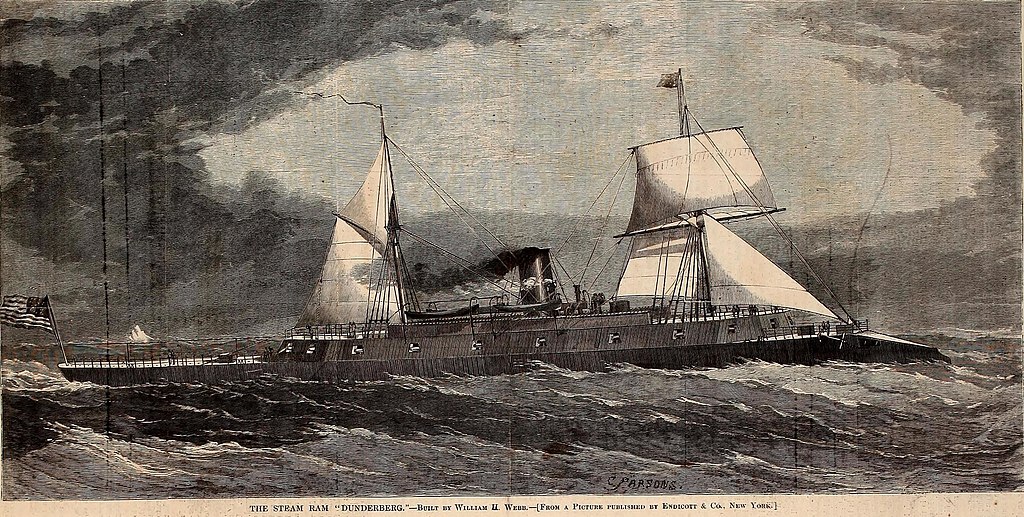 Dunderberg (Swedish for "thunder(ing) mountain") was invented by Ericsson, the father of the Monitor, as an ocean-going casemate ironclad for the Union Navy able to defeat any rebel ironclad. She looked like a two-masted version of the Confederate CSS Virginia but was originally designed to have both gun turrets and a casemate but the turrets were never installed. Construction started by 1862, but progress was slow so she was only completed by 1865.
Thus, she was not accepted by the Union Navy and the Yard looked for other customers. One was Otto von Bismarck but France worried that Prussia could acquire it seeked to purchase her instead and she was commissioned by 1867 as "Rochambeau" (A French general active during the US war of Independence). She was in reserve until the Navy knew what to do with her, which happened wirth the war of 1870, seeing no action as a harbour guard, and decommissioned soon after, stricken in 1872 and scrapped in 1874.
Wampanoag class frigates (1864)
Wampanoag, Ammonoosuc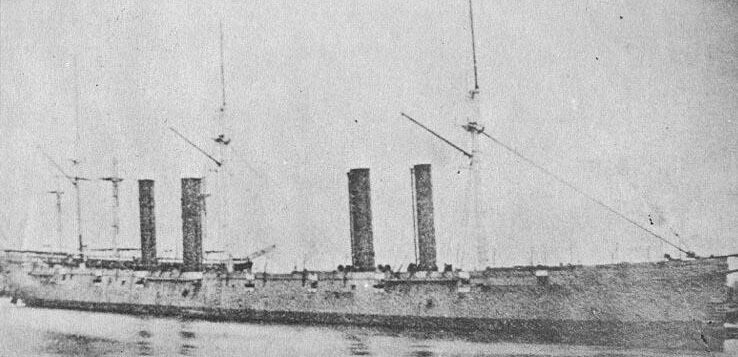 Probably the most emblematic class ever built dutring this decade, the Waponaag class frigates were the first often classed by authors as "cruisers" as they completed fit the bill. Their steam power was to be superior to the use of sail. They can be labelled as the "first USN cruisers" ever.
The Wampanoags were two of six fast steam frigates (also Ammonoosuc, Neshaminy, Pompanoosuc, one unnamed) ordered by the U.S. Navy for commerce raiding duties if Britain was to intervene in the Civil War, on the Confederate side. But of the six started, only Wampanoag and Ammonoosuc were completed. Wampanoag briefly reached 18 knots on trial but Madawaska barely managed 15.25 knots. They were not seen as very successful ships but still had their commerce raider role. Her trials and brief career were controversial with many diverging opinions depending on what side the observers were. She saw little service, being renamed Florida on 15 May, 1869. By 1876 she was "serviceable but will have to be repaired before going to sea.". Eventually she lingered about until being sold for BU in 1885. Her sister Madawaska was renamed Tennessee on 15 May 1869 and by July 1887 was rated as "unserviceable" and sold for BU.
Frigate USS Chattanooga (1864)
USS Chattanooga was constructed during the final years of the American Civil War but not commissioned as the war won by the Union. Placed into reserve she was holed by ice in 1871.
Built in Philadelphia, at William Cramp & Sons Yard, she was a conventional screw steamer launched on 13 October 1864, Commissioned on 16 May 1866 and after sea trials in August 1866, she was decommissioned in Philly on 3 September 1866, inactive there at League Island when sunk at her dock by floating ice, sold in January 1872.
Frigate Idaho (1864)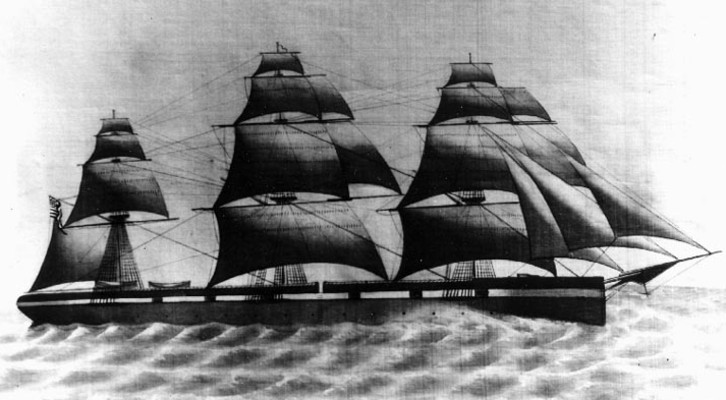 USS Idaho was a 3,241-ton steam sloop but also very fast steam cruisers to be engage by hte Union against British trade if the latter joined the war with the Confederacy. She Completed however in May 1866, with sea trials in August and an extremely disappoining 8 knots top speed. It happened that boilers and engines has been ordered separately as a result of political influence. This was a far cry to her planned 15-knot as contracted so she was rejected by the Navy, although the U.S. Congresss ordered its purchase anyway, order her machinery change, and she reached her requested speed, reaching 18 knots (33 km/h; 21 mph). She spent some time in Japan, acted as store and hospital ship for the Asiatic Squadron. On 20 September back home she was hit underway for San Francisco by a raging typhoon which took her masts and battered her hull. She was brought back to Yokohama was never repaired, being decommissioning there on 31 December 1873, sold in 1874 to the East Indies Trading Company.
Java class frigates (1865)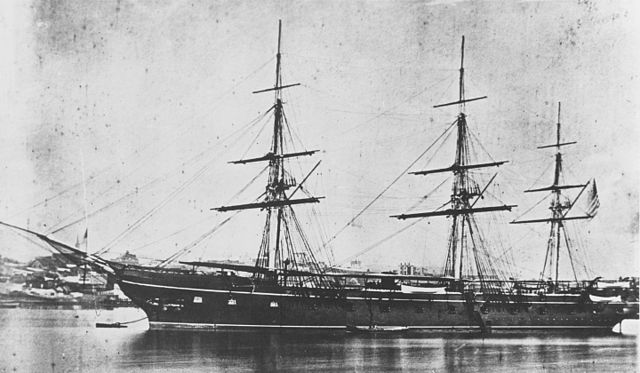 USS California, ex-Minnetonka, renamed in 1869.
These ships were also fast commerce raiding sloops of war. Eight ships were ordered, USS Antienam, Guerriere, Illinois, Java, Kewaydin, Minnetonka, Ontario, Pistacaqua. Of these, laid down in 1863, only Guerriere was launched in September 1865, Minnetonka in 1867 and Pistaqua in 1866. Anteniam was modified anc completed for the civilian market in 1875, as a floating store. She was sold in 1888. Guerriere was sold in 1872, Minnetonka in 1875 and Pistaqua in 1876. These were 319 ft 3 in (97.31 m) long ship by 46 ft (14 m) in beam, 17 ft 11 in (5.46 m) in draft and capable of 13 knots (24 km/h; 15 mph) (crew 181), armed with two 100-pounder guns, one 60-pounder gun, four 20-pounder guns and six 9 in (230 mm) guns for Guerriere. USS California was armed in a different way, with eighteen 9 in (230 mm) guns, two 100-pdr Parrott, one 60-pdr, two 20-pdr Dahlgren SB, one 12-pdr Dahlgren RML, five 12-podr SB.
Contookook class Sloops (1864)
USS Contoocook, Worcester, Severn, Congress. Cancelled ships Tahgayuta, Arapahoe, Keosauqua, Mondamin, Wanaloset, Willamette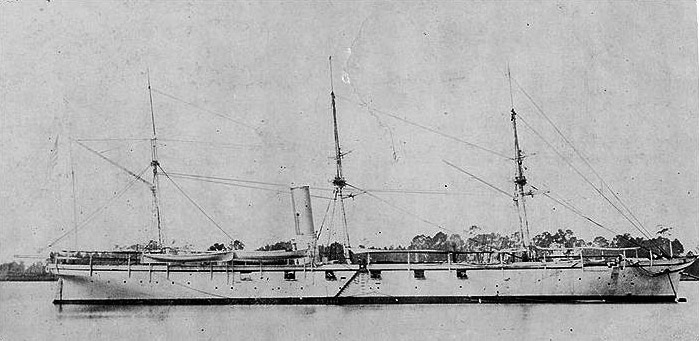 USS Contoocook was the lead ship of a screw sloop-of-war class planned during the American Civil War. The first was launched on launched 3 December 1864 at Portsmouth Navy Yard but suspended when the war ended. Construction resumed and she was commissioned on 14 March 1868. USS Contoocook became USS Albany on 15 May 1869, cruised to the West Indies but was decommissioned on 7 January 1870. She displaced 3,050 long tons. She measured 296 ft 10 in (90.47 m) for a beam of 41 ft (12 m) and 9 ft 9 in (2.97 m) draft. She could reach 13 knots (24 km/h; 15 mph) with a crew of 153 and armed with four 12-pdr guns. The others were also decommissioned in the 1870s.
Frigate Trenton (1876)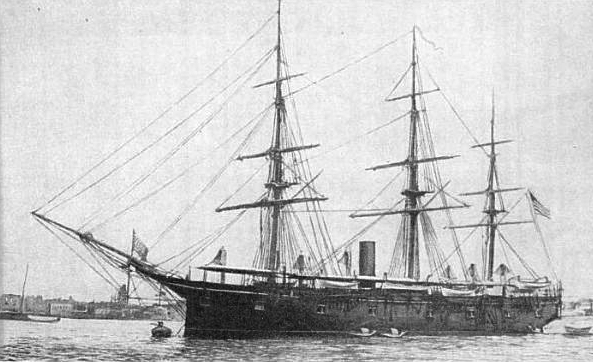 She was launched on 1 January 1876, Commissioned on 14 February 1877. She was a wooden-hulled screw frigate named for Trenton in New Jersey. She was buit at build at the New York Navy Yard and started service with Captain John Lee Davis. She was the first US naval vessel provided with electric lights, installed in 1883. Her career extended from the Atlantic to the Mediterranean, West Coast and South America, the Far East in 1883-1886, and the Pacific in 1887-1889. She survived the "old navy", decommissioned on 17 September 1886, recommissioned on 16 May 1887, Wrecked on 16 March 1889 and stricken on 13 April 1891.
Swatara class sloops (1865)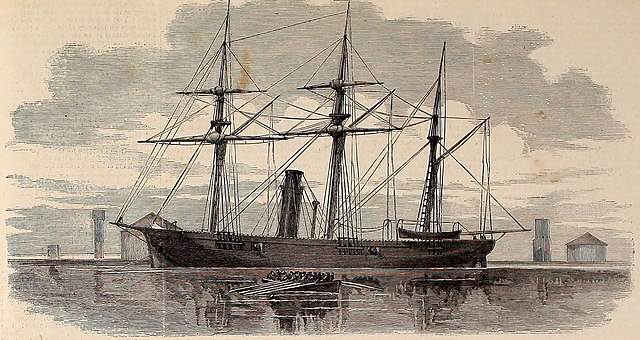 The class displaced 1,113 long tons for a hull 216 ft (65.8 m) long, 30 ft (9.1 m) wide, 13 ft (4.0 m) in draught. Her propulsion enabled 12 knots, crew was 164 and she was armed with a single 60-pounder gun, six 32-pounder guns, three 20-pounder howitzers.
Alaska class sloops (1868)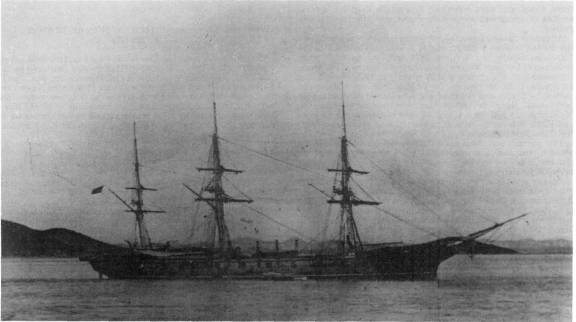 The lead ship was laid down in 1867 and commissioned in December 1869. These were displacing 2,394 tons for 250 ft 6 in (76.35 m) in lenght, 38 ft (12 m) in beam, 16 ft (4.9 m) in draught. Propulsion. Top speed was 11.5 knots, crew 273. She was armed with a single 11 in (280 mm) smoothbore gun, ten 9 in (230 mm) guns, one 60-pounder and two 20-pounders.
Galena class sloops (1873)
Swatara, Marion, Quinnebaug, Galena, Mohican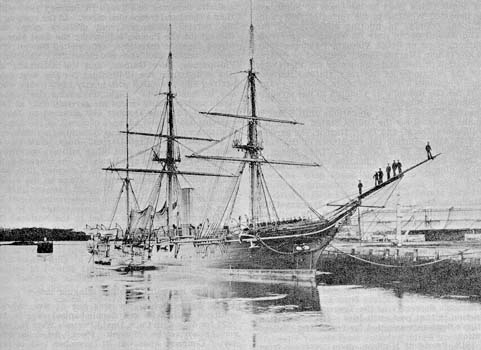 "All five were officially described as "repairs" of older ships, a traditional method used to fund new ships without the troublesome business of asking a Congress hostile of military spending to authorize new warships." The class displaced 1,900 long tons (1,930 t) for 216 ft (66 m) in lenght, 37 ft (11 m) in beam and 16 ft 6 in (5.03 m) in draught and a top speed of 10.2 knots. The crew was 230. She was armed with six 9 in (230 mm) smoothbore guns, a single 8 in (200 mm) rifle gun, and a single 30-pounder gun on deck.
Enterprise class sloops (1874)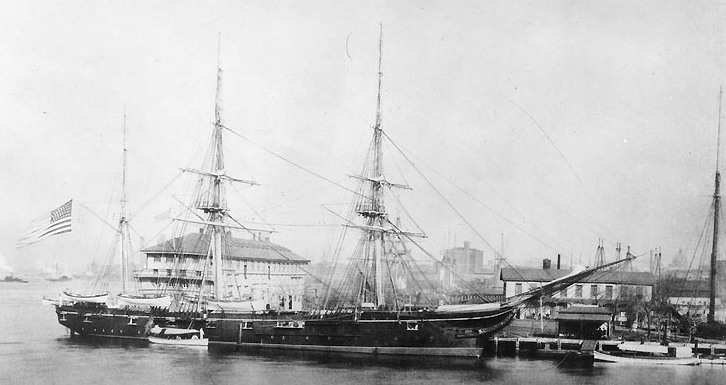 These ships displaced 1,375 tons, dimensions were 185 ft (56 m), 35 ft (11 m) in beam, 14 ft 3 in (4.34 m) draft. She could steam at 11 knots. Her crew was 184, she carried a single 11″ smooth bore, and four 9″ guns plus a 60-pounder. USS Enterptise (5th) was decommissioned on 4 May 1909.
Alert class sloops (1873)
Alert,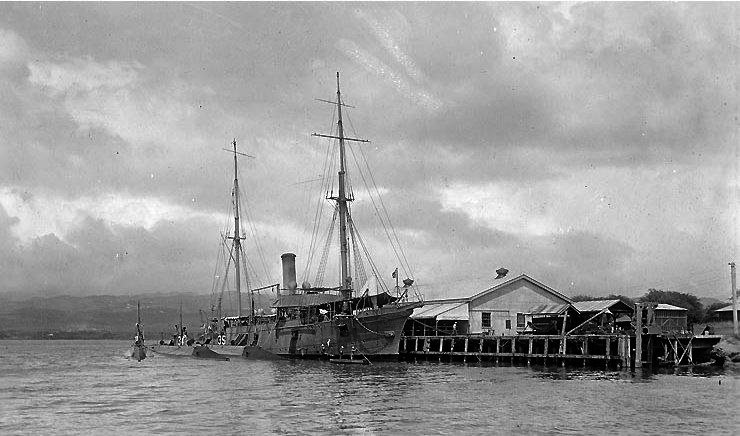 The Alert class were 6-gun screw steel sloops
Alarm torpedo ram (1873)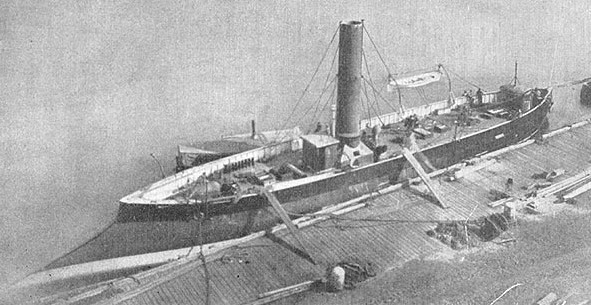 "USS Alarm—an experimental torpedo boat constructed at the New York Navy Yard—was launched on 13 November 1873 and commissioned in 1874.
Designed and constructed specifically for the experimental work of the Bureau of Ordnance, Alarm served that purpose at Washington, D.C., until 1877 when she moved north to Newport, RI, to conduct experiments at the torpedo station. She returned to Washington the following year and resumed special service. In 1880, she began a tour of experimental work at New York which she carried out until she was laid up at Norfolk, VA, in 1883. In 1881, William Elbridge Sewell, who would later become Governor of Guam, was placed in command. However, she resumed her research duties at New York in 1884 and served there until she was placed out of commission in 1885 and berthed at New York.
The records are unclear, but Alarm probably remained out of commission from that time forward. In 1890 and 1891, she was undergoing conversion to a gunnery training ship. From 1892 to 1894, she remained at the New York Navy Yard. In 1895, she was listed as "in ordinary;" and, in 1897, her name was struck from the Navy list. She was sold on 23 February 1898."
She displaced 800 t for 158 ft 6 in (48.31 m) in lenght, 28 ft (8.5 m) in beam and 10 ft 6 in (3.20 m) in draft, and capable of 10 knots and armed with a single 15″ gun and 3 x spar torpedoes. She was in short, the first "torpedo boat" after USS Spuyten Duyvil.
Intrepid torpedo ram (1874)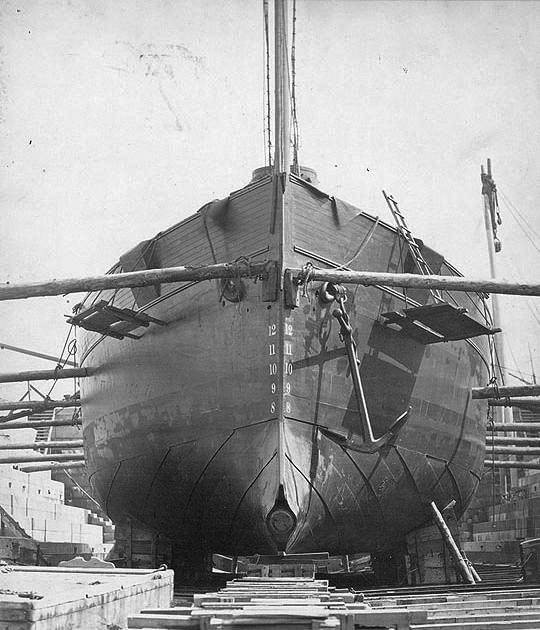 Second type of experimental torpedo ram: She displaced 1,150 long tons (1,168 t), measured 170 ft 3 in (51.89 m) in lenght for 35 ft (11 m) in beam, 12 ft (3.7 m) in draft. She reached 11 knots and was armed with four 24-pounder howitzers and this time a single torpedo tube. Second USS Intrepid by name. Built in 1874, ver first armed with self-propelled torpedoes, long before the TB USS Stiletto. She was the US equivalent of HMS Polyphemus, although completed more half a decade earlier. She was decommissioned on 22 August 188, stricken on 9 May 1892 and sold for scrap on 9 May 1892.
Swatara(ii) class Wooden screw sloops (1874)
USS Galena, Marion, Mohican, Quinnebaug, Swatara, Vandalia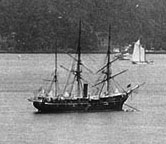 The second class bearing that name, based on launch is known in various sources also as the Galena and Vandalia class. These were wooden screw sloops, all laid down along the new naval plan of the 1870s, in 1872, but launched at various yards with various fortunes, some completed in 1873-75 and USS Mohican in 1885, she was a training ship 1898-1904, station ship at Olongapo, then 1910-21 receiving ship at Cavite and sub-tender in WW1.
Specs: 1900/2033t, 216 x 37-39ft x 16-17ft draft. 10 Cyl. boilers, 1 shaft HCRCR 800 ihp, 10-11 knots coal 160-185t. Armed with one 8-in RML, one 5.3-in RML, six 9-in SB. This varied between ships. Surviving ships had a 8-in RML, one 5.3-in BL, and six 9-in SB plus smaller guns. They were sold between 1891 and 1922 apart USS Vanadia, wrecked in 1889.
Src/read more
revuair.com/2019/05/24/uss-wampanoag/
globalsecurity.org wampanoag
waldenfont.com papermodels
List of US sloops of war