Introduction: The inter-service rivalry
One fact was on paper, the specialized ships and numbers of landing crafts already in service made the Japanese force, the world's largest and most advanced when WW2 broke out.
Japanese Imperial Amphibious Operations meant two corps rivalled for ships, tanks, troops and this created quite a unique situation. Amonf the axis, Japan was the only power able to carry out naval operation at a grand scale, but also to project a specialized and well equipped naval force, with proper Marine troops. It would have seen logical to let the Navy transport army troops and vehicles on any given operations, but the inter-service rivaly in Japan was particularly acute, and make those prospects ultimately unlikely. So this post will cover both the Navy and Army approach to amphibious operations and their own assets. The second part will oversees rapidly the nature of IJN amphibious operations, starting in 1937.
The Navy/Army rivalry existed (and still exists today) in many armed forces around the world. These services generally competed not only for budgets, but for what kind of assets they can use. This indeed became more prevalent with a advent of amphibious operations, but also aviation. The first naturally called for dedicated Marines, but also the Army to have the numbers and armor associated, while the second became a thing when aircraft and seaplane carriers started to appear. The three grear carrier powers of the time, Great Britain, USA and Japan developed indeed separate aviation branches. In the USA this went up to forbid by law the Navy to operate large land-based bombers for patrols, logically falling under the supervision of the Air Force. Inter-service rivalry went straight up to open war in South America, when in several occasions, one service choosed a political side, while the other back its rivals. In Brazil for example at some point during the interwar, the Navy fought the Army and Air Force. Same rivalries existed also in Chile and Argentina.
The US found a compromises. For small scale amphibious operations the Marine Corps was used. It grew to a staggering size during WW2, but in many cases and especially in the Western theater, army troops ran the show and "lent" the Navy to bring them to the beaches. In UK, apart the small elite corps of the Royal Marine and Commandos, the bulk of amphibiois troops were also from the army and again, the Navy carried the army without much a hint.
In Germany and Italy there was not such culture or marine troops, and all three branches needed to collaborate, often with difficulties, on any given operation of that nature. But the Japanese case was different. Durin the interwar, the two service not only competed for funds but since they represented also two rival political factions behind the government, were ready to the most extreme confrontations if needed. The two for example were dramatically opposed on the future of Japan, the Army seeing itself as a land power dominating Asia from Mandchuria to India, while the Navy preffered to secure resources which Japan needed through a maritime empire across the Pacific. The army "won" in the first part from 1932 to the wholesale conquest of China in 1937, but from 1940, the Navy regained influence. After its stunning success at Pearl Harbor and in the following months, it even took center stage and the Japanese strategy went along its views while the situation in China remained largely stagnant, starved from funding and troops.
Another aspect was that the older members of these branches claimed to descend from rival Samurai clans dating back from the Boshin war, still in some case hating each others with a passion. Assassinations cases and wholesale violence during the interwar, as well as katana duels, were commonplace as well as both service lying to each others about their successes during WW2. This situation better translated into aviation, not much armor. Indeed, both services wanted, and obtained, their own specific "aviation tree" with fighters, torpedo-bombers and even land-based bombers, a situation not seen in any other nation. Outside the obvious waste of time and resources to produce these and competing standards, this prevented in effect any efficient coordination.
IJA (Army)'s Navy
But certainly the most striking aspect of this was the Army wated also its own navy to carry out its own operations, separated from the Marines.
Crane ship Saishu Maru
2,000 tons, slow, the crane ship allowed to pick up and reloace battleships turrets from the Navy in fortifications. She also allegedly conducted salvage operations to recover what coould be from HMS repulse and Prince of Wales after their sinking, notably their radar sets for reverse-engineering.
Type B Shaihatsu
Type A navy barge and Type B Shohatsu. Shallow draft boat-like crafts without ramp, carrying 32-35 men. Carried in smaller ships.
Landing Gunboats
ONI: Type C and two variants. Also called Sukutai class. 57 mm gun, MGs, smoke post. 6 mm armor. They were usually used as supply escorts in the Pacific. Smaller type riverine craft, Recon boat 15 meters.
Type A Daihatsu
The Daihatsu-class ("14 m landing craft") and "large motorized boat" or 大型発動機艇, was used by the Imperial Japanese Army in 1937-1945 so from the Second Sino-Japanese War. ONI designated it the "Type A" landing craft. Originally developed in 1924, it was further refined and adopted to the IJN (Imperial Japanese Navy). They first saw combat on 29 February 1932: It was the "Shanghai incident", in which they landed the IJA's 11th Division, behind enemy lines, cutting them out, and leading to a general withdrawal of the Chinese 19th Route Army. This operation was studied carefully by USMC Victor Krulak, which later provided photographs and data to Andrew Higgins, which took inspiration for the LCP and LCVP.
These Daihatsu Type A took part in all 1942 offensive troughout the Pacific. The last reported use was to deliver supplies on the Kaladan River, on 10 May 1944 (U Go offensive, Burma), camouflaged with bushes and fitted with a Type 92 HMG. Production:
-Production: Estimated total 6,000 boats.
-Dimensions: 21 tons 47 x 10 x 2.6 ft (14.33 m x 3 x 0.8 m)
-Bow ramp that to disembark cargo after beaching.
-Metal hull -Diesel engine 60 hp (45 kW), 8 knots (14.8 km/h) max
-Range: 100 nm (185 km) at 7.5 knots (13.9 km/h) or 50 nm (93 km) at 8.5 knots (15.7 km/h)
-Armament varied, some carrying a 37 mm (1.46 inch)
-Protection (addon) 2-in or 40 mm plating aft and ramp.
-Allegedly more seaworthy than the LCVP (advanced hull design).
Toku Daihatsu
The 17 meter Toku Daihatsu-class was essentially an enlarged variant of the landing craft, lengthened to carry a medium-sized tank, or two eight ton tanks, like the allied LCT.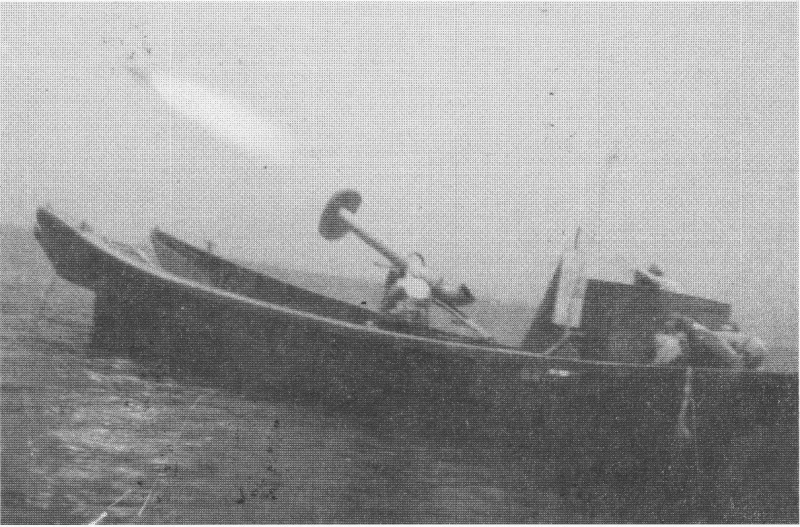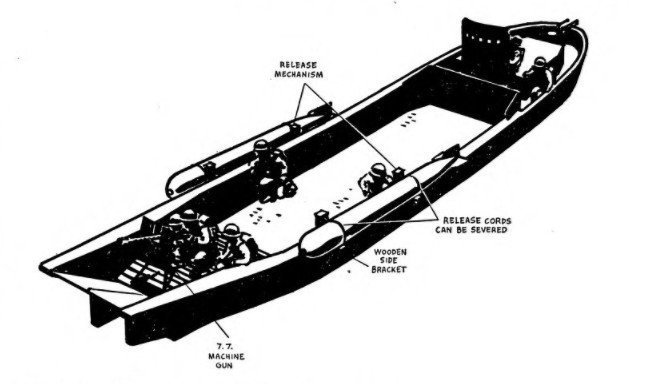 Howitzer armed Daihatsu for support
1
Other small boats and barges
Type D tiller type barge, Type E fast riverine barge, with aviation engine.
Type F steel barge, Type G sampan barge
Type H plywood barge, Type I inert double ended barge
Type J unpowered wooden boat, Type 4 high speed boat
Assault pontoons: Collapsible boat and Rigid pontoon boat
Large assault auxiliaries
Shinsu Maru ()
This was the world's first assault ship, landing ship dock also operating planes.
-Takai Maru & Kashi maru: Multipurpose (communication vessels with radios) ships mostly later used as troops transports. -5 aircraft/vehicle repair ships for maintenance, later used as transports, most of them sunk by submarines. -5 underwater cable layers for communication -15+ Supply transports, Tankers, Hospital ships -"Bokusen" armed transport: Zenya Maru, Sakura maru, Sado Maru, Sakura Maru, Albasan Maru, Atsutasan Maru, Arizona Maru -Specialy built transports: Takatsu Maru, Mayasan Maru, Tamatsu Maru (all sank 1944), Yugu Maru, Kibitsu Maru (damaged), Tikitsu Maru (completed postwar), Settsu Maru (survived).
The largest and most famous dedicated landing ship of the IJA & IJN.