Oceanic Submersibles 1931-1945:
HMS Thames (N71), HMS Severn (N57), HMS Clyde (N12)

Britain's last Fleet submarines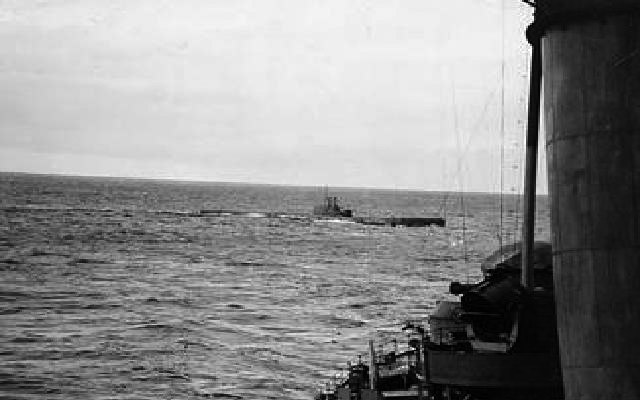 HMS Clyde underway for a resupplying at sea in the Mediterranean (RAS)
The "River class", known as "Thames" class after the lead boat, was a class of three large oceanic submersibles named after rivers at home, and quite large. They were not classed as cruisers though, lacking the armament. They were designed as more conventional successors of the dubious X1, K- and M-class of WW1. If they had an excellent top speed (22 knots) with good range, they were unable to dive deep due to their riveted hulls and were not agile. They also suffered engines issues, in part due to their unusual arrangement with turbo-generator units, and troublesome hydroplanes. But largely compensated by nice wartime careers.
One was lost during the war, the rest discarded in 1945. If HMS Thames's career was short, HMS Clyde was the most successful of these "three musketeers", with six kills and many damaged vessels. Clyde's captain, Lt. Hedley Kett, RN, had a reputation of being an agressive and "trigger-happy" commander, twice torpedoing fellow Submarines by misidentification (but thankfully missing). He would once also engage three U-Boats at once, ramming one after spending torpedoes. Above all he decided to engage while surfaced the German auxiliary cruiser Widder, far better armed than she was, and sent her packing back in a fjord. Mersey on her part also had several kills and torpedoed KMS Gneisenau, while Thames claimed her escort torpedo boat in Norway where all three served with distinction. Her first captain was killed in an old-style pistol duel while boarding the French submarine Surcouf in Portsmouth. You don't change a 1000 years old rivalry.
The two survivors (the loss of Thames off Norway never had been fully solved) also served in the Indian Ocean until the end of the war, taking care of the Japanese after rampaging the Mediterranean.
❮❮❮❮❮❮❮❮❮❮❮
⚠ Note: This is a starter article, to be Completed at a later date.
❯❯❯❯❯❯❯❯❯❯❯
Design of the class
The River class was singular at several titles. It was a last attempt by the Admiralty to produce proper "fleet submarines", fast (20+ kts surfaced) and with a long range (8,000+ nm) as previous WWI experiences has been somewhat disastrous: The steam powered K-class for example, of the massive M-class and their 12-inch (305 mm) guns, as well as the X1, were not encouraging. By sticking to a more conventional formula, engineers started work already by the late 1920s. It is estimated the final design was completed at Vickers in 1929 and three vessels were built in the Barrow facility: HMS Thames in 1932, and the somewhat improved and larger Severn and Clyde in 1935. In facct Conway's had them separated. 20 were planned but budgetary constraints with the fincancial crisis and a change in strategy ended the serie.
The design looked at increasing survivability by procuring a better diving depth, while having great care in the hull shape for a better speed, but still they ended as designed with a 300 feet (90 m) capability. To compare, the Odin were capable of 500 feet (150 m). A pair of diesels procured them 8,000 bhp (6,000 kW), coupled woth Ricardo engines and generators supercharging the diesels in order to obtain 10,000 bhp (7,500 kW) for indeed 22 knots (41 km/h). However this assembly proved troublesome on the long range. Another noted issue were their rather faulty hydroplanes which could send one of these to the bottom. The riveted rather than welded construction was also stressful on the hull when diving and a poor design choice, in part dictated by cost.
Hull and general design





Plans at Museum Greenwhich.
(To come)
Armour protection layout
Powerplant
Armament
Main
Secondary
AA

Author's rendition of HMS Clyde in the interwar, Malta.
⚙ River-class specifications

Displacement
2,206 tons surfaced, 2,723 tons submerged (Thames 2,680 tons)
Dimensions
345 ft x 28 ft 3 in x 15 ft 11 in (105, 8.61, 4.85 m)
Propulsion
2 shafts supercharged diesels 10,000 hp, 2x EM 2,500 hp
Speed
22 knots (41 km/h) surfaced, 10 knots (19 km/h) submerged
Range
12,000 nmi (22,000 km; 14,000 mi) at 12 kn (22 km/h; 14 mph) surfaced
Test Depth
300 feet (91 m), entered into records as max depth
Armament
6 × 21 in TTs (6 bow), 12 reloads, QF 4 in (102 mm) Mk XII
Crew
61
The Thames class in action
HMS Thames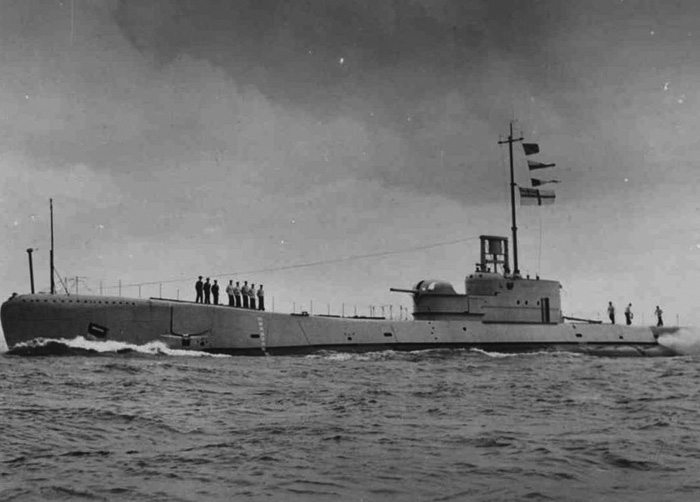 HMS Thames was launched on 26 February 1932, completed on 14 September 1932, and assigned to the Mediterranean, Malta for her first overseas posting.
Service history during the interwar was not remarkable. She trained with the fleet, made tets dives and night/day operations, with yearly upkeep periods in Malta. In 1939 she fell under command of Cdr Denis V. Sprague (27 December), replaced on 4 July 1940 by Lt Cdr William D. Dunkerley. Sprague was Killed in action in a perculiar action, when trying to take control of the French submarine Surcouf at Plymouth (when interned) as part of the takeover of Operation Catapult.
Prior to this, Thames had been recalled home and assigned to the 9th Submarine Flotilla, Home Fleet. She started interception patrols and tried to spot surfaced U-boats but her main target was surface raiders, blockade runners. After refit in the spring 1940 she was assigned to North Sea patrols and took part in the Norwegian campaign. Her only "kill" was in July 1940 whe she torpedoed and sank the German torpedo boat Luchs, escorting back to Kiel the damaged battleship Gneisenau from Trondheim. This was quite an achievement but remained the only one.
HMS Thames was reported missing on 3 August 1940. The most common hypothesis is that she hit a mine off Norway between late July when last reported and this date. Commemorations for her crew took place as the homeport of the 9th Submarine Flotilla in Dundeed.
HMS Severn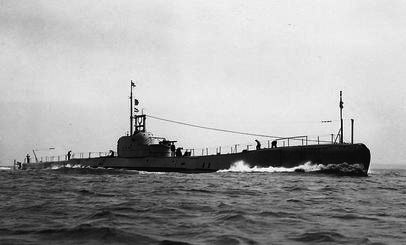 After a similar career in the Mediterranean, HMS was assigned to the 1st Submarine Flotilla in Malta by 1939 and in September she was sent to West Africa, Freetown, screening convoys. Durinf on seuch missions she was called to take part in the hunt for Graf Spee, but the Battle of the River Plate intervened in between and she was recalled.
In March 1940 she was sent on home waters, patrolling the North Sea. This was prolongated in the Norwegian campaign: By May 1940, she sank the Swedish sailing vessel Monark then in German service.
A year later in May 1941 she was reassigned to Gibraltar, 8th Submarine Flotilla. She patrolled and escorted HG 69 in June. She fired at, but missed the Italian sub. Argonauta but sank the Italian merchantmen Polinnia and Ugo Bassi. In August 1941 she spotted and attacked another axis submarine. When KMS Bismarck was on the loose, she was also called upon.
By 1942, she was recalled to home waters and more patrols against German blockade runners/raiders.
In May 1943 she was recalled to the Mediterranean and took part in Operation Husky, the invasion of Sicily. She was later homeported to Haifa (red sea) replenishing the isolated garrison of Leros during the Aegean campaign.
The this was the Eastern Fleet, 2nd Submarine Flotilla, Trincomalee in May 1944 and operations in the Indian Ocean until the end of the war. Back home she was discarded and BU in 1946.



HMS Clyde was commissioned in 1935 and after a Mediterranean prewar service she was assigned to the 1st Submarine Flotilla, Malta, with her sisters in 1939.
In September like her sister Severn she was sent to West Africa (Freetown) and by January 1940 back home in North Sea interception patrols prolongated with the Norwegian campaign.
It's there on 13 May that she spotted while surfaced the German auxiliary cruiser KMS Widder, much better armed. Rather than diving HMS Clyde's captain boldly decided to attack while manoeuvering for a torpedo launch. But Widder manoeuvered too and gunfire exchange lasted for about an hour. It seems between the poor vibility and distance, there were no hits. But this was tactical victory as Widder took refuge in Sandsfjord. To put things in perspective, KMS Widder was armed with six 15 cm (5.9 in) SK L/45 (versus Clyde's single 4-in deck gun), one 75 mm (3 in) a twin 3.7 cm, two twin 2 cm as FlaK 30 and four 53.3 cm torpedo tubes (versus 6 bow tubes on Clyde), mines and two Heinkel He 114B floatplanes.
In June 1940, HMS Clyde nevertheless torpedoed KMS Gneisenau, a torpedo hitting her bow, forcing her back to Trondheim. Her sister Thames nearly managed to ambush her and sunk her escorting torpedo boat later when she tried to reach Kiel. Later by July she sank the Norwegian fishing vessel SF 52 and took HMS Truant for an U-Boat but fortunately missed her. but without hitting her. She went on operating in the Bay of Biscay until May 1941, sent to Gibraltar (8th Submarine Flotilla), escorted HG 70 and sinking the merchantmen San Marco and Sturla and the patrol ship V 125 Giovanni Bottigliere. Later as the Malta blockade became unbearable she was converted as a transport submarine, sacrificing one of battery compartments as a cargo hold. She made 9 such supply missions to the beleaguered island. By September 1941 she caught surfaced U-67, U-68 and U-111 in Tarrafal Bay, resupplying in the Cape Verde Islands. She launched her torpedoes and while manoeuvering, rammed U-67 as the latter dived. Badly damaged, the U-Boat sailed for home to be repaired.
1942 was still an active year for HMS Clyde seen supplying Malta, and made another misidentification, this time firing on HMS Regent… and missing while off Ponta Delgada, Azores. By January 1943, she was refitted in UK, and by January 1944 reassigned to the Eastern Fleet, 2nd Submarine Flotilla in Trincomalee. From May until the end of the war, as her sister Mersey, she patrolled and deposed SOE agents for Operation Hatch (Andaman Islands). By March 1945 she sank two IJN sailing vessels and the auxiliary submarine chaser Kiku Maru. By May after 36 patrols and 6 kills, she had a last refit in Mombasa, stil ongoing by August 1945. Placed in Reserve in Durban, she was sold for BU on 30 July 1946.
Read More
Books
Conway's All the World's Fighting Ships 1921-1947
Caruana, Joseph (2012). "Emergency Victualling of Malta During WWII". Warship International. LXIX (4)
Conway's All the World's Fighting Ships 1922–1946
D.K. Brown – Nelson to Vanguard, Chatham Maritime Press
Jane's Fighting Ships of World War II. 1998.
Links
https://uboat.net/allies/warships/ship/3411.html
https://uboat.net/allies/warships/ship/3409.html
http://rnsubs.co.uk/boats/subs/river-class.html
https://uboat.net/allies/warships/class.html?ID=48
http://www.naval-history.net/xGM-Chrono-12SS-04Thames-Thames.htm
http://www.naval-history.net/xGM-Chrono-12SS-04Thames-Clyde.htm
http://rnsubs.co.uk/boats/subs/river-class/thames.html
Model Kits