The replacement cruisers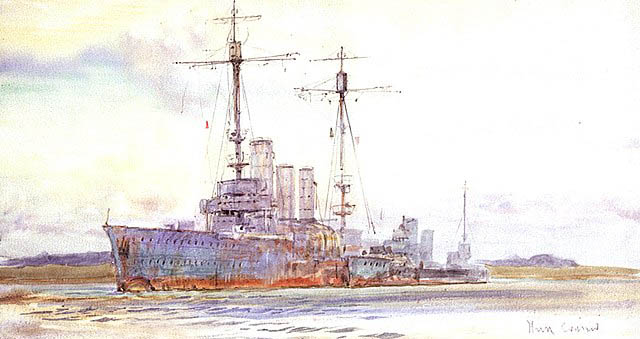 Painting of the Karlsruhe in Scapa Flow
A new, unnamed class was programmed in 1913 already to replaced the Wiesbaden class. They were an incremental step in design, larger, and four cruisers were started as WWI broke out, SMS Königsberg, Karlsruhe, Emden, Nürnberg, soon taking named of recently lost cruisers, and completed in 1916-17. For that late entry into service they saw limited action in WWI. Apart SMS Karlsruhe (ii) scuttled in Scapa Flow with the rest of the fleet in 1919, the other three were given as war prize, one to France (Metz, used until 1936), another (also scuttled) used by France as a target ship until 1926 and Nürnberg, also scuttled, sunk as target in 1922. The follwoing Cöln (ii) class was the most ambitious with ten ships ordered, and again, an incremental evolution of the Könisgberg (ii) and prewar Magdeburg. They formed the basis of the KMS Emden (iii) built in the 1920s for the Reischmarine.
Development of the new Könisberg class
The design was an incremental improvement over the previous Wiesbaden class, itself derived from the previous Graudenz which innovated with 15 cm main guns. Logically the hull was lenghtened as displacement, but with the same armament, speed, and armor protection overall. This enabled to improved a bit ASW protection and make the ship roomier in general. But other than that it was pretty much a repeat of the previous design.
Construction
Königsberg (ii) was ordered as "Ersatz Gazelle", supposed to replace the old 1900 cruiser. She was laid down at AG Weser shipyard, Bremen in 1914, launched on 18 December 1915, commissioned on 12 August 1916. Emden (ii) was originally ordered as "Ersatz Nymphe" at AG Weser in 1914, launched later on 1 February 1916, commissioned on 16 December 1916. SMS Karlsruhe (ii) was ordered as Ersatz Niobe, laid down in 1915 at Kaiserliches Werft in Kiel, launched on 31 January 1916 fitting-out and commissioned on 15 November 1916. SMS Nürnberg(ii) was laid down as Ersatz Thetis at Howaldtswerke Werft, also in in Kiel, in 1915. She was launched on 14 April 1916, commissioned on 15 February 1917. Therefore, their service life was short compared to previous cruisers of the German Imperial Navy.
The design made the basis, natuarlly, for the next Cöln-class cruisers, which were few to see service before the end of the war. In turn, the latter were the starting point for designers making the sold cruiser authorized for the Reichsmarine under the Versailles treaty in the 1920s and declared as a school cruiser, SMS Emden (third of the name in a decade), but they started on the blueprints for Karlsruhe not the Cöln, which disappeared. The design was simply strecthed out and improved. Personnel shortages in the design staff, closure of the Navy's Ship Testing Institute meant no new revolutionary design could be made in time. This changed in 1926.
Design of the Könisberg class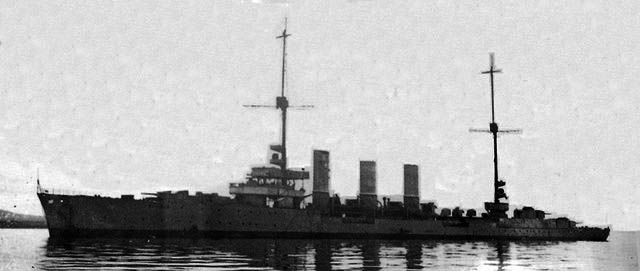 Karsruhe Scapa Flow 1919
Hull and general design
With 145.80 meters (478 ft 4 in) long at the waterline, up to 151.40 m (496 ft 9 in) long overall, they were the longest cruisers of the Kaiserliches Marine since the Scharnhorst class armored cruisers (144 m). The beam was larger than the previous class at 14.20 m (46 ft 7 in) versus 13.90 m (45 ft 6in) and a draft of 5.96 m (19 ft 7 in) also more pronounced forward and up to 6.32 m (20 ft 9 in) aft (versus 5.76m for the Wiesbaden). Designed displacement was 5,440 metric tons (5,350 long tons), and fully loaded, battle ready, 7,125 t (7,012 long tons). It was almost 1,000 tonnes heavier than the Wiesbaden.
Their hulls used the same techniques as before, with longitudinal steel frames, divided into eighteen watertight compartments, one more than on the Wiesbaden, plus the now usual double bottom extending for 49% (versus 47%) of the keel. Complement remained the same, 17 officers and 458 enlisted men. Their onboard service boats fleet was located on davits alongside the funnels, amidships. It included a picket boat, a supply barge, a cutter, two yawls, and two dinghies.
Powerplant
The propulsion systems comprised two steam turbines driving two three-bladed screws 3.50 m (11 ft 6 in) in diameter. SMS Karlsruhe was the only one outfitted with two sets of high-pressure geared turbines. These steam turbines were fed by ten coal-fired boilers, plus two oil-fired double-ended boilers. In total, the output was 31,000 shaft horsepower (23,000 kW) for 27.5 knots (50.9 km/h; 31.6 mph) and on trials, the lead ship, SMS Königsberg managed to make 45,900 shp (34,200 kW) for 27.8 knots (51.5 km/h; 32.0 mph), Karlsruhe 55,700 shp/27.7 knots, Emden 50,216 shp/27.7 kn, while Nürnberg skipped this part. Trials were conducted in shallow water but in deep water they were supposed to reach 29 knots (54 km/h; 33 mph). This was about the same as the previous Wiesbaden.
Autonomy was 4,850 nautical miles (8,980 km; 5,580 mi) at 12 knots (22 km/h; 14 mph) cruising speed, down to 1,200 nmi (2,200 km; 1,400 mi) at top speed (27 kts). They carried 350 t of coal as designed, but in wartime or in practive when all voids were filled, up to 1,340 t. Fuel oil carried only initially was 150 t but again, by filling voids, up to 500 t in operations. Electrical power came from two turbo generators, one diesel generator, and a total of 300 kilowatts/220 volts.
They were generally regarded as good sea boats with gentle motion, and thanks to their slighty improved rudder and reworked stern, were highly maneuverable, with tight turning radius, but bleeding speed going in hard turns, due to their lenght ratio, ideal to ride waves in the north sea. Hard rudder, they lost 60% speed and were generally stern-heavy.
Armament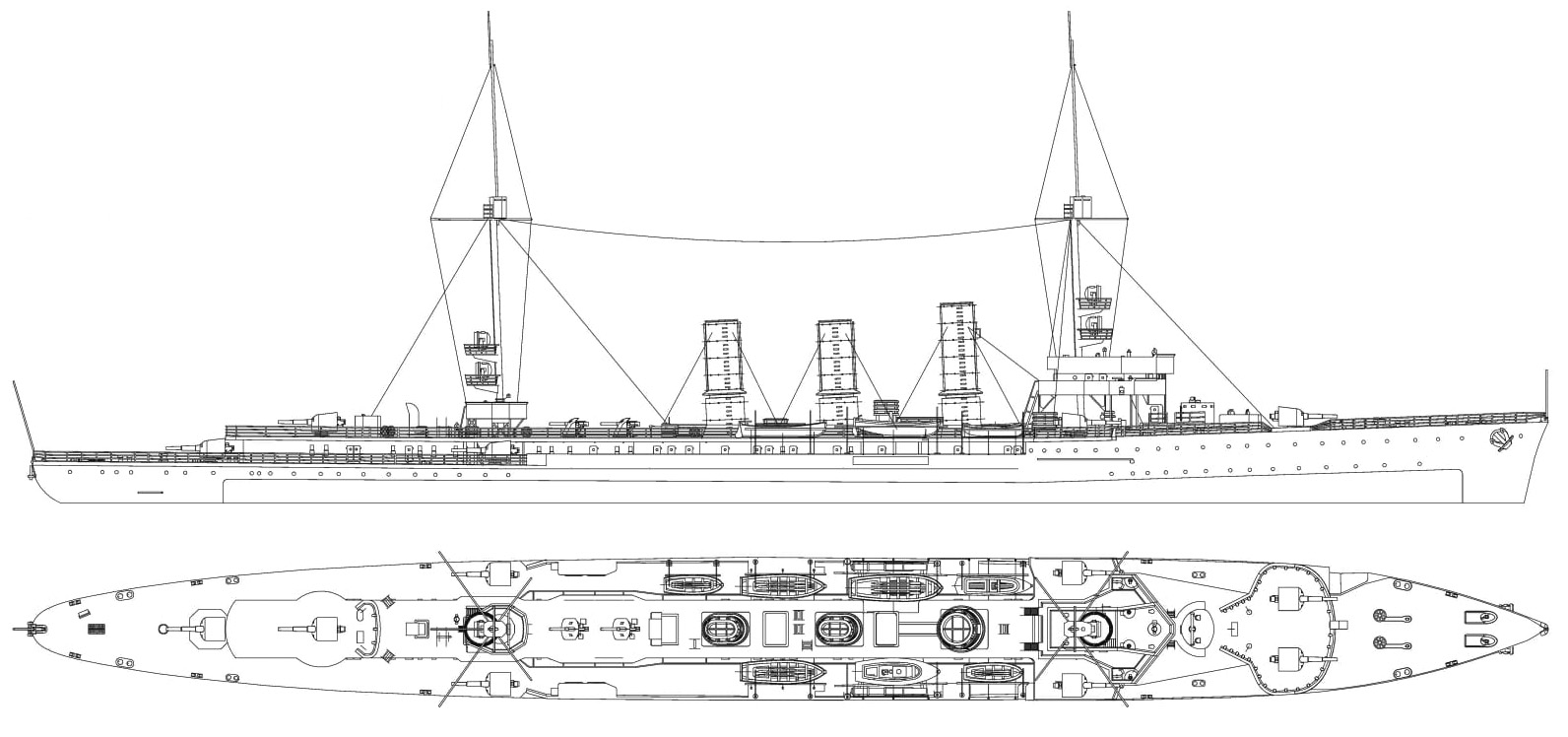 Profiles on Kombrig
Main: 8x 15 cm (5.9 in) SK L/45 guns
All were mounted on single pedestal mounts, two in tandem forward (forecastle), four on the sides amidships, two in superfiring pair aft. Same as for previous carriers, they were able to engage targets at 17,600 m (19,200 yd). 1,040 rounds were carried total (130 per gun). They fired 45.3-kilogram (100 lb) HE shells at 840 meters per second (2,800 ft/s), with max elevation 30°.
Secondary: 2x 8.8 cm (3.5 in) SK L/45
The ships' light battery was mostly for antiaircraft pusposes. Unlike the Wiesbadens, they were not planned with four 5.2 cm (2 in) L/55 guns but were fitted insted with two of the excellent 8.8 cm (3.5 in) SK L/45 models. They were placed on the centerline astern of the funnels, and fired a 10 kg (22 lb) shell at 750-770 m/s (2,500 to 2,500 ft/s).
Torpedo Tubes & Mines
They also carried four 50 cm (19.7 in) torpedo tubes, with one torpedo reload for each, two were submerged, broadside, two were on the upper deck amidships on swivel mounts for traverse. Like previous cruisers they could be equipped with rails to carry 200 mines, instead of the 120 of the Wiesbadens, thanks to their greater lenght.
Protection
These vessels were understandably lightly protected, as previous cruisers. But still, for the Wiesbaden and Frankfurt their waterline armored belt was 60 mm (2.4 in) thick amidships, tapereed down to 18 mm (0.71 in) forward. The stern was unarmored. The conning tower was the strongest part of the ship with walls 100 mm (3.9 in) thick, topped by a 20 mm (0.79 in) roof. The rangefinder atop was protected by 30 mm (1.2 in) plating. The deck had 6 cm (2.4) plating forward, tapered down to 40 mm (1.6 in) amidships, 20 mm (1.1 in) aft with sloped armor 40 mm thick, which connected the deck and belt armor. Gun shields for the 15cm guns were 50 mm (2 in) thick. In contrast, the Königsbergs had the following, with a belt and deck made of Krupp cemented steel:
Main Belt 60 mm (2.4 in) amidships, 18 mm (0.71 in) fwd
Armored deck 40 mm (1.6 in) amidships, 20 mm (0.79 in) stern, 60 mm forward
Connecting sloped armor 40 mm thick
Conning tower 100 mm (3.9 in) sides, 20 mm roof
Main battery gun shields 50 mm (2 in)
Mine Hold 20 mm thick deck, 30 mm side armor
⚙ Königsberg ii class specifications

Displacement
5,440 tons standard, 7,125 tons Fully Loaded
Dimensions
151.40 x 14.20 x 5.96 m (496 ft 9 in x 46 ft 7 in x 19 ft 7 in)
Propulsion
2 shaft steam turbines, 12 watertube boilers, 31,000 shp (23,000 kW)
Speed
27.5 knots (50.9 km/h)
Range
4,850 nmi (8,980 km; 5,580 mi) at 12 knots (22 km/h; 14 mph)
Armament
8 × 15 cm (5.9 in), 3 × 8.8 cm (3.5 in), 4 × 50 cm (19.7 in) TTs, mines
Protection
Belt, Armoured Deck 6cm (2.4 in), CT: 10cm (3.9 in), Gun shields: 5cm (2 in)
Crew
17+458
General assessment


Metz in French service, ex-Koenigsberg
Not amazing compared to previous vessels and arriving too late in service, Königsberg and Nürnberg saw action still at the Second Battle of Heligoland Bight. They escorted minesweepers clearing paths in British minefields, which saw HMS Repulse engaging Königsberg (hit, minimal damage, fire mastered). All four sister ships also participated in Operation Albion in the Gulf of Riga. Emden proved she could be used as Torpedoboats flagship and leader, with success.
By late (October) 1918 they were all four mobilized for a final grand attack, with very agressive objectives: Königsberg, with Cöln, Dresden, and Pillau were to enter the Thames estuary. Karlsruhe, Nürnberg, Graudenz shell the Flanders to draw out the British Grand Fleet. Reinhard Scheer's plans were marred by mutinies and the operation cancelled. In the end, after a period of inactivity they were partly conducted to Scapa Flow, but two ended was war reparation cruisers, to France. They were appreciated as the scout cruisers France planned in 1912 but never built.

KMS Emden(iii) off China, 1931
So design wise, they were as good as their predecessors and on part with British designs of the time, notably the "Town" and C class cruisers, all armed with 6-in guns, but they had more. Typically a C-class of 1916 was smaller and had five main guns, 4,000 tonnes, 29 knots and less torpedoes. None of them encountered the Königsberg(ii) class cruisers in actions, which were rare. It seems the French were quite happy with their design, maintained all the way through the end of the interwar without much modifications.
Links & Resources
Books
Conway's All the World's Fighting Ships, 1906–1921.
Bennett, Geoffrey (2005). Naval Battles of the First World War. Barnsley: Pen & Sword Military Classics.
Campbell, N. J. M. & Sieche, Erwin (1986). "Germany". In Conway's All the World's Fighting Ships 1906–1921
Gröner, Erich (1990). German Warships: 1815–1945. Vol. I: Major Surface Vessels. NIP
Halpern, Paul G. (1995). A Naval History of World War I. Annapolis NIP
Herwig, Holger (1998) [1980]. "Luxury" Fleet: The Imperial German Navy 1888–1918.
Koop, Gerhard & Schmolke, Klaus-Peter (2014). German Light Cruisers of World War II: Warships of the Kriegsmarine
Staff, Gary (2008). Battle for the Baltic Islands. Barnsley: Pen & Sword Maritime.
Tarrant, V. E. (1995). Jutland: The German Perspective. London: Cassell Military Paperbacks.
Van der Vat, Dan (1986). The Grand Scuttle. Worcester: Billing & Sons Ltd.
Woodward, David (1973). The Collapse of Power: Mutiny in the High Seas Fleet. London: Arthur Barker Ltd.
Dodson, Aidan; Cant, Serena (2020). Spoils of War: The Fate of Enemy Fleets after the Two World Wars. Barnsley: Seaforth Publishing.
Dodson, Aidan; Nottelmann, Dirk (2021). The Kaiser's Cruisers 1871–1918. NIP
Koop, Gerhard & Schmolke, Klaus-Peter (2004). Kleine Kreuzer 1903–1918: Bremen bis Cöln-Klasse, München: Bernard & Graefe Verlag.
Links
SMS Karlsruhe's wreck survey scheme
wiki
---
SMS Königsberg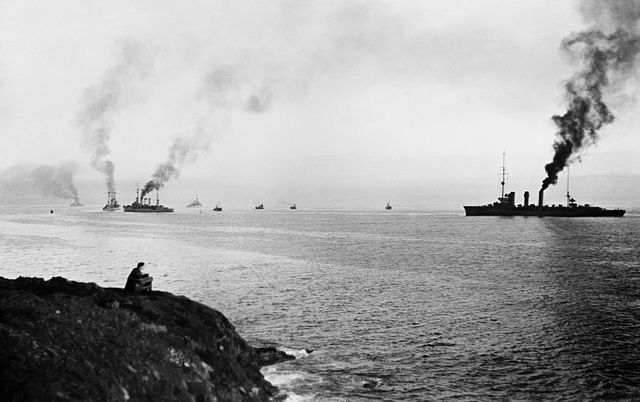 SMS Königsberg was launched on 18 December 1915 without fanfare, followed by a quick fitting-out work, and commissioned after sea trials and fixes on 12 August 1916. From the 29th, she was reassigned to the II Scouting Group as flagship. Kapitän zur See Ludwig von Reuter took command, hoisting his flag aboard and she spent her early time in coastal defense patrols in the German Bight, Pillau, Frankfurt, Graudenz, and Regensburg, for the German North Sea coast defence agains any RN intrusion, notably minelayers. Vizeadmiral Reinhard Scheer at the time was rather in favor of the U-boat campaign and often uneventful patrol duties alternated with a Baltic Sea training exercize from 22 February to 4 March, 20 May to 2 June. She was in dydock for maintenance from 16 August to 9 September.
Her first serious combat mission was Operation Albion: She was tasked to support amphibious assault on in the Gulf of Riga, to allow the German Army to advance further. One of the objectives was to eliminated the Russian naval forces present, and the combined fleet planned to take Ösel Island and the Sworbe Peninsula gun batteries, implying a landing. Königsberg was in Kiel on 23 September to prepare, the rest of II Scouting Group escorting the troop transports while she became flagship of IV Transport Group, visited and briefed by Ludwig von Estorff, commander of the 42nd Division which was escorted. The fleet stopped in Libau on 25 September for final preparations and departed on 11 October, starting the following day by SMS Moltke (III Squadron) shelled Tagga Bay and the IV Squadron the Sworbe Peninsula, Saaremaa.
SMS Königsberg was in Tagga Bay for the coordination of the infantry landings, and Russian opposition failed; On 18–19 October, she was to cover minesweepers operating off Dagö, marred by bad weather. On the 19th with SMS Nürnberg and Danzig she was sent to intercept two Russian torpedo boats, but they could not be found. The following day, the operation was a success, and the Admiralstab ordered the fleet back in the North Sea. On 28 October, SMS Königsberg stopped in Libau on her way and returned to patrols with the II Scouting Group.
Next, she took part in the Second Battle of Helgoland Bight, still with II Scouting Group and torpedo boats, escorting minesweepers of the II Minensuchflotille in Horns Rev, SMS Kaiser and Kaiserin in distant support. Reuter sent Nürnberg forward in reconnaissance, and she soon spotted the incoming British 1st Cruiser and 6th Light Cruisers Squadrons, supported by the 1st Battlecruiser Squadron. Reuter orders his remaining cruisers forward too to distract the British while the minesweepers withdrew under smoke screen; Next the cruiser's orders were to draw the squadrons towards the German battleships.
Eventually HMS Courageous, Glorious, and Repulse arrived in turn, engagede Kaiserin and Kaiser while Reuter attacked with the cruisers, Repulse hitting Königsberg with with a main shell at 10:58. All three funnels were razed and fire raged. She fell to 17 kn while Reuter transferred his flag to Pillau. She eventually withdrew and the fire was suppressed, and she came back, buy the British broke off their attack and more German reinforcements were signalled. Next, she covered the IV Battle Squadron (Flagship Friedrich der Grosse, VAdm Wilhelm Souchon) during a sweep for any remaining British vessels, for nothing, retreateing at 15:00
Königsberg was back in the Schillig roadstead at 19:05 and listed twenty-three casualties, with eight deads. The general staff criticized Kurt Graßhoff leading the battleships not to have been closer. This became a new guideline to protect minesweeper groups. Meanwhile, Königsberg was in repairs at Wilhelmshaven until 15 Decmber.
Königsberg was flagship again of her unit, proceeding to more patrol duties in the German Bight, until 20 January 1918, when Reuter was replaced by KzS Magnus von Levetzow. The II Scouting Group made Baltic exercizes (21 January to 7 February) and in all afterwards, took part in five fleet sweeps, incuding the 23–24 April raids against convoys to Norway. Moltke having a serious accident led Scheer to break off prematurely. Anothe sweep took place on 10-13 May, escorting the minelayer Senta laying an ASW defensive minefield in the Bight. After another training session in the Baltic on 11-12 July. Levetzow joined the Seekriegsleitung or Maritime Warfare Command, replaced by KzS Victor Harder, still making Königsberg his flagship.
In October 1918, Königsberg with Cöln, Dresden, and Pillau (II group) were prepared for a final raid on British waters, her role being to attack merchant shipping in the Thames estuary. But on 29 October, widespread mutiny had the operation cancelled. Nevertheless, Kommodore Andreas Michelsen organized an attack group with sixty ships including Königsberg as reports came on 9 November reports of British activity but the reports proved false. Following the abdication, ceasefire and peace talks, it's KMS Königsberg that carried RADM Hugo Meurer to Scapa Flow to negotiate the german fleet fate with Admiral David Beatty, notably the place of internment. She was in Scapa on 15 November with a white flag. Later the High Sea Fleets met a combined allied fleet as prearranged and was conducted to Scapa, but Königsberg remained in Germany, coming back with Meurer.
Stricken on 31 May 1920 after prolongated inactivity, she was eventually ceded to France as war reparation under the name "A". She sailed in Cherbourg on 20 July, renamed "Metz" on 6 October and re-entered service with the French fleet (see WW2 French Cruisers for more).
SMS Karlsruhe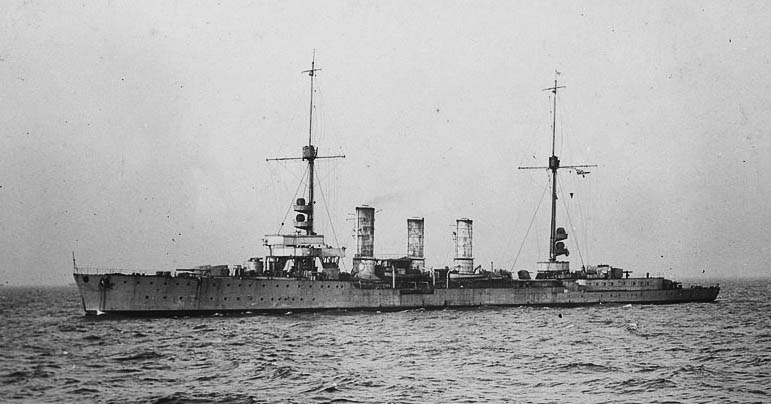 SMS Karlsruhe was commissioned on 15 November 1916 but trained without assignment until 22 February 1917, before joining II Scouting Group. She multiplied patrols in the German Bight and supported minelaying/minesweeping operations, starting on 5 March; followed by another on 6 April. There, she led the 2nd Torpedoboat Half-Flotilla to the Amrun Bank to U-22, damaged, which needed help. On 16 August she took part in a minesweeping operation in the North Sea, Route Yellow used by U-boats. She sailed with SMS Frankfurt and three torpedo boats and at some point lookouts spotted a British squadron of three light cruisers, sixteen destroyers and the minesweepers withdrew but when Karlsruhe and escort failed were too far way to help them.
Karlsruhe also took part in Operation Albion: By early September 1917 she took part in the invasion of the Gulf of Riga. On 18 September she was prepared for the operation as part of the II Scouting Group she was the cruiser screen for the task force, departing on 24 September from Kiel via Libau and carrying infantry on 26 September to Putziger Wiek to be reloaded on capital ships, before turning back to Libau on 2 October, embarking the Saxon Radfahr-Bataillonen and departing on 11 October, leading the 2nd Transport Group.
The operation went on by 12 October and Karlsruhe landed her infantry ashore in Tagga Bay, covering also ten transport ships on 17 October, escorted back to Libau. She also was to cover minesweepers off Dagö and was back to the North Sea via Kiel on 27 October, followed by a drydock maintenance on 16 November-6 December.
By early April 1918 she assisted the laying of a defensive minefield in the North Sea for a next month major fleet operation, abortive (23–24 April) to attack British convoys to Norway. Moltke indeed had a serious machinery issue and Scheer cancelled it. On 10 to 13 May she escorted the minelayer Senta for another defensive minefield inthe way of the usual route of British submarines to the German Bight. She also escorted SMS Baden and trained in the Baltic 11-12 July, still under Kapitän zur See Magnus von Levetzow, followed by a maintenance from 1 August.
She took part in the evacuation on the coast of Flanders on 14 August after the Battle of Amiens, loaded 70 mines to participate in a later cancelled operation with Brummer and Nürnberg, the latter being drydocked for repairs. After training in the Baltic on 16-23 October, and patrolling the German Bight she was prepared for the final attack in November, cancelled due to mutinies. After the capitulation she sailed under Rear Admiral Ludwig von Reuter to Scapa Flow, hosting the II Scouting Group commander, KzS Victor Harder. On the morning of 21 June at 11:20 she received the order to scuttle, and sank at 15:50, one of the last ships to do so, latter never raised for scrapping as she was in a greater depth, but part of her wreck was extracted as she was sold in 1962. The wreck was surveyed in 2017 by marine archaeologists from the Orkney Research Center for Archaeology, under 25 m (82 ft), a popular diver's attraction.
SMS Emden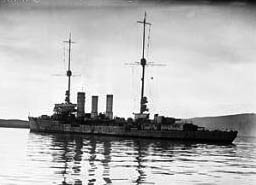 SMS Emden (ii) was commissioned on 16 December 1916 and became in October 1917 flagship for Commodore Paul Heinrich torpedo-boats Cdr, assigned for Operation Albion. On 12 October, she shelled a Russian battery at Pamerort and covered the landings afterwards. She latter spotted two Russian destroyers but they were shelled and chased off. On the 13th, an attack by eight Russian destroyers was met by Emden which moved forward at 07:45 in the German screen, opening fire on the three leading ones from 13,800 meters (45,300 ft), straddling them and destroying the wireless equipment of Grom. She shelled on two others at 09:30 but weather deteriorated. Still the signal station at Pamerort assisted Emden to dive them off. At 12:20, the Russian gunboat Chivinetz brought her heavy guns to deal with the cruiser, with two destroyers, briefly engaging Emden, which straddled her until she retreated.
On the 14th, covered the mine-clearing of Kassar Wiek between Dagö and Ösel with the battleship Kaiser, entering the Soelo Sound to support torpedo-boats sweeping the area. Emden spotted and fired on four Russian destroyers, which retreated. Kaiser scored a hit on Grom, which took a list. The others were driven off. She latter shelled Dagö at 15:00. On the 18th, she started again, firing 170 shells until the Russians retreated and on the 20th, the island was under German control.
On 11 December 1917, she led a raid on British shipping in the North Sea with the II TB Flotilla, split in half off the Dogger Bank, some spotting and sinking four of six steamers located. After the Armistice, she departed under RADM Ludwig von Reuter to Scapa Flow. But as he was harrassed by disgruntled sailors on the battleship Friedrich der Grosse he transferred flag on Emden, which was cuttled on 21 June at 11:20 but did not sink. The British managed to tow her close to shore, beached and re-floated, then assigned to the French Navy on 11 March 1920, used as a target, finished off with explosives and BU in Caen in 1926.
SMS Nürnberg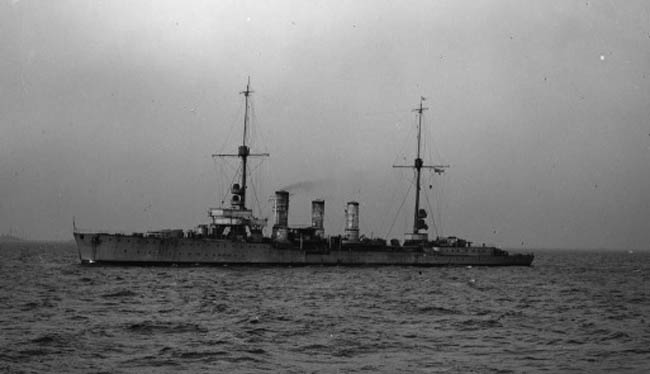 SMS Nürnberg was commissioned on 15 February 1917, under Fregattenkapitän Walter Hildebrand. After sea trials lasting until 1st May, she joined the II Scouting Group patrols in the summer, before being mobilized for Operation Albion in September 1917, where Nürnberg and the II Scouting Group under RADM Ludwig von Reuter was in the cover screen, from 11 October, with a contingent of soldiers aboard while escorting several transport ships with the landing force, collier and tugboats, arriving in Tagga Bay
Nürnberg started landing troops, covered by Königsberg. The operation was over on 20 October, and she was back in the North Sea, but not before she departed on 24 October via Libau and Kiel. However she took part in the second Battle of Helgoland Bight : On 17 November with Königsberg, Frankfurt, and Pillau she covered a minesweeping operation in the Helgoland Bight, supported at a distance by Kaiser and Kaiserin, when the minesweepers were attacked by a force of cruisers, with Six British battlecruisers in support. The minesweepers retreated under a smoke screen and Nürnberg opened fire on the British cruisers at 08:55 from 11 km (6.8 mi) before being straddled in turn by the British cruisers and the HMS Courageous and Glorious.
Due to the poor weather she was not hit directly, but showered with shell splinters, having light casualties although this is disputed. She returned fire and was "saved" at last by the arriving Kaiser and Kaiserin while Hindenburg arrived in reinforcement and both sides folded back.
Under her new commander Hans Quaet-Faslem by January 1918, she had a peacful late career, under overhaul in March-May, covered a minelaying operation on 10-13 May and sortied to catch the British aircraft carrier HMS Furious after the Tondern raid in July. She changed captain again for Wolfgang Wegener.
In October 1918 she was to take part in the next month climactic attack mobilizing the whole Hochseeflotte, Nürnberg, Karlsruhe and Graudenz were assigned to the Flanders attack. On 29 October order was given to regroup in Wilhelmshaven but the following night, desertions and massive mutinies led to the cancellation. Nürnberg was to sail to Scapa flow for internemt latern departing on 19 November, arriving on the 27th. Captain Wegener went back to Germany, leaving Kapitänleutnant Günther Georgii and a skeleton crew in charge. They scuttled the ship on 21 June, but British sailors approached and used explosive charges to blast her anchor chains so that she could be dragged aground before sinking slowly.
She was refloated in July, towed to Portsmouth, and converted into a target ship, at first fired at by HMS Terror on 5 November 1920 from 370 m (400 yd) and she listed 10° to simulate long range angle. Terror tested a 7.5 in and a 6 in gun and different shell types. This went on also on 8 November. On 7 July 1922, she was eventualy properly sank by HMS Repulse off the Isle of Wight.