A "Magnificient Century" in service of Turkey
The Ottoman Navy Mecidiye (also spelled as Medjidiye, or Medjidie), was named after the Ottoman Sultan Abdülmecid. She was a protected cruiser ordered as part of the 1900 large naval modernization program, and built in the US not after a competition, but a deal. The other one, Hamidieh, was built at the same time in UK, on the very same specifications.
The Mecidiye fought in the Balkan Wars and World War I, was captured by the Russians and reused as Prut until returned in 1918, starting a long third life through the interwar, WW2 and the early cold war as training ship.
Origins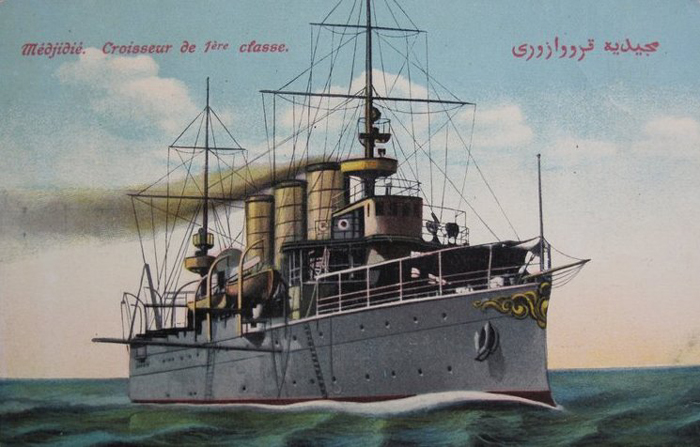 Postcard depicting the ship at the start of the century
During the Hamidiye massacres in 1895-1896, property belonging to United States citizens was looted or damaged. To compensate for this, the white house asked the Ottoman government 22,000 gold liras, still a relatively modest expense for the state. However Sultan Abdulhamid refused to pay, provoking the US into threat to send the US navy to Istanbul, and obtain payment under its cannon's shadow. The Sultan then asked through the diplomatic channel a settlement. Rather than paying for what was asked, he would order a much-needed cruiser for the Ottoman Navy, to be built there, and integrating the compensation as part of the deal.
Thus, in November 1899, William Cramp & Son shipyard, which made an accepted proposal, entered negotiated with delegates of the Ottoman government, until an agreement was reached. In April 1900, however, the Sultan seemed displeased by the price that was asked, and Ahmet Pasha sailed himself to the USA to undergo a second round of negotiations. It was demanded that the price was reduced from 585,000 gold lira to 300,000 gold lira, plus that Cramp would pay 100,000 lira as part of the Ottoman debt to US citizens' property loss.
The US government rejected this offer outright, and that it would not abandon its claim for compensation, even if the contract was signed. Eventually after protracted negociations, a contract worth 355,000 lira was signed in May 1900. However the delegates were not happy with the design either, and started asking for modifications.
Construction
This went all the remainder of 1900, and most of 1901, until final blueprints were accepted. The keel was laid down eventually on 7 November 1901 at Yard number 315, six years after the events. The 1899 proposal was already obsolescent, given the rapid path of technological development, and delivery of British Armament for commonality with the other cruisers.
Eventually, Mecidiye was built quickly and launched on 25 July 1903, christened by Ottoman delegates, including the Ambassador to the US, then completed in a few month, commissioned after her yards trials on 19 December 1903. She would made her official sea trials afterwards.
Design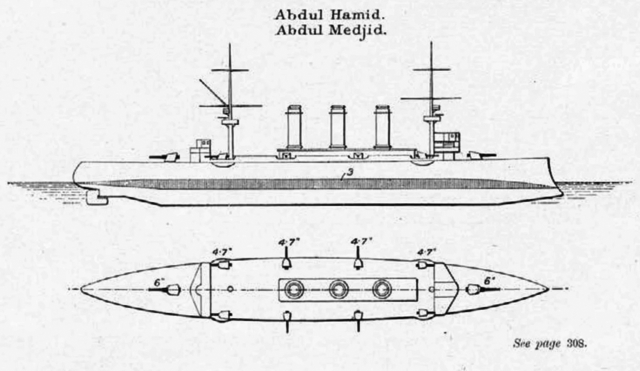 Hamidiye and Mecidiye assimilated in Brassey's Naval Annual, 1905
Mecidiye was basically ordered by the Ottoman Navy delegation of the same design basis as the Hamidiye. Armament was to be the same, as speed and protection requirements. This gave both ships and overall similar appaearance, less the funnels, which were two on the British-built Hamidiye and three on the Mecidiye. Otherwise, the US-built cruiser bore little resemblance to other US-built cruisers of that era, and ike the Russian Varyag, whe was built on precise specs, pragmatically aligned on the British design for the Hamidiye.
There were two masked main guns, 6-in, a main walled broadside battery with 4.7 in guns (with four sponsoned), a forward bridge encompassing the foremast, a flying bridge along the funnels, and small boats, and a main mast aft with a boom to service these boats, and a rear bridge. Protection was light and classic, with a turtle back main armor deck at waterline level, and some comparimentation underwater for ASW protection.
Hull and protection
The Hamidiye displaced 3,485 t (on normal draught), rising to 3,967 t at full load, which was reasonable for a moderately small protected cruiser. She measured 102.4 metres (336 ft) overall, to the tip of her short ram, with a beam of 12.8 metres (42 ft) making for a favourable ratio for speed, plus a draught of 4.8 metres (16 ft), fit for the confined waters of the Bosphorus and Black sea. Her crew was headed by 22 officers, with 280 sailors (in 1901). In 1915, this crew rose to 355, including 15 German advisors. When she was a training ship in 1936, this crew was curtailed back to 25 officers and 285 sailors.
Protection consisted in her turtleback main armoured bridge, 38 mm (1.5 in) but sloped to 102 mm thick (4 in), enclosed at each end by 30 mm bulkheads to form the "citadel". There was no proper belt. Figures for the conning tower are unknown, but possibly 102 mm. Bethlehem steel plating all over.
Powerplant


Mecidiye in 1910, with her classic peacetime livery of white hull and canvas yellow superstructures.
The Hamidiye was powered by two vertical quadruple-expansion steam engines rather than turbines, each driving a propeller shaft. Steam was provided by sixteen coal-fired Niclausse water-tube boilers. In 1936 as the ship was modernized, these were replaced by modern US-pattern Babcox & Wilcox boilers, still coal burning however. It is unclear if they were given injection, as no oil figure is registered. These produce 12,500 indicated horsepower (9,300 kW) at the origin. This allowed the cruiser to reach 22 knots (41 km/h; 25 mph) as contracted on trials. She could reach 4700 nautical miles at 10 knots.
However as years passed with poor maintenance, it was 18 knots (33 km/h; 21 mph) in 1914. With the change of boilers, output rose again, and she was able of 20 knots (37 km/h; 23 mph) in 1936. Mecidiye was fitted to carry 610 tons of coal in normal conditions. No figure is given to extra storage in wartime, in void ASW compartments for example.
Armament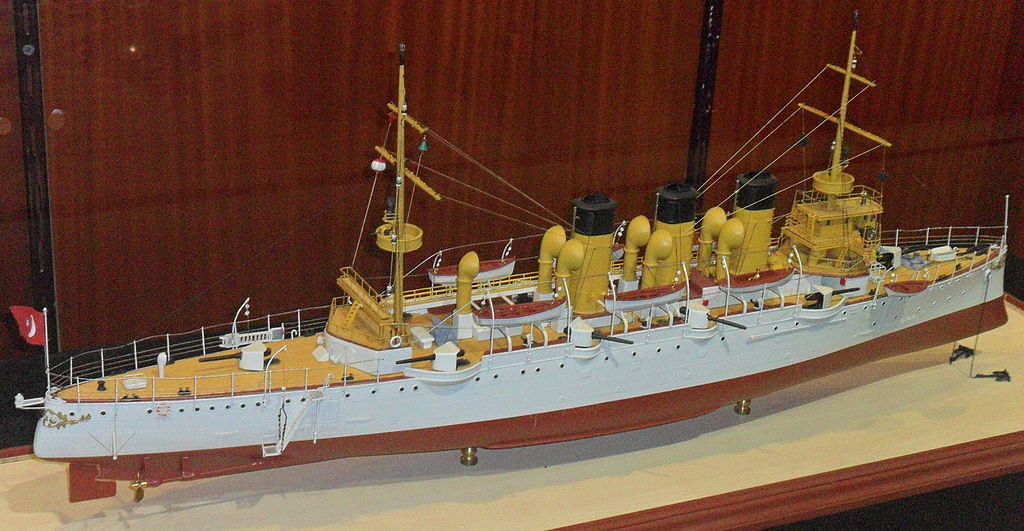 model of the Mecidiye
-Hamidiye carried two 152mm (6-in) L/45 quick firing guns or 152/44 Bethlehem No 2 model, later replaced. They were located fore and aft of the main deck, and masked. Vickers pattern QF L/45 guns later. Ammo storage unknown.
-Eight 120mm L/45 quick firing guns (Vickers Elswick Pattern)
-Light artillery comprised six 47mm/40 quick firing guns (The latest Armstrong QF 3-pdr), placed probably on the bridges platforms fore and aft.
-Six Vickers 37mm/30 quick firing guns (2 pdr), which were carried presumably in the fighting tops fore and aft, and on the deck.
-Two 457mm (18 in) torpedo tubes.Vickers type for standard Whitehead models. Presumably underwater and placed in the broadside. It is likely they were deleted after her 1930s refit.
As built in 1901, the 152 mm (6.0 in) L/45 rapid-fire guns provided the longest range, but the secondary battery had a more limited traverse, all located in sponsons. The major difference between them is that four of the eight 120 millimeter (4.7 in) L/45 guns had larger platforms/sponsons. This combination was classic, and maximize fire effectiveness tat the range of the 4.7-in (16,500 yards (15,100 m). This 1895 model was never adopted by the RN and rather was used on coastal fortifications and misc. ships. The only problem was the relatively close water plume between the 6-in and 4.7 in, making the work of spotters more difficult.
Against torpedo boats she had a classic battery combining Royal Navy standard 3-pdr and 2-pdr QF guns.
Reconstructions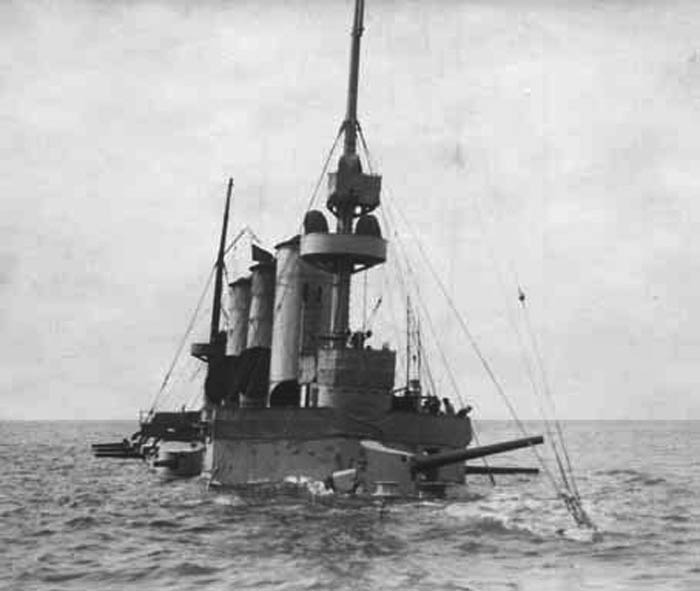 Mecidiye in Odessa, submerged in 1915, showing her main bridge has been removed.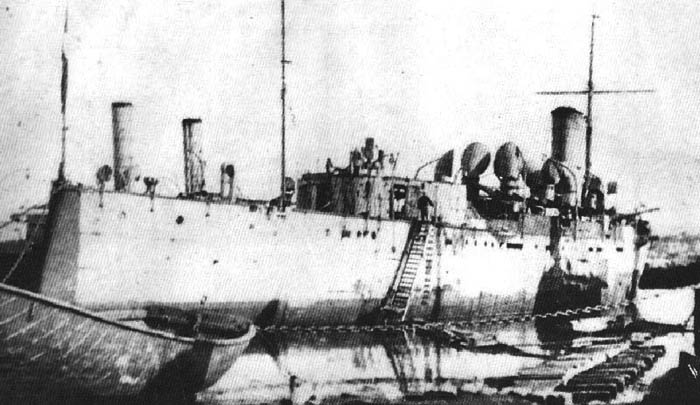 Mecidiye in Halic, 1919. She was stripped of her armament, pending replacement.
Hamidiye was modernized by the Russians in service as Prut: She kept her two 152 mm, but only two 120 mm guns, and the two 457 mm torpedo tubes at first.
However in 1918 she was rearmed with ten single 130/53, of Russian pattern (Obukhoff). Her light armament is unknown.
In 1927, she was modernized again, and her armament was decreased to just four 130 mm cannons (two in the axis, two on side sponsons for stability reasons), and four modern dual purpose French Schneider 76 mm guns, plus still her two 457 mm torpedo tubes, with three torpedoes in reserve for each.
Her construction showed stability problems right at the start due to lack of Turkish supervision at the yard, and the cruiser required constant trim adjustment and extreme care when manoeuvring after commission. A German inspection in October 1914 revealed also that her boilers were incorrectly installed, leading to heat problems and structure deformation. The main coal stores for example were too close and dangerously overheating, until they were relocated. But still afterwards, the cruiser stayed unstable, precluded operations in bad weather, and otherwise, careful manoeuvers and rare exercises.
In fact she seldom sailed in between operations. These problems were partially solved by eliminating her main and aft bridges, reducing it to the conning tower only as shown in 1915 photos. After 1927, thus was solved by halving her Russian main armament, and her light artillery, replaced by just four, but more versatile 3-in guns.

Rendition profile of the Yavuz in 1945. She only had four Russian Obukhov 130 mm (three foward, one aft) and four Vickers DP guns in the remaining side sponsons. The bridge was probably just a canvas structure. The foremast was still there, but without fighting top, replaced by a projectors platform and signal platform. The aft main mast was removed a replaced by a light pole, supporting a second projectors platform.
⚙ Mecidiye class specifications

Dimensions
102.4 x 12.8 x 5.33 m ( feets)
Displacement
3,300/3,348 tons standard, 3,967 tons full load
Crew
312, 450/469 wartime
Propulsion
2 shafts VTE turbines, 6 Yarrow boilers, 12,500 hp.
Speed
22 knots (30 km/h)
Range
Armament
2x 152, 8x 120, 6x 47, 6x 37, 2 TT 457 mm sub.
Protection
102 mm main deck, 30 mm bulkheads;
Read More


Medjidie and Hamidie in Istambul
Erickson, Edward J., Defeat in detail: the Ottoman Army in the Balkans, 1912–1913, Greenwood
Erickson, Edward J., Ordered to die: a history of the Ottoman army in the First World War Greenwood
Gardiner, Robert, Randal Gray and Przemyslaw Budzbon, Conway's All the World's Fighting Ships 1906–1921
Sondhaus, Lawrence, Naval warfare, 1815–1914, Routledge, 2001.
---
On navypedia
Prut on kchf.ru
Turkish wiki
---
Only known model kit: Kombrig 1:700, as well as the Prut.
Paper model 1:200
An US-build cruiser with three lives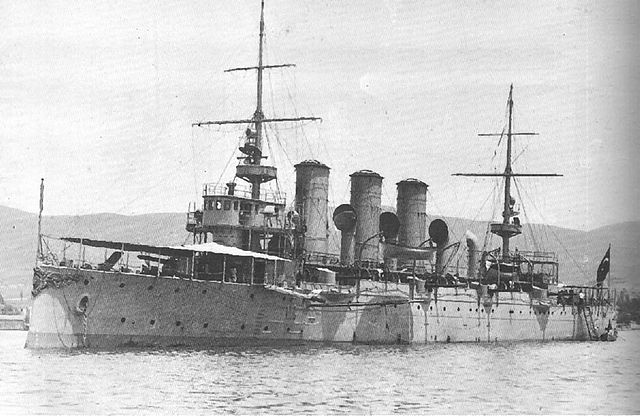 Mecidiye in 1911 in Selanik
In May 1909, Mecidiye took part in a fleet training instigated as a reform by Admiral Sir Douglas Gamble, commander of the Royal navy mission in Istanbul. In this training, Mesudiye was a flagship, positioned between Asar-ı Tevfik and Mecidiye, Büyükada and Maltepe. Peyk-i Şevket, Berk-i Satvet, Samsun and Yarhisar protected the flanks and they were joined by the torpedo boats Draç, Mosul, Kütahya, Alpagot, Hamidiye, Demirhisar and Sivrihisar from Sivriada, conducting mock torpedo attacks against the fleet, to test their defensive skills.
UK representatives observed the exercise from Tirimüjgan. Although the exercise was unrealistic, this was first torough naval exercise of the Ottoman navy in twenty years. In these, Mecidiye confirmed her dangerous roll, after years of inactivity.
Balkans War
Initial Operations
On October 7, 1912, the Ottoman force led by the Battleships Turgut Reis and Barbaros Hayreddin was accompanied by thecrusiers Hamidiye and Mecidiye while the destroyers Muâvenet-i Milliye and Samsun were left anchored in Haydarpaşa for quick backup intervention. On October 19, 1912, Mecidiye and other ships shelled the fortress near Varna in Bulgaria. On October 21-31, 1912, Mecidiye, Hamidiye, Yâdigar-ı Millet and Numune-i Hamiyet shelled artillery positions near Varna. Later they patrolled the waters nearby, and made a reconnaissance sortie up to Constanta (Romania). The cruisers revealed boilers oveheating issues, and on 3 November, she was ordered back to the Bosphorus where she remained until 21 November. She sortied again to Varna on 22 November, replacing Hamidiye, damaged by a torpedo boats during the Battle.
On 14 December, it was learned that the Greek armored cruiser Georgios Averof ran aground in Imbros. Sultanhisar was dispatched to attack a squadron of Greek destroyers in order to draw them to Mecidiye, waiting in ambush between Imbros and Seddülbahir. Mecidiye started firing at the two Greek destroyers in hot pursuit of Sultanhisar, allowing two other destroyers t join the fray, and later three more as support. The battle lasted for more than an hour, but neither side was seriously damaged.
Battle of Mudros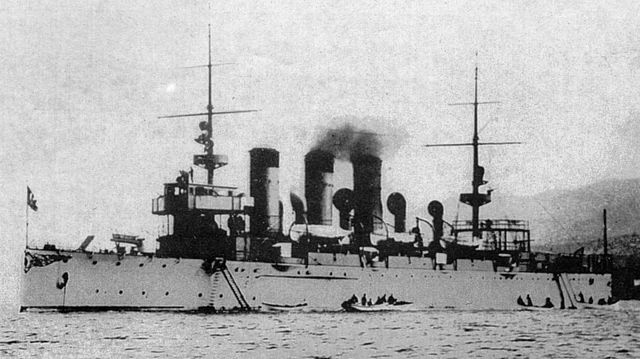 Mecidiye in 1912
In an attack planned by the fleet commander, Colonel Ramiz on 18 January, the fleet was tasked to advance to Limanlı, engaging Greek ships. It was thought that the Georgios Averof will stay with the bulk of the Greek fleet rather than following Hamidiye, which was making a raid in the Aegean. The Ottoman fleet departed from Çanakkale at 08.20. They were spotted en route by the Greek destroyer Leon exiting the Bosphorus. The destroyer reported their route to the Greek Navy HQ by wireless telegraphy.
Under command of Rear Admiral Pavlos Kunduriotis, the Greek force, which included the armored cruiser Averof, the older Spetsai, Hydra and Psara, five destroyers, departed to meet them. They spotted each other at 10.55. At 11.55 Barbaros Hayreddin opened fire from 8,000 meters on Averosf. At 12:00, as the Greeks replied, Colonel Ramiz ordered Mecidiye and the destroyers to retreat, while covering their departure with his battleships. The engagement lasted until 14.00, with Averoff older vessels behind and taking on directly the Turkish fleet, saw Barbaros Hayreddin and Mesudiye hit and seriously damaged by her 10-in guns, while Mecidiye escaped unscathed. The aegean raid was of course cancelled.
Mecidiye also took part in the Şarköy Landing operation on 26 and 28 January 1913, the only significant event in which she took part of the remaining of the war. Between 1913 and the summer of 1914 not much happened. Knowing the level of their fleet, the Ottoman Government choosed no sides until taking those of the Central Empires, gaining a brand new German battecruiser and cruiser in the process. From there, Admiral Souchon became C-in-C of the Ottoman Navy and Mecidiye was placed under his command. He sent an exmationation team which reported her design defaults and general poor state for operations.
World War I
During the First World War, Mecidiye operated in the confines of the Black Sea. In December 1914, she escorted Hafız Hakkı Bey to Trabzon, delivering supply and an important despatch to the 3rd Army Chief of Staff. On April 3, 1915, she took part in her most important sortie, the bombardment of Odessa. There, she struck a Russian mine while cruising at 15 nautical miles (28 km; 17 mi). She sank in shallow waters, off the coast of Vorokoskiy-Mayak, near Odessa. 26 of the crew lost their lives in the explosion and flooding.
Due to the fact she sank just deck-deep, soon evacuated by her crew, she was later boarded by the Russians which drawn plans to have her raised. Her captain was later criticized for not having her scuttled by blewing up charges. Mecidiye was eventually refloated by the Russians on 31 May 1915. She was towed to Odessa, fully recovered on 8 June and repaired at the Ropit Shipyard, renamed Prut in Russian service, on 29 October 1915. She joined the Russian Navy but saw little service as her stability issues were soon apparent. She mostly spent the rest of 1916 to 1918 anchored in Odessa.
Mecidiye as Prut, in Russian service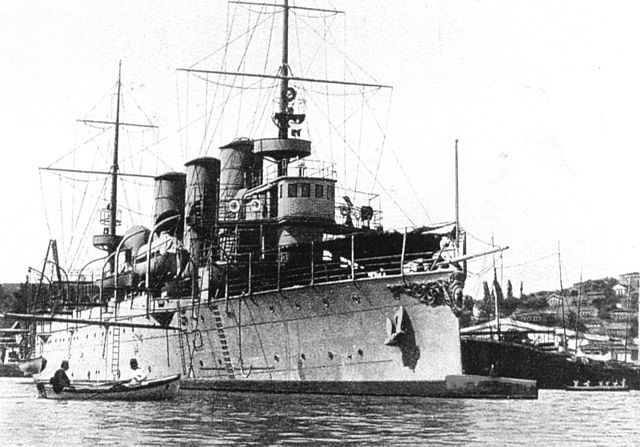 The cruiser Prut in 1917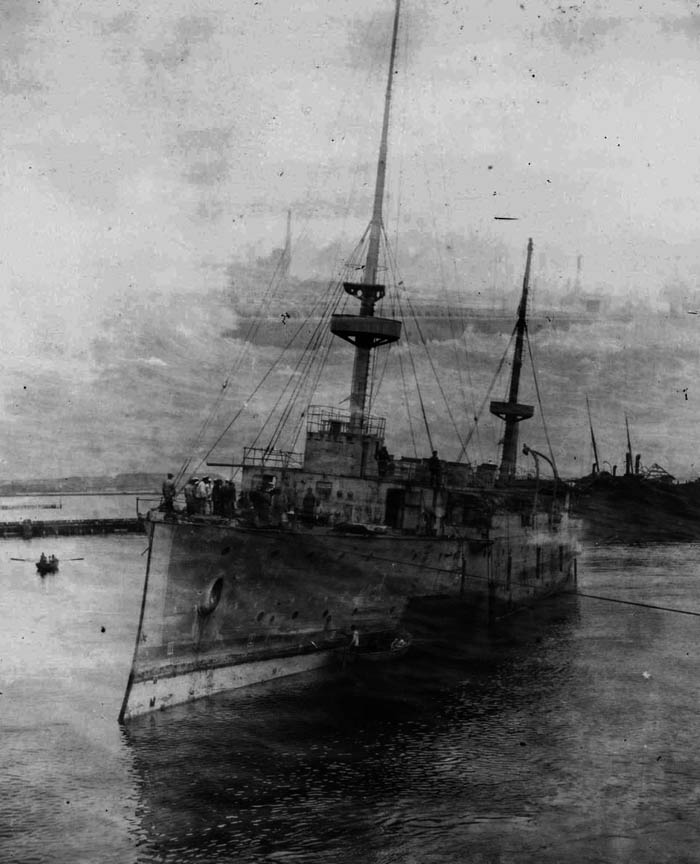 Medjidieh, just refloated, before being towed
After the Russian revolution of October 1917, the situation changed dramatically. Prut stayed in Odessa, but she was captured by the advancing Germans Forces, captured and sent back to Sevastopol on May 1, 1918. There, she was returned to the Ottoman Navy, under the name Mecidiye again, fully recommissioned. She did not saw much service however.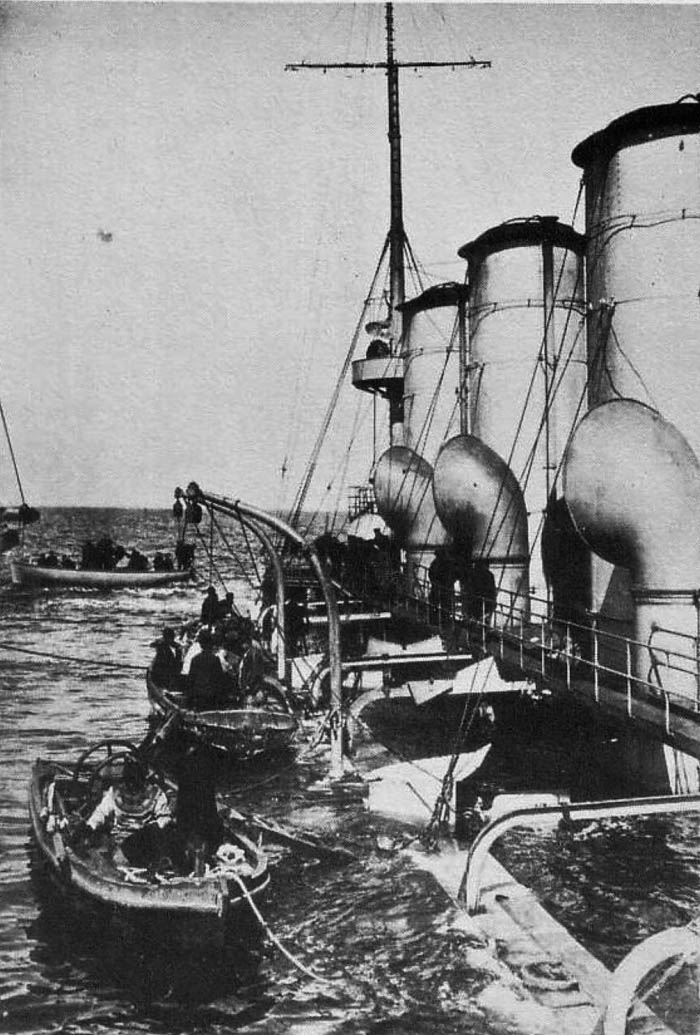 Mecidiye in Odessa, 1915
Late career, 1927–1947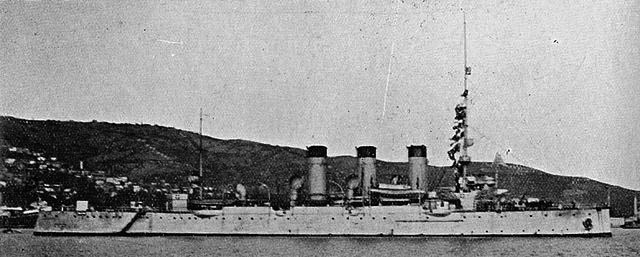 Mecidiye in 1932
Under the terms of the 1920 Treaty of Sèvres, the Ottoman navy was to be handed over to the United Kingdom and France, Italy as war reparations. However, the Treaty was disregarded due to the Turkish War of Independence. It was replaced by the 1923 Treaty of Lausanne, concluded with the new Ottoman Republic under Kemal Ataturk. As per the treaty, the old cruiser was to remained in the Turkish Navy.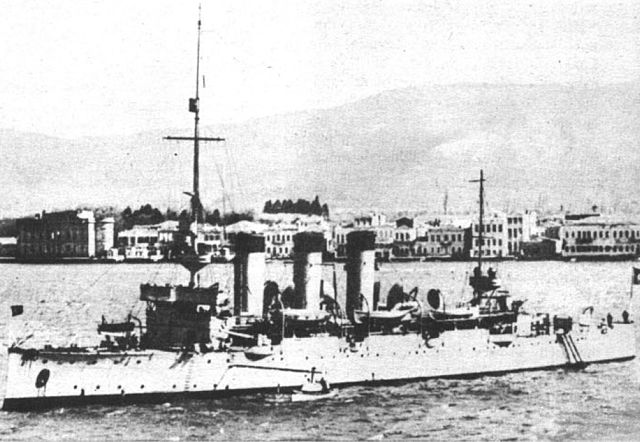 Mecidiye during WW2
After repairs, overhauled at Gölcük Shipyard in 1925-1927, Mecidiye was back in service in the Turkish Naval Forces, in use for potential front line actions despite her age. She served as one of the important ships of the Ottoman Navy from 1927 to 1940, being rearmed in between, but never seriously modernized. She later became a cadets training ship for the Naval Academy from 1940, saw WW2 and the early cold war. She was eventually decommissioned on March 1, 1947, but not sold for scrap before 1952, which was done between 1952 and 1956.