The Presidente Pinto (Or Errazuriz class) were two protected cruisers ordered in 1887 along a battleship under a naval program by President Balmaceda of Chile, to FCM (La Seyne Yard, Toulon). They were under completion during the civil war in Chile between the loyalists and the Iquique league (Palementarians), but between displomatic pressure and US Intel, they eventually arrived in Valparaiso after the war in 1892. Not a good design, they were given secondary tasks (like hydrographic works) until the loss of Pinto which ran aground off Quellón in 1910. Hder sister President Errazuriz stayed in service until 1930. #balmaceda #presidentpinto #armadadechile #chileannavy #ww1
Context and Development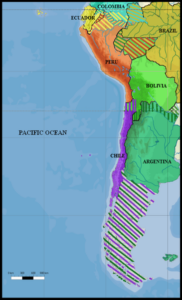 In 1879, as the Pacific war started with Bolivia and Peru (Feb 14, 1879 – Oct 20, 1883), Chile possessed a relatively powerful Navy in south America, punching well above its opponents. Two armoured ships composed the bulk of the fleet, between the two British-built Almirante Cochrane class ironclads (1874), Cochrane and Valparaiso, and soon reinforced by the capture of Huascar from Peru. The rest of the Chilean fleet comprised two old Corvettes, Abtao (1865) and Chacabuco (1866), the protected cruiser Esmeralda (1883) -The previously ordered Arturo Prat was resold to Japan, and the gunboats Magallanes and Philcomayo (182-74).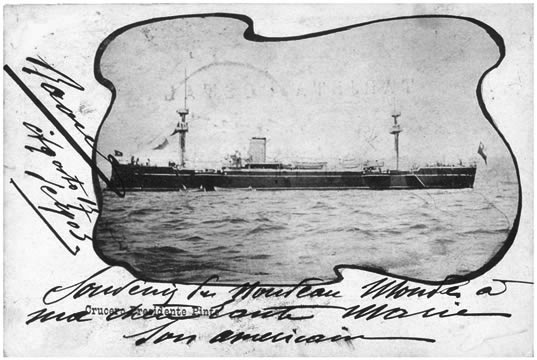 Postcard, Presidente Pinto
BB: Battleship PC: Protected Cruiser AC: Armoured Cruiser *resold as the Kasuga class to Japan
However as tension grew with Argentina about the southern waters of the Cape, the Chilean government at Santiago ordered from France three brand new ships: A battleship (Capital Prat), and completion of two protected cruisers (Pdt. Errazuriz and Pinto) that were in fact laid down much earlier. This trio gave the Armada de Chile a decisive advantage over Argentina and was conversely seen with suspicioon Buenos Aires, fearing they would be used to force seizure of claimed territories in the far south (see the map, territories revendicated both by Chile and Argentina after 1883).
The 1891 Chilean Civil War
The Chilean civil war of 1891, also known as the "Revolution of 1891", was an armed conflict between supporters of the National Congress ("Junta de Iquique") and those of the President of the Republic José Manuel Balmaceda (Loyalists). It started from disputes between the Executive and Legislative Branches over the fiscal budget of 1891, as one of the great causes (after the conclusion of the 1887-1890 costly naval program). What triggered the war, was the closure of Congress by President Balmaceda. The Chilean Army had divided loyalties and supporting both sides. The Navy decided to join the congressmen.
From Iquique, revolutionaries began a series of campaigns in order to overthrow Balmaceda, who created fierce oppression using the Army.
After the battles of Concón and Placilla, the loyalists were defeated. Balmaceda handed over power to revolutionary forces General Manuel Baquedano on August 28, entering Santiago. The president took refuge in the Argentine legation where he committed suicide on September 19, 1891.
The victory of the congressional forces was in a context of devastation and up to 50,000 dead. Huge reforms were implemented, starting with rewriting the Constitution of 1833 and creation of the "Liberal Republic" and 'Parliamentary Regime" prevailing until 1925.
On the naval side, the major event as the sinking of Congress-held flagship, armored frigate "Blanco Encalada", at the naval battle of Caldera.
Most of the squadron was on the congress side, while Balmaceda, which had ordered ships in France to be received, ordered Latorre to push the yard to accelerate deliver of the cruiser Pinto, while the torpedo boats Almirante Lynch and Almirante Condell, coming from UK, were delivered to loyalists.
They attacked by surprise at dawn on April 23 the port of Caldera, launching their torpedoes on Blanco Encalada and sinking her. On board was Ramón Barros Luco, a member of the Junta de Iquique, and Enrique Valdés Vergara, Secretary General of the Squadron, who died along with 11 other officers and 171 crew members. The sinking was a significant loss as the ship also countain all the ammunition and provisions destined to the Congress troops advancing on land to Valparaiso, but it failed to break the maritime superiority of the Junta de Iquique (The congress).
Nevertheless it showed the potential of torpedoes: Indeed, the Blanco Encalada was the first armored vessel in the world to be sunk by torpedoes fired from another ship.
In Great Britain this was a wake up call, comounded by the knowledge these were French-built TBs, and France announced a very large program of such vessels.
Chile under Pdt. Balmaceda ordered two cruisers
Apart these two Torpedo Boats, President Balmaceda ordered to France well before this, two protected cruisers. These were the "Presidente Errázuriz" and "Presidente Pinto". The first had four 6″/45 guns, and two 4.7″/45 guns, and Pinto had four 5.9″/36 guns and two 4.7″/36 guns.
Presidente Pinto and Presidente Errázuriz were among the projects of naval modernization promoted by President José Manuel Balmaceda.
Law 22.08.87 saw funds allocated for a period of three years, 400,000 pounds sterling total, but this was widely contested by the parliament, leading ultmately to the civil war, and de facto cancellation of the order after the ships already had been paid off and near complete.
In 1887 still, Rear Admiral Juan José Latorre directed a mission of officers in Europe, in charge of informing the government about ships designs likely to be acquired. According to the report, President Balmacedo ordered to FCM the battleship Capitán Prat together with two protected cruisers. In Great Britain were also ordered the torpedo boats Almirante Lynch and Almirante Condell and cutters Cóndor and Huemul.
Forges et Chantiers de la Mediterranée shipyard at La Seyne, Toulon rejoiced of course of the orders the Presidente Errázuriz-class protected cruisers, now named Presidente Errázuriz and Presidente Pinto, were designed by naval architect Amable Lagane, director of La Seyne Shipyard, and also designer of the Prat.
Due to the start of the Civil War of 1891 between Balmaceda and the congress, construction of Pinto (the most advanced) was accelerated, with the hope to have her ahead of time and turned the tide of the civil war in favor of Balmaceda.
After delays in delivery due to legal intervention of the congressional faction (Iquique) in France, and the completed ship accidentally running aground, Presidente Pinto eventually sailed from Toulon on August 5, still incomplete (notably without armament). Even so, he could not set course for Chile, as he had to make several stops over Genoa, the Balearic Islands and cross the English Channel to Kiel to pick up engineers, crew members and finish installing his weapons near Copenhagen, where a confrontation broke out. among the crew that put an end to President Pinto in mutiny for 4 days over Kiel, until finally this return to normality and set course once again for Le Havre, from where it finally set sail for Chile.
The end of the crisis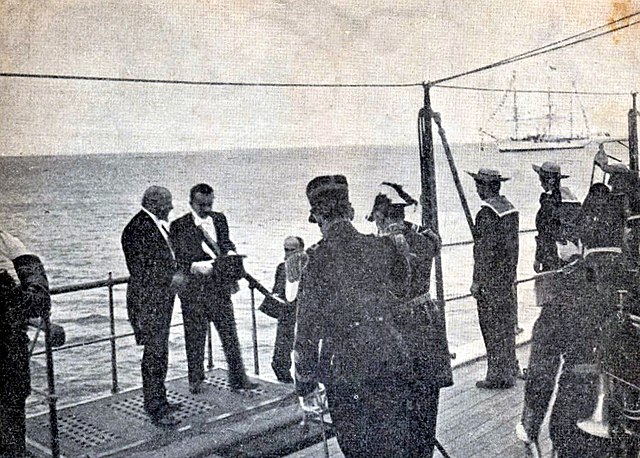 Meeting of presidents Julio Roca and Federico Errázuriz Echaurren aboard the O'Higgins.
After the Conquest of the Desert undertaken by the Argentine Republic, Patagonia acquired new relevance, increased interest of border demarcation, including those down to the Strait of Magellan, Cape Horn and the Fuegian channels. This question led to successive crisis partially overcome by the 1881 Treaty between Argentina and Chile, the Additional Protocol of 1893 and the 1896 Protocol, in which the parties accepted arbitration by Great Britain (which also ended the naval arms race with the Pactos the Mayo). Despite these agreements in 1898 a climate of tension between the two countries, and clear risk of war would over these territories of Puna de Atacama.
In his second term, the then president of Argentina, Julio Roca, coordinated a meeting with president of Chile, Federico Errázuriz Echaurren, with the aim of establishing a conciliatory dialogue. On January 20, 1899, Roca embarked for a diplomatic journey aboard the armored cruiser Belgrano to Punta Arenas, accompanied by Martín Rivadavia, Minister of the Navy, also in command of Belgrano, and deputies Bartolomé de Vedia, Julián Martínez, Eleázar Garzón and Benito Carrasco, under escort of the light cruiser Patria where which hosted the press and frigate Sarmiento on her maiden voyage, plus the transport Chaco with the the Minister of Foreign Affairs Amancio Alcorta aboard.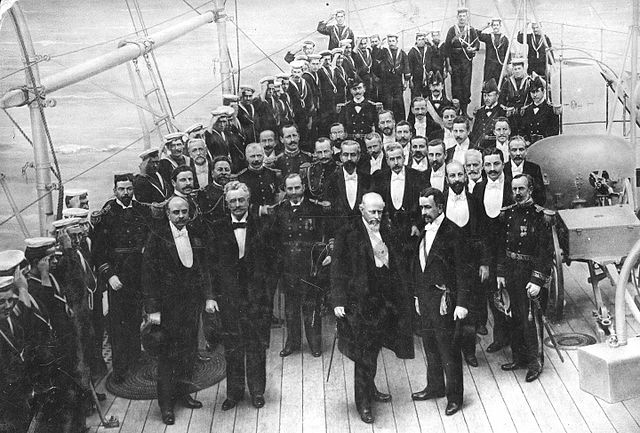 Meeting of presidents Julio Roca and Federico Errázuriz Echaurren on February 15, 1899 off Punta Arenas, to try to defuse tensions.
The squadron arrived on February 15 at Punta Arenas, and President Errázuriz went aboard the Chilean fleet's flaghip, with a delegation, to greet Roca. The final meeting took place Aboard the Armored Cruiser O'Higgins with a Chilean band playing the Argentine National Anthem and Chilean National Anthem. Discussions went on for two days.
This episode did not have an immediate consequences however it trigerred diplomatic repercussions which ended with sufficient conciliatory will to led to the signing in 1902 of "May Pacts".
On February 16, 1999, Presidents Carlos Menem of Argentina and Eduardo Frei of Chile met aboard the Blanco Encalada in Punta Arenas for the centennial commemoration of the pacts.
Design of the class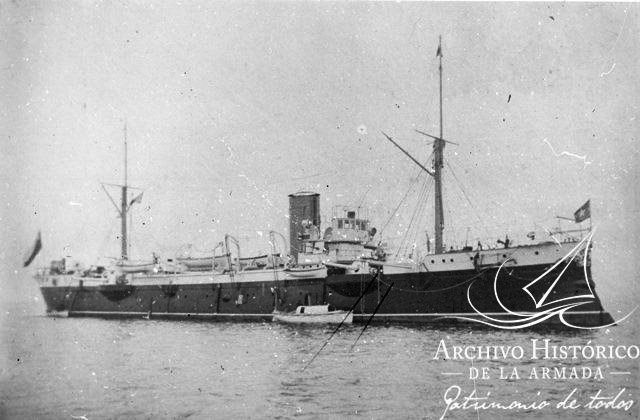 Hull and general design
Following the general scheme of French ships of the time, both had a steel hull with wooden lining and superimposed copper plates, and they were internally divided by 10 wooden watertight compartments. However later these wooden bulkheads had to be replaced by steel ones, also to prevent fire.
Armour protection layout
Protection consisted of 57mm or 2.25-in of armor on the main armoured deck, 83 mm or 3.25-inches on the artillery casemates. The conning Tower forward had walls 1.9-in (50 mm) thick.
The hull had ten watertight wooden compartments, and the underwater hull was covered with superimposed copper plates.
Powerplant
Machinery for both cruisers was built in the Marseille workshops, also owned by Lagane.
The triple expansion steam engines were slightly inclined, mounted in independent compartments, together with four "Admiralty" type (triple drum) boilers made in Siemens-Martin steel. These were the best triple expansion machinery so far in the Chilean Navy. They were also as well the first woth evaporators working effectively. However, both the machinery and evaporators were not designed initially for that large ships, adnd they proved underpowered, with low autonomy. They had only a Coal bunker capacity 200 tons. Worst still, during her trip to Chile, drung the civil war, there were divided loyalties aboard. The commander and officers were pro-presidential forces, while sailors were mostly pro-congress. Thus they deliberately under-maintained and practically sabotage the machinery.
In the end, both cruisers never met their ecpected speed in service. Being slower than Capitan Prat -By contrast a far better ship, praised by international critics- they were sidelined from service only after a few years. In between, Chile acquired far better cruisers built in UK.
Armament
Armament initially consisted of four Canet 120 mm guns, later changed to four 5.9-inch Elswick guns (installed at sea in 1891), positioned on individual sponsons, and two 4.7-inch guns (also British) fore and aft. Another four 6-pounder guns (47 mm) were positioned on the center island, plus two Gatling guns mounted on platforms on the fore and aft masts to fight off torpedo boats.
For Pdt. Errazuriz she initially had four 5.9-in.(150mm) guns, two 4.7-in (120mm) four QF 6 pounder, 8 cwt (57mm) and two Gatling LMGs in her fighting tops plus three hull TTs 14 inches (350mm) in the bow and sides. By 1908 after modernization she obtained four 6-in.(152 mm) Elswick QF guns, keeping her 4.7-in and QF 6 pdr, but instead of the Gatlings, two QF 1 pounder MK I (37mm), and keeping her torpedo tubes.
⚙ specifications (*pinto)

Displacement
2,047 tons standard
Dimensions
81.79 x 10.89 x 4.39 meters (268 x 36 x 14 feets)
Propulsion
2 shafts TE steam engines, 4 boilers 5,400 shp.
Speed
18.3 knots (33.98 km/h).
Range
coal 400 tonnes, range circa 2,000 nm
Armament*
4x 5.9″/36, 2x 4.7″/36, 4x 57 mm, 2x Gatling guns, 3x 14″ TTs
Protection
Deck: 2.25-in (57mm), Casemates: 3.25-in (83mm), CT 1.9-in (50mm)
Crew
170
Presidente Errazuriz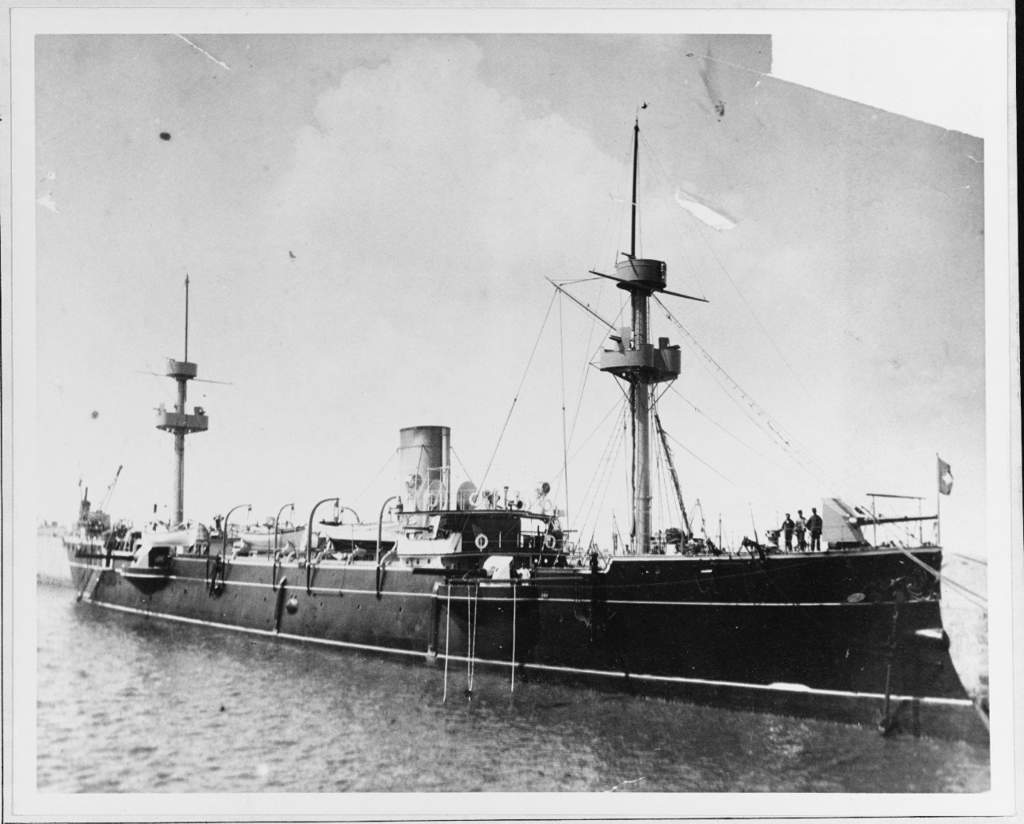 Presidente Errazuriz was one of the two cruisers ordered in 1887 to France in accordance with the Law of August 22, 1887 at the Forges et Chantiers de la Meditarranee shipyard, La Seyne, Toulon. She was launched on June 21, 1890, earlier than her sister Pinto, thus giving the class its name. As one of the two protected cruisers ordered by President José Manuel Balmaceda, her construction was supervised by Admiral Juan José Latorre Benavente. But her delivery was retained by the French government due to diplomatic pressure.
Completion and entry into service was constantly monitored by United States intelligence, since both could have an influence after Itata and the Baltimore Case, both diplomatic incidents between the Chilean government and the United States. Both cruisers could trigger a balance power change in case of a war between the two nations.
She eventually sailed from Toulon to Le Havre in early June 1891. Half-completed and manned with contract personnel from the Transport Company, in le Havre, she proceeded to the arsenal to receive her intended artillery and full crew. But she had to wait for the arrival of the pilots and engineers, and complete work. On July 14, she went to Plymouth and Falmouth for additional work, and from there, headed to Lisbon, and started her Atlantic corssing to Chile on July 31, 1891. She stopped underway in Sao Vicente de Cabo Verde (Cape Verde islands) and Montevideo. US intelligence later managed to intercept Errázuriz during her sailing to Buenos Aires, before leaving for Chile. It is said that a US naval officer in civilian clothes managed to board Errázuriz and started to take notes on the ship's characteristics, before he was unmasked and ordered to leave.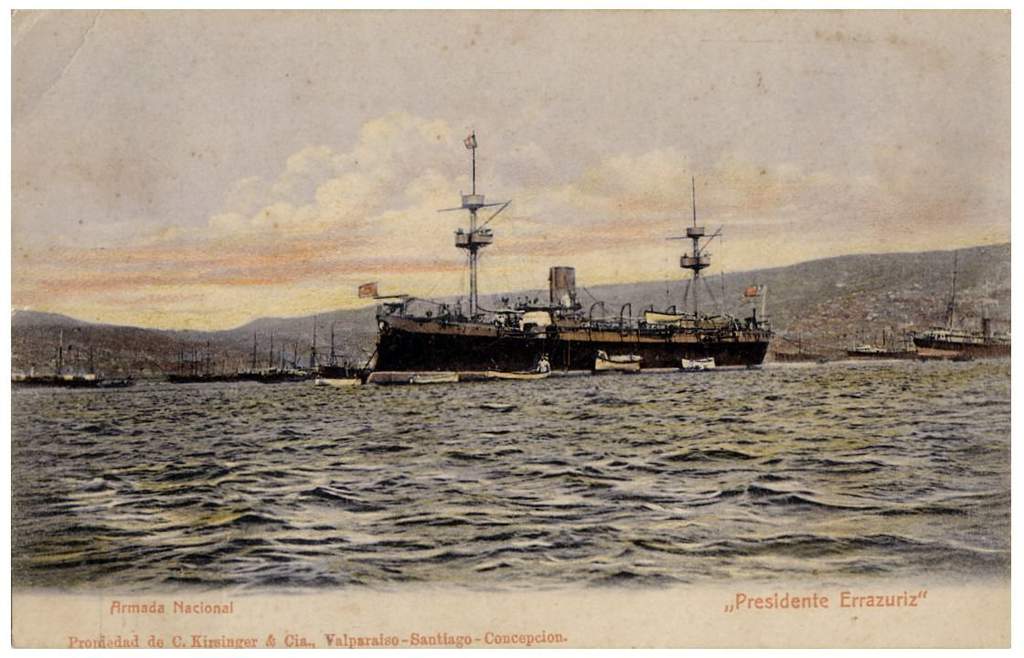 By February 1892 she arrived (so after the civil war) in Valparaíso, joining the Chilean Navy.
Like her sister she had a relatively short and uneventful career: In 1899 under captain Carvajal, she started hydrographic missions, notably to reconnoiter the coast between the Chiloé Archipelago and Strait of Magellan. In 1901, she explored the Cockburn Channel, surveying the Beagle Channel, Tekenika and Nassau Bay.
Indeed from 1892 her general service proved disappointing. Chilean naval commanders criticized her low performance, bad agility, troublesome boilers, and both suffered constant incidents and malfunctions, especially Pinto. So much so the Navy eventually sidelines these "President's ships". President Errázuriz was assigned in 1899 to survey tasks over the Strait of Magellan and the Chonos and Guaitecas archipelagos.
In 1901 she explored the Cockburn Channel and Beagle chgannel, and by 1905 together with Pinto she studied and identified appropriate sites for the installation of wireless transmission stations, in the frame of escalading of tensions between Chile and Argentina. Once completed, both went back to Valparaíso, when Pinto accidentally ran aground off Quellón, later abandoned, leaving Errazuriz alone.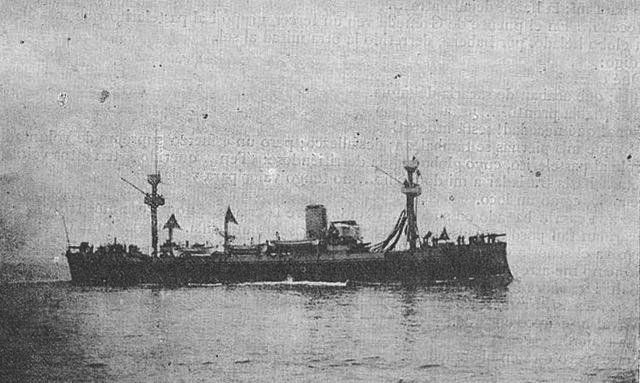 Refitted in 1908 she obtained a new artillery and new boilers. She had four modern 6-in guns from Armstrong or Canet and two 4.7″ guns while her rotating fighting tops guns were removed -and likely her TTs as well). She had four new Belleville-type watertube boilers which, unlike her sister, enabled a top speed of 19 knots (35 km/h). The 1908 President Errázuriz refit also consisted in the removal of the her fighting tops.
From 1919, Presidente Errázuriz was disarmed, withdrawn from active service. In 1920 she was reclassified as a Pilot Schoolship and permanently anchored in Puerto Montt. She was finally decommissioned, and scrapped in October 1930.
Presidente Pinto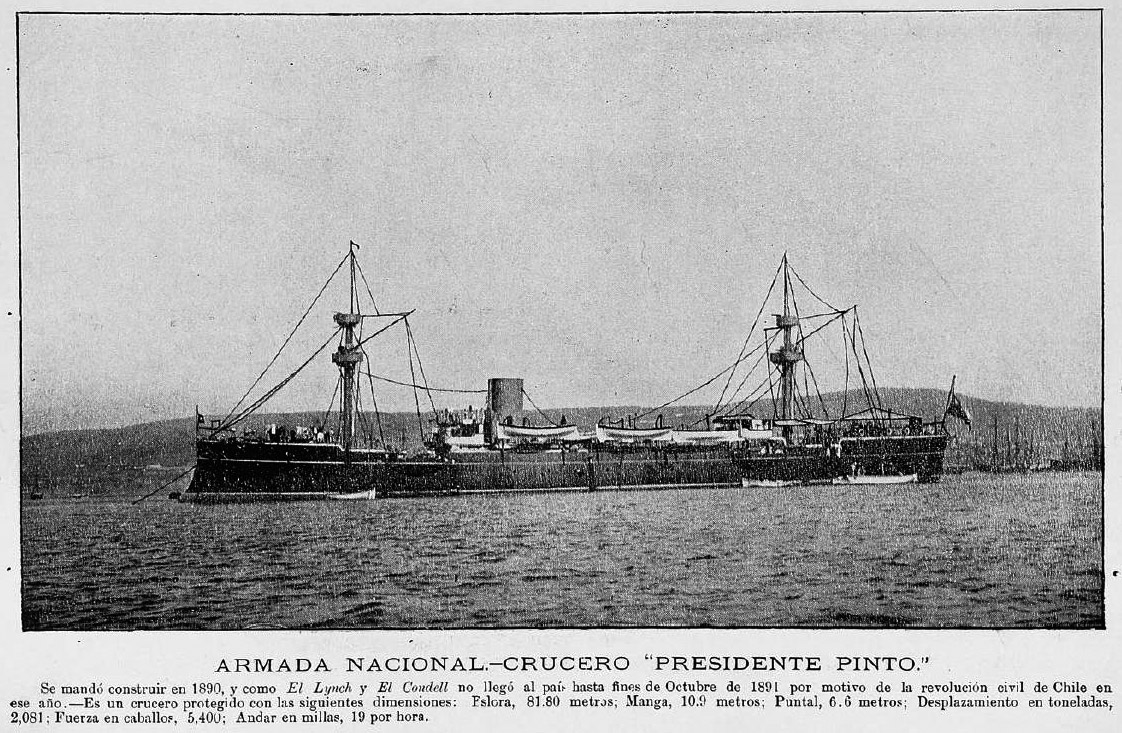 Launched on September 4, 1890, Pinto was one of the two protected cruisers ordered by President José Manuel Balmaceda for the modernization plan of the Chilean Navy. Construction was supervised in France, by Admiral Juan José Latorre.
Like her sister Presidente Errázuriz, she sailed half-completed from Toltén on 5 August 1891 for Genoa, and then to the Balearic Islands, receiving her artillery in the North Sea from an English merchant ship, twenty miles from Copenhagen in Denmark.
A heterogeneous crew was hired to man her, and she had to return to Le Havre for extra work. Afterwards she sailed on August 5, 1891 for Chile, but during her trip there were several mutiny attemps, especially on the part of her machinery personnel, favourable to the Congress. She eventially landed the mutineers in Valparaíso in September 1892 (The Chilean Civil War had ended), where she underwent repairs due to poor boilers and machinery management (they were likely sabotaged during the trip) for two months, until December.
So she really started service in 1893 as part of the Fleet Squadron, multiplying exercises and started to be used also in hydrographic commissions, mapping southern waters in particular.
had to remain in port for another to undergo repairs on her machine.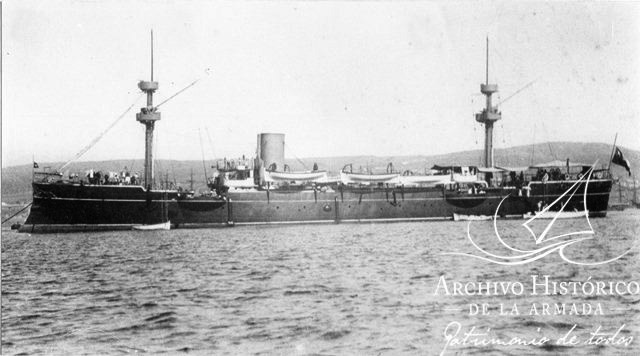 In October 1896, President Pinto was dispatched to Guayaquil to provide assistance after the great fire that devastated the city, and brought back to Chile the remains of Lieutenant Manuel Joaquín Orella, prominent naval officer of the Pacific War, just died. The intention was to have him buried inside the Monument to Heroes of Iquique, in Valparaíso.
As for her sister ship Errázuriz, Presidente Pinto was not integrated into the main naval forces but rather assigned to less important tasks such as exploration and sounding. Indeed in general she was not considered a successful design, given her halp-hazard armament and troubesome machinery. Nominally capable of 18 knots, in reality they were far slower, circa 12-15 knots i practice, in fact slower than the battleship Capitan Prat. In 1902, during the Thousand Days War, Colombian government appriached the Chilean Gvt. in purchasing Presidente Pinto, but this was without success, as the deal was never completed.
Presidente Pinto met har fate in May 1905, during a routine hydrographic and study mission to instal wireless transmission stations in the treacherous southern waters area. At the time of completing the task under the command of frigate captain Mr. Arturo Whiteside, she was sailing towards Puerto Montt, when running aground on the lower Velahué, off Quellón. Completely stuck, the captain despatched teams to inspect her hull, concluding her state was hopeless. Her ordered her evacuation, saving the crew whioch could evacuate in good order. However, Whiteside's sense of honor, having taken full responsibility for the incident, stayed aboard once the evacuation complete. He went to his bedroom and shot himself with a revolver. Post-incident report delivered by its officers attributed the incident to optical illusion due to the particular light in this far south area, inducing errors in navigation, something the locals confirmed as a common phenomenon.
Even though the government hoped to be able to recover the ship, Presidente Errázuriz lacked a double bottom, and the damage was such with all her compartments flooded, she was left on place, and everything of value was recovered instead, like part of her artillery. Presidente Pinto was still listed in the Chilean Navy until early 1910, then written off.
Read More
Links
Boletin-de-la-academia-de-historia-naval-y-maritima-de-chile
armada.cl/ crucero-presidente-pinto-1
crucero-presidente-pinto/
es.wikipedia.org/ Presidente_Errazuriz_(1891)
armada.cl/ crucero-errazuriz-1
aminoapps.com crucero-presidente-errazuriz
facebook museomaritimocl
chilecollector.com/ post_barcos_01.html
bibliotecanacionaldigital.gob.cl/
navypedia.org/ presidente_errazuriz
en.wikipedia.org Chilean_cruiser_Presidente_Pinto
Abrazo_del_Estrecho
armada.cl