CNS Ministro Zenteno (1894). Another landmark of the Chile-Argentina naval arms race. Before even Argentina ordered by surprise the first two Garibaldi class armoured cruisers, Chile obtained also by surprise in 1895 yet another protected cruiser from Vickers Armstrong Yards. After 21 de Mayo, 9 de Julio, Blanco Encalada and Esmeralda, Ministro Zenteno was in fact one of the three Almirante Barroso class cruisers ordered by Brazil in 1894, also joining the fray. Finiancial difficulties led the yard to sell it the Chile in September 1895. Later Brasil only obtained Barroso, cancelling the remaining two Amazonas and Almirante Abreu, resold to the USN (just in time for the Spanish-American war…).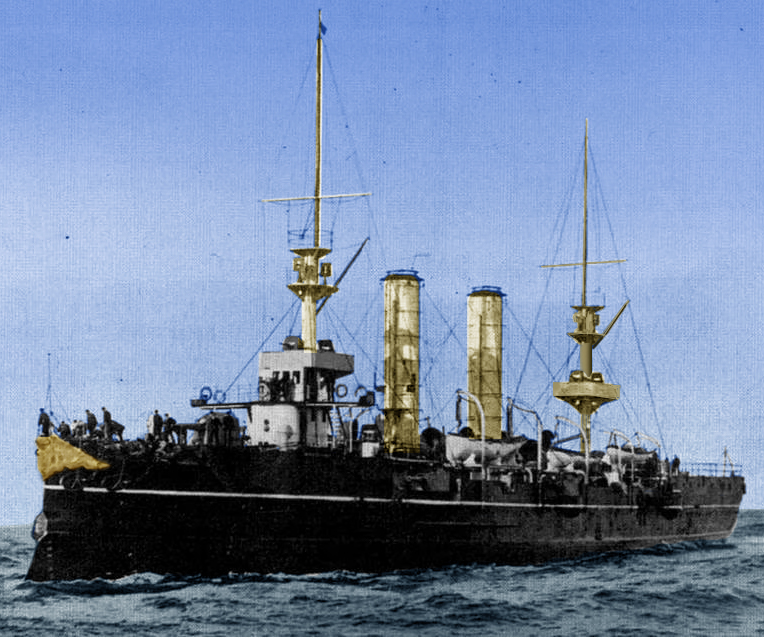 But what was worth Ministro Zenteno ? She was a reasonable 20-knots protected cruiser armed with eight 152mm/40 Armstrong guns, much smaller than the previous Esmeralda and Encalada. She was mostly there to surpass Argentina in numbers, which just obtained ARA Buenos Aires. She had a cushy, unremarkable career marked by the Pan-American Conference in Mexico in 1901, until decommissioned in 1930. Sister ships USS New Orleans and Albany were even scrapped earlier. #ww1 #chileannavy #armadadechile #ministrozenteno
BB: Battleship PC: Protected Cruiser AC: Armoured Cruiser *resold as the Kasuga class to Japan
In November 1894, the Brazilian government placed an order for three protected cruisers with Armstrong, Mitchell & Co Yard in Britain. The first was laid down as Chacabuco on 6 May 1895 at Armstrong's Elswick. However the government failed to secure the first installment and the yard had the construction delayed so it was instead sold to the Chile by September 1895. She was launched as CNS Ministro Zenteno, on 1 February 1896. Brazil would eventually had one of these, Almirante Barroso, Amazonas being sold to the US and becoming USS New Orleans and Almirante Abreu became USS Albany as tension grew with Spain over Cuba. So, the Chilean cruiser was an undesired opportunity. There were no specifications for her.
Design of the class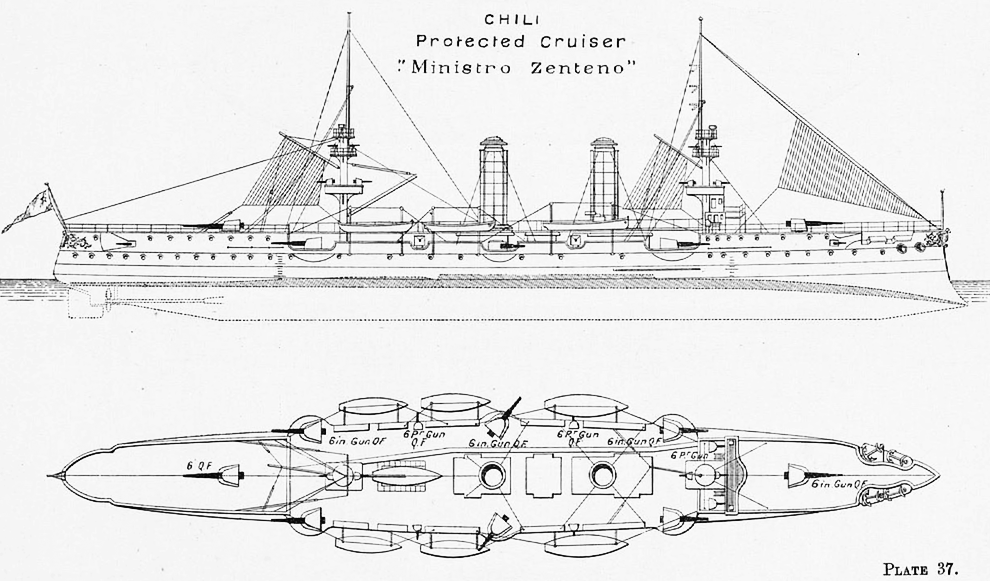 She was a fairly straithforward medium sized protected cruiser with a homogeneous main armamament unlike behemoths like Esmeralda or Blanco Encalada. Symmetrical in appearance, with a forecastle and poop, lower gun battery where were located the other four main guns and two lighter ones on either side. Two military masts with three tops (fighting and spotting) and rigging as shown on Brassey's depiction. Two equal size vertical funnel, heavenly spaced. Six service boats under davits.
Hull and general design
CNS Ministro Zenteno displaced 3,473 long tons (3,529 t) -standard apparently- and she had a hull 108.00 metres (354 ft 4 in) long overall, 100.58 metres (330 ft) between perpendiculars. For her beam was 43 feet 9 inches (13.34 m) this gave her a good hull ratio close to 1/10. She had a draught of 5.14 metres (16 ft 10 in).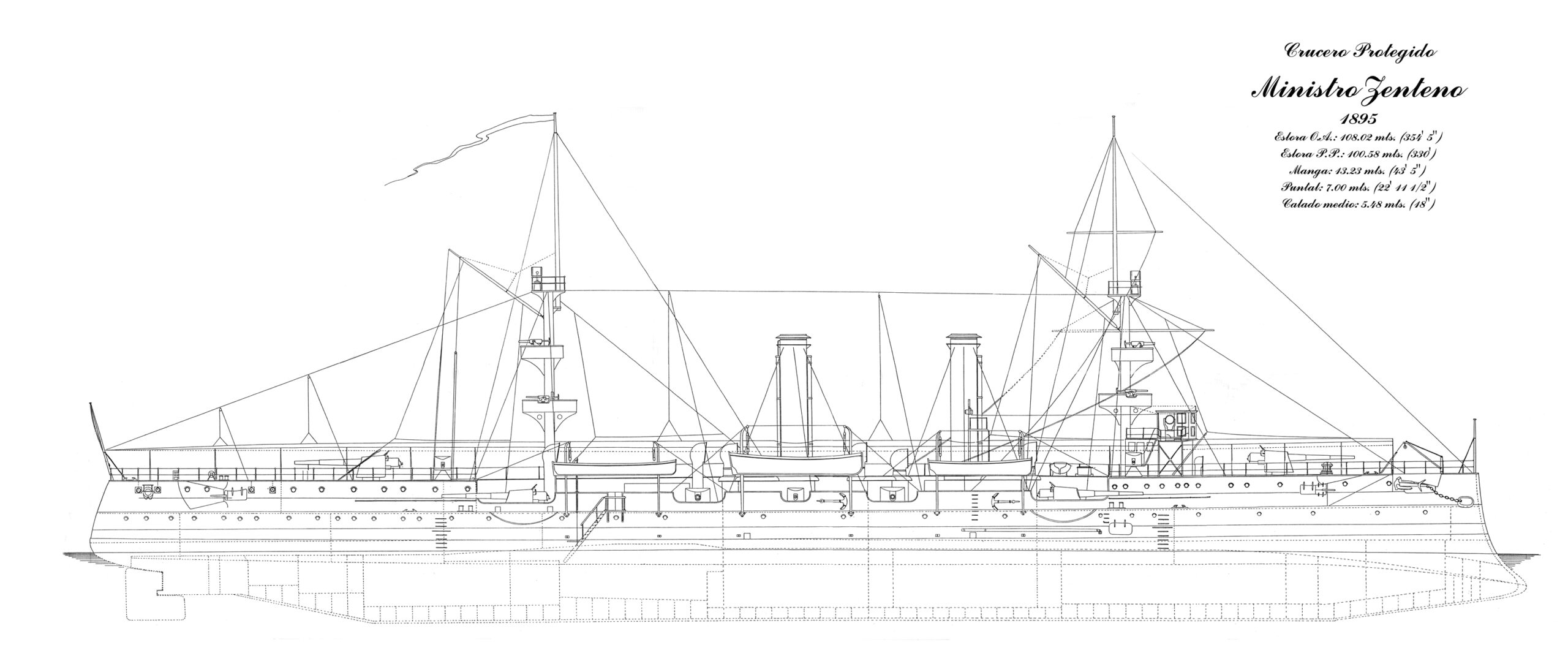 Armour protection layout
She had a full-length arched ("turtle") deck, all steel armour and 3+1⁄2 inches (89 mm) thick on slopes but down to 1+1⁄4 inches (32 mm) on the flat section. No belt as this armoured deck played that part. There were no bulkheads. Apart this, The ship had a conning tower forward with 4 inches (100 mm) walls, located just below and forward of the bridge. The thickness of shields for the main and secondary guns is unknown, but assumed to be 1-in (25 mm) and below.
Powerplant
She had two propellers, two 3-bladed ones, drived by two vertical triple-expansion steam engines, fed in turn by four boilers, for a grand total of 7,500 indicated horsepower (5,600 kW) in forced draught, trials, but 6,500 indicated horsepower (4,800 kW) in natural draught. Top speed obtained in forced draught on trials was 20.25 knots (23.30 mph; 37.50 km/h) which was not stellar. This means in service and full load she rarely went beyond 19 kts for short period of times and in ideal conditions. She could carry 850 tons oil in normal conditions, but range is unknown.
Armament
Main guns: Eight 6-in (152 mm)/45 QF Elswick guns: Forecastle and poop, centerline, then three either beam, sponsoned, all shielded. Specs as the standard 152/40 Armstrong W Type.
Secondary armament:
-Ten 6-pdr (57mm), Four in casemates bow and stern, four battery deck, two in the wings. Standard Hotchkiss QF type.
-Four 3-pdr (47mm) guns. Located in the fighting tops. Standard 23 caliber QF Hotchkiss Type.
Torpedoes: Three 18-inch (450mm) torpedo tubes: One bow, fixed, two on swivelling mounts, broadside, all surfaced.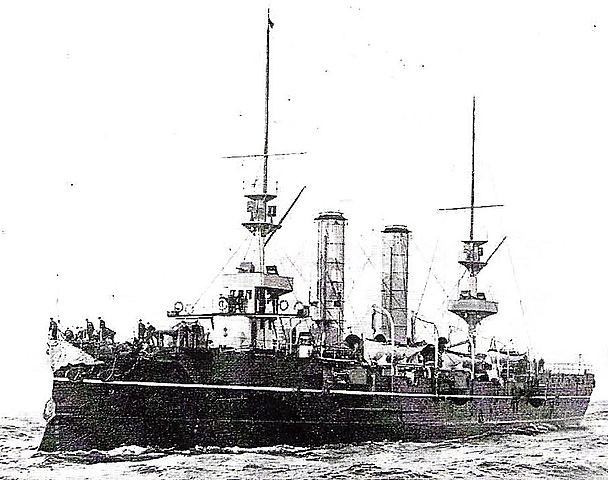 ⚙ Ministro Zenteno specifications

Displacement
3,437 tons
Dimensions
100.6 x 13.3 x 5.2 m (330 ft 1 in x 43 ft 8 in x 17 ft)
Propulsion
2 VTE, 8 cyl. boilers shp 7,500
Speed
20.2 knots (37.4 km/h; 23.2 mph)
Range
850 t oil, unknown.
Armament
8× 6-in/40, 10× 3-pdr/40, 1× pdr/23 Hotchkiss, 3x 18-in TTs
Protection
Armoured Deck 32-89 mm (1.3 in-3.5 in), CT 102 mm (4 in)
Crew
317
CNS Ministro Zenteno in service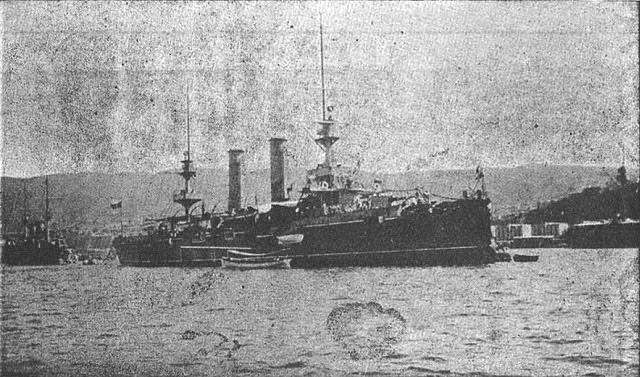 CNS Ministro Zenteno entered service in 1898, no known date. She sailed to Chile and started her service in training in home waters. Nothing notable nut she joined the Evolution Squad. She made several trips abroad. By August 1901 she was sent to Mexico under the command of Captain José María Villarreal for the duration of the Pan-American Congress.
Her attending to the Pan-American Conference was linked to the organizion by the US state secretary Blaines, of a trade agreement to clos ties between the United States and southern counterparts, and open Latin American markets to US trade. During the trip she made a stopover in El Callao and Guayaquil, where she stayed on September 18-19 receiving an extraordinary welcome from the Government and population. After the Pan American Congress, she visited Costa Rica, El Salvador, Nicaragua and Guatemala.
Nothing notable in 1902-1907 but that year she departed for a very long cruise.



Ministro Zenteno in 1897
She sailed from Valparaíso under command of Captain Arturo E. Wilson on a very special midshipman training cruise, taking advantage of attending the Great International Naval Review in Hampton Roads in Virginia, at the entrance of the bay of Chesapeake,.
So in March 14, 1907, she departed and stopped to Punta Arenas, Bahía, La Guaira, Bermudas, Hampton Roads, Annapolis, Newport, Plymouth, Brest, El Ferrol, Lisboa, Argel, Malta, Spezia, Genova, Barcelona, Cartagena, Gibraltar, Santa Cruz de Tenerife, Río de Janeiro, Buenos Aires, Puerto Madryn, Punta Arenas, Puerto Montt, Talcahuano. She also stopped at Puerto Barroso, Grappler, Dixon, Fortescue, Tamar, Puerto Bueno, Puerto Edén, Puerto Laguna, Melinka, and dropped anchor back in Valparaíso by December 8 the same year.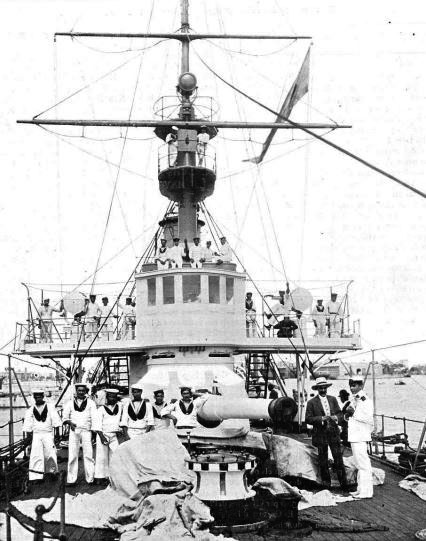 Ministro Zenteno in Barcelona, 1907
Nothing notable between 1908 and WW1. She kept patrolling Chilean waters during the war. Apart some periods of reduced commission, she made also a few trips of hydrographic works in the south. The restr was alternated betwene cadet training, battle squadron exercises, and refits. She never was modernized however.
On June 19, 1919, she took part in an Hydrographic mission under the directuon of Commander Hipólito Marchant in the Beagle Channel area, when she went astray on Lennox Island, loosing men thrown overboard, and causing alarm. The crew requested authorization to lower a boat and despite the bad weather, disembarked in Lennox, went on searching for the unfortunate cabin boys missing. After searching for more than ten hours without sleep, enduring low temperatures and snow, they eventually found Baeza, exhausted but alive. Requiring medical help from the cruiseer, the cutter "Yañez" was dispatched, its Commander skilfully avoiding rocks and managed to rescue all the expedition members. The tugboat "Yánez" carried also a body on board Zenteno, which was identified as second Sailor Idelfonso Ormeño Bravo in help of Baeza. A small island was named Ormeño in homage.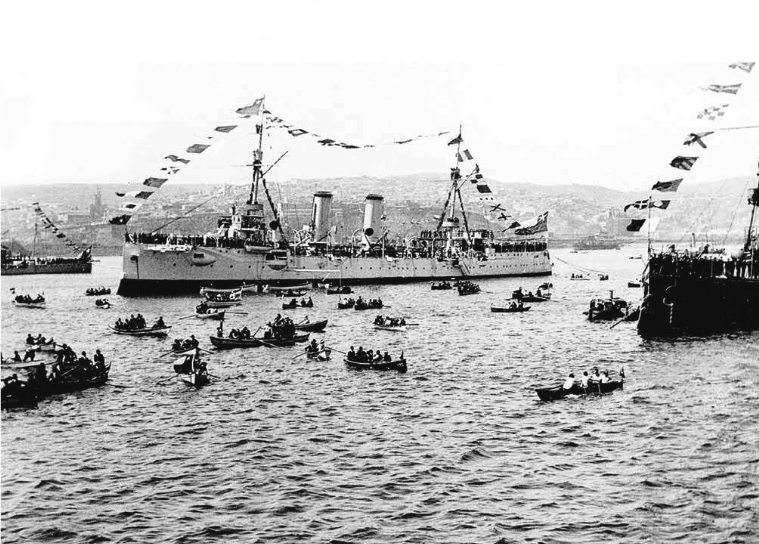 Ministro Zenteno, centennial of Chile, 1910
The cruiser saw little service in the 1920s, being partly decommissioned by Supreme Decree on January 3, 1930. She was sold for BU soon after.
Read More
Links
en.wikipedia.org cruiser_Ministro_Zenteno_(1896)
on navypedia.org
history.navy.mil/our-collections/
armada.cl/
flickr.com
envisitadecortesia.com/tag/ministro-zenteno/
tynebuiltships.co.uk/
m.facebook.com
repositorioarchivohistorico.armada.cl/
shipsnostalgia.com/media/ministro-zenteno.410293/
laststandonzombieisland.com
web.archive.org armada.cl/
Model Kits