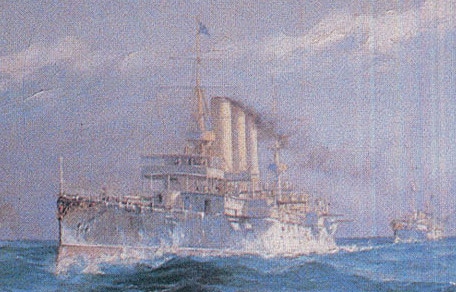 CNS O'Higgins, was Chile's largest cruiser before the cold war. The thunderstuck of Argentina ordering two Italian armored cruisers at the last minute stunned the Chileans, which ordered in turn by April 1896 to Vickers Armstrong Yard a cruiser specifically tailored to answer the Italian ships. She was tailor-designed and built at a staggering cost of 700,000 pounds, completed on 2 April 1898. The 8,500, 21 knots armoured cruiser sported four 8-in in single turrets, ten 6-in in casemates as well as four 4.7 in, ten 12-pounder and ten 6-pounder… As Argentina soon acquired two more and wished to acquire another pair, soon after Chile also ordered in Britain two battleships.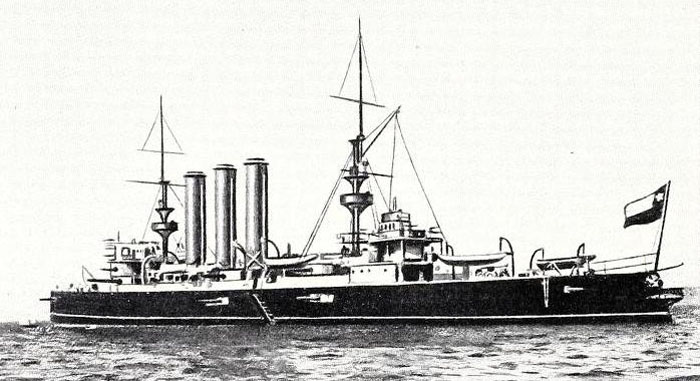 As a symbol, it's on O'Higgins deck the Argentinian presidential delegation met the Chilean one at Punta Arenas on 15 February 1899 to normalise relations between the two countries. This put an end to the Chile-Argentina naval arms race (under international pressure), lasting for ten years and near-bankrupting both countries, before bouncing again in 1906 after Brazil ordered three dreadnoughts…
BB: Battleship PC: Protected Cruiser AC: Armoured Cruiser *resold as the Kasuga class to Japan
So in In April 1896, the Chilean government ordered its first armoured cruiser, to be called O'Higgins (see later for the name). It was ordered on precise specifications from Armstrong, Whitworth & Company, and put to the good care of its superstar director, Sir Philip Watts, for a staggering cost at the time of £700,000, far more than the Argentinian Italian-built ships. After plans were reviewed by the commission she was laid down at Armstrong's Elswick Naval Yard, located at Newcastle-on-Tyne, on 4 April 1896. After a construction without issue, she was launched on 17 May 1897, and completed on 2 April 1898. The ship had been an interesting test as the Royal Navy itself had a line of contemporary armoured cruiser such as the Diadem class, which rather had sixteen 6-in guns, but no heavier artillery. The entrance of the Garibaldi class in the Mediterranean revised its plans. On the next Cressy class the admiralty chose indeed to place two single 9.2 in (234 mm) guns fore and aft, and repeated this for the next classes.
Design of the class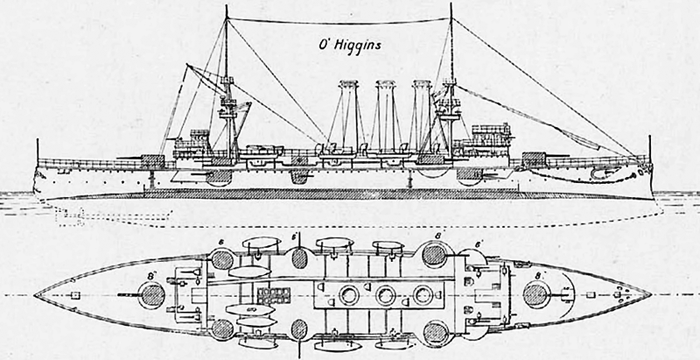 The O'Higgins unlike many ships of her age looked rather unique. Between her armament, size and appearance she really was unique, albeit still conventionally built by Philip Watts. The latter directed the world's largest naval yard at a time of great international tensions, being at the center of a "gold age" in British naval construction for export. He designed notably NMS Elisabeta for Romania, the Italian Castore-class gunboats and the cruiser Piemonte, Brazilian Republica, ARA Veinticinco de Mayo and Nueve de Julio, IJN Yoshino, CNS Esmeralda, USS New Orleans, Almirante Barroso, and IJN Yashima prior to the O'Higgins and will ultimately design HMS Dreadnought in 1906, and then the super-dreadnoughts of the Queen Elizabeth-class.
In some ways, the O'Higgins was considered a successful design had two sister ships, IJN Asama and Tokiwa, which fought at Tsushima.
Hull and general design
O'Higgins was undoubtely a large ship, the largest and costiest ever ordered by Chile. At 7,796 long tons (7,921 t) standard and 8,500 long tons (8,636 t) full load she was larger than Esmeralda or Blanco Encalada indeed, measuring 126 m (412 ft) overall, for a generous beam of 19.13 m (62 ft 9 in) and a draught of 6.93 m (22 ft 9 in). To compare with Esmeralda (468 ft 3 in (142.72 m) x 52 ft 5 in (15.98 m) x 20 ft 6 in (6.25 m)), she was shorter but beamier and draftier. Which argued for more stability, whereas Esmeralda was a "greyhound" built for speed. A more compact hull were and advantage as shortining the surface to cover with a thicker armour, thus keeping the displacement balanced compared to the output of her machinery.
Her silhouette was rather unique with a bridge built over the conning tower, two military masts and three funnels, tall and close together. They had siw service boats under davits on either side. The bridge was extensive and built above the conning tower, with the military mast located behind. Two wings supported light guns and communication projectors. The two military masts fore and aft were supporting each a fighting top with four light guns and a spotting top above supporting a large searchlight. The upper part of the mast was setup for rigging (planned by never mounted).
The aft bridge as tall and almost as extensive as the forward one.
Armour protection layout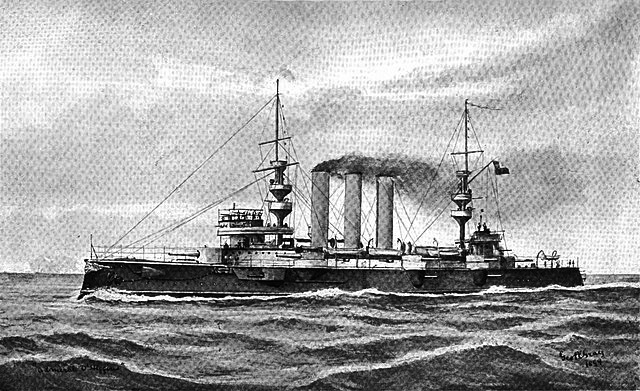 O'Higgins in Brasseys naval annual 1899
Main protection included -armoured cruiser obliges improvements in armour:
-A belt 260 feet (79 m) long and 7 feet (2.1 m) high 7 inches (178 mm) machinery, 6 inches (152 mm) fore and aft.
-An armoured deck for the entire length and beam, with 3 inches (76 mm) slopes, 1.5 inches (38 mm) flat section.
-The Conning tower forward had walls 8 in (203 mm) thick.
-The turrets were protected by 7–5 in (178–127 mm) sides, the strongest at the front
-The secondary casemates and gun shields still reached 6–5 in (152–127 mm)
The hull was clad in copper and wood to reduce fouling and compartimentation between 15 bulkheads for underwater protection, sub-divided into a lot of void small compartmennts that could be filled with extra coal in wartime and added some protection against torpedo hits. In fact the coal could be almost doubled from 700 to 1,200 tonnes.
Powerplant
O'Higgins had two shafts, driven by two vertical triple-expansion (VTE) steam engines, fed by steam coming from no less than 30 Belleville water-tube boilers. Total output in normal condition was 16,500 indicated horsepower (12,300 kW), enough for 21.6 knots (40.0 km/h; 24.9 mph). For range, she carried 1,253 long tons (1,273 t) of coal max (700 tons of coal normally, 1,200+ tons maximum) for 4,580 nautical miles (8,480 km; 5,270 mi) at 8 knots, but again in normal conditions. It could be probably extended in wartime. She was assumed to be a steady platform, seaworthy, with predictable roll.
Armament
Compared to Ministro Zenteno, it was more than double, with an array of five calibers (8-in, 6-in, 4.7-in, 3-in and 2-in) and torpedo tubes.
Main armament: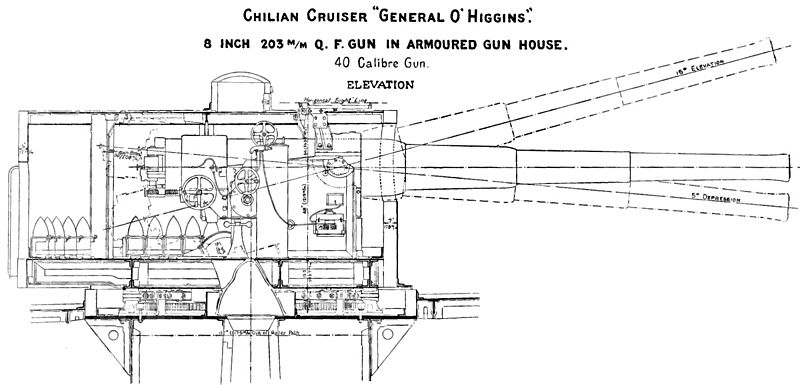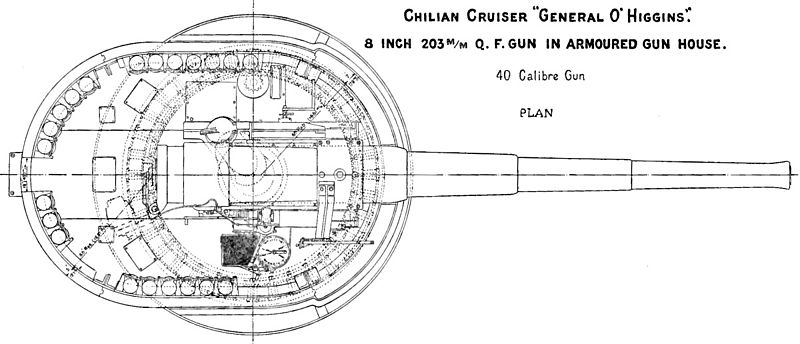 Four 8-inch (203 mm) 40 calibre guns in single turrets, with two on the ship's centreline fore and aft and two port and starboard in line with the forward funnel.
These were introduced in 1893, weighted 15 t for 9.7 m (31 ft 10 in) (barrel alone 8.2 m/26 ft 11 in) and used separate loading bagged charge and projectile with 95–113 kg (209–249 lb) shells carrying a 32–44 kg (71–97 lb) charge. Rate of fire was 2 rpm, Muzzle velocity 685 m/s (2,250 ft/s), range was probably below 15,000 yards.
Secondary Armament:
Ten 6-inch (152 mm) 40 calibre guns were fitted, with six in casemates and the remaining four in single turrets. MV 2,154 fps (657 m/s), ROF 5-7 rpm, range 10,000 yards (9,140 m)/20.
Tertiary (anti-torpedo boat):
-Four 4.7-inch (119 mm) Elswick QF Mk V naval guns, located in the wings.
-Ten 12-pounder guns standard 3-in 12 cwt Elswick Type, between decks and bridges
-Ten 6-pounder guns standard 37mm Hotchkiss Type in the fighting tops and bridges
Torpedoes: Three 18-inch (457 mm), two submerged broadside, one above the waterline, right aft, there was none in the bow. Likely the Whitehead Mark 2C torpedo model.
1,232 pounds, 197 inches (5.0 meters) by 17.7 inches (45 centimeters) range 1500 yards Warhead 132 pounds wet guncotton, Mk 1 contact exploder, Engine 3-cylinder reciprocating engine for 28.5 knots. Likely to have been adopted after completion, the 2C was available in 1898.
Her Modernization in 1919-1920 saw the removal of four 120mm/44 guns and all ten 57mm/40 for the addition of three single 76m/40 (3-in) Armstrong AA guns.


Author's old illustration
⚙ Ministro Zenteno specifications

Displacement
7,796t standard, 8,500t full load
Dimensions
126 x 19.13 x 6.93m (412 ft x 62 ft 9 in x 22 ft 9 in)
Propulsion
2 shafts VTE steam engines 30 Belleville boilers 16,250 ihp (12,120 kW)
Speed
21.6 kn (40.0 km/h; 24.9 mph)
Range
4,580 nmi (8,480 km; 5,270 mi)
Armament
4× 8 in/40, 10× 6 in/40, 4× 4.7 in, 10× 12-pdr, 10 × 6-pdr, 2× MGs, 3× 18 in TTs
Protection
Belt 7–5 in, Deck 3–1.5 in to 2–1.5 in, Turrets 7–5 in, casemates 6–5 in, CT 8 in
Crew
500
CNS O'Higgins in service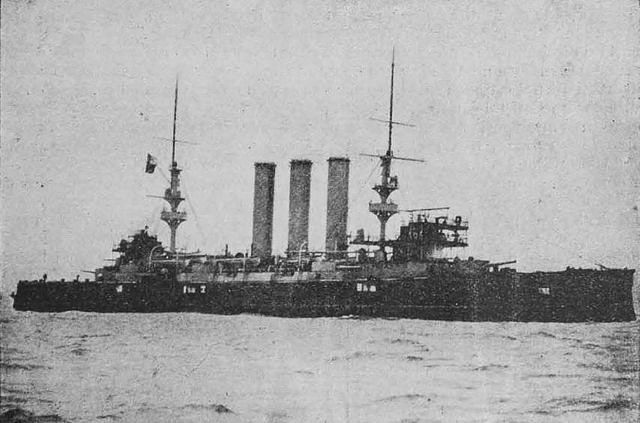 While O'Higgins was close to completion at Elswick (winter 1897) tensions between Spain and the United States on Cuba grew and rumours circulated that Spain was trying by purchasing new warships, including from other countries (the same rumors were justified as many ships in construction were often resold amidst the evolution of the situaiton and economical issues. For example the US just acquired USS New Orleans and another cruiser destined initially to Brazil. The rumors included O'Higgins, just newly completed Chilean cruiser Esmeralda(ii) and protected cruiser Ministro Zenteno nearing completion at Elswick yard. This in return was answered as the Spanish–American War was more likely, by the United States attempting to purchase O'Higgins, but negotiations failed. Eventually, the Chilean crew arrived in Britain and O'Higgins was commissioned, proceeded to sea trials and sailed for Valparaiso, arriving on 25 July 1898.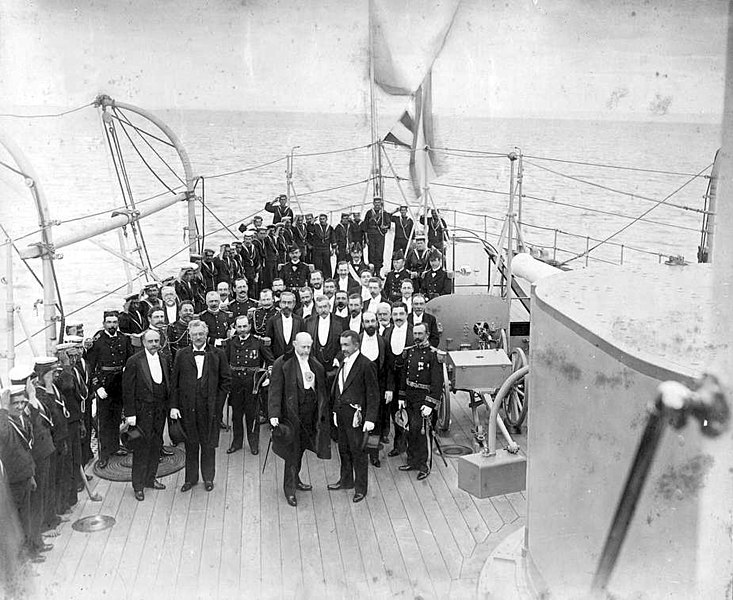 The armored cruiser had an official role soon: She hosted a meeting between the President of Chile, Federico Errázuriz Echaurren and the Argentine President Julio Argentino Roca at Punta Arenas on 15 February 1899, to normalise relations between the two countries, practically ending the naval arms race altogether. This meeting was also known as the "Embrace of the Straits" (El Abrazo del Estrecho).
She was sent to Panama in 1903 to watch for the United States and Columbia in high tensions after the separation of Panama from Colombia. She was posted there during the dispute, ready to intervene and save local residents or interpose between the two fleets, as other international vessels, but negociations put an end to it.
In 1919, O'Higgins was fitted with a floatplane. It could be lowered at sea and recover after operations by her main boom crane. The same year after an overhaul she was sea trialled and obtained a top speed of 21 knots, remarkable after all her service already. Most of the small tubes of her boilers has been cleaned up or replaced after her 1919–1920 refit. During the same she saw her armament also rejuvenated with four 4.7-in/44 removed as her 6-pdr/40, receiving 3-in/40 (3-in) Armstrong anti-aicraft guns.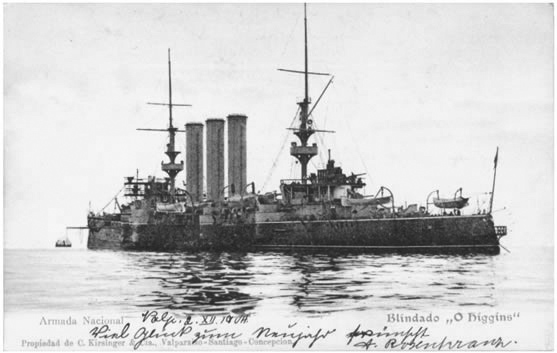 On 12 March 1920, she collided with the Chilean cargo SS Llai Llai, in Philadelphia, Pennsylvania and the cargo sank.
On 24 August 1920, while anchored in Mejillones, she had an aircraft hitting a cannon while flying too close, killing the pilot, Midshipman Julio Villagrán. There was no victim aboard the cruiser.
In 1928–29 she was refitted. Details are not known.
She was involved in a large scale mutiny sweeping the Chilean fleet, and she was seize forcibly (at gun point) by its crew on 1 September 1931, officers locked away. The "Sublevación de la Escuadra" was a violent rebellion of enlisted men against the government of Vice President Manuel Trucco. Officers mostly stayed loyal to the government. The rebellion was put down notably by the intervention of the Chilean aviation.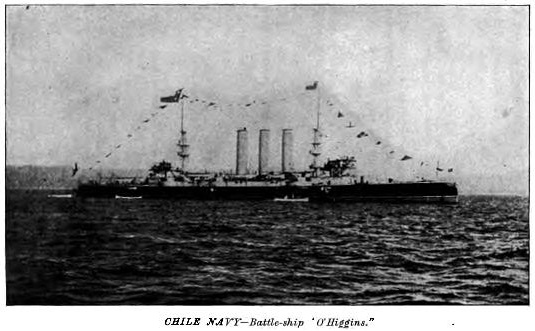 However after her refit she saw little service. The latter was not enough to keep her relevant and with the arrival of the Battleship Almirante Latorre she was considered surplus to requirement. Already in sermi-reserve in 1933, then decommissioned she became a utility pontoon, stripped of her armament, seeing WW2 in that state. Eventually she was stricken in 1958, but was kept as hulk and eventually sold by June 5, 1964 to the Pacific Steel Company for BU.
Assessment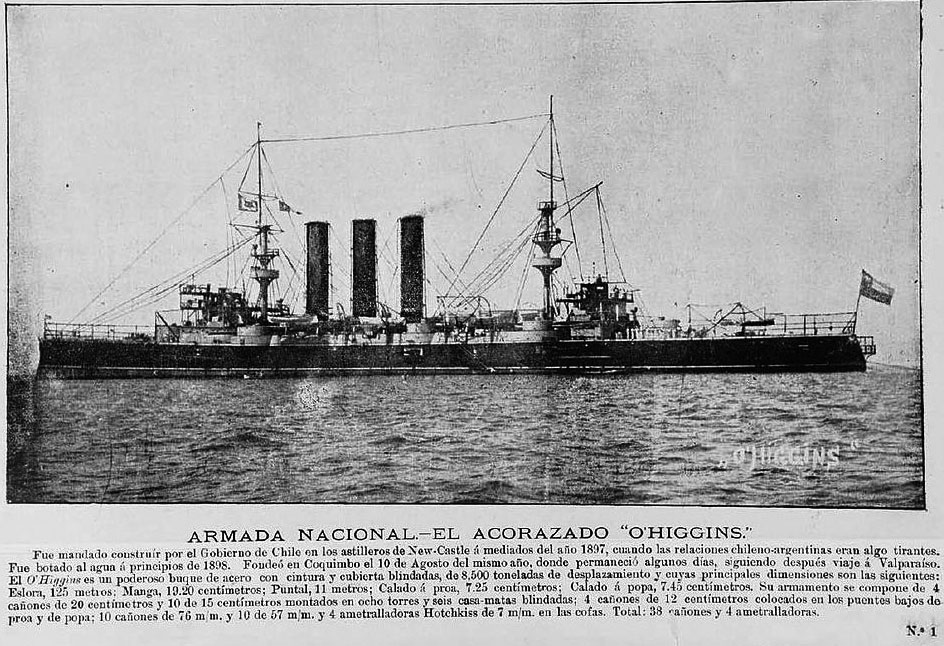 Built at Armstrong, Withworth & Co. Ltd shipyards, Newcastle upon Tyne, Elswick, England and designed by Philip Watts. The government ordered its construction in March 1896 at a cost of £700,000. She was launched in April 1896. Between her steel hull lined with wood and copper, and good overall protection, inclduding up to 7-in on her main turrets, her underwater divided into 15 watertight compartments and modern triple expansion engines, state of the art 30 Belleville boilers in three groups she was fast for her category. A formidable ship, whioch noi doubt would have been an interesting choice of acquisition by Spain or the US with the impending war. She served with the Evolution Squad and then the Active Squad, hosted the reunion which put an end to the naval rivalry between Chile and Argentina, thus defeating the very purpose of her existence in a twist of irony. She had little to do afterwards, and cost a lot to Chilean taxpayers. The rest of her carreer was cushy like the rest of the fleet, between exercizes and training cruises. Her modernization was cosmetic in 1920 and 1930 but her conception was definitely obsolete by that time.
Read More
Books
Cámara de Diputados. Boletín de las Sesiones Estraordinarias en 1903, Imprenta Nacional, Santiago, 1904, sesión 22ª Estraordinaria en 25 de noviembre de 1903
GREZ TOSO, Sergio. ¿AUTONOMÍA O ESCUDO PROTECTOR?: EL MOVIMIENTO OBRERO Y POPULAR Y LOS MECANISMOS DE CONCILIACIÓN Y ARBITRAJE (CHILE, 1900-1924). Historia (Santiago). [online]. 2002, vol.35, p.91-150.
Links
worldnavalships.com
tynebuiltships.co.uk
en.wikipedia.org/
navypedia.org/
commons.wikimedia.org
On www.armada.cl archive
Model Kits
on shipbucket.com profile as completed
on modelshipgallery.com/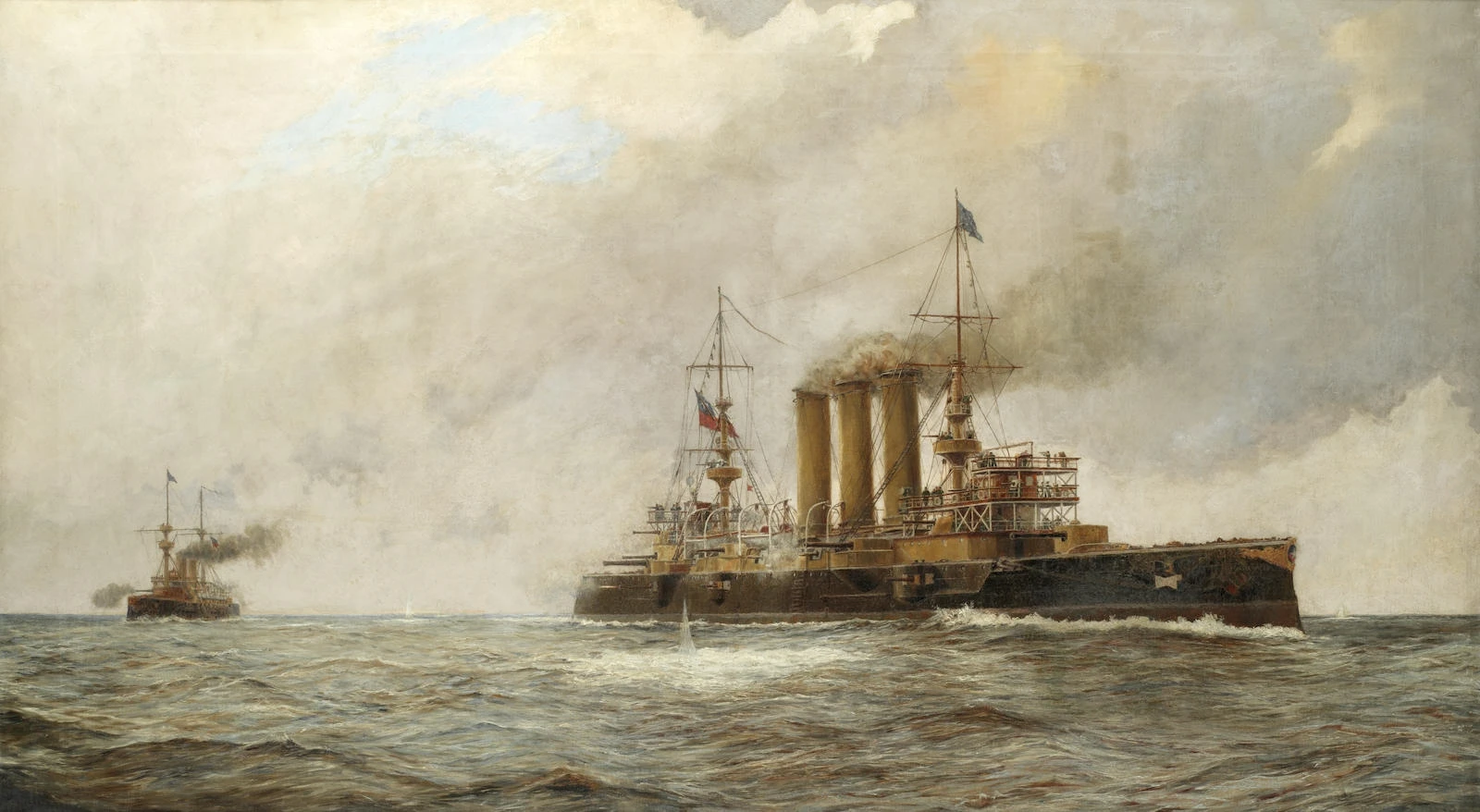 Oil on canvas by JJ Jelley, src
Video