Tucker class destroyers (1914-1936)

USN Fleet Destroyers (1912-1935): USS Tucker, Conyngam, Porter, Wadsworth, Jacob Jones, Wainwright (DD-57-62)

The Tucker class were six #USN fleet #destroyers started just as #WWI was about to start. These were also the fourth of the "thousand tonners", based on their displacement. They were an incremental development of the O'Brien class, with the same 21-inches torpedo tubes, and apparently all fitted with Curtis steam turbines. Built in four private yards, launched in 1915 and completed in early 1916 they had time to train and make their part in neutrality patrols before the US entered the war, before proceeding to ireland and escort convoys until the end of the war (Jacob Jones sunk). The interwar so four of them used as USGC ships during the prohibition, and sold for BU in 1936. #usnavy #unitedstatesdestroyer #worldwarone
Design of the class
The Tucker class displaced around 1,060 long tons (1,080 t) – There were differences between yards: DD 60 actually displaced 1060 tonnes, DD-61 and 62 from New York SB displaced more at 1050 tonnes, and the rest displaced 1090 tonnes, so substantially more than the previous O'Brien, although they were very similar. The greatest change was a narower and longer hull, to maximize output (which was the same) and enable greater speeds. They reached half a knot more indeed despite a slight increase in displacement.
Hull and general design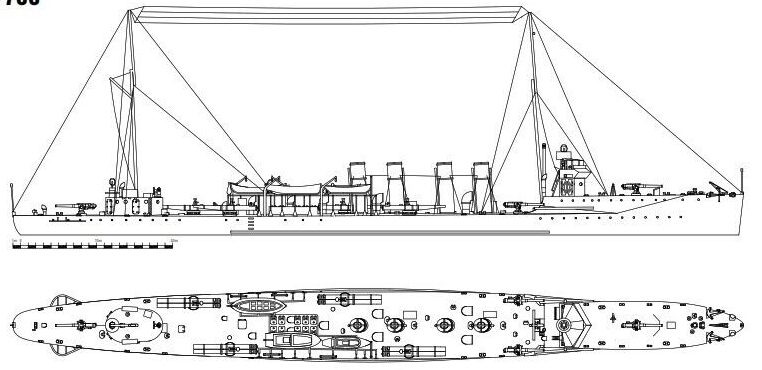 The Tucker class were longer than the O'Brien, of about 2.5 m meters (8.2 feets), for just over 315 feet (96.1 m) in length. They had a narrower beam of about 30 feet (9.1 m) as compared to the o'Brien's 31 ft 2 in or 9.5m. The general design was still the very same, with a constant curve deck from the prow to stern, the same "rounded-Vee" shaped poop, collision-guards, same rudder and propeller struts, same typical forecastle with two recesses for the admiship deck guns, same small conning tower bridge and upper platform, same four funnels amidships and four paired vents of independent Natural Ventilation intakes, access hatches aft, then quarterdeck house structure and radio room, with the aft mast planted over, and two equal size composed masts with braced radio cables.
The small bridge only had a chandurb and voice pipes, with the primary steering wheel located below. A second back wheel was installed on top of the quarterdeck house, forward of the mainmast. The structure also was rounded, to allow a better arc of fire for the guns and TTs while maximizing internal space.
The brigde was later encompassed with a rigid breakwater beak structure when prepared for Atlantic Operations in 1917 and received sets of folding windows, but was still open air until 1936, with perhaps an optional tarpaulin as cover. There were also two projectors, the main one being installed on a light platform on top of the prismatic bridge. The second one was located aft pf the quarterdeck house. Each destroyer had a "fleet" of three boats for its 100-men crew, located on davits aft of the funnels, either side of the main deck hatch structure: In order, a liaison boat, a steam cutter (port) and a yawl on starboard. The hull had reinforcement bulges above the waterline amidship, fixed ladders aft of it, and on the prow, external, deck-layed anchors (no porthole). The bow design was the same as all the others, slightly angled. The forecastle had moderate flare forward, and ended in a straight section.
Powerplant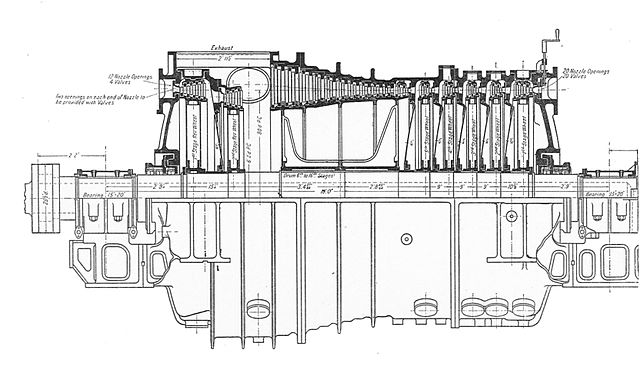 A 1905 Curtis Direct Drive steam turbines (Rankin, 1905. Kennedy' Modern Engines Vol VI. 1912)
Most had two direct-drive steam turbines of the Curtis type for all yards and a single geared cruising turbine for fuel economy and extend their range (likely same provenance). USS Wadsworth (DD 60) from Bath Iron Works, was the only one equipped with two geared steam turbines only (rated for 17,500 shp) but she was the first first U.S. destroyer were these, for experimentation. Trials and subsequent service proved it was a wise moved as she had the best performances of the whole class. DD57, 61 were rated for 62 17,000 shp, DD58, 59 for 18,000 shp. They had four Yarrow Boilers, double-ended type.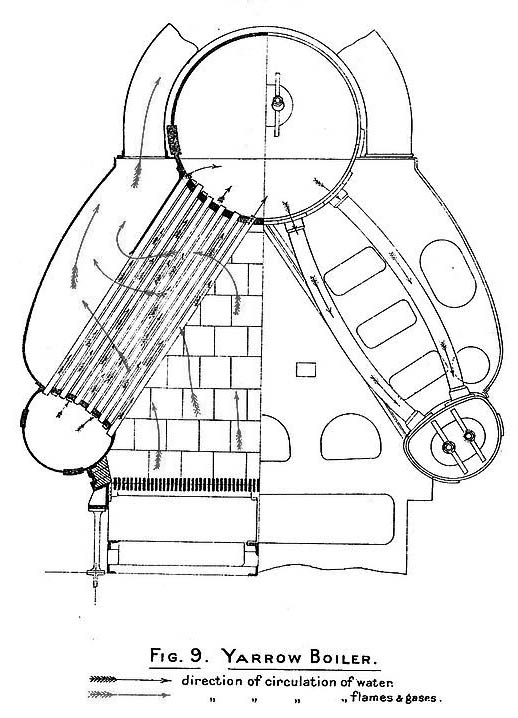 Yarrow Boilers, RN Stokers Manual 1912
USS Wadsworth greatly influenced later destroyer designs as a consequence. Initially designed for a top speed of 29.5 knots (54.6 km/h), DD 60 and others exceeded these figures. The class had a range of 2,500 nautical miles (4,600 km) using their cruise turbine based on their 310 tons of oil, 290 tons. This improved their range, from an estimated 2,2-300 (no data found) on the O'briens. The latter indeed had a completely different powerplant arrangement, with direct drive Zoelly steam turbines and two triple-expansion steam engines for cruising (not DD-55 which had two geared steam turbines White-Forster boilers). Installed on very similar ships, it helped the General board to determine the best powerplant arrangement.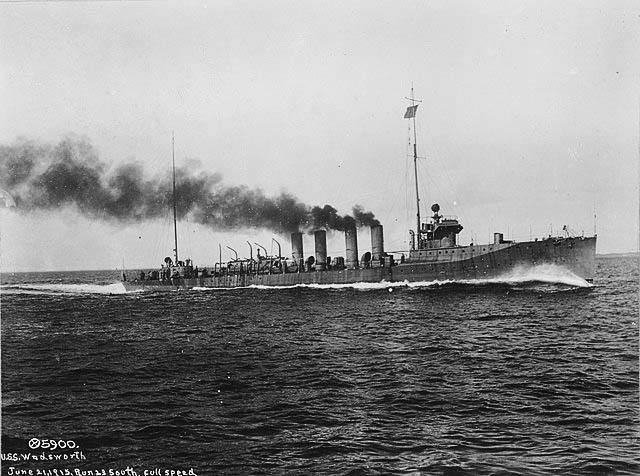 USS Wadsworth on sea trials, July 1915
Direct drive propulsion systems used a fixed pitch propeller, with stable rpm but a geared drive propulsion uses a reduction gear on the main shaft connected to the propeller, which can change its pitch according to requirement. This was an ideally flexible solution using the fixed rpm of a shaft generator.
These turbines were connected with four classic steam boilers, which were of the Yarrow type on all ships.
Armament
As built they repeated the exact same scheme of the previous classes, four 4-inch (10 cm) guns in a lozenge pattern and four twin 21 inch (533 mm) torpedo tubes, eight total (so no spares), and all were equipped with depth charges in 1917 and some acoustic equipments.
Main: Four 4-in/50 Mark 9 (102 mm)


USS Wadsworth in Queestown, Ireland, 1918
4-inch (102 mm)/50 Mark 9 guns weighing each more than 6,100 pounds (2,800 kg). They carried fired 33-pound (15 kg) armor-piercing (AP) shells exiting the barrel at 2,900 feet per second (880 m/s), reaching a target up to 15,920 yards (14,560 m) at 20° (max) elevation. They were placed the same way for all the thousand-tonners, in a lozenge pattern, one axial on the forcastle forward, two on deck level just abaft its break, and one axial aft on the weather deck. They were lef unshielded, apart canvas ones and rigid shields were installed in 1917 on the forecastle while canvas were installed for the admiships guns.
More on navweaps.com
Torpedoes: 4×2 Bliss-leavitt 21-inches Mark 8 TTs
The Mark 8 really tailored for destroyer use was faster and heavier, and intriduced in 1915 as the ships were completed. They had the following caracteristics:
Mods 0, 1, 2 or 2A: 2,761 lbs. (1,252 kg), 248 in (6.299 m) long, 321 lbs. (146 kg) TNT charge, settings 10,000 or 12,500 yards (9,140 or 11,430 m) at 27 knots. Powered by Wet-heater and guided by a Mark 8 Mod 1 gyro. The tube banks were staggered for better arcs of fire, located amidships and aft of the funnels, with the port ones closer to the bow. They faced forward and aft depending on their location but had very limited traverse inwards.
Depth Charges
In 1917 to perform better as ASW ships, the class was equipped with two depht charge racks (DCR) and later (or at the same time) a single thrower or DCT of the "Y-gun" type. It throwed two depht-charges at once, but the reloading was a long process. The latter were probably of the Mark I type (1916) weighting 100 lbs. (45 kg) with a 50 lbs. (23 kg) wet gun-cotton exploser ad two settings, 25 and 100 feet (8 – 30 m).
Mines were also considered at some point by the General Board but the idea was dropped and there was no equipment (like rails) to hande these anyway.
It was question to equip them with a fast-firing standard 3-in gun, but it is not shown on any photo not corroborated by any data.
Construction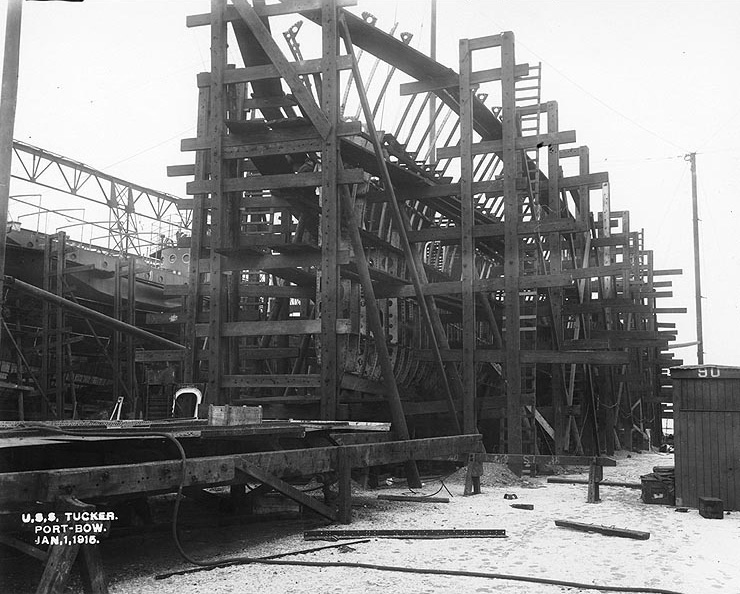 These ships were built by four private shipyards: Bath Iron Works, Fore River Shipbuilding Company, New York Shipbuilding Corporation, and William Cramp & Sons. They were laid down between February and November 1914 and launched between April and July 1915 (average construction time one year). Commissioned between July 1915 and May 1916 so circa 8-11 months after launch, they spent quite some time in pre-commission trials and fixes, despite the war goining one already. The class should have been name Wadsworth based on the first completed, European system (July 1915). DD 60 was also the first laid down, on February 1914 but launched in July 1915. USS Tucker, DD-57 was in fact laid down in November 1914, nearly nine months after, but launched in May 1915, so two months prior to DD 60, making her the lead ship by all accounts. The extra delay for DD 60 was of course due to her peculiar powerplant.


Nice typical razzle-dazzle camouflage on USS Wadsworth as she was in late 1917-18 in Ireland. Below is following an overview of all styles when photos exists.


Profile HD of USS Jacob Jones before the US went at war, 1917, by the author
⚙ specifications

Displacement
1090/1060/1150 tonnes standard, 1205 FL
Dimensions
315 ft 3 in x 30 ft 6 in x 9 ft 4 in (96.1/30 m oa x 9.30 x 2.80/84 m/3.18 m)
Propulsion
2 shafts Curtis DDT+ 1 GSTg, 4 Yarrow boilers, 17-18,000 shp see notes
Speed
29.5 knots
Range
2500 nm(20 kts), 310 tons oil
Armament
4 x 1 – 102/50 Mk IX, 4 x 2 – 533 TT, 2 DCR
Crew
99
Evaluation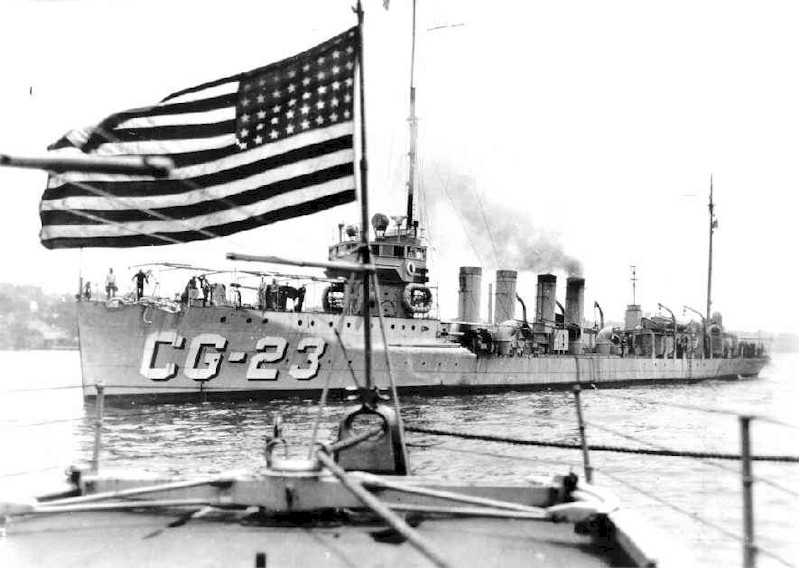 Tucker as a Coast Guard Ship in the 1930s
All six ships were barely more than repeats of the O'Brien, but with some improvements: A narrower, longer hull which optimized the output and allowed them to reach half a knot better than the previous O'Brien, and 30 knots in sea trials. The greatest game changer was DD-60, USS Wadsworth from Bath Iron Works which was fitted with only two geared steam turbines instead of direct drive ones. This enabled to gat rid of the third cruising turbine and simplified the powerplant considerably, while providing more flexibility at all regimes. Another solution would be tried on the new Caldwell class, but the geared turbines was becoming the new USN standard in WWI, replicated notably with the mass-produced Wickes and Clemsons.
Although this has nothing to do with this class in particular, USS Tucker was only known in WWI documentation as "Tucker", "Destroyer No. 57" and NOT DD-57, which was a retroactive denomination imposed by the USN staff from july 1920 onwards. It allowed for example to have two ships named the same but differentiated by their pennant. USS Tucker for example was also CG-23, and no longer a "DD" freeing the name for the new USS Tucker (DD-374), a Mahan class destroyer, laid down as theu were still in activited with the coast guard.
Service-wise they all operated in the Atlantic and Caribbean and from April 1917, Queenstown, Ireland, rescuing passengers and crews from sunken ships and making several encounters with U-boats, wit attacks. Conyngham's commander was commended for a probable "kill" of one U-boat. Only USS Jacob Jones was torpedoed and sunk in action (by U-58), December 1917. The surviving ships were back in 1919, decommissioned and mothballed from June 1922 to free tonnage but four later were modified to serve with the USGC (thus excluded from Washington tonnage), making rounds of "rum patrols" from 1924-1926, as part of the Prohibition measures for the U.S. Navy custody and until 1934-1936, being sold for scrap the latter year. Nothing fancy about them, as a mere incremental improvement but the next Sampson would be the last of the 1000-tonners as this class, now eight years old, was becoming obsolete after many reports dicating changes. The true revolution would came with the first flush-deckers, the Caldwell class.
Read More
Books
Bauer, K. Jack; Roberts, Stephen S. (1991). Register of Ships of the U.S. Navy, 1775–1990: Major Combatants. New York: Greenwood Press..
Cashman, Sean Dennis (1988). America in the Age of the Titans: The Progressive Era and World War I. New York: New York University Press.
Friedman, Norman (2004). U.S. destroyers: An Illustrated Design History (rev. ed.)
Gardiner, Robert, ed. (1985). Conway's All the World's Fighting Ships 1906–1921. Annapolis, Maryland: Naval Institute Press.
Silverstone, Paul H., U.S. Warships of World War I (Ian Allan, 1970)
Naval History & Heritage Command. "Conyngham". (and others) Dictionary of American Naval Fighting Ships. Naval History and Heritage Command.
Links
The Tuckers on destroyerhistory.org/
The thousand tonners on destroyerhistory.org
The 4 in/50 gun Mk.9 on navweaps.com
WWI US Torpedoes navweaps.com
On navsource.org
On en.wikipedia.org
commons.wikimedia.org gallery
war diary of USS Tucker on history.navy.mil
uss tucker on navsource.org
On navypedia.org/
Model Kits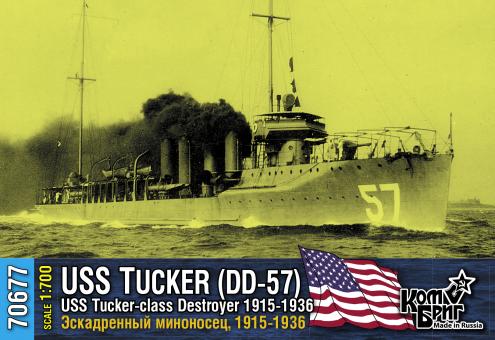 The Kombrig 1:700 model. Not much else. The Tucker has been covered as well.
USS Tucker DD-57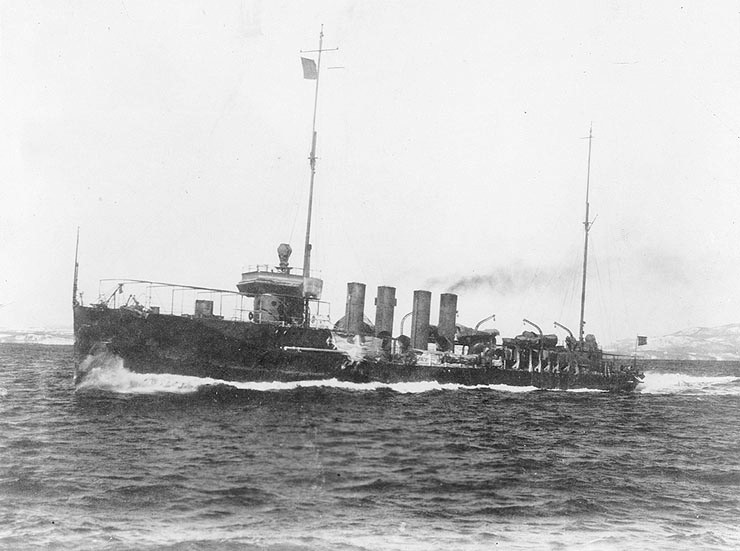 USS Tucker was commissioned on 11 April 1916 at first under command of Frank Slingluff, Jr.; and later Lt. Cdr Benyaurd B. Wygant and after trials off the east coast she joined Division 8, Destroyer Force for her shakedown and exercises from the east coast to Cuban.
On 6 April 1917 she joined the fleet in the York River and proceeded to Boston NyD to be repared for war.
She departed on 7 May 1917 bound for Queenstown, Ireland with Rowan, Cassin, Ericsson, Winslow, and Jacob Jones, arriving ten days later. On 12 June, she rescued survivors from SS Poluxena and on 1 August, SS Karina, (sunk by UC-75) and this went on until the spring of 1918, escorting convoys in and out, making a few spotting and attacks but no kill registered.
In June 1918, she was relocated to Brest, France. On 1 August she run to assist the torpedoed French cruiser French cruiser Dupetit-Thouars by SM U-62 in the Bay of Biscay.
On 8 August at last she did a clear U-Boat sighting and attacked with depth charges, being reported later by the British Admiralty a "possible kill". Captain Wygant was authorized to paint a white star on the forward smokestack. After the war ended, USS Tucker ferried passengers and mail between French and British ports, operating from Brest. She departed on 16 December 1918 for Boston, and received an overhaul there.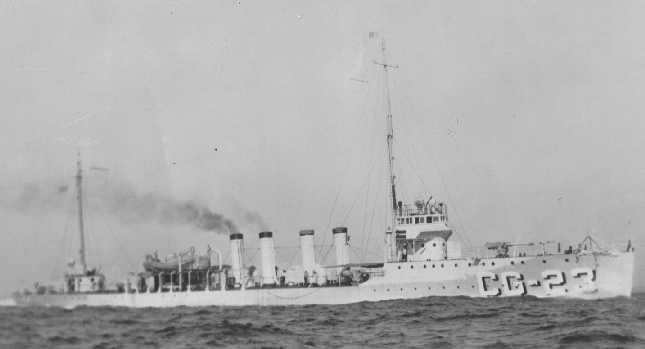 From July 1919, she trained off Massachusetts and Maine but was placed in reserve in Philadelphia by October, decomm. on 16 May 1921. But she was recomm. as CG-23, by 29 September 1926, modified to serve with the Coast Guard furing the prohibition as part of the "Rum Patrol". By October 1927 she became flagship of DesDiv 4 and then she was transferred to DesDiv 1. On 4 April 1933, she sailed out to help rescuring survivors of the Navy airship USS Akron.
As the prohibition was voted down in February 1933, on 26 May, USS Tucker was sent back to the Navy at Philadelphia Navy Yard, being decommissioned on 5 June, recom. on the 30th, but seeing no activity and renamed simply "DD 57" in November to free the name for a new destroyer. She was used as a Sea Scout training ship at Sandy Hook but was stricken on 24 October 1936 and sold for BU on 23 December.
USS Conyngam DD-58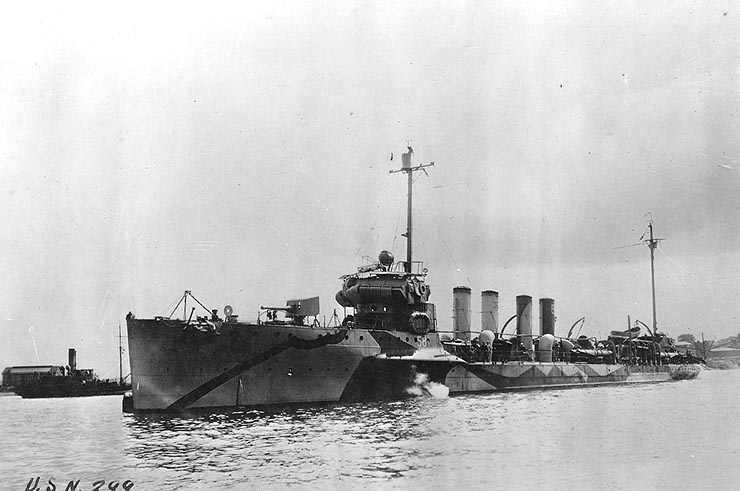 USS Conyngham was the first USN ships named for Gustavus Conyngham. Commissioned on January 1916 she strarted her shakedown on the east coast and Caribbean and from April 1917, she integrated the first U.S. destroyer squadron sent to Ireland.
Based in Queenstown she started escort missions, rescuing passengers and patrolling. Conyngham's captain was later credited for a "probable" kill of a U-Boat and painted a white star on his forefunnel. The war ended and she was sent to Brest, and from there, home in December 1918, sent straight to Boston NyD for upkeep.
USS Conyngam stayed in reduced commission until 1921, with little activity in between, and then fully active before full decommission by June 1922. By June 1924, she was transferred to the United States Coast Guard as USCGC Conyngham, CG-2, and patrolled until 1933. Returned to the Navy and simply renamed "DD-58" to free her name she was sold for BY by August 1934.
USS Porter DD-59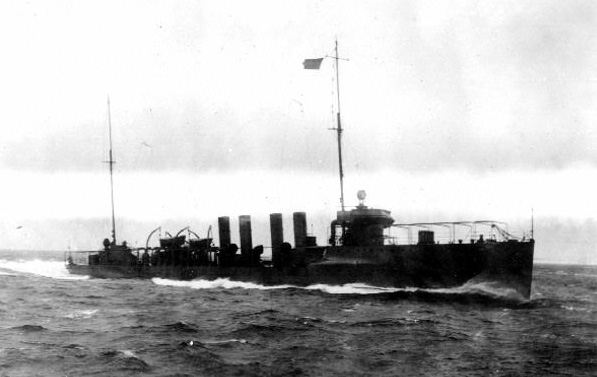 USS Porter was named the second ship after David and his son David Dixon Porter. Commissioned in April 1916 after sea trials and fixes, she made her shakedown cruise in the Caribbean. A year after by April 1917 she integrated like her sister Conyngham the first squadron sent overseas, patrolling the Irish Sea from Queenstown. She rescued crews, patrolled, made joint attacks and possible lightings, and is credited to severely damage U-108 in April 1918.
Back home in December 1918, USS Porter resumed training off the east coast until decommission in June 1922. By June 1924 however like some of her sisters she was transferred to the US Coat Guard, making a tour of duty for the "Rum Patrol" as CG-7 until 1933. The same year she was renamed simply "DD-59" to free her name for a new flotilla leader lead ship built (Porter class) at the time. She was sold for BU in August 1934.
USS Wadsworth DD-60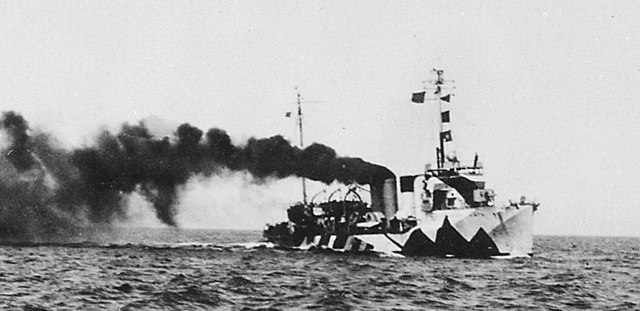 USS Wadsworth (DD-60), the only one built at Bath Iron Works (Bath, Maine) and first ship to be named for Alexander Scammel Wadsworth was well regarded for her innovative geared steam turbines when commissioned by July 1915. After well awaited sea trials, which were successful, she started her shakedown cruise to the Carribean.
After neutrality patrols off the east coast and in Caribbean from April 1917, she became flagship of the first U.S. destroyer squadron sent to Europe, Queenstown in Ireland. During her numerous patrols alternated with escort work, she rescued passengers and reported several U-boats. However she was transferred to Brest by March 1918, until the end of the war.
She was back home by December 1918 and went through a five-month overhaul. Resuming service she was used as a plane guard for four Navy-Curtiss flying boats crossing attempt. She was under reduced commission in 1920 but was fully reactivated by May 1921, then decommissioned in June followed by 14 years in reserve (Philadelphia Nyd). She was stricken in January 1936, sold for BU in June.
USS Jacob Jones DD-61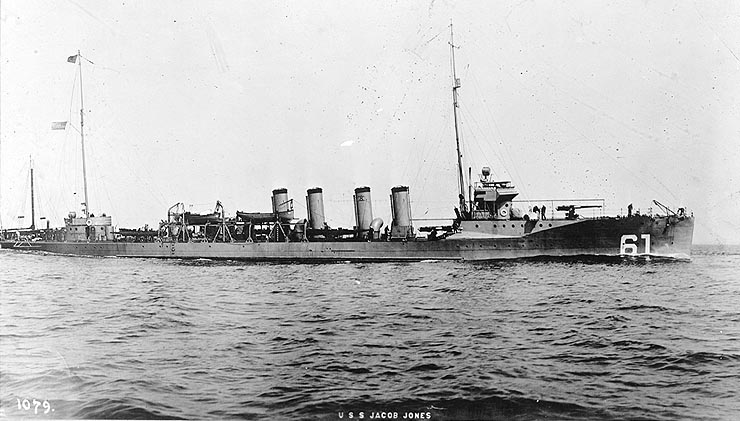 USS Jacob Jones was the first vessel named in honor of Jacob Jones, commissioned by February 1916. After sea trials and shakedown cruise in the Carribean, USS Jacob Jones took part in neutrality patrols off the New England coast and from April 1917 she was prepared to be sent overseas.
Based from Queenstown, she did regular escort work, patrols in the Irish sea, rescued survivors (notably 300 from the Armed Merchant Cruiser HMS Orama) with the occasional U-Boat sighting and attack. But she made no "kill" or even was credited with a damaged U-Boat.
On 6 December 1917, she was beinbg transferred to Brest in France, and while she was underway back to Queenstown, she was torpedoed and sunk by U-53. She went to the bottom with 66 officers and men, and became the very first US destroyer sunk in action, and sold of the USN to be lost in WWI. USS Jacob Jones apparently broke in two because she had no time to send a distress call, but U-53 commander (Kapitänleutnant Hans Rose) surfaced to rescue two badly injured crewmen and radioed the American base at Queenstown, giving them coordinates before leaving so that circa 28 crewmen could be saved later.
USS Wainwright DD-62


USS Wainwright again was the first USN vessel named in honor of the officers Jonathan Wainwright and his son as well as Commander Richard Wainwright, a cousin. Commissioned by May 1916, she made her shakedown cruise in the Carribean, and trained off the east coast before starting neutrality patrols for a short time. From April 1917 she was prepared for war, and part of the first U.S. destroyer squadron sent to Ireland, Queenstown. She underwent the same routine of escorts and patrols, making occasional rescues and several sighting or run attacks on U-boats, but without any reported kill. She moved to Brest in 1918, and after ending her repatriation escort work, she sailed out Brest in December for home.
After upkeep, she resumed operations and training with the with Atlantic Fleet destroyer force until May 1922. Decommissioned, she was recommissioned and modified by April 1926, and transferred to the United States Coast Guard, making years of "Rum Patrol" duty as CG-24 until April 1934. Returned to the Navy she was immediately recommissioned and decommissioned shortly afterwards to be stricken and sold for scrap in August 1934.