United Kingdom: 5 light fleet aircraft carriers:
HMS Majestic, Terrible, Powerful, Magnificient, Hercules, Powerful, 1 more cancelled (1944-1999)
British Cold War Carriers:
Majestic class
|
Centaur class
|
HMS Victorious
|
HMS Eagle
|
HMS Ark Royal
|
HMS Hermes
|
CVA-01 project
|
Invincible class
|
HMS Argus
|
Queen Elisabeth class (planned)
The majestic class were part of the 1942 Design Light Fleet Carrier programme, the most ambitious of the Royal Navy in WW2. This planned for a total of sixteen unprotected fleet carriers, thought at notably as second échelon resplenishment or reinforcement carriers, both for the Atlantic and Pacific. From the initial Colossus class only four were completed on time to see action with the British Pacific Fleet, the rest was completed post-war with various fates, notably under other flags. The Majestic was a second wave of constructions, identical but with modifications, notably a strenghtened flight deck. Only 5 Majestic class ships were completed, the rest beign either converted postwar to a new design (Centaur class) or scrapped.
Of the Majestic class, apart HMS Leviathan which was cancelled, all five served postwar with the RCN, RAN, and Indian Navy, not with the Royal Navy.
A modified class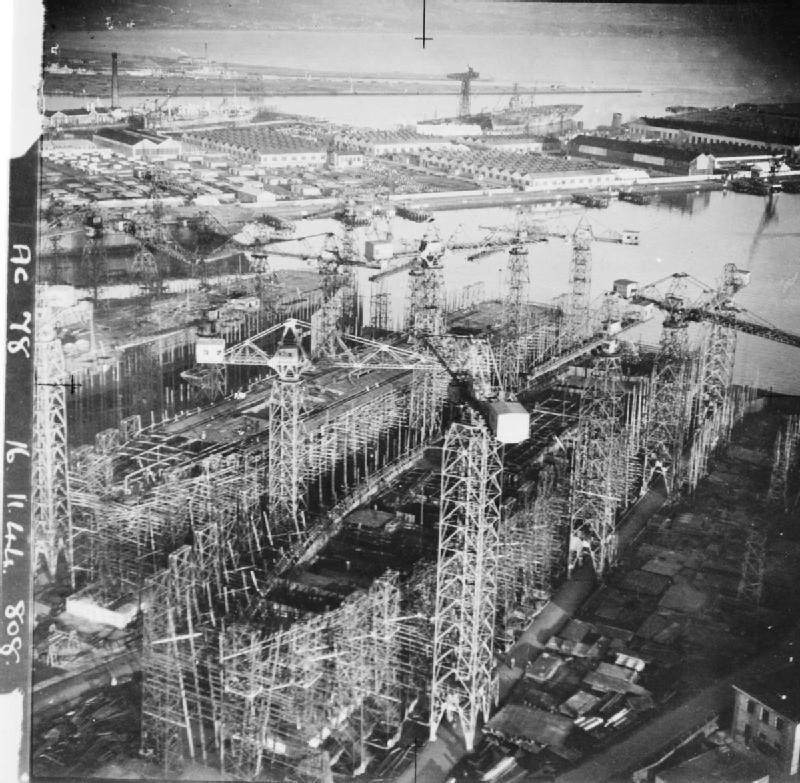 HMS Magnificient and Powerful in construction at Harland & Wolff, Belfast, November 1944.
The six remaining Light Fleet hulls were originally planned as standard Colossus-class ships, but carrier-based aviation grew up in size since 1942. Models such as the lend-lease Tarpon (Grumman Avenger), Corsair and Hellcat enlisted in the British Pacific Fleet were much heavier than the models that existed. The growing threat of Kamikaze later also advocated for strenghtinign the AA armament quite radically as a matter of survival. The aviation upgrade also went naturallt wit the adoption of better catapults, stronger arrestor cables, reinforced aircraft lifts, all to handle heavier and faster landing aircraft which went with reinforcing the flight deck (which also increased its resistance to ordnance).
Better AA armament and sensors
Anti-aircraft weapons also were somewhat badly placed or optimized and required modifications as well compared to the original design. As technology advanced in sensors too, new improved radars and fire control systems were to be fitted, requiring in turn more electrical power, so better generators, and reworked electrical network, reinforced masts and roofs, etc.
Resplenishment at sea and more fuel
Also, both allies started to develop further resplenishment at sea, which in 1944 mattered more as these new shups would like serve with the BPF, in the vast expanses of the Pacific. Equipment to perform those replenishment at sea operations (RAS) were installed. They included an upper fuel line manageable by the crew underway, a line-firing cannon to bring out the fuel lines, new communication and safety systems. In the end all these modifications added 1,500 tonnes to the full-load displacement while the draught dove to by 1 foot 6 inches (0.46 m). With that many differences, the admirakty for the sake of calority reclassified them as the "Majestic class" accoridng to the lead ship, in September 1945. Five of these were launched before the end of the Second World War, the sixth in late September 1945 was however ultimately cancelled and scrapped. As the war ended for the others as well, completion work was suspended, and the admiralty started to discuss with the cash-stripped new government about their fate.
Replanned construction and fate
Past September 1945, all work cease. Not only on HMS Majestic, but also on her sisters. They were given low-priority status, as a wartime emergency program mostly justified by tthe BPDF operations in the far east. Now all these plans were shattered and the RN had no use for them anymore. What was needed was a new generation of jet-carrting ships, much larger. There were already fleet carrier hulls available for transformation already, so they had all priority.
Soon the qustion arose of what do do with all these hulls, not only those completed jus before the war ended, but never entering service in time (all but the first four Colossus class) and the unfinished (with still a lot of work to do) Majestic class. To be precise, Majestic was launched on 28 February 1945, Terrible on 30 September 1944, Magnificent on 16 November 1944, Hercules on 22 September 1945, Leviathan on 7 June 1945 and Powerful on 27 February 1945. HMS Terrible appeared the closest to completion at the time and the government had scruples to see these already paid ships by taxpayer money, scrapped altogether. The Navy on its side, not only lost manpower due to demobilization but had no use for them, not wanted to commit crews and finances to maintain these.
The best choice by then for the government for these unwanted ships was foreign purchases, at prices that would make them attractive. And so started the great "summer sales" of 1946-48. Right off the bat, some 16 ships (even the already serviced Colossus class) were now offered to foreign navies. The price was below the initial construction cost to be sure to sell them while recouping part of taxpayer's expenditures, and that was the occasion for these to get their hand on the first aircraft carrier of their history. Thus started the strange fate of these emergency ships planned for a war they never met, inadapted to modern jets, and yet that saw service with France, the Netherlands, Canada, Australia, Brazil, Argentina, and India… seeing plenty of action for some, like Arromanches in Indochina-Algeria or Vikrant with Pakistan, VC.de Mayo against the RN in the Falklands. While the Dutch, Canadian and Australian ships stand guard against the new threat of Soviet subs in the cold war.
Right off the bat, both Canada and Austrlia planned to acquired a ship each. But as the RN now said that she was willing to supervise upgrades in the concerned yards, and work opportunities returned, the yards were soon full. Two of the new class, HMS Magnificent and Terrible, entered service almost as designed, the first commissioned on 21 March 1948 and the second on 16 December the same year. Both would see service not under the RN flag, but with the RCN and RAN, respectively. In both cases they were merely seen as "stopgaps" before new upgaded carriers replaced them.
The next three ships were indeed heavily upgraded, reusing the experience gained already in modernizing other fleet carriers, sporting soon the trilogy of measures allowing them to operate early jets: Angled flight deck, steam catapult, and mirror landing aid. The sixth ships of the class, and less advanced was HMS Leviathan, and she was never completed. Work was suspended in May 1946, plans to convert her into a "commando carrier" or even a missile cruiser petered out due to the conversion cost, and prspects of sell fell through due to the remaining amount asked by the Yard to complete her. It should be also added that the list of potentuial customers for an aircraft carrier after the war was not large.
Thus, HMS Leviathan was never commissioned, and instead, her infinished hull was made at least waterproof and used as an accommodation ship in Portsmouth. In 1966, her boilers were removed, sold to the shipyard in charge of refitting the Colossus-class HNLMS Karel Doorman, for Argentine service as 21 de Mayo. Leviathan was ultimately scrapped in May 1968 and since all remaining ships found a customer, none ever saw service in the Royal Navy.
Design of the class (in brief)
The new carriers were very close to the originals, so no need to get into details about them. Better check the Colossus class for more. In 1943, eight 'Improved Majestics' were planned, but new developments and rapid obsolescence of the Light Fleet carrier concept, new wartime need for armoured carriers advocated for a complete rework of the design, which became a third class, arguably completely different from the 1942 fleet carrier program: The four Centaur class, next on naval encyclopedia.
Hull and powerplant
Displacement standard, was 14,000 tonnes, and full, 17,780 tonnes. They measured 192 m pp (630 ft) and 211.8m (695 ft) overall, for a 24.4m (80 ft) beam and a draught of 7.01 m (23 ft) deep load.
They were propelled by two shafts, three bladed screws, driven by two sets of Parsons geared steam turbines in turn fed by steam generated in four Admiralty 3-drum boilers for a total of 40,000 shp, enough for a top speed of 25 knots, which was less than armoured fleet carriers. No big changes so far compared to the Colossus. They carried 3,000 tons of fuel oil, enough for an endurance of 12,000 nautical miles at 14 knots. Crew comprised 1,300 men total. Dependong on the modififications of the ships sold, this varied in time.
Armament, sensors and planned air group
Initially they were equipped with nineteen 40mm/60 Mk III Bofors in single mounts and six quad 40mm/39 Mk VII Vickers "pom-pom". They also carried the type 79B, type 281B radars and type 144 sonar as planned. The air park also planned comprised 37 aircraft, upgraded to the Supermarine Seafire, Fairey Firefly, De Havilland Sea Hornet, Hawker Sea Fury, and Fairey Firebrand torpedo bombers. Again, this changed consiferably for each ships after being sold to foreign navies. To serve this air group they had a 5,131m², 210.3 x 24.4m flight deck and 2,142m²/11,355m³ 135.6 x 15.8 x 5.3m hangar. There were two centerline reinforced lifts of 16.5 x 10.4m weighting 6.8t each. The catapult BH-III was capable to launch a 6.4t plane at 122 km/h). Aircraft fuel stowage was 341,000 liters.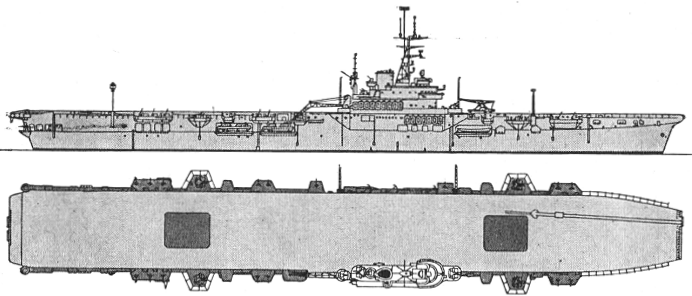 HCMS Magnificient in 1953. src navypedia
⚙ specifications

Displacement
14,000t standard, 17,780 t FL
Dimensions
695 ft oa x 80 ft x 24 ft full load
Propulsion
2x ¨Parsons GST, 4 Admiralty 3-d Boilers 40,000 shp
Speed
25 knots (46 km/h; 29 mph)
Range
12,000 nautical miles (22,000 km; 14,000 mi) at 14 knots
Armament
19x 40mm/60, 6×4 40mm/39, see notes
Protection
As Colossus class
Crew
1050 to 1500
Read More/Src
Books
Bastock, John (1975). Australia's Ships of War. Cremorne, NSW: Angus and Robertson.
Bishop, Chris; Chant, Christopher (2004). Aircraft carriers: the world's greatest naval vessels and their aircraft. MI: Zenith.
Blackman, Raymond, ed. (1968). Jane's Fighting Ships, 1968–69 (71st ed.). London: Jane's Publishing Company.
Donohue, Hector (October 1996). From Empire Defence to the Long Haul: post-war defence policy and its impact on naval force structure planning 1945–1955. Papers in Australian Maritime Affairs (No. 1). Canberra: Sea Power Centre.
Hall, Timothy (1982). HMAS Melbourne. North Sydney, NSW: George Allen & Unwin.
Harding, Richard (2005). The Royal Navy 1930–2000: innovation and defence. Routledge.
Hobbs, David (1996). Aircraft Carriers of the British and Commonwealth Navies. London: Greenhill Books.
Hobbs, David (2005). "HMAS Sydney (III): a symbol of Australia's growing maritime capability". Crows Nest, NSW: Allen & Unwin.
Ireland, Bernard (2008) [2005]. The Illustrated Guide to Aircraft Carriers of the World. London: Anness Publishing.
Konstam, Angus (2010). British Aircraft Carriers 1939–45. New Vanguard No. 168. illustrated by Tony Bryan. Oxford: Osprey Publishing.
McCaffrie, Jack (2007). "Korea: The first challenge for Australian naval aviation". Stevens, David; Reeve, John (eds.). Sea Power ashore and in the air.
Polmar, Norman (2001) [1993]. The Naval Institute Guide to the Ships and Aircraft of the U.S. Fleet (17th ed.).
Preston, Anthony (2000). Aircraft Carriers. Sydney, NSW: AP Publishing.
Robbins, Guy (2001). The Aircraft Carrier Story: 1908–1945. London: Cassel & Co.
Snowie, J. Allan (1987). The Bonnie: HMCS Bonaventure. Erin, ON: The Boston Mills Press.
Wragg, David (2009). A Century of Maritime Aviation: 1909–2009. South Yorkshire: Pen & Sword Maritime.
Wright, Anthony (June 1998) [1978]. Australian Carrier Decisions: the acquisition of HMA Ships Albatross, Sydney and Melbourne.
Links
battleships-cruisers.co.uk
awm.gov.au
seaforces.org
nationalcoldwarexhibition.org
navypedia.org/
/1942_Design_Light_Fleet_Carrier
Videos
https://youtu.be/4DHDhBfd6Hg: Colossus/Majestic Class – Guide 141
https://youtu.be/tn5adGdk3X8: Colossus-class and Majestic-class, The aircraft carriers of many navies
Model Kits
On scalemates
The only one covered was HMAS Melbourne 1956 by Imperial Hobby Productions 1:700, leading to more scratchbuilt declinations like Vikrant and Bonaventure. A very large 1:72 is also made by Southern Cross Models
3D model on CG Trader
3D print versions 64.3 x 11 x 12.7mm
HMS Majestic/HMAS Melbourne 1955-1982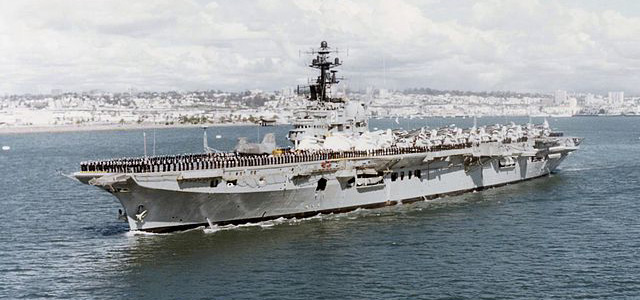 HMS Melbourne in San Diego. She would make a significant career and saw combat in Vietnam
HMS Majestic was ordered to Vickers-Armstrong, laid down on 15 April 1943, launched 28 February 1945 but completed only by 28 October 1955 on the behalf of the Royal Australian Navy.
In 1944 indeed, the Australian government suggested personnel be used by manning an aircraft carrier and cruisers as well as six destroyers and the British Admiralty thought that a Colossus-class would most appropriate, Venerable being initially proposed for transfer as gift/loan but it was deferred on the Australian side waiting for an assessment of manpower requirements and this revisited in mid-1945 but after V-Day in Europe, British manpower shortages were not longer acute.
The purchase of HMS Ocean (also colossus class) was suggested but rejected by the Austrlian Gvt. in June. Eventually a post-war review suggested acquisition of three aircraft carriers, then two after budget restrictions, two of the Majestic-class, her and Terrible (HMAS Sydney) while the second was to be upgraded for jet operations (HMAS Melbourne), HMAS Vengeance being loaned in between from 1952 to 1955.
HMAS Sydney was deployed to Korea for a constant Commonwealth carrier presence and saw active combat. A training ship in 1955, she was decommissioned in 1958, reactivated and reconfigured in 1962 as fast troop transport, seeing several tours of duty in Vietnam (25 operations) between 1965 and 1972, decommissioned in November 1973, stricken on 30 May 1982, sold and scrapped in Korea by 1985.
HMS Terrible/HMAS Sydney 1948-1973

Fireflies and Sea Furies over HMAS Sydney (R17) c1949 just after completion for a fleet review.
HMS Terrible was ordered to HM Dockyard Devonport yard and launched laid down on 19 April 1943, launched earlier than the others on 30 September 1944 and completed the second, on 16 December 1948 on a design practically unchanged. She was purchased by the Royal Navy as her first aircraft carriers on stock for completion. The initial plan was to acquire two already in 1944 but situation changed and this was pushed back postwar.
It was agreed the second (Melbourne) would be delayed to be modified and modernized to operate modern jets. Still, the RAN operated its two carriers with Vengeance until 1955. But Sydney and Melbourne eventually operated together for a short time. HMS Sydney did not saw active engagement. She only was discarded on 12 November 1973, sold and scrapped in South Korea in 1975.
HMS/HCMS Magnificent 1948-1957


HCMS Magnificient shortly before the end of her loan.
HMS Magnificent was laid down at Harland & Wolff on 29 July 1943, launched second on 16 November 1944 and completed first, on 21 March 1948. Following wartime experience the Royal Canadian Navy decided to acquire an aircraft carrier, after having already crews manning two escort carriers in WW2 and the Canadian government decided to purchase HMS Powerful, but on conditions to be upgraded to modern standards top operate jets. Yest still, the RCAN wanted a carrier and asked for a loan pf the Colossus-class HMS Warrior from 1946 to 1948, which "recycled" the former crews of the escort carriers, maintaining skills.
HMS Powerful upgrade being delayed, Warrior to be returned had the RN proposing to loan for longer HMS Magnificent, completed on the basic design. Thus, she entered service in 1948 as HMCS Magnificent. This enabled to continue training crews already re-trained on Warrior, until the completion of Powerful in 1957. HMAS Magnificient did not saw particular action during the few years she was in service, multiplying training with the last generation of piston engine aircraft. Upon return in 1957, she was not recommissioned and instead waited to be sold to another nation, still in "stock" conditions. As this failed to materialze, she was scrapped in Scotland by 1965. In the RCAN she was replaced by HCMS Bonaventure, ex-Powerful.
HMS Hercules/RIN Vikrant 1961-1997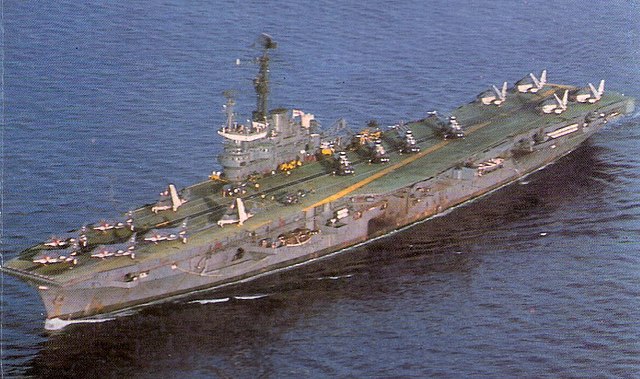 INS Vikrant in 1984 with Sea Harriers, Alouettes, Alizes
HMS Hercules was built at Vickers-Armstrong, laid down in 14 October 1943, but towed at Harland & Wolff for fitting out, and lanched on 22 September 1945. Work was suspended in May 1946, as it was low prioritized after V-Day. She was still 75% complete. She remained so until January 1957, pending a purchase, or scrapping. At last after some tense negociaitons she was purchased by the Indian Navy, and probably was the very last of the class to be modernize and sold. She was Fitted with the same angled, reinforced flight deck, better catapules and new landing signals system, modern radars. She was recommissioned as INS Vikrant in 1961. She was failed to see combat, either in the 1962 Sino-Indian War or 1965 Indo-Pakistani War as being in drydock maintenance each time, but saw action in the 1971 Indo-Pakistani War, quite decisively this time.
She was afterwards completely modernized between 1979 and 1982: New propulsion system, Updated radar suite and electronics, 9.75° ski-jump ramp, reinforced lifts, modernized armament, etc. This enabled the use of Sea Harriers, the only second user after the Royal Navy. She was last deployed in 1994, decommissioned in 1997. Marked for preservation as a museum ship, she was opened on a preiodic basis but work to be done was considerable and she failed to secure either funding and an operating partner, while deterioration led to closure in 2012. She was sold in early 2014. A new Indian-built carrier carries her name again. The second carrier operated by the time she was decommissioned was also ex-british, the INS Viraat, former HMS Hermes (of Falklands fame) a modified Centaur class, also made compatible with sea harriers.
HMS Powerful/HCMS Bonaventure 1946-1970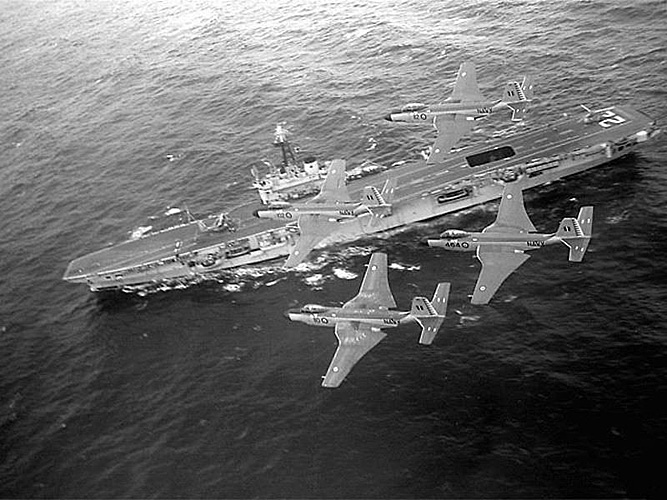 HCMS Bonaventure with her squadron of F2H-3 Banshee making a flyover in the late 1950s.
HMS Powerful was laid down at Harland & Wolff on 27 November 1943, she was launched on 27 February 1945. She probably became the second longest aircraft carrie of the RCAN, purchased and upgraded for years (she pioneered some of these modifications) and as it took more time than expected, in between was loaned HMCS Magnificent, until Powerful was completed on 17 January 1957. Recommissioned as HCMS Bonaventure and starting her service from homeport Halifax in Nova Scotia, starting to experiment new ASW techniques. After her park of Banshee was retired in 1964 and by the next years she operated as pure ASW ship with VS 880 (S-2 Tracker) and HS 50 (Sea King Helicopters) instead, until decommissioned on 3 July 1970 and scrapped in Taiwan by 1971. "Bonnie" never had a successor due to government complete reorganization of the armed forces.