The double life of the Zuihō pair
The Imperial Japanese Navy Zuihō and Shōhō were two seaplane tenders, converted in 1940 into light aircraft carriers and seeing a very active, but relatively short service as aircraft carriers. Basically they were ships with a double life, which mirrored another class of auxiliary also converted at the same time, the
Chitose class
.
After it was decided to convert them as carriers, both completed in early 1942, Shōhō took part in Operation MO (New Guinea) but sank by aviation at the Battle of the Coral Sea (7 May), the first IJN carrier sunk in WW2. Zuihō played the second-fiddle at the Battle of Midway in mid-1942, she however participated in the Guadalcanal campaign, lightly damaged at the Battle of the Santa Cruz Islands, then to the battles of the Philippine Sea and Leyte Gulf in1944, part of the decoy force, she was caught by TF 58, used until then as a ferry carrier and training aircraft. But was this conversion justified after all ?
First life: The Tsurugizaki class submarine tenders
In 1935, the Imperial Japanese Navy staff wanted to support its large submarines for distant operations where infrastructures were limited, used as a mobile base. They decided to build a class of two submarine tenders which could be converted later into light aircraft carriers, or fleet oilers. his modular approach suresly tempted later the admiralty, ensuring quick conversion work. They were to be named Tsurugizaki and Takasaki in 1937, laid down at Yokosuka on 3 December 1934 (Takasaki) and 20 June 1935 (Tsurugizaki), completed in June of 1935 and 1936 respectively. The latter entered service on 30 September 1937 annd at least served for some years as submarine tenders (see career).
The lead ship, IJN Tsurugizaki, was commissioned in 1939. Construction of Takasaki was stopped soon after launch. She was directly completed as an aircraft carrier, not showing any photo under this name. She was commissioned as Zuiho in December 1940 and followed by the decommission in early 1941 of Tsurugizaki for her own convertion, recommissioned as IJN Shōhō in early 1942, Takasaki being used as a model for the conversion.
Tsurugizaki off China, 1937.
---
⚠ Note: This post is in writing. Completion expected in 2022.
---
⚙ Tsurugizaki Specs 1937

Dimensions
205,5 m long, 18.2 m wide, 6,58 m draft
Displacement
11,443 t. standard -11,262 t. Full Load
Propulsion
2 steam turbines, 4 boilers, 52,000 hp.
Speed
28 knots (52 km/h; 32 mph)
Range
7,800 nmi (14,400 km; 9,000 mi) at 18 knots (33 kph, 21 mph)
Armor
See notes
Armament
Crew
600
Conversion as aircraft carriers
After their conversion, they measured both 205.5 meters (674 ft 2 in) overall, for 18.2 m (59 ft 8 in) in beam, 6.58 m (21 ft 7 in) draught and displacing 11,443 tonnes (11,262 long tons) standard. Their initial diesel engines (29 knots), were replaced by destroyer-type geared steam turbines (52,000 shaft horsepower, 39,000 kW), with the steam coming from four Kampon water-tube boilers. However due to the displacement increasing, top speed fell by 1 knot at 28 knots (52 km/h; 32 mph). Exhausts went through a single downturned starboard funnel. Both carried 2,642 tonnes of fuel oil for 7,800 nautical miles (14,400 km; 9,000 mi) at 18 knots. They were served by a crew of 785 officers and men, not counting the air crew.
They had a flight deck 180 m (590 ft 6 in) long by 23 m (75 ft 6 in), with a single hangar 124 m (406 ft 10 in) long, 18 m (59 ft) wide, pierced by two octagonal centerline aircraft elevators. The forward measured 13x12 meters (42 ft 8 in × 39 ft 4 in), the smaller aft 12x10.8 meters (39 ft 4 in × 35 ft 5 in). They had an arresting gear with six cables but no catapult. They also lacked an island superstructure to maximize space, the command bridge being located below the forward overhanging flight deck. Due to their small size, they only carried 30 aircraft, a third of the Zuikaku class.
Primary armament comprised eight (four twin) 12.7 cm/40 Type 89 anti-aircraft guns, on sponsons. Initially fitted with four twin 25 mm Type 96 light AA guns in sponsons, this was extended in 1943, up to 48 of them and in 1944 twenty more, plus six 28-round AA rocket launchers.
Author's illustration of IJN Shōhō in 1944, Leyte battle.
⚙ Specs 1941

Dimensions
205,5 m long, 18.2 m wide, 6,58 m draft
Displacement
9,000 t. standard -10,100 t. Full Load
Propulsion
2 diesels, 30,000 hp.
Speed
29 knots (52 km/h; 32 mph)
Range
7,800 nmi (14,400 km; 9,000 mi) at 18 knots (33 kph, 21 mph)
Armor
See notes
Armament
4v2 x 127mm AA, 4x2 25 mm AA, 30 aircraft
Crew
1660
General assesment of the Zuiho class
(To come)
Sources/ Read more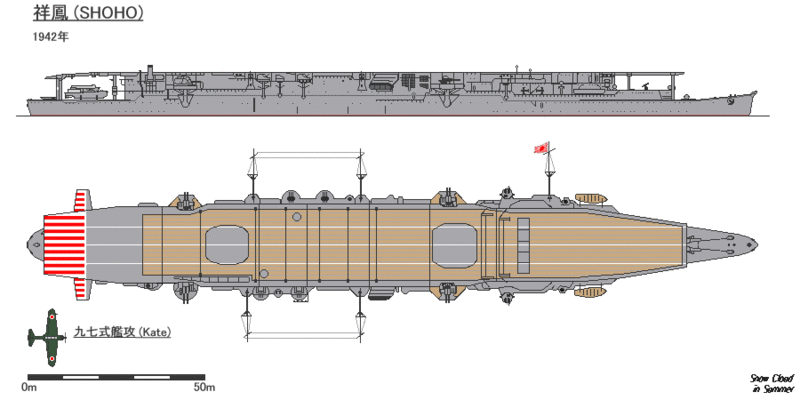 Books
Conway's all the worlds fighting ships 1922-1947
Links
IJN project numbers
---
3D
Videos
The model's corner