Type IX U-Boats (1936)
Germany (1936-45) 194 produced (290 ordered)

Type IX, the long-range U-Boat: During world war two, two main types of u-boats roamed the sea: The Type VII, basically a mid-range oceanic type, able to take position in the middle of the Atlantic without refuelling, and the Type IX, the cruiser type, able to reach the American coast and cruise well beyond. 30% Larger with twice the range, Type IXs were seen as the ones that took submarine warfare on trade on the other side of the globe. The only limit was an existing supporting network of neutral ports, supply ships and "milk cows" or supply-U-Boats. They roamed the Indian Ocean like the wide expanses of the Pacific and the South Atlantic, sometimes with better success as U-Boats were not expected there and convoys system were rarely used.
Genesis of the Type IX
The Type IX proceeded directly from the Type I, the first operational long-range type in service with the Kriegsmarine. The latter was the product of an evolution, from the Interwar designed or built export models at The Hague, especially the Spanish E-1 and Finnish Vetehinen. The u-25 and 26, the only built in 1936, were the blueprints from which were extrapolated the type IX the same year.
U-Boat Nomenclature
The Type II were early coastal types, the Type III, IV and V and VI but also VIII only existed on paper while the Type XIV was a supply model, the Type XVII were semi-experimental, late war coastal boats, the Type XXI was the true replacement for the Type VII developed from 1944 and using twice the electric power and a new revolutionary hull and the Type XXIII a coastal declination of the first.

Cutaway – New Vanguard #55 Kriegsmarine U-boats 1939-45, by Gordon Williamson
Genesis of the Type IX
Albeit the concept of a large oceanic "cruiser" submarine type was already a specialty of Germany sine the Deutschland in 1915, the total interdiction to built any and the lack of orders for such types by any nations led engineers to wait until the U25 and U26 of the Type Ia were built, in 1936 at Deschimag, Bremen. They proceeded from clandestine designs of the Hague (the famous Ingenieurskantoor voor Scheepsbouw den Haag), the Finnish Vetehinen and the Spanish E1 and Turkish Gür which were all above the standard size. The London treaty had watered down interdiction and left some air to breeth for the Kriegsmarine, which now virtually had free hands on the design. However the Ia were an in-between, still under 1,000 tons in displacement submerged (982 tons). As soob as the ink dried on the Type Ia blueprints, the Kriegsmarine staff decided of a larger derived design.
Therefore the development of the Type IX (next in line in the nomenclature). On paper the new boats designed and built at AG Weser, Bremen, were to have a standard diving depth of 100 m and crushing theoretical limit of 200 m. But in reality, this went well beyond that in operations. Design-wide they proceeded with existing designs, the conning tower, the hydrophone and the rudder arrangement came from the Type VII. There was one periscope in the control room and two in the conning tower.
General Design

Type IX drawing cutaway – credits: uboataces.com
Production and variants of the Type IX
The ubiquitous German Type VII was successful for the Battle of the Atlantic, but cramped, making in hard for its crew on the long run (as depicted in Wolfgang Petersen's 1981 "Das Boot"). The Kriegsmarine needed a model that can roam the South Atlantic and Indian Ocean and the first batch of eight Type IXA which entered service in 1937-39, led to the longer range Type IXB, with 22 manufactured, followed by the Types IXC and IXC/40, with even greater fuel capacity and range, 141 entering service during the war. The Type IXD was 36 feet longer (7,30 m) to be faster (20 knots surfaced) and with a better range (up to 31,500 nautical miles).

U-37, Type IXA (The blueprints)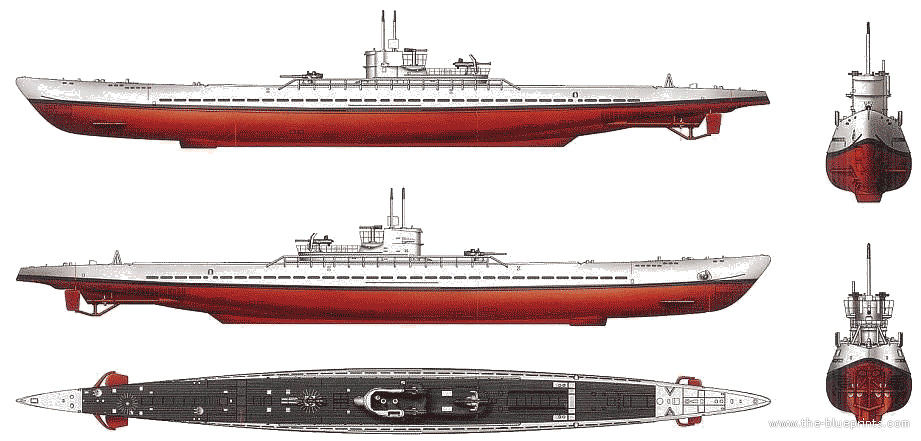 Type IXC (The blueprints) in Mediterranean/Tropical livery, red hull, light grey above the waterline
All in all, about 290 of these German submarines has been planned, and 195 laid down for just one never completed and 95 cancelled. Two has been preserved. This mass was impressive, even compared to the Type VII type (1000+) for such large vessel, to be related to the American industry which Gato-class was larger, but still comparable. Of course the design evolved over time. The late war Type IXD was ten meters longer and displaced 550 tons more, mostly devoted to the range. Indeed, it rose from 10,500 nmi (19,400 km; 12,100 mi) at 10 knots surfaced on the first 1936 model to 23,700 nmi (43,900 km; 27,300 mi) at 10 knots (19 km/h; 12 mph) surfaced on the Type IXD, so more than double.
Type IXA
The first type was designed in 1935-36 and built in a small serie in DeSchiMAG AG Weser of Bremen, eight in all: U-37 up to U-44. U-37's keel was laid down on15 March 1937. The other seven were launched until 1939. In fact the last of the serie, U-44, was laid down in 15 September 1937 but completion and fitting out took the whole years 1938-39. By November 1939, the first long-range German Submarine squadron was ready for operations: The war has just started since two months.

U-858 surrendering to the USN, en route for the Portsmouth in May 1945 with an American crew onboard. (cc) – Same as the background
Propulsion
Propulsion-wise, it would remain essentially the same throughout the war, to the exception of the Type IXD/42. The powerplant consisted of two MAN M 9 V 40/46 supercharged 9-cylinder diesel engines, rated for 4,400 PS (4,300 shp; 3,200 kW). These were solid, usual type marine diesels that derived from a long line of proven units. They were mounted side by side at the rear of the engine section, approx. 5 meters from the conning tower. Their position allowed the mechanics to have access to every part for maintenance. The crankshafts were situated below the cylinders, one for each shaft. Batteries were situated below.
Two SSW (Siemens-Schukert) 1 GU 345/34 double-acting electric motors were installed side by side, rated for 1,000 PS (990 shp; 740 kW). They were installed in front of the diesels, approx. 2.5 meters, and below the aft "wintergarten" behind the conning tower. The power provided was enough to propel them at 18.2 knots (33.7 km/h; 20.9 mph) on surface, but 7.7 knots (14.3 km/h; 8.9 mph) when submerged. The useful range was 10,500 nautical miles (19,400 km; 12,100 mi) at 10 knots (19 km/h; 12 mph), in standard surface mode, down to just 65–78 nmi (120–144 km; 75–90 mi) at 4 knots (7.4 km/h; 4.6 mph) in attack or retreat mode underwater.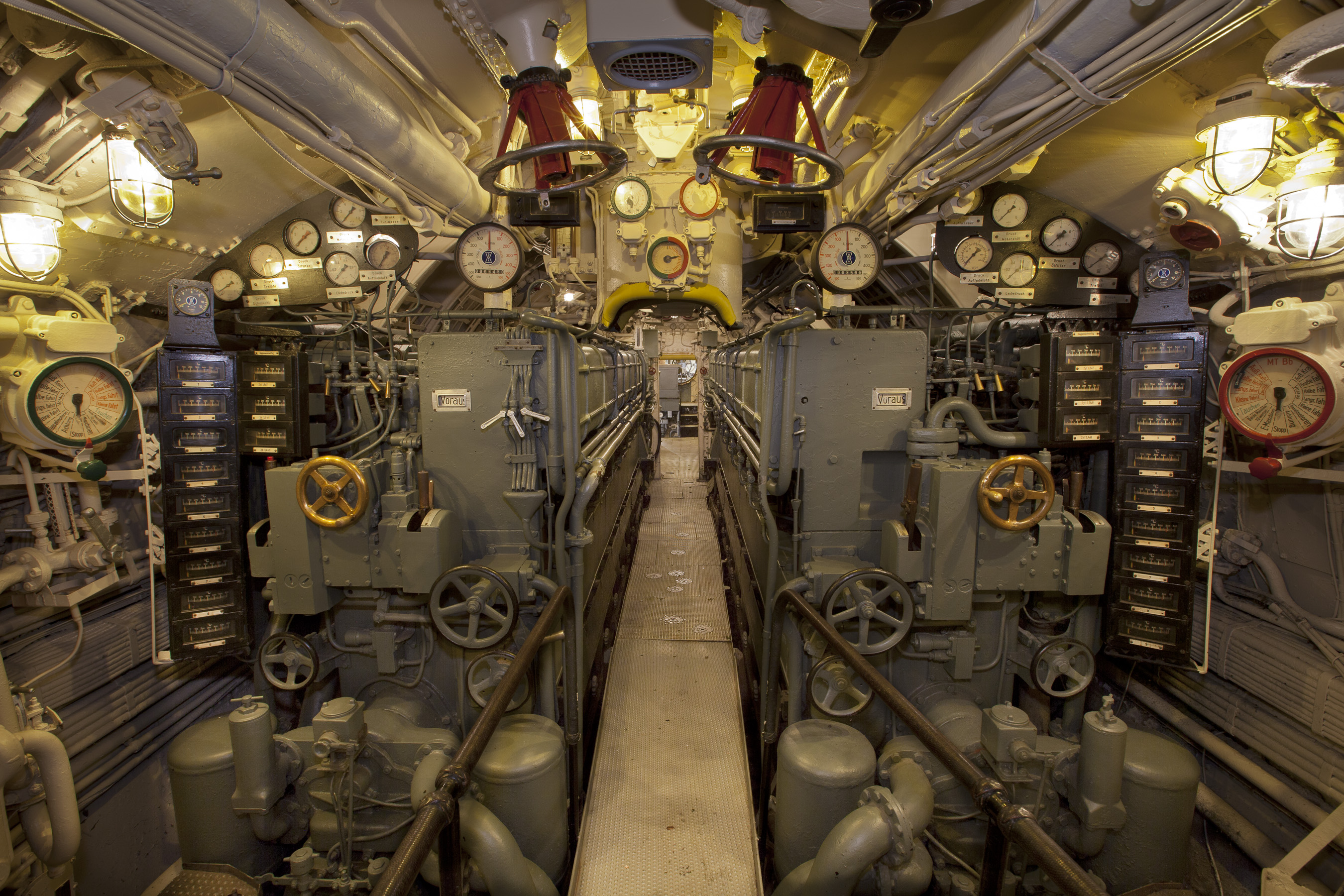 U-505 engine room (msichicago.org)
Construction
The Type IXA measured 76.50 m (251 ft) (overall) by 6.51 m (21 ft 4 in) in beam, and was 9.40 m (30 ft 10 in) high to the conning tower top.
As a double-hull type, the pressure hull measured 58.75 m (192 ft 9 in) by 4.40 m (14 ft 5 in).
The Type IXA had a 4.70 m (15 ft 5 in) draft.
The hull was strong enough to be capable of reaching 230 m in test depth (750-770 ft), but in reality, like the smaller Type VII, many in operations had to dive below 250 m and survived to tell the story. They were extremely rugged and resilient.

Detail of the rear of a IXD/42 – Model (Pinterest)
Armament
Torpedoes
The Type IXA submarines were given six torpedo tubes, four in the bow as a standard, two in the stern. This was the same as any Type VII U-Boats. However the total of torpedoes carried was larger, twenty-two 53.3 cm (21 in) in all, with external storage. Their warhead could vary between 617 pounds (280 kg) and 948 pounds (430 kg) depending on the models. These models can be setup to reach 6,000 m (6,600 yd), or to speed up to 44 knots (81 km/h). Part of these torpedoes, twelve in all, were stowed internally, ten were located in topside deck containers, in the external hull, 3 external containers at the stern and 2 at the bow, with two torpedoes inside each.

U-505 colorized by E. Tambunan (Pinterest)
To convey standard stored torpedoes to forward or bow torpedo room imposed to have them lifted by a crane over the deck. And to pull them inside using a cradle, set an angle which allowed them to slide into position inside the torpedo room. The case of above-deck canisters imposed to surface in calm water. The torpedo were pulled out of their compartment with winches, and lowered into the forward/bow torpedo room. The entire process took several hours for just one torpedo, making these easy targets for Allied aviation patrols.
Deck Gun
Type IXA submarines were given a 10.5 cm (4.13 in) L/45 deck gun placed on a tailored Utof mounting, forward of the conning tower. 180 rounds were carried. These rounds weighted 33.3-pound (15.1 kg), for the HE type. Muzzle velocity of 780 m/s (2,600 ft/s). Range at max elevation optimal, was 15,175 m (16,596 yd). It was able to fire on aircraft at a 10,000 m (11,000 yd) ceiling at max. elevation, manual. Rate of fire was 15 rounds per minute.
AA armament
The Type IX were given two guns, a 2 cm FlaK 30 and a 3.7 cm (1.5 in) gun.
-The 2 cm FlaK 30 guns installed on the "wintergarten" (aft of the conning tower) had a maximum range of 4,900 metres (5,400 yd), reduced in practice to 3,700 m against fast-moving aerial targets. Rate of fire was 280 rounds a minute at a muzzle velocity of 835 m/s (2,740 ft/s). 2cm Rounds weighed 0.71 pounds (0.32 kg).
-The 3.7 cm SK C/30U practical range was 8,500 metres (9,300 yd) at up to 30 rounds per minute. Muzzle velocity was 1,000 m/s (3,300 ft/s), shell weight was 1.64 lb (0.74 kg). It was located on the aft deck, after the conning tower.
Naval Mines
As mine-layers the Type IX could carry forty-four TMA or sixty-six TMB mines. However not all IXs boats were fitted for mine operations. In theory the first sub-class given this capability were the Type IXC type.
-The German TMA was a moored mine, which floated above the surface, and could be carried and launched from each torpedo tube, so twelve total, plus 32 reloads. They were small enough to be fitted in the tubes, with a diameter of 11.1ft (3.38m)/21in (533mm), and could be moored down to a maximum Depth of 270m, and carrying a warhead of 215kg.
-The TMB model was a ground mine (settled at the bottom of the seabed), detonated by a magnetic/acoustic signature of a passing ship. It needed to be laid only in shallow waters, down to 20 meters. Slightly smaller, three could be carried in each torpedo tube, so 18 in all, less reloads. They measured 7.6ft (2.3m) in length for 53 cm in diameter and carried a warhead of 580kg.

U-107 preparing to be supplied in the south Atlantic
Detection systems


Rendition of the FuMB-26 Tunis. Two systems were used concurrently or together on the Type IX (and Type VII): The FuMB-7 Naxos tuned to the 9 cm wavelengths. This was the British ASV Mk.III/H2S radars frequency. The FuMB-26 Tunis tuned to the 3 cm wavelengths. It was able to detect US radar emissions. The Naxos system consisted of the two leaf-like antennas at the middle of a parabolic mesh reflector. The Fliege version of the Naxos, had indeed a wing-like shape for corner-reflector elements.
The Tunis model used a horn-shaped antenna. The entire mast rotated via a mechanical linkage connected to the radio room. These antennas were not waterproof however and needed to be removed by the crew when diving. Often also a large loop antenna was found aft of these, used for direction finding in the VHF band. The "Bali" antenna was used to detect 1.5 meter signals used by earlier Royal Navy radars and had a cylindrical mesh grid.

FuMo 61 Hohentwiel This antenna was 1,400 mm wide, 1,000 mm high, but an overall width of 1, 540 mm and a overall height of 1,022 mm with its extensions. The mesh size was 15 mm. The FuMo 61 Hohentwiel was a classic detection radar Transmitter. U-530 was one of the few to receive it, installed on the starboard side of the conning tower.
Characteristics Type IXA
Displacement surf./Sub: 1,032 t surfaced, 1,152 t (1,134 long tons) submerged
Dimensions: 76.50 m x 6.51 m x 9.40 m, draft 4.70 m
Powerplant: MAN M 9 V40/46 supercharged 9-cyl. diesel, 2 × SSW 1 GU 345/34 double-acting electric motors, 1,000 PS (990 shp; 740 kW)
Performances: 4,400 PS (4,300 shp; 3,200 kW)
Armament: 6 TTs (4 bow, 2 stern), 10.5 cm SK C/32 naval gun, 3.7 and 20 mm AA guns, mines, see notes

U-111 surrendering to an armed trawler
The Type IXA in operations
By far, the best of the first eight boats was U-37 (Kapitänleutnant Heinrich Schuch). It was by far the most successful of all Type IXA and ixth most successful U-boat. In total she sank 53 merchant vessels, about 200,124 gross register tons (GRT). She also sank two warships, and this happened through eleven war patrols, starting in August 1939, until March 1941. U-37 survived and was withdrawn (which was rare in 1941) from combat service, to be used for training U-Boat crews until the end of the war. However in May 1945 she was scuttled in Sonderburg Bay off Flensburg. U-Oberleutnant zur See Heinrich Liebe's U-38 made eleven patrols, sinking or badly damaging 30 vessels, and became the 10th most successful U-Boat of the war. U-39 (Kapitänleutnant Gerhard Glattes) was unlucky as she was sank at her first sortie by the British destroyers HMS Faulknor, HMS Firedrake, and HMS Foxhound.

U-37 entering at Cuxhaven
Disabled by deep-charges, she was forced to the surface and her crew captured after attempting to sink the British aircraft carrier HMS Ark Royal. U-40 sank no ships but hit mines on 13 October 1939 in the English Channel. U-41 sank five vessels (22,815 GRT), captured two and damaged one. She was sank by British destroyer HMS Antelope off the coast of Ireland in February 1940. U-42 (Kapitänleutnant Rolf Dau), she made only two patrols, damaging a ship, and was sank herself by HMS Imogen and HMS Ilex in 1939. U-43 (Kapitänleutnant Wilhelm Ambrosius) sank 21 merchant ships (117,036 GRT), damaging two more, however in July 1943 she was spotted and sank by a torpedo plane from the escort carrier USS Santee. U-44 (Kapitänleutnant Ludwig Mathes) sank eight ships (30,885 GRT) but struck a mine off the north coast of the Netherlands in March 1940.

U-37 in drydock at Lorient
Type IXB: Better range

U-123 and U-201 arriving at Lorient
The IXB represented a gradual improvement, as an improved model with increased range. Dimensions were exactly the same, with a slightly higher tonnage and more fuel carried. Range was indeed better, reaching 12,000 nmi (22,000 km; 14,000 mi) at 10 knots (19 km/h; 12 mph) surfaced, rather than 10,000 but 64 nautical miles (119 km; 74 mi) at 4 knots (7.4 km/h; 4.6 mph) submerged, slightly less. Armament was the same, but mines are never mentioned.
Characteristics Type IXB (AG Weser, Bremen)
Displacement surf./Sub: 1,051 t surfaced, 1,178 t (1,159 long tons) submerged
Dimensions: Same as Type IX but height 9.60 m
Powerplant: Same as Type IX
Performances: Same as Type IX *Surface Range 12,500 tons
Armament: Same as Type IX

U-107 at Lorient in November 1941
The Type IXB in action
Their early service made them the most successful version of the whole serie, with an average kill ratio of over 100,000 GRT. It would
Notable IXB boats included the U-123 commanded by Reinhard Hardegen. He opened up the attack in US waters, in early 1942 (Operation Drumbeat), plus U-107 operating off Freetown, Sierra Leone under Günther Hessler. He made the most successful single mission of the war, reaching in one go 100,000 GRT sunk. After commissioned the entire Type IXB group built prior to the fall of France were stationed at Wilhelmshaven and after, in the numerous French ports captured on the coast, but mostly Lorient.
The career of U-123:

U-123 at Lorient in February 1941
U-123 conducted 12 war patrols in all, sinking in total 45 ships, for a total of 227,174 gross register tons (GRT). She managed to damage six others, for a grand total of 53,568 GRT. Four neutral Swedish merchantmen also fell under her torpedoes. Her first sortie started from Kiel on 21 September 1940. She ventured through gap between the Faroe and Shetland Islands and fell over off North Ireland convoys. One of the freighter she sank, the Shekatika which needed no less than five torpedoes to sink. Her final destination was her new home port, Lorient in occupied France on 23 October 1940. Her second trip was in the same area, her third was the same again. This time she ran for nine-hour, chasing the Grootekerk over 330 nmi (610 km; 380 mi) west of Rockall before being able to torpedo her.
The fourth trip of U-123 she went further west of Ireland. Yet again she had to spent five torpedoes to sink a ship. Like in many cases unfortunately there were no survivors. The fifth sortie was further south in the Atlantic, in the vicinity of the Azores and the Canary Islands. On 27 June 1941 however she was tracked down and depth charged for 11 hours but survived. The sixth sortie was around the same area but with poor results. The seventh was part of the early 1942 "second happy time" of U-Boats, along the coast of the US, called Unternehmen Paukenschlag ("Operation Drumbeat"). During this time she was strafed by a plane and near-rammed by the Kosmos II but escaped with a recalcitrant power plant.
The eight trip was again in the same area and again under her new captain Reinhard Hardegen, the 24th best U-Boat ace. For her 10th patrol U-123 had a new, ruthless commander, Horst Von Schroeter. She did the feat of sinking a British submarine, HMS P-615, 100 nmi (190 km; 120 mi) southwest of Freetown in Sierra Leone on 18 April 1943. On her 11th patrol however she was less fortunated and was depth charged off Cape Finisterre in August 1943 and she also became the first U-Boat to be fired upon and hit by a Canadian Mosquito armed with a 6-pounder (57mm) Molins gun on 7 November 1943; She was badly damaged but managed to get home for repairs. She would made another sortie of 107 days, completed in 24 April 1944. She would be discarded in June 1944 and scuttled one month later, but refloated after the war by the French. She became the Blaison (Q165), decomm. only in August 1959.
---
Type IXC: Better range (still)

U-124 arriving in Lorient – She was one of the most successful U-Boat of the IX serie. She was instantly recoignisable to her frog painted on the front of the conning tower and Edelweiss on the sides, classic German symbol of bravery. She was very successful, sinking 46 ships for a total of 219,862 GRT, two warships (5,775 tons) and damaging two more.
Type IXC was another step in refinement with increased storage, for a total of an extra 43 tonnes of fuel, to produce a much better range. For production simplification and in light of real use in combat, the control room periscope was dropped, leaving two tower scopes. The Type IX were fitted as mine-layers and could carry 44 TMA or 66 TMB mines, but the U-162-U-170 serie and U-505-U-550, so 35 boats in total, which were not fitted over a total of 54, so 64% of the total. Dimensions were the same, but tonnage was slightly higher. The Type IXB had a longer hull, at 76.76 m (251 ft 10 in) o/a rather than 76.50 m. With an increased fuel capacity, the Type IXC range was increased to 13,450 nmi (24,910 km; 15,480 mi) at 10 knots (19 km/h; 12 mph) surfaced, but less, 63 nmi (117 km; 72 mi) at 4 knots submerged.

U-66 and U-177 attacked by allied aviation
The IXC in action
54 Type IXCs were seen active during the war. They enjoyed comparatively less success than their predecessors, but still more than the next series.
One single U-boat sunk in the Gulf of Mexico, U-166, was a Type IXC. U-505 survived at the Museum of Science and Industry in Chicago. She was completely renovated after her relocation in 2004 to a purpose-built indoor berth. She can be visited today.
Characteristics Type IXB (AG Weser, Bremen)
Displacement surf./Sub: 1,120 t (1,100 long tons) surfaced, 1,232 t (1,213 long tons) submerged
Dimensions: Same as Type IX but length 76.76 m
Powerplant: Same as Type IX
Performances: Same as Type IX *Surface Range 13,450 tons
Armament: Same as Type IX
Type IXC/40: The 1942-44 serie
The C/40 (Model 1940) which was in reality a serie of 87 boats completed in 1942-44, and proceeded from the Type IXC, as an improved version.
The serie went from U-167 to U-1235 (comm. 17 May 1944). This was the largest serie of the whole class, although the D class was to be more important.
What mostly changed was the slightly increased range and surfaced speed. Production being massive, it was spread among DeSchiMAG AG Weser, Seebeckwerft of Bremen, and Deutsche Werft of Hamburg. The external hull was wider at 6.86 m (22 ft 6 in) o/a but apparently the draft was slightly lower at 4.67 m (15 ft 4 in) versus 4.70m. These slightly larger dimensions allowed to carry more fuel, enough for a range of 13,850 nmi (25,650 km; 15,940 mi) at 10 knots (19 km/h; 12 mph) surfaced. Underwater range and speed were unchanged.
The IXC/40 in action

U-190 in June 1945.
Being completed at a time the situation of U-Boats was aggravated for the Third Reich in the North Atlantic, area of operations were diversified, but kills dropped, especially for the late boats. Life expectancy of the crews went down, especially after the entry of the US Navy's bulk into the fray.
-U-170 (1942) managed to do four patrols, her first being to take service, from Kiel to Lorient, France. Her second trip led her to Brazil, where she managed to sink the Campos (4,663 tons). Her third trip was on the US east coast. She apparently failed to sink any ship. Her last trip happened off west Africa. She failed to score any hit, but on her return trip of southern Ireland, on 30 October 1944 she was badly damaged by destroyers included the Snorkel. She would surrender in Horten Naval Base, Norway on 9 May 1945.
U-183 was better, sinking five ships, including in the Penang area and Java sea. U-185 was even better, sinking ten ships, Kapitänleutnant August Maus being awarded the Knight's Cross of the Iron Cross. U-188 also scored 10 kills, the most in January 1944. She was scuttled in Bordeaux. U-527 had three kills, like many others.

U-530 at the Mar del Plata
The remains of U-534 are on display at Woodside Ferry Terminal, Birkenhead. The last boat, U-1235 reflected the fate of most U-Boats commissioned at that time. She only had time to make two combat patrols in early 1945, not sink any ships, but she was sunk on 15 April 1945 in the North Atlantic, hammered by hedgehogs from the destroyer escorts USS Stanton and Frost (Operation Teardrop).
Characteristics Type IXC/40 (AG Weser, Bremen)
Displacement surf./Sub: 1,144 t (1,126 long tons)/1,257 t (1,237 long tons)
Dimensions: Same as Type IXC but width 6.86 m
Powerplant: Same as Type IXC
Performances: Same as Type IX *Surface Range 13,850 tons
Armament: Same as Type IXC

Type IX A/B


Type IXA


Type IXC


Type IXD/42 FLAK
Type IXD: The ultimate "U-Kreuzer"
The term "U-Kreuzer" was coined in 1916 after the Deutschland made her first trips and the model was adopted into the Imperial German Navy with success. So much so the type was largely copied after war. The Type IX evolution would ultimately end for the ultimate long-range U-boat. It was much larger than previous models and geared towards very long range.

U-Boat Type IXD – The blueprints
Type IXD proceeded from the same design but was significantly longer and heavier. Since underwater speed fell in previous versions, it regained some, but at the cost of a lightly reduced range. Their powerplant was completely different indeed: They were fitted with three pairs of Daimler Benz diesels, two pairs for cruise and one for high speed and battery reload. Eventually three variants would be built from this type:
-IXD1: Unreliable engines, so they were later converted as surface transport vessels.
-IXD2: The main production run, they had revised machinery and a range of 23,700 nautical miles (43,900 km; 27,300 mi).
-IXD/42: Almost identical but with with a revised machinery to produce more power, 5,400 ehp instead of 4,400.
The very long range and speed made them suitable also for transport, especially towards Japan. Therefore In 1943-1944 many boats were picked-up and stripped from their torpedo tubes to be converted as storage. They could indeed carry 252 tonnes of freight, mostly precious materials, blueprints, which Japan exploited, and return with equally precious goods Germany lacked at the time. Range also benefited from this newly found room space and rose to 31,500 nautical miles (58,300 km; 36,200 mi).
In all, DeSchiMAG AG Weser of Bremen manufactured thirty Type IXD U-boats, which entered service, for the first, U-178 on 14 March 1942 (she has been laid down on 25 November 1940, launched 1 October 1941, which reflected how much these boats were cared about (but also production disruptions and changes). The last was U-884 of the D2 type, launched on 17 May 1944 but never active. In fact she was destroyed on while fitting out in dockyard on 30 March 1945 by US heavy bombers. Series: U-177-182, U-195-200, U-847-876. The last IXD/42 serie was a rarity: Indeed the yard was only able to barely deliver two in 1945, U-883 was launched on 28 April 1944, commissioned 27 March 1945, but U-884 was still fitting out at the time she was bombed. Technically she has not been commissioned. U-885-888 were laid down but never launched. Construction was halted on 30 September 1943 and the whole serie cancelled.
Characteristics Type IXD (AG Weser, Bremen)
Displacement surf./Sub: 1,610 t/1,799 t
Dimensions: 87.58 m x 7.50 m x 10.20 m (height) x 5.35 m (draft)
Pressure hull: 68.50 m (224 ft 9 in) x 4.40 m (14 ft 5 in)
Powerplant: 6 × Daimler-Benz MB501 20 cyl. Diesel, 9,000hp (IX-D/42)
Performances:
Range: 23,700 nmi (43,900 km; 27,300 mi) /10 knots surface
115 nmi (213 km; 132 mi) /4 knots submerged
Armament: Same as Type IXC or none (IX/42 transport)

U-boat U-462 (center) commanded by Lt. Bruno Vove supplies U-755- Colorized photo by ED. Tambunan (Src. Reddit)
U-Boat Aces using the Type IX
A quick look at the "hall of fame" of U-Boat aces in WW2 shows the immense domination of U-Boat commanders on the Type IX, not the Type VIIC. Apart superstars beloved by the propaganda like Gunther Prien which sank the HMS Royal Oak, the majority of successful U-Boats sorties were first and foremost made on the larger Type IX, and especially the IXC. Less were built comparatively to following series, but they were in service soon enough to accumulate victories, at least until late 1943.
This success could be explained by the long range of these boats, able to rampage in less-defended areas and shipping lanes around the globe. Even with their combined might, the British, Americans and their allies were never able to cover all possible trade networks. The efforts concentrated mainly on the North Atlantic, the Royal lane between the US and UK, and this area was already a battleground where the Type VIIC operated in majority, meeting shorter operations with greater losses. Due to the superior cost and capabilities of the Type IX it was common for U-Boat commanders successful on the VIIC to be 'promoted' on the Type IX, which had a more elite status.
Wolfgang Lüth: The second highest-scoring U-Boat ace of the war after Otto Kretschmer (which did all his career on the Type VII) was also on the VII, but also commanded a Type IXA, the U-43 and ended the war with a IXD2, the U-181. Amazingly he survived the war and was shot by a German sentry by accident on 13 May 1945.
---
-Wolfgang Lüth: He made 15 sorties and sank 46 ships (225,204 tons) on U-43 (IXA) and U-181 (IXD2). He also made a 205 days multi-missions trip, the second longest of the war.
-Heinrich Liebe: He made 9 sorties, sinking 34 ships (187,267 tons) on U-38.
-Viktor Schütze: 7 sorties, 35 ships for 180,073 tons on U-103.
-Karl-Friedrich Merten: 5 sorties, 27 ships sunk (170,151 tons) on U-68 (IXC).
-Georg Lassen: 4 sorties, 26 ships (156,082 tons) on U-160 (IXC).
-Werner Henke: 7 sorties, 24 ships (155,714 tons) on U-515 (IXC).
-Carl Emmermann: 5 sorties, 26 ships (152,080 tons) on U-172 (IXC).
-Heinrich Bleichrodt: 8 sorties, 24 ships (151,260 tons) part on the U-107 (IXB), 13 ships.
-Robert Gysae: 8 sorties, 25 ships for 146,815 tons, part on U-177 (IXD2).
-Ernst Kals: 5 sorties, 20 ships for 145,656 tons on U-130 (IXC)
-Johann Mohr: 6 sorties, 27 ships for 129,292 tons on U-124 (IXB)
-Klaus Scholtz: 8 sorties, 25 ships for 128,190 tons on U-108 (IXB)
-Adolf Cornelius Piening: 8 sorties, 25 ships for 126,664 tons on U-155 (IXC)
-Helmut Witte: 4 sorties, 23 ships for 119,554 tons on U-159 (IXC).
-Günther Hessler: 3 sorties for 21 ships and 118,822 tons on U-017 (IXB)
-Ernst Bauer: 5 sorties and 25 (118,560 tons) on U-126 (IXC)
-Reinhard Hardegen: 5 sorties, 22 ships (115,656 tons) on U-123 (partly) (IXC)
-Werner Hartmann: 4 sorties, 26 ships (115,337 ton) partly on U-198 (IXD2)
-Robert-Richard Zapp: 5 sorties, 16 ships (106,200 tons) partly on U-66 (IXC).
-Jürgen Oesten: 13 sorties, 19 ships (101,744 tons) partly on U-106 (IXB)
-Wilhelm Rollmann: 8 sorties, 22 ships (101,519 tons) mostly on U-848 (IXD2)
-Erwin Rostin: 2 sorties, 17 ships (101,321 tons) on U-158 (IXC)
-Hans-Ludwig Witt: 3 sorties, 19 ships (100,773 tons) on U-129 and U-166 (IXC)
-Harald Gelhaus: 11 sorties, 19 ships on 100,373 tons on U-107 (IXB)
-Werner Hartenstein: 5 sorties, 20 ships for 97,504 tons on U-156 (IXC)
-Fritz-Julius Lemp: 10 sorties, 20 ships for 96,639 tons on U-110 (IXB)
-Karl-Heinz Moehle: 10 sorties, 21 ships 93,197 tons partly on U-123 (IXC)
-Georg-Wilhelm Schulz: 8 sorties, 19 ships 89,886 tons partly on U-124 (IXB)
-Georg Schewe: 10 sorties and 16 ships for 85,779 tons partly on U-105 (IXB)
-Hans-Georg Friedrich Poske: 4 ships for 16 ships and 85,299 tons on U-504 (IXC)
-Ulrich Heyse: 5 sorties and 12 ships for 83,639 tons on U-37 and U-128 (IXC)
-Ulrich Folkers: 5 sorties and 17 ships for 82,873 tons on U-37 and U-125 (IXC)
-Herbert Kuppisch: 14 sorties and 16 ships 82,108 tons partly on U-847 (IXD)
-Jürgen Wattenberg: 3 sorties and 14 ships for 82,027 tons on U-162 (IXC)
-Werner Winter: 5 sorties and 15 ships for 79,302 tons partly on U-103 (IXB)
-Jürgen von Rosenstiel: 4 sorties and 14 ships for 78,843 tons on U-502 (IXC).

Liveries and camouflage of the Type IX
Sources/Read More
//www.uboataces.com/uboat-type-ix.shtml
//en.wikipedia.org/wiki/Type_IX_submarine
//en.wikipedia.org/wiki/List_of_most_successful_U-boat_commanders
//uboat.net/types/ix.htm
//www.historynet.com/type-ix-u-boat.htm

U-858 surrendering to the USN, escorted by a patrol boat to Portsmouth in May 1945. A very famous color photo and movie (cc)
3D renderings
Type IXA on tubosquid
Model Kits


U107 HD rendering, profile and deck
Bronco 1/350 NB5009 German Long Range Submarine U-IXB Model Kit
//www.1999.co.jp/eng/10216772
//www.hobbyboss.com/index.php?g=home&m=product&a=show&id=998&l=en
//www.scalemates.com/kits/hobbyboss-83508-dkm-navy-type-ix-c-u-boat–101457
//store.spruebrothers.com/product_p/rvg05114-os.htm (Revell 1/72 IXC late U-505)
HobbyBoss DKM U-Boat Type IXC 1/700
Colors and markings of Kriegsmarine boats (Scribd)