The first two specialized German minelayers
The Nautilus class were two minelaying cruisers planned for the Imperial German Navy, both built by the AG Weser shipyard in Bremen with different designs, at least in appearance. They never operated together, one being kep for training or in maintenance. They laid at the start of WWI a serie of strategic minefields, to protect the German coast and on known pathways for the British Royal Navy.
SMS Albatross was assigned to the Baltic Sea, ambushed by Russian cruisers, damaged and beached after the Battle of Åland Islands in July 1915, in neutral swedish waters, interned. SMS Nautilus participated in Operation Albion in 1917 and modified for amphibious operations in 1918. She was retained as a hulk until 1928, stricken since 1919.
Design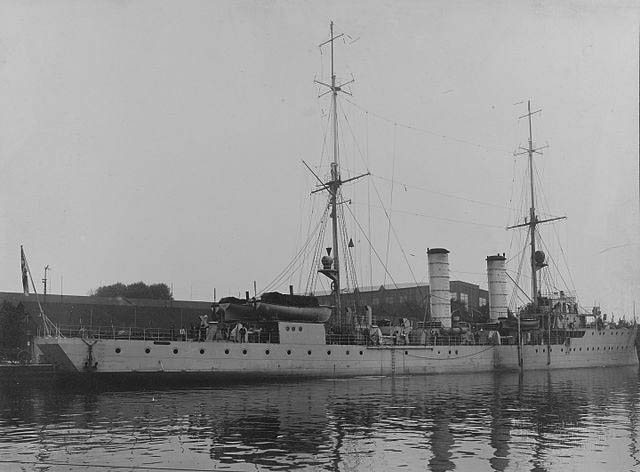 SMS Albatross in port
Design development
Nautilus had a clipper bow, while Albatross had a bow similar to contemporary German light cruisers. The ships were armed with a light battery of just eight 8.8 cm (3.5 in) guns and had a capacity of 168–288 naval mines. However they were slow and completely unprotected.
Hull Design in detail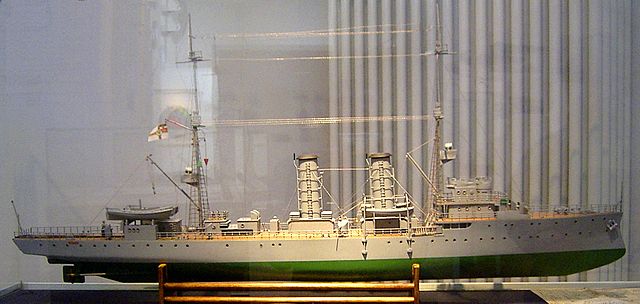 SMS Albatross model
the two cruisers varied slightly in their dimensions and shapes: SMS Nautilus had a clipper bow, but still she was shorter, measuring 98.20 meters (322 ft 2 in) long overall for a beam of 11.20 m (36 ft 9 in). Her average draft (deeper aft) was 4.42 m (14 ft 6 in) forward. SMS Albatross was larger, 100.90 m (331 ft) long with a straight bow, 11.50 m (37 ft 9 in) of bream, 4.40 m (14 ft 5 in) of draft. The first displaced 1,975 metric tons (1,944 long tons), 2,345 t (2,308 long tons) fully loaded and her sister ship 2,208 tons normal, 2,506 t fully laden. Nautilus was modernized in 1908 at the Kaiserliche Werft, Kiel with her original stern overhang extended by 2.70 m (8 ft 10 in) so shat she was now 100.90 m (331 ft) long, and her superstructure deck extended further aft.
Hulls construction called for transverse and longitudinal steel frames. Under the waterline, it was subdivided into nine watertight compartments. Below there was a double bottom for 60% of her total length. Superstructyes were close, but diverged. Both had two pole masts with spotting tops, two slightly raked funnels, like the masts, but the mast location and bridge shape diverged. The foremast was behind the bridge on Albatross, but in center on Nautilus. On Albatross it was also higher, her forecastle extending to the base of the main mast. Nautilus had superstructure deck starting aft of the fore mast. The idea was to test both ships with different configurations. Nautilus was essentially a "yacht" in disguise order to operate in a more clandestine way.
Their crew comprised ten officers and 191 enlisted men, and in wartime, extended to 11 officers and 197 ratings. Their small boats fleet included two picket boats, a launch, two yawls, a dinghy, handled with a large derrick at the base of the main mast aft. There was no protection at all, no armour figure are given by any source, including Conways.
Powerplant
The ship's Propulsion system comprised two 3-cylinder, triple-expansion steam engines. They each drove a single four-bladed screw propeller 3.20 m (10 ft 6 in) in diameter. Four coal-fired marine-type boilers provided steam, each in their own individual boiler room. They were trunked into two closely spaced funnels. Electricity on board came from two turbo generators rated at 90 kilowatts (120 hp)/110 volts each.
Performances wise, their top speed as designed was 20 knots (37 km/h; 23 mph), obtained from an output of 6,600 indicated horsepower (4,900 kW). This was exceeded on trials, Nautilus reaching 20.8 knots and Albatross at 20.2 kn. For range, they carried 200 t of coal. In wartime however, when using auxiliary storage spaces, SMS Nautilus could carry up to 490 t and Albatross even 526 t, giving them a 3,530 to 3,680 nautical miles (6,540 to 6,820 km; 4,060 to 4,230 mi) range 9 knots cruise speed. Steering was done via a single axial rudder and they handled well, with a tight turning radius. However they had a high weather helm and hard time not drifting underway.
Armament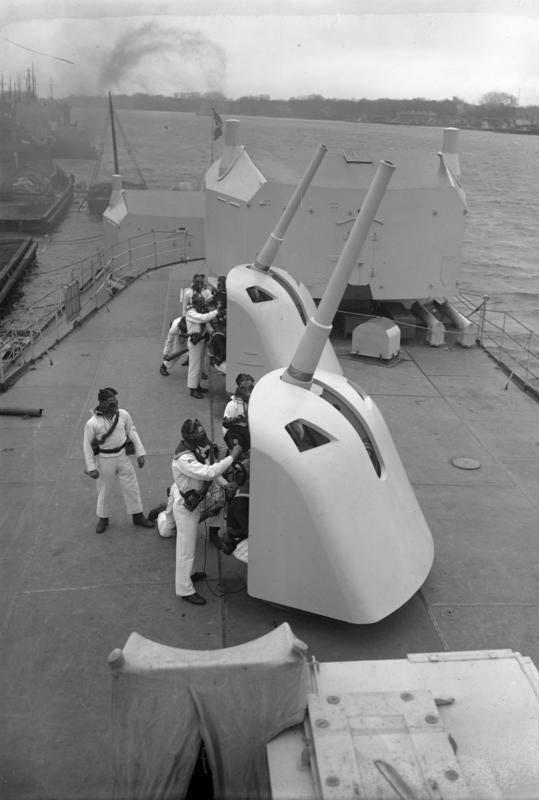 8,8 cm gun (here a FLAK version of 1932)
The primary armament for the Nautilus-class was purely defensive and short range: It consisted in a battery of eight 8.8 cm (3.5 in) SK L/35 guns, all in individual mounts:
Two side by side on the forecastle, four amidships (two on each broadside) and a pair at the stern. A total supply of 2,000 rounds was carried. These 8.8 cm guns had a maximum range of 9,100 m (29,855 ft 8 in) only.
Mines:
Their main asset of course was their mine capacity and facilities: SMS Nautilus carried 186 naval mines, and up to 205 in wartime, 288 for Albatros which hull was better shaped to carry more. German naval mines of WWI were of the following type: Type I Moored Hertz horn contact mine (Total mass 560 lbs./254 kg, Diameter 31.5 inches/80 cm, Wet gun guncotton 180 lbs. 81.6 kg explosive charge.
Read more: http://www.navweaps.com/Weapons/WAMGER_Mines.php
Nautilus 1918 Conversion
In 1918, Nautilus was rearmed with two 7.6 cm (3.0 in) guns, four 2 cm (0.79 in) anti-aircraft guns, twenty-four machine guns, two flamethrowers, and four mine-launchers, in addition to her normal capacity of mines. Her new armament was intended to allow the ship to support amphibious operations.
Links
German mines on navweaps
Albatross on navypedia
nautilus on navypedia
On wikit.wiki Italy
WW1 german cruisers
On militaer-wissen.de/
Model kits on scalemates: Combrig 1:700
albatross kombrig kit review
Scratch model kit
additional colorized photos
⚙ Nautilus class specifications

Dimensions
98.20 x 11.20 x 4.42 m (322 x 37 x 16 feets)
Displacement
2,345 tons standard, 2600? tons Fully Loaded
Crew
11 officers, 197 men
Propulsion
2 shafts VTE 4 WT boilers, 6,600 hp
Speed
20 knots (37 km/h)
Range
3530 nm @ 9 knots.
Armament
8x 8.8 cm (3.5 in) SK L/35, 186 mines
Protection
None
---
SMS Nautilus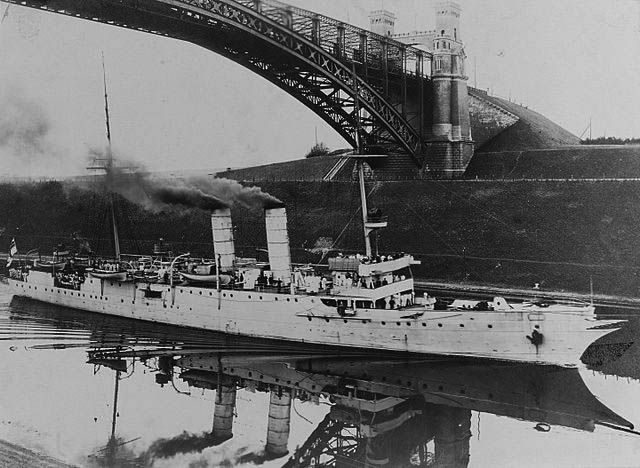 SMS Nautilus under the Levensau Bridge
Prewar service
SMS Nautilus was launched at AG Weser shipyard on 28 August 1906 (laid down as "mine steamer A", completed and commissioned for sea trials on 19 March 1907. From 25 May she starting training for for mine warfare in Cuxhaven. She took part in the annual fleet maneuvers in 1906, 1907 and 1908 and decommissioned as her sister ship Albatross took her place in peacetime. In 1909–10 she was modernized at the Kaiserliche Werft, Kiel. Her stern overhang was extended by 2.7 m (8 ft 10 in), her superstructure deck extended further aft.
On 23 January 1910, SMS Nautilus retuned to minelaying training and participated in the 1910 annual fleet maneuvers. After a new overhaul in Kiel until 27 January 1911 she returned to training and on 4 April was replaced again by Albatross. She later experimented with minesweepers in the North Sea and took part in the annual fleet exercises. On 30 October 1911, she was replaced by light cruiser Arcona and remained in reserve until the crisis developed in the Balkans, replacing on 5 June 1914 the older minelayer SMS Pelikan in long overhaul.
Wartime Operations
From July 1914 she was reclassified as a coastal defense mine cruiser and temporarily sent to the Baltic , laying defensive minefields in the path of the Russian Baltic Fleet. On 25-26 August, back to the west, and teaming with her sister ship, she layed a minefield off the Humber and Tyne on the English coast. That risky operation was performed by night, and two minelayers proceeded independently, covered each by a light cruiser and destroyers.
SMS Nautilus was protected by Mainz and she laid two mine fields 5 nmi (9.3 km; 5.8 mi) long across the known usual merchant pathways. When back, her group spoted and sank six British trawlers. SMS Nautilus, Albatross and the auxiliary minelayer SMS Kaiser later laid a defensive minefield on the Bight on 9–10 September. On 14 October 1914, protected by SMS Kolberg, she was to lay another minefield in the North Sea, off the Firth of Forth, but as they spotted the enemy off the Dogger Bank, they broke off.


Colorized photos of the SMS Albatross underway
In April 1916, SMS Nautilus was sent again in the Baltic after the modern modern SMS Brummer entered service, dedicated to western operations. The rest of 1916 and early 1917 were relatively uneventful with few sorties but she laid a serie of minefields for tactical funneling. In October 1917, she was assigned to the VI Scouting Group (light cruisers Kolberg, Strassburg, Augsburg, aviso Blitz), for Operation Albion. She stayed outside the Gulf of Riga until Russian forces were cleared off from the area and she then sailed off Arensburg on 18 October to lay defensive minefields. On the 21 she was planned to lay mines west of Schildau but it was found too shallow and she transferred her mines to smaller vessels of the II Minesweeper Flotilla to perform the mission, and she was later based in Arensburg.
In 1918, her armament was modified to act as an amphibious support ship. She received two 76 mm (3.0 in) SKL guns, four 20 mm (0.79 in) AA guns, 24 machine guns and two flamethrowers, plus four mine-launchers in addition to her mines. In February 1918 she joined the Sonderverband (Special Unit) tasked of cmbating the anti-communist faction during the Finland's civil war. On 30 April 1918, Konteradmiral Ludolf von Uslar made Nautilus his flagship, but the operations ceased and the unit was disbanded in May. The minelayer stayed in the northern Baltic and patrolled off Åland island until December. She was decommissioned.
The Treaty of Versailles excluded her from the new Reichsmarine and instead she was stricken on 21 March 1919, in Kiel and used from 1921 as an unarmed storage hulk in Bremen, ("Hulk I") from 1923, then "Hulk A" (April 1928) in Bremerhaven, with the Training Inspectorate. She was sold and BU in Copenhagen.
SMS Albatros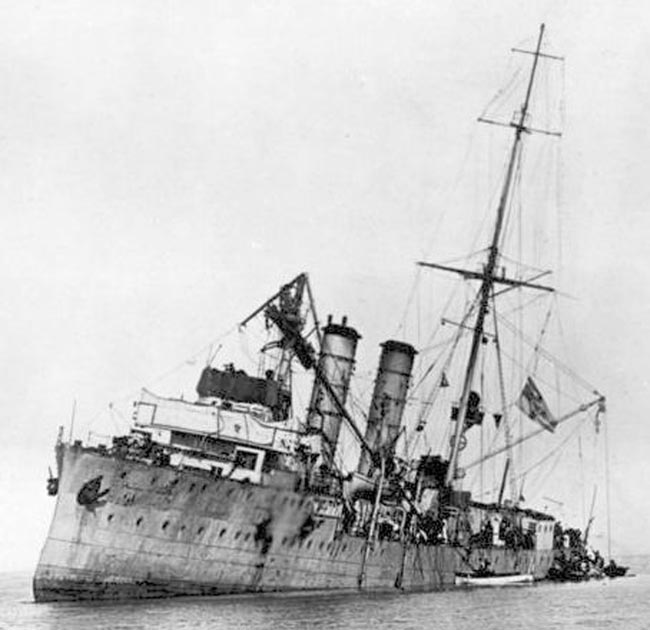 SMS Albatros stranded 1915
SMS Albatross was built at AG Weser shipyard, Bremen, laid down as "mine steamer B", 24 May 1907, launched on 23 October and commissioned for sea trials on 19 May 1908, until 25 July. She took the head of her minesweeping unit while the older SMS Pelikan was under overhaul and took part in the annual fleet maneuvers. On 26 October 1908 and 1909 she became a training ship in Cuxhaven. In 1910 she was ovehauled at the Kaiserliche Werft and modernized, with her mine-launching equipment moved to the upper deck. In 1911, she rammed the steamer Wartburg and needed three weeks repairs; In September she was sent into the Baltic Sea. In 1912, 1913, and early 1914 she had the same same routine.
In July 1914 as a "mine cruiser" she laied defensive fields in the Baltic Sea and later with Nautilus off the Humber and Tyne. Albatross's group comprised SMS Stuttgart and on her return, hit some of the six British fishing vessels sunk. By June 1915 she was in the Baltic with the auxiliary minelayer SMS Deutschland under Konteradmiral Albert Hopman's command. Her first operation, codenamed V, was performed on 20 June escorted by SMS Roon, Prinz Heinrich, Prinz Adalbert, Augsburg, Lübeck, she laid a large minefield off Bogskär. Later she laid 350 mines escorted by Prinz Adalbert, Prinz Heinrich, Thetis (operation VI), screened by eight torpedo boats. She was based in Neufahrwasser all this time.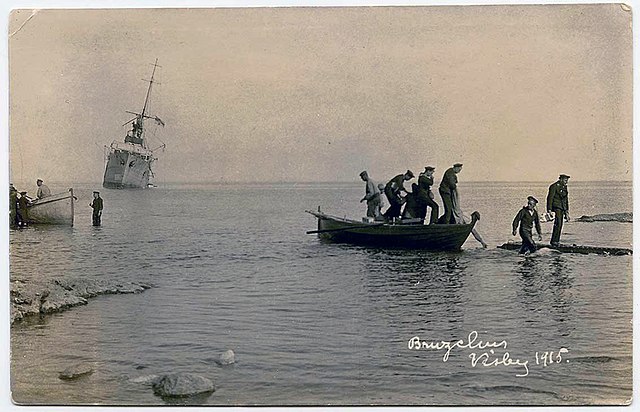 SMS Albatross stranded, crew evacuating photo by Bruzelius 1915
Battle of Åland Islands
For operation, VII (29-30 June night) she was escorted by Roon, and five TBs, meeting out of the Vistula later Kommodore (Commodore) Johannes von Karpf—Lübeck's ships and more TBs. She laid her minefield off Bogskär and later Roon and Lübeck separated to guard a channel between minefield, while Albatross proceeded north to Bogskär, laying 160 mines. Augsburg went south to join Roon and Lübeck while Kdt. Karpf received via wireless a report over her position, intercepted and decrypted by the Russians, which were about t lauinch a bombarding sortie on Memel the following day.
Led by the armored cruiser Rurik four cruisers sorties on 1st July, trying to ambush the Germans, but Karpf dispersed his force and Albatross, Augsburg plus three TBs speamed to Rixhöft, the remainder to Libau. At 06:30 on 2 July, lookouts from SMS Augsburg spotted the Russians and Karpf ordered Albatross to seek refuge in neutral Swedish waters, the others using their speed to escape and possibly draw the Russians on Roon and Lübeck. However soon the latter catch up with them and turned to port to bring their full battery to bear, firing from 8,000 m (26,000 ft). Bogatyr and Oleg concentrated on SMS Albatross, but this was innacurate due to Heavy fog.
Soon, the monelayer was found alone, with all four Russian cruisers shelling her. At 07:20, she was hit and more were to come as the range closed. At some point she was close enough to replicate with her 8.8 guns, with little effect on the armoured cruisers. Her forecastle was soon crippled, foremast knocked down, conning tower destroyed, with the staff inside but eventually at 07:45, she entered Swedish territorial waters. However in violation of international laws, the Russians pressed on and kept firing for twenty minutes, stopping only at 08:07, after Albatross reached Östergarn Sound. She was badly damaged, listing heavily to port and her captain ordered her to be beached and made preparatios to evacuate and scuttling.
Hopman considered sending a torpedo boat for towing Albatross, but the Russian vessels were a serious thrat. Prinz Adalbert and Prinz Heinrich reinforced Karpf's ships and sailed out to rescue Albatross, but en route, HMS E9 torpedoed Prinz Adalbert, so making Karp break off the operation. Albatross was interned by Sweden for the remainder of the war, never repaired and not scuttled as the Russian would not dare approaching. 26 German sailors were buried east of Östergarn Church and two at Björke cemetery. The survivors were interned in Roma, and Blåhäll, Tofta. The Swedish salvage company Neptun refloated Albatross on 23 July, towed to Fårösund, then Oskarshamn, to be interned, only returned (as her crew) to Kiel in January 1919, and decommissioned on 23 January, stricken on 21 March, then sold for BU in Hamburg.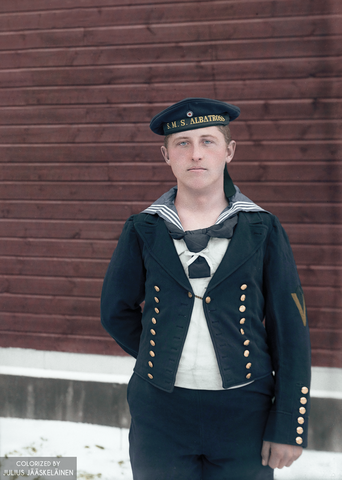 Surviving SMS Albatross sailor on the Swedish island of Gotland, 1915