The legendary Japanese fighter
Just named colloquially "zero" and still popularly known as such today, the A6M, or "Mitsubishi Navy Type 0 carrier fighter" (零式艦上戦闘機) hence the number used as nickname, was the brainchild of superstar aviation designer
Jiro Horikoshi
. A superb dogfighter, combined with perhaps the best trained naval fighter pilots of the world's at the time, achieved total air dominance in the Pacific until 1943.
With 10,939 delivered by Mitsubishi, Nakajima and other plants, it was also the most ubiquitous of all WW2 Japanese models, soldiering over a very large area, between aircraft carriers and land bases, from Mandchuria to New Guinea, Malaysia to the Aleutians. The A6M gained an aura of invincibility in the first year of the war, brushing aside all opposition. This was the result of a number of factors, but its advantages became problems when the allies started to field better planes in 1944-45. It's designated successor, the A7M Reppū never had the time to replaced it, but the A6M went through several iterations and variants to correct its known issues.
⚠ Note: This post is in writing. Completion expected in 2022.
Design development
A successor to the A5M "Claude"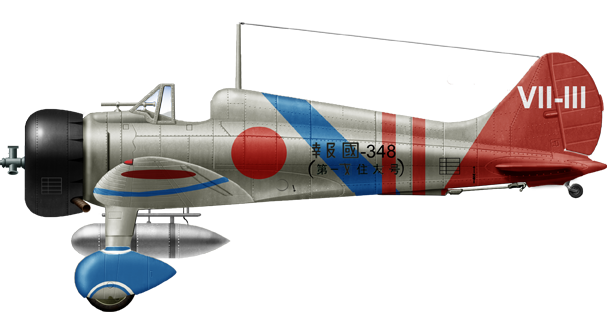 A5M4 onboard IJN Soryu in 1941
The
A5M "Claude"
was the Imperial Japanese navy main monoplane fighter in 1939, a 1st generation model, also designed by Horikoshi with elliptic wings and modern features, all metal fuselage but still antiquated ones, like fixed undecarriage and open cockpit. It was already a superb dogfigher, putting agility over all else. But in 1939, with a more serious opposition over China, pilots started to recoignise its limitations.
This process started early on: The Mitsubishi A5M fighter was just entering service in early 1937, when its replacement was discussed. On 5 October 1937 was signed and published "Planning Requirements for the Prototype 12-shi Carrier-based Fighter" (or simply "12-shi spec"), sent to Nakajima and Mitsubishi to submit proposals. Both firms started preliminary design work, whereas requirements were still awaited. They were stn in the following months.
Specification 12-shi (October 1937)
The design staff started with early combat reports of the A5M in China. From there, the IJN specified updated requirements, in October 1937. These were calling for:
A speed of 270 kn (310 mph; 500 km/h) at 4,000 m (13,000 ft)
A climb to 3,000 m (9,800 ft) in 9.5 minutes.
An endurance (With drop tanks) of two hours in normal regime
6-8 hours at economical cruising speed.
A better armament with two 20 mm cannons and two 7.7 mm (.303 in) MG plus two 60 kg (130 lb) bombs.
A complete, modern radio set
A Radio direction finder for long-range navigation.
Maneuverability at least equal to the A5M
A wingspan below 12 m (39 ft) to fit in aircraft carriers hangars.
Nakajima's out, Mitsubishi takes up the gauntlet (April 1938)
Nakajima's team considered these new requirements impossible and pulled out outright in January 1938. At the time, the direction looked towards larger and more lucrative army contracts, and notably the awaited successor of the Ki-27 "Nate", which would evolved into, here again, a model relatively similar to the "Zero", the equally legendary Ki-43 Hayabusa ("Oscar");
Meanwhile, Mitsubishi's chief designer Jiro Horikoshi, believed the requirements could be met. His take on the matter as that weight saving was to be the ultimate objective of the design. His team basically sat day and night, trying to eliminate every possible elements, replacing it by a lighter solution. Every weight-saving measure was incorporated into the design, requiring also a lot of "out-of-the box" thinking, notably by simplifying parts. Therefore, it at first the team (before having the complete specs) worked on a retractable undercarriage, enclosed cockpit version of the A5M with the latest engine, it was soon clear that very little of the former model could be reused, if at all.
The pilot controversy (April-May 1938)
On April 10, 1938, a draft design of a new fighter sparked a lively discussion around technical decisions to made by designers, and terms of reference itself. Conservative pilots criticized the closed cockpit, arguing that it would severely restrict visibility while pilots managed to convince earlier Mitsubishi designers to also renounced it for the A5M2b modification, mostly to allow the pilots to look over the side of the cockpit forward, dto find the correct glide path.
Composition of the armament and priority of flight qualities, which were maneuverability OR speed also fuelled the debate. On that matter, Lieutenant Commander (and Ace)
Minoru Genda
believed for a carrier-based fighter agility was key, over speed. For him, this way the fighter would be able to
impose
a battle on the enemy, winning a "turning contest". He advocated achieving less power and if necessary, also heavy weaponry. Ace
Lieutenant Commander Takeo Shibata
led the opposing faction, stating that the A5M already demonstrated the Japanese already outperform other fighters.
Battles in China showed -and all pilots agreed on this- that the main problem, in order to engage opposition, was first to get there. Due to its short flight range, the A5M could just not escort bombers up to the objectives. So Shibata wanted both high straight speed and range to be paramount in the new design. Speed for hims was also a factor to impose its own battle tactics on slower opponents. Shibata also argued well-trained pilots with a faster aircraft would have a double edge in combat, even with marginally lower maneuverability.
This controversy between the two aces was not resolved at a meeting held on April 13, 1938. Circles close to the the Imperial Navy High Command started to voice their frustration over the pilot's internal war and many started to advocate for a freeze of the 12-Ci program, rewrited them as well.
Jiro Horikoshi however intervened, and promised to ease all oppositions with his design. Based on early calculations, he was able to convince the Navy and the pilots alike that his new high-performance would have at the same time, the desired speed, range and maneuverability to please all pilots. Kaigun Koku Hombu (IJN aviation procurement bureau) officially approved the basic layout of the new model. But even construction of prototypes was greenlighted, Mitsubishi's design team already had the design well refined in Oyomachi, Nagoya.
Impossible Challenges
Demands were so radical, though, it obliged to almost start from scratch. The company also took into consideration innovationd in several fields to achieve its goals, notably the use of a new top-secret aluminium alloy, developed by Sumitomo Metal Industries in 1936. This "extra super duralumin" (ESD) was indeed lighter, yet stronger, and more ductile than other alloys used at the time. The only problem -a serious one for using it at sea- was corrosive attack which made it brittle.
The problem was soon solved by consulting chemical companies and securing an equally innovative anti-corrosion coating, to be applied after fabrication. Among other measures, it was soon obvious that no armour protection was affordable given the limitations, for the pilot. Any special protection for critical points of the aircraft or the engine were ommitted as well as self-sealing fuel tanks. These measures, radical, helped reaching the specifications, but their cost was not apparent at first. It was paid dearly in 1943, five years later.
The Mitsubishi Type 0 given the year, was however lighter and more maneuverable than any fighter that came before, added to the longest range for any fighter plane (single-engine) at the time, in WW2. Tactically it was an enormous advantage for the Navy, that could escort their strike aircraft all the way to their objective, stay in defense, assist destroying opposition, and escort them back safely. No other country at the time has such fighter. The Zero was also capable of searching out possible targets hundreds of kilometres away, patrol much longer, etc. The tradeoff in weight and weak construction was known. It was discovered later it was quick to catch fire and exploding after a few rounds.
The reasoning was however, that speed and agility was the best defense. Given the cultivated aggressiveness of Japanese pilots, the new fighter was fitting them like a glove. The A6M in the end, secuced the navy as being the 2nd generation fighter it needed, by combining in addition of this agility, heavy armament and long range, a low-wing cantilever monoplane layout, a etractable, wide-set conventional landing gear, and an enclosed, well designed cockpit.
When the first drafts were presented in 1938 to secure an order for a prototype, it came quickly as the Navy was quite impressed, and Mitsubishi had no opposition.
Final assessment
When it was introduced in early 1940, the "Zero" was one of the most modern carrier-based aircraft in the world. Its oppositon in the Royal Navy was the heavy
Fairey Fulmar
and in the US Navy the
Brewster F2A Buffalo
, to the point of being superseded by the
Grumman F4F Wildcat
. Until the introduction of the F6F Hellcat from mid-1943, the Zero was almost "untouchable".
Its main advantages as a dogfighter were a fairly high-lift, low-speed wing and very low wing loading. It also had a very low stalling speed (below 60 knots or 110 km/h, 69 mph). Its "phenomenal" maneuverability as recoigniese by its foes over China and Chennault's "Flying Tigers" already in 1940 (equipped with the Curtiss P40 Warhawk) allowed the A6M to out-turn any Allied fighter of the time. Eearly models were fitted with servo tabs on the ailerons, after pilots complained about too heavy commands at above 300 kp/190 mph. That was the price for lightness as, these features were planned bu not included. However, servo tabs were retired, as with this lightened control forces pilots had much confidence to overstress their airframe, making quite vigorous maneuvers while not always grasping how flimsy was their fighter to endure G-Forces.
Design Features
General structure
Engine
Armament
Equipments
Production
Variants
Detailed specs
Specs A6M5 (1943)

Crew:
1: Pilot
Fuselage Lenght
7.565 m (24 ft 10 in)
Wingspan
11 m (36 ft 1 in)
Wing area
17.8 m2 (192 sq ft)
Height
3.27 m (10 ft 9 in)
Airfoil type
B-9 mod. (16%); tip: B-9 mod. (9%)
Empty weight:
1,216 kg (2,681 lb)
Max takeoff weight:
1,671 kg (3,684 lb)
Propeller:
3-bladed metal propeller

---

Engine:
Nakajima Kotobuki 41 or 41 KAI 9-cylinder air-cooled radial 585 kW (785 hp) at 3,000 m (9,843 ft)
Top speed:
435 km/h (270 mph, 235 kn) at 3,000 m (9,843 ft)
Climb rate:
3,000 m (9,843 ft) in 3 minutes 35 seconds
Endurance:
1,201 km (746 mi, 648 nmi)
Service ceiling:
9,800 m (32,200 ft)
Wing Loading:
93.8 kg/m2 (19.2 lb/sq ft)
Power/mass:
0.3161 kW/kg (0.1923 hp/lb)
Armament
2× 7.7 mm (0.303 in) Type 97 MGs, 2x30 kg (66 Ibs) bombs
Other payloads
1x 160 l (42.27 US gal; 35.20 imp gal) drop-tank
About its successor, the A7M Reppu
The A6M in action
References
---