Ungainly but popular, the "Duck"
The Grumman J2F Duck (G-15) was a single-engine amphibious biplane used by the USN, Marines, Coast Guard and Air Force from 1937 to the 1950 in air-sea rescue notably by South America but also long after by many independent civilian operators. With its ungainly appearance due to the large float mounted under but blended with its fuselage, this biplane was sturdy, relaible and had the range needed to perform its mission. Despite a relatively low production (by WW2 standards) of 580 copies, the J2F found many uses and was beloved by its pilots, despite its slowness. Cinema immortalized it also notably in "murphy's war" (1971).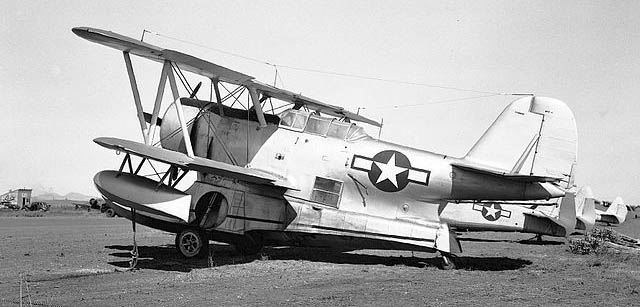 (Future) Columbian J2F-6 at WAA surplus sales in Concord, Califonria, November 10 1946
Design development of the "Duck"
Gumman JF (1933)
The J2F was indeed an improved version of the earlier JF Duck (1933). It improved on the basic design, gaining notably a longer float and more-powerful engine from 700 to 900 horsepower, also gaining better performances. The origin of the JF, a peacetime model of wich few were made, went back to a Navy specification for a single-engine amphibious multirole biplane, than can be deployed by ships or land bases. Grumman, by then still a yound constructor trying to work with the Navy after being for years a simple supplier and sub-contractor, answered it by showing a prototype called the XJF-1, powered by a 700 hp Pratt & Whitney R-1535-62 engine. Identified BuNo 9218, this model was tested at Gumman, making its maiden flight on 24 April 1933, and then went on making official USN tests at Langley. The Navy like most of its caracteristics but asked for some revisions, leading to the pre-production model JF-1. This model was fitted with the more modern, but still rated 700 hp Pratt & Whitney R-1830-62 Twin Wasp engine. 27 were ordered and built (BuNos 9434-9455, 9523-9527). They were tested at Norfolk NAS, delivered from May 1934.
These early production model was setup to mount a rear machine gun and single bomb rack under each wing for 100 lb (45.4 kg) bomb or depth charges. The ceterpiece of the design was this caracteristic main float designed by Grumman (Model "A") and quite unique in which it integrated the retractable main landing gear. This was the samr design by Leroy Grumman for Grover Loening's early amphibious biplanes, aso adopted for the FF fighter. That way, this model was a pure amphibian, while still keeping some aerodynanism. The USN deployed its JF Ducks as general/utility amphibians. They performed a large variety of missions such as for photographic reconnaissance, target-towing, scouting and rescue at sea. The "blended float" was indeed quite unique, but single central float for floatplanes was not. Many monoplane models were fitted as such as it presented many advantages, notably less drag than a two-floats version, and was more stable.
The JF-1 was tested during its final service introduction in 1935. From there, Grumman was asked to improve the model JF-2, this time, for the coast guard, which was also interested by the design. Thise service wanted about the same as the Navy, better performances. The new Variant designed for the United States Coast Guard was powered by the more powerful 750 hp Wright R-1820-102 Cyclone engine. 15 were delivered to the Coast Guard (BuNo 0266, 00371-00372, 01647, USCG V141-V155).
The last ireation was the JF-3, basically identical to the JF-2 but with some navy specifics, but only five were built of this model (BuNos 9835-9839). Indeed at the time, Grumman was working already on a much improved version, soon showed to the navy, based on its XJ-2F prototype. The ultimate JF was the Grumman G-20 in 1936, and armed version of the JF-2 sold to Argentina, with eight ordered. This made for a grand total of 48 Grumman JFs.
Design history of the J2F (1936)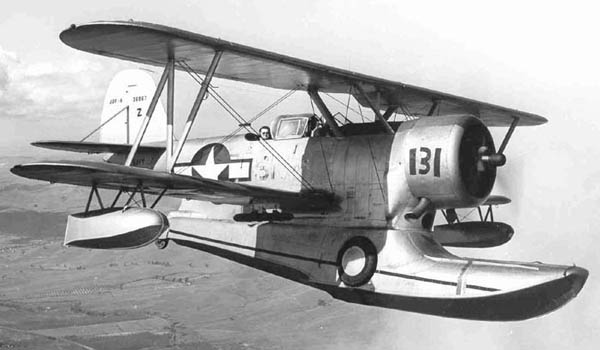 Columbian J2F-6 in the 1950s
The J2F-1 (G15) was already a production version, which like the JF-2 was given the same engine but several modifications: Deletion of the inter-aileron strut between the wings, and less noticeable, a slightly longer rear fuselage and longer float, plus joining fillet beneath the fuselage and float. In fact the "blending" was only apparent, the fuselage could be entirely removed with ease so as the fuselage underbelly could be accessed for maintenance. This initial pre-production was powered by the improved R-1820-20 engines, and 29 were built for the USN. , produced in 1937.
For the other peculiars of the design, the Grumman J2F shared the same caracteristics as the JF: It was an equal-span single-bay biplane. It was given a large monocoque central float housing the retractable main landing gear. It also had strut-mounted stabilizer floats beneath the lower wing. It carried a crew of two in tandem cockpits, forward pilot, rear observer/gunner, but below it there was enough room for a radio operator, whch could double as observer thans to the lower windows. This spaced between the upper fuselage float also could house two passengers or a stretcher, a vital caracteristic for laison and rescue duties.
The later versions were much more powerful and sometimes carried up to five men, crammed inside this space as they could, or even laying on the lower wings, hanging the struts. The only (relative) criticism was its narrow-tracked landing gear repeated on the F4F Wildcat and hand-cranked. This was a choice of reliability and weight but distracted the pilot during his final approach, but the landing gear proved extremely robust and perfectly suited to very hard landing on aircraft carriers. The J2F was used indeed in many aircraft carriers in the following years. The same landing gear allowed it to kad on improvized tracks made by the seabees in the pacific as well or even simple prepared fields.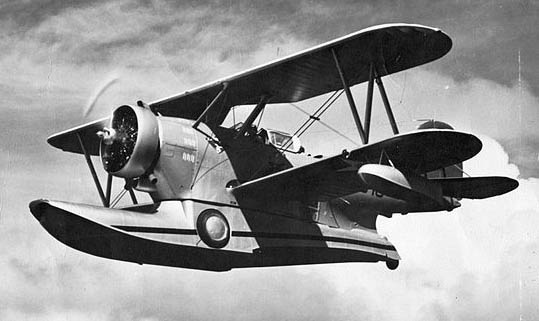 Grumman J2F-1
From there, the USMC also was given its own slightly revised version, called the J2F-2, which was given nose and dorsal guns, plus underwing bomb racks. Only 21 were built, only marginally better than the previous JF-2 but with the much uprated Wright Cyclone engine delivered 790 hp (589 kW), enabling better performances overall. The last sub-variant was the JF-2A of which nine were tailored to serve with the United States Virgin Islands, an advanced outpost in the eastern Carribean, facing the Atlantic.
The much improved J2F-3/4
The next logical step, as the Pratt & Whitney R-1820-20 engine reached the peak of its gradual improvements, was to swap on a massively improved radial model, promising much greater performances: The 850 hp R-1820-26 engine for which the whole forward fuselage section was entirely remodelled. In conformity to this policy of gradual improvements, the Navy ordered only twenty of these new J2F-3, for which the entire forward setion has been revised. This led to the design of the next iteration, powered by a sligtly better engine, the R-1820-30. It was modified solely as target tug, with target towing equipment. Only 32 were built of this model. 20 were also used from 1939 by the Navy as executive transports with "VIP" interior fittings, with the main advantage of being amphibians compared to usual laison and staff planes.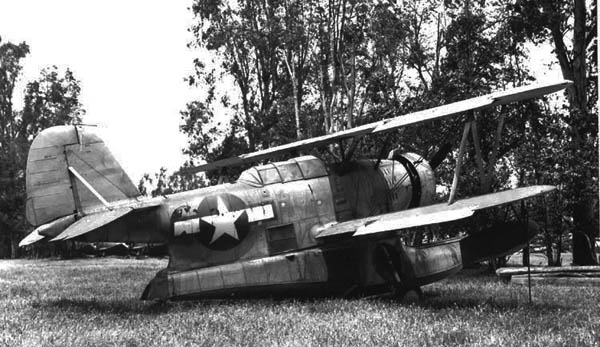 J2F-4 Surplus at Ontario, Chino, May 22 1946
Mass production starts: J2F-5/6
The J2F-5 was designed with a better engine, indeed it was a J2F-2 powered by a 1,050 hp R-1820-54 engine. In all, 144 were built. They were used in many roles. However as war was looming it was decided to switch this production to another manufacturer, to lift the burden on Grumman's main facility in order to concentrate of new models and ramping up production of its vital F4F. So next, this J2F-5 was modified to be produced to Columbia Aircraft Corp of New York. They assumed 330 copies for the US Navy and Coast Guard. They were all delivered as J2F-6s (a designation normally integrating Columbia's letter, but not applied to avoid confusion). In all, Columbia Aircraft would deliver the same plane, but uprated to the 1,050 hp R-1820-64 engine. Its main feature was a long-chord cowling fitted with underwing bomb racks. It was provisioned also for target towing. The end of production arrived in 1945, the Navy in between swapping to monoplanes, and notably the new Vought Kingfisher. The last models already in production as the ordred was cancelled with Japan surrendering were declared "surplus", leading to a reaffectation: These became the OA-12 Air-sea rescue conversions made for the United States Army Air Forces (and later OA-12A) in 1948. That way, this biplane was one of these model apparently never caught up with innovation. Many other surplus planes lingered in the Coast Guard for many more years or ended on the export market.
Exports of the "Duck"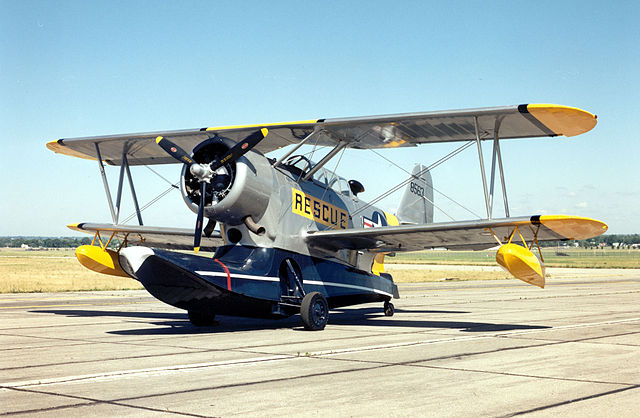 USAAF OA-12 used for SAR, 1948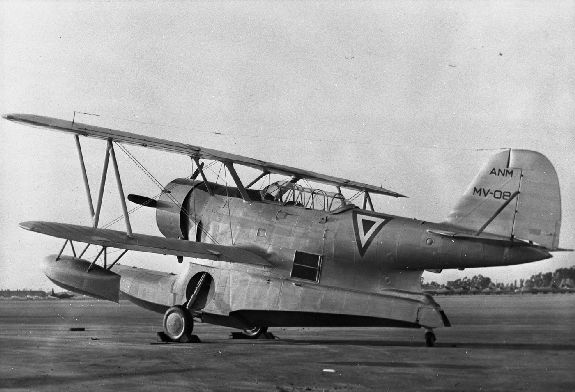 J2F-6 of MV-08, Mexican Air Force 1952
Argentina, to be more precise, the Argentine Naval Aviation received four G-15s (J2F-4s) in 1939 in addition to eight Grumman G-20s (JF-2) in 1937, all used during WW2. From 1946–1947, 32 surplus US Navy J2F-4, J2F-5s, J2F-6s were also prurchased and served until 1958 when the last was retired.
-The Colombian Navy also benefited from these surplus sales and acquired three examples from 1948.
-The Mexican Navy received also three J2F-6s in 1950, operated also in the 1950s.
-The Peruvian Navy acquired just one J2F (5 or 6), operated in 1961-1964.
Fortunately many also survived in the US and now are in flight condition and exhibited or in private and public museums and collections: A J2F-4 (airworthy) at the Mid America Flight Museum (Mount Pleasant, Texas) and Comanche Warbirds Inc. in Houston, a J2F-6 (airworthy) at Fantasy of Flight, Polk City FL (plus one more in restoration), another airworthy J2F-6 at the Erickson Aircraft Collection, Madras, Oregon and an on static display at the National Naval Aviation Museum (Pensacola), National Museum of the United States Air Force (Dayton), EAA Aviation Museum in Oshkosh. Also a single OA-12 is in storage with the Skyfire Corporation in Wilmington (Delaware). For its precedessor, the FJ-2, it is not known.
Combat records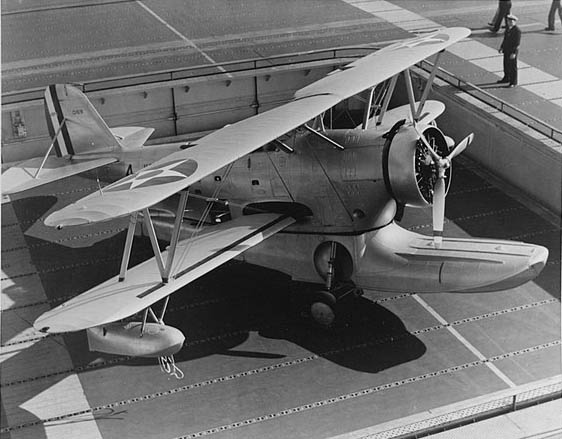 J2F-1 brought out of a lift
Despite its low production, the J2F was used extensively by all four branches of the service, U.S. Navy, Marines, Army Air Forces, and Coast Guard. Its general purpose nature and truly amphibious capabilities meant it could perform indeed a very large variety of missions but as a fighter. It was mostly used as utility/light transport, mapping, scouting/observation, photographic surveys, reconnaissance, air-sea rescue, target tug but also ASW patrol. This makes difficult to cite al units using it and all theaters of operations. It was mostly used in the pacific and took a prominent role in inter-island supply and staff transport.
The Grumman J2F had its origins in the earlier Grumman JF, which had been put forward as one of the first aircraft in the new "utility" type designation. Based on a design by the engineer Grover Loening, the JF featured an innovative deep main float which provided space for two passengers as well as the crew, and hand-cranked landing gear that meant it could operate from land or sea – making it truly amphibious. However, the design could be improved upon and when changes were introduced in a new model, this was designated the J2F.
he J2F tail-hook allowed it to operate from carriers and it was part of the regular squadrons of many of these, notably the Independence class (CVLs), just one alongside Hellcats and Avengers. It was also used as a flying ambulance, with provision for a stretcher added in hull.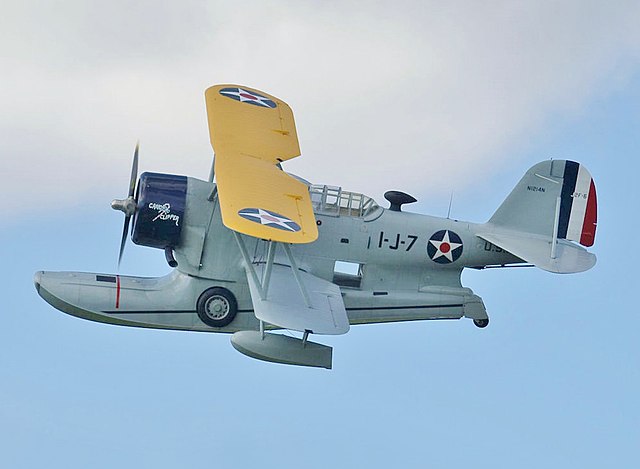 J2F-6 Duck "Candy Clipper"
But it also had fittings for smoke generators, laying some curtains to hide destroyers for example. It was also used as a target tower, bringing some vital training to AA gunners of the fleet throughout the war. But in general, J2Fs were scattered far and wide, assigned to land-based units for the most: Such were the squadron 'hacks', used really as jacks of all trades. J2Fs also performed many anti-submarine missions, carrying depth charges under wings. Just like the Catalina they also performed many search and rescue missions (SAR), picking up downed aviators, especially around Guadalcanal (Many from the Cactus Air Force were indeed saved that way). The arguably most famous "Candy Clipper" flew as part of the Bamboo Fleet during the battle for Bataan, carrying many supply fights in particular medical supplies, food and confectionary during the battle.
For the anecdote, J2Fs US Patrol Wing 10 planes were in the Philippines when the Japanese invasion commenced and were all destroyed at Mariveles Naval Section Base on 5 January 1942, the only surviving was concealed at Cabcaben airfield during the Battle of Bataan. Its engine was repaired and this J2F-4 took off after midnight on 9 April 1942 with five passengers plus pilot, last to leave Bataan before surrender. He notably carried Carlos P. Romulo, a Philippine diplomat & politician (celebrity in general) later recalling it in "I Saw the Fall of the Philippines", receiving the Pulitzer Prize.


O3U-3 Corsair and J2F Ducks in the backgrounds preparing to take off from USS Yorktown, 1937
The J2F was also use din the Atlantic, mostly for ASW patrols, such as those from the Fleet Air Photographic Unit Atlantic-3 in 1941, before the US were even at war. They were used during the "neutrality patrols" that year.
Memorablia pop culture: A J2F Duck was prominently featured in 1971″s movie film Murphy's War, including a long rough water takeoff scene and aerobatic flying. The actual airplane was at the time at the National Museum of the United States Air Force near Dayton, Ohio, painted to represent a rescue OA-12 from a MAC, allegedly sunk at the start of the movie. Another Grumman Duck was featured in the 1970s TV serie Baa Baa Black Sheep about Marine fighter squadron VMF-214 and Greg "Pappy" Boyington.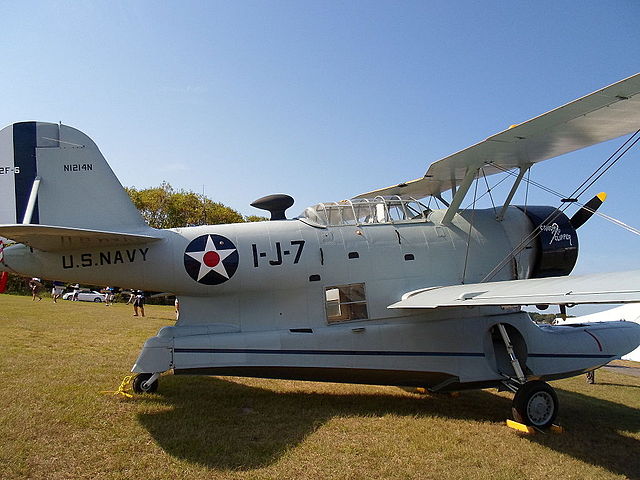 J2F at the Kermit weeks, USA
Src/Read more about the Grumman J2F:
Jordan, Corey C. "Grumman's Ascendency: Chapter Two." Retrieved 22 July 2011.
Allen, Francis J. "A Duck Without Feathers". Air Enthusiast, Issue 23, March 1984 Pilot Press
"Specifications of American Airplanes". Aviation, Volume 36, No. 4, April 1937
Lezon, Ricardo Martin & Stitt, Robert M. "Eyes of the Fleet: Seaplanes in Argentine Navy Service, Part 2"
Thruelsen, Richard. The Grumman Story. New York: Praeger Publishers
Treadwell, Terry. Ironworks: Grumman's Fighting Aeroplanes. Shrewsbury, UK: Airlife Publishers
Ginter, Steve (2009). Grumman JF/J2F Duck. Naval Fighters. Nº84 (First ed.). Ginter Books.
Nuñez Padin, Jorge Félix (2002). Grumman G.15, G.20 & J2F Duck. Serie Aeronaval (in Spanish). Nº15.
---
pacificeagles.net
aviation-history
JF wiki
J2F wiki
The Models Corner:
Book: Grumman J2F Duck model kit – Naval Fighters
Grumman J2F3 Duck 1/72 model kit – Valom
Grumman J2F Duck model kit 1/72 – Merit
Full list on scalemates.
Gallery: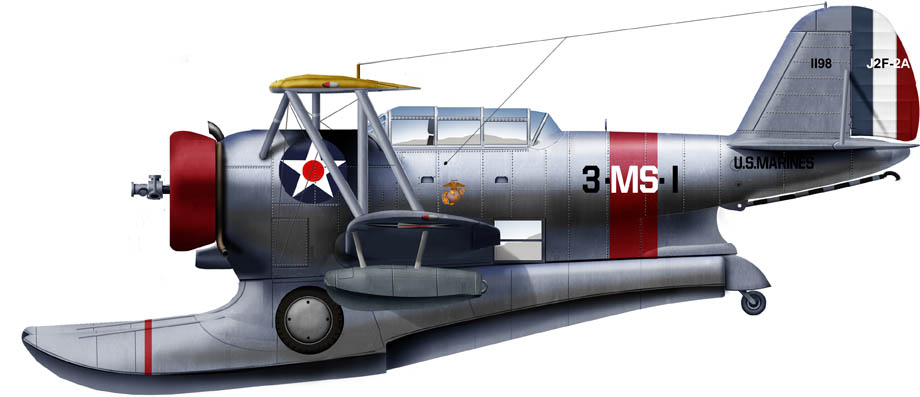 J2F-2A in the Virgins Islands, 1940 (VMS-3)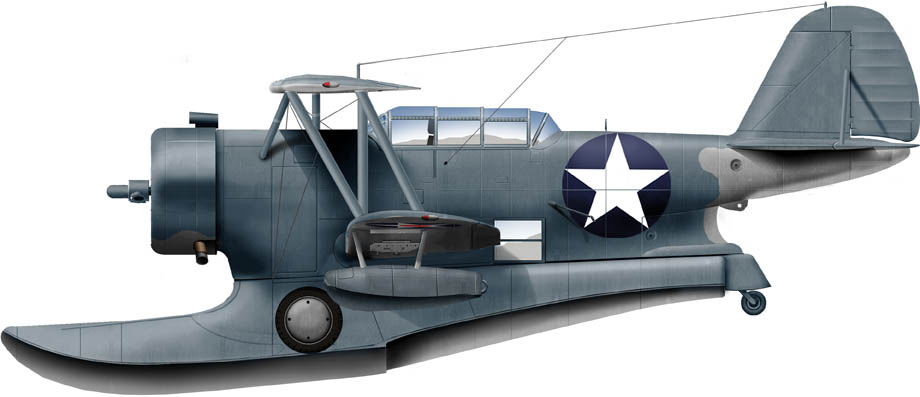 J2F-5 in Guadalcana, late 1942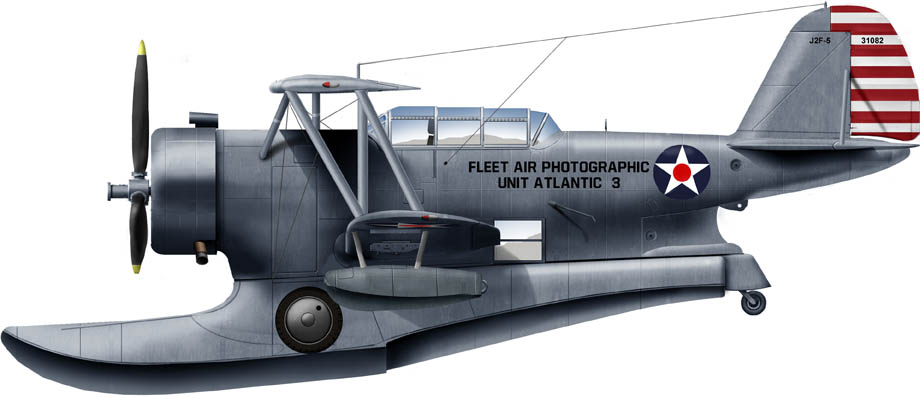 J2F-5 Atlantic photographic unit 3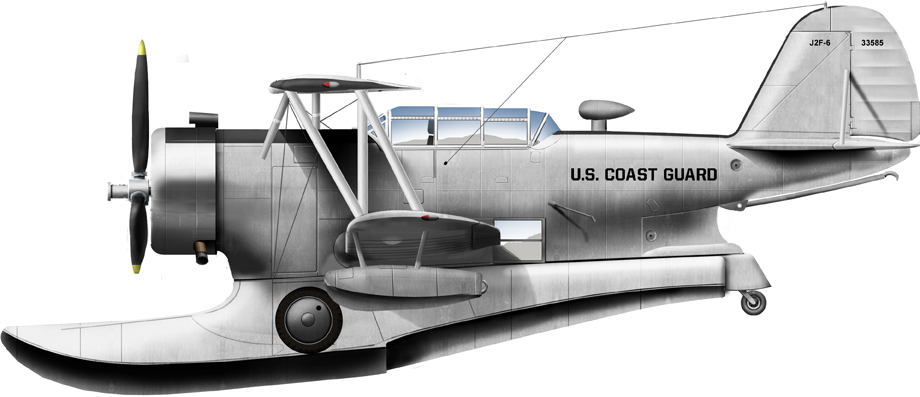 J2F-6 of the Coast Guard, 1944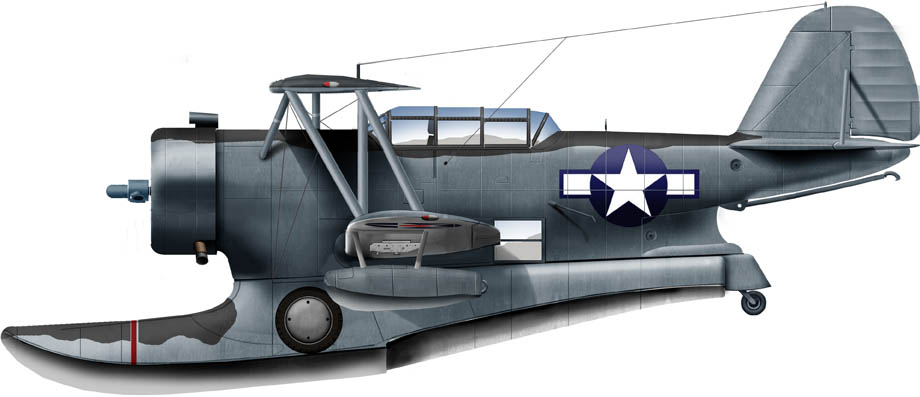 J2F-6 in the Pacific in late 1943
Photos

Columbia_J2F-6_At_WAA_surplus_sales_Concord_CA_November10-1946

Columbia_J2F-6_Frank_Tallman_Reno_National_Air_Race_September_1970

Columbia_XJL-1_and_Grumman_J2F_c1946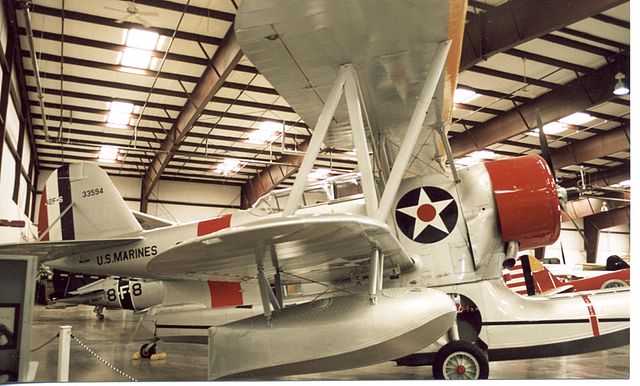 Columbia-built_J2F-6_Duck_USMC_Valle_AZ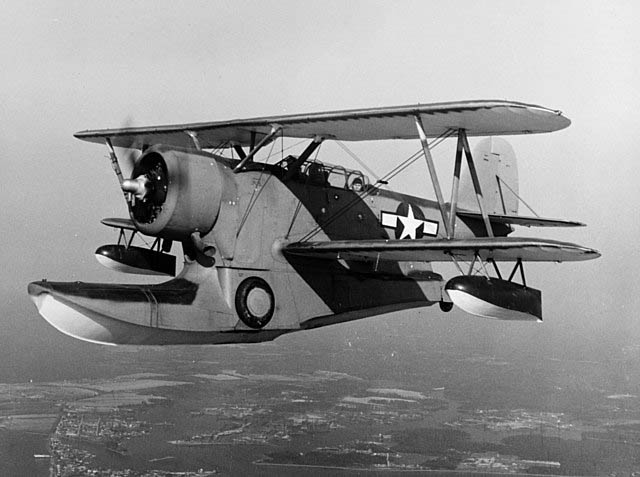 Grumman_J2F-6_Duck_in_flight_on_31_December_1943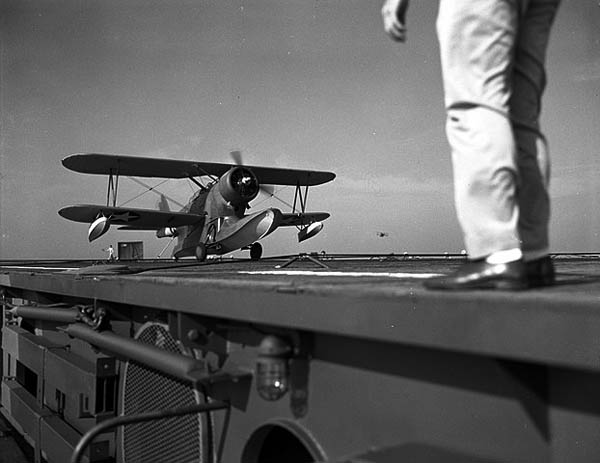 J2F-4_Duck_landing_on_USS_Charger_2_August_1942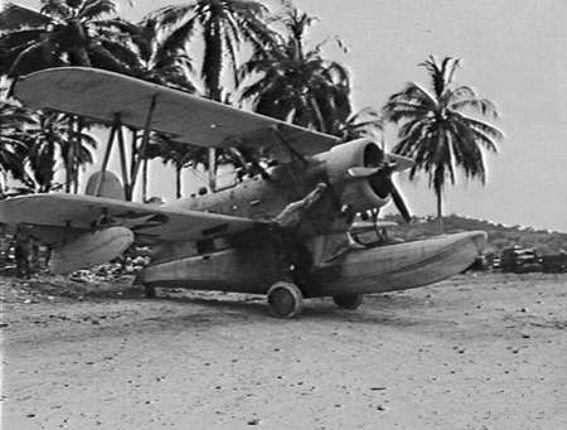 J2F_Duck_at_Segi_Point_airfield_1943

J2F_Duck_USN_at_RNAS_Hatston_1942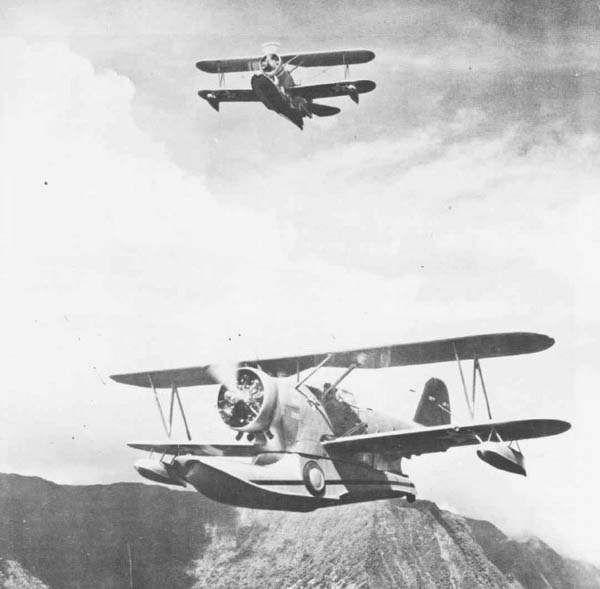 J2F_VJ-1_Oahu_early1940s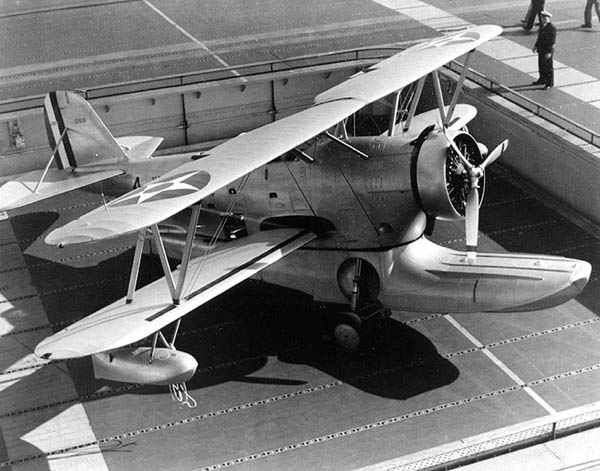 J2F-1_on_elevator_of_USS_Yorktown_(CV-5)_in_1937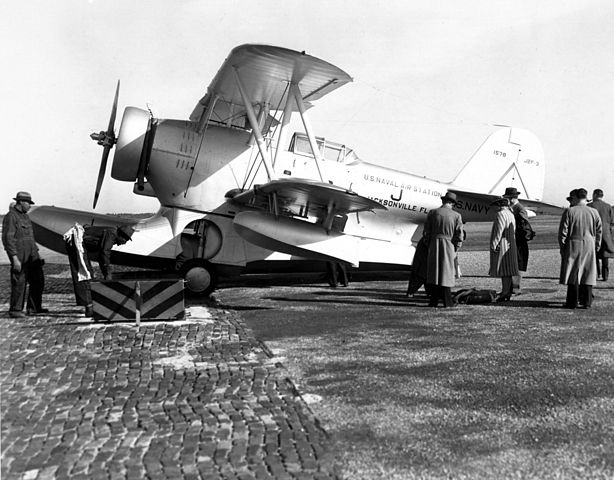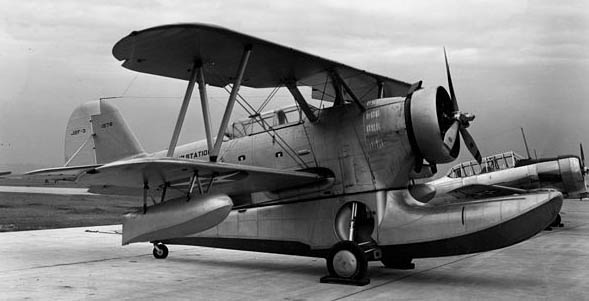 J2F-3 NAS Jax 16 January 1940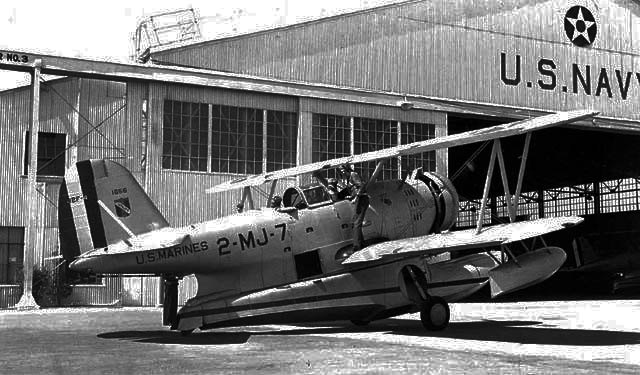 J2F-4oak2MJ7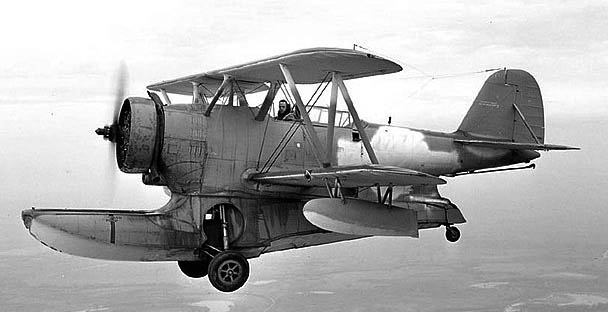 J2F-4 surplus flight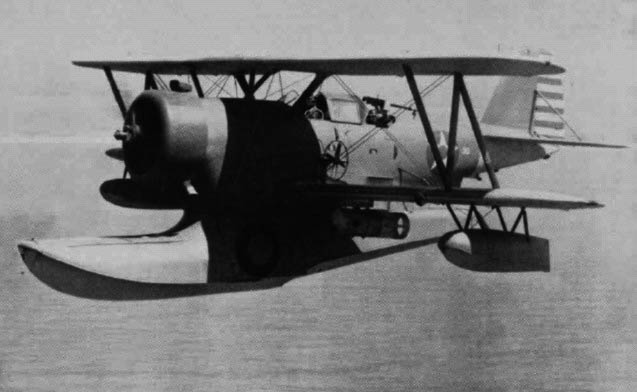 J2F-5 1942 NAN11 61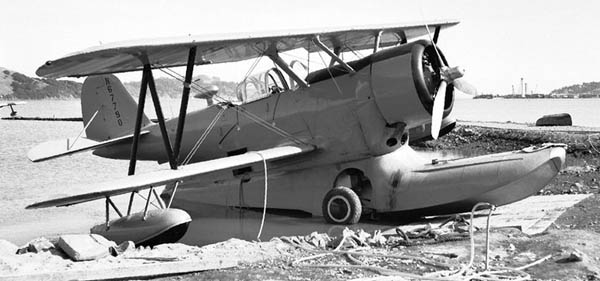 J2F-6 Sausalito Oct 54 Commodore Seaplane Base