Masted cruiser Pamiat Merkuria (1880)

Pamiat Merkuria was the first "modern" iron hull unprotected masted Russian cruiser. She was made for the Black Sea Fleet and served under the name Yaroslav, then Pamiat Merkuria from 1883 shortly after completion. She was stricken in 1907 but her career did not stopped there, far from it.
Design of the class
Pamiat' Merkuria (Память Меркурия) was initially named Yaroslavl (Ярославль) but was renamed on 9 April 1883. She was a barque-rigged steel and iron ship, with ram bow, two unprotected 152 mm guns at the bow and stern plus four more in unprotected sponsons, upper deck. She also had swivel-mounted torpedo tubes above water and general, was reputedly a good sea boat.
As customary for master cruisers, she had reduced superstructure to help manning the rigging.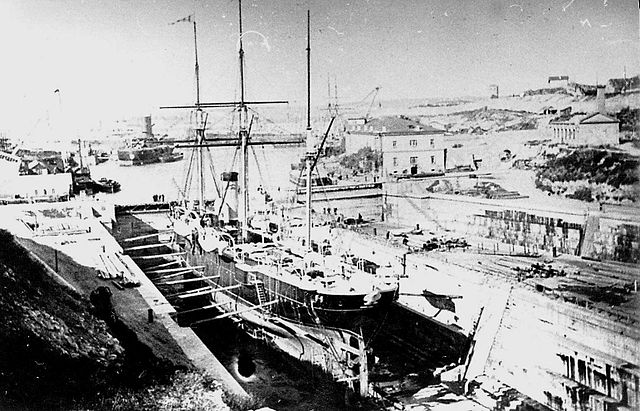 What was interesting was her origin: She was built for Dobroflot at first (The imperial Russian trade company), as a merchant ship capable of being converted into a cruiser in wartime. Thus had some peculiarities, notably internal arrangement that can be turned either as holds or to store ammunitions. Nevertheless, it's a French Yards that was contracted for her design was undertook by Toulon shipyard, Forges et Chantiers de la Méditerranée (FCM) in 1879 which designed her in her armed configuration right away. She was laid down in 1879 and launched on 10 May 1880.
Hull and general design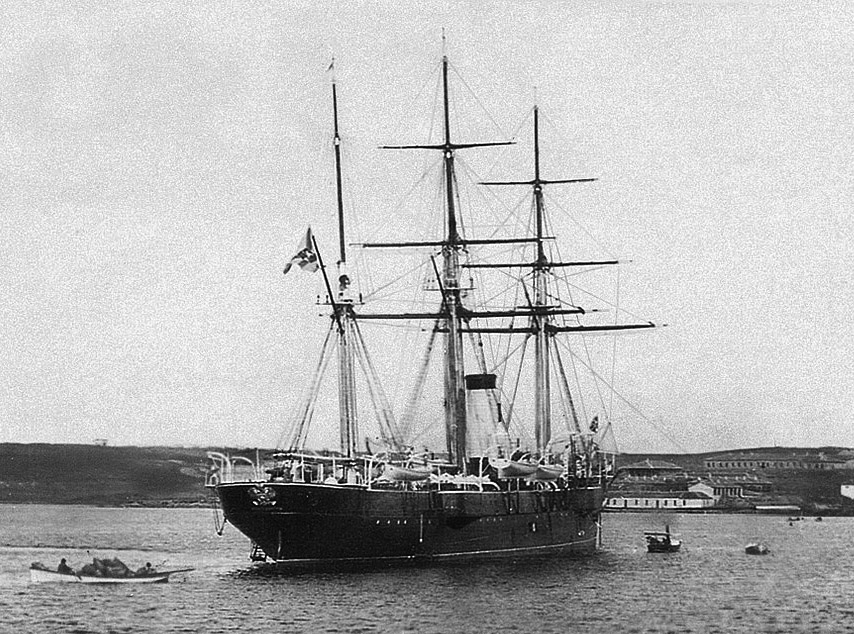 Her design was somewhat inspired by a French contemporary masted cruisers of the time, Duguay Trouin (launched 1877) or Duquesne (Launched 1876) and especially Tourville, a near-sister built at La Seyne Yard in Toulon also. They were however larger (5,700-5,900 tonnes) in fact she was almost twice smaller at 2,997 long tons (3,045 t). She was barque-rigged, unprotected, but mixing steel and iron and has a projecting ram bow. Her hull measured 90 m (295 ft 3 in) long by 12.4 m (40 ft 8 in) in beam and she had a 5.97 m (19 ft 7 in) draft.
She had a single round funnel and bridge (wooden cabin) built above, no conning tower. Eight boats of various types were hanging under davits either sides.
She had a crew of 12 officers and 331 men, part of which were dedicated to the rigging. In cmbat she was supposed to have these partly assigned to the armament and the ship evolving on steam alone. It was customary for masted cruisers of the time indeed to use sail only for log travels, sparing coal. Steam engines in the 1870s were still not fully reliable and had a tremendous consumption. However she proved in service a competent steamer.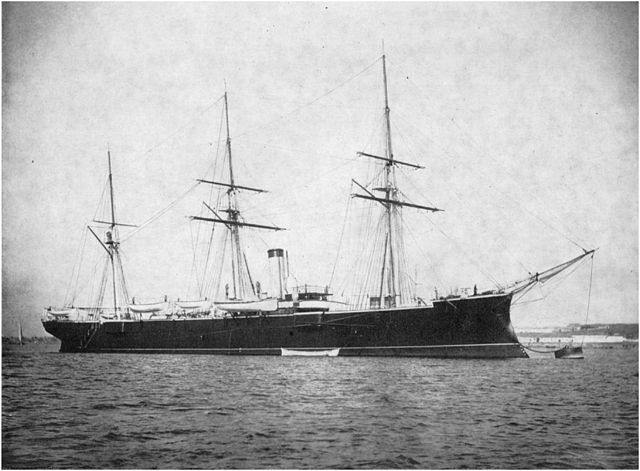 Powerplant
Pamiat Merkuria was powered by a single shaft propeller, mated to a horizontal compound steam engine fed by six boilers for a total output of 2,450 hp (1,830 kW). Thus enabled her a top speed of
14 knots (26 km/h; 16 mph) for a range of 1,560 nmi (2,890 km). This seems ludicrously low, but was enough for her intended area of operation, the black sea. She was reckoned to be a good sea-boat.
Armament
The 6in guns were without shields, and were located at bow and stern with four in upper deck sponsons. The smaller guns eventually comprised 4-3pdr, 2-1pdr and 2-1pdr revolvers, with 2 TT.
Main
She had six 152 mm (6 in) Canet guns which were placed in standard ways, one on the forecastle, one on the poop deck, axial for chase and retreat while able to broadside. They were unshielded.
The remainder four were located on sponsons either side of the main battery deck, which was one step below, but far apart, in fact immediately close to either the forecastle or poop deck.
Secondary
Her scondary armament comprised four 107 mm (4.2 in) or 9-pounder guns initially. Their placement is unknown, nor caracteristics.
Light Artilley
She had against torpeod boats four 47 mm (2 in) or 6-pdr guns likely on deck, and four 37 mm (1 in) or 3-pdr guns, the latter being dismountable and usable for landing parties.
Torpedo Tubes
Pamiat Merkuria also has four 381 mm (15.0 in) torpedo tubes, all on swivel mounts at deck level. They probably had early model British Whitehead Torpedoes.

⚙ specifications

Displacement
2,997 long tons (3,045 t)
Dimensions
90 x 12.4 x 5.97m (295 ft 3 in x 40 ft 8 in x 19 ft 7 in)
Propulsion
1 shaft HC steam engine, 6 boilers, 2,450 hp (1,830 kW)
Speed
14 knots (26 km/h; 16 mph)
Range
1,560 nmi (2,890 km)
Armament
6× 152 mm, 4× 107 mm, 4× 47 mm, 4× 37 mm, 4× 381 mm TTs
Crew
12 officers and 331 men
The amazingly long career of Pamiat Merkuria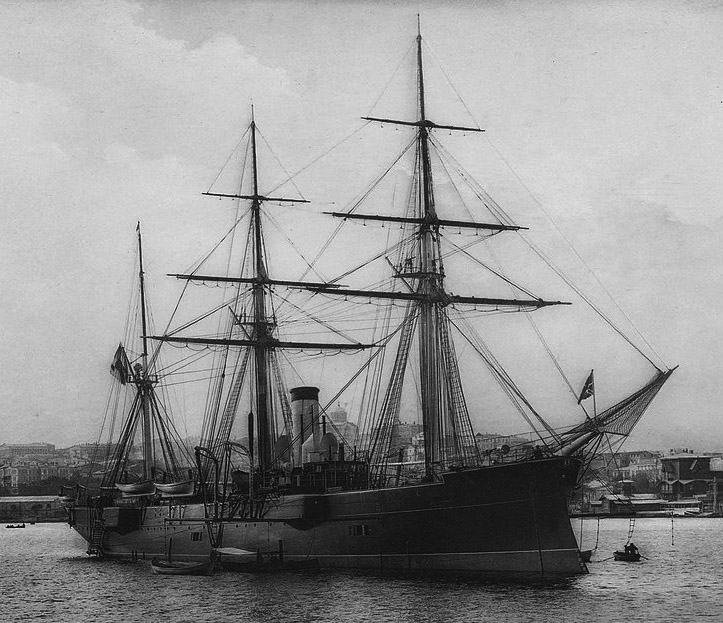 Yaroslavl was being built at Toulon FCM since 1879, she entered service on 9 September 1880. After inspection by the commission sent to the yard she was approved by the Naval Ministry on 2 March 1882 and on 18 April she became part of the Black Sea Fleet, but renamed "Pamiat Merkuria" on 9 April 1883, which meant loosly "rememberance of mercure". On 1 February 1892 she was reclassified as 1st class cruiser. After her early service in 1882-1892 withiut anything notable, she had a first major refit between 1893 and 1894 in Sebastopol. She was rearmed as well, with her four 107mm/17 removed as well as one 44mm/41 guns and two of her 381mm TTs but received two 63mm/17 Baranovski guns (on wheeled carriage and for steam cutters), and four new 47mm/40 Hotchkiss guns plus two more 37mm/20 Hotchkiss guns. She apparently kept also her six main guns.
In 1906 she was considered obsolete and removed from the active fleet. Disarmed, she was handed over to the Sevastopol Military Port and entered the mothballs from 18 March 1907. She was removed from the Black Sea Fleet's ship's list -so stricken- on the 25th and later renamed "Merkuria" to free the name for another ship, a Bogatyr class cruiser. In 1914 her hull was investigated to known if she could be scrapped or still useful. The latter was reported. On 28 October 1915, she was returned to the Black Sea Fleet but as a hulk, renamed "Blokshiv No. 9". She had some accomodations for her role, as depot ship for Torpedo Division, with large quarters for the crews and torpedoes and a workshop. She was also the headquarters of the Black Sea Fleet.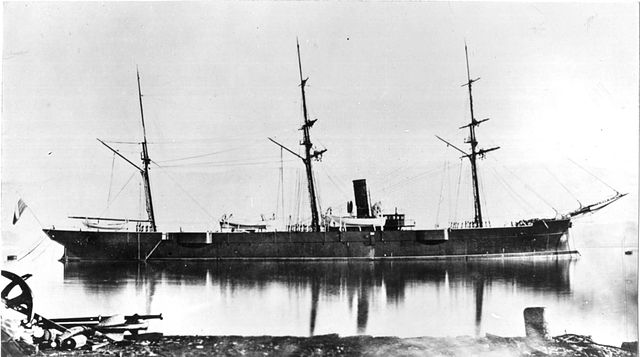 On 16 December 1917 revolutionaries captured her, but she was used in her former role. Later, still in Sevastopol she was recaptured by advancing German troops on 1 May 1918. In turn, the latter passed her on to the Anglo-French forces in support of white Russians on 24 November. She was turned over to the White Volunteer Army and by 31 March 1919 reclassified as minesweeper tender, "Naval Forces of South Russia"; But later Sevastopol fell to the "reds" and she was recaptured by the Ukrainian Front army on 29 April 1919.
From 24 June she was used as static submarine tender for the black sea fleet, but when Pyotr Wrangel evacuated from Sevastopol to Istanbul on 14 November 1920 she was abandoned. By December she was included in the RKKA Black Sea Naval Forces ("Workers and Peasants Red Navy"). She was then converted to a towed workshop between 8 August 1921 and 31 October 1922. By then she became a torpedo hulk working with the torpedo boats division. On 25 December as a hulk she retook the name "Merkury" (Mercure).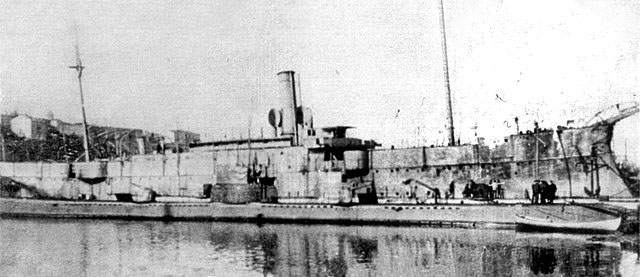 Merkuria In 1919
Placed in reserve on 1 October 1929, she was removed from the list ofthe "Red Fleet" on 9 March 1932 and awaited her fate, likely to be scrapped. Amazingly, instead she was used as an auxiliary craft by the People's Commissariat for Water Transport… And this gave her another respite. On 31 August 1938 she was converted this time into a floating storage tank for the Odessa Commercial Sea Port. From 20 September 1939 she was removed from the watercraft's list and this time, was transferred to the Glavvtorchermet facility for scrapping, which was comleted probably by late 1940.
So that amazing cruiser ordered just after the Russo-Turkish war of 1878, saw the Russo-Japanese war, WWI, the interwar and WW2 as well. It was common for thips of that generation to lingering for decades after being stricken. Other famous examples were Minin (1866) and the G.Admiral class (1875) cruisers that preceded her.
Read More
Books
Conway's all the world's fighting ships 1860-1905, p192
Links
https://ru.wikipedia.org/wiki/%D0%9F%D0%B0%D0%BC%D1%8F%D1%82%D1%8C_%D0%9C%D0%B5%D1%80%D0%BA%D1%83%D1%80%D0%B8%D1%8F_(%D0%BA%D1%80%D0%B5%D0%B9%D1%81%D0%B5%D1%80,_1883)
https://en.wikipedia.org/wiki/Russian_cruiser_Pamiat_Merkuria_(1880)


http://www.navypedia.org/ships/russia/ru_cr_yaroslavl.htm
Note: navypedia (a russian website by the way) have it classed under her early name of Yaroslav under the ALMAZ screw clippers (1862-1863) section
Model Kits
3D