The Ryan FR Fireball was the sole US Navy mixed-power (piston and jet-powered) fighter aircraft, designed by Ryan Aeronautical during WW2, hence it's classification here. It was one of these numerous projects never completed in time to take part in WW2, but it's purpose was defeated by its experimental value. But it has at least the distinction of being Navy's first jet aircraft. Only 66 were built before Japan surrendered in August, just enough to fill a single squadron, training and not seeing any combat. It proved that structural strength was required for aircraft carriers operations, as well as it's transitional, uneasy nature, and was withdrawn quickly, in mid-1947.
Design Development
About Ryan Aeronautical
Ryan Aeronautical was a small light aicraft manufacturer founded in 1934 in San Diego Ca. from the basis of the 1925 Ryan Airline Company. Alongside sport planes, the company delivered in the 1930s noted trainers for the Army, (USAAC) PT-16 (15 built), PT-20 (30 built), PT-21 (100 USAAF, 100 USN), and PT-22 Recruit used also by the Navy in WW2 as well. They were considered as advanced monoplane trainers. Alongside these, Ryan was noted for it's attempt to create the US equivalent to the German Fieseler Storch, the Ryan YO-51 Dragonfly, a STOL observation aircraft which was not adopted in 1940. After the mitigate success of the Fireball, an the failure of its turboprop fighter for the Navy, the XF2R Dark Shark, the company focused on a new trainer from North American after the war, prototypes and drones, before becoming a simple subsidiary, acquired in 1968 by Teledyne.
From concept to Production (1943-45)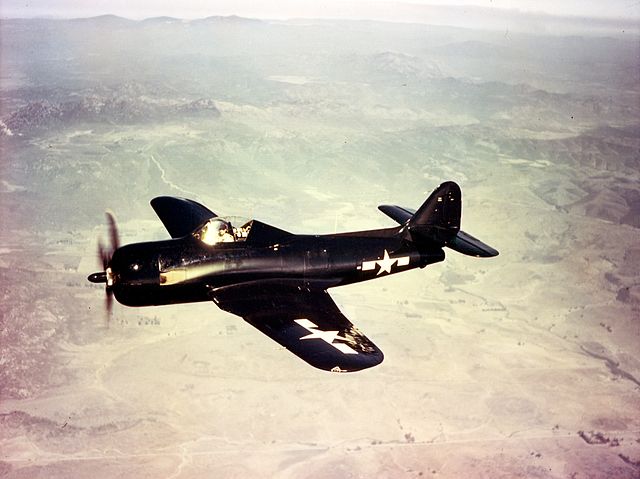 One of the three prototypes XFR-1 in flight, early 1945. Note the smaller tail and shorter jet aft exhaust.
Working as a supplier also for the Navy, Ryan started to work on a new fighter concept in January 1943 based upon a proposal by Admiral John S. McCain, Sr. for a mixed-powered fighter. Indeed jet engines were promising but had sluggish acceleration making them unusable for carrier operations, which could be compensated by the use of a classic piston engine. Ryan received a contract for three XFR-1 prototypes on 11 February 1943, plus one static test airframe. The first prototype was delivered after 14 months (so in April 1944) with a contract signed in between for 100 aircraft to be delivered on 2 December 1943, and a later one on 31 January 1945 for 700. The Navy gave it the denomination of FR-1.
The first prototype flew on 25 June 1944, without its jet engine, showing good general characteristics. Installed shortly afterward, the second prototype flew on 20 September 1944 and both flight confirmed wind tunnel tests, anoted lack of longitudinal stabilit. The center of gravity indeed seemed to have been miscalculated. The circular rear fuselage added to this instability compared to a slab-style one (as on the F4F Wildcat), the model used for stability calculations. A new tail was designed, with larger vertical and horizontal stabilizers. It was retrofitted to the prototypes. The Douglas double-slotted flaps were also an hinderance and the third prototype, plus pre-production models had all instead a single-slotted flap.
The first prototype crashed at NAS China Lake, on 13 October 1944. It appeared that the wing structure collapsed after reaching its compressibility limits, so this was fixed by adding twice as many rivets in the outer wing panels. The second one crashed on 25 March 1945 when trying to recover from a dive from 35,000 feet (10,670 m), also estimated from compressibility effects. The third one also crashed, on 5 April but because its canopy blew of in a fast pass over Lindbergh Field. This gave the Fireball an rather mediocre reputation.
Pre-Production (1944-45)
On 2 December 1943, orders for 100 production FR-1s were placed, with 1,000 additional FR-1s in January 1945, but they were all linked to the success of carrier trials. 14 pre-production models were delivered and tested, and eventually only 66 Fireballs would completed by November 1945, the remaining 1,044 FR-1s being canceled after the 15 August.
"Carrier" trials indeed were not at first overly successful: Operational testing on land (mock carrier deck) by the Naval Air Test Center (NAS Patuxent River) revealed many new issues:
The piston engine overheating until electrically-operated cowl flaps were installed.
The catapult hooks to be moved elsewhere
The nosewheel oleo shock strut was weak, and was lengthened by 3 inches (76 mm).
At last Carrier suitability tests started on USS Charger in early January 1945 and five catapult takeoffs using the piston engine alone were successful as well as three takeoffs using both this and the jet, and no further problems were reported when landing, securing a greenlight for production to the relief of Ryan which was tooling its manufacturing hall since months already.
Further designs, FR-2 to FR-4
XFR-2: Fitted with a 1,425 hp (1,063 kW) Wright R-1820-74W, tested but not developed further. Cancelled August 1945.
FR-3: A proposed paper variant fitted with the new General Electric I-20 turbojet. Cancelled August 1945.
XFR-4: Westinghouse J34 turbojet, estimated 100 mph (160 km/h) faster than the FR-1. Its air intakes were moved from the wing roots to the fuselage in new NACA inlets, and covered by electrically powered doors to negate drag when on piston mode. The fuselage was 8 inches (203 mm) wider to accommodate the new engine. The leading edge extension of the wing root was removed. it was to be a testbed for turbojet powered XF2R-1 Dark Shark in development.
Design

The XFR-1 was a single-seat, low-wing monoplane, with a relatively unusual (but usual for reactor-fitted models) tricycle landing gear.
Piston Engine: 1,350-horsepower (1,010 kW) Wright R-1820-72W Cyclone, radial in the nose.
Jet Engine: General Electric I-16 (J-31) rated for 1,600 lbf (7,100 N), in the rear fuselage.
The latter was fed by ducts in each wing root, so the latter was made thicker than usual,and it also housed the outward-retracting main landing gear.

The fuel system was simplified by using the same grade of avgas. The fuselage housed the two self-sealing fuel tanks, one with 130 US gallons (490 l; 110 imp gal) and another of 50 US gallons (190 l; 42 imp gal). The cockpit was relatively well forward compared to usual piston models, just at the leading edge of the wing. This was the now standard bubble canopy giving excellent all-round visibility. The XFR-1 in fact innovated as having the very first laminar flow airfoil in the navy.
Operational History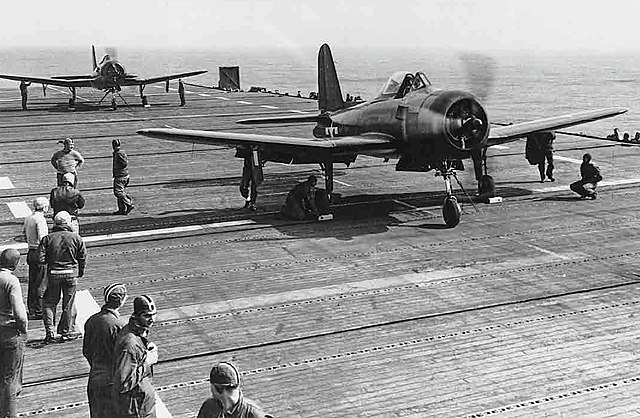 Tests onboard USS Ranger, May 1945.
One squadron ever used this model operationally, VF-66, received its first planes in March 1945. There was still ample room to see action, but they were retained for testings in gome waters only, never sent to the Pacific. On 1 May 1945, three were tested onboard USS Ranger for their final carrier tests and to qualify seven pilots. Although this was overly successful, two were damaged while landing. One also missed the arresting gear, but ended safely in the crash barrier. There was also a nose gear collapsing. In June, all pilots were qualified and planed for redeployment in the Pacific, started before 15 August. Afte that, the squadron was decommissioned on 18 October and all pilots and aircraft transferred to VF-41.
VF-41's Fireball made the first improvized jet power alone landing tests on an aircraft carrier on 6 November 1945. Indeed after one FR-1's piston engine failed on final approach while landing on USS Wake Island, the pilot started the jet engine and landed in emergency, just catching the last arrestor wire and ending in the crash barrier. However this has been contested as the jet engine needed a long time to power up, so there was evidence of residual power along from the piston engine was critical.
The squadron started to qualify more pilots for carrier operations, but only 14 of its 22 made all the six required takeoffs and landings, punctuated with many accidents, mostly attributed to the weak nose gear, with standard pilot training in part responsible for this. The squadron also qualified pilots on USS Bairoko in March 1946. Again, nose gear problems prevented further attemps. Ryan at last came forward with a steel fork to be retroffitted on all nosewheels, but inspections also enlighted partial wing failures, so pilots were limited to beyond 5 Gs evolution.
VF-41 also claimed three pilots dead in 1946, including the commander: One ensign collided with the target banner during gunnery practice, was thrown overboard and drawn. The squadron commander died after a barrel roll which costs him its wings. He struck another Fireball flying close, killing both. The squadron became VF-1E on 15 November 1946.
VF-1E started a new serie of pilot qualifications from March 1947 on USS Badoeng Strait, but 8 pilots qualified. In the end, reports stated all that the Fireball had its issues in flight and was way too fragile for carrier landings. Last deployment was made in June 1947, from USS Rendova. One Fireball broke in two in a hard landing and showed again, signed of fatigue, cracks, and general structural failure. Fearing loosing more pilots while jets were more promising at this stage, all Fireballs were withdrawn from service on 1 August 1947. A few were retained for limited modifications and testing, but the whole production models were scrapped. And so ended the sold attempt of the Navy to have an operatinal mixed fighter onboard. The next Dark Shark did not fare better, and Ryan abandoned Navy planes procurements to concentrate on more experimental endeavour.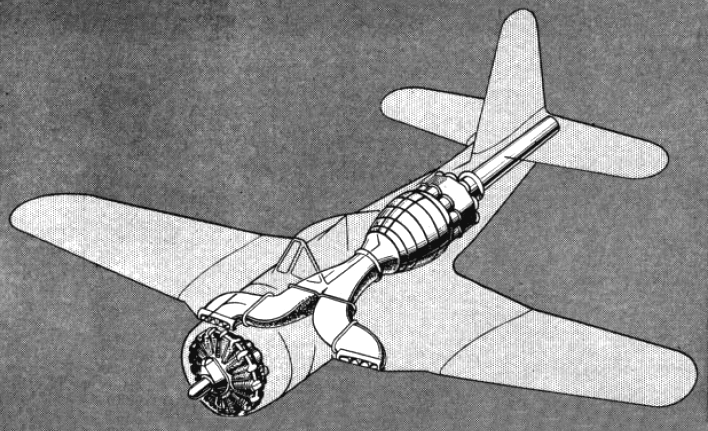 Diagram of the internals.
⚒ specifications 1945

Dimensions
32 ft 4 in (9.86 m) x 40 ft 0 in (12.19 m) x 13 ft 11 in (4.24 m)
Wing area
275 sq ft (25.5 m2)
Airfield
Root: NACA 65-117 a=1; tip: NACA 65-115 a=5
Weight, empty
7,689 lb (3,488 kg)
Weight, gross
11,652 lb (5,285 kg)
Propulsion
Wright R-1820-72W Cyclone 9-cylinder air-cooled radial piston engine, 1,350 hp (1,010 kW)
Turbine
General Electric J31-GE-3 centrifugal-flow turbojet engine, 1,600 lbf (7.1 kN) thrust
Propeller
3-bladed constant-speed fully-feathering propeller
Speed, max.
404 mph (650 km/h, 351 kn) both engines
Ceiling
43,100 ft (13,100 m)
Climb Rate
1,800 ft/min (9 m/s) (Piston engine only, with 1 drop tank)
Range
1,620 mi (2,610 km, 1,410 nmi) (with 2 drop tanks)
Armament: MGs
4 × .50 in (12.7 mm) M2 Browning machine guns with 300 rpg
Armament: Bombs
2 × 1,000 lb (454 kg) bombs
Armament: Rockets
8 × 5-inch (127 mm) rockets under wings
Payload:
2 drop tanks
Crew:
1 pilot
Back to Prop: The XF2R Dark Shark (1946)


XF2R Dark Shark
Given the rather mediocre performances of the compromised Fireball, Ryan wanted to propose the Navy a "pure" prop fighter, this time with the amazing performances of a brand new engine, in fact the first turboprop unit, promising this fighter amazing performances with the advantages of such technology compared to early jets.
It's centerpiece was the General Electric T31 turboprop engine, a completely new concept already used on the famous Neptune ASW biprop patrol plane, and driving a 4-bladed Hamilton Standard propeller. The General Electric T31 delivered 1,760 shp (1,310 kW), for a top speed of 497 mph (800 km/h, 432 kn) at sea level and climb rate of 4,850 ft/min (24.6 m/s), but with the GE J31 centrifugal-flow turbojet engine (1,600 lbf (7.1 kN)).
The turboprop indeed improved the performances of the Fireball, with some modifications, but while the Navy abandoned the idea of a combination fighter, and evaluating the similar Convair XP-81 they asked Ryan to modify the XF2R to house the Westinghouse J34 turbojet instead of the GE J31, leading to the XF2R-2, with jet intakes on the fuselage sides with NACA ducts, proving after its first flight a capable aircraft, but never left the prototype stage since in the end, the all-jet solution was considered superior.
Gallery:

XFR-1 prototype


FR-1 tested in 1946


FR-1 from VF-41, 1947
---
Photos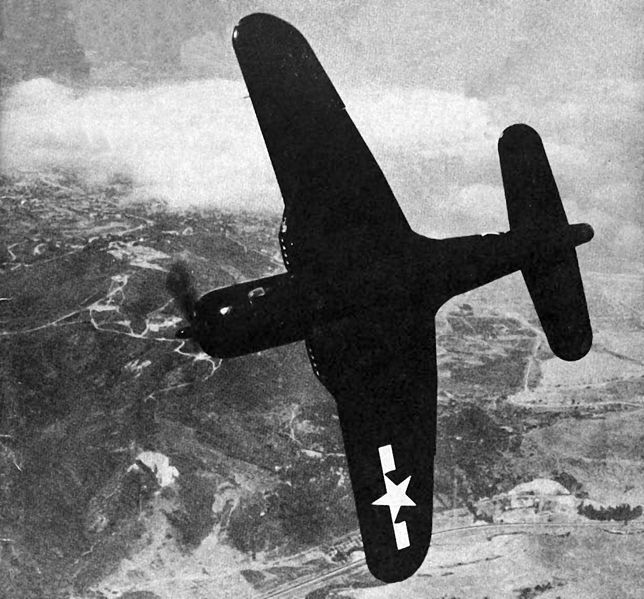 Underside of a VF-66 model tested in 1945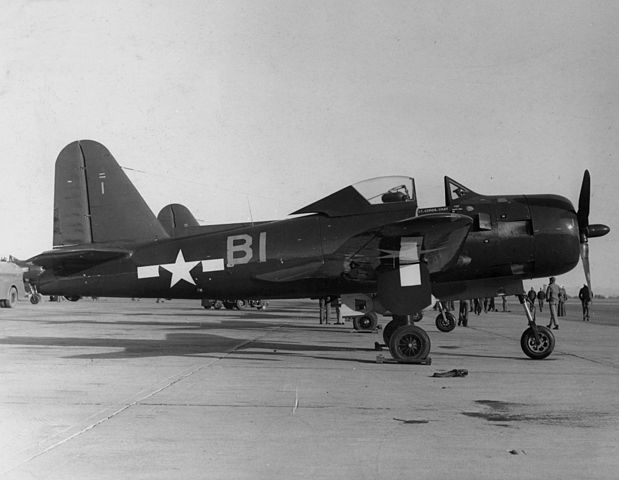 test model from VF-66 on North island, 1945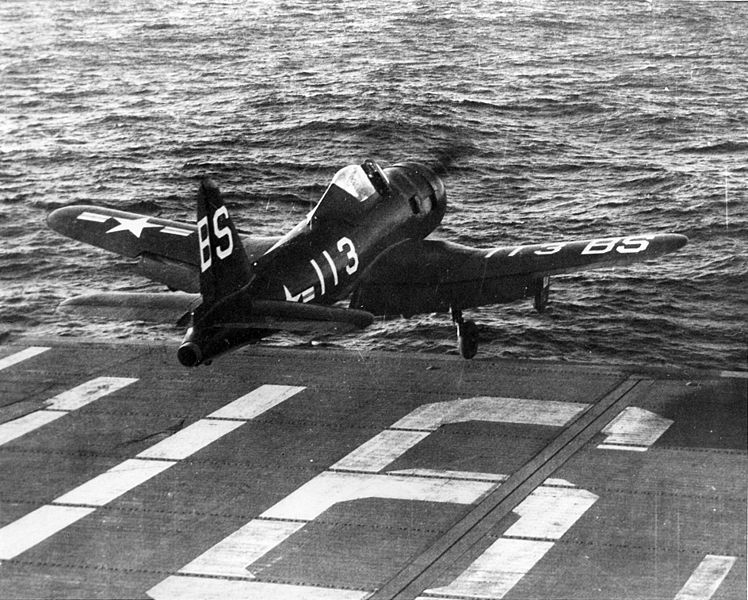 Tests from USS Badoeng Strait, 1947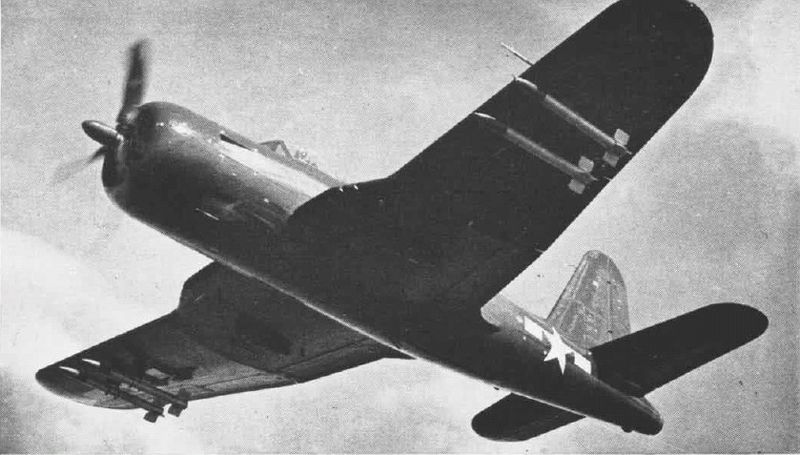 FR-1 Testing HVAR rockets, 1945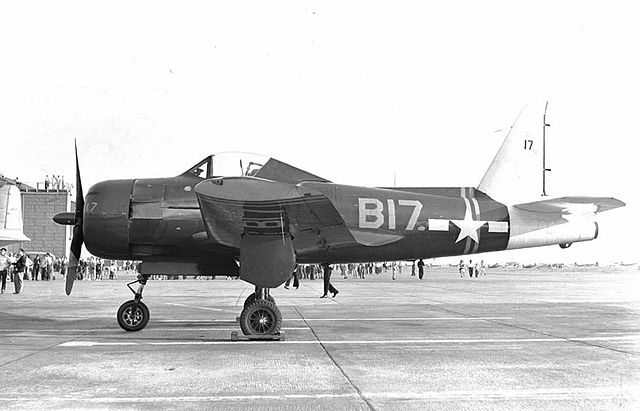 FR-1 "B17" of VF-41, 1947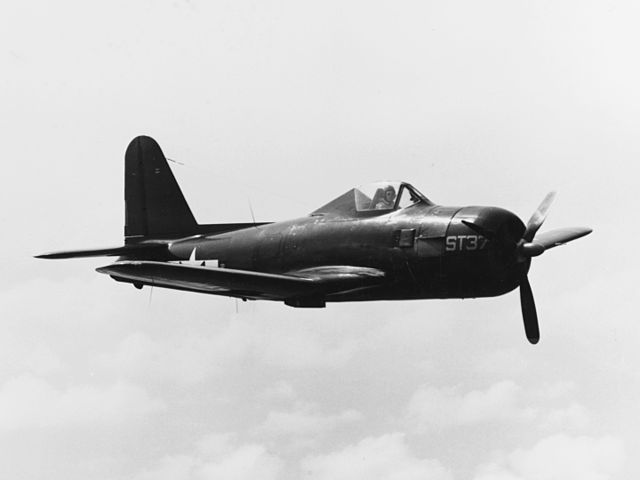 Tests in july 1945 at NAS Patexent River, before deployment in the Pacific.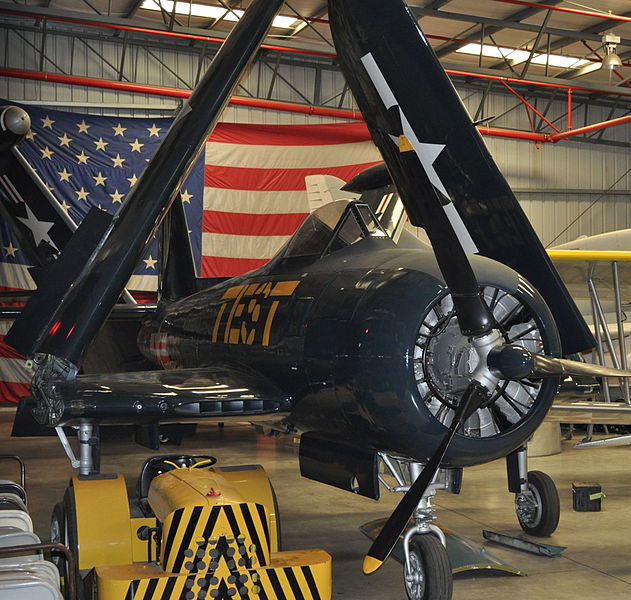 Preserved test model as of today, Planes of Fame museum in Chino, CA
Src/Read more about the Ryan FR-1:
Brown, Eric. Wings on My Sleeve: The World's Greatest Test Pilot tells his Story.
Ginter, Steve. Ryan FR-1 Fireball and XF2R-1 Darkshark, Naval Fighters Number 28. Ginter Books
Green, William. "Ryan FR-1 Fireball". 'War Planes of the Second World War, Fighters.Macdonald & Co.
Green, William and Gordon Swanborough. "Ryan FR-1 Fireball". WW2 Fact Files: US Navy and Marine Corps Fighters.
McDowell, Ernest. FR-1 Fireball (Mini in action number 5). Squadron/Signal Publications, 1995.
Swanborough, Gordon and Peter M. Bowers. United States Navy Aircraft since 1911. Putnam Aeronautical Books
Bedford, Alan (May–June 1999). "Earl American Carrier Jets: Evolving Jet Operations with the US Fleet, Part One". Air Enthusiast
Ryan FR-1 Fireball and XF2R-1 Darkshark, Naval Fighters Nr. 28 Steve Ginter
FR-1 Fireball MINI In Action Nr. 1605 Ernest R. Mcdowell
---
On Pop mech 1945
On tanks45.tripod.com
On m-selig.ae.illinois.edu
On navalairhistory.com
More CC Photos
About the FR-1 wiki
About Ryan
The Models Corner:

General query on Scalemates
MPM Production 1:72, Czech Model 1:48, Pegasus 1:72 and old kits such as the CZ Model Airplane Co. 1:32, Ace Whitman 1:72, Master Modelcraft Supply Co. 1:21, Continental Model Airplane Co. 1:40, Ray Models 1:32, Continental Model Airplane Co. 1:16 and Continental Model Airplane Co. 1:40.