The Curtiss SB2C and its "bad rep"
A bit like Brewster products, the Buffalo and Buccaneer, the 1942 Helldiver suffered from a poor reputation. The Curtiss A-25 Shrike dive bomber was developed as a carrier-based bomber, intended for supplementing, and replacing the Douglas SBD Dauntless on the Pacific theater. However it was initially plagued by poor handling characteristics during a lenghtly development and entered service in short numbers from mid-1942 to late 1943. Heavily criticzed by pilots which came with all sorts of nicknames, the model was considered a debacle investigated by the Truman Committee postwar. This led to a scathing report, contributing to the disaffection of Curtiss as a company for the USN, after the failure of the SO3C Seamew.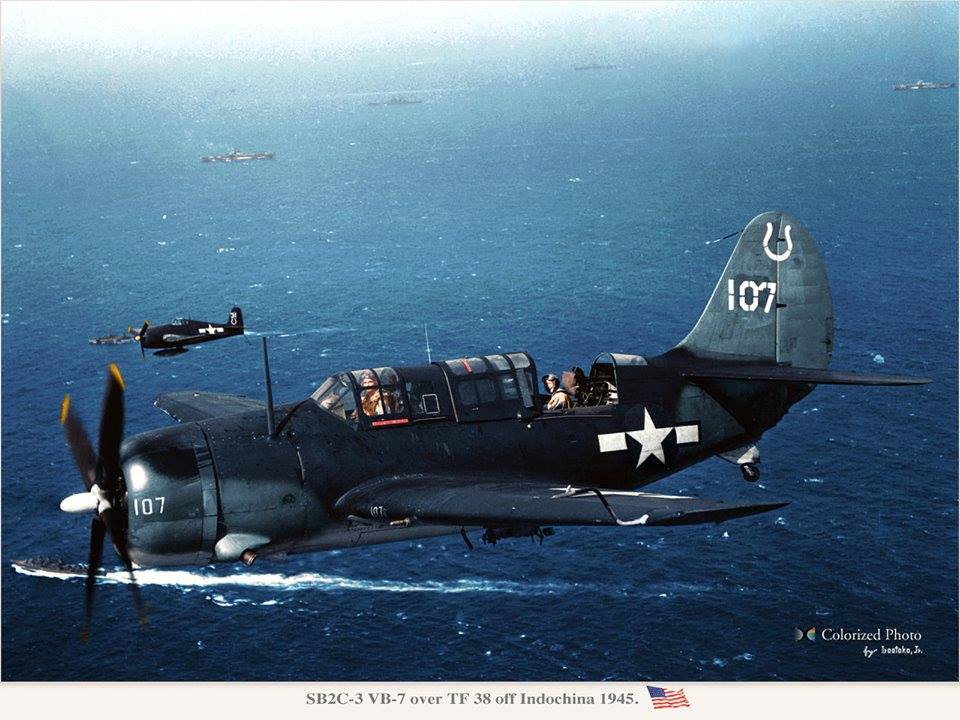 In fact neither pilots, nor aircraft carrier skippers liked it contrary to Grumman's stellar Hellcats and Avengers. Was the SB2C much maligned, despite its nicknames of "Big-Tailed Beast" and "Son-of-a-Bitch 2nd Class" ? On paper, this was a worthy successor: Faster than the Dauntless, powerful, rugged, carrying more payload in a secured bomb bay. It was at end of the Pacific War, the default carrier-based dive bomber and attack aircraft with 7,140 delivered and also exported via lend-leased and with a career under other flags until the late 1950s.
Like for the previous Dauntless (which had the A 10 Banshee army variant) the land-based variant was generated first: It was known as the A-25 Shrike. This proved a huge disappointment which further fuelled the bad reputation of the SB2C contributing to the Allied air forces dropping dedicated dive-bombers. USAF A-25s were mostly used by the US Marine Corps, and both the fleet air arm and RAAF cancelled their orders. However on a scale to the "worst aircraft of WW2", the Helldiver (second of the name after the 1937 SBC) was still way above the Brewster Buccaneer.
Genesis of Curtiss Dive Bomber: The Helldiver Biplane.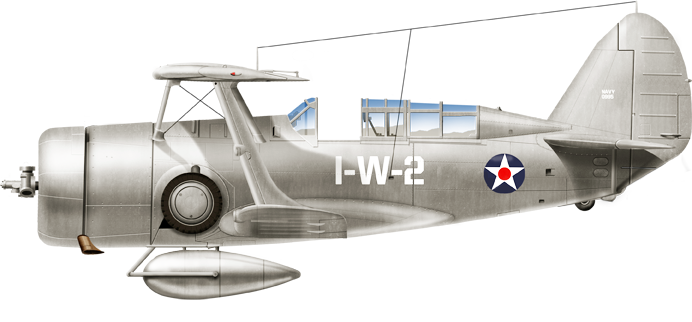 Curtiss SBC, the first "Helldiver", author's illutration, as the following.
Indeed, the name "Helldiver" was already carried by a rather successful Curtiss biplane, the SBC. First flying in 1935 just as diver bombers were studied and tested as the perfect carrier-borne ship killer, the study biplane was introduced in 1938 and found so reliable and robust, production went on until April 1941, when the very last SBC-4 were delivered. The Navy was pleased with the model, which also went into lend-lease and was passed onto the USMC when gradually replaced by the SBD Dauntless.
In 1938, it was onboard USS Enteprise and Yorktown, as well as USS Saratoga. In 1940 it was passed onto the Naval Reserve Air Bases (NRABs) for training, and from December 1941, in NAF/NAS units along the coast. It also saw service in the Royal Navy as the Cleveland Mk.I, notably from HMS Furious and nearly was in service with the French carrier Bearn. The SBC was only retired from 1943, but gave confidence to Curtiss when proposing to the Navy in 1941 a new monoplane superior to the Douglas SBD just introduced.
A long Initial Development: XSB2C lineage.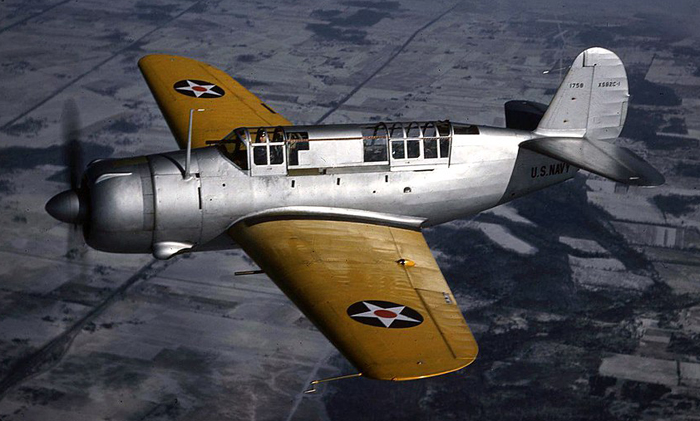 XB2C-1 being tested on 18 December 1940. It was built at Buffalo, New York;
The Navy was pleased with the Dauntless in 1939 and therefore did not needed a secondary model from Curtiss, but looked for a replacement by mid-1943 or even 1944. In September 1939 production of the Dauntless was stepped up, and the Navy was now interested for an equivalent for the USMC. From December 1941, the Navy changed its plan now for a replacement for the SBD, more urgently needed, for mid-1942 at the earnest.
The XSB2-C first drafts appeared in 1939. Curtiss largest production so far has been for the Navy (258 Curtiss SOC Seagull from 1934) and the fighter BF2C Goshawk in 1933 (166 delivered). In 1936 the company was busy delivering its largest order yet, destined to be the modern frontline fighter of the USAAC, the Curtiss P-36 Hawk. The basic idea of a navy dive bomber replacing the SBC was to have a more powerful model with a larger payload in a bomb bay to reduce drag. The concept dated back in the company from 1938.
Experimentations with monoplane dive bombers by the company went through the Curtiss A-12 Shrike (first flight 1933, see later), adopted by the USAAC as main attack aircraft through most of the 1930s, and half of them going into combat later in China. The very last saw action with the 3rd Attack Group, 8th and 18th Pursuit Groups at hickham airfield when Pearl Harbor was attacked. Plenty of data was available to improve on this basic design, getting rid of the gull wings and fixed undercarriage, open cockpit, and to turn it into a true carrier-based model, creating eventually a monoplane, low wing version of the SBC. The name "SB2C" was logically adopted to followed the "SBC", the latter letter standing for Curtiss, as the second Navy dive bomber model.
The Curtiss A-12 Shrike, credited as a distant base for design.


Author's illustration of the Curtiss A-12 with USAAF in 1937.
In short, Model 60 developed from the A-8 and YA-10, quickly obsolete due to aviation tech advances and USAAC will for multi-engined attack aircraft. It had an air-cooled radial engine instead of inline and water-cooled engine. It was preferred for several reasons at the time. The open cockpit of the A-8 was replaced by a covered one and the rear cockpit moved forward. Introduced in 1933, 46 were delivered from 1933, of which 20 in 1936 were passed onto the Chinese Nationalist Air Force (27th and the 28th Sqn, 9th Group). They shot one Aichi D1A1 on 15 August 1937 but after apparealing losses in ground support missions in Shanxi, the few left became trainers. On the US side, they also ended as trainer in 1937, and nine USAAF A-12s were still in service at Hickam Field on 7 December 1941. Wright R-1820-21 Cyclone 9-cyl. radial 690 hp (510 kW) with a 3-bladed fixed-pitch propeller for 177 mph (285 km/h, 154 kn), 520 mi range and 15,150 ft (4,620 m) ceiling.
Another lead was a conversion of the SO3C Seamew as a carrier-borne dedicated bomber. This was the path chosen for the initial development in 1939, but incorporating many "multi-role" features as befitting to a model allocated to the USAAC, USN and USMC, a "joint strike aircraft" of sorts. Loosely based on a Seamew fuselage and entirely new folding wings, redrafted tail, and powered by the latest Wright R-2600 Twin Cyclone engine. The XSB2C-1 mockup was followed by a fully grown prototype built, yet not flight tested yet. Initially ground tests were performed, revealing many issues with the Twin Cyclone and its connected three-bladed propeller.
The company in the meantime was completely absorbed by the construction of thousands of P40 Warhawks for the USAAF and spent little resources on this project, which dragged on until the end of 1940. Nevertheless, large-scale production was already ordered on 29 November 1940. The XB2C-1 project was taken back in hands by a newly formed group led by Raymond K. Blaylock, tasked to produce a flying prototype as soon as possible, based on technical requirements from 1938 which were extremely stringent and left little room for finding better options. Perhaps some of the initial problems were due to this assignation. Don R. Berlin, legendary designer of Curtiss was indeed entirely focussed on keeping his P-40 relevant for the USAAF. The best engineers were with him. The Helldiver was a mere "sideshow".

XSB2C-1 in flight circa 1941
Under pressure, Curtiss precipitated the XSB2C-1's first flight on 18 December 1940. The flight revealed serious issues, namely structural weaknesses, poor handling, directional instability and bad stall characteristics, all indesirable for any pilot. The test pilot was not impressed, finding this machine "unresponsive to commands" and Curtiss was pressed to rework its design. In Late 1939, so about one year before, a student took a model of the new Curtiss XSB2C-1 model to the MIT wind tunnel. This test was not asked by Curtiss, and was of its own initiative. Seeing the test, Professor of Aeronautical Engineering Otto C. Koppen allegedly said "if they build more than one of these, they are crazy", referring to its small vertical tail.
Back at Curtiss however, development went on according to plan, laboriously fixing all issues reported in 1941. The XSB2C-1 flew again at first without problem, but crashed on 8 February 1941 as its engine failed on approach. Judging there were still many issues with the design, Curtiss was asked to rebuild the prototype and lengthen the fuselage, while a larger tail was fitted. Also asked by the USN and USAAF, for the first time an autopilot was fitted. Its role was to correct the model's poor stability and assist the pilot. The revised prototype flew on 20 October 1941, so almost at the end of the year after. Again, it crashed, after its wing failed during a first diving test on 21 December 1941. The US were at war now since a few days, and the SBD2C start was rocky to say the least.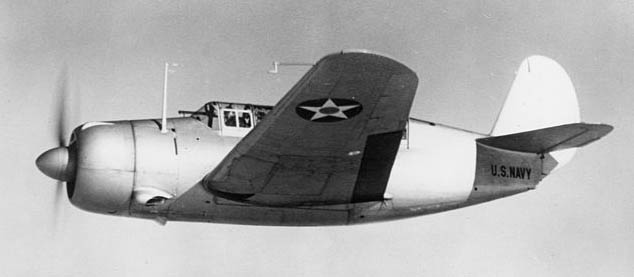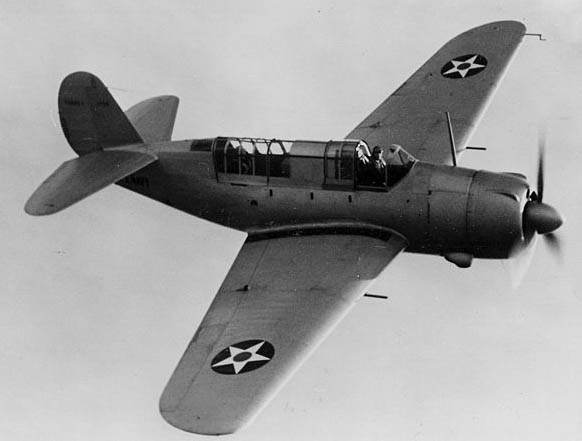 XSB2C-1 prototype in flight, 1941
Production was scheduled to start on this basis in early 1942, but a large number of modifications were specified for this production model. Some were to fix its numerous issues, and others were awaited in order to make the new model "battle ready" for USN service. As a result, the company had its Fin enlarged and redrawn, the rudder area much increased, fuel capacity increased combined with heavier, larger self-sealing fuel tanks, a rubber boat and survival kit, some head armor for the pilot, while the fixed armament was doubled, to four 0.50 in (12.7 mm) machine guns in the wings. The prototype indeed had only two light machine guns placed on the engine cowling.
The prototype XSB2C-1 was powered by a 1,700 hp (1,268 kW) R-2600-8 engine, but due to the lenght development, Wright went several versions ahead in between, and the revise production model SB2C-1 was to keep the same engine, but to carry also a single 0.30 in (7.62 mm) dorsal gun. In all 200 were built of this initial batch, all not well received and quickly sidelined.
Design in detail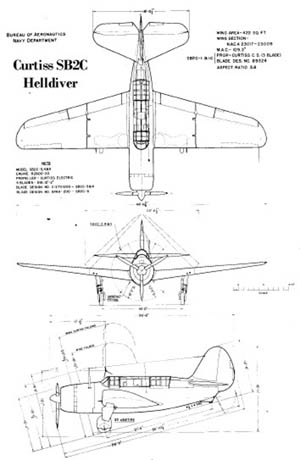 This was a cantilever monoplane with working stressed duralumin/aluminium skin, in a mid-wing configuration so that extra space could be managed in the belly for the internal bomb bay, a weapon compartment which was to house and release two 454 kg bombs (so nearly a ton) or other loads but no torpedo. It could fit in lenght but was too large to close the bomb bay. Anyway, the Navy for this already had the Avenger. The compartment was closed with hydraulically driven flaps. Ths system means the Dauntless system (as well as previous SBC Helldiver) of a launching no longer was a rotating fork style system to clear the propeller blade while in steep dive. The diving technique was refined as the Helldiver started its resource sooner so as the boms existed the bay in the start of a curve and missed the propeller blade. Fore more precision in when starting that resource, an APG-4 low-altitude bombing system was fitted from the C-3 version.
The crew of two was housed in tandem in a glazed cockpit large enough for three. The pilot was located forward and had a sliding back canopy. The centre position was a vacant one, used as radio room for the gunner, which could double as radio/navigator. At the time, this task was no longer required due to better long range radios aboard (see later). The MG gunner was deep into the fuselage and limited arc aft on to the sides, litteraly at the foot of the large rudder. The latter's size and shape was changed between the prottype and definitive C-3 version.
The SB2C was designed to carry a large amount of fuel, with various ranges specified in the 1938 initial requirement and later in 1940. In addition to the xxx radio and other Navy equipment (inflatable boat, rescue kit) it also included a large camera in the rear cockpit for observation missions. The design was adapted for dive bombing and from an aircraft carrier with two folding wing (straight folding type) a clamp system to allow catapult launch, and landing hook. The 14-cylinder R-2600 twin Cyclone engine from Wright was the main propulsion unit, and varied over time, with the -20 variant representing 8/10 of the production. Rated for 1,900 hp (1,417 kW) it was a net improvement over the previous R-2600-8 of the C-1 serie, which was so sluggish the pilots hated it while accidents multiplied. Its three-bladed propeller was also signalled as one of the possible issues, combined with the engine: Not enough traction.
Sensors:
APS-4 radar (wavelength 3 cm) and container.
Powerplant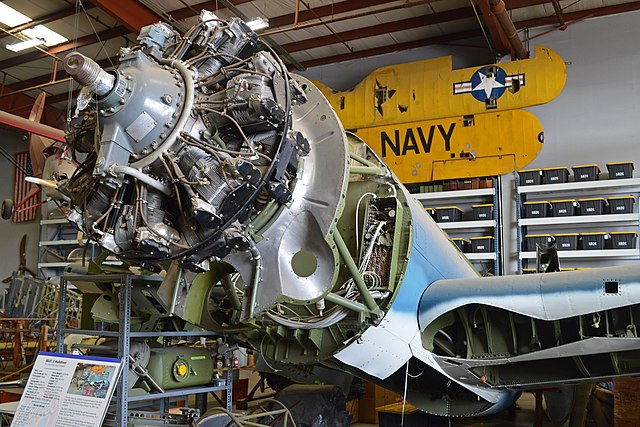 SB2C-3's Wright R2600-20 engine
Wright R-2600-8 engine: 1,700 hp (1,268 kW). Powered the Prototype, C-1, 1A (A25 Shrike), 1C with 778 built, a fraction of the total.
Wright R-2600-20: 1,900 hp (1,417 kW), 5261 built.
The Wright R-2600 twin cyclone family was born in 1935 as one of the first twin row radia engine series. The very first developed 1,600 hp (1,194 kW). By 1942 it came into competition wit the Pratt & Whitney R-2800 Double Wasp, which had more power but stlightly more consumption, and kept preferrably for fighters such as the F6F-1 Hellcat.
The reliable twin cyclone powered the A-20 Havoc, B-25 Mitchell, TBF Avenger and PBM Mariner. Typically, it har these common caracteristics between types (not weight, size or performances):
Valvetrain: Two pushrod-actuated valves per cylinder with sodium-cooled exhaust valve
Supercharger: Single-stage two-speed centrifugal type supercharger, impeller diameter 11 in (280 mm), blower ratio 7.06:1 at slow speed and 10.06:1 at high speed
Fuel system: Stromberg PR48A downdraft carburetor with automatic mixture control
Oil system: Dry sump with one pressure pump and two scavenge pumps
Wright R-2600-22: 2,100 hp (1,566 kW) experimental XB2C-6, two prototypes only
Armament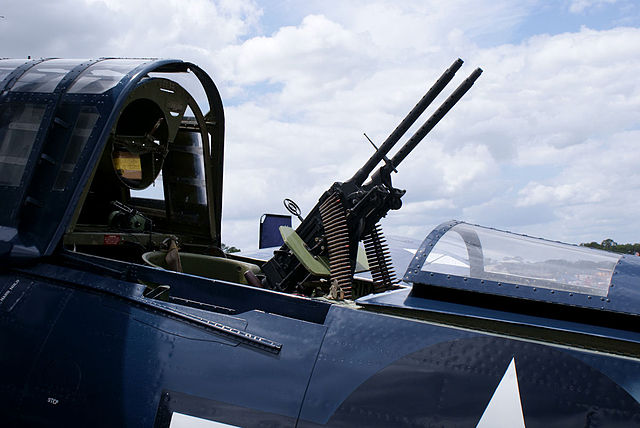 SB2C-5 Gunnery position. Note the rear collapsed section showing how the twin Browning can be freed to fire with a greater arc.
Thus evolved over time. Like the Dauntless, the Helldiver started with just three LMGs, two in the nose (0.8-in) and one in the rear cockpit for defense. 900 kgs of bombs (two 454 kgs as standard) in the bomb bay. This configuration was never used and reserved for the prototype.
The C-1 of early production get rid of the nose MGs for two in each wing and of the larger 0.5-in HMG Browning M1920 caliber.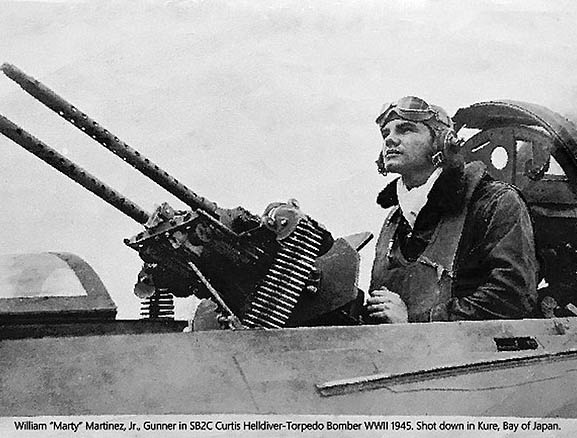 William "Marty" Martinez in his rear gunner position
The C-3 was the main production version, with the same bomb load but for the same time the four 0.5-in HMGs were replaced by two 20mm cannons in the wings with (400 rounds in all, 200 per barrel) whereas the rear gunner had access to a twin mount for a couple of 0.8-in Browning M1919A4 (7.62-mm) light machine gun (2000 rounds). Also for the first time underwings racks were installed for two extra 227 kgs standard bombs and an APG-4 low-altitude bombing system for more accurate operations.
The C-4 appeared when operations started to change for the USN with an emphasis on ground attack. The two 20 mm came in handy for these (although unreliable), plus the large bomb load (typically two 454 kgs plus two 227 kgs underwings). But the game changer was the installation of hardpoints for standard 127 mm (5-in) HVAR rockets, two-4 ramps under each wing, eight total for a weight not exceeding 1,000 lb (454 kg) underwing. These 127 mm (5-in) HVAR rockets (High Velocity Aircraft Rocket) introduced in 1944 saw action also over Korea and were replaced by the ZUNI type in 1957.
Each weighted 134 pounds (61 kg), 68 inches (173 cm) long for 5 inches (127 mm), wingspan of 15.625 inches (39.7 cm). They carried a 45.5 pounds (20.6 kg) Warhead of 7.5 pounds (3.4 kg) of TNT/Composition B. The engine was 52 inches (132 cm) solid propellant rocket motor using ballistite, extruded which reached 1,375 feet per second (419 m/s) added to the carrier airplane speed.
The C-5 introduced nothing new on that chapter.
The Canadian versions varied as following their respective versions, C-1, C-3 and C-4/5.
⚙ SBC2-3 specifications

Gross Weight
4,760 Kgs (10500 Ibs)
Max Takeoff weight
7,598 Kgs (16750 Ibs)
Lenght
11.18 m (36 ft)
Wingspan
15.14 (49 ft)
Height
4.49 m (13.74 ft)
Wing Area
39.2 m2 (422 ft sq)
Engine
Wright R-2600-20 1,800 hp (1417 kW)
Top Speed, Altitude
472 kph @ 5,180 m (17,000 ft)
Cruise Speed
158 mph (254 km/h, 137 kn)
Range
Max, with bombload: 1,930 km (1200 miles)
Climb Rate
1,800 ft/min (9.1 m/s)
Ceiling
8,140 m (26,700 ft)
Armament
2× 20mm wings (400 rds), 2× 0.8-in rear (2000 rds) 907Ks BB, 2× 227Kgs underwings
Crew
2: Pilot, Navigator/MG gunner
Production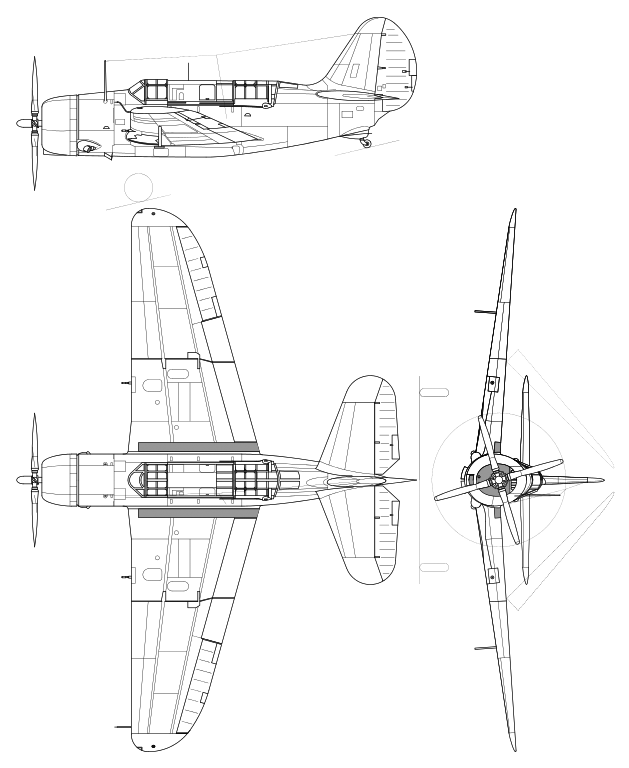 Variants
XSB2C-1 Prototype, 1,700 hp (1,268 kW) R-2600-8 engine
SB2C-1 Initial production USN, four 0.50 in wing guns, one 0.30 in (7.62 mm) dorsal gun (200).
SB2C-1A: USAAC variant A-25A after transfer to the USMC (410).
SB2C-1C: 2×20 mm wing cannons, hydraulic flaps, torpedo capability, underwings aux. gas tanks (45 gal.) (778 built)
XSB2C-2 Experimental SB2C-1 floatplane, 1942, SB2C-2 production (287) cancelled.
XSB2C-3: 1,900 hp (1,417 kW) R-2600-20 prototype
SB2C-3: Re-engined C-1 with R-2600-20 engine, 4-bladed propeller (1,112).
SB2C-3E: Same with APS-4 radar.
SB2C-4: 1c with wing racks, 8x 5-in rockets/1,000 lb (454 kg) bombs (2,045)
SB2C-4E: Same with APS-4 radar.
XSB2C-5: SB2C-4s prototypes (2).
SB2C-5: Increased fuel cap., frameless sliding canopy, tailhook (970, 2,500 cancelled).
XSB2C-6: 1Cs with 2,100 hp (1,566 kW) R-2600-22 engine, more fuel (2)
SBF-1: Canadian built Fairchild-Canada SB2C-1 (50)
SBF-3: Same but SB2C-3 (150)
SBF-4E: Local SB2C-4E (100)
SBW-1: Canadian Car & Foundry SB2C-1 (38)
SBW-1B: Canadian Car & Foundry for lend-lease (Helldiver I) (28)
SBW-3: C&F Co. SB2C-3 (413)
SBW-4E: C&F Co. SB2C-4E (270)
SBW-5: C&F Co. SB2C-5 (85, 165 cancelled)
A-25A Shrike: USAAC version (no arrester gear, fixed wings, new equipment (900)
Helldiver Mark I: British RN SBW-1B (28)
Floatplane version XSB2C floatplane (September 1942)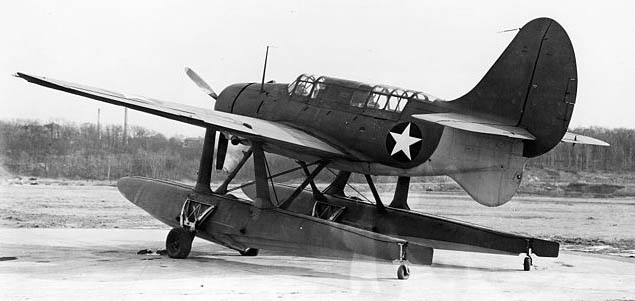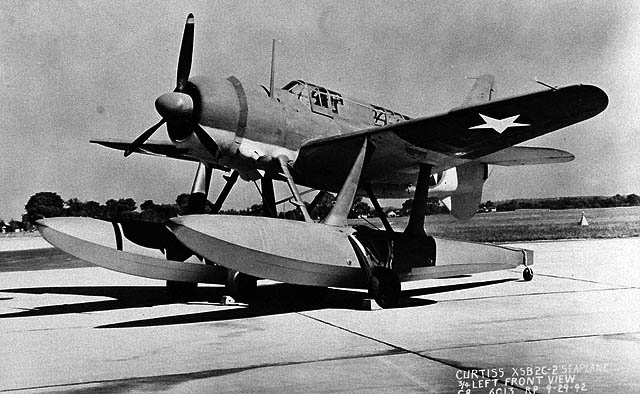 This unique prototype floatplane bomber was an adaptation of the SB2C-1, Bu.No.00005. Modifications involved the removal of the hook, tailwheel, and attachment of two large EDO floats in place of the landing gear legs. For extra stability it was also given an extra area under the tail, a ventral fin.
The goal was to produced a workable bomber floatplane to be based in remote islands in the Pacific. The attempted to build such aircraft run frontally into the numerous issues of the base SB2C-1, notably being underpowered. First trials revealed the XSB2C-2 way too long time to take off and in addition, only a flat, calm sea, which was a rare occurence. It was way too heavy and the drag caused by its floats would have made it even a worst performer as the original. No structural weakness was reported, but given the predigree of the original, it's perhaps understanbable while the prgramme was cancelled, the other reason being the mass aicraft carrier construction programme, which nullified all floatplane fighters or bomber projects.
Was the SB2C a failure ?
Troublesome beginnings
In fact the C-1 (also declined for the Army as A25A Shrike) was the one which fuelled all this anger about the Helldiver. The US long wanted a dive bomber and also borrowed to the Navy its Dauntless as the A-24 Banshee (948 produced and used). Great hopes were planed in the Shrike, carrying the same name as the previous A-8, YA-12 and A-12 also made by Curtiss a few years earlier or the twin-engine A-18. Compared to the latter it was modern with its powerful engine (seemingly) and bomb bay, plus heavy bomb load. The new Shrike had a pneumatic tail wheel and many other changes. Like the prototyoe it first flew by December 1940, but was evaluated and never used in combat at least in the USAAF. Indeed, on the 900 built, 210 only were kept by the USAAF for training, 410 transferred to the Marines (SB2C-1A), 270 to the USN (which also used it for training) and ten to the RAAF for evaluation. It seems they too were used for training only.
Already flying by December 18, 1940, the prototype was destroyed because of engine failure, a new one was rebuilt which flew again in October 1941 and crashed a second time after a month. Worst still, as Curtiss main plant was busy with the P40, production was moved to Columbus, Ohio, and from Buffalo, New York, the R&D and test center, the first production Helldiver flew in June 1942.
The second prototype had a larger tail and an autopilot system to spare some efforts to the pilot. But its destruction was not enough resource when diving. At that stage, the US was not yet at war, and the Navy in normal conditions would have cancelled it altogether.
Long production delays
The SB2C was saved by the attack on Pearl Harbor. The Dauntless was an ageing bird and the navy needed a replacement fast. There was no other option. Thus, Curtiss took the matter more seriously and allocated large funds to ramp up production and put the workforce in continuting its development, throughout the remainder of 1942. It also put in place its suppliers and sub-contractors based to reach thousands, with the primary objective of reaching a hundred a month and more. The navy was kept updated, but needed more than 800 modifications to be satisfied. This explains part of the long production setup which only ended by June, when the first rolled of the line.
Quite a long delay for production indeed, as the Avenger was pressed into service two years earlier than Curtiss bird. Not all this was due to Curtiss management indeed, but the Navy was never satisfied with the Helldiver anyway. Many changes were asked for in conjuction to European Combat data report, asking for new self-sealing tanks and better pilot protection. Later, they also requested two 20 mm cannons to replace the four machine guns. It was never done before on any USAAF or Navy model.
Worst still, when the Navy obtained its first C-1s, accidents multiplied. For those who managed to jump, or survive their flights, reports were shattering for Curtiss. The Helldiver for them was "a lumbering beast, unable to perform dives without killing the pilot". The main problem, aside controllability, was linked to its poor performances when recovering. The dive ended in a more pronounced curve as the engine struggled to bring it levelled, despite its large wingspan. It was so bad that dives were forbidden and strafe bombings authorized only at least for the C-1. In that new configuration, the four 0.5-in HMGs in the wings were welcome, but not enough. They lacked punch. This was corrected in the next model with 20 mm guns as said above, but their installation was complicated on a folding wings model.
The problem underneath
Improvements making things worst
However in the end, the Helldiver was neither as bad as its critics said, but neither as good as its manufacturer hoped. From the C-3 onwards, things could have improved, mainly due to the adoption of better matching engine for its growing weight (40% more due to t USN demands), redeeming some if its initial poor caracteristics. But still, despite enlarging its tail, modifiying its shape, bringing it close to the MG position aft, pilots still hated it, finding it unstable and at the end of a long mission the pilots, they were so tired maintaining it level they had to be helped out of the cockpit. All this came out from VB-17, onboard USS Bunker hill, the first combat use. Although part of it was exagerated, some of the C-1 issues were never solved either on the C-3, C-4 or C-5. Additional weight did not improved things, nor heavy ordnance load. In fact in practice, they rarely operated at their maximum bomb load. If so, pilots described it as "trying to fly a freight train".
If reports comparing the C-1 and C-3 were not encouraging, some stated outright that the C-3 had even more degraded performances. Meanwhile, the Avenger which already saw combat at Midway, was used as "interim bomber". And reception by the pilots were incomparably better. VB-17 commander went as far as asking "bring the Dauntless back !", but he was not given the choice. At that stage in 1943, the Navy still hoped Curtiss would improve its model.
In 1944, during the battle of the Phillippines sea, the SB2C-3 was the new workhorse in combat, and 51 went sent by Mitscher against the IJN carrier force. They were sent at extreme range, and only five returned, all lost not due to enemy action but just starved out of avgas in flight. Nevertheless, combat reports after the incident were crippling for Curtiss, fuelling growing concerns in the Navy about the relevance of this model, and cancellation altogether again. However, the company if planned an engine upgrade (at 2000+ hp) and extra fuel with the SB2C-6, but it never entered service. At that stage in the war, cancellations started as the Navy was seemingly fed up with it. Despite of this, the Helldive illustrated itself by assisting in sinking the Yamato and Musashi and took a large part in the Leyte gulf air naval battles in October.
By 1945, since the IJN was virtually reduced to smitherines, dive bombings became excessively rare and both the C-4 and C-5 versions took off for strafing attacks, combining their 20 mm guns with bombs and HVAR rockets with stellar results, including against Japanese traffic. It ensured close support at Iwo Jima and Okinawa, took part in the battle of Formosa and Ryuku campaign. It stayed active during the occupation of Japan as well.
The truman committee investigation
Curtiss demise after the war was the result of many factors, which ended with the failure of several of its products. For a start, the P-40 was not a stellar fighter and soon relegated as a ground attack aircraft model, or used in more "cushy" theaters of operations. As shown already in 1940 with Chennault's flying tigers squadron, it was outclassed by the Zero. By 1943 the trust of USAAF for fighter missions went definitely to the Mustang from North American, and the P-40 (which also inundated Commonwealth forces via lend-lease) was relegated to sideshows.
But it was even worse for the C-46 Commando, prematurely introduced into service and also considered a failure at first. And there was the Helldiver, most produced dive bomber in history.
The park of Helldivers was promptly sold after the war at surplus prices to Italy, France, Greece, Portugal and Thailand. Some were still retained until 1947 in the USN, and it was retired in 1950-59 for other nations, the last to use it being Italy in 1959. France used it for the Indochina campaign, based notably from Arromanches, the only occasion for it meet an ex-British carrier's deck.
The Truman Committee, a congressional investigative body setup in 1943 only took the name of the future president until August 1944 as he stepped down to concentrate on his vice-president ticket. The committee notably hit Brewster for its repeated failures, or famously postwar Howard's hugues "hercules", but also Martin's B-26 Marauder, Fords delays with the B-24 Liberator, among others; Curtiss-Wright Corps. was investigated in lenghts by early to mid-1943.
For the A25-A Shrike, the report stated that "the army's opinion is that the dive bomber is not valuable for most army purposes, and because of the company to date failed to produce useable planes". The report also precised that "many tens of millions of dollars has been wasted" after its shortened production at St. Louis Curtiss-Wright plant. But that was the army's shrike, not the navy plane built at Columbus.
The navy stated indeed that the bomber "has substantial use" and "desires to produce large number of dive bombers". It was underlined that production was an issue as it was initiated at Columbus in December 1941, that the June 1942 models were mere pre-series and that the real production has started in September, so nearly a year after the factory has been setup.
It was clearly stated by the Committee as "hopelessely behind schedule".
At that stage the navy still moderated this (known its own responsability in the delays) that it hoped issues would be resolved "between two or three months" which showed quite some optimism.
Truth is, as said in the report, the long duration time (10 months) during which workers had little to do in the plant until issues had been ironed out, might play in dwindling morale, absentism, or outright sabotage (several cases suspected). The committee also chastized the PR campaign from Curtiss about it being "the world's best dive bomber", stating that this kind of self-praise at the expense of the government was not salutary and recommended the affair might be passed onto the bureau of internal revenue for further investigation.
As for the issues found in the initial Wright engine, it came from a serie of shortcomings observed at the Lockland Ohio plant. There was a suspected case of corruption when a high raking inspector awarded the plant an "A" rating with only a small inspection staff and the inspector left the company's staff soon after the award. There was a hearing by a sub-committee at Washington DC on March, 30, 1943 which remained inconclusive or did not pressed for further investigation however. But in April, another independent investigation with hearings at Cincinnati revealed the following:
-Faslification of tests
-Destruction of records
-Improperly recording test results
-Forging inspection records
-Failing to segregate defective or substandard material
-Failing to destroy/mutilate said defective parts
-Orally changing tolerances allowed on parts
-Circumventing the salvage committee setup to pass on the usability or parts outside tolerances
-Allowing production to override inspection force
-Skipping inpection operations altogether
It was remembered that the company had 2400 quality inspectors, the army had 70.
Long story short, the committee in the end was "disappointed at the overall performance of Curtiss-Wright". It recommended thorough inspection be undertaken, and renegociate contracts with the company. By 1944, the Navy in effect started to cut orders down. The major decision in this chapter was to order to stop production of the SB2C-5, which has been ordered 3,500, had 970 delivered and 2,500 cancelled.
In the end, the rapid relegation of the P-40 to secondary tasks, substandard performance of the C-46 Commando, mediocre performances and excessive delays to produce the Helldiver all nailed the coffin of Curtiss. A company that was highly regarded in the interwar, seeked recoignition and fame with high performances models and procured the bulk of the USAAC needs… was overwhelmed by the events. Its only successful product in 1944-45 was the SC floatplane. Too few were built, and they arrived too late to restore its image. The company could not overcome its bad reputation and after a few prototypes, lost most postwar contracts, either for the Navy or Air Force, apart a few prototypes and the short-produced F-89 Scorpion. In 1948 the entire aeronautical branch of the group was sold to North American Aviation.
Read the full report
So in conclusion, was the Helldiver such a dog ?
Let say that it was rushed into production due to shifting priorities at Curtiss;
Teething problems were long to overcome and the model had been probably designed to hastily and with too many contraductory demands
Production setup was delayed for about a year, due to the insistance of the Navy on 800+ modifications
This was not however the Navy's fault as the planes delivered were substandard in quality and had degraded performances, clearly the ball was in Curtiss's den, and the company failed to assert the argue to Navy's demands.
Production issues mirrored those at Brewster as well. The issues observed on the Helldiver itself were also due to an underestimation of the Navy's additions, just as the Buffalo. It was, and remained until the production was cancelled, underpowered, added to poor agility and responsiveness. Still, the thousands made served the USN, sunk quanties of the IJN's major and secondary warships, and pounded various objectives to submission. It's "luck" was to be introduced really in significant numbers by 1944, and the pacific campaign against the IJN has been already won by the Dauntless. The Helldiver could not redeem itself as the situation changed overwhelmingly in favor to the USN in the last year and a half of the war, there was simply too little to do. Nothing that was showy, crucial tactically or strategically for the SB2C. The "Slow But Deadly" had been the "hero of Midway", and performed well at Santa Cruz and Guadalcanal, whereas the roles in which the Helldiver were used were more obscure, almost "routine" campaigns. At Leyte in 1944, the mass was said.
That apparent lackluster record combined with ongoing technical issues, delayed introduction, all tarnished greatly its reputation. Most of these issues were the result of further additions in 1942, and ended with a long list of complaints.
Pilots were the ones that were the ones as often on the receiving end of the debacle, and were understandably the most vocal against it. Especially the veterans of the 1942 battles to which were forced upon the new "warbird". They compared, and even though the Helldiver was more powerful and modern, it certainly was not as popular. One example was "cactus air force" vet Michael Vernon, which compared it to "flying a brick".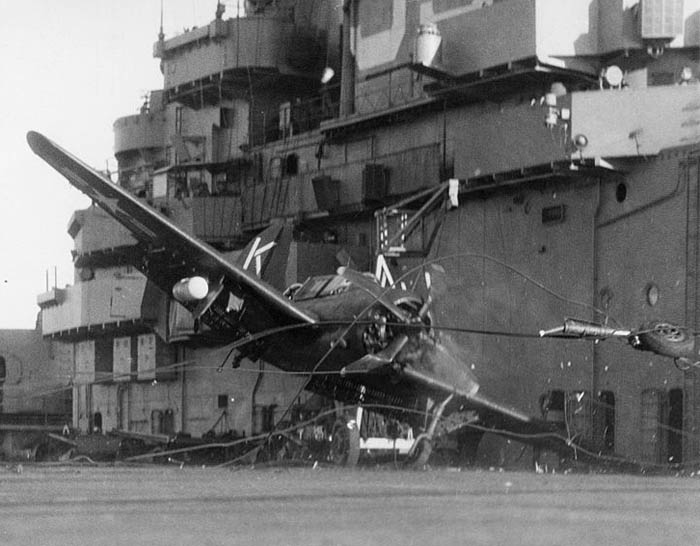 SB2C-5 crashing on USS Kearsage in 1948
Agility aside, there was little to save from it. He recollected failing bell cranks in ailerons ("pot metal" aileron control horns should have never been approved), it had leaky fuel systems, hydraulics leaks, unreliable autocannons (jamming after prolongated bursts), defectious bomb pylons refusing to drop the bombs (and unreliable electrical system in general) resulting for many pilots to loose their wings due to overload during the resource.
The dive was the source of loss of control in general. Worst still, the early version had a canopy having the bad habit of nearly decapitating the pilot on a hard landing. For the MG-gunners, the droppable rear fuselage cover was also sometimes the causes of bad surprises. Also for carrier use, its approach speed for carrier landing was too high. There were also bad ergonomics, like the dive brakes control located on the control stick where it could easily be accidentally deployed during a catapult launch. After the war some pilots went as far as saying the Helldiver killed more pilot that all Mitsubishi models combined.
For younger pilots that entered service with it in 1944-45, this was more contrasted, and comparisons aside, they were formed to use it at the best of its performances (or lack thereof). Both accident rate diminished a bit, but the sum of combat action grew mathematically. In fact, and that's often overlooked, the SB2C statistically sank more ships than the SBD.
For some, the Navy responsability in what it became is mirroring Brewster with the Buffalo: It was a potentially excellent aircraft design ruined by uncompromising requirements, notably to cram inside internally way more than it was capable to handle, or to hold a Mk-13 MOD-1 torpedo, something the Avenger was already tailored to do. The end result was hated by the pilots, especially young ones between poor agility, electrical or engine problems. The "Big Tailed Beast" scared many of these pilots, which needed in part to "built muscles" to master it. By far, when given the choice, they all preferred the tricky F4U for ground attacks.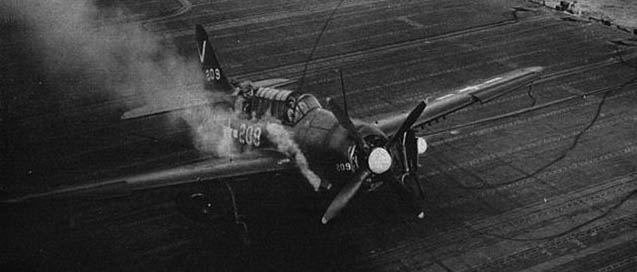 Damaged Helldiver from VB-80 after landing on USS Ticonderoga mid-1945
So yes, it has been rushed into production ("too urgent to fail") and arguably mismanaged by Curtiss (seemed before WW2 headed by bean counters more interested in lucrative prototype contracts, Don Berlin -designer of the P-40- leaving the company… Boeing today anyone?), but the Navy was also responsible for the final fiasco. Of the numerous demands, in addition to unrealistic payload, was the inclusion of the same powered rear gun turret as on the Avenger, something later demonstrated as impossible, wasting time and attention of engineers. As for its compact size, resulting in poor stability, it was the result of the navy insistance of having two parked on a standard Essex class carrier lift. It seems even amazing that Curtiss did not debunked all these Navy demands as compromising the design, but that was probably overruled by the direction.
And this was despite its combat success, mostly due to simply greater availability, lesser Japanese opposition, and use of rockets in strafing rather than dive bombing attacks.
So in final conclusion that was another case of shared (ir)responsibility from Curtiss management and that of the Navy. Failure, more often than success, has many fathers. The blame is more likely to be spread out, not to single out any ideal scapegoat, whereas success is most often concentrated by ego and opportunism…
Combat use
Despite all its development issues, the SB2C had to impose itself intstead of the Dauntless, and that was not an easy task. The later models corrected some of the crippling issues of the earliest models and by 1944 the SB2C-3 had improved handling, strengthened structure, larger tail plus automatic slots and despite its bulky appearance, it was much faster than the SBD. It could keep up with with escort fighters and had substantially increased range also, folding wings and twin 20mm cannons, a far better proposition of the weak 0.8-in of the Dauntless. Gradually pilots started to learn the tricks and specifics of the "beast" and over time some changed their minds about it.
To give the scale ofe Curtiss industrial output in WW2 (29,269 aircraft, 142,840 engines, 146,468 electric propellers) the SB2C Helldiver was only one of three of its key "products" and its 7,140 dive bomber made their contribution anyway in all frontline US Navy squadrons, taking part in more battles than the Dauntless, and statistically sink far more shipping, including aircraft carriers and battleships, noteworthy the world's largest, the two Yamato class.
Bob Barnes, a veteran Helldiver pilot said that he found most sources "unjustly critical" of the Helldiver. The poor rep was linked to the SB2C-1, but for his it was combined to the reluctance of some of the commanders to accept the Helldiver instead of the SBD Dauntless. The SB2C-3 was already a step in the right direction, and he thought of it as very versatile aircraft.
The first Navy squadron to use was VS-9, when it arrived by December, 1942. In early 1943 only the SB2C-1 was available and pilots were not impressed. Other squadrons took delivery along 1943, but it took time as the new SB2C-1C arrived slowly. It made its combat debut almost a year later SB2C-1C in November oner Rabaul.
The SB2C-3 was an all-out improvement that arrived in number, this time really replacing the Dauntless frontline (they were passed on secondary units, training, the USMC, or Atlantic escort service). The new dash 3 introduced a 4-bladed prop to improve its climbing capabilities across the board and later the "E" variant was even capable of 293 mph (471 kph). They made their combat deabut at the very start of 1944. The great island hopping campaigns were ongoing but the great naval battles against the IJN were over. Instead they were operated by TF 38/58 (3rd/5th fleet) in the Marshalls, Carolines, Mariannas, Philippines, Formosa and the marches of the Empire, the Volcano and Bonins and the Ryukus as grand finale.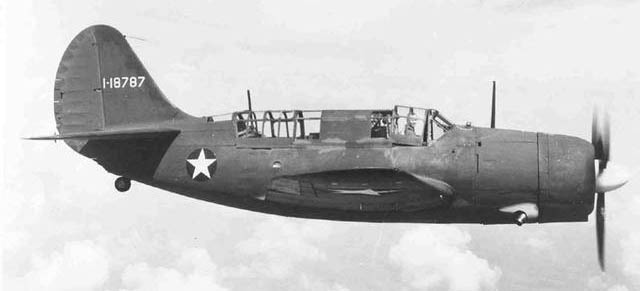 Curtiss A25A Shrike in flight 1943
Next was the SB2C-4 introduced by mid-1944 while production was ramping up. The latter introduced Perforated dive flaps and extra wing fittings, and included the radar-equipped SB2C-4E.
By February apparead the SB2C-5, which basically had almost "by default" rocket attacked and more fuel. The very first arrived in February 1944, so potentially just in time for the actions around Iwao Jima, Okinawa and Formosa (Taiwan). By that time production was reduced, and cancelled before July 1945. Less were delivered than the C-3 and C-4s. nd over this total, 'only' 6000 came from Curtiss Factories, 1,035 were Canadian built (and arguably of better quality), either Fairchild (300) or Canadian car & Foundry (835).
Each time, squadrons composed of Avenger, Helldivers escorted by Hellcats took off from the Essex-class fleet carriers (Typically an Essex class carried 34 at the start), but not surviving vet USS Enterprise (in 1944, she had Hellcats, F4U Corsair, 23 SBD Dauntless and 15 TBF Avenger) Saratoga never operated it either, keeping its Dauntlesses until late 1944. They were the exception to confirm the rule.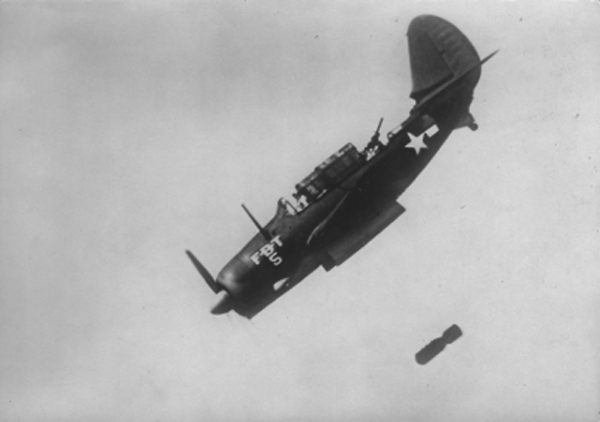 SB2C-1 dropping a bomb circa 1943
It should be stressed than once it replaced the Dauntless on these large carriers, the Helldiver was the second largest component of the air group, equal to the Hellcat and above the Avenger: Typically in June 1944, 34 F6F-3 Hellcat (+5 F6F-3N), 32 SB2C Helldiver and 18 TBF-1 Avenger. The ratio could differ through. On others it went down to 24, or even 15 on Randolph in early 1945 (49 Hellcat, 15 SB2C-4E Helldiver, 15 TBM-3 Avenger).
It not operated aboard "complement carriers", the presidential-ordered Independence class fast light carrier either. The latter were mostly "fighter refillers". They typically operated 25 F6F-5 and 9 TBM-3. It should be noted that the Helldiver landed too quickly for their smaller decks.
They were not operated on the Saipan class either despite their larger size.
Logically enough for the same reason the Helldiver never saw action on escort carriers (although they were often taxied from), neither the Casablanca but apparently listed as part of the Commencement Bay class carriers.
The Sangamon and Bogue classes only operated either the SBD and/or the TBD.
Yorktown and others, 1943: A near-mutiny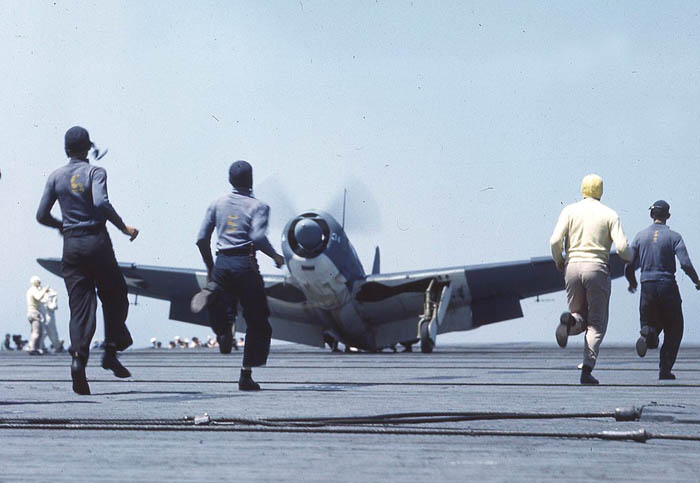 SBC-1 of VB-5 having a hard landing on USS Yorktown, May 1943
The low availability of the Helldiver in 1943 meant carrier slowly transitioned to the new bird. Many retained their Dauntlesses until late 1943. Thus, it's under Lieutenant Commander James Vose's VB-17, (USS Bunker Hill) that a first squadron proved itself and in that the new warbird blooded its claws. Previously the poor performances and frequent accidents onboard USS Yorktown (CV-10) were earning it a poor reputation.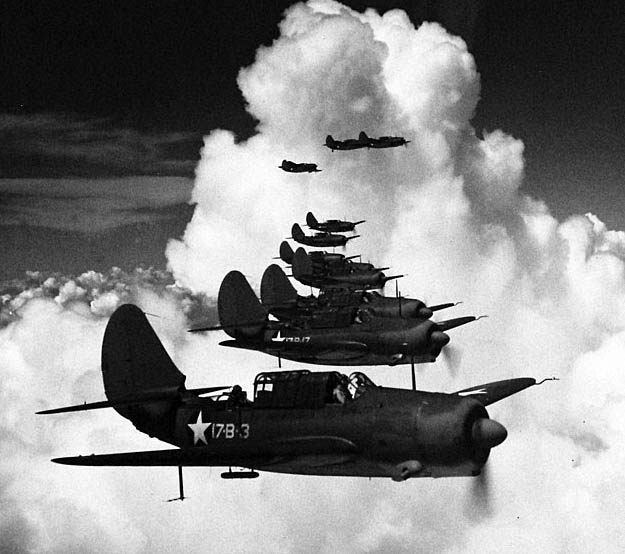 Helldivers frm VB-17 in formation, June 1943
They were assorted with a famous video of one breaking in half after the tail was grabbed by the arrester wire, the rest smashing into the barrier. This happened a lot. Capt. "Jocko" Clark flat-out refused to equip his bomber squadron with the SB2C, risking court martial. He also was vocal to the US Navy upper echelon to abandon SB2C program altogether. The latter based on the company's promises imposed it to the squadrons anyway, risking all out mutiny, some saying that it was a waste of good pilots as accidents and written-of planes piled up. By attrition alone, the squadrons were getting thin.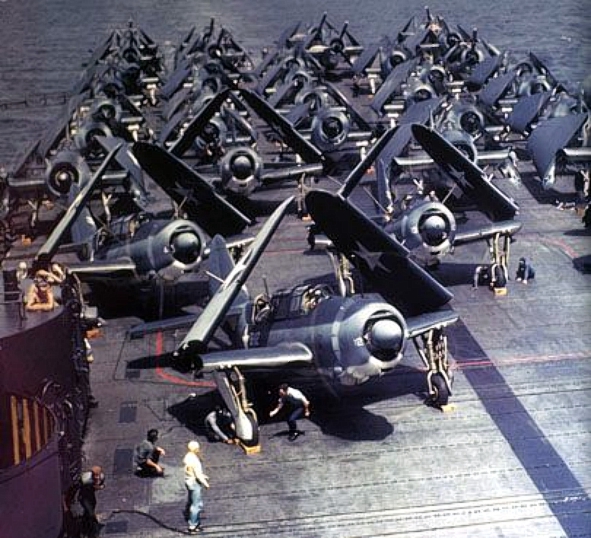 SB2Cs on USS Yorktown 1943
But again as "too urgent" ot "too big to fail", the Helldiver was improved constantly at Curtiss which started delivery of the SB2C-3. Just in time to avoid a scandal. The SB2C-1s were promptly exchanged with 1Cs or 3 as a one-to-one basis and things started to improve.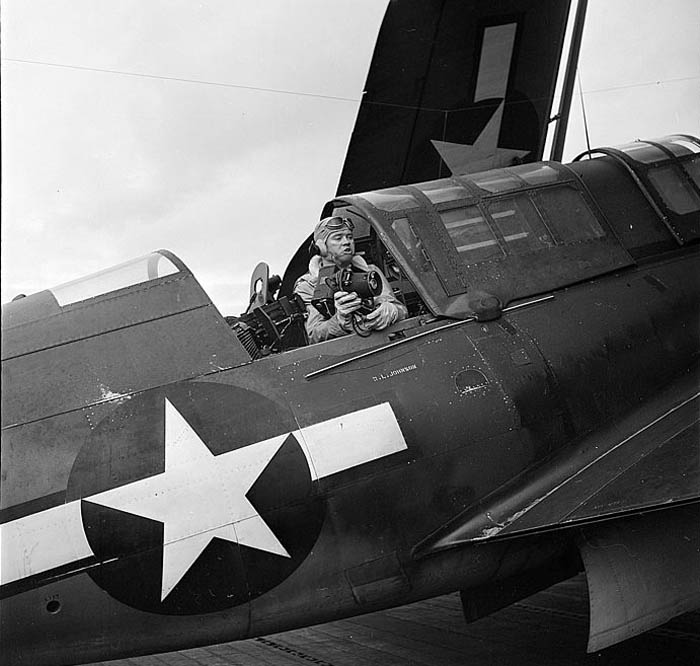 Lt. Barrett Gallagher in the rear seat of a SB2C with his K25 camera
VB-17 at Rabaul: Baptism of Fire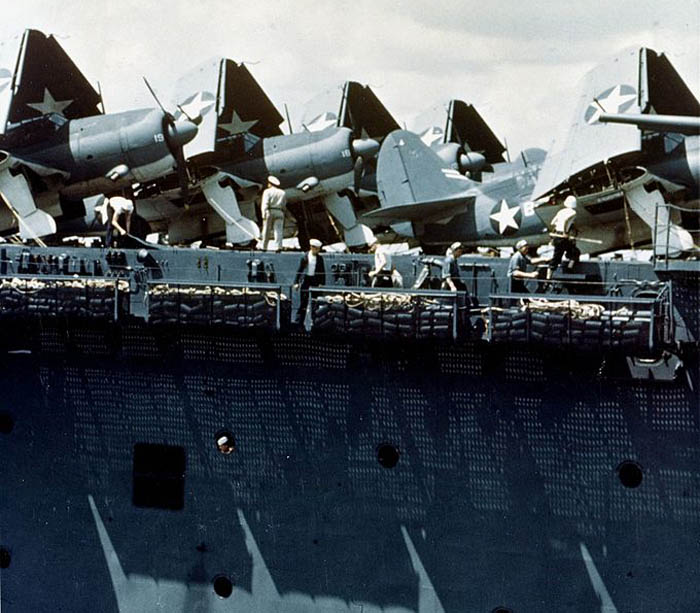 SB2C-1s on deck on USS Yorktown, May 1943
Fortunately, the newly introduced SB2C-3 arrived just in time in VB-17 for a massive raid -and prove its worth-. 23 Helldivers from USS Bunker Hill took off by the early morning of November 11 under command of Lt. Cdr. James "Moe" Vose which had them separated in four 4-plane units, leading half (and Lt. Cdr. Jeff Norman the other) under the protection of F6F Hellcats. In the mayhem that was the huge base attack, Lt. Robert Friesz' left a destroyer burning, Vose division badly damaged a cruiser while Lt. Robert Wood own division did the same on another cruiser, but it was chased and fired upon by a Zero and still went back. All landed safely that day. It seems also a MG-gunner enthusiastically fired on the tail during a defensive pass. This one also landed without a hitch.
After this success, for the next four months VB-17 attacked Tarawa, Nauru, New Ireland, Truk, the Marshalls with the same success. Soon pilots started to paint white ships on their nose. This was just the start.
Marianas Campaign
When the compaign started with a massive raid of TF 58 fas carrier force, launching 240 planed in one go for the opening phase, SB2C-3s constituted the bulk of these, some also receiving the first dash 4 just before. It was also the combat debut of the latter. It was not rare to see also some Dash 1C still around. On June 20, 1944, five VB squadrons (Yorktown, Hornet, Bunker Hill, Wasp, Essex) launched their Helldivers, 52 in all for a 300-mile trip to the recently spotted IJN fleet. 43 didn't return, only 4 lost in combat, but 35 ditched at sea, starved of fuel (the report led to the dash 5 revision ready in early 1945), 4 crashed on decks. Most crewmen survived however, as only 18 ended missing despite efficient SAR operations.
Leyte Battle
By October, 24, 1944, TF 58 grew to eight large carriers (Hancock, Hornet, Franklin, Wasp, Intrepid, Lexington, Enterprise, Essex) all with SB2C-4s and they started by sinking IJN Musashi with VB-18 (Lt. Cdr. George Ghesquiere) from Intrepid arriving first at 10:25AM. Helldivers and Avengers went over her almost all day, led VB-18 in the first strike at. The operation was over at 7:30PM.
When attacking the Southern Force, VB-20 (CO CDR R. E. Riera)'s Helldivers carried all extra fuel tanks were underwings, 12 which eventually found the southern's two battleships, cruisers and destroyers. They fell from 12,000 feet and went through an anti-aircraft deluge for one of the last classic dive bombing attack of the war. The two battleships were hit first. Fred Bakutis was shot down and water-landed, drifted but was rescued 7 days later by a US sub. Another wave of VB-20 to the middle Task Group centered around Musashi was the action described above.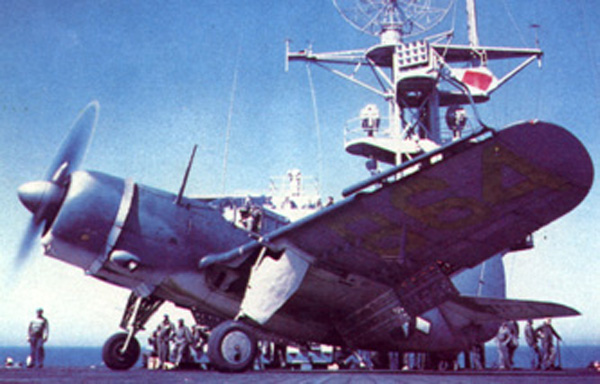 SB2C taking off
On Oct. 25, 12 VB-20 Helldivers (CDR Riera) from USS Enterprise fell on the Northern Japanese Task Group, 4 carriers, cruiser and destroyer escorts. Zuikaku was the first attacked in classic dive attacks from 12,000 feet, securing bomb hits. When resourcing in multicolored AA shells, the SB2Cs were practically at water level, making it hard to IJN gunners to depress that hard. This too was a stunning success; Leyte battle was the last were Helldivers attacked that way on moving warships. Next operations would be more "secured", with strafing attacks becoming the norm.
Amazingly enough, the Helldiver also registered aerial kills in combat. For 17 downed by enemy fighters, they claimed 44 victories, with even a near-ace, Lt. Robert "Zekie" Parker. The two 20 mm guns came in handy for these. They devastated the still lightly built Japanese planes at that stage on the war in a few hits.
Formosa and Okinawa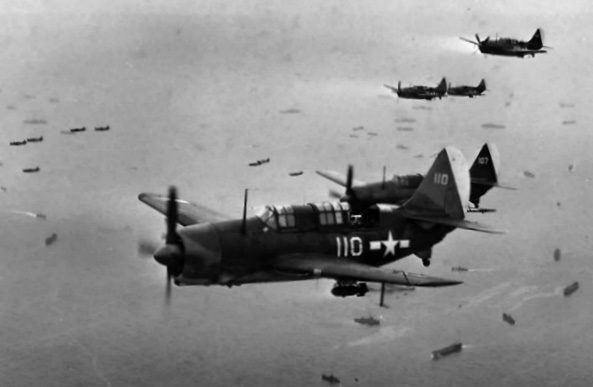 SB2Cs from USS Yorktown over Iwo Jima 1945
The battle of Formosa was a side air-land battle to secure the flanks of the Okinawa attack fleet. The large island (Taiwan) was Japanese since a century, and was dotted with military airfield like a giant unkinkable aircraft carrier. Several air raids were necessary to erode its air power in 1945. VB-20 again (CDR Riera) led the charge, and separated. Helldivers attacked the airfield, while Avengers roamed the coast in search of preys to sink, and the Hellcats engaged head on the fighters that took off.
Anti-aircraft fire was also fierce. But ultimately all aifields were devastated.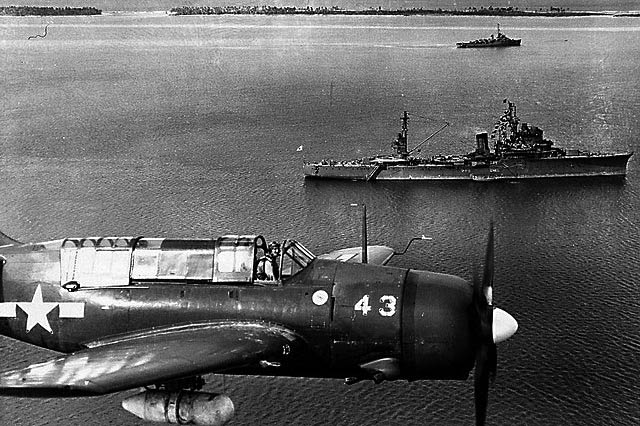 Curtiss SB2C Helldiver flies over Jaluit atoll in October 1945 near a katori-class cruiser
Next the islands near Okinawa were rampaged and the Ryukus as a whole were "secured". Next came the Japanese home island campaign, starting with Honshū; Helldiver took off with extra fuel tanks, rockets and bombs. They struck tactical airfields, and rampaged communications and even shipping. After the atomic bomb were dropped in August, they still remained patrolling during pre-occupation period, replacing bombs by food for the POWs still in Japan.
US Army and USMC

Helldivers from VMSB-244 "Bombing Banshees", 1st Marine Air Wing returned from a raid on Davaon Mindanao, early 1945
The 900 St. Louis USAAF A-25A Shrike made a poor impression. The first ten still had folding wings and they all had larger main wheels and a pneumatic tailwheel as well as a ring and bead gunsight, plus longer exhaust stubs and standard army radio. By late 1943 when they arrived, they already were no longer needed. The USAAF had renounced the use of dive bombers. Plus in Europe, the Republic P-47 Thunderbolt proved its weight in gold for tactical air support missions.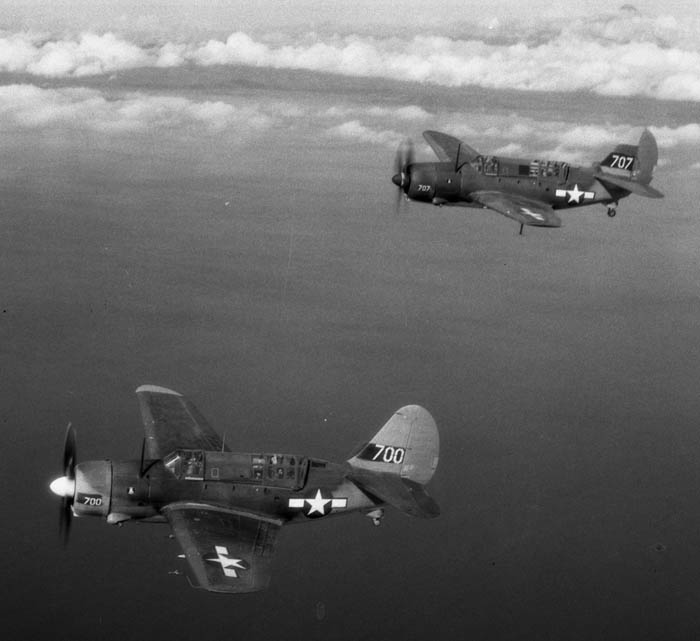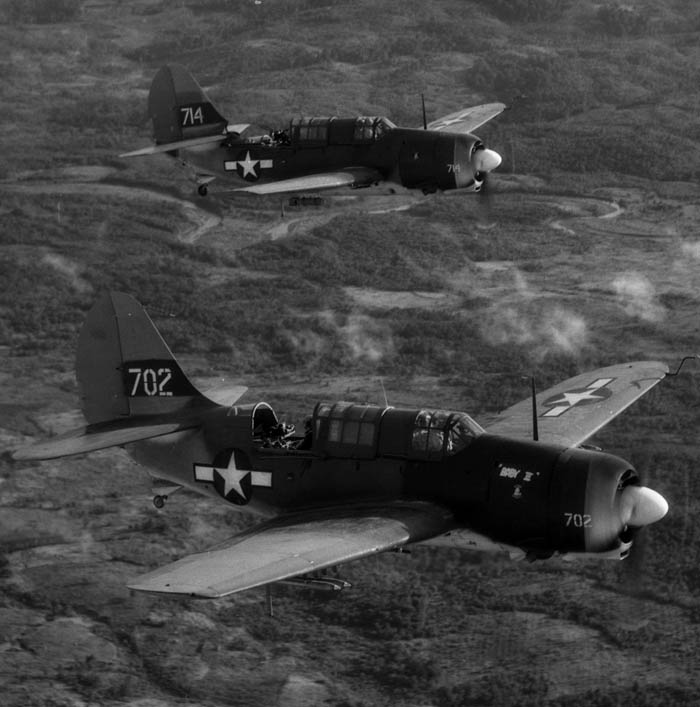 Helldivers of the USMC
Thus 410 were transferred to the US Marines under the new denomination SB2C-1. A single unit saw active combat, VMSB-151 in Enjebi, Enewetok. But the remainder were mostly used as trainer and target tug.


SB2C-5 from NAS Oakland reserve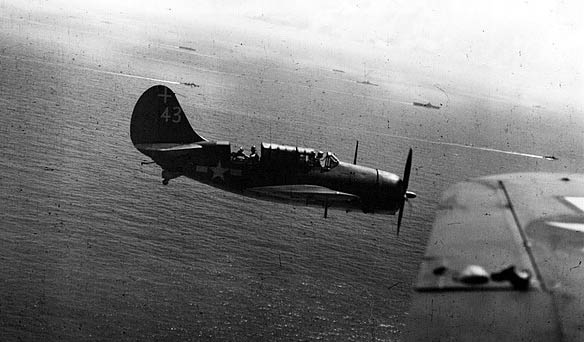 SB2C-3 Helldiver of VB-18 in flight over TG38.2 24 October 1944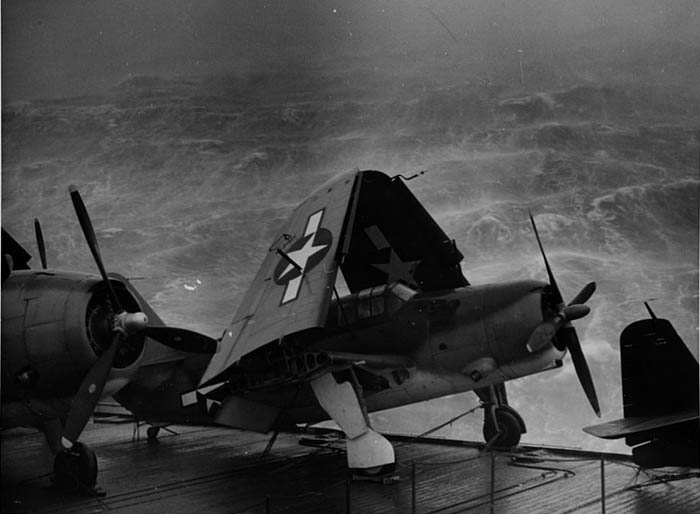 Parked and well secured Helldivers on a carrier flight deck during Typhoon Cobra, 1945. Many were washed overboard during this event.
Other Operators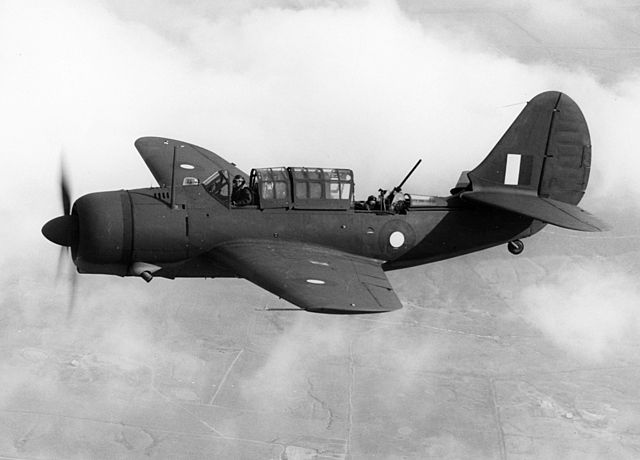 RAAF A25A Shrike in evaluation, c1943
The Australian Govt. lobbied in 1942 for close support aircraft but nothing was coming. It was noted in the RAAF a complete lack of dedicated dive bombers. The order for 150 Curtiss Shrikes, paid for by the US Government as Lend Lease arrived in November 1943 (first 10), and like the USAAF, the RAAF changed it mined about it, and already was content with the Vultee Vengeance. The remaining 140 were cancelled, and the ten planes called "A69" and one joined No. 1 Air Performance Unit for testing between December 1943 and April 1944. The rest were transferred back to USAAF units and used for auxiliary roles.
As for the British, 26 (out of 450 ordered, later cancelled) were delivered to the Fleet Air Arm as the Helldiver I. Unsatisfactory tests by A&AEE ("appalling handling") relegated them to the parking. They were probably scrapped at a latter stage of the war, like the Brewster Bermuda (Buccaneer).
France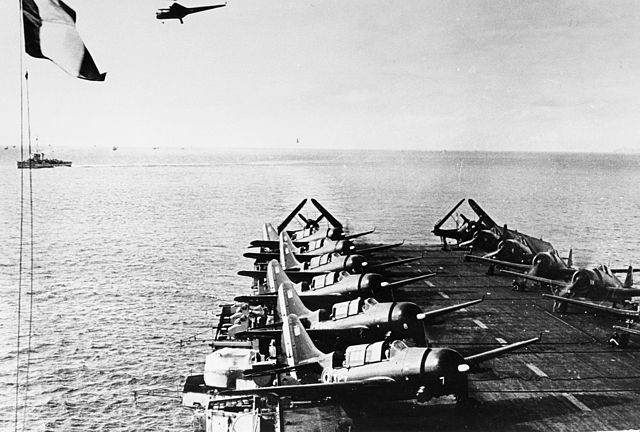 French Aéronavale SB2Cs on the flight deck of FS Arromanches, Indochina, 1951
France was one of the major operator of the type postwar. Between 1949 and 1954, 110 SB2C-5 were delivered to replace their worn out SBD-5 Dauntless, already seeing action over Indochina (Vietnam) since 1945. The French Aeronavale flew it from 1951 to 1958 on the Arromanches. These were flottilles 3F and 9F also on FS Bois Belleau and LaFayette, for close support of French troops and notably with napalm tanks. They notably fought at Battle of Dien Bien Phu in 1954, taking losses due to the fierce and well hidden NVA AA fire.


Parked French Helldivers in the early 1950s in Indochina
Italy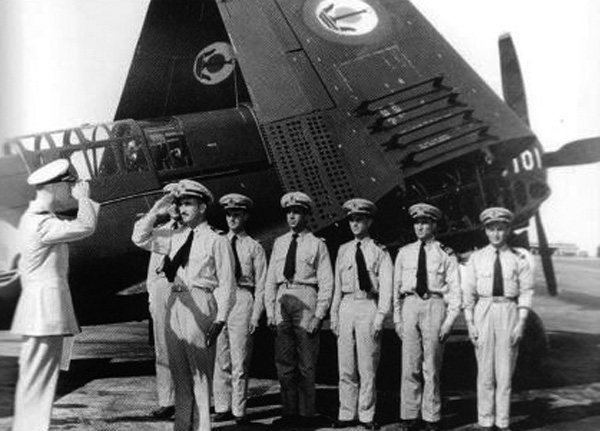 Delivery of the first SB2C Helldivers to the Italian Navy in December 1952. The last was retired in 1959.
Portugal
A dozen or so Helldivers were also received by the Aviação Naval Portuguesa via MDAP postwar (Naval aviation) and operated until the late 1950s. Used in the Pacific Theater of War from 1943, for chopped bombing and anti-submarine warfare. After the conflict, 12 aircraft were ceded by the United States to Naval Aviation, within the scope of military cooperation. They constituted the first anti-submarine squadron in Portugal. Read More. See also at the museu-de-marinha
Greece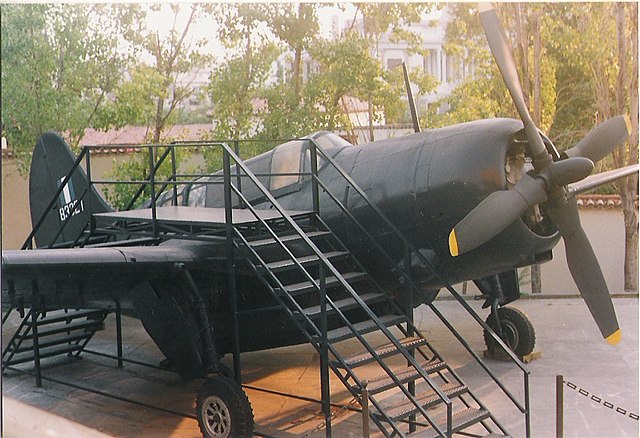 SB2C-5 at the Athens war museum, 30 July 1992. These saw great use during the civil war against communist guerillas in 1948-49.
American aid provided the Royal Hellenic Air Force consisted in 48 Curtiss SB2C-5 Helldivers from surplus stocks, delivered from USS Sicily (CVE-118) in the spring of 1949. 6 were used for ground instruction/spare parts, 42 joined the 336th Fighter Squadron, replacing Supermarine Spitfires, soon redesiganted as 336th Bomber Squadron. For COIN operations they received bigger pneumatic tires for use on landing strips, rear gunner station removed. They served alongside North American T-6D/Gs against Communist ground forces in the last stages of the Greek Civil War.
They were phased out by 1953, with a few used for photographic duties until 1957, one restored in 1997, now at the Hellenic Air Force Museum.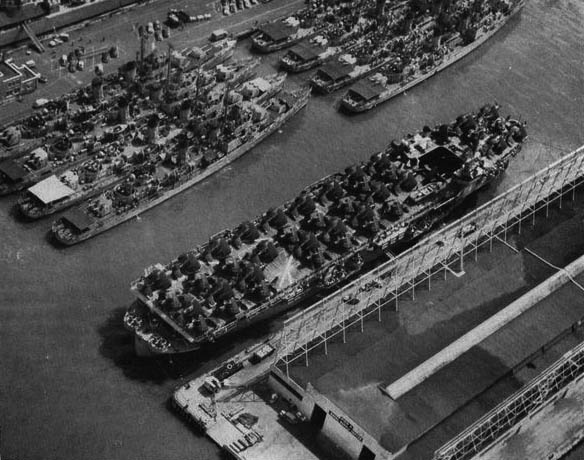 USS Sicily loading at NAS Norfolk SB2C-5s for Greece in July 1949
Thailand


SB2Cs delivered by Barge to Thailand in 1951
6 Helldivers were in use by the RTAF between 1951 and 1955. All 6 came directly from the US Navy.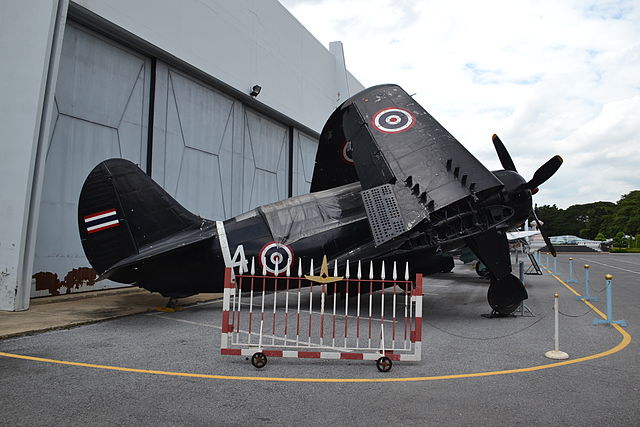 Preserved Thai BJ3-4 in 1994. (CC)
Src/Read more about the SB2C:
Books
Abzug, Malcolm J. and E. Eugene Larrabee. Airplane Stability and Control: A History of the Technologies that Made Aviation Possible (Cambridge Aerospace Series). Cambridge, UK: Cambridge University Press, 1997.
Andrews, Harald. The Curtiss SB2C-1 Helldiver, Aircraft in Profile 124. Windsor, Berkshire, UK: Profile publications Ltd., 1967, reprinted 1971 and 1982.
Bowers, Peter M. Curtiss Aircraft 1907-1947. London: Putnam & Company Ltd., 1979.
Brown, Eric, CBE, DCS, AFC, RN., William Green and Gordon Swanborough. "Curtiss Helldiver". Wings of the Navy, Flying Allied Carrier Aircraft of World War Two. London: Jane's Publishing Company
Crosnier, Alain and Jean-Pierre Dubois. Douglas SBD-5 Dauntless & Curtiss SB2C-5 Helldiver: Bombardiers en piqué de l'Aéronautique Navale (in French). DTU
Donald, David, ed. American Warplanes of World War II. London: Aerospace Publishing, 1995
Drendel, Lou. U.S. Navy Carrier Bombers of World War II. Carrollton, Texas: Squadron/Signal Publications
Ethell, L. Jeffrey. Aircraft of World War II. Glasgow: HarperCollins Publishers, 1995.
Forsyth, John F. Helldivers, US Navy Dive-Bombers at War. St. Paul, Minnesota: Motorbooks International, 1991
Kinzey, Bert. SB2C Helldiver in Detail & Scale, D&S Vol.52. Carrollton, Texas: Squadron/Signal Publications, 1997.
Ociepka, Paweł P. "Curtiss SB2C Helldiver" (in Polish). Skrzydła w miniaturze 12. Gdańsk, Poland: Avia-Press, 1995.
Shettle, M.L. Jr. United States Marine Corps Air Stations of World War II. Bowersville, Georgia: Schaertel Publishing Co., 2001.
Smith, Peter C. SB2C Helldiver. Ramsbury, Marlborough, Wiltshire, UK: The Crowood Press Ltd., 1998. ISBN 1-86126-710-X.
Stern, Robert. SB2C Helldiver in Action, Aircraft Number 54. Carrollton, Texas: Squadron/Signal Publications inc., 1982.
Swanborough, Gordon and Peter M. Bowers. United States Navy Aircraft since 1911. London: Putnam, Second edition, 1976
Taylor, John W. R. "Curtiss SB2C/A-25 Helldiver." Combat Aircraft of the World from 1909 to the present. New York: G.P. Putnam's Sons, 1969.
Tillman, Barrett. Helldiver Units of World War 2. London: Osprey Publishing, 1997.
Tillman, Barrett and Robert L. Lawson. U.S. Navy Dive and Torpedo Bombers of WWII. St. Paul, Minnesota: Motor Books Publishing, 2001.
Wilson, Stewart (1994). Military Aircraft of Australia. Weston Creek, Australian Capital Territory: Aerospace Publications.
Winchester, Jim. "Curtiss SB2C Helldiver." Aircraft of World War II: The Aviation Factfile. Kent, UK: Grange Books plc, 2004
Encyclopedia of military engineering" /Aerospace Publising/
American Warplanes of World War II" /under cor. David Donald/
Links
warfarehistorynetwork.com/ the-curtiss-sb2c-helldiver-an-unpopular-and-flawed-allied-war-machine/
airpages.ru/
acepilots.com/planes/helldiver.html
www.sas1946.com
wings-aviation.ch/
On popsci feb 45
http://www.sb2chelldiver.org/
ww2db.com/
cv6.org/ bbarnes/
vintagetin.net/SB2CHelldiver/
historynet.com/
http://fleetairarmarchive.net/
adf-serials.com.au/2a69.htm
http://www.haf.gr/ SB2C-5_Helldiver.asp
aerialvisuals.ca/
https://westtexaswing.com/
airandspace.si.edu/
The Models Corner: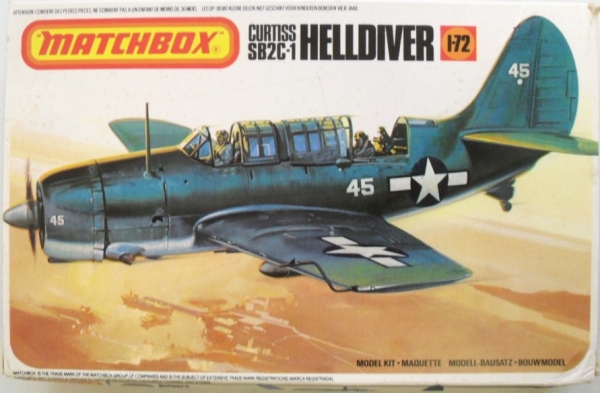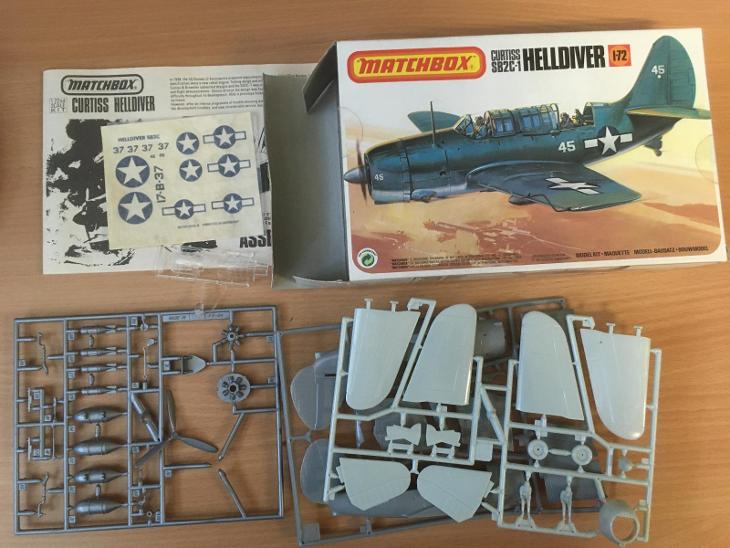 Matchbox 1:72. Very rare today. Did that one as a kid. Src
See the unboxing of the 1st edition kit on Ytube
General query on scalemates
Videos:
Preserved Helldivers today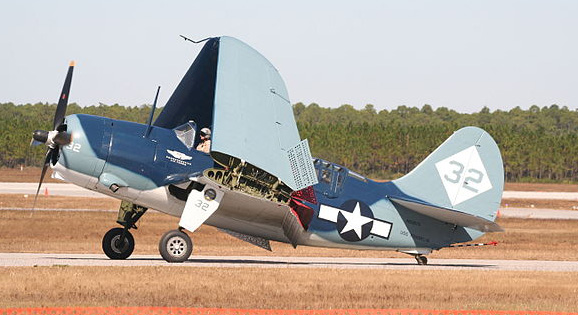 SB2C-5 in flying conditions
Given the production, the "beast" had been preserved for all to see, but only one in flying conditions around the world.
Greece: (display) SB2C-5 Hellenic Air Force Museum, Decelea Air Base.
Thailand: SB2C-5, Royal Thai Air Force Museum, Don Muang Royal Thai Air Force Base, Bangkok.
United States:
Airworthy: SB2C-5, Commemorative Air Force (West Texas Wing) in Houston, Texas. Late-production (1945) many air show appearances. 1982 engine failure, hard landing. Volunteers of the CAF spent $200,000 to restore it. October 2018: Only flying example in the world.
Display:
SB2C-5 Steven F. Udvar-Hazy Center of the National Air and Space Museum in Chantilly, Virginia.
Under restoration or in storage:
A-25A Shrike/SB2C-1A, National Museum of World War II Aviation in Colorado Springs, Colorado and in storage at the National Museum of the USAF Wright-Patterson AFB in Dayton, Ohio.
SB2C-3 restored at the Yanks Air Museum in Chino, California
SB2C-4 in storage at the National Naval Aviation Museum at Naval Air Station Pensacola, Florida. Crashed on 28 May 1945 at Otay Reservoir (San Diego), sank in 90 ft. of water, rediscovered in February 2010, recovered 20 August 2010 for ongoing restoration.
SB2C-5 restored at the Fagen Fighters WWII Museum in Granite Falls, Minnesota.
Wrecks: Remains located at Laurel Hill, Ligonier Township, close to Waterford Pennsylvania.
January 2010, scuba diver discovered a SB2C-1C in Maalaea Bay off South.
25 March 2010, Oregon State Police located an SB2C during logging operation near Rockaway Beach, Oregon.
19 December 2011 Scuba divers discovered an SB2C off the coast of Jupiter, Florida, surveyed in May 2012 by the US Navy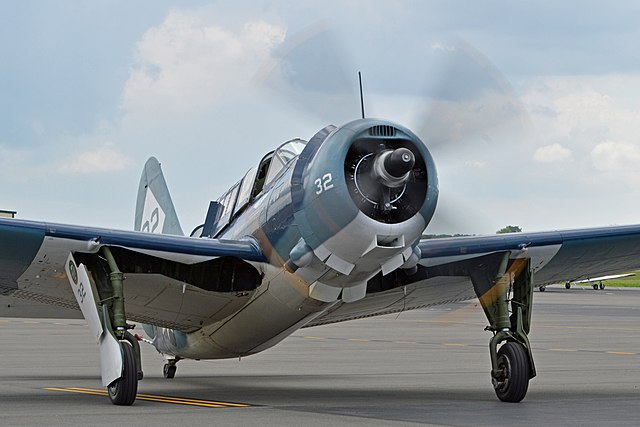 Other displayed models
Gallery:


XSB2C-1 in tests, December 1940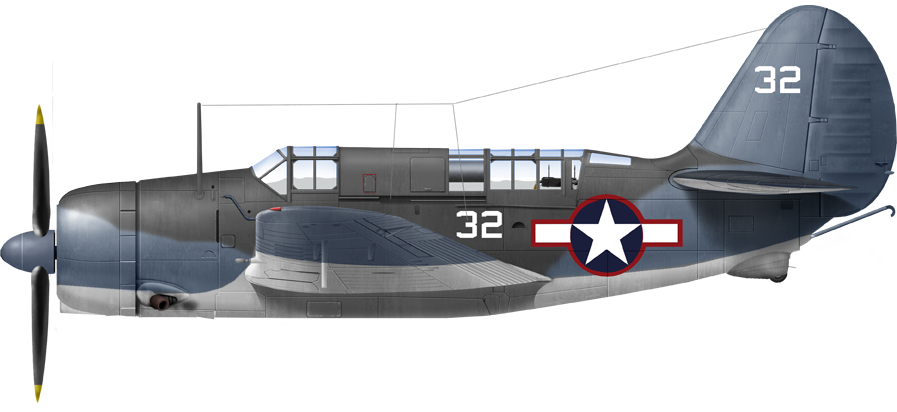 SB2C-1 VB-17, USS Bunker Hill Nov. 1943, Attank on Rabaul



SB2C-1 VB-17, NAS Norfolk, circa 1943.



SB2C-1C model III, VB-17, CV-17 USS Bunker Hill, 1943.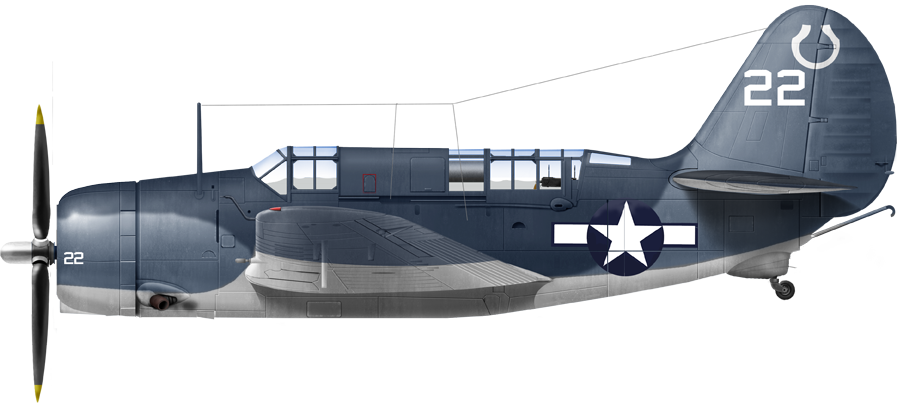 SB2C-3 USS Ticonderoga (CV-14) 1944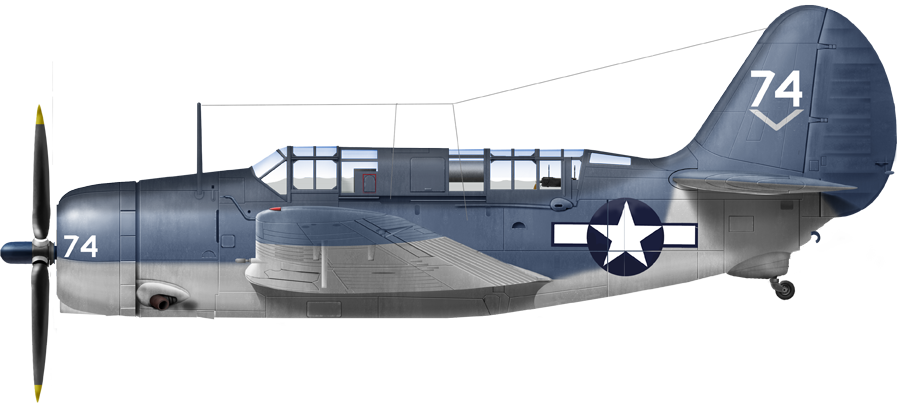 SB2C-3 USS Ticonderoga November 1944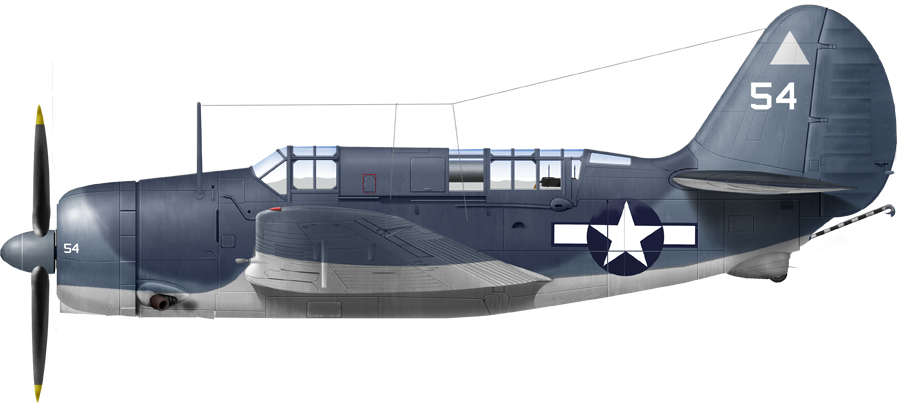 SB2C-3, VB14, USS Wasp August 1944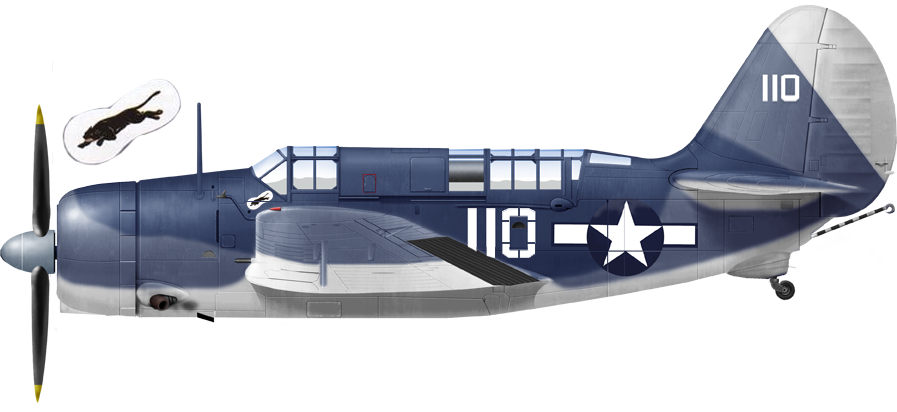 SB2C-3 VB-3 USS Yorktown 1945



Curtiss SB2C-4 from USS Essex, VB-83, March-April 1945
SB2C-4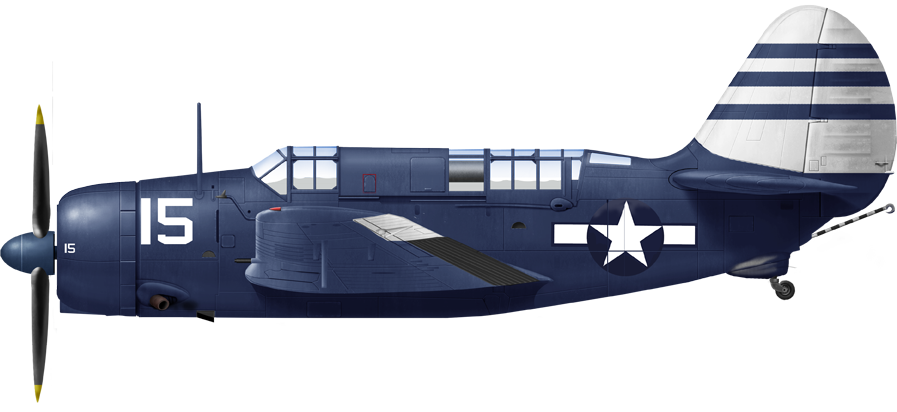 SB2C-4 CV-12, USS Randolph Feb. 1945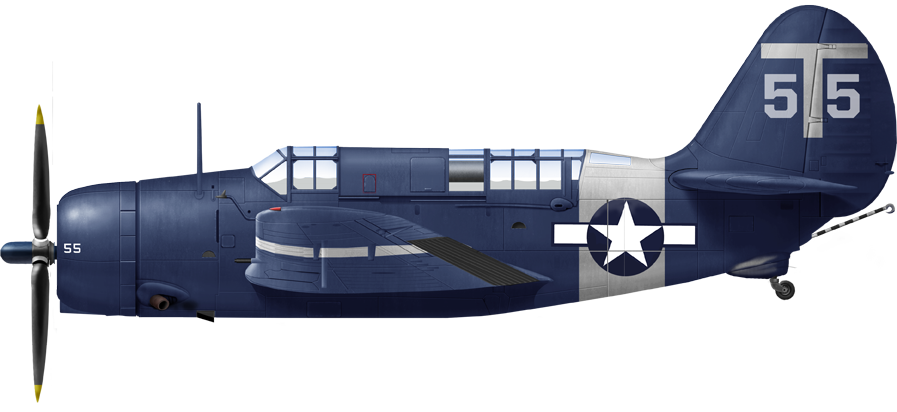 SB2C-4, USS Tarawa 1945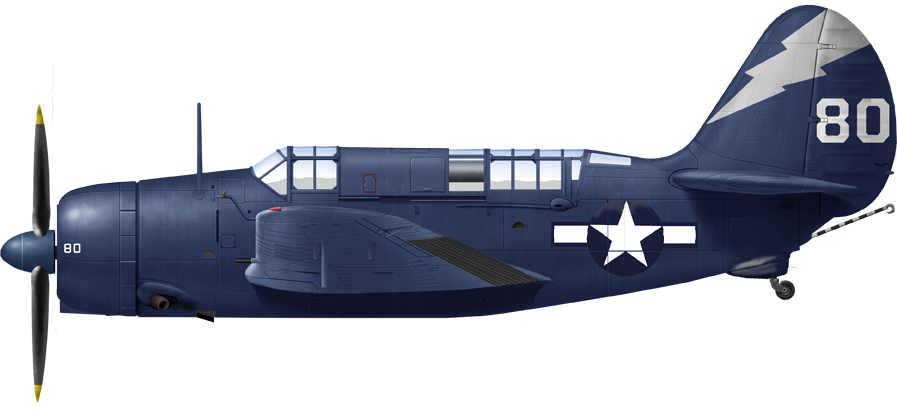 SB2C-4E, VB-85 USS Shangri-La 1945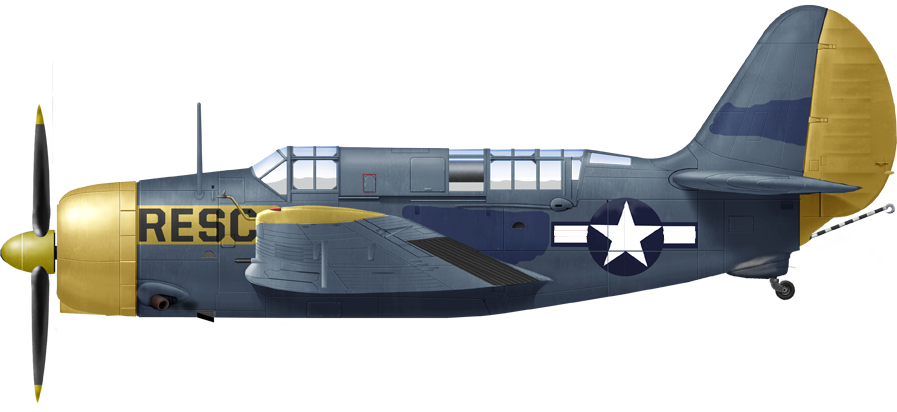 SB2C-4 of a rescue unit, NAS Kaneohe Bay, Hawaii, 1945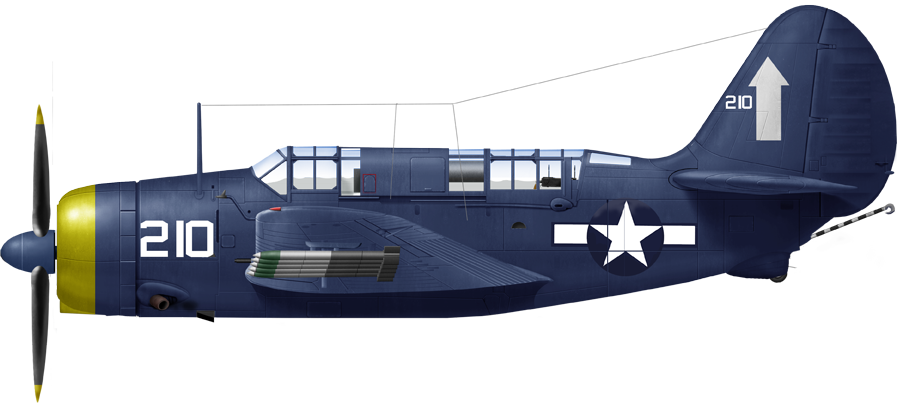 SB2C-4E VB85 USS Bunker Hill, Toyo raids Feb. 1945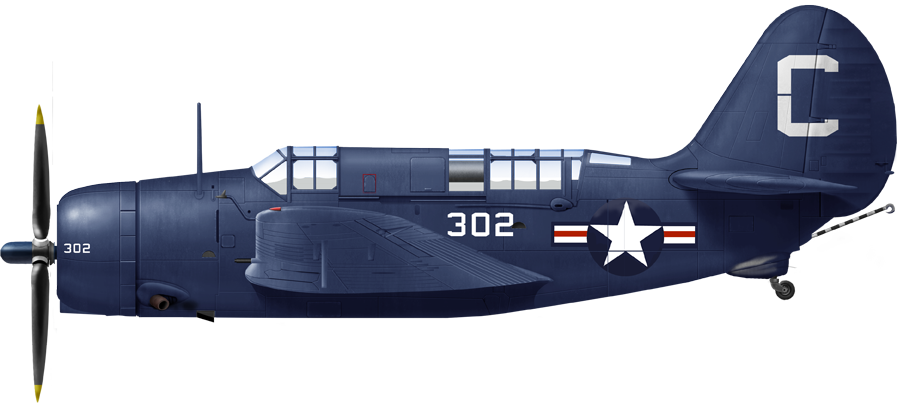 Curtiss SB2C-5 from USS Coral Sea, HVA-5B, circa 1947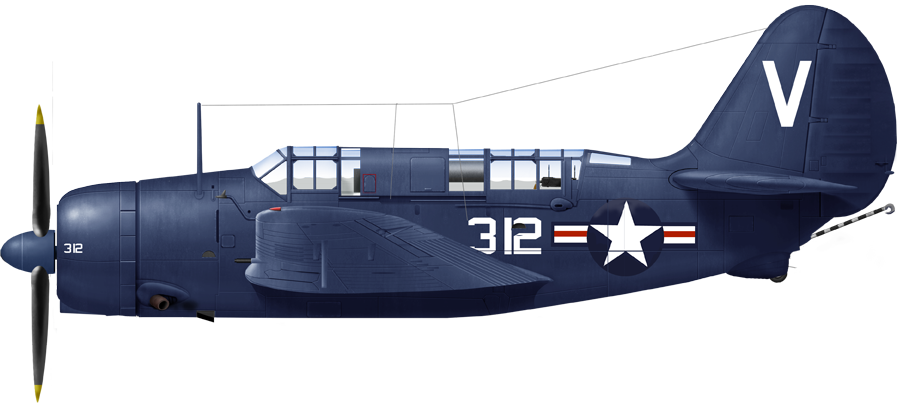 SB2C-5 VA11A VC 45 USS Valley Forge 1946
---
In British/Commonwealth service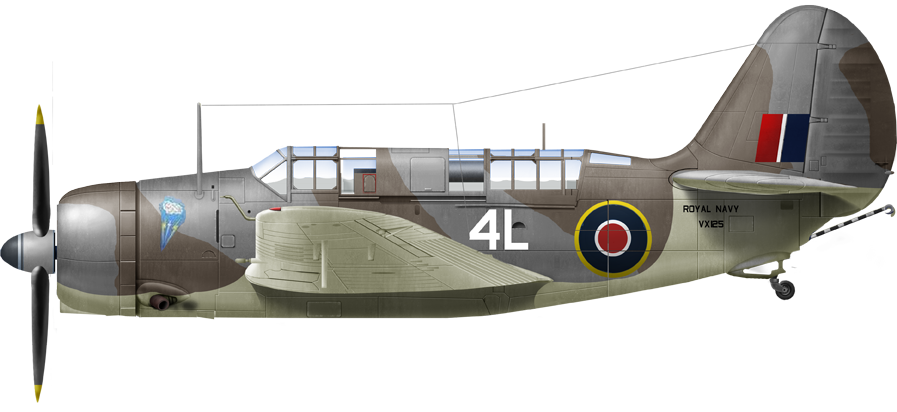 Helldiver Mark I. Only 28 built, 2 retained US, 26 Evaluated (serials JW100 to 125) in squadron No. 1820. They saw no combat use.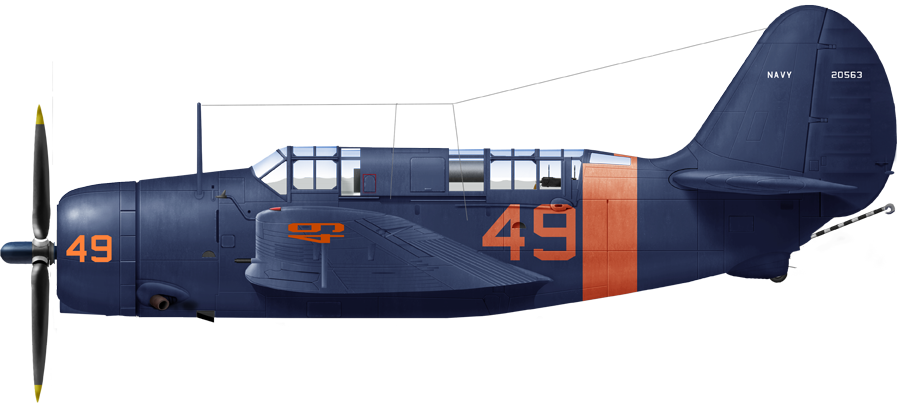 Canadian Fairchild SB2C-4E US Navy Reserve – NAS San Diego CA., circa 1945.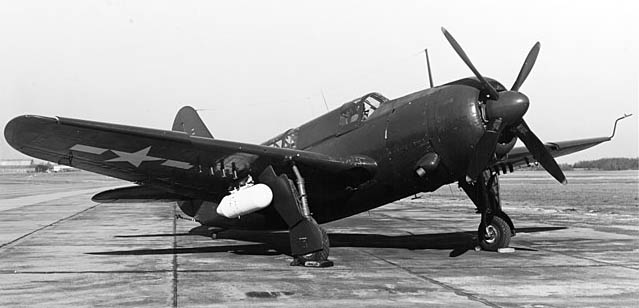 Fairchild SBF-4E at NAS Patuxent River, 17 December 1945

Canadian Car & Foundry SBW-4E
A-25A Shrike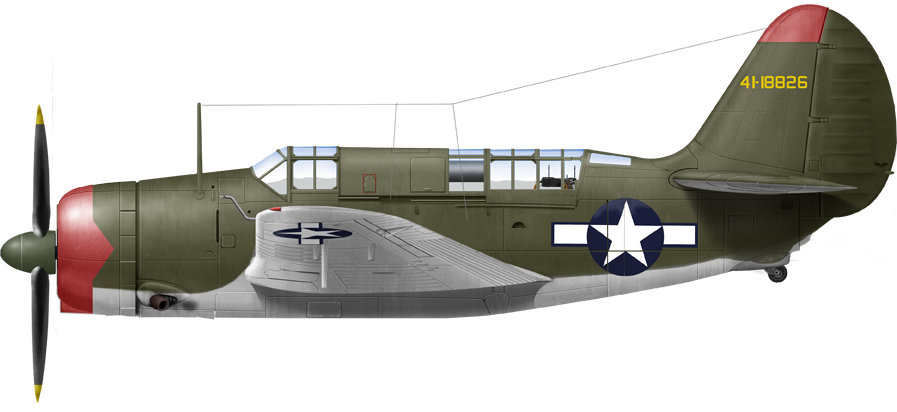 USAAF A-25A Shrike, 10 CS, 13 Fighter Sqn. USA 1942
USMC SB2C-1A (ex-USAAF A-25A Shrike) to come if found.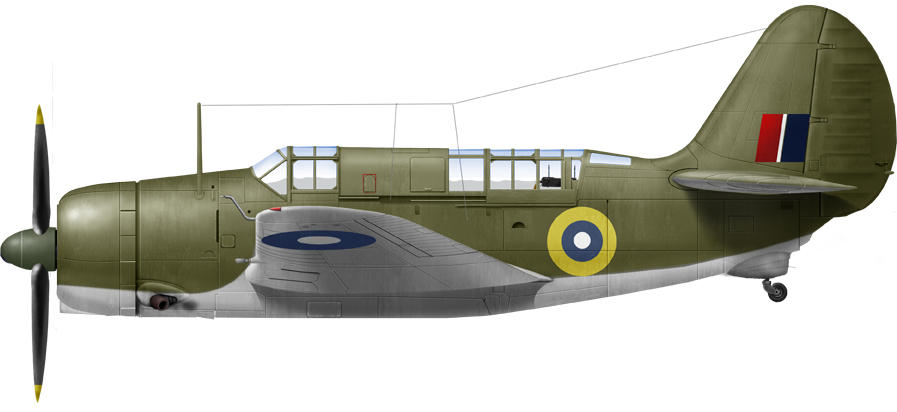 RAAF A-25A Shrike
---
Cold war international service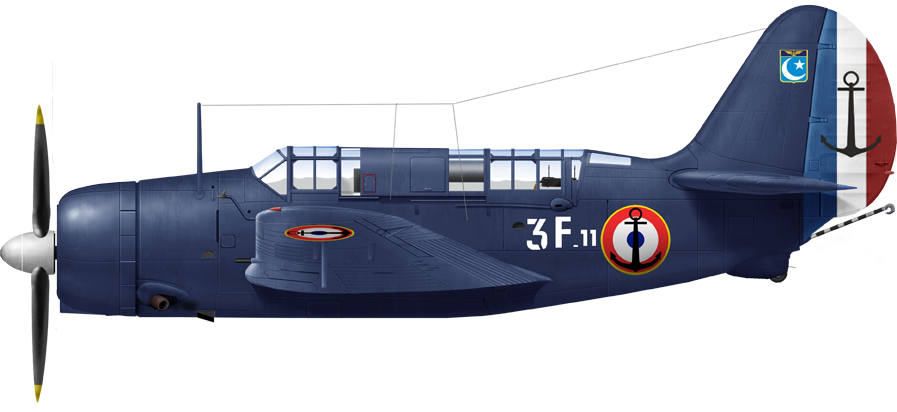 SB2C-5, FS Arromanches, Flotille 3F, French Indochina, Dien Bien Phu 1954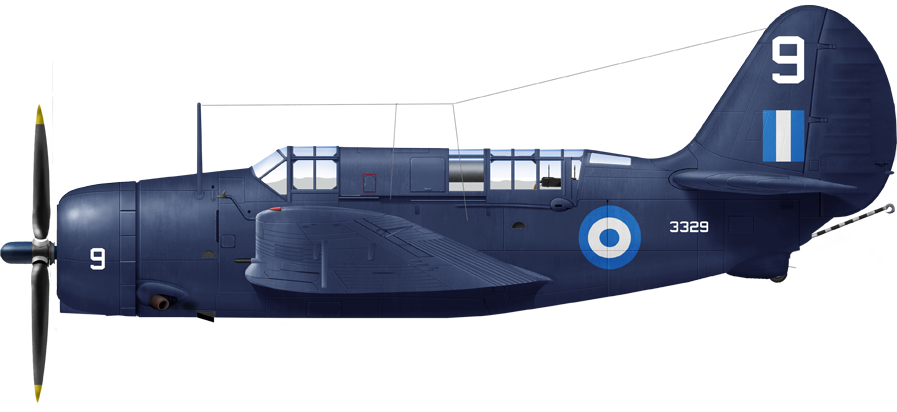 Greek SB2C-5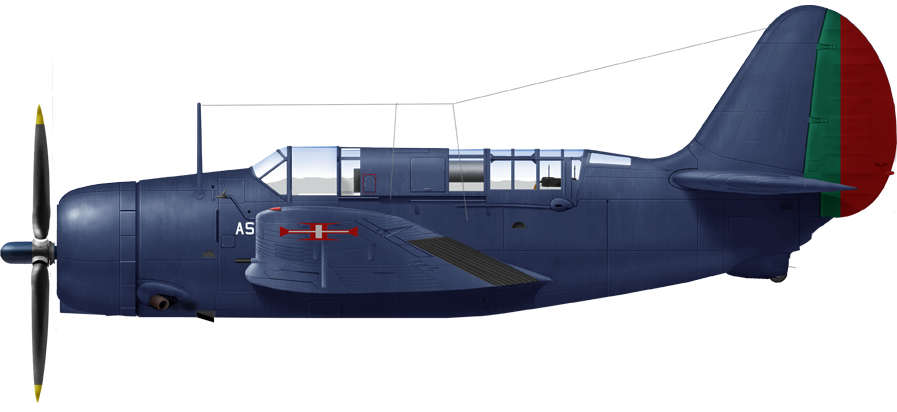 Portuguese SB2C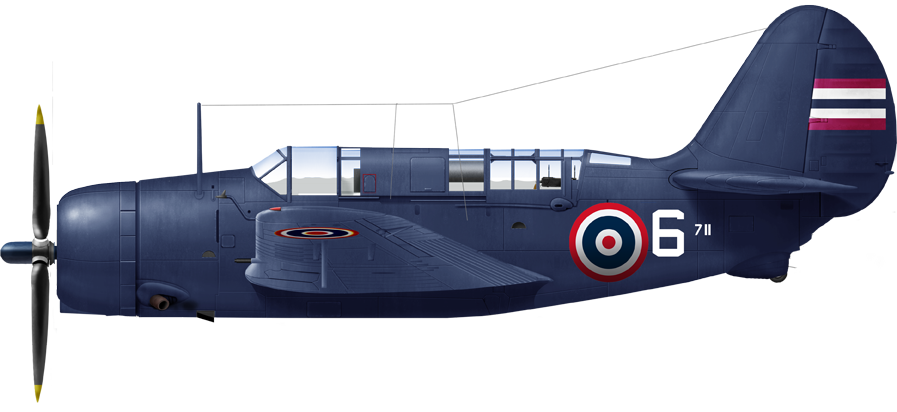 Thai SB2C-5, Thai air force, Bangkok 1955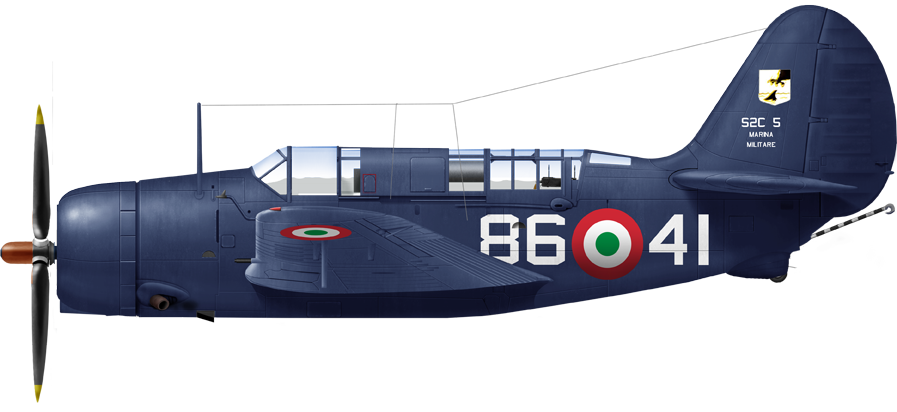 Italian SB2C-5 Marina Militare 1959
Photos