The Coastal Battleships: This type of "pocket" battleship existed in any second or third-rate navy alongside torpedo boats for shoreline self-defense purposes. Still wielding relatively big guns and decent armour, they were a potent deterrent in 1914. But in the 1890s they were the cornerstone of the Austro-Hungarian Navy. The Monarch class has been the first to use proper turrets instead of barbettes. In the end, they would serve through the duration of WW1.

SMS Wien before the war
Development history
By 1890, SMS Kronprinz Erzherzog Rudolf and SMS Kronprinzessin Erzherzogin Stephanie were former sail ironclads dating back from the 1870s, and although modernized, they were hopelessly outmatched, in particular by Brin's Italian battleships in the 1880s. By 1893, funds were available to build three new battleships, but the Hungarian and Austrian parliaments only authorized coastal defense ships according to the naval policy of the day. After a classification change to "Coastal Battleship", the new ships were named Budapest, Wien, and Monarch. They were the brainchild of the newly appointed director of naval construction, Siegfried Popper. The first two were built at Stabilimento Tecnico Triestino yards in Trieste and the Monarch at Naval Arsenal in Pola. They were laid down in 1893, launched in 1895-96, and commissioned in 1897-98.
Design
The three ships' displacement was about 5,878 tonnes (5,785 long tons), making them early "pocket battleships". Their armament was not negligible though, with four turreted 240 mm (9 in) L/40 guns, six individual casemate 150 mm (6 in) L/40 guns, ten 47 mm (1.9 in) L/44 and four L/33 guns, alongside one 8 mm (0.31 in) MG gun and four torpedo tubes. Later in the war, in 1917, a Škoda 7 cm K16 anti-aircraft gun was added to SMS Monarch's sisters, while she received an older L/45 BAG.

Brassey's diagram of the Monarch class
All three ships were fitted with Harvey armour. Their belt armor thickness was 270 mm (11 in), their turrets were 203 mm (8.0 in) thick, their conning towers 220 mm (8.7 in), decks 64 mm (2.5 in), and the redoubt and casemates 76 mm (3.0 in) of thickness. Their complement consisted of 26 officers and 397 sailors, with 423 personnel total per ship.
The propulsion varied by ship. Budapest used 12 coal-fired Belleville boilers without economizers, giving an output of 9,180 hp (6,846 kW) for a top speed of 17.5 knots (32.4 km/h; 20.1 mph). Wien and Monarch had coal-fired cylindrical boilers and vertical triple expansion engines giving them 8,500 hp (6,338 kW) for a maximum speed of 15.5 knots (28.7 km/h; 17.8 mph). Monarch-class ships normally carried 300 tons of coal, with a maximum of 500 tons, for a range of about 2,200 nmi (4,100 km), quite sufficient for extended raids in the Adriatic.

Model of the Budapest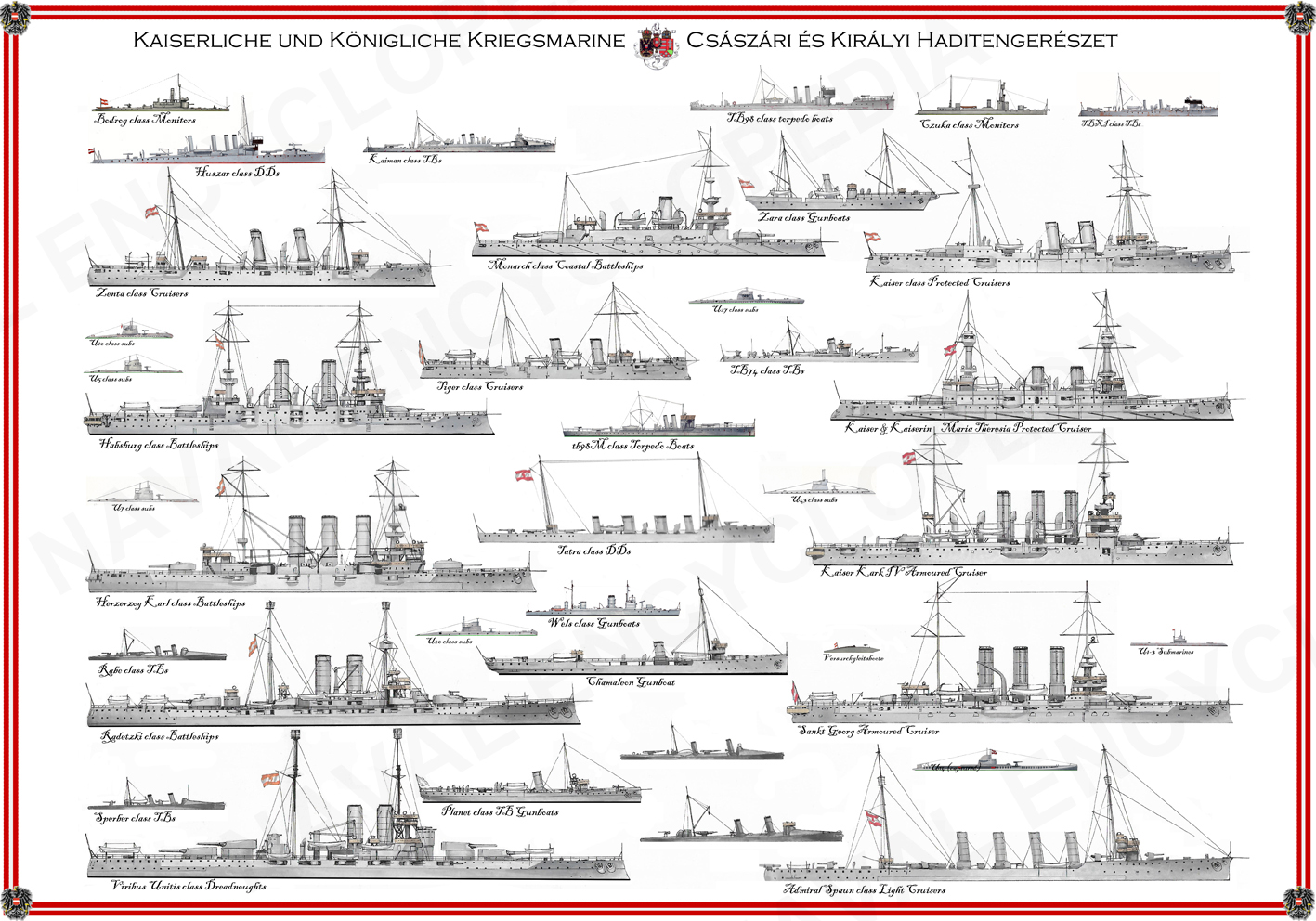 Service History
Soon after being commissioned, the Budapest, Monarch, and Wien began a cruise around the Adriatic and Aegean in 1899 to display the flag in foreign waters, as the 1st Battleship Division. Early on, Wien participated in the Diamond Jubilee of the crowning of Queen Victoria in 1897 and the international blockade off Crete during the Greco-Turkish War of 1897.
The newly completed SMS Habsburg conducted a training cruise with the three Monarch-class battleships in January 1903, and the next year, they were joined by the SMS Árpád. Eventually, the three Habsburg-class battleships engaged the three Monarchs in simulated combat. The three new ships also were given the 1st Battleship Division while the three Monarch were versed into the newly created 2nd battleship division, which was changed to the IIIrd, IVth, and the Vth with the arrival of the Erzherzog Karl and Radetzky classes.
In 1914, the Monarch class served as coastal defense ships, training ships, and bombarded coastal positions during the early years of the war: Budapest was transferred to Cattaro to shell Mount Lovcen, Monarch shelled the French radio station at Budva, Montenegrin radio station off Bar, as well as the barracks and radio HQ at Volovica Point in August. On 28–29 December 1915 Budapest participated in the aborted raid on Durazzo. In January 1916, Budapest shelled fortifications on Mount Lovcen, helping capture the city while Monarch and Wien shelled Italian troops in the Gulf of Trieste.
However, the latter was torpedoed on 10 December 1917, by two Italian boats which managed to penetrate the port of Trieste undetected. Wien was hit twice and sank in less than five minutes with forty-six men going down with her. Her executioner was MAS 9, manned by Luigi Rizzo (He also sank the Szent Istvan) who became a national hero at home. Budapest was demoted to a floating barrack for German U-boat crews, but in June 1918 she received a 380 mm (15 in) L/17 howitzer in her bow for coastal bombardment, which was never used. The Monarch was anchored at Cattaro when in February 1918 a mutiny took place on board. The two ships were handed over to Great Britain as war reparations and left to the UK which sold her to be broken up in Italy in 1920 and 1922. In 1914 replacements were planned, the Ersatz Monarch-class, which were improved Tegetthoff class dreadnoughts.

The SMS Monarch during the war
Links and sources
The Monarch class on wikipedia
3D versions on viribus-unitis.ca
On battleships-cruisers.co.uk
Index of ww1 Austro-Hungarian ships
Conway's all the world fighting ships 1865-1905
Monarch specifications

Dimensions
99,2 x 17 x 6,6 m (325 x 55 x 22ft)
Displacement
5800 t FL
Crew
469
Propulsion
2 screws, 2 TE 3 cyl., 12 boilers, 8500-9000 hp
Speed
15,5-17 knots (32.4 km/h; 20.1 mph Budapest)
Range
2,200 nmi (4100 km) at cruise speed
Armament
4 x 240, 6 x 150, 1 x 70AA, 10 x 47, 4 x 37, 4 TT 445 mm SM (ft, rear, sides)
Armor
Turrets 280, Casemate 76, Belt 270, Blockhaus 220, Deck 60 mm
Gallery

Illustration of the Monarch – 1/730

Painting of the SMS Wien