A first modern Royal navy Dive Bomber
The Blackburn Skua was the first monoplane of the Fleet Air Arm and thus represented a leap forward. It was also a combined fighter/dive bomber due to the small squadrons aboard British Aircraft Carriers. Unlike the Roc was was also a combined fighter-Bomber, she saw longer service although removed from the frontline in 1941.
The Skua's origin lays in the Air Ministry specification O.27/34: It was asking for a low-wing monoplane, all-metal and specifiying duralumin for construction, retractable undercarriage, and enclosed cockpit. This was a fresh departure of the rather conservative designs asked for until then. Therefore, this specification pushed forward the first modern design of the Fleet Air Arm, a bold move manufacturers were eager to compete for. It became the first FAA monoplane eclipising overnight all biplanes in service on British Aircraft Carriers. The sturdy construction was also in li,ne with its dedicated role, that of a dive bomber, and this too, was new.


Production Skua Mk.II, L2928 "S" of 759 Squadron. This aircraft also served with 801 Squadron in the Norwegian Campaign, and, flying from RAF Detling, was present at Dunkirk.
Performances were not stressed that much due to the stringent naval requirements asked for at the time, a nightmarish combination:
folding wings
large fuel capacity
Heavy armament
Excellent visibility
large ammunition supply
rear gunner
aircooled radial engine
Due to this combination and the requirement for a radial engine, which at the time (1934) still had limited output, the prototype would only achieve low speed, not uncommon at this generation, compared to the A5M or F3F carrier fighters, and in line with the Gloster Sea Gladiator. All these were markedly inferior to their land cousins, the Messerschmitt Bf 109. The latter was capable of reaching 290 mph (470 km/h) to compared with the Skua's 225 mph (362 km/h), the Sea Gladiator being even more mediocre at 209 mph (336 km/h).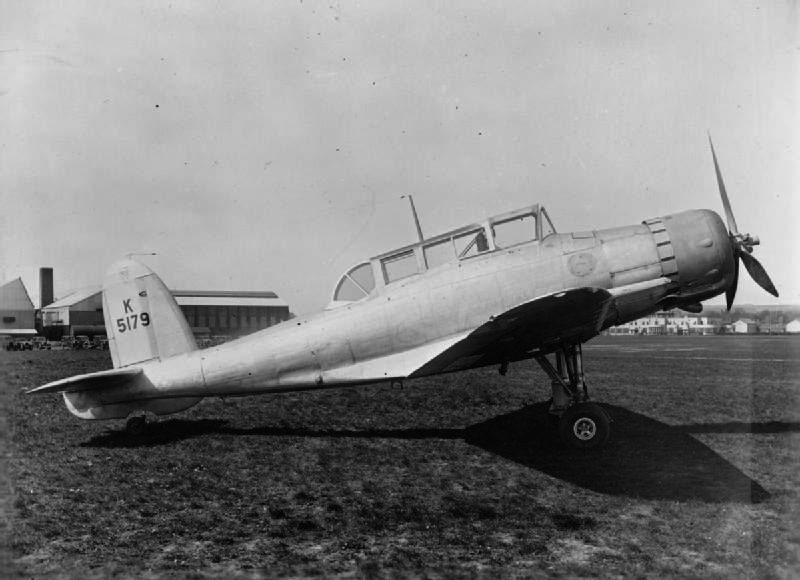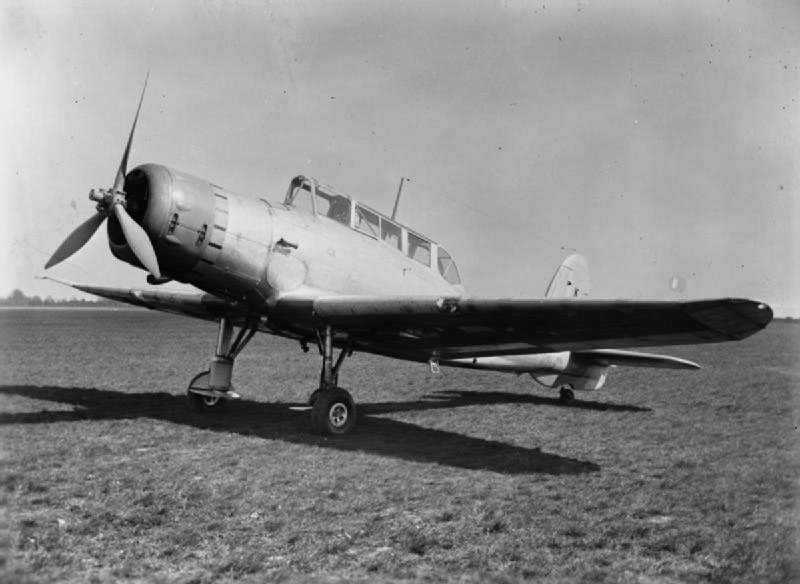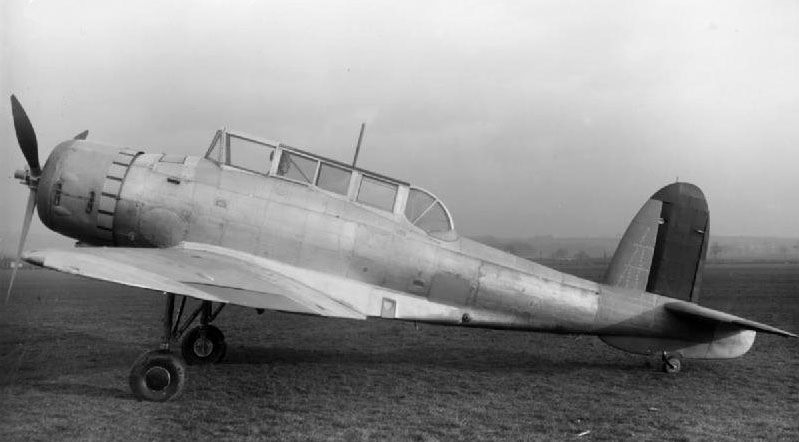 1937 Prototype
After drafts were submitted in 1935, and approved, two prototypes were ordered to Blackburn. The firt one (serial number K5178) flew on 9 February 1937. Both had the same dependable Bristol Mercury XII radial. Viewing its poor performances, the Navy ordered the 190 placed would all be re-engined with the Bristol Perseus XII engine.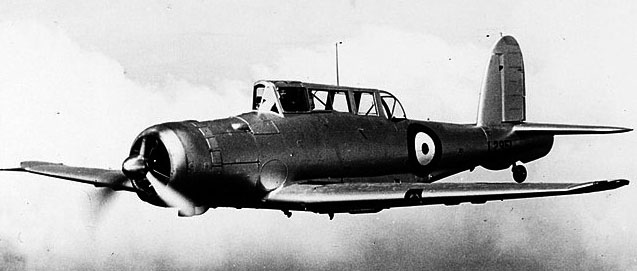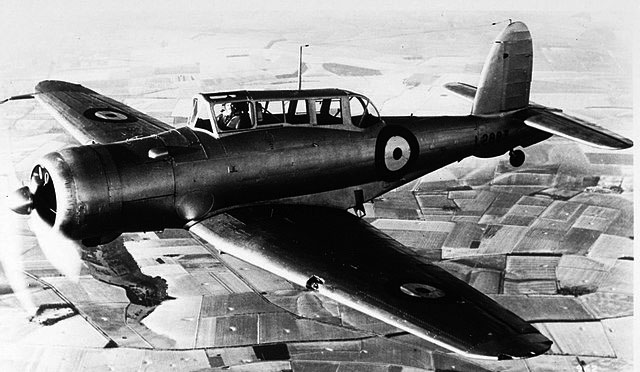 2nd Skua, with the Bristol Persus engine not reatined for production
Design specifics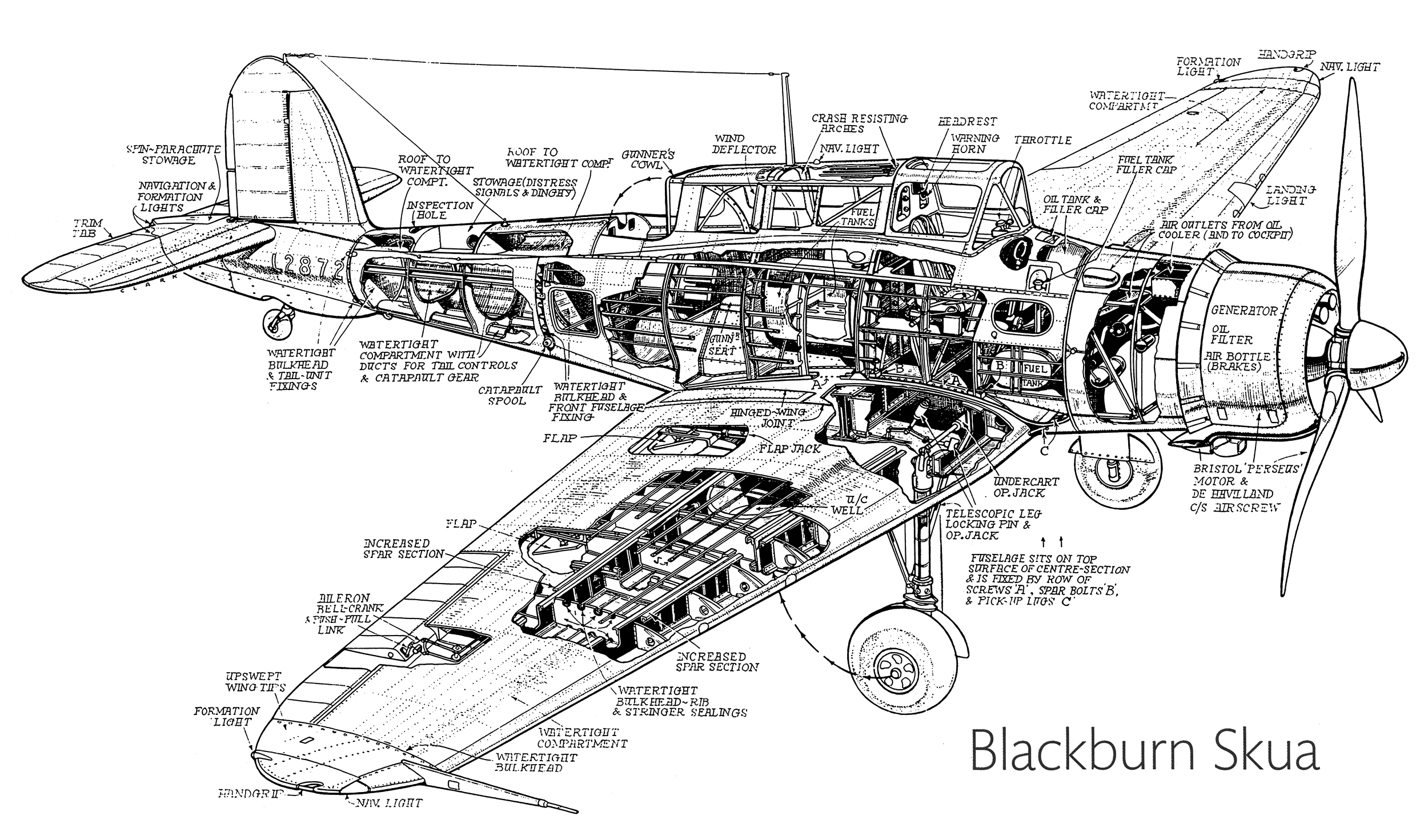 Cutout, Aviation international
General conception
The general construction was standard but innovative in 1935, as a low-wing cantilever monoplane of all-metal construction. It had a framed structure wrapped in duralumin. The wings had a slight dihedral, with straight edges and rounded tips, but the tail was elliptic as the ailerons; The glass cockpit was short but offered good visibility. The fuslage's construction largely inspired itself from the Blackburn Shark, using the company's trademark's flush-rivetted Alclad.
The fuselage was internally divided into two water-tight compartments under the pilot's cockpit and beneath the gunner's cockpit for buoyancy (see later). The crew compartments were also watertight on both sides of the cockpit. Construction was sturdy enough to withstand catapult-assisted takeoffs and arrested landings, and there was an hydraulic dampening device in the hook's arm. The structure and covering of the wings was also made of Alclad cut into three separate units.
The twin-spar heavy centre section was bolted beneath the fuselage, foubling as the bottom of the watertight compartment. The outer wing panels ended in detachable upswept tips, completely sealed between the main spars while recesses in the lower wing surface accommodated modified Zap flaps (see later also). This was completed by balanced ailerons with inset hinges and mass balance assistance. The retractable undercarriage system as well as folding wings came from the Blackburn Airedale.
The wings folded around an inclined hinge, housed within the wing. This enabled a twist so they could nicely fit and rest against the fuselage, sparing stress and space. They were secured by latch pins. The main undercarriage's 90° motion was powered by a engine-driven hydraulic pump and the tail wheel unit was fitted with a Dowty-supplied self-centering shock absorber strut. Tailplane and fin were metal-clad, bolted directly onto the rear frames of the fuselage. Controllable trim tabs, horn-balanced rudder ensured rapid spin recovery was only a portion of tailplane was fabric-covered, with an elevator positioned behind the trailing edge of the rudder.
Cockpit
The main cockpit, which hosted the pilot and rear gunner/observer comprised a relatively short canopy, with a specifically low-angle windshield (almost flat) offering good visibility but not imparairing too much performances. The pilot's canopy slided to the rear. However the gunner's canopy was swinging behing him, inside the cockpit top open the rear. He had foot's rest and seat cushion, and at proximity a first aid store box. Behind him was located the bulkhead frame, followed by the two upper fuel tanks, 2821 x 2 total imperial gallon capacity. Below was located the oxygen reserve for high altitude fying. The pilot's head was protected by a crash turnover pylon, but it was unarmoured. He had an enveloping chair, with harness and adjustment lever. To fire was installed in front the reflector sight. It can't be understressed as much as an enclosed cocpit was rare at the time. The contemporary Swordfish had an open cockpit.
The forward fuselage section had extra space since the engine was short and compact. Immediately behind it were located for example the air radiator cooler and ducting, alcohol tank for winter de-icing and it's hose, the compressor air reservoir, starte housing and support frame, while the cowling ended with 13 adjustable cooling grilles.
The secondary reservoir was located forward, just in front of the pilot, with 39 imperial gallons (177 liters) avgas. The oil tank was located aboven with an external filler cap, of 10 imp.gal. capacity or 45.5 liters.
Into the wings were located waterproof bulkhead, which like those under the fuselage and various watertight bulkheads, helped the plane not sinking after crash-landing at sea. The arrester hook ended just below the fuselage, under the main tail, and behind it was located a prominent fentral fin aft fairing with a cut to retract the tailwheel inside. The elevators were situated 60% aft of the end of the tail, a feature specific to this model.
Other features
The wheeltrain was composed by dunlop tires, affixed on a single oleo leg, damped by a folding rear arm. The inner face of the arm and even tire were covered by the oleo leg fairing with the lower part foldable for landing. Both retracted into the wings, inside the mainwheel wells, operating a 90° turn, making the underwing flush. For effective bombing, braking and stabilizing in a dive, they were given a Zap-type air brakes/flaps, which could also be used to break speed when landing on an aircraft carrier.
Engine
It was the Bristol Perseus XII. The same that equipped the larger Fairey Sworsfish. Reliable and compact the Bristol Perseus XII engine was more a ministry choice, as the Mercury XII was reserved for the Blenheim production which had higher priority. The Perseus in its various types also powered the Botha, Roc, Bulldog, Flamingo, Hertfordshire, Goring, Hart, Saro A.33, Short Empire and Scylla, Vickers Vellox Vildebeest and Lysander. The preseus XII served as a basis for the twin row Hercules and Centaurus.
This Air-cooled nine-cylinder single-row supercharged air-cooled radial engine had a bore of 5.75 in (146 mm), stroke of 6.5 in (165 mm), displacement of 1,520 in³ (24.9 L), length of 49 in (1,245 mm), diameter of 55.3 in (1,405 mm) and dry weight of 1,025 lb (465 kg). It was composed of a Sleeve valve, Single-speed centrifugal type supercharger, Claudel-Hobson carburettor and used 87 Octane petrol. Reduction gear was 0.5:1 turning, with a de Havilland variable pitch propeller only. Performances were a 830 hp (619 kW) output at 2,650 rpm (takeoff) up to 905 hp (675 kW) at 2,750 rpm at 6,500 ft (1,980 m) with a specific 0.59 hp/in³ (26.75 kW/l). The cylinders compression ratio were 6.75:1 and fuel consumption 0.43 lb/(hp·h) (261 g/(kW·h)), Oil consumption 0.28 oz/(hp·h) (11 g/(kW·h)) with a power-to-weight ratio of 0.88 hp/lb (1.45 kW/kg).
Armament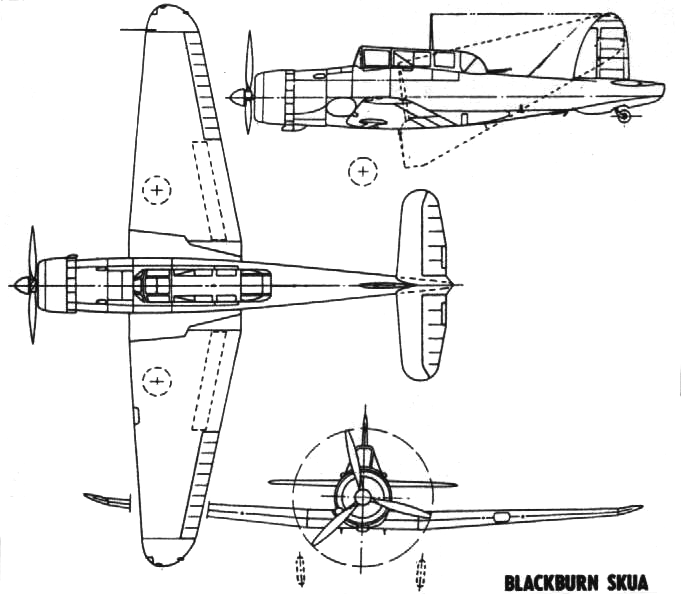 Skua drawing
-The armament comprised four, fixed, and forward-firing 0.303 in (7.7 mm) Browning machine guns, in the wings. This meant enabling a fighter role, to some degree.
-The defensive armament comprised a single flexible and rearward-firing .303 in (7.7 mm) Vickers K machine gun. Both were considered enough for the time.
-The offensive payload comprised a single, belly-fixed 250 lb (110 kg), or even a 500 lb (230 kg) bomb. They were swung when diving below the propeller arc by using a "trapeze" crutch, under the fuselage.
In addition they could carry four 40 lb (18 kg) bombs (likely incendiary) or eight 20 lb (9.1 kg) antipersonal Cooper bombs under wing's racks.
Production
-The Skua Mk.I consisted only of the two prototypes. They were powered by the Bristol Mercury XII, an old but trusted model also equipping the Blenheim and Gladiator, and had distinctive fairings to the engine cowling, over the tappet valves. The first prototype was numbered K5178, and a far shorter nose than the second, K5179, which lengthened nose improved longitudinal stability and helped extra fittings.
-The Mark II comprised the production run of 190 machines completed in 1939. Apart the new Perseur engine, the other change was the elimination of the wing tip slots, now unnecessary. New handling showed only mild stall characteristics. By July 1935, the initial production contract for 190 Skuas, so basically, straight from the drawing board. Production was further accelerated when it was decided to move the production line to the Olympia Works in Leeds and a subcontract with General Aircraft Limited for extra fuselages to be produced at its Hanworth facility. But this took two years.
It's only on 28 August 1938 that the first production Skua Mk.II (#L2867) first flew at Brough (Pilot H. J. Wilson), and with the second production machine, sent to Martlesham and accelerate their full performance and armament trials for qualifications. Aubrey Joseph Jackson underlined that Blackburn's design was sound enough that very few changes were recommended by the Air Ministry and engine manufacturer, but strengthening wingtips and a reworked tail oleo. The production run was over in November 1939, with a monthly record of 26 machines in July. The programme was however delyed so much that the Admiralty in between chose the Fairey Fulmar for the same role, a model that was clearly superior.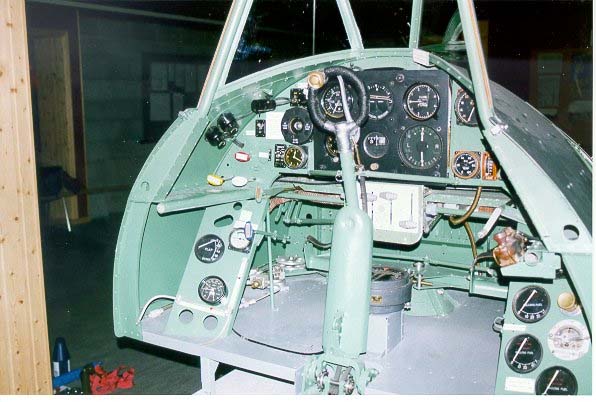 Cockpit of the Skua
Specifications B24 Skua Mk.II

Crew:
2: Pilot, Rear Gunner/Observer
Dimensions:
35 ft 7 in x 46 ft 2 in x 12 ft 6 in (10.85 m x 14.07 m x 3.81 m)
Wing area:
319 sq ft (29.6 m2)
Airfoil:
Root NACA 2416, tip NACA 2409
Weight: Light/Gross
5,496 lb (2,493 kg)/8,228 lb (3,732 kg)
Propulsion:
Bristol Perseus XII 9-cyl AC radial sleeve-valve piston engine, 890 hp (660 kW)
Propeller:
3-bladed variable-pitch propeller
Performances:
Top speed: 225 mph (362 km/h, 196 kn) at 6,500 ft (1,981 m)
Performances:
Cruise speed: 187 mph (301 km/h, 162 kn) [32]
Service ceiling:
20,200 ft (6,200 m)
Rate of climb:
1,580 ft/min (8.0 m/s)
Range:
760 mi (1,220 km, 660 nmi)
Armament – MGs
4× 0.303 in (7.7 mm) FWD Browning (600 rds), 1x Lewis/Vickers K MG aft
Armament – Bombs
1x 500 lb (230 kg) SAP or 8×30 ib (14 kgs) under wings
Royal Navy service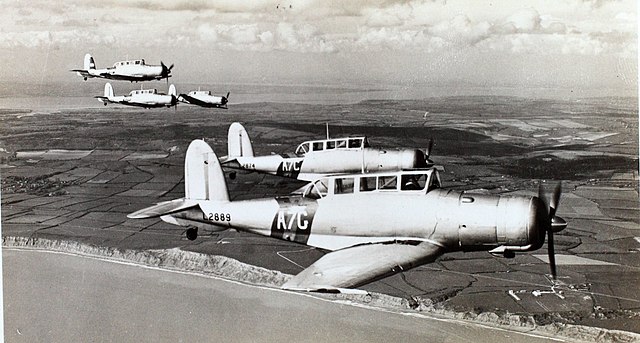 Skua Mk.II of early production, HMS Ark Royal, 1939
By late 1938, the first deliveries commenced and the first unit to obtain the new model was 800 Naval Air Squadron, Worth Down. Gradully the Skua replaced its Hawker Nimrod and Hawker Osprey, making quite a change for the pilots and in November, the squadron was qualified on HMS Ark Royal. In 1939 801 and 803 Squadrons were also complete, with 33 Mk.II in operational, seeing combat on 14 September, when three Skuas from Ark Royal were called for hep by the steam Fanad Head, attacked by a U-boat. When they arrived they spotted and attacked U-30 with their bombs, diving on the sub whichquickly submerged. However two Skuas, damaged by the blasts, could not come back and ditch at sea while U-30 returned to Germany… after picking up the crews of both Skuas aboard, the first POW naval airmen.
The first confirmed kill came when on 26 September 1939 a flight of Skuas intercepted a lone Dornier Do 18 flying boat in the North Sea (from Ark Royal) completing a kill from a battle on 20 September over Aachen. On 10 April 1940, 16 Skuas of 800 and 803 NAS (Lt. Cdr William Lucy) coming from RNAS Hatston, Orkney, found and sank the German cruiser Königsberg in Bergen, one of the many Kriegsmarine's losse in Operation Weserübung, Norway, a highpoint in the Skua's career and fist large warship sunk by air attack or dive bombing. There were 16 Skuas stationed at RNAS Hatston, one was lost during the attack.
William Lucy would become the only fighter ace on Skua, with 5 victories. Flying combat air patrols (CAP), Lucy shot down at least five Heinkel HE 111 bombers, thus qualifying as Britain's first World War II 'Air Ace'. On 14 May 1940, flying from HMS Ark Royal her attacked a formation of five bombers at 18,000 feet, and he short down one of the Heinkels before his own aircraft was seen to explode and plummet into the sea. Lucy's body was recovered by the destroyer, HMS Whirlwind, and buried at sea.
Next, Ark Royal's Skuas fought in the battle of Narvik, many being lost while back, due to navigation errors or enemy action on site. In June 1940, 801 Sqn's Skuas from Kent supported the Dunkirk evacuation, coordinated by the RAF Fighter Command. Ark Royal next was redeployed into the Mediterranean and its Skuas dive-bombed the French battleship Richelieu in Oran, in September 1940, compelling the French to take refuge in Dakar.
at the same time on 13 June 1940, two Skua squadrons attacked Scharnhorst at Trondheim had eight out of 15 shot down without much result to show for, including the Commander Captain RT Partridge and Lieutenant Commander John Casson. Skuas shoot down several Axis bombers over Norway and in the Mediterranean but became easiy meat for fighters such as the Bf 109, coonstrating the RN to declare the type no longer suitable for frontline operation. The gradual withdrawn in 1941 saw replacement by the Fairey Fulmar.
Back home, Skuas foud new uses was target tugs, by the RAF and Fleet Air Arm as well as advanced trainers for the Fleet Air Arm. The last Skua was in fact retired for good in March 1945. The very close Roc turret fighter was expected to fly with the Skua and escort the latter, attached to Skua squadrons, notably operating at Scapa Flow in early 1940. Some also flew from HMS Glorious and Ark Royal in Norway, both making virtually hopeless fighter sweeps over the English Channel during Operation Dynamo and Operation Aerial, the latter being a leser-known evacuation from other French ports. But the Roc's slow-moving quad turret and absense of forward armament made the new fighter concept useless and the few built (136) were retired by the fall of 1940 and seent to very quiet postings.
General assessment
Altough less unfathomable than her terrible twin, the Roc, the Skua was very innovative for the time, but the FAA delutions about "do-it-all" models, in line with the new restricted air groups of the Armoured carriers in development was clearly a peactime optimistic prospect. WW2 quickly dissipated any illusions about the need of clearly separated types. On the Skua in particular, fighter performances were compromised by the need to incorporate features specific to carrier operations, the choice of a trusted but weak engine, and between the folding wings, large fuel capacity, heavy payload and large ammunition supply or rear gunner al limited speed and agility as a whole. This made for a weak naval fighter compared to land based models such as the Messerschmitt Bf 109. The latter reached 290 mph (470 km/h) versus 225 mph (362 km/h) for the Skua.
Sources/read more
Books
Brew, Alec. The Turret Fighters: Defiant and Roc. Crowood Press 2002
Brown, Eric; William Green and Gordon Swanborough. "Blackburn Skua and Roc." Wings of the Navy Jane's 1980
Buttler, Tony (2004), British Secret Projects: Fighters & Bombers 1935-1950 Midland Publishing
Green, William. War Planes of the Second World War: Volume Two Fighters. Macdonald 1961.
Jackson, A.J. Blackburn Aircraft since 1909. London: Putnam, 1968.
Kinsey, Gordon. Boulton & Paul Aircraft : The History of the Companies at Norwich and Wolverhampton.
Lumsden, Alec and Terry Heffernan. "Probe Probare: Blackburn Skua and Roc Part Two". Aeroplane Monthly 18 1990
Mason, Francis K. The British Fighter since 1912. Annapolis, Maryland, USA: Naval Institute Press, 1992.
Mondey, David. The Hamlyn Concise Guide to British Aircraft of World War II. London: Chancellor Press, 1994.
Stenman, Kari (July–August 2001). "From Britain to Finland: Supplies for the Winter War". Air Enthusiast 94.
Sturtivant, Ray and Theo Ballance. The Squadrons of the Fleet Air Arm. Tonbridge Air Britain Ltd, 1994.
Thetford, Owen. British Naval Aircraft since 1912. London: Putnam, Fourth edition, 1978.
Thomas, Andrew. Royal Navy Aces of World War 2. Oxford, UK: Osprey Publishing, 2007.
Willis, Matthew. Blackburn Skua and Roc. Sandomierz, Poland/Redbourn, UK: Mushroom Model Publications
Links
dingeraviation.net
britishaircraft.co.uk
The dawn of carrier strike: and the world of Lieutenant W P Lucy DSO RN, David Hobbs
The Skua on airwar.ru
navalairhistory.com
airshowspresent.com
fleetairarm.com
classicwarbirds.co.uk
militaryfactory.com
Video: Fighting Dive-Bomber or Dive-Bombing Fighter? – Ed Nash.
baesystems.com
valka.cz/
dingeraviation.net/
CC photos
The model corner
Despite it's lackluster records, the Skua has been well covered by plastic manufacturers, mostly in the old days. For example, the Fairey Skua Mk.II "Norwegian Campaign" (and other versions) has been covered in detail by Special Hobby to 1:48. There is also a Warrior Model of the same scale and scored of 1:72 by AMCO models, Air Lines, Ark Models, Chematic, Comet, Dujin, Eastern Express, FROG, Novo, and Revell for more recent, skyrova, skyleada, special hobby again, and even a tiny 1:350 squadron of these to populate same scale Britush carriers by Trumpeter.
Gallery
Author's illustrations: Types and liveries

1937 Blackburn Skua Mk.I "short nose" first prototype.


Mark II from 803 Sqn, HMS Ark Royal, 1939


Skua Mk.II grey livery, HMS Ark Royal


Mk.II from 803 Sqn. Norway, April 1940


800 Sqn. R.T. Partrirdge, HMS Ark Royal, which shoot down a He-111, first FAA victory of the war, 27 April 1940.


L6G 806 Naval Air Squadron HMS Illustrious, spring 1940
Additional photos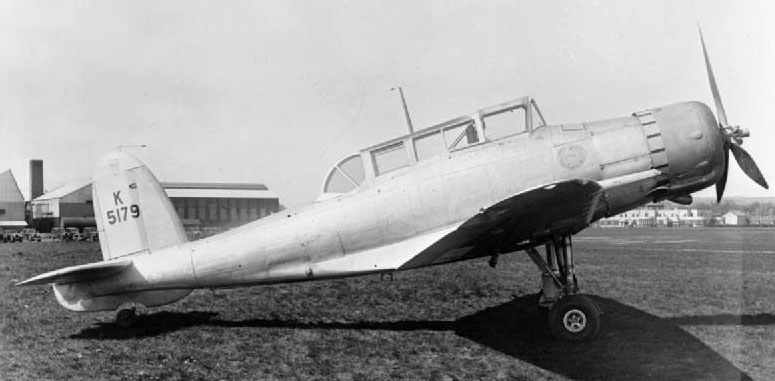 Second prototype Mk.I in 1937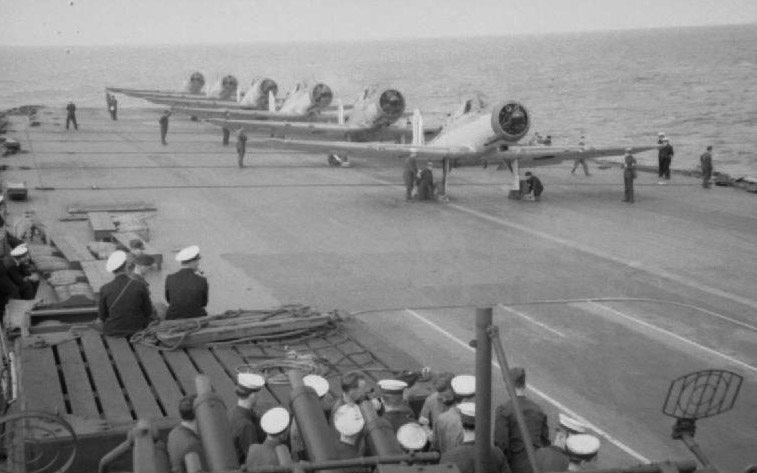 Skuas from 800 Sqn, Ark Royal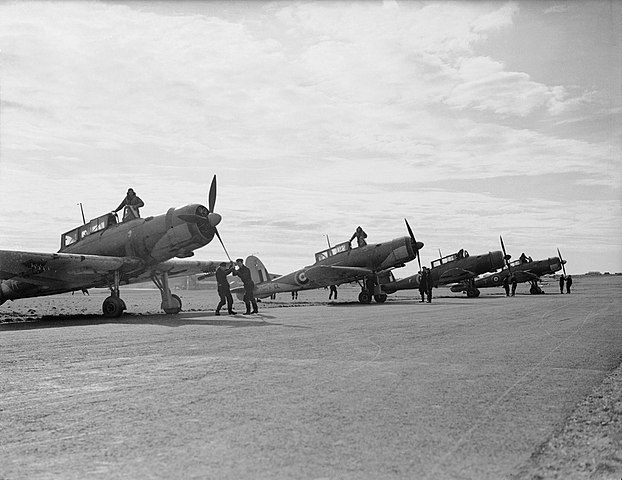 Skua on airfield HMS Sparrohawk, Royal Navy AS Haston, Orkneys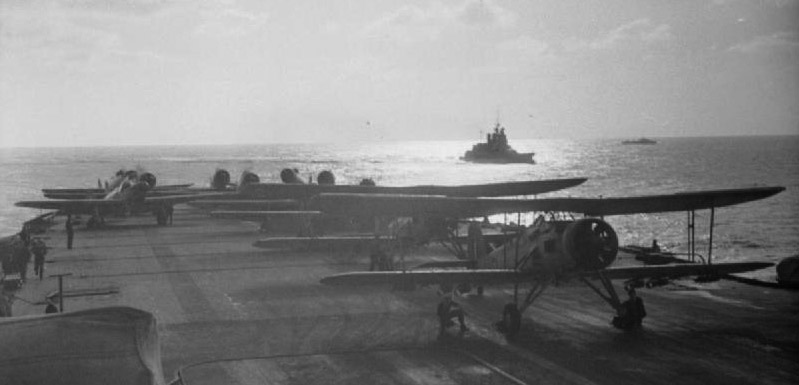 Skuas on Ark Royal


Skua L2987 in flight


Skua on RAF Gosport airfield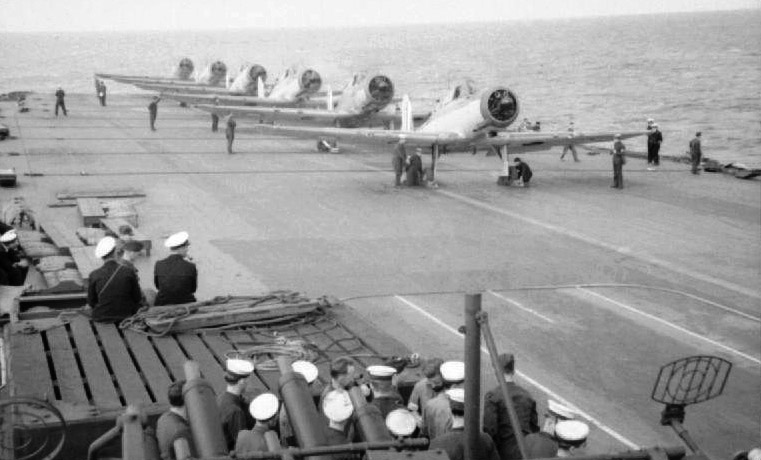 Skuas on HMS Ark Royal


Skuas in the Orkney's airfield, HMS Sparrowhawk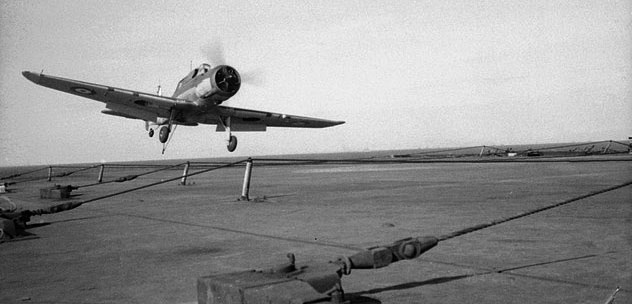 Skua landing on HMS Ark Royal